Las Vegas GP Takeaways: Major flaws exposed, penalty costs Ferrari
Following each race weekend this year, theScore's editors offer their takeaways. We continue the 2023 schedule with the Las Vegas GP.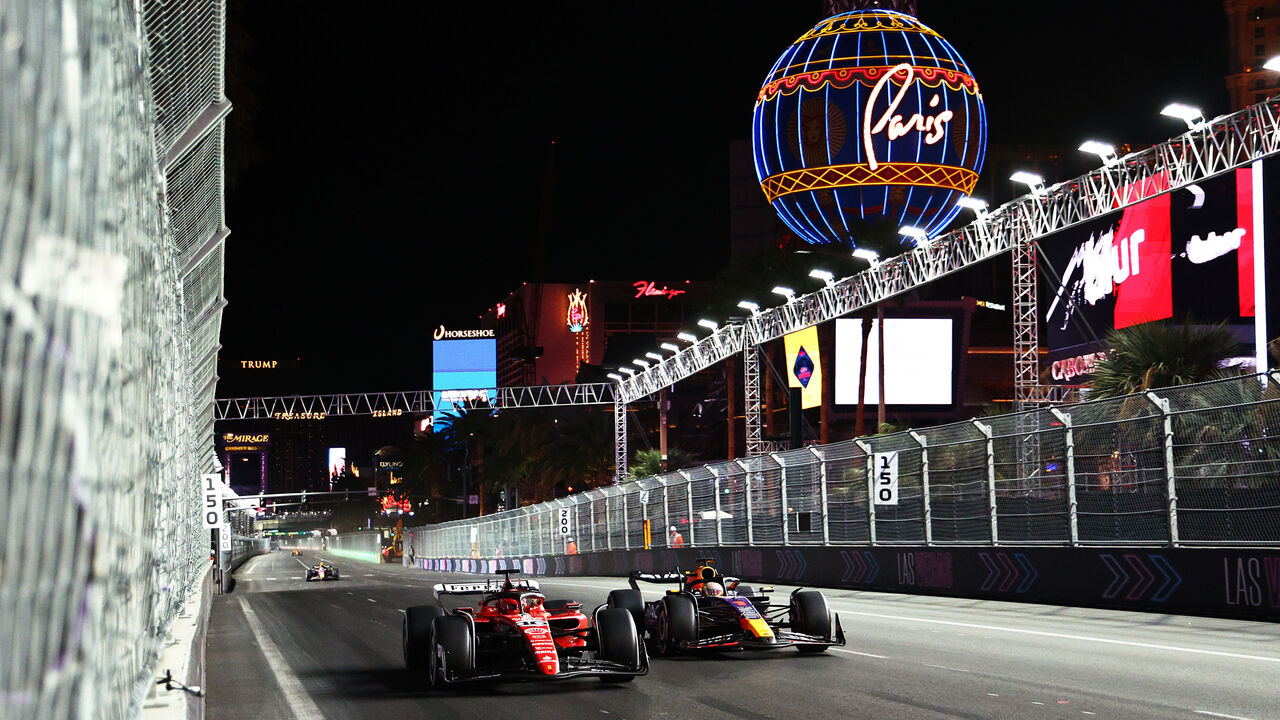 Las Vegas GP's inaugural race covers up major flaws
Formula 1 made a $500-million gamble on the Las Vegas Grand Prix in hopes of creating the biggest spectacle the sporting world had ever seen. After a disastrous start to the weekend, the on-track action likely saved F1's bet from becoming a gigantic loss.
Sunday morning's event shined brighter than the lights illuminating the Las Vegas Strip. The inaugural race had just the right amount of chaos, unpredictability, and action to create a spark even amid a notably non-competitive season.
With a first-lap battle between front-runners Max Verstappen and Charles Leclerc and a brilliant last-lap overtake from Leclerc on Sergio Perez, there was enough action to keep purists happy and hold new fans' interest.
Verstappen won, but this wasn't like most of his 18 wins this season. The three-time champion was involved in a legitimate three-way battle for first with his teammate and his Ferrari rival, and he needed to carve through the field and overtake both for the eventual victory.
It's a good thing the race was a resounding success, because the festivities and events leading up to it put the Las Vegas GP on the verge of becoming an all-time debacle.
No more than 24 hours into the weekend, F1's roll of the dice seemed to have returned snake eyes. It was difficult to find anyone pleased with the event; locals, paying fans, drivers, and even Ferrari's team principal were annoyed. Even Verstappen wasn't shy about characterizing the weekend as "99% show, 1% sporting event."
Frankly, the Las Vegas event felt more like 0% sport and 100% shitshow up until the race.
The first practice session of the weekend was red-flagged after just over eight minutes and then canceled completely after a loose drain cover destroyed Carlos Sainz's Ferrari. Repairs and inspections of every cover on the strip caused a two-and-a-half-hour delay for the second session.
By the time FP2 rolled around, no one was in the grandstands to see it: Spectators had been kicked out due to logistics and staffing issues.
Formula 1 CEO Stefano Domenicali issued a lengthy explanation to fans the following day. No apology could be located within it (though litigation may have been a factor). Attendees with a single-day ticket for Thursday received a $200 voucher to use on merchandise.
But how did the Las Vegas GP come this close to being a complete farce? If all parties involved hoped to establish the circuit as the sport's new crown jewel, shouldn't vigorous and frequent safety checks have ensured that things went off without a hitch?
And if F1 was so desperate to use Las Vegas to gain approval from mainstream American culture, how could the people in charge be so out of touch with public sentiment and unapologetic to paying customers?
That combination of factors continued to draw the disdain of Verstappen, who didn't agree with a promotional strategy that favored glitz and glamour over the sport itself.
"I think it's more important that you make (fans) understand what we do as a sport," Verstappen said Saturday. "Most of them just come to have a party, drink, see a DJ play or a performance act.
"I think if you would actually put more time into the actual sport and what we are actually trying to achieve here, because as a little kid we grew up to be a world champion. … If the sport would put more focus onto these kinds of things and also what a team is doing, what they are achieving and what they are working for, then these kinds of things are way more important to look at than having all these random shows all over the place."
Formula 1's leaders will walk away from the inaugural Las Vegas GP with a lot to improve and think about. Preparation, safety, and accommodating fans should be at the front of their minds, but they can't overlook Verstappen's criticisms either. The spectacle is a part of the show, but the sport should sell itself. As Sunday's race proved, it's more than capable of turning its biggest doubters into fans.
"(I'm) already excited to come back next year and hopefully try and do something similar," Verstappen said after winning. - Daniel Valente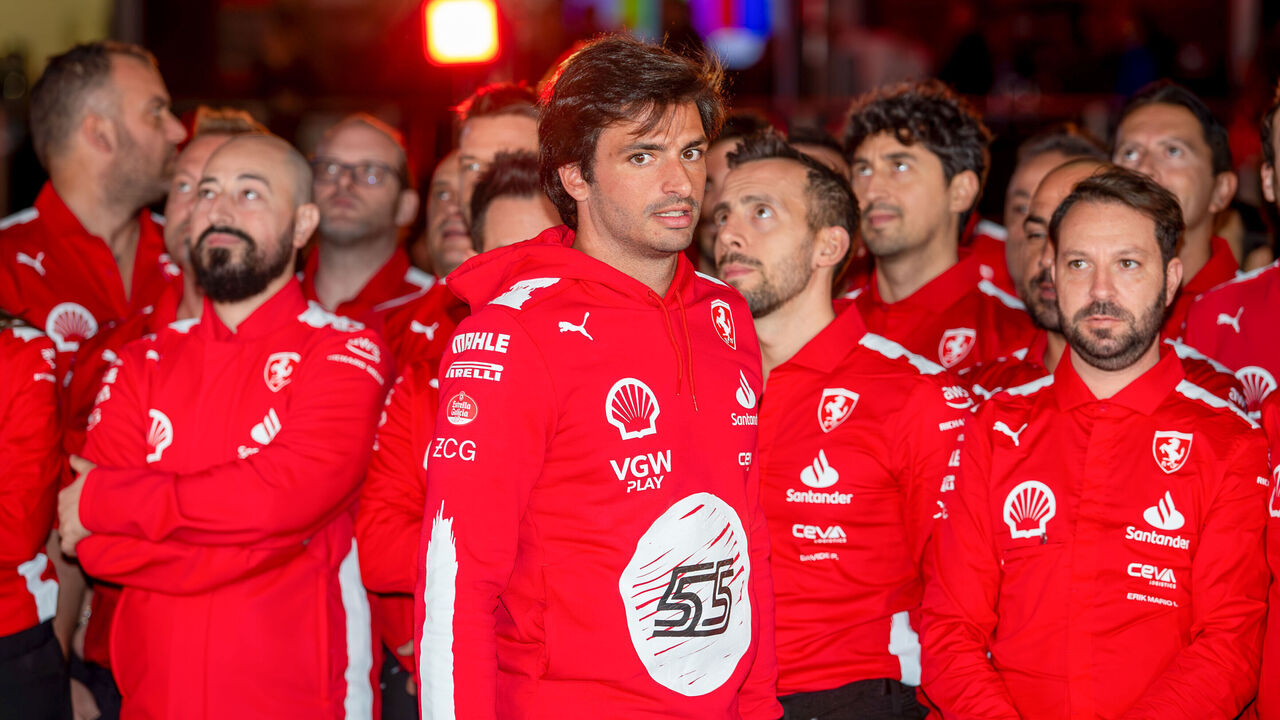 Penalty costs Ferrari - in more ways than one
Tribalism and self-interest in Formula 1 - and sport in general, for that matter - mean few things achieve unanimity. Opposition to Carlos Sainz's 10-place grid penalty in Las Vegas came close, though.
The Spaniard was penalized for exceeding the permitted number of power unit changes after the aforementioned drain cover on the Vegas circuit smashed through his chassis and damaged multiple components of his SF-23 during FP1. The stewards, unable to grant special dispensation, left Sainz to rue what he branded "one of the most unfair penalties that I have seen."
Even Verstappen, who likely would have been squabbling with both Ferraris in the race considering the pace the Italian team showed Saturday and Sunday, sided with one of his on-track adversaries.
"I do think it's very harsh on Carlos but in this political environment we are in, of course every team thinks about themselves, and they are going to say 'no, he has to take the penalty,'" the three-time champion said.
Despite vague suggestions around the paddock that at least one team - Mercedes - would have rejected the possibility of Sainz's penalty being overruled, most onlookers were in lockstep with Sainz on the matter.
The freak incident, a clear failure by the FIA, could end up costing Ferrari - quite literally - in more ways than one. Aside from the obvious costs incurred to repair Sainz's damaged machine over the weekend, his penalty eliminated any chance he had of fighting for a podium finish on Sunday. Ferrari, as was the case on another street circuit in Singapore - where Sainz claimed the only non-Red Bull victory of the season - was rapid around the Las Vegas track. Leclerc ultimately ceded the win to Verstappen, but he put up a strong fight, and Sainz eventually managed to charge through the field and finish sixth.
It could have been so much more.
"I wish we could have been a bit further ahead or started in the first row with Charles to make Max's life a bit more difficult," Sainz said after his strong recovery drive. "I think with two Ferraris up there the race would have been more fun than apparently what it was."
Ferrari trails Mercedes by just four points in the battle for second place in the Constructor Standings heading into the final event of the season in Abu Dhabi; the difference between finishing second and third is millions of dollars.
Had Sainz not been forced to play catch-up in Vegas, the Maranello-based outfit would almost certainly be ahead in that scrap right now. That infamous drain cover could be more costly than anyone ever imagined. - Gianluca Nesci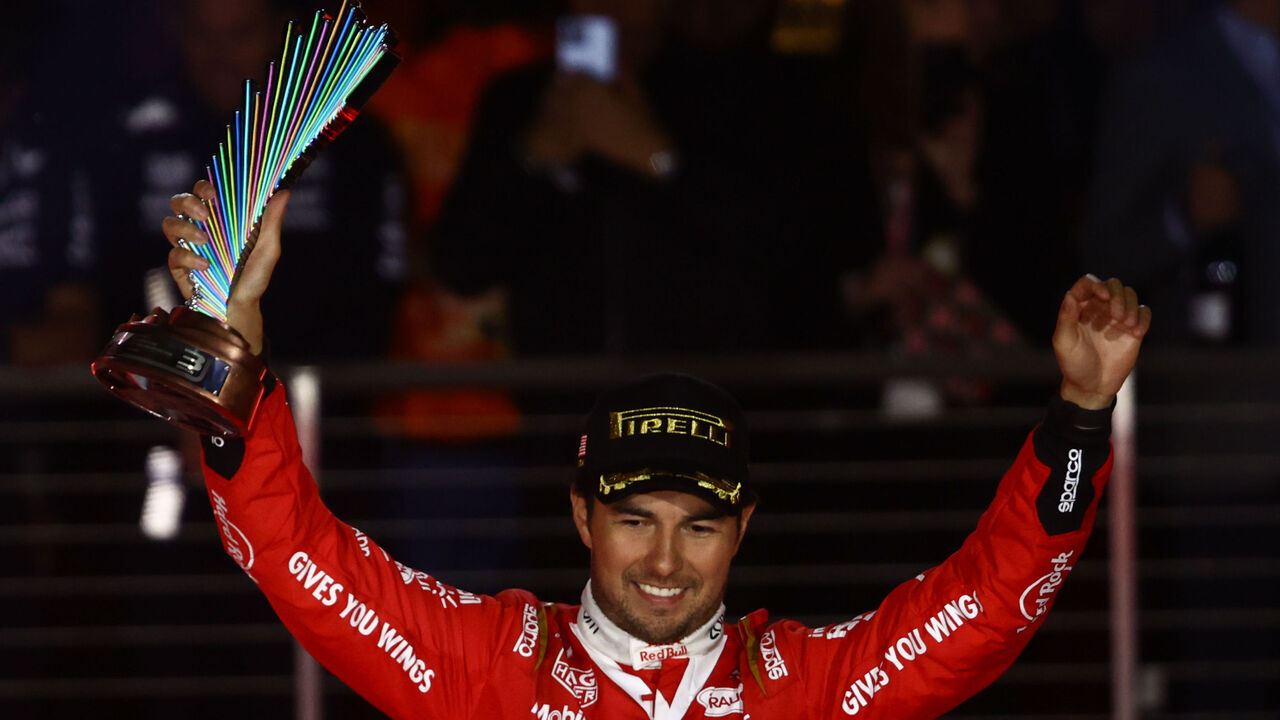 Checo clinches 2nd, silences detractors
The king of the streets just needed an iconic piece of road.
With a P3 finish in Las Vegas, Sergio Perez was officially crowned the "best of the rest," finishing second overall in the drivers' championship. The occasion marked Red Bull's first perfect season, winning the constructors' championship and finishing 1-2 in the drivers' standings.
"To manage to come back and really put together a strong result ... I think to be able to constantly be fighting at the top, I think that really is the highlight of my year," he said postrace, according to Reuters' Rory Carroll.
Perez's performance Sunday wasn't without its flaws. For the second consecutive race, he was overtaken on the last lap. Checo was unable to defend the inside of Charles Leclerc's Ferrari on Turn 14, resulting in a last-minute swap for P2. That's not befitting of someone nicknamed the Mexican Minister of Defense. If Perez was in true peak form, he could've wrapped up second place much earlier.
Checo acknowledged that this has been the hardest season of his career, and it's certainly seemed wearying. A collision with Leclerc on Lap 1 forced him to retire from his home grand prix in Mexico. He's routinely struggled on Saturdays, qualifying fifth or worse in 15 of the last 16 races. He's also hit snags on race day, with Las Vegas representing his first podium finish since Monza.
Yet the stats back up his status as the second-best driver on this grid. Perez is among the most dependable drivers, earning points in every race he's finished save for Monaco and only racking up a pair of DNFs. The 33-year-old has been on the podium nine times this season, won two races early in the schedule, and boasts an average grid position just over 4.5. Only Verstappen has accomplished more this year.
Red Bull has been notoriously ruthless in replacing drivers, but there's no reason to buy into conjecture about Perez getting ousted before his contract is up at the end of next season. Both Red Bull team principal Christian Horner and director Helmut Marko continue to stand by Perez, and Las Vegas will only help their case for consistency.
Despite all the criticism, Checo has done what's been asked of him: Beat Lewis Hamilton. This success will afford him some goodwill, however temporary, heading into a fresh season. - Sarah Wallace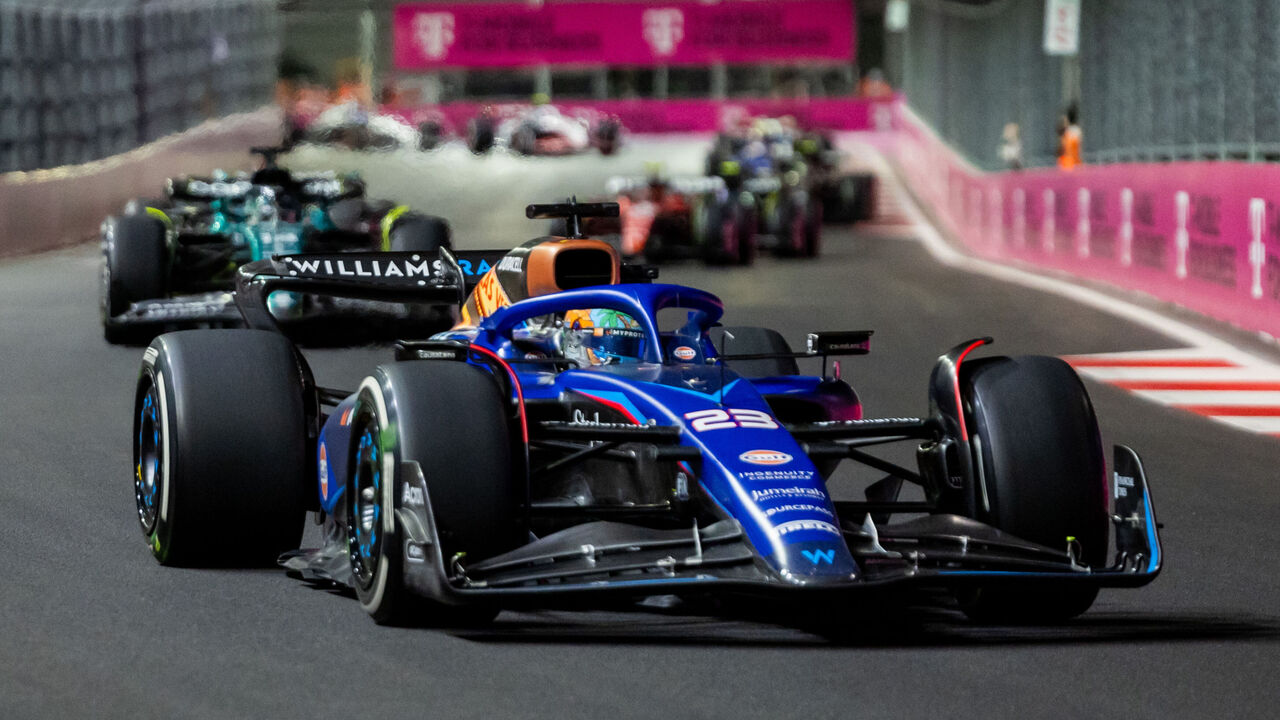 Williams aims to finish strong
Williams looks to be in a good place as it wraps up its first season with James Vowles as team principal.
Alex Albon and Logan Sargeant qualified sixth and seventh in Las Vegas as Williams joined Ferrari as the only teams with both drivers in Q3. Things didn't go quite as well on Sunday, though - issues with the safety car, tire management, and tire graining resulted in Albon finishing 12th and Sargeant 16th.
Williams' car has been good on fast circuits with long straights, as it demonstrated in Vegas qualifying. There's a lot more work ahead to build a more complete car, but after years of misery, Williams is beginning to show real signs of progress.
Sargeant's confidence seems to be growing as well. After back-to-back DNFs in Japan and Qatar, the 22-year-old American picked up his first F1 point in Austin, and he finished each of his last four races.
"He's really matured over the last few races," Vowles said of Sargeant, according to Motorsport.com's Filip Cleeren. "You can see there are no mistakes, just clean execution and buildup across the weekend. This weekend is an exact example of that as well; he just built it up and started pushing the risk factor more and more."
Albon also appears to be thriving. After struggling in his first season with Williams last year, he's seemed to be one of the better drivers at getting the most out of their car in 2023. He's poised to finish 13th in the drivers' standings, which represents a good showing among the second-tier teams.
Despite failing to score a point over its last two races, Williams sits seventh in the constructors' standings, ahead of AlphaTauri, Alfa Romeo, and Haas. The team takes a seven-point lead into Abu Dhabi over AlphaTauri, which has scored 11 points over the last three races.
Williams finished in last place with eight points last season, and it hasn't placed as high as seventh in the constructors' since it finished fifth in 2017. - Brandon Wile