A rundown of the best games and most interesting trends for Week 10 of the NFL. All times Eastern.
Marvelous matchup
Bills (7-2) at Cardinals (5-3), 4:05 p.m.
Hey, look, it's a matchup involving a couple of dynamic, big-play quarterbacks who possess an ability to scramble and make plays outside the pocket. This ought to be entertaining.
Buffalo's Josh Allen and Arizona's Kyler Murray have their issues with consistency, but when they're on, they can put on quite a show.
The Bills went pass-heavy in the first half last week against Seattle, and they shot out to a 24-7 lead. Allen finished with 415 passing yards, with seven pass-catchers hauling in a reception of 20 yards or more, which is something that hadn't happened in the NFL in five years. Allen also ran for a TD.
The Cardinals lost their barn burner Sunday to the Dolphins, but Murray did a little bit of everything, including passing for 283 yards and rushing for 106 more. He's on pace to rush for more than 1,000 yards this season.
Both teams also have terrific receiving threats in Stefon Diggs (Bills) and DeAndre Hopkins (Cardinals), which means that in this season of record scoring, this game certainly seems likely to do its part.
Pressure release
Seahawks (6-2) at Rams (5-3), 4:25 p.m.
When pressured by the defensive rush, Jared Goff's passer rating is 36.7, per PFF. Only Drew Lock (32.7) and Baker Mayfield (29.8) are worse. When not pressured, Goff's passer rating is a robust 114.2, which ranks 10th.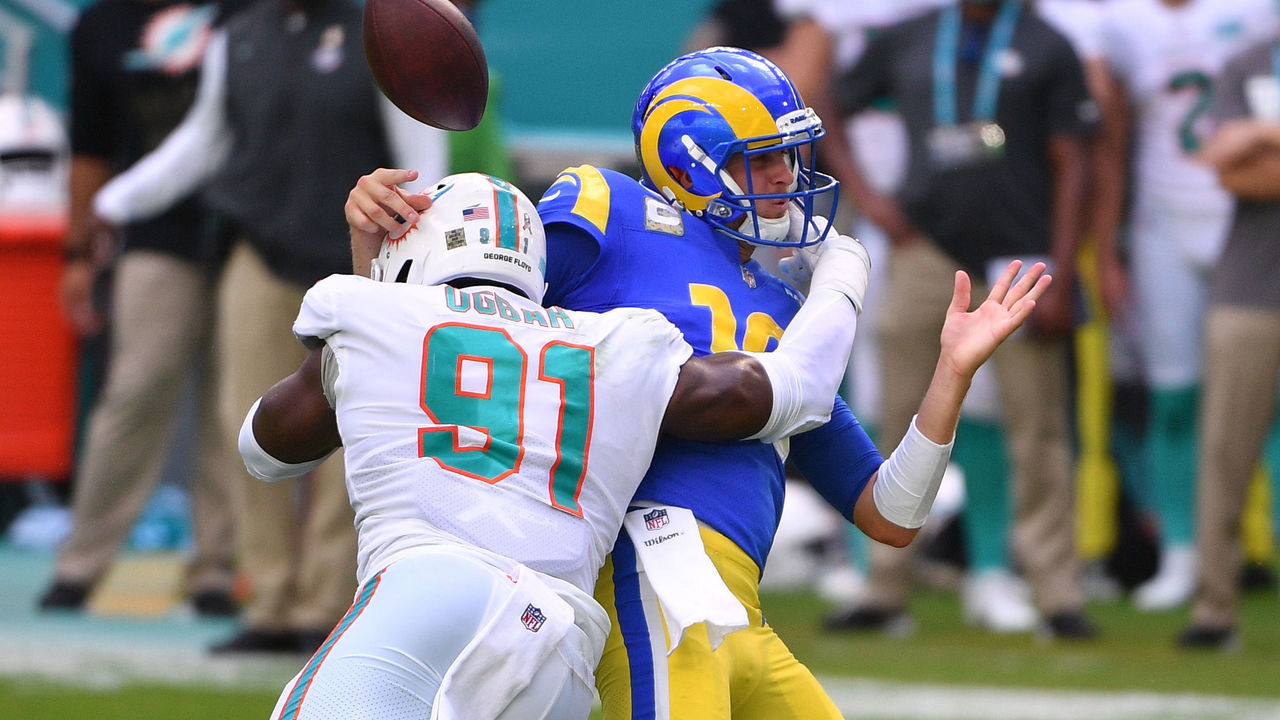 The Seattle Seahawks only generate pressure 20.4% of the time, according to Pro Football Reference, which ranks 22nd in the NFL. The Seahawks have also given up the fourth-most yards after the catch in the league (1,141), while the Los Angeles Rams rank second in YAC per completion (5.7).
What I'm getting at is that this appears to be a bad matchup for Seattle, though that ought to create lots of opportunities for hero ball from Russell Wilson.
What are they waiting for?
Bengals (2-5-1) at Steelers (8-0), 4:25 p.m.
In their last two games, the Pittsburgh Steelers came from behind to beat Baltimore and Dallas on the road. They did it by spreading teams out and having Ben Roethlisberger work with a quicker tempo while playing what The Athletic's Mark Kaboly has described as "backyard football."
The question, then, is why don't the Steelers let Roethlisberger play like this all the time?
Rookie QB battle alert
Chargers (2-6) at Dolphins (5-3), 4:05 p.m.
Justin Herbert of the Los Angeles Chargers is 1-6 as a starter, but you wouldn't know it by the way he plays. Herbert has a better Total QBR than Tom Brady, Lamar Jackson, Roethlisberger, and Philip Rivers; he's just stuck playing for the Chargers, who never seem to earn a lead they can't squander.
This week, Herbert is faced with an intriguing matchup against a Miami defense that's ranked eighth in DVOA against the pass. Also, Herbert's quarterbacking counterpart will be Tua Tagovailoa, who was drafted one spot ahead of him and is already being anointed as the Next Big Thing even though he's attempted only 52 passes.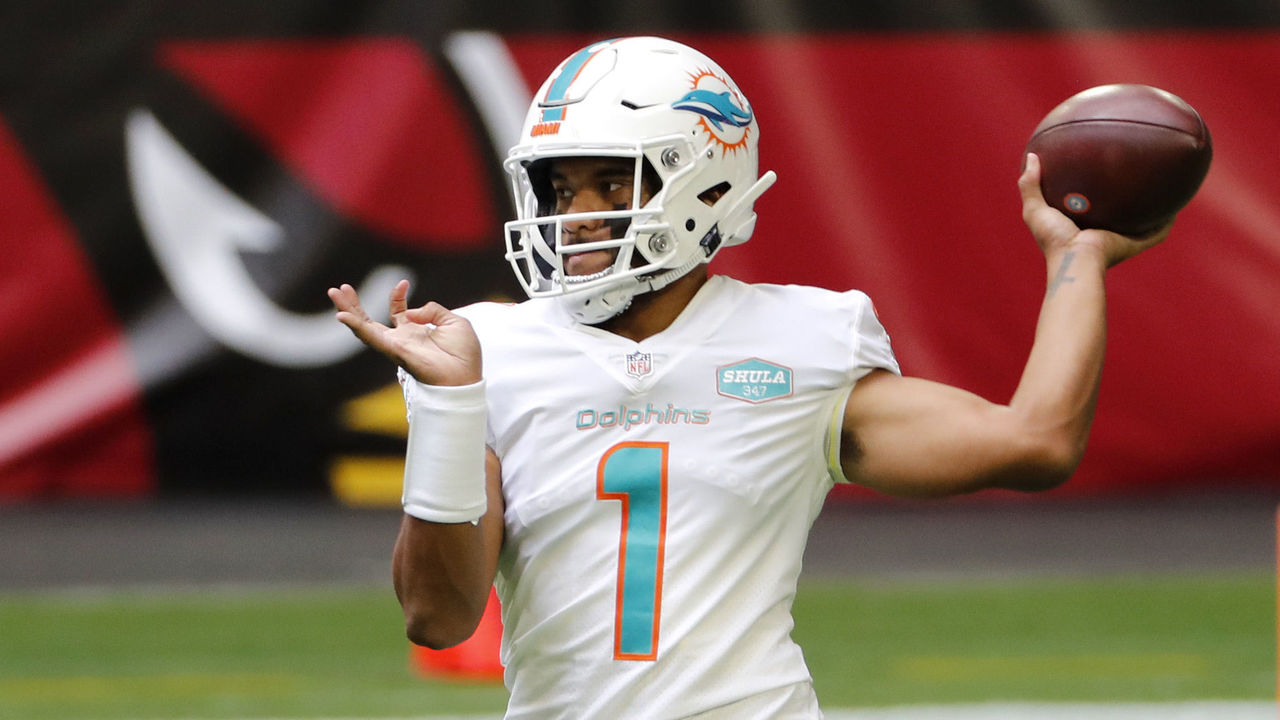 Tagovailoa provided a thrilling glimpse of his dual-threat potential in last week's joyride of a victory against the Cardinals. Herbert, too, has flashed greatness since he replaced Tyrod Taylor in Week 2. The next most interesting thing about the Chargers is to see what they might come up with to blow another close game.
This doesn't seem fair
Jaguars (1-7) at Packers (6-2), 1 p.m.
The Jaguars are ranked dead last in defensive DVOA, pass defense DVOA, and pass defense DVOA on first down, per Football Outsiders. They're also last in dropback expected points added per play according to Ben Baldwin's database. That's quite a feat! It's also less than ideal when having to play Aaron Rodgers, Davante Adams, and the Green Bay Packers at Lambeau in November.
You've been warned:
Still, the most fascinating thing about the Jags might be how many kickers they could employ by the end of the season. On Tuesday, Jacksonville signed Chase McLaughlin off the Minnesota Vikings' practice squad. McLaughlin will be the Jags' sixth kicker of the year, which counts as a reason to remember the Jaguars still exist.
Why is the schedule so weird?
You may have noticed that only one of the games listed above is in the 1 p.m. ET window, which is typically when most of the Sunday slate kicks off. In fact, there are more games scheduled for the late afternoon Sunday (six) than the early window (five) - a circumstance that usually only happens in Week 17, because of playoff possibilities.
Blame golf. And the COVID-19 pandemic.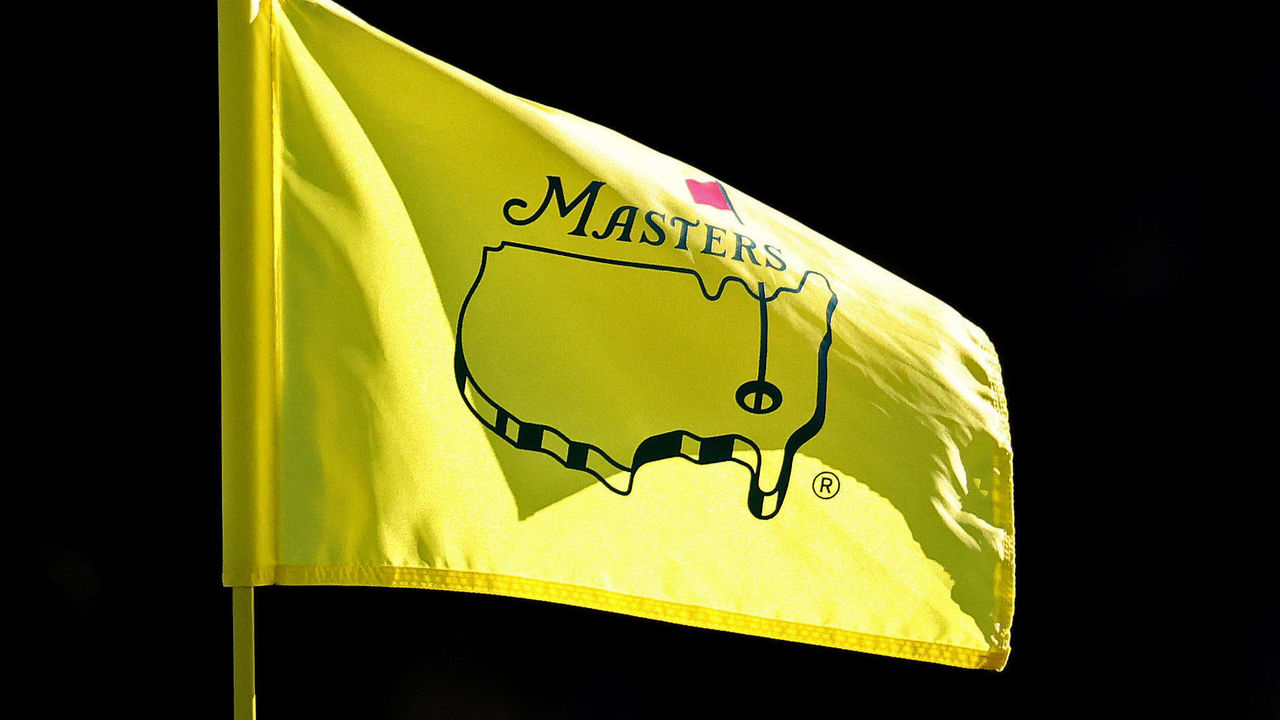 With the Masters postponed from early April until this weekend, and with CBS having the broadcast rights to the tournament, the NFL opted not to have any early games that would air on CBS. The schedule is set up for the Masters to conclude its final round just before the 4 p.m. window of games begins. In case you were wondering.
Dom Cosentino is a senior features writer at theScore.