Sunday Rundown recaps the most important developments from the day's action and examines the significance of those events moving forward.
Cowboys a spectacular disaster
It's becoming increasingly difficult to put into words the circus this Cowboys squad has been this year.
Last week's blowout win over the Rams should have been the breakthrough moment we were waiting for. After a roller-coaster three months, Dallas taking it to the defending NFC champions in a massive game felt like this supremely talented team was finally finding a way to put it all together. At the perfect time, too.
But no. Sunday's loss to the Eagles, which saw the Cowboys relinquish control of both the NFC East and their own playoff fate, is the lowest moment in a season that's been full of them. Wasting this kind of opportunity - and putting up just nine points against one of the league's worst pass defenses - falls squarely on the coaching staff.
Jerry Jones must be itching to make the change that's seemingly been in the cards for weeks. He'll have to wait to fire Jason Garrett, as the Cowboys are still technically alive, and you can't rule out any Week 17 outcome given the state of the NFC East this year. Either way, it's only a matter of time.
And Jones better nail the next hire, because it only gets more difficult from here. With other stars like Amari Cooper and Byron Jones yet to be paid, the duration of Dak Prescott's rookie contract always represented the Cowboys' best chance at putting together a Super Bowl-caliber squad. Garrett and his staff have squandered that window. Seeking a coach capable of elevating the team as the roster becomes increasingly top-heavy, it feels like Jones will be going big.
Bengals can compete in 2020
After losing to the Dolphins on a field goal as overtime expired and clinching the first overall pick in the 2020 NFL Draft, the Bengals are officially on the clock.
The NFL's worst team did its best to win Sunday, scoring three touchdowns in the final 6:11 of regulation, making a pair of two-point conversions, and recovering an onside kick along the way. In the end, a Dolphins team everyone had expected to intentionally finish last was slightly less bad than the woeful Bengals.
Cincinnati will surely cut ties with longtime starter Andy Dalton and select LSU quarterback Joe Burrow to replace him. If the Heisman winner is as advertised and the Bengals make a few other upgrades, they could make a quick leap from laughingstock to competitive, if not contender.
This season's Bengals aren't talented - no team that finishes last is - but they have more raw materials with which to rebuild than recent cellar-dwelling squads in Cleveland and Arizona did.
Joe Mixon is an emerging stud at tailback. The wideout corps of A.J. Green (a pending UFA who could be retained via franchise tag or a new long-term deal), Tyler Boyd, Auden Tate, and John Ross is skilled and multifaceted. With some improvement on the offensive line, made easier by the expected return of 2019 first-round pick Jonah Williams, offensive-minded head coach Zac Taylor could build a formidable attack around Burrow.
The defense will undoubtedly be a work in progress, but drafting at the top of every round can help. Perhaps the notoriously cheap Bengals will even open their wallets for free-agent reinforcements.
A six-win season is easily within the Bengals' reach in 2020, and it's not crazy to suggest the team could flirt with .500.
Get the Titans in the playoffs, please
Thanks to the Steelers' loss to the Jets on Sunday, the Titans can clinch the AFC's second wild-card spot with a win over the Texans next week. Neutral fans should root for it to happen.
This isn't the "exotic smashmouth" of years past, Mike Mularkey's laughably misnamed scheme of conservative runs and ill-conceived trick plays. These Titans are efficient, explosive, and far more exciting than any other AFC wild-card hopeful.
Ryan Tannehill's revival hasn't been exaggerated. He's a completely different quarterback than the one we knew in Miami, connecting on aggressive downfield throws with borderline historic efficiency. A.J. Brown is making a strong late case for Rookie of the Year, scoring four touchdowns over the last four weeks as he approaches 1,000 yards receiving on the season. Derrick Henry, who sat out Sunday nursing a hamstring injury but should play in Week 17, is built for late-season football. The Titans' defense lacks stars and has been hampered by injuries at cornerback, but Mike Vrabel has built an opportunistic and overachieving unit.
Patriots' formula isn't exciting, but it can work
It's late December and the Patriots are rounding into postseason form, as always. It's a different form than those of years past - there's no Gronk, nor any receiver capable of explosive downfield plays - but the Patriots showed in Saturday's win over the Bills a formula capable of carrying this team to yet another Super Bowl title.
There's no innovation here; no secret to success. These Patriots grind out wins with power running, short and efficient passing, ball security, and elite defense. It's the same formula hundreds of teams have tried to follow - most failing in the attempt - but Belichick, Brady, and the Patriots' core veterans have the expertise to execute it with a higher degree of efficiency than others. Don't discount the cultural momentum that propels the Patriots. They've seen almost every conceivable obstacle over the years and learned how to overcome them all.
The defending champions won't be playoff favorites, but it would be foolish to bet against them. The road in the AFC goes through Baltimore, where the Patriots were thrashed 37-20 back in Week 9. The Patriots' reputation for never losing to the same team twice in a season is overblown - they lost to the Ravens twice in 2012, and to the Broncos twice in 2015. But if there's a team capable of solving the riddle of Lamar Jackson, it's probably the Patriots armed with tape of their previous meeting.
Kamara revived?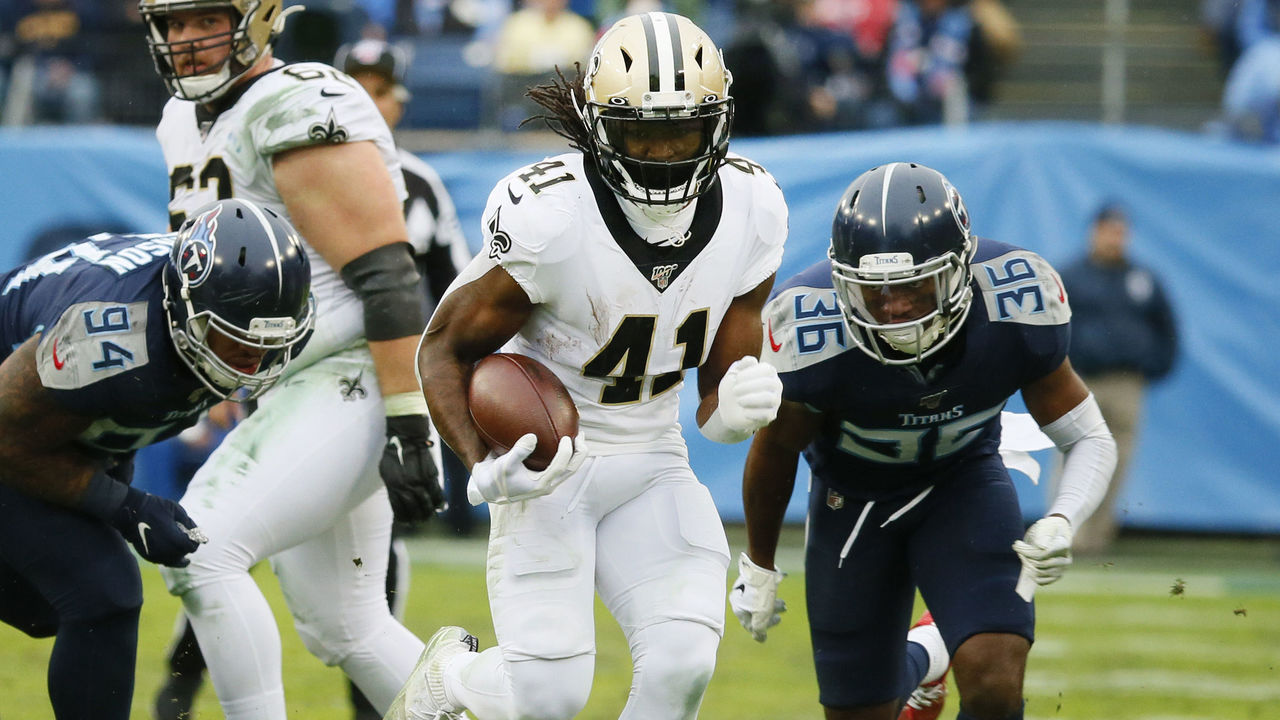 As the Saints struggled through the early stages of Sunday's game in Tennessee, we couldn't help but think of this organization's painfully average history in cold weather. For a team so reliant upon precision passing and a quarterback with declining arm strength, getting home-field advantage through the NFC playoffs could be considered imperative.
But our concerns began to dissipate when Alvin Kamara, at long last, broke out of his funk. Just in time for fantasy owners who've waited all year to enjoy the kind of big days for which he's known, the star running back racked up 80 rushing yards and two touchdowns on just 11 carries, adding another 30 yards on six receptions.
If Kamara is healthy, or at least healthy enough to produce at the level that's evaded him in recent weeks, the Saints' offense rises to a whole new level. He's one of the most explosive runners in the game, and his dynamic skill set translates well to the passing game, where he can be a phenomenal weapon for Drew Brees underneath.
The Saints ended up rallying to beat the Titans - due in large part to Kamara's impact - so they remain in prime position for the No. 1 seed. And though home-field advantage always comes in handy, this team can win anywhere if No. 41 is even close to the top of his game.
Dan Quinn saving his job?
Ever since it became apparent the Falcons had dug themselves too deep a hole to save their season, it's felt like Dan Quinn's firing was only a matter of time. At 1-7, there was even talk that Atlanta could make an in-season coaching change.
But in the seven games since, a revived defense has led a 5-2 run that's included several blowouts and a pair of stunning wins over Super Bowl contenders in the Saints and 49ers.
Falcons leadership may still believe a change is in order, as the dreadful start is unacceptable for an organization of this caliber, but Quinn is making the decision increasingly difficult. There's absolutely a case to be made that he should keep his job.
And should he find himself looking for work, this kind of turnaround, which can be attributed directly to adjustments made by the coaching staff, will keep Quinn near the top of the candidate list for other teams searching for a head coach.
Texans the ultimate wild card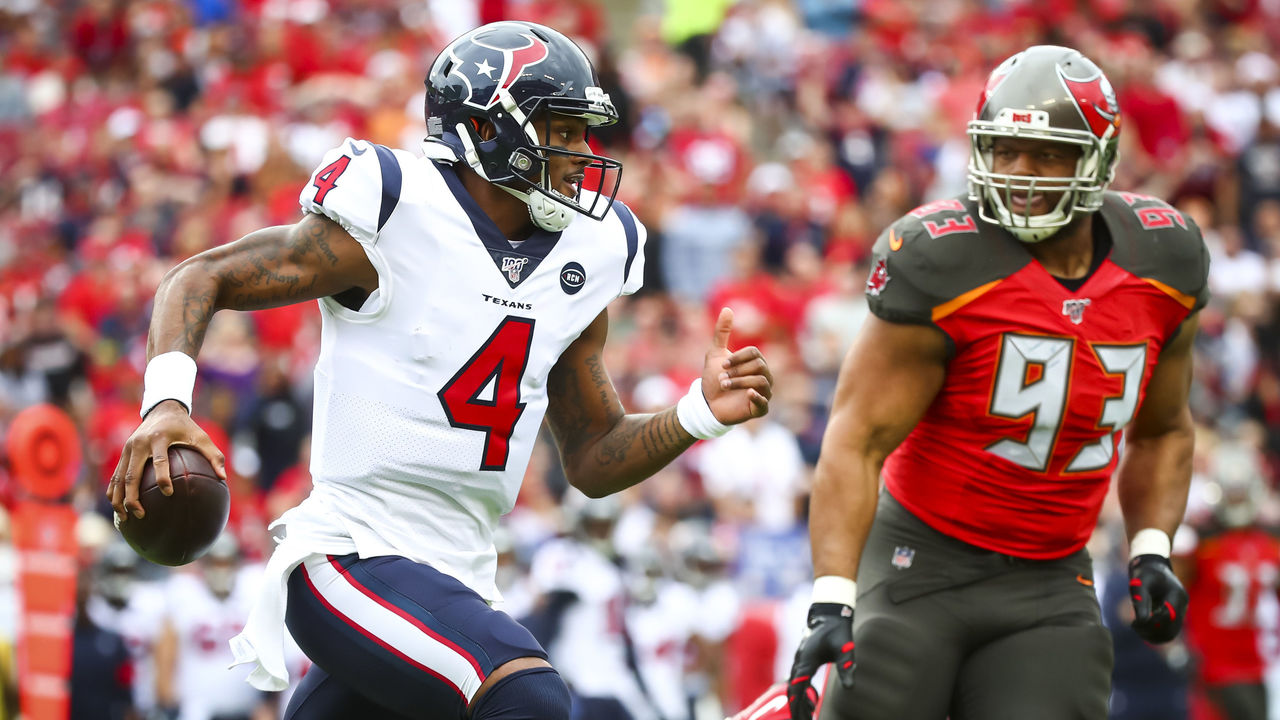 Anybody have any idea what to make of the Texans? Please advise.
On one hand, they seem like a team nobody wants to meet in the playoffs. With a quarterback like Deshaun Watson, who does his best work downfield after effortlessly escaping pressure to buy time, a defense can do everything right and still be wrong. And he's only throwing to what may be the game's most dangerous group of big-play receivers led by DeAndre Hopkins.
We saw precisely how unstoppable this offense could be back in Week 13, when Houston lit up the Patriots' league-best pass defense in a statement prime-time win.
But depending on the day, this can also be the most beatable team in the AFC playoffs. For all that fear-striking explosiveness, the offense has also proven susceptible to the kind of performance put forth in Saturday's tightly contested win over the Buccaneers - the fifth game in which Watson has averaged fewer than 6 yards per attempt.
A single-elimination playoff tournament is all about getting hot, and the Texans are certainly capable of that. But would anyone really be surprised if they're one-and-done? Good luck predicting which Houston squad shows up in January.
Seahawks dealt major blow
Seattle's Super Bowl aspirations took a significant hit Sunday when running back Chris Carson and backup C.J. Prosise both suffered season-ending injuries. These just weeks after Carson's primary backup, Rashaad Penny, suffered an equally serious injury of his own.
The current generation of football analysts will take any and every opportunity to tell you running backs don't matter, so perhaps these losses don't get much play looking ahead to the playoffs. But going from a stud lead back in Carson to a fourth-string ball carrier in sixth-round pick Travis Homer is a big deal.
Make no mistake: The Seahawks will go as far as Russell Wilson takes them. That was the case before, and it remains true now. But it's not as simple as having the MVP candidate drop back and throw every down. His job becomes that much more difficult if there's no reliable running game to keep the offense out of third-and-long situations, especially with such a shoddy pass-protection unit up front.
We wouldn't dare bet against Wilson - it's become his weekly tradition to enter hero mode and carry the Seahawks to victory in even the most difficult situations. There's really no limit to what he can do for this team, and to where he can take it. But don't sleep on the severity of this blow as Seattle heads into January.
Unless ...
👀👀👀
Ravens face difficult decision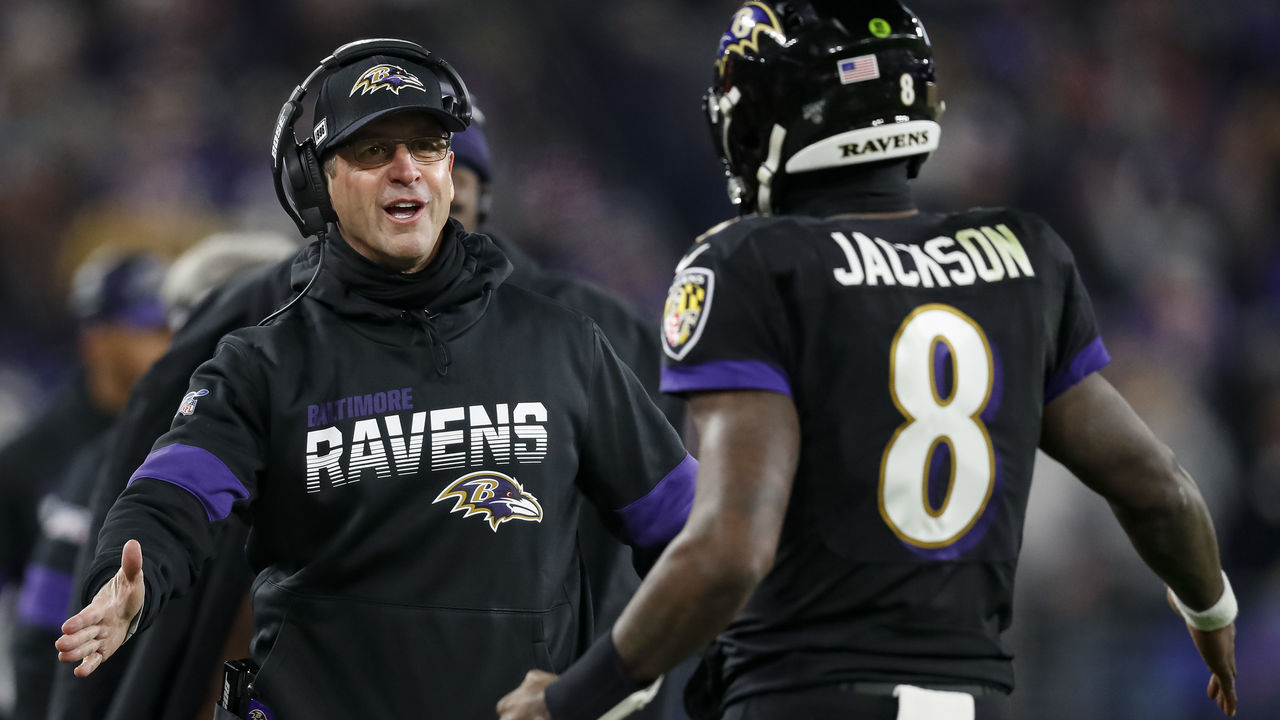 Having locked up the No. 1 seed with a week to play, the Ravens find themselves in an enviable position. They've been the best team in football through 16 weeks, and it's not particularly close. The rest of the AFC clubs have their work cut out for them if they hope to stop this train.
In many ways, the only ones who can stop the Ravens may be themselves. And that raises an interesting question.
Next week's regular-season finale against the Steelers means nothing to Baltimore, so it would be no surprise to see the starters sit, rest, and get healthy for the playoffs. But such a move would create roughly a three-week stretch in which key players don't see any game action.
The Ravens might be fine either way. They really are that good, and matching up with Lamar Jackson's offense really can be that tall a task. But football is all about precision, and even the slightest rust can prove costly against a team flying high off a wild-card victory.
John Harbaugh's thought process may ultimately lead him to some sort of middle ground, playing his starters for roughly half of the game against Pittsburgh - assuming they're fully healthy. That would allow Baltimore to both get some rest and maintain its rhythm ahead of a first-round bye.
Make hits to the head reviewable
The Saints escaped Tennessee with a victory that could prove to be the difference in determining home-field advantage in the NFC. The game turned on a play late in the fourth quarter, with the Titans on the move and trailing by a field goal. Ryan Tannehill hit Kalif Raymond for what would have been a first down, but the receiver fumbled the ball after taking a brutal hit to the head.
Officials did not throw a flag on the play:
Obvious penalty? Almost certainly. Perhaps it can be argued no flag was warranted because the defender had no reasonable way to avoid contact to the head, but there's simply no excuse for a dangerous play like this to not be subject to review. In a league that claims to prioritize player safety, pausing games for pointless pass-interference reviews but not for hits to the head is embarrassing.