Takeaways from Saturday's NCAA Tournament games
theScore runs down the top storylines and developments from Saturday's NCAA Tournament games and what it all could mean moving forward.
Arkansas' upperclassman take reins in upset of Kansas
Arkansas' star-studded freshman class had many pundits expecting big things from the Razorbacks this season, but it was a pair of upperclassmen that kept their national championship hopes alive. Junior guards Davonte Davis and Ricky Council combined for 46 points, 14 boards, and five assists to lift Arkansas past Kansas on a night where Nick Smith and Anthony Black struggled mightily. Davis had 21 of his 25 points in a second-half flurry, using his long strides to get to the rack and charity stripe. When Davis fouled out with 1:56 remaining, it was Council who picked up the slack with some clutch free-throw shooting and a key offensive rebound off his lone miss in 11 attempts from the line. The duo's heroics ended the Jayhawks' pursuit of a second straight Division I title and handed the program its first defeat in 48 NCAA Tournament matchups when leading by at least eight at halftime.
Princeton continues recent run of No. 15 seeds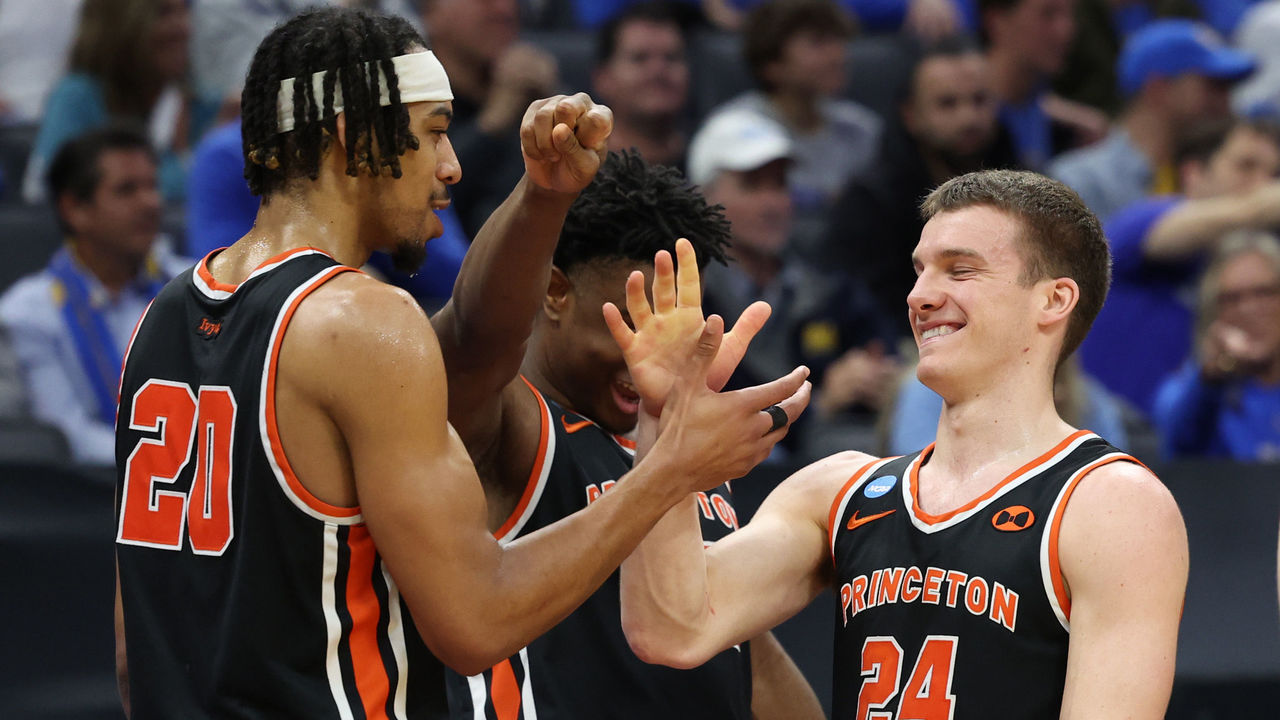 Before 2021, only one No. 15 seed had ever made the Sweet 16, but thanks to Princeton's eye-popping 78-63 win over seven-seeded Missouri, it's now happened in three straight tournaments. But unlike Saint Peter's and Oral Roberts, the Ivy League school was in control throughout, cruising to the largest margin of victory ever for a 15 seed in the Round of 32.
Despite playing an SEC school, Princeton was clearly the more physically dominant team, winning the rebounding battle 44-to-30, and getting to the line eight more times than its counterpart. 6-foot-6 wing Caden Pierce led the charge on the boards, picking up 16, including seven on the offensive glass. It's tough to imagine Princeton playing this well in the next round against either No. 3 Baylor or No. 6 Creighton, though, where it will be harder to impose its will physically to the same extent.
Commanding 2nd half helps Houston avoid upset
As top-seeded Kansas was in the midst of blowing its lead to No. 8 Arkansas, fellow No. 1 Houston fell behind by 10 at the half to Auburn, and the two-day collapse of No. 1 teams was in full effect.
Then the Cougars produced an absolutely dominant second frame, holding the Tigers to an abysmal 4-of-24 shooting from the field. With 20 of guard Tramon Mark's career-high 26 points coming in the second half, Houston beat Auburn 50-23 from the midway point, comfortably overturning its first-half deficit and winning 81-64.
The Cougars showed off the full arsenal Saturday, combining stifling defense (12 blocks), physical work on the glass (17 offensive rebounds), and elite guard play down the stretch (58 combined points from their starting backcourt). If Houston can perform to the same level it did during its second half against Auburn, the Cougars will be cutting down the nets in their home city come April.
Bama justifies selection committee
Amid a tournament confounding several of the highest seeds, the Crimson Tide have looked more than deserving of their top overall ranking. Alabama throttled Maryland nearly all game Saturday to book its spot in the Sweet 16, making it now two tourney contests in which Nate Oats' squad has looked convincingly comfortable in the spotlight. Star freshman Brandon Miller looked more like himself, too, pouring in 19 with seven rebounds after going scoreless in the opening game against Texas A&M-Corpus Christi.
Even on an off-shooting night - the Crimson Tide shot just 39.7% and 28.6% from three - the SEC champs simply outpaced the Terrapins on effort markers like offensive rebounds (15 to 10) and the subsequent second-chance points (16 to four), proving they will find alternate routes to victory if their shot isn't falling. That should put San Diego State on high alert ahead of their Sweet 16 clash on Friday.
Texas leans on Disu with shooting gone cold
The story of No. 2 Texas' opening-round win was lights-out shooting from deep - it connected on an outrageous 56% from beyond the arc. The opposite was true Saturday, as the Longhorns shot an abysmal 7% from three, making just 1-of-13 attempts. However, thanks to Dylan Disu, they were somehow able to still get the victory over No. 10 Penn State. The senior forward turned in his best performance of the season, making 14-of-20 shots from the floor en route to a 28-point, 10-rebound double-double. Disu saved his best in the contest for crunch time, scoring 10 points in the final five minutes to turn a three-point deficit into a five-point victory. Disu's brilliance was enough to catch the eye of one famous star at Texas.
The Longhorns now advance to the Sweet 16 for the first time since 2008 to face the winner of Sunday's matchup between No. 3 Xavier and No. 11 Pittsburgh.
UCLA survives and advances past Northwestern
UCLA blew a 14-point lead, had its second-leading scorer make zero field goals, and saw its solid fifth-year senior starter go down with a scary injury in the final minute. But, the two-seed Bruins did all that matters - beat Northwestern and move on to the Sweet 16. Jaime Jaquez scored 24 points to make up for Tyger Campbell's 0-for-9 night, and rising freshman Amari Bailey added 14 points and six assists in the win.
The aforementioned leg injury to sharpshooter David Singleton could severely hurt a UCLA team already missing star Jaylen Clark for the rest of the tournament, if Singleton is forced to miss the team's next game. With either ultra-athletic TCU or West Coast rival Gonzaga waiting for the Bruins, they'll need all the personnel they can trot out.
Nkamhoua's dominance puts Tennessee on clear path
Olivier Nkamhoua put Tennessee on his back against Duke on Saturday, a victory that resulted in clearing the best path to the Elite Eight for any team remaining in the field. The senior forward absolutely exploded versus the Blue Devils, pouring in 27 points on a blistering 10-of-13 shooting from the field. To say that output was a bit of a surprise would be an understatement as Nkamhoua entered play averaging 10.5 points per contest this season. That offensive display, combined with the usual dominant showing from the nation's top defense, was too much for the young Duke roster to handle.
Thanks to No. 1 Purdue's stunning loss in the opening round, the only thing stopping Rick Barnes from advancing to his first Elite Eight since 2008 is the winner of the Round of 32 matchup between No. 16 Fairleigh Dickinson and No. 9 Florida Atlantic. Tennessee will be very heavy favorites regardless of which team emerges from that matchup, with a strong chance at reaching the school's second Elite Eight ever.
San Diego State shuts down Furman's high-octane offense
San Diego State takes pride in its strong defensive play, and that excellence shone again as the Aztecs steamrolled past Furman into their first Sweet 16 since 2014. Brian Dutcher's squad ranks sixth nationally in opponents' 3-point percentage (29%). The team has length across its rotation and big men capable of blocking attempts from downtown.
San Diego State limited a potent Paladins offense to just 52 points on 30.8% shooting - including a 23.1% clip from long distance. Furman star Jalen Slawson managed just eight points and coughed up the rock four times before fouling out. The Aztecs constantly swarmed the Paladins, creating many miscues with timely double teams. San Diego State tallied nine steals and scored 11 points off turnovers.