Dodgers get reality check with Game 1 loss
Ronald Martinez / Getty Images
Dave Roberts was trending on Twitter on Monday night. Rarely is that an auspicious sign for a big-league manager.
And, sure enough, the social media consensus was that Roberts, the longtime Los Angeles Dodgers skipper whose tactical maneuvering has raised eyebrows in postseasons past, erred again Monday during the National League Championship Series opener, pushing the wrong buttons en route to a demoralizing 5-1 loss to the Atlanta Braves that was keyed by a horrid ninth inning from Los Angeles' bullpen.
As shocking as it may sound, however, the online derision directed at Roberts was misplaced.
It was entirely defensible for Roberts to call upon Blake Treinen with the game knotted at 1-1 heading into the top of the ninth, even with Ronald Acuna Jr. and Freddie Freeman due up second and third, respectively, for Atlanta. Brusdar Graterol had already pitched, and so had Dustin May. And going to Kenley Jansen was a nonstarter given his recent woes.
Sure, Roberts could've stuck with rookie Victor Gonzalez, who inherited a bases-loaded, two-out jam the inning prior and promptly extinguished the fire with a strikeout of Charlie Culberson. But the three-batter rule would've forced Gonzalez, a left-hander, to face the right-handed-hitting Acuna. Besides, Treinen had been excellent all year, posting a 3.86 ERA (which belied his 3.15 FIP) and finishing tied for third among Dodgers relievers in WAR.
But on this night he wasn't excellent. Treinen, who surrendered only one regular-season home run and had yet to allow a run through his first four playoff outings, put the Dodgers in a hole before even getting to the good hitters, serving up a leadoff dinger to Atlanta's No. 9 hitter Austin Riley on a misplaced 97.9-mph sinker. Only one of the scuffling sophomore's eight regular-season long balls came off a fastball.
Things kept unraveling from there for Los Angeles. Acuna followed with a double off Treinen. Then, after a deep flyout from Freeman moved Acuna up to third, Marcell Ozuna laced a single to right field to extend the Braves' lead to 3-1. At that point, Roberts relieved Treinen, but Jake McGee, the resurgent left-hander who was arguably Los Angeles' top bullpen arm this season, didn't fare much better, serving up a two-out, two-run homer to Ozzie Albies to effectively seal the Dodgers' fate.
And as the Dodgers stumbled to their first loss this postseason, the blame was placed disproportionately on Roberts, or so it seemed in certain corners of the internet. Unlike in the not-too-distant past, however, Roberts didn't deserve to be scapegoated. (The only move that truly warranted second-guessing was going to McGee to stop the bleeding considering Albies' success against left-handers, though McGee actually fared better against opposite-handed hitters in 2020.) Roberts didn't squander a potential Game 1 win with his faulty or short-sighted bullpen management. Instead, the result was a sobering dose of reality for the Dodgers, who are easily the best team of the four remaining, but whose postseason to this point had been decidedly charmed.
The Braves aren't the Milwaukee Brewers, a losing team with an anemic offense that had no business playing in the postseason, nor are they the decimated San Diego Padres, a club without its two best starters available for the league division series.
Rather, the Braves are a legitimate powerhouse - and a mostly healthy one, at that, Adam Duvall's injury notwithstanding - that cruised to a third straight division title in 2020. And, like the Dodgers, they didn't lose a game during the postseason's first two rounds, though Atlanta's path to the NLCS wasn't the most fraught, either. In any event, the Dodgers' margin for error is considerably slimmer against the Braves than it was against their previous opponents, especially with Clayton Kershaw's availability for the series suddenly in doubt: The venerated left-hander was scratched from his scheduled Game 2 start Tuesday morning due to back spasms. Ultimately, to beat Atlanta, the Dodgers will need to be at their best or close to it, and they weren't in Game 1.
It wasn't just Treinen and McGee (or Walker Buehler, for that matter, who allowed eight baserunners, including five walks, over five-plus innings and escaped with a respectable line only thanks to Graterol). Left-hander Max Fried stymied the Dodgers' vaunted offense, with the unit eking out just one run on four hits - while fanning nine times - in six innings.
The Dodgers were even more helpless against the Braves' late-inning triumvirate of Chris Martin, Will Smith, and Mark Melancon, who didn't allow a baserunner over the game's final three frames. Los Angeles was held to one run in a game only twice during the regular season, and the Dodgers were limited to fewer than four hits just five times. And it's not like they were continually scorching the ball and just getting unlucky: Los Angeles' hitters accounted for only three of the game's 11 hardest-hit balls, two of which were ripped into the ground, according to Baseball Savant.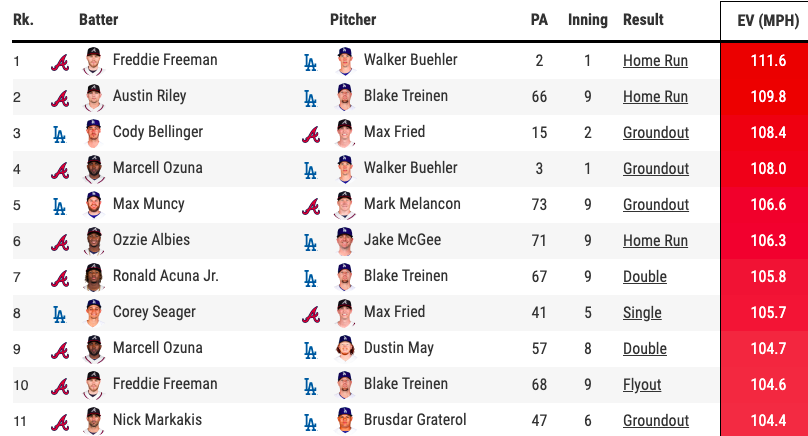 The Dodgers' offense didn't show up, and two very good relievers faltered late. That's not the manager's fault. Rather, for the first time this postseason, the Dodgers were simply outplayed, and their Game 1 loss reaffirmed just how different the Braves are from their previous two opponents.
Unlike the Brewers and Padres, the Braves can actually beat them.
Jonah Birenbaum is theScore's senior MLB writer. He steams a good ham. You can find him on Twitter @birenball.
Comments
✕
Dodgers get reality check with Game 1 loss
  Got something to say? Leave a comment below!