Spanish GP takeaways: Perez aids Max to win, Mercedes rising
Following each race weekend this season, theScore's editors will offer their takeaways. We continue with the Spanish Grand Prix:
Mechanical issues, team orders, but Red Bull back on top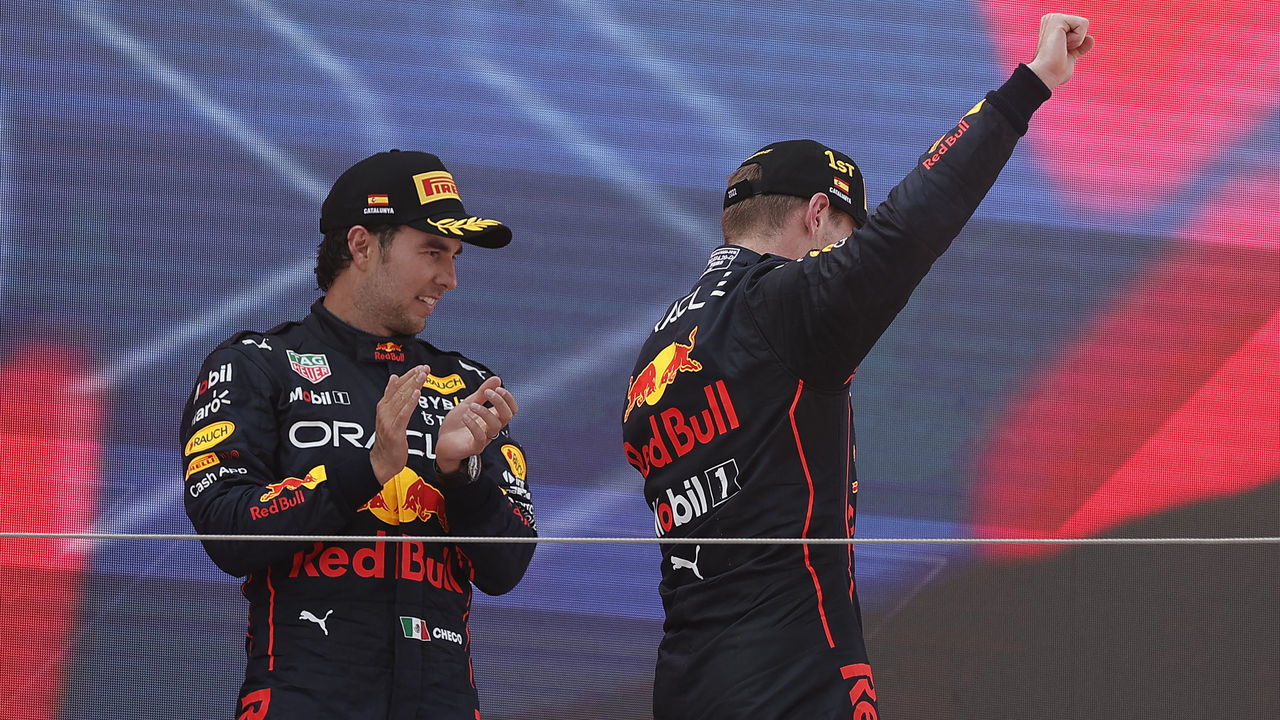 Max Verstappen and Red Bull stood tall at the end of the chaotic 66-lap Spanish GP.
The event provided no shortage of drama as Red Bull jumped Ferrari in the constructors' standings thanks to a 1-2 finish, while Verstappen took hold of the drivers' lead. A third straight win has turned the Dutch driver's 46-point deficit into a six-point championship advantage, but his latest victory wasn't as simple as the previous two.
An early trip into the gravel and a malfunctioning DRS made winning look impossible. However, Charles Leclerc's engine blowing up, an early pivot to a three-stop strategy, and favorable teamwork put the reigning champion on top of the podium. Sergio Perez let Verstappen through on Lap 49 for the lead and eventual win, opening Pandora's box of the sport's team order conundrum.
There's no denying that Perez put on a performance capable of winning, which makes his remarks on the decision to give up his lead understandable.
"I think so," Perez said when asked if he believed he deserved to win. "Especially in the beginning when I gave the position to Max, thinking I was going to get it back later, but then we swapped strategies."
He added: "It's a bit frustrating from my side at the moment, but at the end of the day, it's a great team result."
Red Bull's perspective makes sense as the difference in strategy played a huge role in the on-track swap. Using an aggressive three-stop plan, Verstappen held a massive speed advantage on Perez, who looked to be on a two-stopper before making a late pit stop to cover off George Russell.
"From a team point of view, the offset was so great between the two of them. Max was at that stage, because of the tire delta, about two seconds a lap quicker. It just didn't make sense to let them fight it out," team principal Christian Horner said.
It was only a matter of time before team order controversy returned to F1. Many top teams have faced the question at one point or another: Is it right to prioritize drivers in a championship battle and rob a potential wheel-to-wheel battle as a result?
In this case, the answer is complicated. Verstappen is ahead in the championship, and he undoubtedly would have caught Perez. He likely would have passed, too, though his DRS issues could provide an argument against that. A battle would have appeased viewers, but a collision would have sunk a prime opportunity to capitalize on Ferrari and Leclerc's misfortune. And for a Red Bull side battling reliability concerns, that's a call too risky to take.
"Our responsibility is to bring the cars home with as many points as we can," Horner added. - Daniel Valente
Mercedes continues to fight back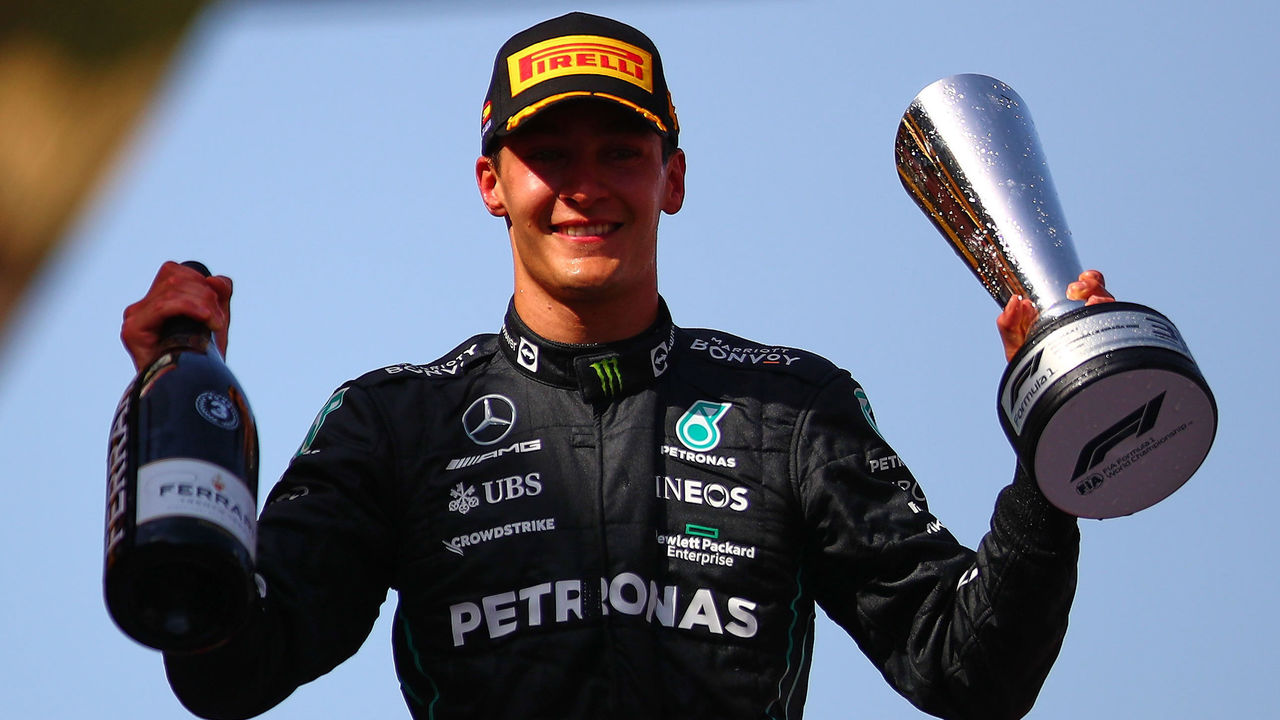 Considering all the doom and gloom surrounding Mercedes to start the season, the reigning constructors' champions have closed the gap on Ferrari and sit just 49 points back of second heading into Monaco.
Mercedes' ability to finish races and collect points remains impressive, while its two main rivals have combined for four DNFs early on. Ferrari, especially, has dealt with reliability issues recently. Both the team's cars have finished only once in the last four races.
The decision to replace Valtteri Bottas with Russell seems extremely positive, as the 24-year-old looks like a future No. 1 driver. He secured his second podium of the season in Spain and is the only driver to finish in the top five in all six races in 2022. Russell's wheel-to-wheel battle with Verstappen midway through the race also showcased his ability and skill set.
"Over the past couple weeks, we've tried to turn this around. We're not quite back in the mix just yet, but we've definitely turned the corner," Russell said. "I think we've now got a baseline to build upon. ... We can at least put up a fight with the Red Bulls and Ferrari if we find ourselves in front of them."
Even more encouraging was Lewis Hamilton's performance. He might have been the best man on the track Sunday.
The seven-time champion was on an emotional roller coaster. Hamilton suffered a punctured tire on Lap 1 after colliding with Kevin Magnussen and dropped to 19th. A dejected Hamilton contemplated retiring the car before his team asked him to press on.
"I would save this engine, guys, if I was you," Hamilton said over the team radio.
Hamilton trailed Verstappen by almost 50 seconds before going on a blistering pace. He moved all the way up to fourth but conceded a place to Carlos Sainz on the second-last lap due to a water leak in the power unit. Hamilton's showing was reminiscent of his 2021 win in Brazil when he started 10th.
"I was thinking it was impossible to get back into points, but the team said no, you're on for eighth," Hamilton said, according to BBC's Andrew Benson. "I thought they were being super optimistic.
"I'm glad we didn't (retire), and it just shows you never stop and never give up, and that's what I did. A race like that is like a win, and it actually feels better than a win most often when you have come from so far back."
Mercedes team principal Toto Wolff said he believes Hamilton could have fought for a race win if not for the early troubles. That just shows how much improvement Mercedes believes it's made with its car. With 16 races remaining, Ferrari is still in the hunt for the title with Red Bull, but there's no reason to think Mercedes can't put the fight on for at least the No. 2 spot.
"They're getting themselves back into this championship," Horner said. "I've said it from Race 1 that they're a very strong team - they've got great strength and depth. You can see they've made a big step this weekend." - Brandon Wile
Bottas, silent assassin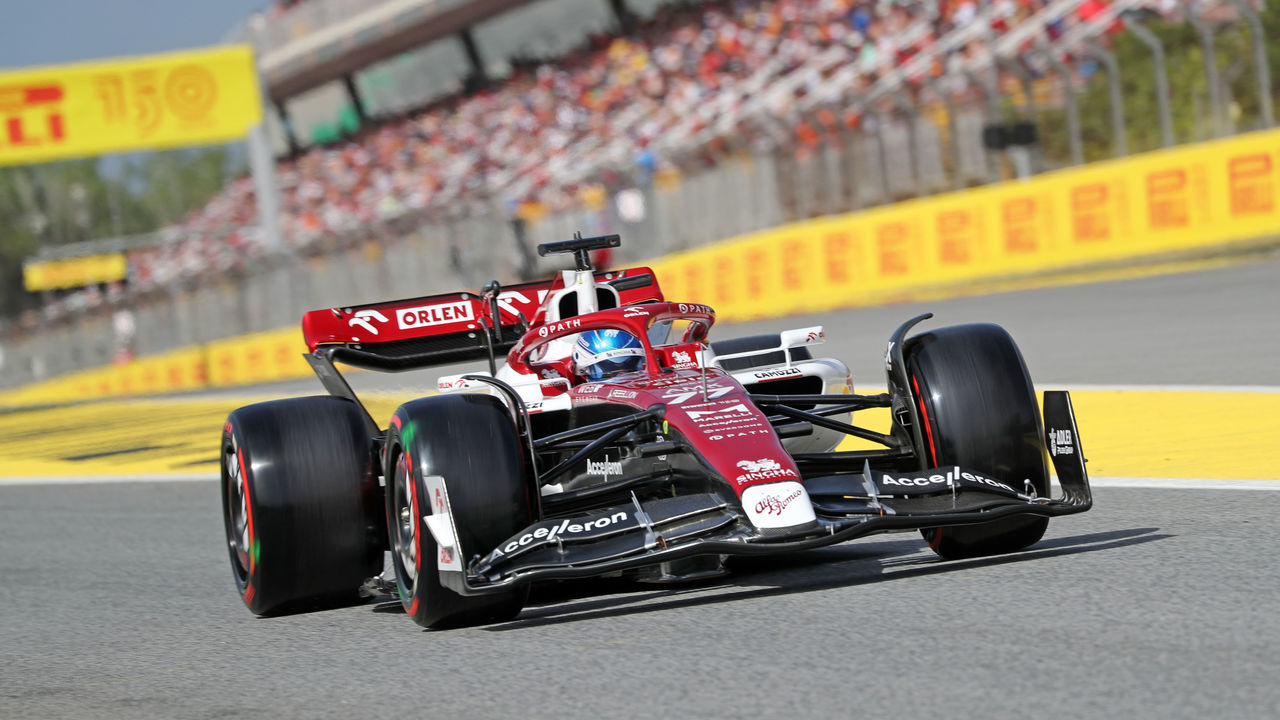 It's amazing how transformative a simple change in scenery can be. Or, in this case, a change in garage.
Free from the pressure that comes with direct competition against arguably the greatest Formula 1 driver in history, Bottas is thriving. The Finn, stuck playing a subservient role to Hamilton during his five-year spell at Mercedes, has enjoyed a new lease on life since joining Alfa Romeo, where he's assumed the role of lead driver for an emerging outfit.
He even looks happier walking around the paddock. The weight has been lifted.
Bottas procured another very solid - if unspectacular - result in Barcelona, crossing the line in P6. Everybody wants to win races and world titles, but the 32-year-old appears at ease with his current situation. At Alfa, with the security of a multi-year contract, Bottas can help guide the team's direction without constantly having to answer questions about why he can't sustain a title challenge.
He was in the hunt for a podium at one point in Sunday's race and likely could have snagged P4 had the team opted for the same three-stop strategy as those around him. As it was, his tires faded late, and Alfa's decision to go for an aggressive two-stop approach allowed Sainz and Hamilton to beat Bottas to the checkered flag. Nevertheless, his sixth-place finish continued an impressive streak of bringing home points in every race he's completed this season.
"In the end, we chose to be aggressive and take a risk with the strategy, going for a two-stopper when everyone else went for three," Bottas said after the race. "It didn't pay off, as the tire life of the medium compound was a bit shorter than we anticipated, and we struggled at the end, but we still brought home a good result. I'm really looking forward to Monaco now; our car should be pretty good there."
That optimism and excitement totally disappeared in the latter stages of his Mercedes tenure. The move to Alfa rekindled his (quiet) exuberance.
Bottas, responsible for 38 of Alfa's 39 points on the campaign, sits eighth in the championship. He's done it with understated efficiency, away from the spotlight of the Verstappen-Leclerc battle. You sense that's just the way he likes it. - Gianluca Nesci
Aston Martin debuts the 'Green Red Bull'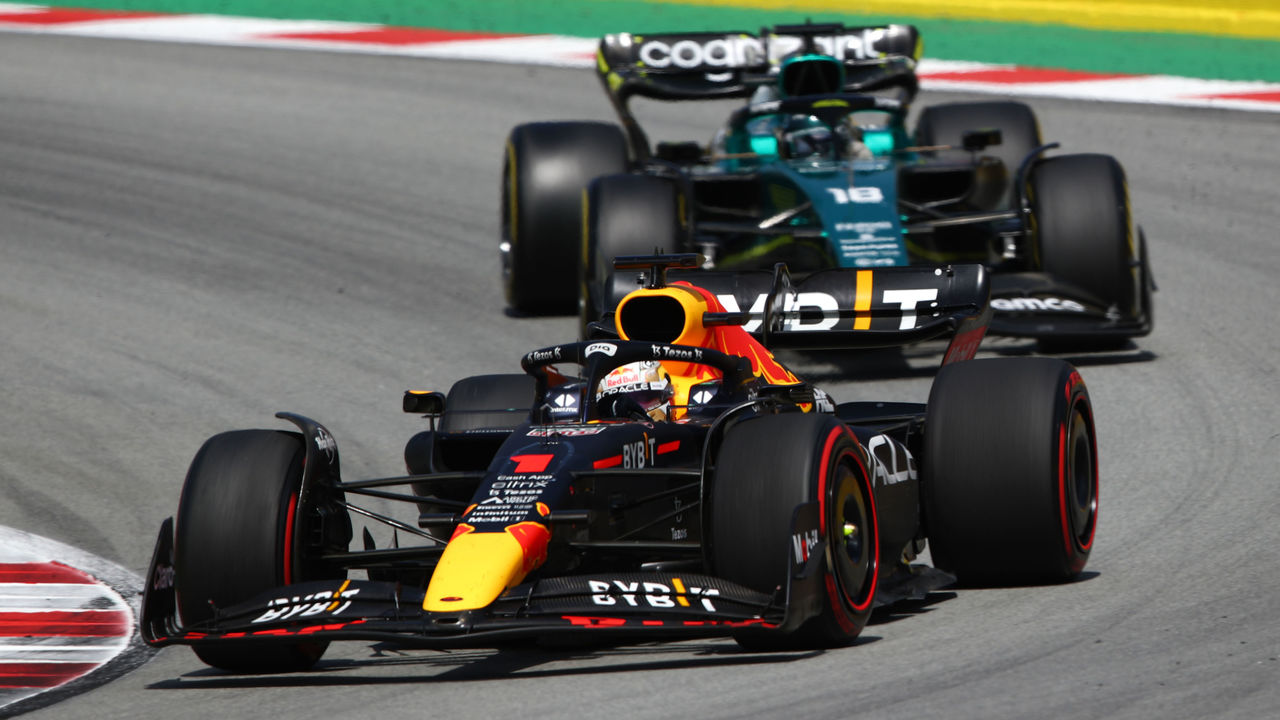 The 'Pink Mercedes' creators have delivered another controversial car: the 'Green Red Bull.'
That's right. For the second time in three seasons, a Lawrence Stroll-backed team has rolled out a design that closely resembles a top-of-the-field car. In 2020, Stroll's Racing Point group debuted the RP20, a carbon copy of the Mercedes W10. And on Friday, Aston Martin brought out their updated AMR22. The car immediately became the talk of the paddock due to its almost identical sidepod design to Red Bull's RB18.
The FIA said it found "a number of features" that closely resembled a competitor car but cleared the Aston Martin team of any wrongdoing. Red Bull conceded the issue but said it would hold an internal investigation into a potential IP transfer. After all, Aston Martin poached Red Bulls' former aero chief, Dan Fallows, almost a year ago.
"This car was conceived in the middle of last year as a dual route with the launch car, and the majority of the releases were made before anybody from Red Bull even turned up," Aston Martin's technical chief Andrew Green said.
While the 'Pink Mercedes' took four podiums and one win, it didn't appear the so-called 'Green Red Bull' could boost Aston Martin's fortunes to the same standard just yet. Both Lance Stroll and Sebastian Vettel failed to get out of Q1 in qualifying. Their Sunday race pace wasn't much better as neither finished in the points.
It's not unusual for teams to eventually adapt their cars to replicate some of the best features of their rivals, especially under new regulations. However, the recipe for success is far more complicated than just doing a copy-and-paste job. Aston Martin has a lot of work to do in understanding how to unleash the new 'Green Red Bull,' but that's not to say it won't get there. - Valente
Comments
✕
Spanish GP takeaways: Perez aids Max to win, Mercedes rising
  Got something to say? Leave a comment below!