US Open takeaways: Coco's coronation, Djokovic's 'Mamba' Slam
Whether it's your first or 24th Grand Slam trophy, the hunger to win more remains strong.
"I know that this feeling is incredible, and I want to experience it again," Coco Gauff told The Associated Press following her maiden major victory Saturday against Aryna Sabalenka.
Novak Djokovic added after dedicating his latest Slam win to the late Kobe Bryant: "Knowing that I play at such a high level still and I win the biggest tournaments in this sport ... I don't want to leave this sport if I'm still at the top, if I'm still playing the way I'm playing."
Gauff and Djokovic's title runs highlighted another thrilling two weeks of action at the US Open.
Here are five takeaways from the final major of the year, including more on Gauff and Djokovic.
Coco seizes her opportunity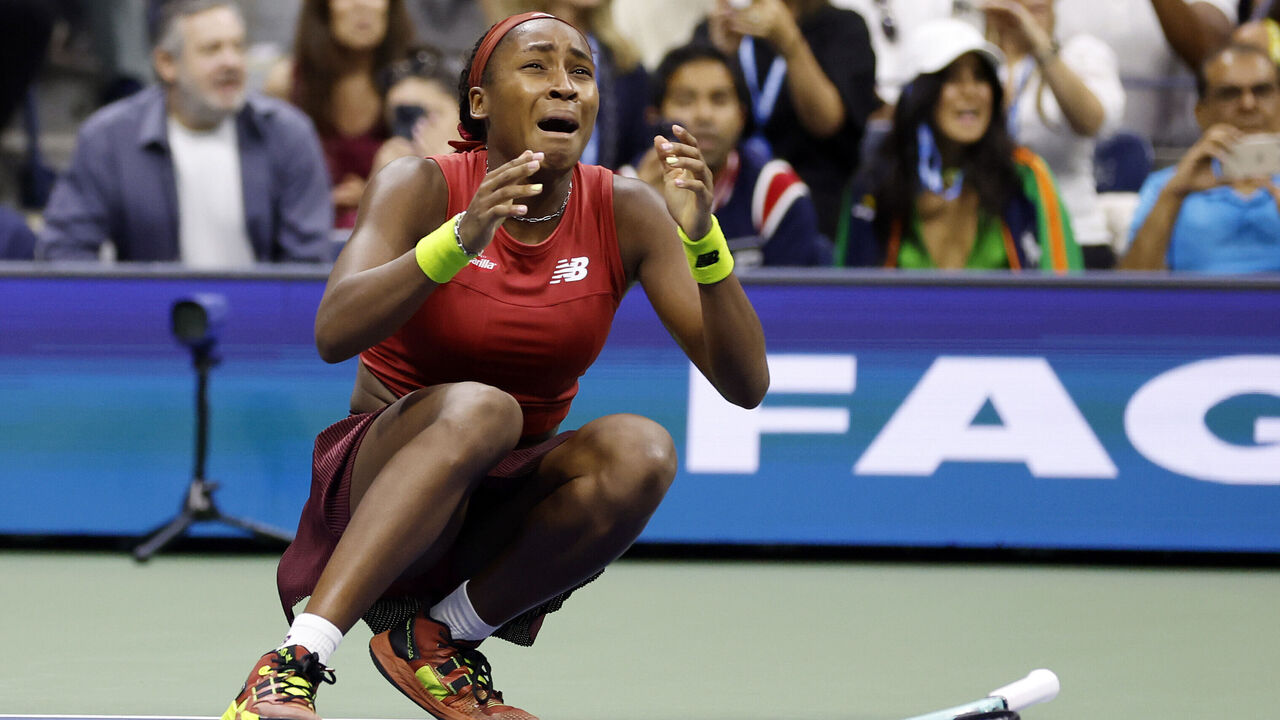 After dropping the first set 6-2 to Sabalenka, the match seemed to be slipping away from Gauff. She double-faulted twice in the first four points of the second set to give Sabalenka a pair of break-point opportunities, which were virtually two match points with the way the Belarusian had been dictating the rallies.
But suddenly, Sabalenka's level of play dropped off. She failed to shut the door on Gauff, committing four straight errors to allow the young American to hold serve. The match turned on its head from there.
Gauff settled in and became comfortable with Sabalenka's pace and power. Gauff read the ball off her counterpart's racket a lot better, which allowed her to anticipate where each shot was heading. She then used her elite athleticism to retrieve ball after ball, and the errors began to pile up for Sabalenka.
Gauff dropped serve just once the rest of the way and converted 4-of-5 break-point chances. Meanwhile, Sabalenka tallied 46 unforced errors, including 16 in each of the last two sets. It wasn't the prettiest way to win a major, but it was what Gauff needed to do and emblematic of how she consistently outthought opponents throughout the tournament.
"I was just trying to stay in the match," Gauff told reporters postmatch. "I knew she was going to go out there swinging, and I knew that I wasn't going to be able to win this match the way I like to play.
"I don't like to play the way that I played today. Running around the court ... it's not as fun as hitting winners. But I knew going into the match that was going to have to be the way I was going to have to play today against her."
More records for Djokovic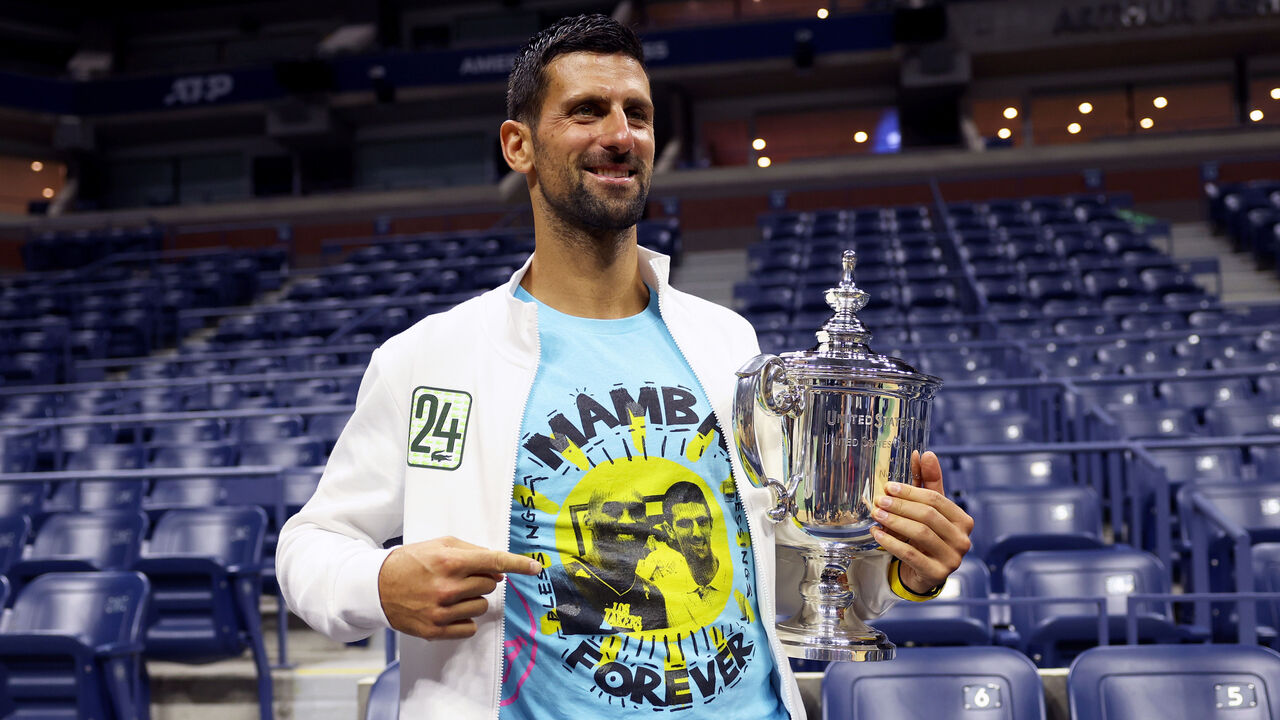 Djokovic managed to get the job done despite not playing his best tennis in New York. The 36-year-old now sits atop the all-time leaderboard with Margaret Court for the most Grand Slam singles titles. However, 13 of Court's 24 major singles trophies came against amateurs. Perhaps more importantly, Djokovic broke a tie with Serena Williams for majors singles championships in the Open era, which began in 1968 when the Grand Slams allowed professionals to compete.
"This is one of the biggest achievements in sports history," Djokovic's coach, Goran Ivanisevic, told reporters after the Serbian's straight-sets win over Daniil Medvedev in the US Open final. "We're not talking about tennis. We are talking generally in sport."
Djokovic's 24th career Grand Slam was just one of the many records he claimed in Flushing Meadows. The World No. 1 surpassed Ken Rosewall as the oldest man to win the US Open singles championship in the Open era. He also leapfrogged Williams for the most hard-court majors by a male or female with his 10 Aussie Open crowns and four US Open titles, according to ESPN Stats & Info.
It was the fourth time in Djokovic's career that he's won three majors in one campaign, surpassing the legendary Roger Federer for the most on the men's side. The Serbian superstar also inched past Federer with his 47th Grand Slam semifinal appearance in the Open era, per OptaAce. The two icons are the only men with four or more trophies in three different majors.
Don't forget about Medvedev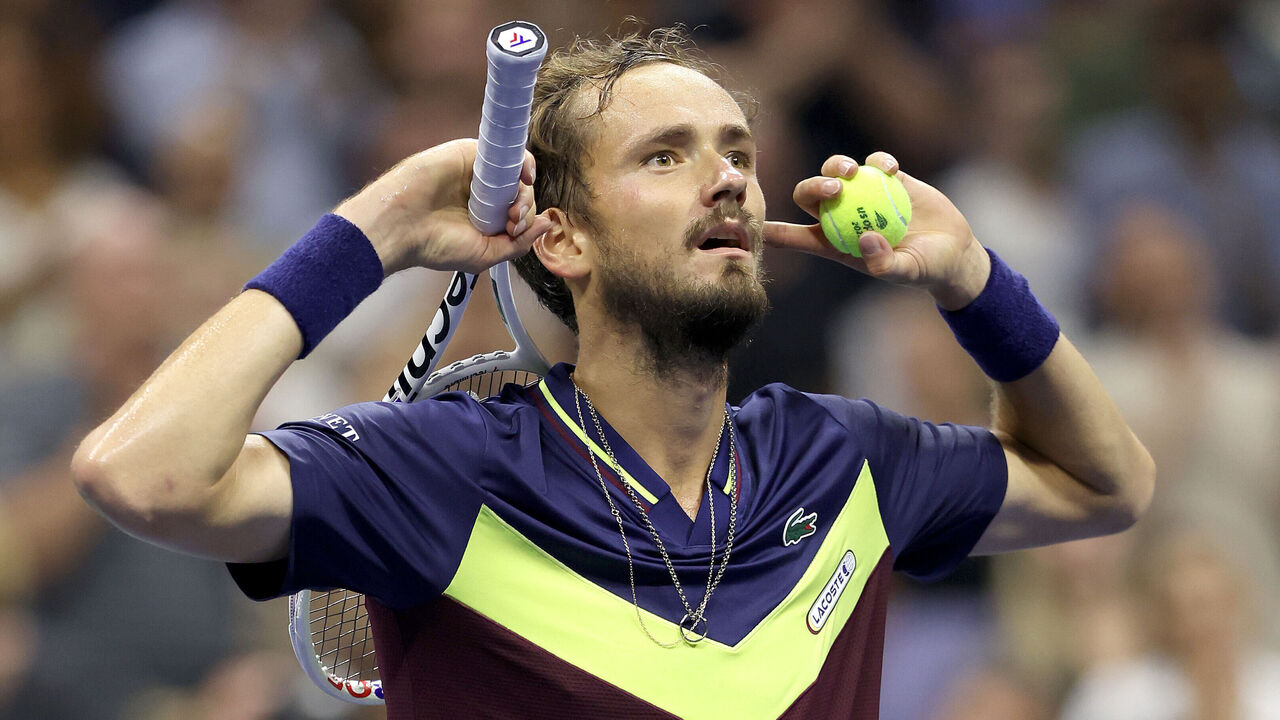 Medvedev was kind of forgotten amid all the chatter about another potential showdown between Djokovic and Carlos Alcaraz. The Russian star put a wrench in those plans, defeating the reigning Wimbledon champ 7-6 (3), 6-1, 3-6, 6-3 in their US Open semifinal tilt.
It was another reminder of how strong Medvedev is on hard courts, specifically during the North American summer swing. The 27-year-old was nearly unstoppable in the leadup to his first major final, reaching the championship match in Washington and Montreal before winning his first Masters 1000 title in Cincinnati. He subsequently lost a heartbreaking 2019 US Open final to Rafael Nadal after a nearly five-hour battle.
Two years later, Medvedev was victorious in Canada and a semifinalist in Cincinnati. He then took out Djokovic in straight sets in New York, capturing his maiden major and ending the Serbian's bid for the first calendar-year Grand Slam since Rod Laver in 1969.
All five of Medvedev's major finals have been on hard courts, including two of his past three appearances Down Under. Expect Medvedev to be in the mix once again.
Sabalenka's mental growth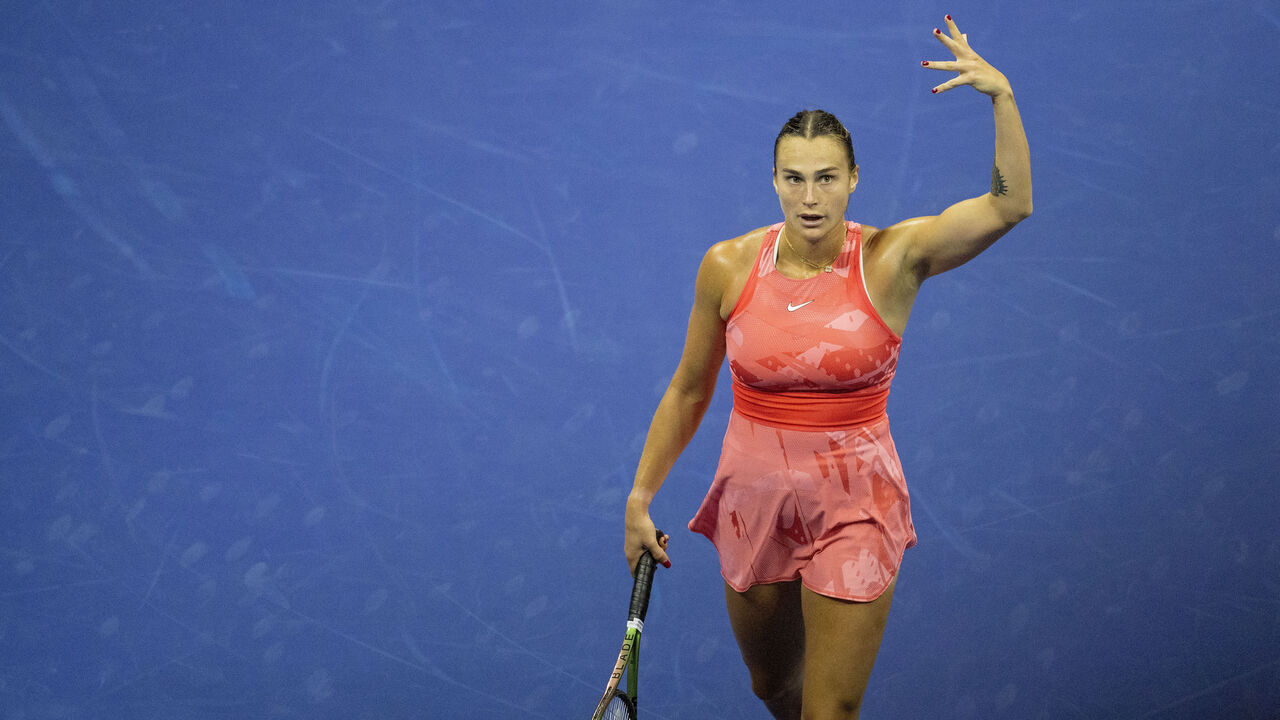 There was no question Sabalenka had the talent to become one of the women's game's best players. Her devastating serve and powerful groundstrokes make quite the lethal combination. She just had a tendency to be fragile in the big moments.
The 25-year-old's serving woes were partly responsible for her shortcomings at the majors. She committed 15 double faults in a fourth-round loss to Kaia Kanepi at the 2022 Australian Open. But an inability to control her emotions is what mostly contributed to Sabalenka's three Grand Slam semifinal defeats prior to this season.
However, there's been a noticeable shift in the 13-time WTA titlist's mindset throughout the 2023 campaign. Sabalenka has more belief in her abilities and stays more composed when things aren't going her way. For instance, the Belarusian overcame a 6-0, 5-3 deficit versus Madison Keys during their semifinal encounter in New York. She also rallied from behind in the Australian Open final.
Sabalenka's mental growth has translated into a career-high 50 wins and catapulted her to the World No. 1 ranking. She's the first player to reach the final four of all the majors in one season since Serena Williams in 2016. While the US Open didn't end in Sabalenka's favor, she'll continue to be in the Grand Slam conversation if she maintains this approach.
Shelton shows promise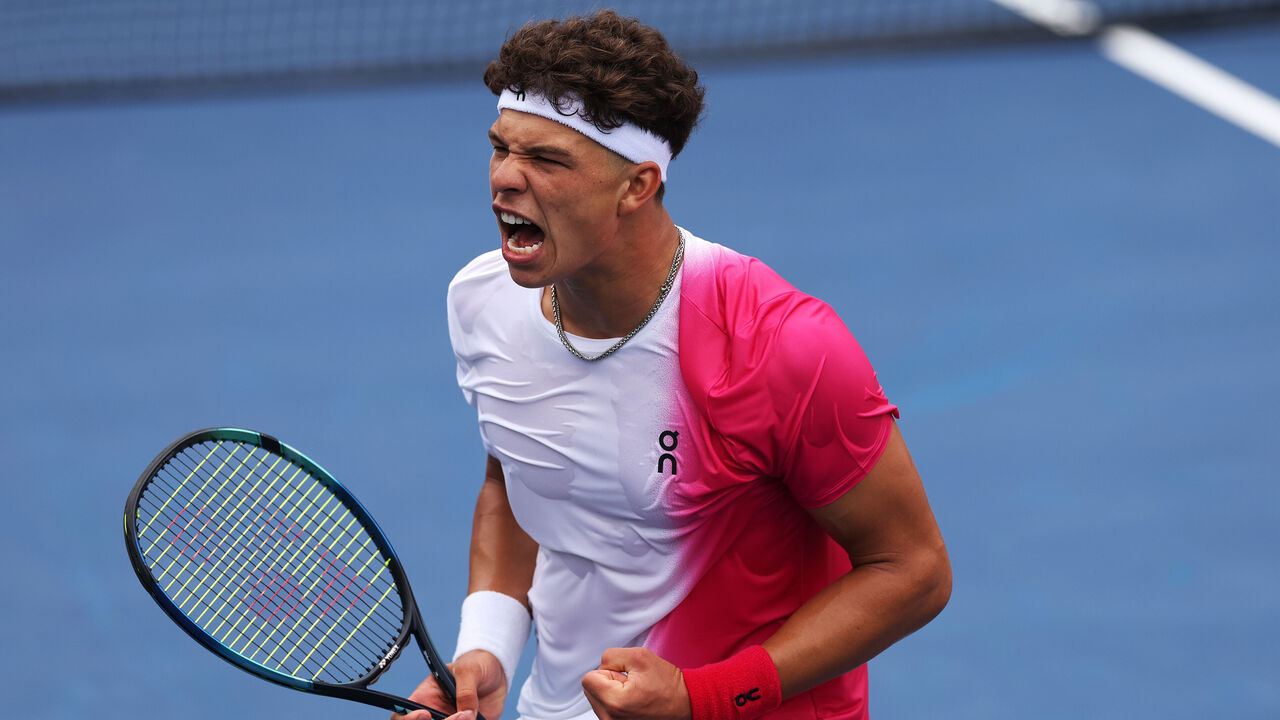 Ben Shelton's run to the US Open semifinal was just another reminder of his enormous potential. The former top-ranked collegiate player rode his booming serve to an Australian Open quarterfinal earlier this season, and that weapon was once again at the forefront in Flushing Meadows.
Shelton led all players with 81 aces. The 20-year-old's fastest serve of the tournament was just three miles per hour off Andy Roddick's US Open record of 152. His serve's blistering pace, along with varying spins and placement, make it all that more difficult for opponents.
Shelton's return of serve showed a significant improvement as well. He converted 54% of his break-point opportunities, which was nearly 15% more than his mark on the season before the US Open.
There's a lot to like about Shelton's overall game. The Florida product has the athleticism to cover the entire court and finish difficult overhead smashes. He can generate easy power from the baseline. Shelton isn't afraid of the moment, even if it means going for broke when facing a potential 2-1 set deficit in the biggest match of his life.
But there's a reason Shelton entered this year's final Grand Slam with a 12-20 record and seeking consecutive ATP Tour-level match wins for the first time since his breakthrough Down Under.
Shelton can be his own worst enemy at times. Instead of staying in a rally, the rising American occasionally opts for a more flashy, high-risk shot. From time to time, he doesn't take some speed off his second serve, resulting in more double faults. Shot selection was an issue for Shelton in his semifinal clash against Djokovic as he curiously chose to hit a number of drop shots at crucial moments of the match.
With just over a year of professional tennis under Shelton's belt, these mistakes are bound to happen, and his situational decision-making should get better over time.