5 goalies the Golden Knights could target after losing Lehner for season
Thearon W. Henderson / Getty Images Sport / Getty
The Vegas Golden Knights are in a precarious position entering the 2022-23 campaign. They have a talented but aging roster that the front office believes is good enough to compete for a Stanley Cup. But after it was announced Thursday that starting goalie Robin Lehner is set to undergo hip surgery and expected to miss the entire season, there's suddenly a gaping hole in net.
Logan Thompson, 25, is projected to start. While he performed well as a rookie last year (.914 save percentage), he only has 20 career NHL games under his belt, making him far from a sure thing.
Behind him, veteran Laurent Brossoit is coming off his own hip surgery, and it's unclear if he'll be ready for the start of the season. Journeyman Michael Hutchinson rounds out the depth chart.
The Golden Knights could stick with what they have - to start the season, anyway. They could try and snag a goalie off waivers (there are typically a few intriguing options available to begin each year) or wait it out and try and make an in-season trade when teams may be more willing to sell.
But Vegas' front office, led by president of hockey operations George McPhee and general manager Kelly McCrimmon, has never been known to sit on their hands. They like to take action. And without any palatable goalies left in unrestricted free agency, they'd have to land a netminder via the trade route if they're looking for an immediate upgrade. Here are five options they could target:
James Reimer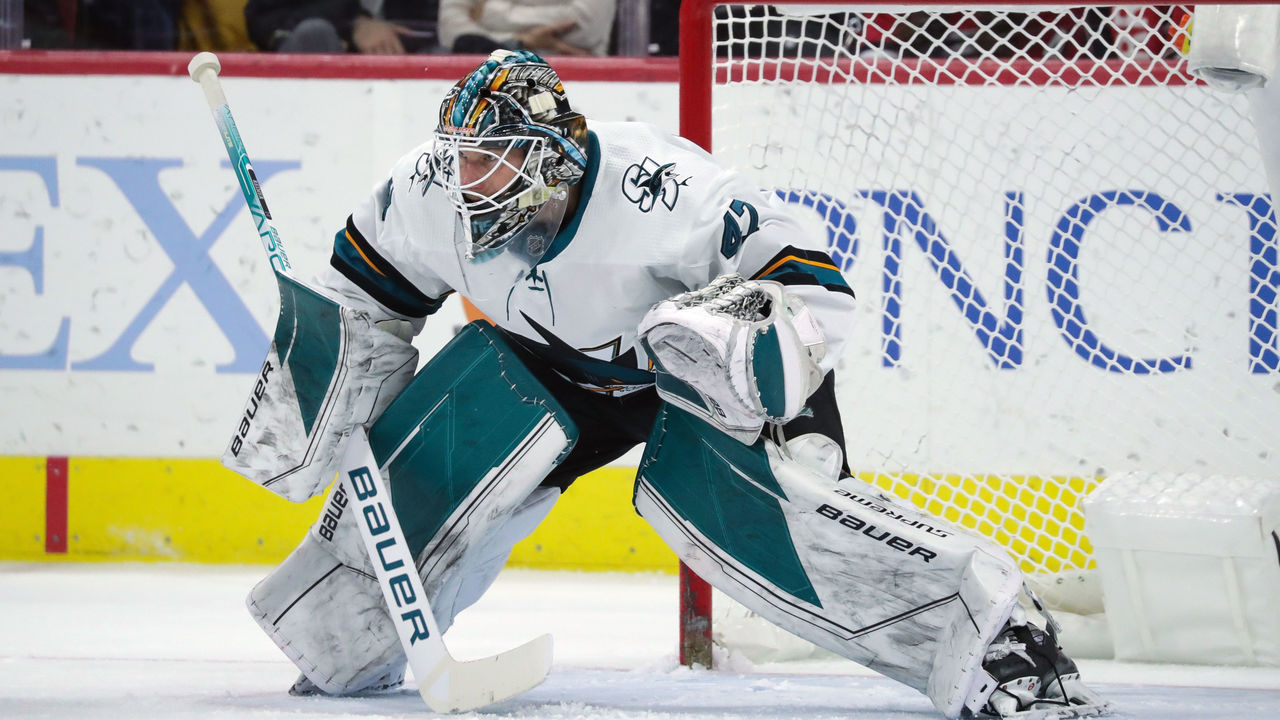 Cap hit: $2.25M
Years left: 1
The Golden Knights and San Jose Sharks are fierce Pacific Division rivals, but they may be a perfect match for a trade.
The Sharks have three capable NHL goalies on their roster: Reimer, Kaapo Kahkonen, and Adin Hill. Kahkonen is the least likely of the trio to get traded since they just acquired him at the deadline, he's the youngest, and he's the only one with an additional year of term.
That leaves Hill, 26, and Reimer, 34. Since Hill is the younger of the two, San Jose is likely more inclined to keep him as it continues its rebuild. But a veteran like Reimer would be a perfect one-year stopgap for Vegas until Lehner can return in 2023-24.
Reimer still has plenty of game, too. He posted a .911 save percentage in 48 games on a lousy Sharks team last year. He also owns a lifetime .913 save percentage and has never endured a sub-.900 mark in a season in his 12-year career. His 5.84 goals saved above expected (GSAx) ranked 18th among goalies with at least 20 appearances last season.
The low cap hit is a boon for the cap-strapped Knights, and the trade cost shouldn't be too pricey, given that San Jose has to move one of its goalies before the season starts.
Semyon Varlamov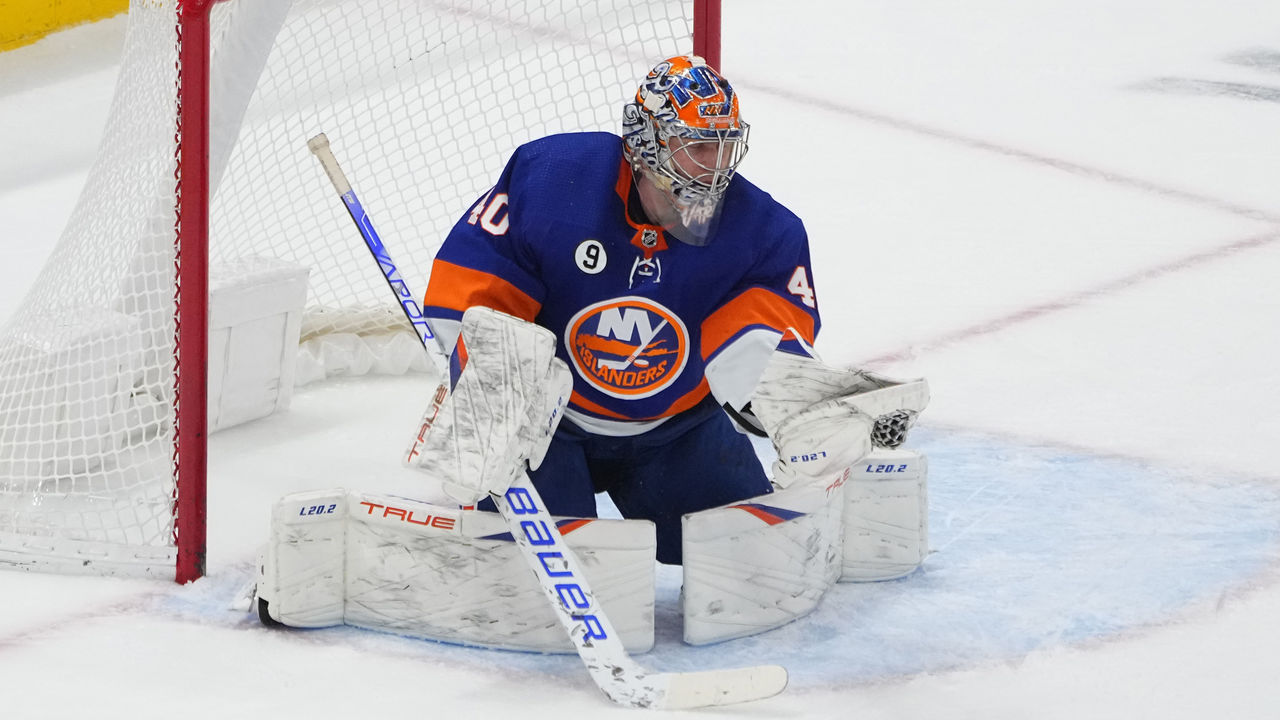 Cap hit: $5M
Years left: 1
With Ilya Sorokin establishing himself as "the guy" on Long Island, one would think that makes Semyon Varlamov expendable, right? Not so fast. Islanders GM Lou Lamoriello indicated earlier this offseason that he would like to keep the Russian tandem together.
However, that was back in early July. Things can change. The Islanders are a rumored destination for Nazem Kadri, the top remaining UFA. But in order to reel him in - plus re-sign RFAs Noah Dobson, Alexander Romanov, and Kieffer Bellows - they're going to need more than their current $11 million in cap space. The easiest way to create additional room would be to offload Varlamov for a cheaper backup.
The asking price will likely be stiff, as we all know Lamoriello is a shrewd negotiator. But it may be worth it for Varlamov. He's just one year removed from finishing fifth in Vezina Trophy voting with a .929 save percentage and still posted a stellar .911 mark last season as the team in front of him fell apart. The 34-year-old is also a proven playoff performer, as he owns a .919 save percentage in 60 career postseason games.
Brossoit would likely have to be part of the package heading to Long Island, and plenty more would need to be added, but Varlamov is the best goalie available who wouldn't complicate things beyond 2022-23.
Jake Allen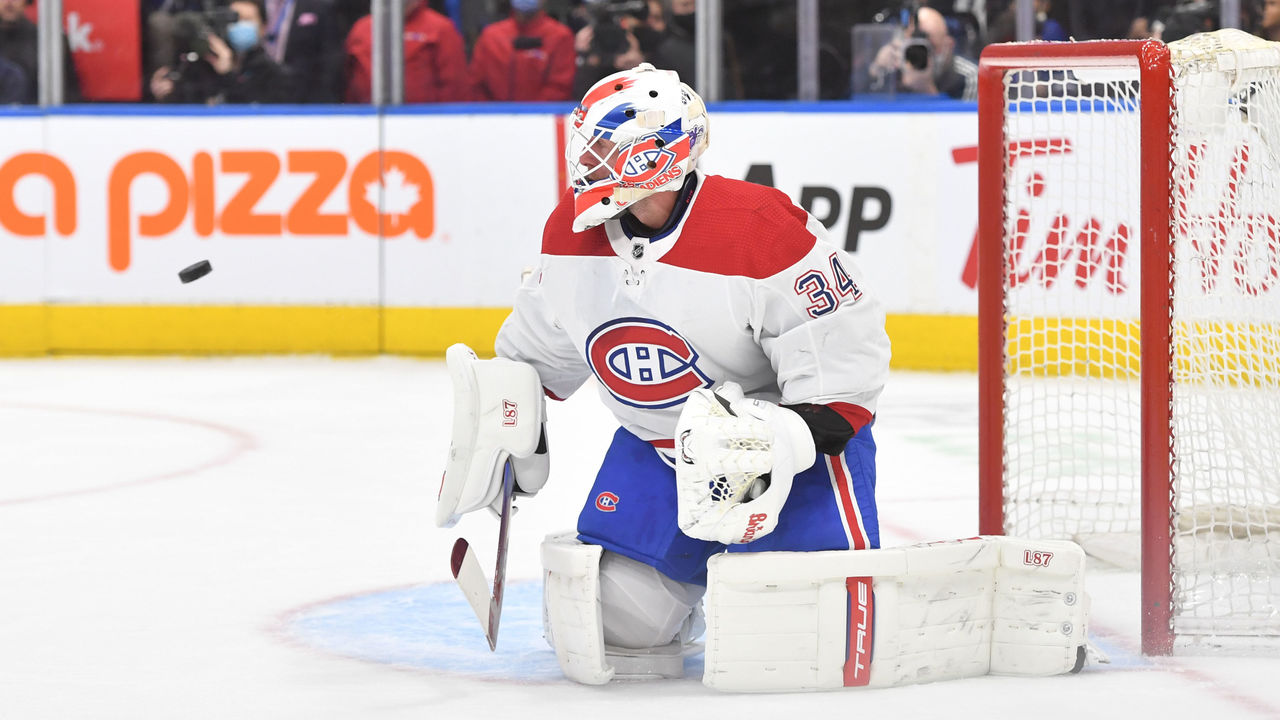 Cap hit: $2.875M
Years left: 1
The Habs may not be inclined to move Allen, given the uncertainty surrounding Carey Price. But if Price is good to go, Allen would be expendable since Sam Montembeault just inked a new two-year, $2-million contract, and Cayden Primeau is more than capable as a third option.
Heck, even if Price isn't ready to go, the Canadiens are unlikely to make the playoffs this year, so they might as well try and tank for Connor Bedard. The best way to do that would be rolling with a Montembeault-Primeau tandem and trading away Allen for assets.
Allen is 32 now, but he's proven to be a stellar backup and capable 1B option. He owns a .911 save percentage in his nine-year career and posted a .905 mark on a league-worst Habs squad last season. He ranked 23rd among netminders with 2.98 GSAx.
Though Allen isn't a legit No. 1, he'd be a sizable upgrade over Brossoit to pair with Thompson, and the price tag shouldn't be too rich.
Anton Khudobin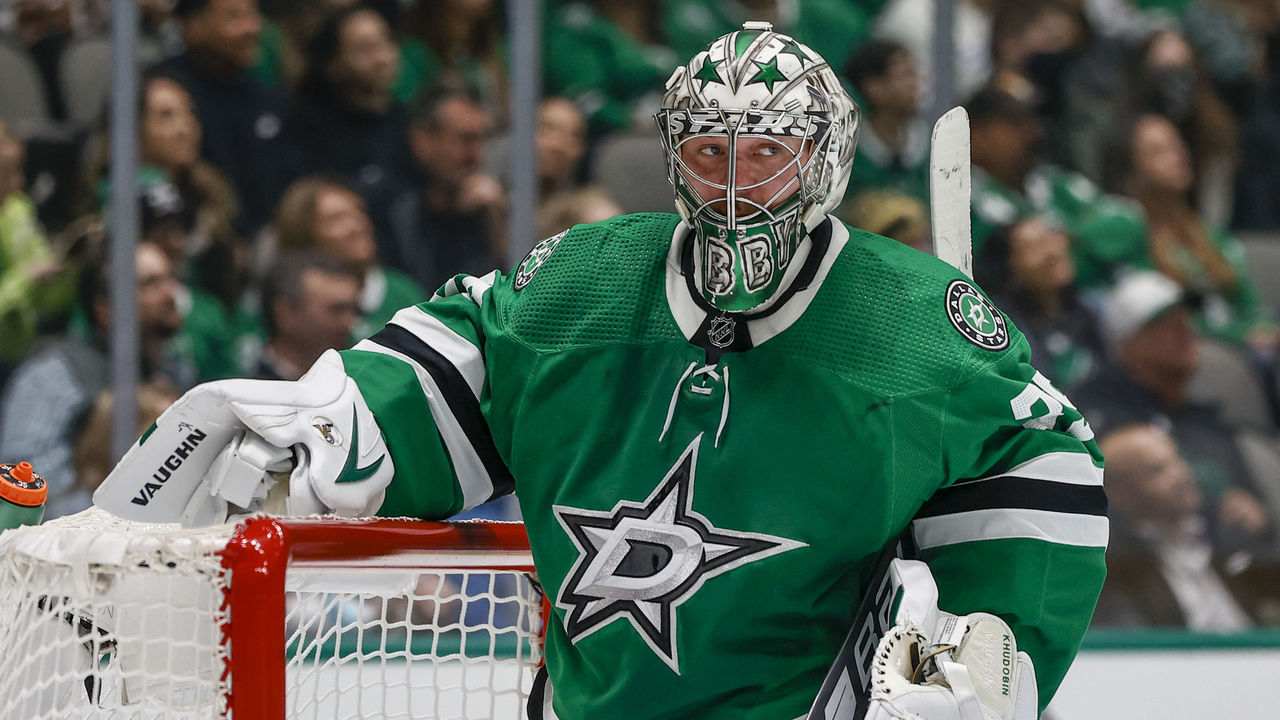 Cap hit: $3.3M
Years left: 1
Khudobin is full of red flags, but he's still an option nonetheless. He underwent hip surgery in March, but given his six-month recovery timeline, he should be ready to go for the start of the season. But a 36-year-old journeyman coming off major surgery is a big risk to take. He also struggled to the tune of an .879 save percentage in his nine appearances last season.
The good news is, the Dallas Stars are likely eager to get rid of him. Jake Oettinger (who's still an RFA) is the undisputed No. 1, and they re-signed Scott Wedgewood to back him up. The Stars might be willing to retain a portion of Khudobin's salary and trade him for next to nothing.
There's intrigue, too. After all, Khudobin is just two years removed from leading the league with a .930 save percentage and backing the Stars to a Stanley Cup Final berth with a stellar performance in the 2020 playoff bubble.
Catching lightning in a bottle may be a long shot, but it could be worth exploring for the Golden Knights if Khudobin's health checks out and they swing and miss on the first three options on this list.
John Gibson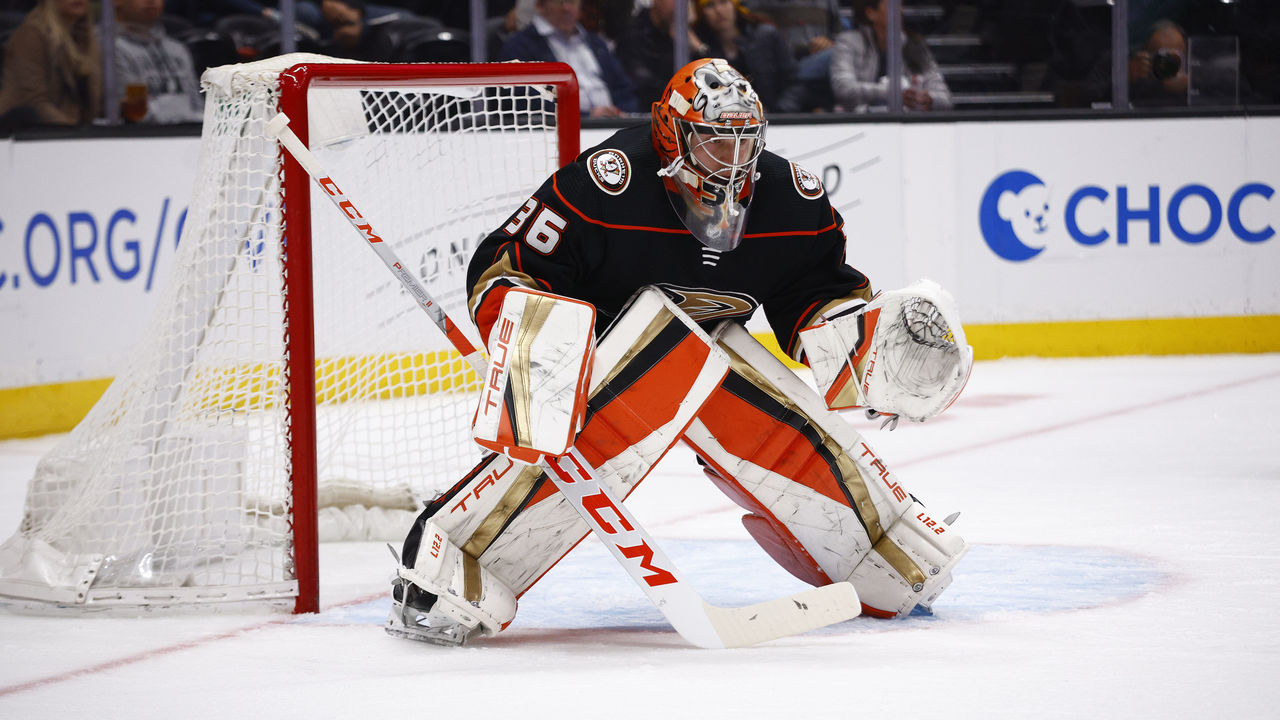 Cap hit: $6.4M
Years left: 5
This is the least likely option for Vegas. Not only would Gibson's contract complicate things beyond next season when Lehner returns (Lehner has three years left on his deal with a $5-million cap hit), but Gibson's $6.4-million cap hit would be tough for the Knights to afford this year, anyway.
Plus, if the Anaheim Ducks were to trade Gibson, they may want to move him outside of the Pacific Division.
Gibson was once one of the league's best young goalies, but he's struggled in recent years, posting a .904 save percentage over the last three seasons. A change of scenery could help him find his old form, but there's plenty of risk involved, given the 29-year-old's contract.
But this Golden Knights front office loves to swing for the fences and make splashy moves, as evidenced by the Jack Eichel, Alex Pietrangelo, and Mark Stone acquisitions. Would they be willing to make another blockbuster deal with their goaltending in peril? Never say never.
(Cap source: CapFriendly)
(Analytics source: Evolving-Hockey)
Comments
✕
5 goalies the Golden Knights could target after losing Lehner for season
  Got something to say? Leave a comment below!