Fuel test: Can the McDavid-led Oilers go on a deep run?
Photo illustration by Nick Roy / theScore / Getty Images
How much influence can one skater have on the outcome of a hockey game?
That question has become especially relevant at the sport's highest level thanks to Connor McDavid's transcendent play in the NHL's pandemic-shortened season.
In 56 regular-season games, McDavid accumulated 33 goals and 72 assists for 105 points - a points-per-game average of 1.88, the highest such rate since Mario Lemieux's 2.30 in 1995-96. Over a full season, McDavid was on pace for an eye-popping 154 points. After adjusting for era, he racked up the equivalent of 159 points in 82 games, tying him with 1982-83 Wayne Gretzky for eighth on Hockey Reference's list of the greatest offensive seasons ever.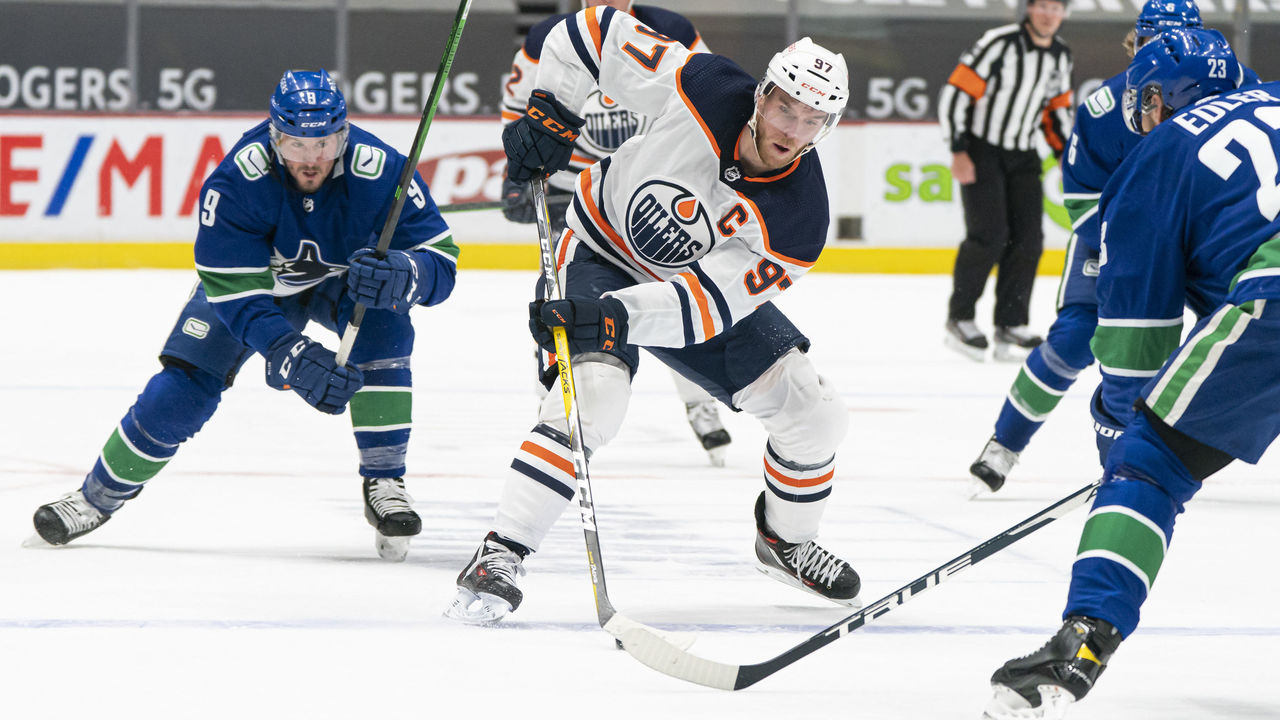 McDavid was far and away the most outstanding and valuable player in the NHL this season, recording 83 primary points while shoring up his oft-criticized defensive game. There'd be no gripes if his name happened to be engraved on the Hart and Ted Lindsay Trophies before award winners were announced. His brilliance led the Edmonton Oilers to a sparkling 35-19-2 record, a plus-29 goal differential, and the North Division's No. 2 seed.
Hockey is often billed as the "ultimate team sport" - Oilers starting goalie Mike Smith even dropped that phrase last week - and here's Edmonton, a solid but flawed team latching onto a generational talent playing out of his mind. With the Oilers opening their first-round series against the Winnipeg Jets on Wednesday night, how much influence can one skater have on a playoff series? And, if the Oilers manage to defeat the Jets: How much influence can one skater have on a potentially deep playoff run?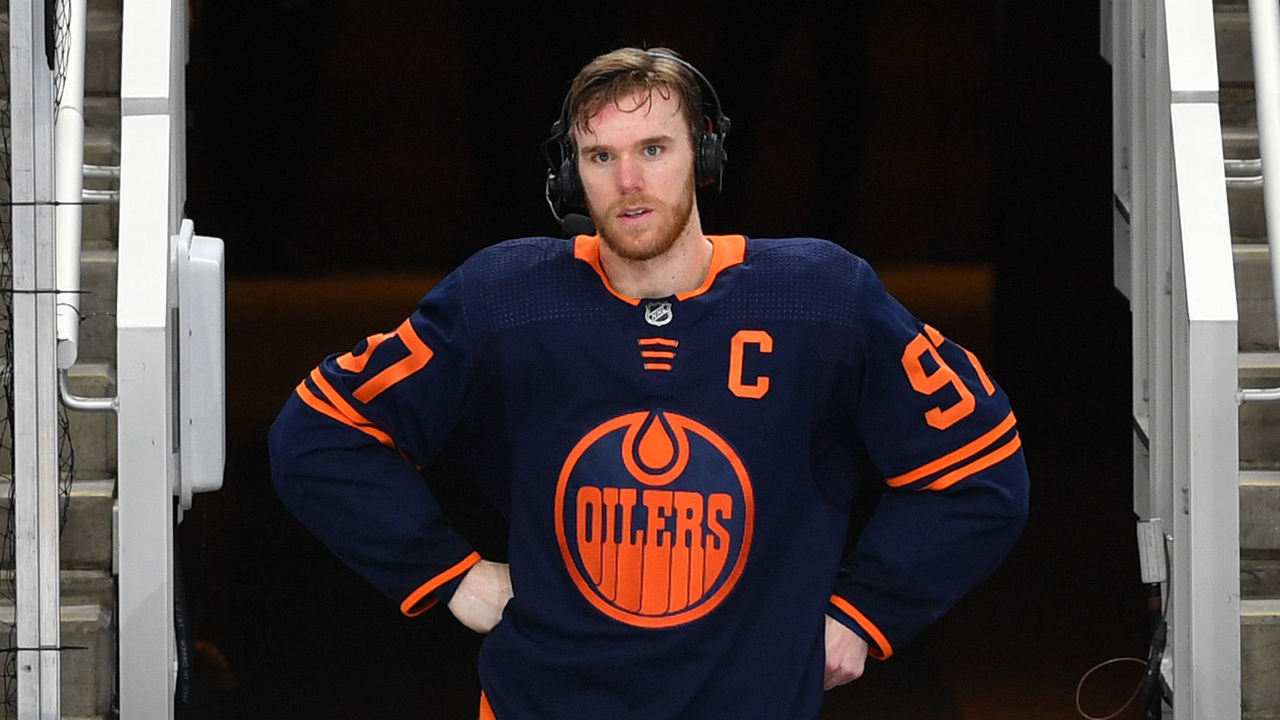 The NBA is a star-driven league where the outsized contributions of two or three players can lead a team deep into the postseason and often to a championship. The NHL will never be exactly like the NBA for a multitude of reasons, but McDavid's utter dominance, mixed with contributions from super sidekick Leon Draisaitl, No. 1 defenseman Darnell Nurse, and Smith, bridges the gap.
The main problem is: The Oilers simply aren't a good hockey team when McDavid is catching his breath on the bench. That characterization may seem harsh for a squad fresh off a regular-season points percentage of .643, but the numbers are too extreme to ignore.
According to the advanced stats website Natural Stat Trick, the Oilers finished plus-607 in shot attempts when McDavid was on the ice and minus-714 when McDavid was off the ice. They were plus-384 in scoring chances with McDavid and minus-431 without him. They were plus-50 in expected goals with him and minus-37 without him. And, most crucially for wins and losses, they were plus-68 in goals scored with him and minus-39 without him. There's an absolutely stunning contrast between McDavid's minutes and the rest.
The Oilers ranked No. 1 in the NHL in power-play percentage, with McDavid running the show, so the all-situations numbers may be a tad skewed.
Let's then look exclusively at the five-on-five data:

Again, the difference over a 56-game sample is impossible to dismiss.
Based on the HockeyViz.com heat maps below, the 2020-21 Oilers overwhelm opposing defenders and goalies when McDavid is on the ice and barely produce anything dangerous in the offensive zone when he is off the ice. (Note: Red is above-average shot volume, and blue is below average.)
Oilers with McDavid (five-on-five)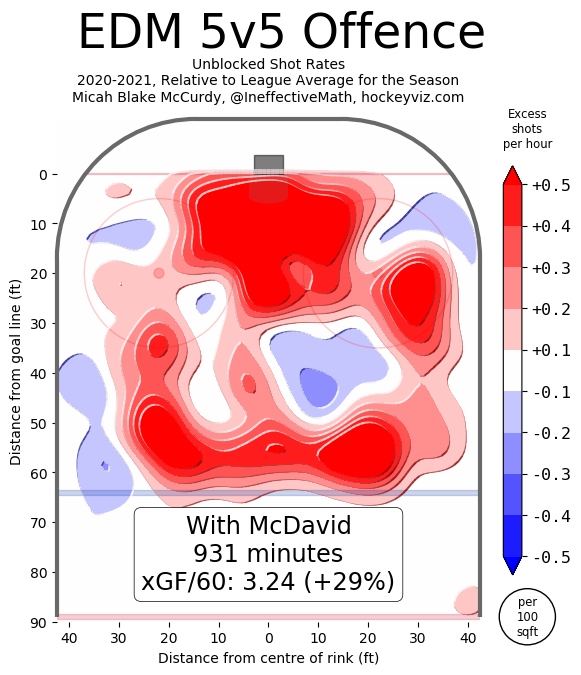 Oilers without McDavid (five-on-five)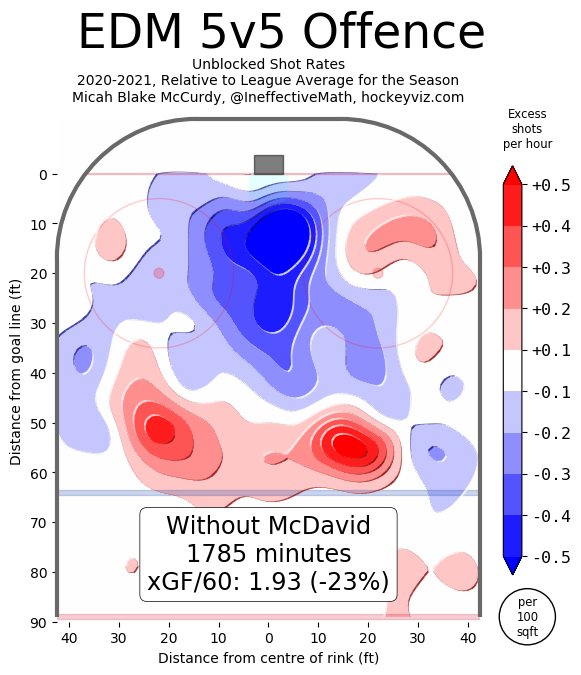 Luckily for Oilers fans, McDavid is on the ice an awful lot. He averaged 22 minutes and 9 seconds and hit a season high of 28:38 in early April during an overtime loss to the Montreal Canadiens. In the 50 Edmonton games that didn't require overtime, McDavid eclipsed 25 minutes on 10 occasions, topping out at 28:16 during a February loss to the Calgary Flames.
Oilers head coach Dave Tippett is clearly unafraid to squeeze every ounce of value from his best player, and McDavid is no doubt capable of handling the heavy workload. McDavid's regular-season splits were 17:52 at even strength (third among NHL forwards), 4:11 on the power play (fifth among forwards), and 0:06 on the penalty kill.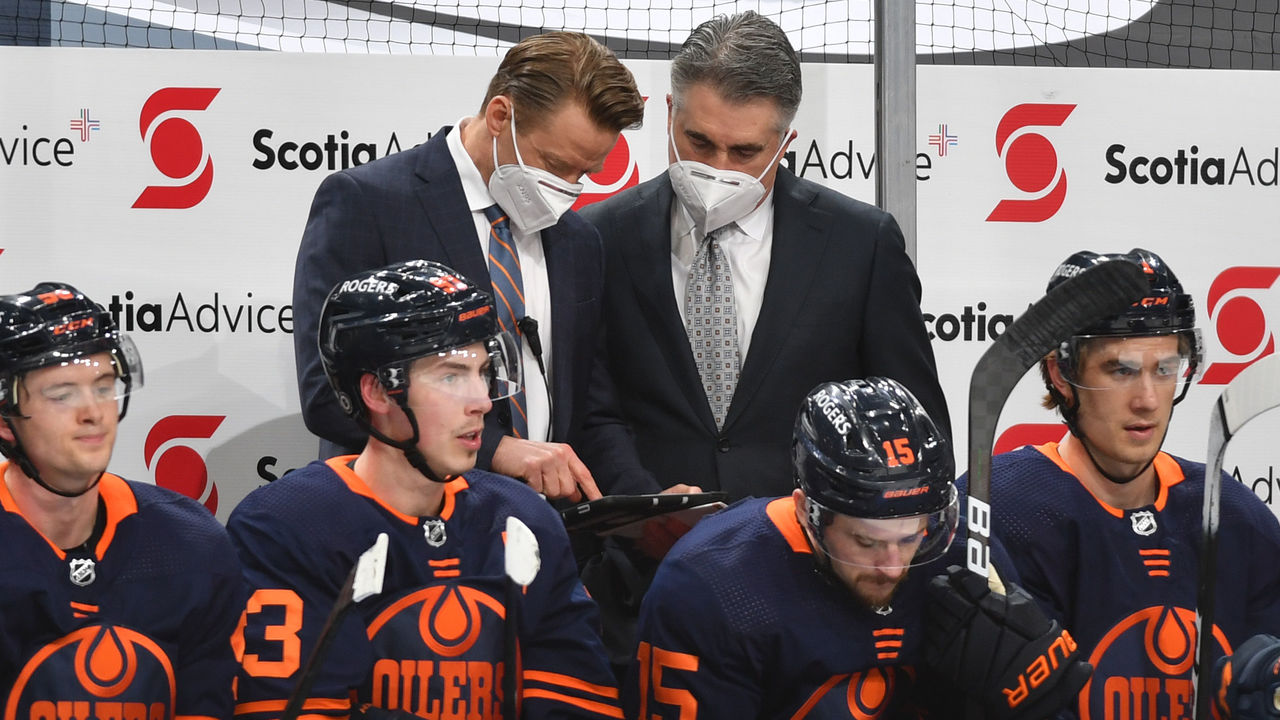 So, really, if McDavid is terrorizing the opponent for 25-28 minutes a night (it may climb closer to 30 in the playoffs), the bar can be relatively low for the rest of the game. Assuming the opposition is unable to contain McDavid, the Oilers can conceivably win playoff games - and series - by breaking even in the other 32-35 minutes, though in this scenario, Smith must continue to exceed all expectations for a 39-year-old goalie.
It's a perilous situation for the Oilers. This is a sport that tends to reward deep teams, not top-heavy outfits. Take last year's Stanley Cup winners, the Tampa Bay Lightning. Tampa's roster was littered with impact players, from Nikita Kucherov to Brayden Point to Victor Hedman to Andrei Vasilevskiy; boasted a high-end supporting cast, including Anthony Cirelli, Blake Coleman, and Ryan McDonagh, to name a few; and employed effective bit guys such as Pat Maroon and Zach Bogosian.
The Oilers' potential second-round opponents this year, the Toronto Maple Leafs, are significantly deeper than them. In theory, Toronto could allow McDavid to do his thing for 25-28 minutes, otherwise manhandle the Oilers, and still win the series in five or six games. Beyond the two top forward lines and two top defense pairs, Edmonton's lineup is fairly thin.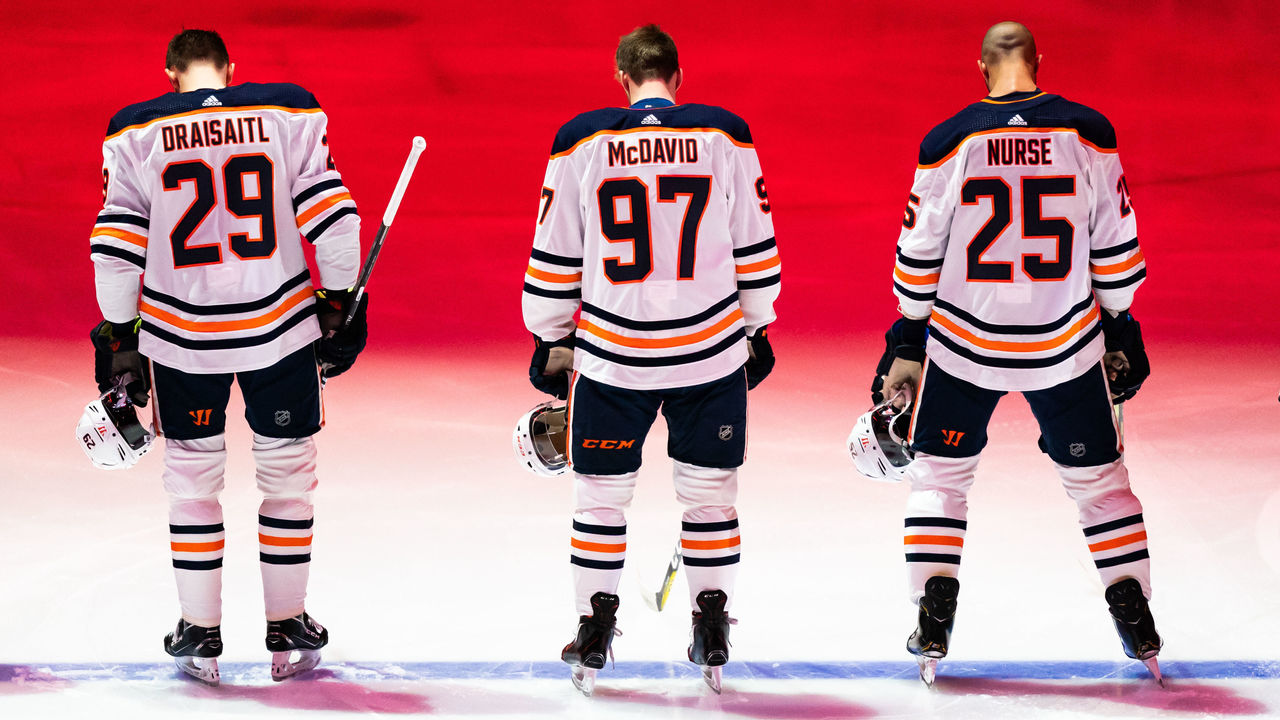 Adding to the intrigue is the fact this could be the best version of McDavid we'll ever see. (Yes, he probably has more to unlock, but at 24, he also may be at his absolute peak.) Yet not until this coming offseason will Oilers general manager Ken Holland - who was hired in March 2019 to clean up the mess left by Peter Chiarelli - be able to truly put his stamp on the team.
Holland has been conservative so far, waiting for certain contracts to expire before making a big splash via free agency or the trade market. At the trade deadline in April, he was hesitant to part with the club's 2021 first-round pick and ultimately acquired only one asset, depth defenseman Dmitry Kulikov.
The Oilers' overall timeline isn't an issue. McDavid and Draisaitl are signed through 2025-26 and 2024-25, respectively. There will be more playoff runs beyond this year.
But there is no denying the uniqueness of what's right in front of them: The Oilers look unstoppable with McDavid on the ice and stoppable when he's not.
John Matisz is theScore's senior hockey writer. You can follow John on Twitter (@MatiszJohn) and contact him via email (john.matisz@thescore.com)
Comments
✕
Fuel test: Can the McDavid-led Oilers go on a deep run?
  Got something to say? Leave a comment below!