The NHL season is suspended indefinitely due to the COVID-19 outbreak, and while the league hopes it will eventually be able to resume and conclude the 2019-20 campaign, that's far from a foregone conclusion. This week and next, we're breaking down some of the major storylines that hang in the balance.
With hockey in limbo, spare a quick thought for David Pastrnak and Auston Matthews, young dynamos and Atlantic Division foes who stood a realistic chance to accomplish what, judging by the NHL's entire post-lockout history, is usually unthinkable. Either could have pried the Rocket Richard Trophy away from Alex Ovechkin.
Matthews had scored 47 goals when the season stalled, already a significant career high for the 22-year-old Maple Leafs sniper. Pastrnak, a year older and a goal ahead in the race, was tied atop the league leaderboard with Ovechkin, who, it should be emphasized, wins this award with something resembling death-and-taxes certainty. He has topped the NHL in goals in six of the past seven seasons, and eight times in all.
The Capitals captain is inexorable, which is why Pastrnak and Matthews might bemoan this possibly lost opportunity to break his stranglehold - and why, if the rest of the regular season has to be nixed as part of the effort to repress the coronavirus in North America, fans might still nurse hope that Ovechkin has another such virtuosic year or three left in him.
It's inexact to characterize Ovechkin's age-34 season as a throwback performance, since he approximates this level of output almost every year. The 68 games he got in before the lull took hold were special. 2019-20 gave rise to the hottest scoring stretch of his career. Marvel at what Ovechkin did over seven consecutives games from Jan. 13 to Feb. 4, broken up by All-Star Weekend and the one-game suspension with which he was tagged for sitting out that extravaganza.
| Date | Opponent | G | A | PTS | Shots |
| --- | --- | --- | --- | --- | --- |
| Jan. 13 | vs. CAR | 2 | 0 | 2 | 4 |
| Jan. 16 | vs. NJ | 3 | 0 | 3 | 5 |
| Jan. 18 | @ NYI | 3 | 0 | 3 | 3 |
| Jan. 29 | vs. NSH | 1 | 1 | 2 | 5 |
| Jan. 31 | @ OTT | 2 | 0 | 2 | 11 |
| Feb. 2 | vs. PIT | 0 | 0 | 0 | 4 |
| Feb. 4 | vs. LA | 3 | 0 | 3 | 5 |
That's three hat tricks and 14 goals in all, which helped him close in on 700 for his career. Ovechkin reached that milestone in New Jersey on Feb. 22; he pinged a slap shot from the right circle off the far post and in, clearing the Washington bench and eliciting the rare standing ovation a player ever gets to bask in on the road.
When the season paused with 13 Capitals games remaining, Ovechkin's career goals tally was 706 - eighth in the all-time rankings. That's two goals fewer than Mike Gartner, 11 behind Phil Esposito, 95 back of Gordie Howe, and 188 away from Wayne Gretzky's famous benchmark of 894.
Here, we arrive at the rub. If expediency motivates the NHL to skip straight to the playoffs weeks or months from now, or if play is only able to resume in time for 2020-21, the hockey world won't get to watch Ovechkin's presumptive heirs strive to outscore him over the season's final stretch. Those circumstances would also complicate Ovechkin's pursuit of Gretzky's record.
Because small samples engender haphazard results, there's no way to be sure how Ovechkin would have produced over his club's last 13 games. Maybe he slumps as the likes of the Blues, Penguins, and Oilers limit him to a measly few goals. Maybe he feasts against the Senators, Sabres, and Red Wings (twice) and surges close to 60 goals for the season. The point is this: when a mark unattainable to everyone else who's ever laced up skates is up for grabs - and when brilliance is within the record-seeker's reach on any given night - every available shift has the potential to matter.
At the risk of reducing something joyous to an elementary math lesson, we can consider Ovechkin's scoring rate over the years to get a sense of the pace he'll have to maintain from here to catch Gretzky. To wit: he has averaged 0.70 goals per game this season, 0.64 per game over the past three seasons, and 0.61 per game for his career. At those rates, he'd require 269, 294, and 308 games, respectively, to bag 188 more goals.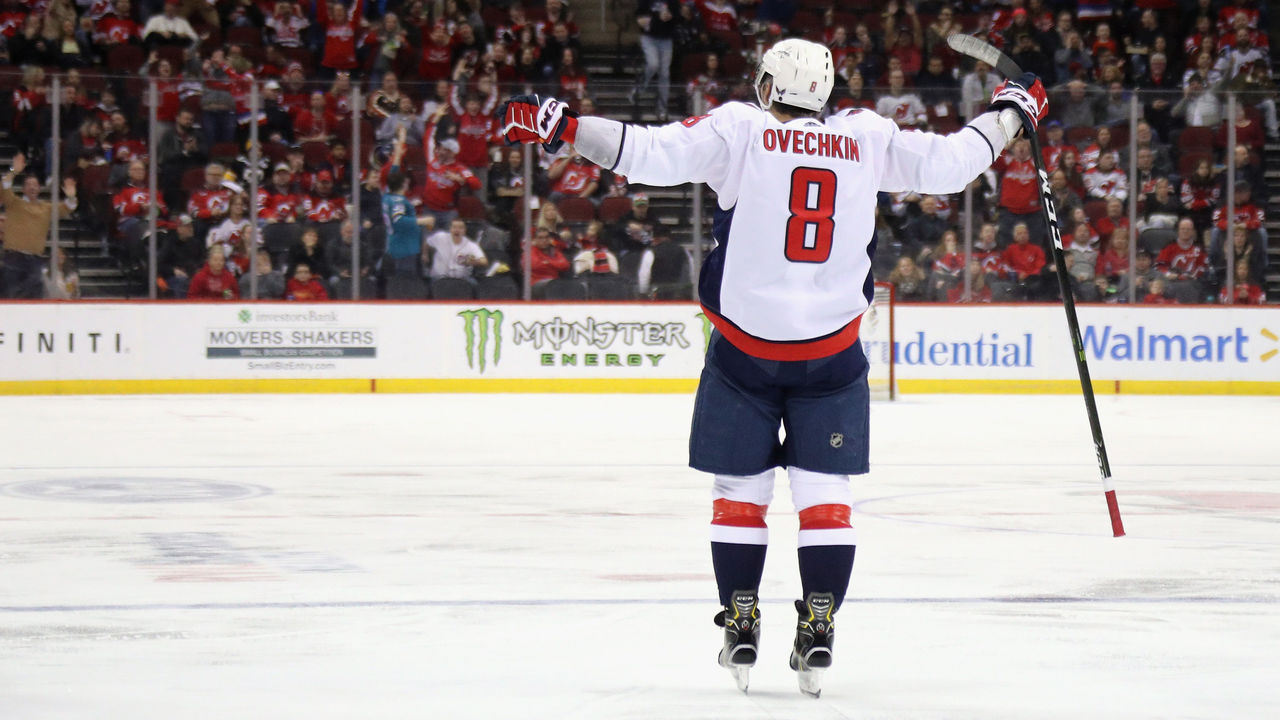 Across all examples, that's somewhere between three and four full 82-game seasons, a ballpark range that sets parameters for the defining challenge of Ovechkin's twilight years. Can he stay healthy and light lamps with familiar frequency into his late 30s? Can he hang around long enough to nip Gretzky at the line?
Another hypothetical: Ovechkin retires with, say, 890 goals, just far back enough of Gretzky to argue and lament that all the time he was denied over the years - the full 2004-05 and partial 2012-13 lockouts; these 13 games at the crest of his powers - constituted causation. To the extent that sports are meaningful in the context of a pandemic, that would be a big shame. Maybe that prospect simply isn't worth sweating, though, so long as he comes back strong once hockey returns.
A couple of months ago, in an interview for a story about Ovechkin's ascent to 700 goals, Capitals TV color analyst Craig Laughlin said he thought some people were overly fixated on what he called "the next but" - whether Ovechkin will eventually surpass Gretzky - at the risk of failing to properly appreciate what he was in the process of doing. Ovechkin was sitting on 692 goals that day, but Laughlin's thinking seems just as resonant at a time when he's unable to play.
"Scoring 700 is something really, really, really special," Laughlin said. "Yeah, we should talk about Gretzky's number, and that he's 202 away. But let's take in this moment. Let's take in goal No. 700, because every single milestone along the way for Ovi has been remarkable in its own right."
Nick Faris is a features writer at theScore.