The Washington Capitals had a full week off ahead of January's NHL All-Star Game, but Craig Laughlin remained in midseason form, gushing over the phone one morning during his break from the rink about the irresistible symbolism of Alex Ovechkin's greatest goal. You know the one: A Phoenix Coyotes defenseman knocks the Russian winger off balance in the slot in 2006, only for Ovi to corral the puck while falling onto his back before blindly flicking it - mostly with one hand - through the sliver between the goalie's outstretched stick and the post.
The play astounded on its merits alone. Then came the moment that, to the Capitals' veteran TV color analyst, elevated Ovechkin's contortion to a higher sphere of significance: Wayne Gretzky, the head coach of those Coyotes, gazing up at a replay on the arena video board, resigned to marveling helplessly from the bench.
"It just adds to the lore," Laughlin said. "The greatest goal-scorer of all time is looking at this and just saying, 'Wow.' To me, that says something about Alex's greatness."
For 15 seasons, Ovechkin's propensity to fool netminders has carried him ever higher on the NHL's all-time goals leaderboard, past a succession of Original Six legends and icons of later years, ever closer to the gold standard below whom they all sit. Past Jean Beliveau and Maurice Richard. Past Joe Sakic and Brendan Shanahan. Just since the calendar turned to 2020, he's passed Teemu Selanne, Mario Lemieux, Steve Yzerman, and Mark Messier.
Two constants have underpinned Ovechkin's ascent to eighth place in this corner of the record books. One is his own consistency. Never in a season has he scored fewer than 30 goals. He's reached or exceeded 50 eight times, good for third in league history behind Gretzky's and Mike Bossy's nine.
The other constant? Laughlin and play-by-play partner Joe Beninati at rafter level, the vantage point from which they've called nearly all of Ovechkin's steps toward the next momentous number he'll soon reach.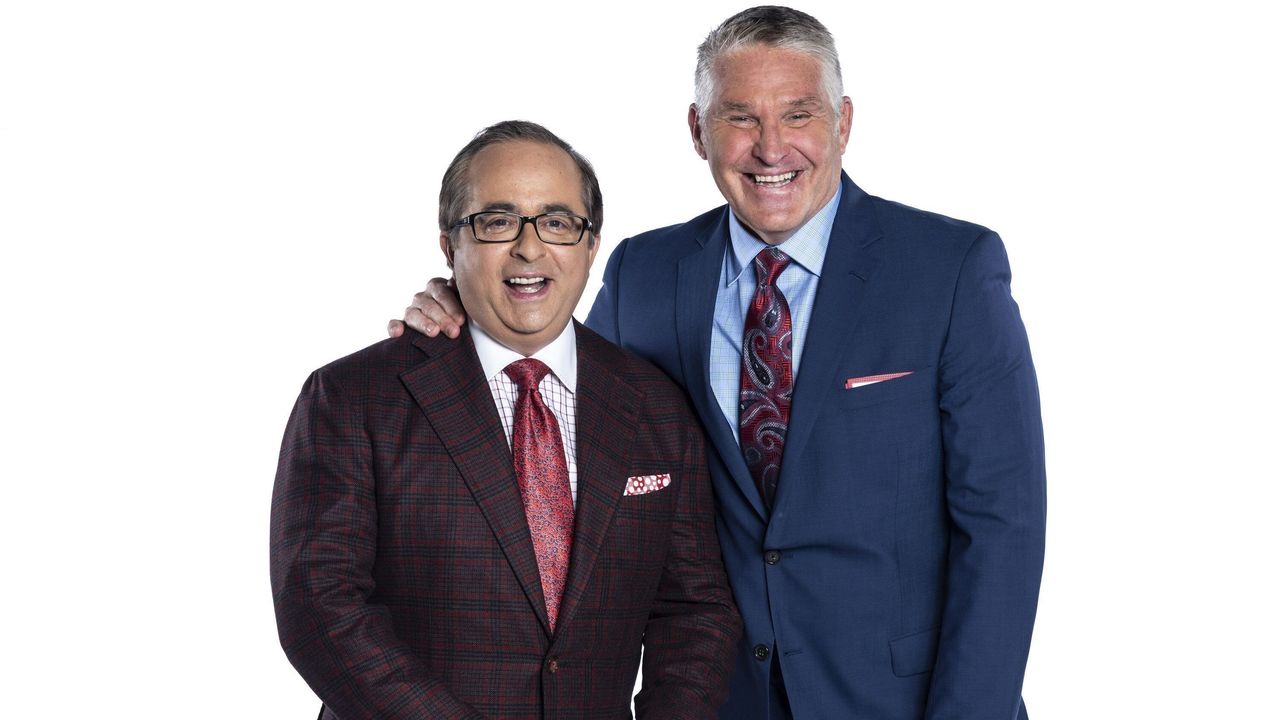 The Capitals captain enters Saturday's game against the Philadelphia Flyers with 698 career goals, well back of Gretzky's record total of 894 but merely an inspired flurry shy of 700; D.C. and the wider hockey world are set to fete his breakthrough. The Capitals, according to The Washington Post, plan to stage a tribute featuring video messages from teammates and an appearance from Ovechkin's son Sergei, who was born in 2018, a couple of months after his dad won the Stanley Cup.
When that celebration goes down, Beninati and Laughlin - the voices of the Capitals on NBC Sports Washington since 1996 - will be uniquely positioned to appreciate Ovechkin's accomplishment, as they are now to contemplate the totality of the legacy they've watched him compile.
"He's challenged my powers of description ever since he jumped into the game," Beninati told theScore. "There are things that he does at times that look like they're superhuman. He forces you as an announcer to be ready for something you may have never seen before."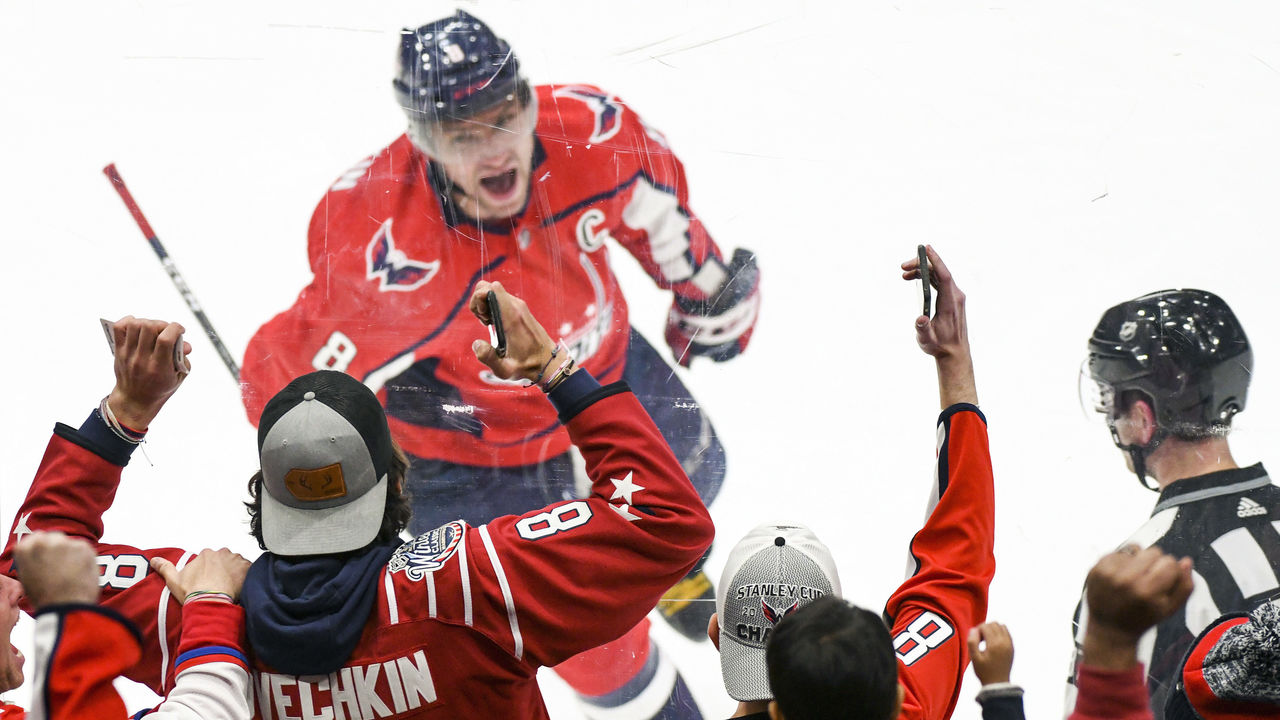 Beninati and Laughlin were in the booth for Ovechkin's NHL debut against the Blue Jackets on Oct. 5, 2005, when the full-toothed newcomer from Moscow dislodged a stanchion behind the Columbus net on his first shift by ramming defenseman Radoslav Suchy into the boards. "This guy is the real deal," Laughlin thought to himself, even before Ovechkin scored on one-timers from the high slot and near the goalmouth later that night.
The duo watched Ovechkin retain and flex that combination of power, flair, and timing as the Capitals grew from league doormats to perennial playoff washouts to Cup champions. Laughlin thinks Ovechkin has evolved into one of history's most well-rounded scorers, a 236-pound winger whose footwork, shoulder fakes, backhand, and passing ability don't garner enough recognition in the shadow of his bruising shot.
"(People) think he's just this shooter," Laughlin said. "They don't see the fact he had to bust his butt to get past the defender. He had to then get away from a guy who's trying to clobber him. Then he had to get away from a stick that's trying to take away his stick. Then he gets open. Then he shoots.
"There's steps along the way that I don't think we give Alexander credit for when it comes to scoring goals. You need those steps. Without those steps, he's not going to be where he is now."
Ovechkin certainly gets fair credit for the spectacular ways in which he's deposited pucks in nets. Different highlights spring to mind in different conversations. Remember when he spun to beat Montreal's Roman Hamrlik to a loose puck, outraced Kyle Chipchura to the crease, and scored on Carey Price in mid-slide? Remember when, during the 2009 playoffs, he eluded one New York Ranger's check and stickhandled through another's legs - "Dazzling moves!" Beninati said at the time - before sprawling to beat Henrik Lundqvist with a backhand? Remember when he trumped Price again by juggling an airborne puck and banking it in off the goalie's backside? ("That is a thing of beauty," Laughlin remarked on air.)
One could never exhaustively catalog Ovechkin's handiwork from memory alone. For that purpose, NBC Sports Washington recently aired his regular-season goals in a single go - at the time, all 692 of them.
"I remember most of them," Beninati said. "I've been lucky."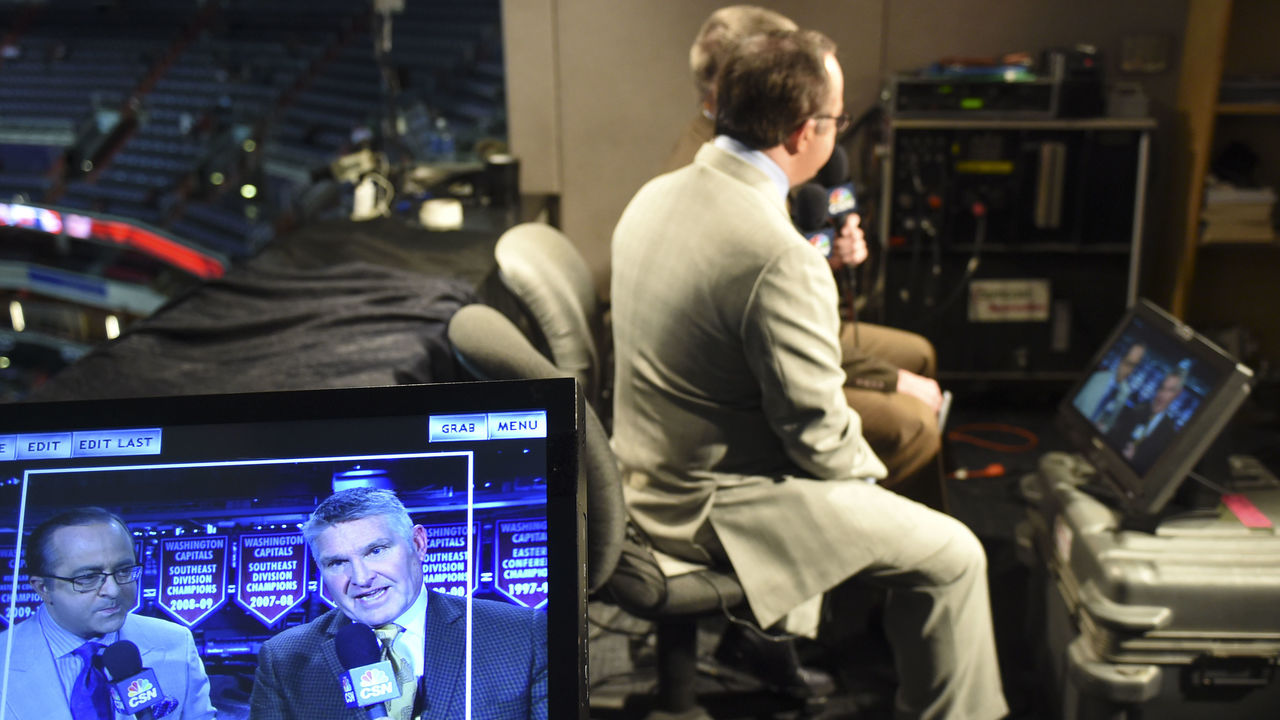 Laughlin, a forward for Washington through the mid-1980s, was lucky in his own right back then. He'd park himself by the crease on the power play as defensemen Scott Stevens and Kevin Hatcher pounded shots from the point, more than a few of which, he said, would ricochet "off my ass and into the net." He also shared the ice with longtime Capitals star Mike Gartner, a hard-shooting, scorchingly fast right-winger whose 708 career goals make him the next legendary scorer Ovechkin is working to eclipse.
Gartner features in Laughlin's ideal conception of Ovechkin's 700th. Scoring from his back as a bright-eyed rookie in front of Gretzky? Poetry. So Laughlin figures it would be fitting if this next landmark goal materialized at Washington's Capital One Arena, where Ovechkin could celebrate beneath Gartner's retired No. 11.
Beninati's first hope for No. 700 is that he, Laughlin, and their production team actually get to work the game in question. He was standing in line outside of the arena on Jan. 11, 2017, when Ovechkin scored his 1,000th point in the first minute of an NBCSN national telecast. (NBC Sports Washington is scheduled to broadcast the Caps' next seven games.)
Fortune sided with Beninati and Laughlin on other marquee occasions. They were on the mic for Ovechkin's 400th goal, an anticlimactic empty-netter at Carolina, and his 500th, a top-shelf wrister on the power play at home against Ottawa. Beninati saw a photographer's camera light up and called that play on the fly: "In a flash! Welcome to the club!"
Fun as they are, potential milestone nights also roil the nerves, Beninati said, though he never tries to moderate his anticipation by scripting ideas of what to say. Much the opposite: Spontaneity and instinct are paramount. Two seasons ago, Beninati won a share of a local Emmy for his network's coverage of No. 600 by waiting patiently as Ovechkin whacked at the puck during a scramble against Winnipeg. Ovechkin's third shot attempt finally cleared the thicket of limbs.
"And then 'overpowering' just came out of my mind," Beninati recalled. "People had said this guy was slowing down. He's not slowing down. He's still going strong."
Now more than ever, it seems.
Ovechkin has three hat tricks in his last six games and an NHL-best 40 goals on the season. That blistering output has him on pace to progress from 600 to 700 goals in fewer games than even Gretzky. Another record beckons below the radar in his near future: Ovechkin is 16 power-play goals away from breaking Dave Andreychuk's all-time mark of 274.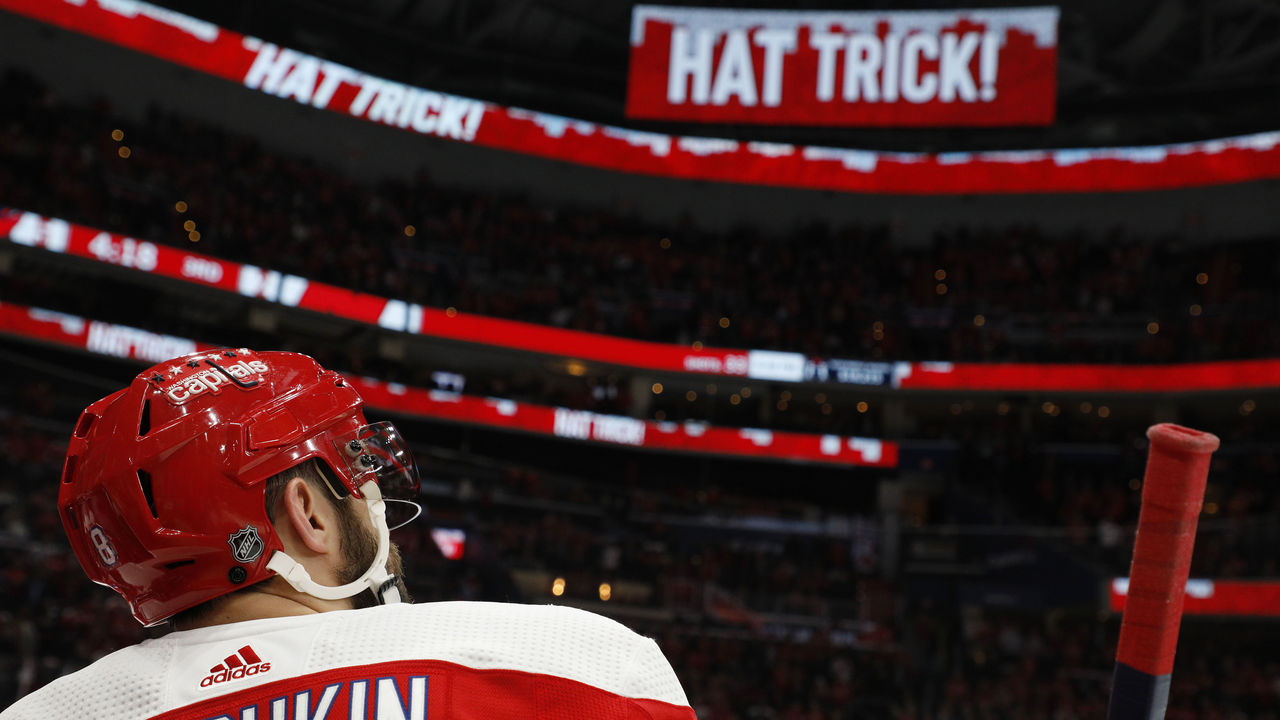 What form his 700th goal will take is anyone's guess. As ever, Beninati won't prescribe his reaction in advance. But he will cop to hoping that a certain nightmare scenario - a net-front deflection that renders the scorer's identity unclear - doesn't come to pass.
"Did he get it? Did he not get it? Oh, God, what should I say?" Beninati said. "You want it to be a blast down the wing that goes in cleanly, where you see every piece of nylon in the net move."
Beninati and Laughlin like to banter on occasion during play. But once Ovechkin is sitting on 699 goals, the color analyst said he'll hew toward silence, joking that he'd risk a punch from Beninati if he were to talk over No. 700. That intention is characteristic of their whole approach to the task. Ovechkin's orchestration of history, the announcers say, ought to be about him. They'll be there to accentuate the moment, beginning with Beninati's call and Laughlin keeping quiet a little while longer.
"I want to let it breathe," Laughlin said. "I want to watch the fans' reaction. I want to hear the fans. I want to take in the moment - and then, when I do talk after it, to really put a bow and a ribbon around just what we saw."
Nick Faris is a features writer at theScore.