Key takeaways and analysis from Week 3 in the NFL
Photo illustration by Julian Catalfo / theScore
Sunday Rundown recaps the most important developments from the day's action and examines their significance moving forward.
An all-time beatdown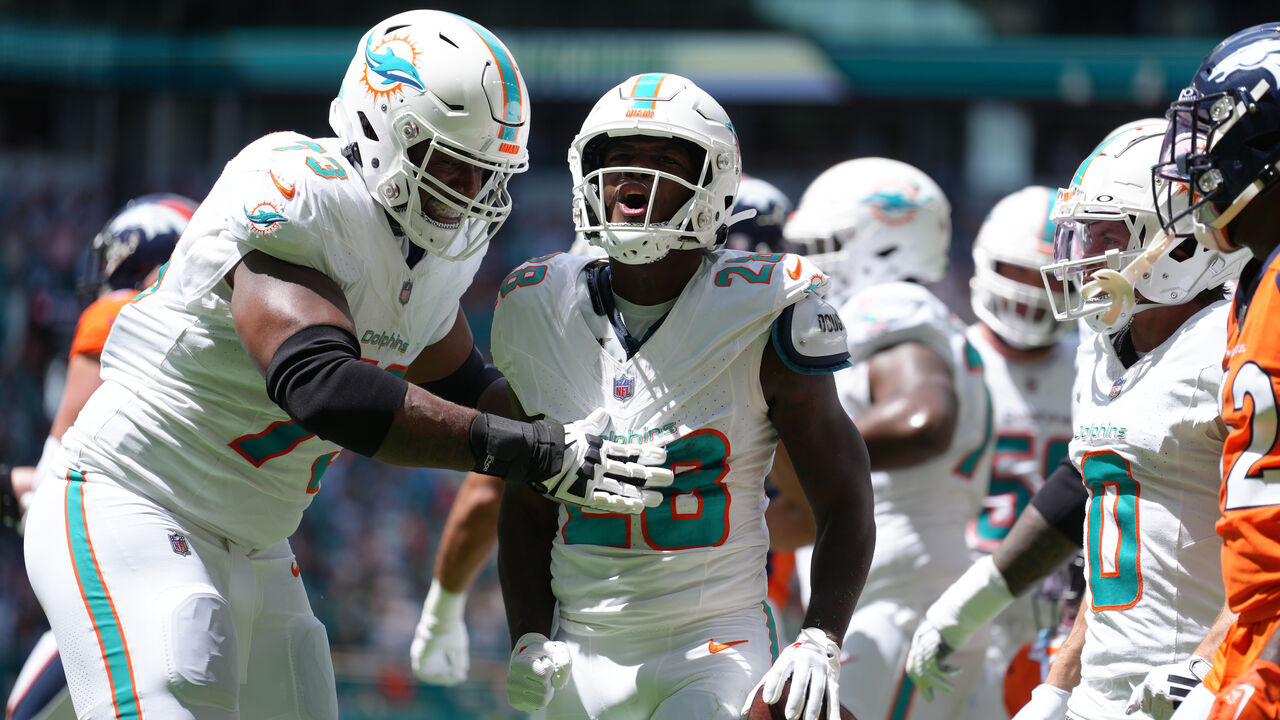 70 points. Seven zero. And it could've been more.
The Dolphins humiliating the Broncos in historic fashion Sunday in Miami was the perfect encapsulation of two teams heading full steam toward polar opposite ends of the NFL hierarchy. On one side (the unbelievably good one), we have what may be an unstoppable offense. Doubters and noted haters of fun will say it's too early. But what else do you need to see from this juggernaut scoring attack?
Mike McDaniel has taken his schematic genius to another level after a wildly impressive debut season as head coach. This offense has an answer for anything you could possibly want to throw at it; there's nothing like the way we've seen Miami manipulate coverage and get exactly what it wants out of nearly every rep in the passing game. It quite literally feels impossible to defend.
Tua Tagovailoa has taken that schematic foundation to even greater heights by taking a major step forward in the early stages of his fourth season. The former Alabama star looks more confident than ever at the controls of this offense. He's getting the ball out incredibly quickly, with near-perfect decision-making, and sacrificing nothing in terms of downfield aggressiveness in the process. Tua entered this week already having tallied eight big-time throws, good for 10.4% of his passes after averaging just 4.3% the year prior, according to PFF.
Those numbers should only continue to rise after another near-flawless performance in which he completed 23 of 26 passes for 309 yards, four touchdowns, no turnovers, and no sacks.
And that's just the passing game. The running game, which has always been the bread and butter of offenses from the Shanahan tree, was somehow even more productive in Sunday's bloodbath. Breakout rookie De'Von Achane went off for 203 rushing yards and two scores on 11.3 yards per carry while also adding two touchdown catches. Raheem Mostert added 82 yards and three rushing touchdowns of his own, doing his part to help the Dolphins rack up 350 rushing yards on the day.
The well-balanced massacre resulted in an NFL-record 726 yards of offense on the day. Miami was also in position to break the post-merger record for scoring with a late-game field goal, but McDaniel elected to settle for the 70-burger and give the Broncos a break.
On the other end of the spectrum (the putrid one), we've got a Broncos team that somehow fooled people into thinking it could compete this season. Sunday's embarrassing effort drops Denver to 0-3 under Sean Payton and brings us back to a blockbuster offseason move that curiously drew no criticism whatsoever.
You won't find anyone in this space arguing against Payton's capabilities as a coach, nor his borderline Hall of Fame resume. But trading first- and second-round picks for a soon-to-be 60-year-old head coach in hopes that he alone would elevate a bad roster was always severely misguided. Everything about this situation is a disaster.
Stay tuned for Tuesday's edition of theScore's NFL Power Rankings, where we'll be debuting two very deserving teams at both No. 1 and No. 32.
Jags hype stalling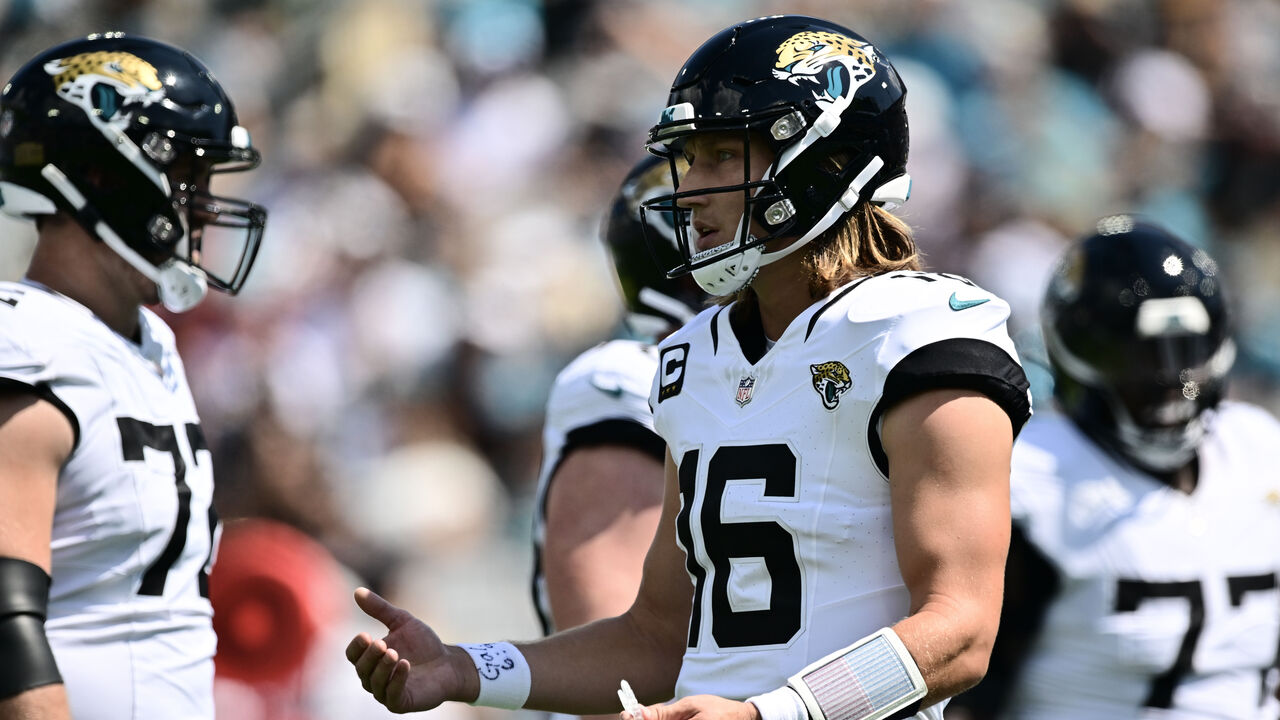 What's going on in Jacksonville?
The Jaguars entered this season as something of a consensus pick to win the AFC South, and deservedly so. Last year's playoff run was seemingly only the beginning for a young team with a franchise quarterback. Another year of development, along with some important additions to the roster, felt likely to push this team over the top.
That may still happen in time, and perhaps even later this season, but there's at least some reason for concern. The 1-1 start was anything but spectacular, and a clear get-right spot at home against a beat-up Texans team produced a confounding 37-17 loss.
As much as we all can, and likely should, default to believing in an offense led by Trevor Lawrence and Doug Pederson, the offensive line issues have the potential to hold this unit back. Protection was once again a major factor in Sunday's defeat, as Houston was constantly collapsing the pocket and disrupting the timing of the Jacksonville passing game.
The Jaguars also have some major issues to address on the defensive front. A pass-rush group featuring a pair of first-round edge rushers (Travon Walker and Josh Allen), as well as some highly paid interior defenders, has to get some sort of pressure against a battered Texans offensive line that was without starting tackles Laremy Tunsil and Tytus Howard.
That wasn't in the cards for the Jaguars' defense on this day, though, and Texans rookie quarterback C.J. Stroud responded with the most impressive performance of his young career (more on him later).
Jacksonville will hope that a two-week trip to London for a pair of games against the Falcons and Bills will help the team snap out of the early funk. But everything starts up front, and this team seems to be lacking in the trenches.
Here we go again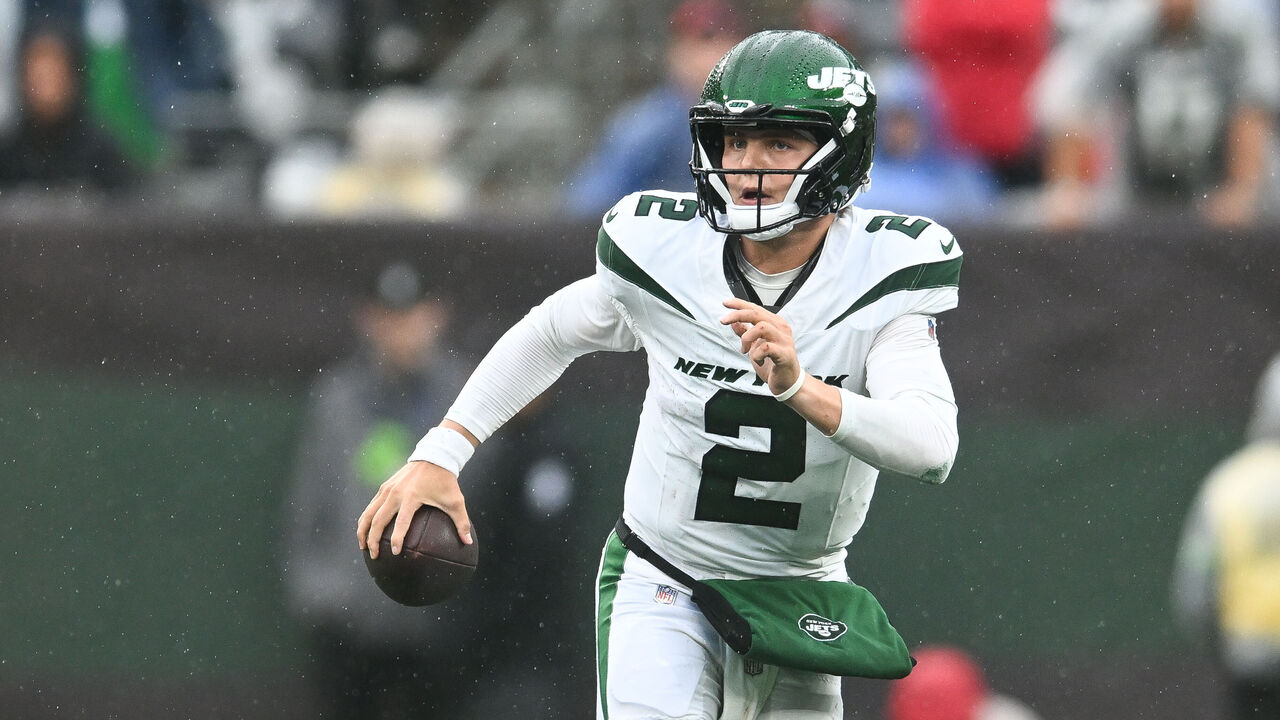 Giving Zach Wilson a chance to step in for the injured Aaron Rodgers was always the right move, to be fair. There's a reason he was selected No. 2 overall just two years ago, and it was worth seeing whether the light bulb had come on, at least a little bit, after a summer of working alongside a Hall of Famer.
Three games in, though, it's safe to conclude that no such thing has happened.
Wilson once again held the Jets back in Sunday's loss to the Patriots, completing just 18 of 36 passes for 157 yards and no touchdowns while the offense managed a mere 10 points. New England completely bottled up the running game, limiting New York to 38 yards on 22 carries, and the passing game couldn't do a thing to pick up the slack.
At this point, there's no reason to believe Wilson is magically going to become an accurate passer, a sound decision-maker, or even remotely composed under pressure. We've seen enough. Unfortunately for Jets fans, however, team officials seemingly can't wait to see more.
Jay Glazer of FOX Sports reported Sunday morning that the Jets have no plans to look outside the organization for an upgrade at quarterback despite receiving calls from free agents Matt Ryan and Carson Wentz with interest in joining the team. Head coach Robert Saleh continued to express confidence in Wilson after Sunday's loss, saying the former first-round pick "gives us the best chance to win," per SNY.
Perhaps he's right. Wentz and Ryan wouldn't be the most spectacular additions to the quarterback room - especially when trying to pick up the offense midseason. But why not at least find out?
This is a team that entered the year with Super Bowl aspirations. While any such goals were effectively ruled out when Rodgers went down four plays into the opener, the rest of this roster is in such a place that average quarterback play might be all the Jets need to sneak into the playoffs.
Wilson isn't capable of providing that baseline stability right now. The Jets owe it to the rest of their team - and their fans - to see whether someone else out there can.
Quick slants
Cardinals feisty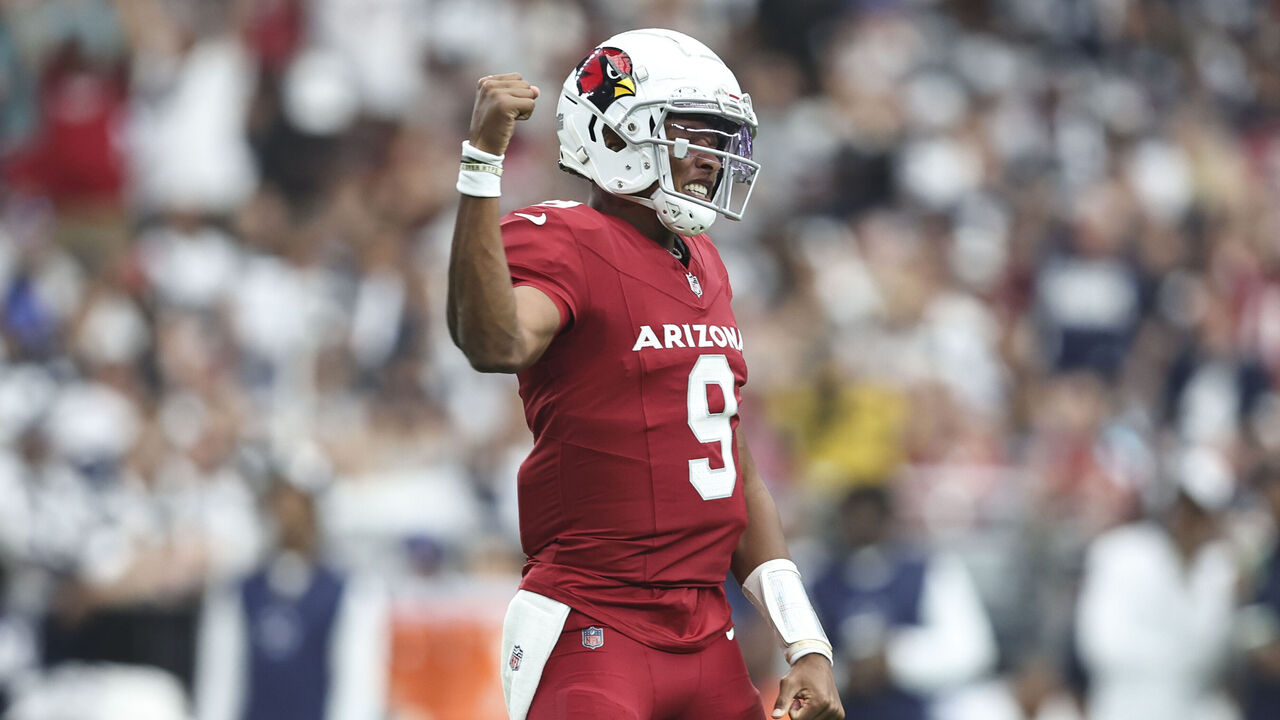 It's officially time to retire the "worst team in football" moniker for this year's Cardinals. It was a deserved title for as long as the preseason on-paper analysis could hold up, but that evidently didn't last. Arizona is proving to be a lot more pesky than any of us could've expected. A strong first half against the Giants last week was the first sign, and an upset win over the previously undefeated Cowboys effectively sealed it. The offense is doing a much better job of creating opportunities for its playmakers than Kliff Kingsbury ever did, and Jonathan Gannon's impact is already being felt on defense.
So are the Colts
Nobody had the Colts knocking off the Ravens - especially not with Gardner Minshew drawing in for an injured Anthony Richardson. The Indy offense was predictably bad with the veteran journeyman under center, but the defense forced some key turnovers and bothered Lamar Jackson just enough to hang around. This team is already night-and-day different from the circus we saw under Jeff Saturday last season. Give this staff an offseason or two to build out the roster, and we could have something special. In the meantime, the Colts are going to remain a sneaky tough matchup week in and week out.
Stroud has arrived
Stroud was quietly impressive in his first two starts, battling through some protection issues to keep the offense moving. He finally got some more help in Sunday's win over the Jaguars, and the results couldn't have been much better. Stroud completed 20 of 30 passes for 280 yards, two touchdowns, and, for the third consecutive game, no interceptions. The No. 2 overall pick has easily been the best rookie passer through three games.
Achane, too
We touched on Achane's breakout performance, but it's worth specifically highlighting his ceiling in this offense (there isn't one). The third-round rookie, who ran a 4.32 in the 40-yard dash, is both a home-run hitter and a creative runner in short spaces. A lack of size was likely the main factor in his draft-day slide, but the Dolphins are never going to ask him to be a between-the-tackles runner in condensed formations. Good luck defending this offense with another high-speed playmaker schemed up in space as a complement to Tyreek Hill and Jaylen Waddle.
Regression is rough
The Vikings somehow coming away with 13 wins despite a minus-3 point differential last season will forever stand as one of the wildest examples of a team outperforming its talent level. Other teams with 12-plus wins, for reference, had a point differential of no less than plus-96. It was only natural that the Vikings wouldn't be so fortunate in close games this year, and the inevitable regression has hit them in the worst way early. Bouncing back from an 0-3 start won't be so easy with matchups against the Chiefs and 49ers on the schedule over the next month.
Josh McDaniels, WYD?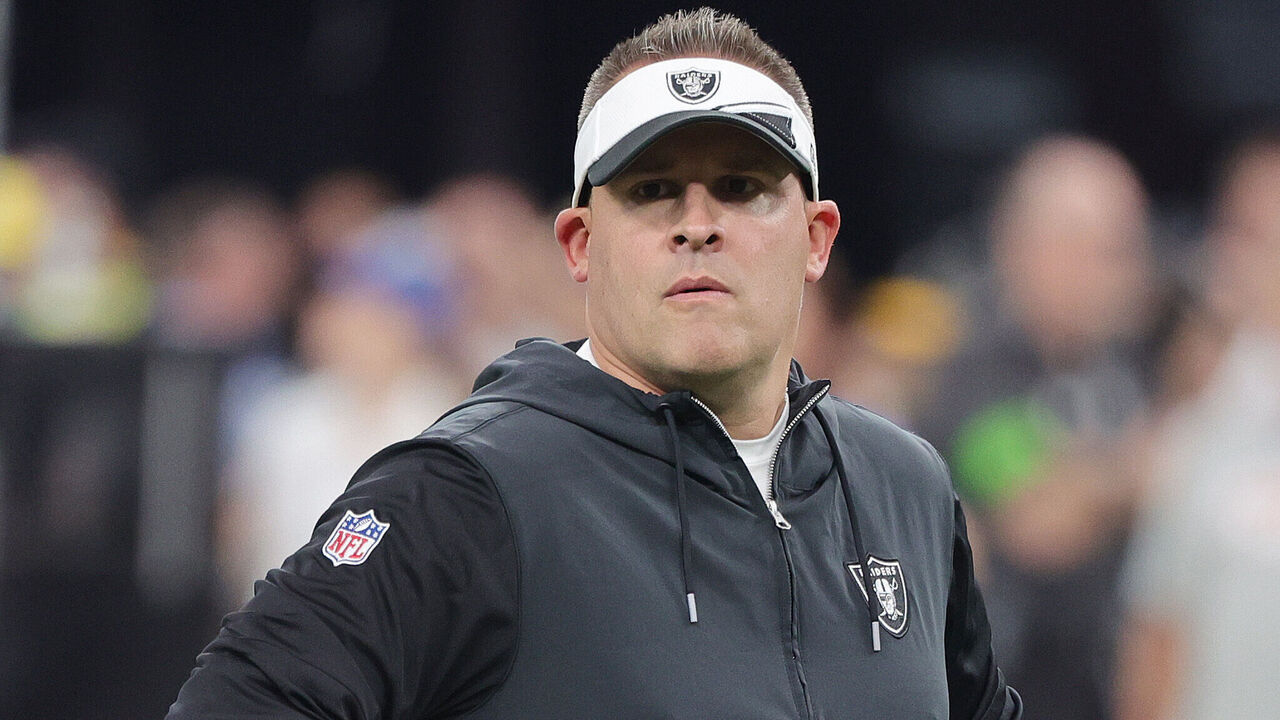 As far as bizarre coaching decisions go, it's going to be tough to top the move McDaniels made Sunday night against the Steelers. Trailing by eight points with 2:22 to play, the Raiders elected to kick a field goal on fourth-and-4 from the 8-yard line. Cutting the lead to five was a bet that Las Vegas would be able to get the ball back and win it with a touchdown drive. Two problems here: You're actively choosing to give the ball to the other team in a one-score game, and you're betting on one of the worst defenses in football to get it back for you. To the surprise of no one, the Steelers simply got the one first down they needed and ran out the majority of the clock to secure the win. This regime should already be facing major questions about its inability to build a competitive roster. If McDaniels is going to add bizarre in-game decisions to the mix, the question becomes what exactly it is we're doing here.
Falcons have a QB problem
We all know how good the Falcons' run game can be - Bijan Robinson is already one of the best runners in football, Tyler Allgeier is a heck of a complement, and Arthur Smith schemes up the run game with the best of them. But teams are going to stack the box and sell out to stop the run if they aren't the least bit threatened by your pass game. That's exactly what the Lions did to the Falcons on Sunday, and Desmond Ridder couldn't do a thing to get them out of it. A six-point output against these types of looks, throwing for 201 yards on 38 pass attempts while taking seven sacks, gives the rest of the NFL a clear blueprint for how to defend this team.
Keenan Allen: Not washed
Route-runners sure do age gracefully. The Chargers drafting Quentin Johnston in the first round may have given the impression that the 31-year-old Allen was nearing the end in L.A., but that's not quite how it's playing out. Sunday's 18-catch, 215-yard effort (both career highs) was a reminder that Allen is still one of the league's most difficult receivers to cover one-on-one. The new-look Chargers' passing game is going to be feeding him targets if Mike Williams misses extended time with his knee injury.
Garrett going off
Myles Garrett in a Jim Schwartz defense just isn't fair. The Browns' All-Pro defensive end has been unstoppable as part of this new-look pass rush, and it finally led to some major sack production in Sunday's win over the Titans. Garrett got Andre Dillard for 3.5 sacks and finished the day with five quarterback hits. He's the early front-runner for Defensive Player of the Year, and the sack numbers could come in bunches with the Browns finally having leads to defend.
J.C. Jackson mistake
It's easy to get caught up in the excitement of player movement in free agency; we all do it. As the old adage goes, though, there's often a reason a player's former team wasn't willing to meet his price tag. The Chargers holding J.C. Jackson out as a healthy scratch this week officially makes his signing the latest in a long line of free-agency disasters. Jackson was supposed to help put the L.A. defense over the top after signing a five-year, $82.5-million deal in 2022. The Chargers would take on a $15-million dead-money hit to move on from the high-priced corner next offseason.
Stat of the week
MNF lookahead
Eagles vs. Bucs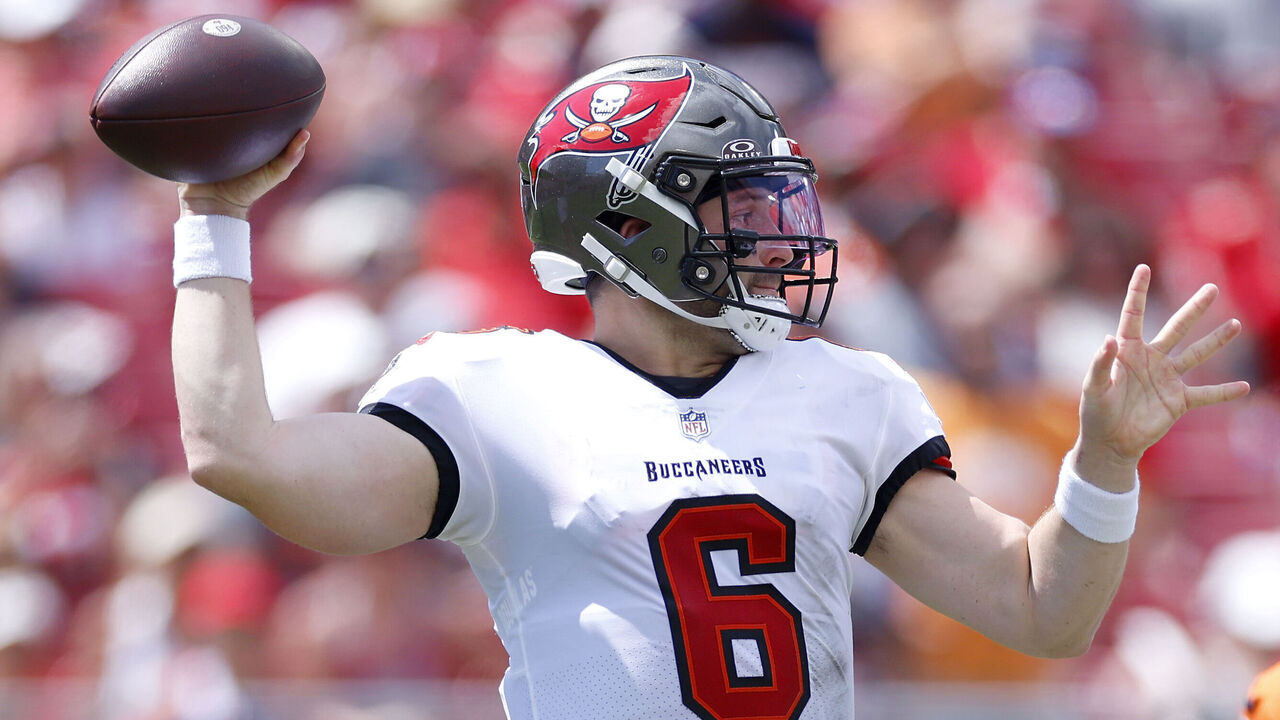 The Bucs, to their credit, have been much better than anyone expected. A stout defense, along with the surprisingly steady play of Baker Mayfield, has this team off to a 2-0 start in the first season without Tom Brady. While it may not be realistic to expect a win on Monday night, with the defending NFC champion Eagles boasting arguably the NFL's most complete roster, this is going to be a fun test for everything that's been going well for Tampa Bay thus far. The defense making things difficult on Philly would be a sign that the Bucs shouldn't be ruled out in the NFC South.
Rams vs. Bengals
The main question here, of course, is whether Joe Burrow is going to play. If he does, the story becomes whether he looks anything close to 100%. A rough start for the Bengals has the potential to get a whole lot worse if Burrow's calf injury lingers. He needs to be able to move around the way he wants if this offense is going to play at the level we've come to expect. And this is no get-right game, either. The Rams are back in business with a healthy Matthew Stafford and star rookie Puka Nacua filling in so admirably for an injured Cooper Kupp.