To watch the NFL anymore is to be constantly interrupted by game stoppages. To guess what a particular rule says, and how best to apply it. To frequently wonder why there aren't more intervals to interpret even more slow-motion replays. Football can be wildly entertaining. But the real action now seems to take place after the whistle blows.
This is a consequence of the NFL's relentless quest to control everything, to account for every sort of scenario at any given moment. It's a fool's errand, since there are limitless ways for each play to unfold, and there will always be unexpected outcomes that slip past the league's ability to legislate a satisfactory conclusion. The result is a rulebook that's evolved into an indecipherable mess, and interpretations that even game announcers sometimes don't understand.
Each of last weekend's NFL wild-card games was thrilling. All four were decided by one score, and there was lots of drama and intrigue. The actual football that was played was pretty good, too, I guess.
Let's examine some of the real highlights of the postseason so far:
The touchdown that became a touchback
On the opening play of the third quarter, Texans returner DeAndre Carter signaled his intention to take a touchback not by taking a knee, but by flipping the ball in the direction of one of the officials. Only the official ruled it was a live ball, and the Bills recovered for a touchdown.
This could have been an all-timer brain fart by Carter. Had it been allowed to stand, it also would have been pivotal, since the Bills were already up 13-0. Alas, one of the alternate officials spoke to referee Tony Corrente, and common sense prevailed.
The league is capable of getting some things right sometimes!
The blindside block
In overtime, Bills quarterback Josh Allen scrambled for four yards to the Texans' 38 on third-and-9. The play was wiped out because right tackle Cody Ford seemingly did his job by blocking linebacker Jacob Martin.
Ah, but the NFL cooked up a new rule this year outlawing blindside blocks, and it even made blindside blocks a point of emphasis for the officials, explaining it this way: "It is now prohibited for a blocker to initiate forcible contact with his head, shoulder or forearm when his path is toward or parallel to his own end line."
Based on that, it seems like Ford committed a penalty. But get a load of how the rule is defined at 12-2-7 of the rulebook:
It is a foul if a player initiates a block when his path is toward or parallel to his own end line and makes forcible contact to his opponent with his helmet, forearm, or shoulder.

Note: A player may initiate forcible contact in an area between the offensive tackles and three yards on either side of the line of scrimmage (until the ball leaves that area), but is still subject to the restrictions for crackback and "peel back" blocks.
Look at that word salad. This is a perfect example why most officiating mistakes are likely caused by officials having 6,000 things to consider at a given moment before making a call in real time, without the benefit of replay. Was Ford between the tackles and within three yards of the line of scrimmage when he blocked Martin? Was it forcible? Watch for yourself, from a wider angle:
The Bills were penalized 15 yards and had to punt. The Texans won the game on the next possession. But do you know who thought it was a bad call? Ex-NFL head of officiating and current Fox Sports rules analyst Mike Pereira (more on that in a minute below).
The delay of game that wasn't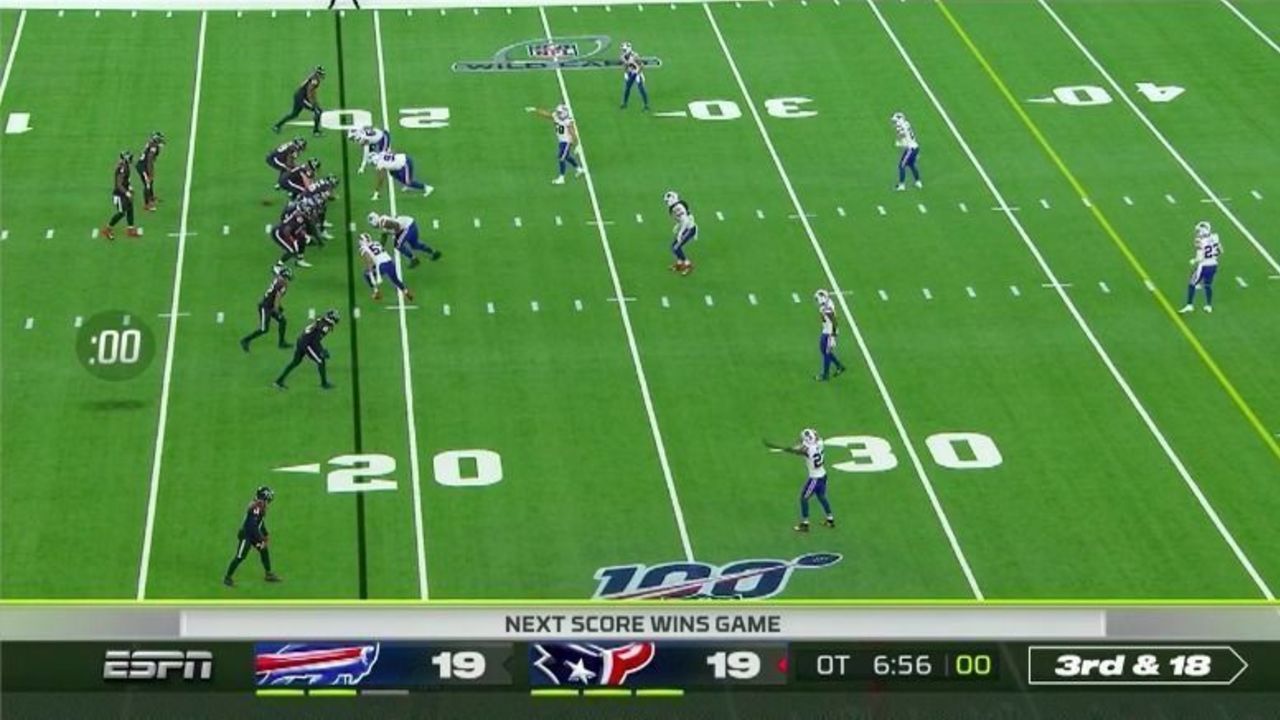 On the Texans' ensuing, game-winning possession, Deshaun Watson threw a pass to Duke Johnson that picked up a first down on third-and-18. But just before the snap, it was obvious the ball was snapped after the play clock struck zero. At the bottom of the above image, you'll even notice that Bills cornerback Tre'Davious White was aware of this. Nonetheless, the officials didn't flag it.
Pereira had an explanation:
So, apparently there's an "allowable delay" for the back judge to look at the play clock. Only in the NFL can zero not mean zero.
Belichick mad
Actually, there's nothing wrong with this. I just wanted to have another laugh at Bill Belichick getting all pissed off because one of his pupils used a loophole to milk extra time from the clock in the same way Belichick did to the Jets earlier this season.
The helmet flag that wasn't
Last year, the league instituted a rule that prohibits players from lowering their heads to initiate forcible contact with an opponent. Though players appear to do this sort of thing all the time, the so-called helmet rule has been enforced sparingly: Only 19 infractions in 2018, and 27 in 2019, per NFLPenalties.com.
On the third-quarter play above, Vikings wideout Bisi Johnson wasn't trying to initiate contact so much as he was attempting to avoid it. And Saints cornerback Janoris Jenkins led with his right shoulder to bring Johnson down. A flag was thrown for a helmet-rule infraction anyway, though the officials convened and decided to waive the foul off.
That didn't stop Fox's Joe Buck from wondering about a "helmet-to-helmet" infraction, which isn't the standard. Buck can't be blamed for this, of course, since the rulebook is inscrutable and this rule's enforcement seems to be completely arbitrary.
'The replay official reviewed the runner was not down by contact ruling'
Okay, fine, the officials got this one right after review, and they smartly didn't blow the whistle right away. But we only know this after a stoppage that followed what looked to be an exciting - or, if you're a Vikings fan, agonizing - recovery for a touchdown that would have given the Saints the lead with a little more than three minutes remaining.
The official play-by-play description of this play is perfectly cloying:
Is it over?
After Kyle Rudolph caught the game-winner for Minnesota, my initial, in-the-moment reaction wasn't so much to marvel at what had just happened. Instead, I was waiting for something that would delay whether it was okay to savor the moment. No flag was thrown, but even then it wasn't over - there was always the possibility of a replay review.
Did Rudolph push off? Were he and P.J. Williams just hand-fighting in the normal course of a pass play? Reasonable people can disagree! This was always the problem with adding a replay review rule for a judgment call like pass interference: Different people are going to have different views for what constitutes an infraction. After a few seconds, the league's officiating department opted not to review the play, and everyone could enjoy (or curse) the moment well after it actually occurred.
Leave it to the NFL to institute a rule to correct a single judgment error, only to not use that rule when it could have saved the season of the team that had pushed to enact it in the first place, even as everyone had to hold their breath to wait to know that.
The Carson Wentz injury
Perhaps the strangest part of the hit Jadeveon Clowney laid on Carson Wentz in the first quarter of Seahawks-Eagles is that no one noticed it at the time. Even the independent spotters who are tasked by the concussion protocol to look for hits to the head that may warrant a concussion evaluation didn't see it. The game proceeded as normal - Wentz even remained on the field for several more plays and finished the possession.
He also took another hit a few plays later from Ziggy Ansah that may have aggravated what wound up being a game-ending head injury:
Clowney's hit on Wentz has come in for scrutiny because it seems dirty. On the other hand, Wentz didn't slide and Clowney launched himself at him the instant Wentz was being tackled. Again, though, it's the league's selective enforcement of its rules that left anyone with any interest firing off an opinion - and guessing.
Dom Cosentino is a senior features writer at theScore.