Power 5 preview: 1 question for each ACC program
As the college football season approaches, theScore will preview the year for each Power 5 conference. The series kicks off today with one question for each ACC program.
Can Florida State take the next step to national prominence?
Some of us are old enough to remember when Florida State was a powerhouse program. But if you've only been watching college football for the last six years, that probably seems like complete fiction. Heading into last season, the Seminoles carried an abysmal 26-33 record since 2017 and fell further from the top of the ACC. There are signs that free fall is over, though, after Mike Norvell returned a very promising 10-3 record last year.
The heightened expectations in Tallahassee have the 'Noles faithful thinking playoffs, with star quarterback Jordan Travis returning to lead what should be a potent offense. The Louisville transfer piled up over 3,600 total yards and 31 touchdowns against only five interceptions. That kind of production makes Travis a Heisman contender in his final year. Add in the return of leading rusher Trey Benson, top receiver Johnny Wilson and Michigan State transfer Keon Coleman and points won't be an issue for Florida State.
The Seminoles were the top-ranked total defense in the ACC last year and boast the return of star edge-rusher - and future NFL first-round pick - Jared Verse. His ability to put pressure on the quarterback immensely helped a talented secondary rank fourth in the nation in passing yards allowed last year. Factor in talented corner Fentrell Cypress II from Virginia and the defense should be among the nation's best yet again.
Florida State has to travel to Clemson in Week 4 for a blockbuster showdown but gets LSU in the opener in friendly Orlando and hosts both Duke and Miami this year. All signs point to the Seminoles taking the next step and re-cementing themselves as a national force.
Will Riley reignite Clemson's offense?
Change is the key word for the Clemson attack this season, with two major differences from the opening of the 2022 campaign. It's Cade Klubnik's team now after DJ Uiagalelei transferred to Oregon State, and the talented sophomore passer has Garrett Riley as his new offensive coordinator. The brother of USC coach Lincoln Riley comes over after his brilliant season running the attack for CFP runner-up TCU with the main task of getting the Tigers offense back to an elite level.
Gone are Clemson's days as a perennial title contender thanks to elite offense and defense, as the attack has sputtered in recent years. The Tigers ranked outside the top 60 nationally in yards per play in the last two seasons following three straight campaigns inside the top 15 in that statistic. The offensive issues are virtually the sole reason the program failed to make the CFP in either season after six straight semifinal appearances.
Dabo Swinney certainly hopes the Riley-Klubnik combo can right that ship, and star running back Will Shipley's return coupled with an experienced line eases the transition. Clemson's defense is slated to be one of the best in the country again, but it's up to Riley to return the Tigers to past glory with a huge improvement offensively.
Will Brohm instantly work his magic at Louisville?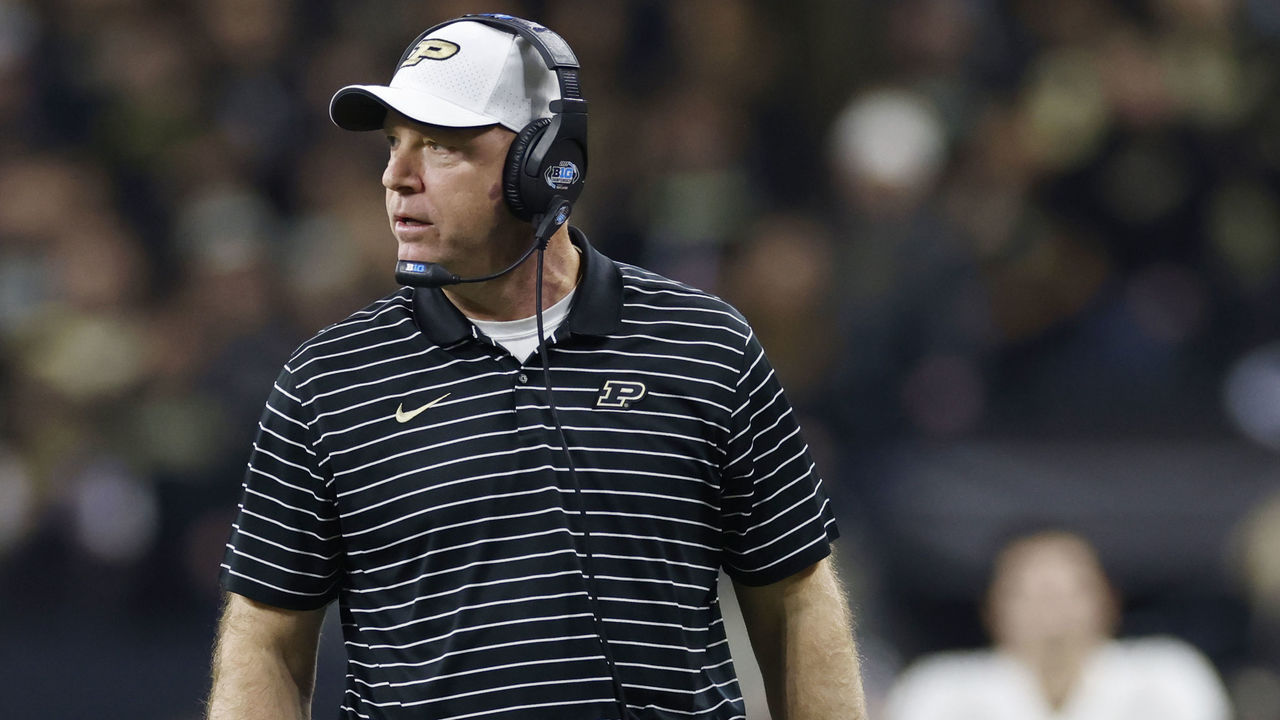 Excitement once again pumps through Louisville football thanks to Jeff Brohm's return to his alma mater. The former Purdue coach comes over after Scott Satterfield made the 105-mile trip up I-71 to take over at Cincinnati. Many will find it addition by subtraction, as Brohm has long been the apple of Louisville's eye and now gets his chance to take over.
The 52-year-old took over a Purdue team that won a total of nine games in the previous four years and immediately turned in a 7-6 campaign. Brohm's Boilermakers were the upset kings of college football, knocking off three different top-5 opponents in his time with the program.
Brohm will rely on a heavy load of transfers if he's going to replicate Louisville's early success. At least 25 new players join the Cardinals, including former Cal quarterback Jack Plummer who will get the nod as the starter.
Perhaps the biggest thing working in Brohm's favor is an incredibly manageable schedule that features only three true road games. That should bring good returns in his first season on campus.
Can Maye still thrive for North Carolina with new coaching?
Drake Maye is undoubtedly one of the country's top quarterbacks and almost a lock to be a top-10 pick in next year's NFL draft. How the talented passer fares without his offensive coordinator and top two receivers from last year will go a long way in deciding North Carolina's success in 2023. Expect new coordinator Chip Lindsey to lean on the talented running back duo of Elijah Green and Omarion Hampton and a veteran line to keep the offense cooking in Chapel Hill.
That brings us to the defense - an area that most North Carolina fans would likely have us avoid. The Tar Heels were 114th nationally in yards per play and 104th in points allowed last season. The front seven returns almost fully intact, but needs to drastically improve if North Carolina is going to make any noise.
Maye's talent will likely shine through regardless of who calls the plays, but it's worth watching whether he can produce at the level necessary to overcome the expected defensive issues that could plague North Carolina.
It can't get worse for Miami, right?
It took exactly four games into Miami's Mario Cristobal era for the air to come out of the balloon. A 17-9 road loss at Texas A&M in Week 3 was discouraging but a 45-31 blowout at home to Middle Tennessee State was downright embarrassing. The former Oregon coach's 5-7 record in his first campaign sent shockwaves through the Hurricanes' faithful.
The bad news? Despite the schedule not featuring divisions, Miami still sees Clemson, Florida State, NC State and North Carolina on the schedule. The non-conference game versus Texas A&M is the final straw in the very tough slate for the Hurricanes.
The good news? Quarterback Tyler Van Dyke should improve now that he's clear of former coordinator Josh Gattis' system. And Cristobal's recruiting trail brilliance built a very talented roster to take the field this season.
How does Duke build off Elko's brilliant debut?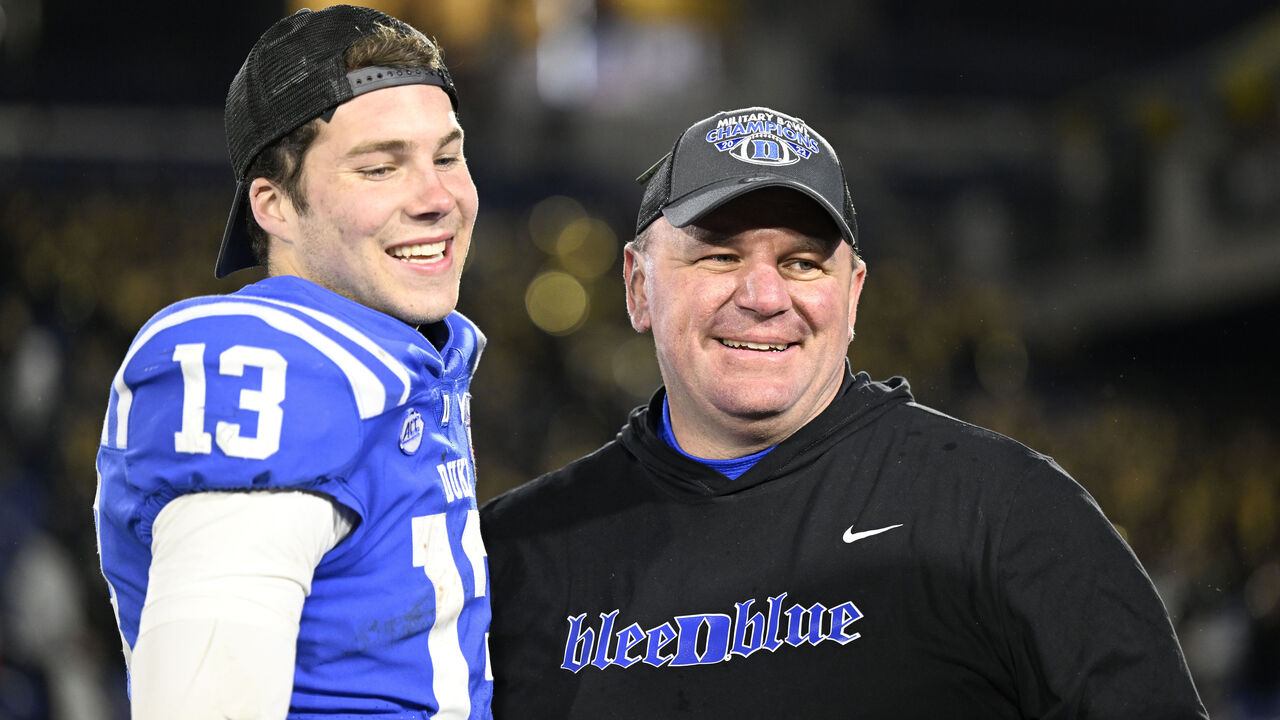 After his unbelievable performance in 2022, it feels like Mike Elko's genius might be wasted coaching football. The first-year coach took a program with only five combined victories the previous two years and delivered just the third nine-win season for Duke since World War II.
While Elko's expertise is on the defensive side of the football, the offensive unit took the biggest leap in his first season. Riley Leonard developed into a star quarterback for the Blue Devils with over 3,600 total yards and 33 touchdowns on the year. He's buoyed by the return of the top four pass-catchers from last year's breakout group.
The biggest challenge for Elko will be keeping his defense at the level required to face the Blue Devils' difficult schedule. Duke ranked eighth in the country in takeaways per game but lose coordinator Robb Smith and the top two tacklers from last season. With Clemson, North Carolina, Florida State and Notre Dame all on the docket, another nine-win season could be a tall task for Duke.
Will Hafley save his job at Boston College?
Jeff Hafley's career at Boston College got off to a promising start with a 12-11 record through two seasons, but a 3-9 mark last year has him on the hot seat entering 2023.
There were problems across the field but the Eagles' biggest challenge last year was the offensive line's health. The starting five missed a combined 33 games last season, thrusting inexperienced backups into key roles. That was addressed in the offseason with all five initial starters returning and transfers Kyle Hergel and Logan Taylor joining the fray. Coupled with standout guard Christian Mahogany's return from injury, Hafley's outfit should expect a huge improvement.
The first year without divisions offers the Eagles a favorable schedule as they avoid Clemson and play ACC opponents who went a combined 27-35 last year. Home wins against Northern Illinois, Holy Cross, UConn, Virginia and Virginia Tech are a must if Boston College is to become bowl eligible and save Hafley's job.
Can Jurkovec addition offset major roster turnover?
The Pitt defense featured four standout performers last year which made that unit one of the ACC's best. Unfortunately for the Panthers, Calijah Kancey, Erick Hallett II, Habakkuk Baldonado and SirVocea Dennis are all off to the NFL in 2023. While Pat Narduzzi's history as a defensive coach will help, the Panthers need strong play from the offensive unit to keep the program competitive this year.
Narduzzi brought in a well-traveled passer in Phil Jurkovec to help with that, as the former Notre Dame and Boston College quarterback arrives in Pittsburgh. He won't have star rusher Israel Abanikanda or top receiver Jared Wayne at his disposal, so different players need to step up to get the ball moving for the Panthers.
Jurkovec's main issue at Boston College was staying healthy, but he was a solid performer on the field when he was available. If he can avoid the injury bug this season, Pitt should be able to take advantage of a Clemson-free schedule to remain among the ACC's top teams.
Is the Virginia duo the answer to NC State's offensive woes?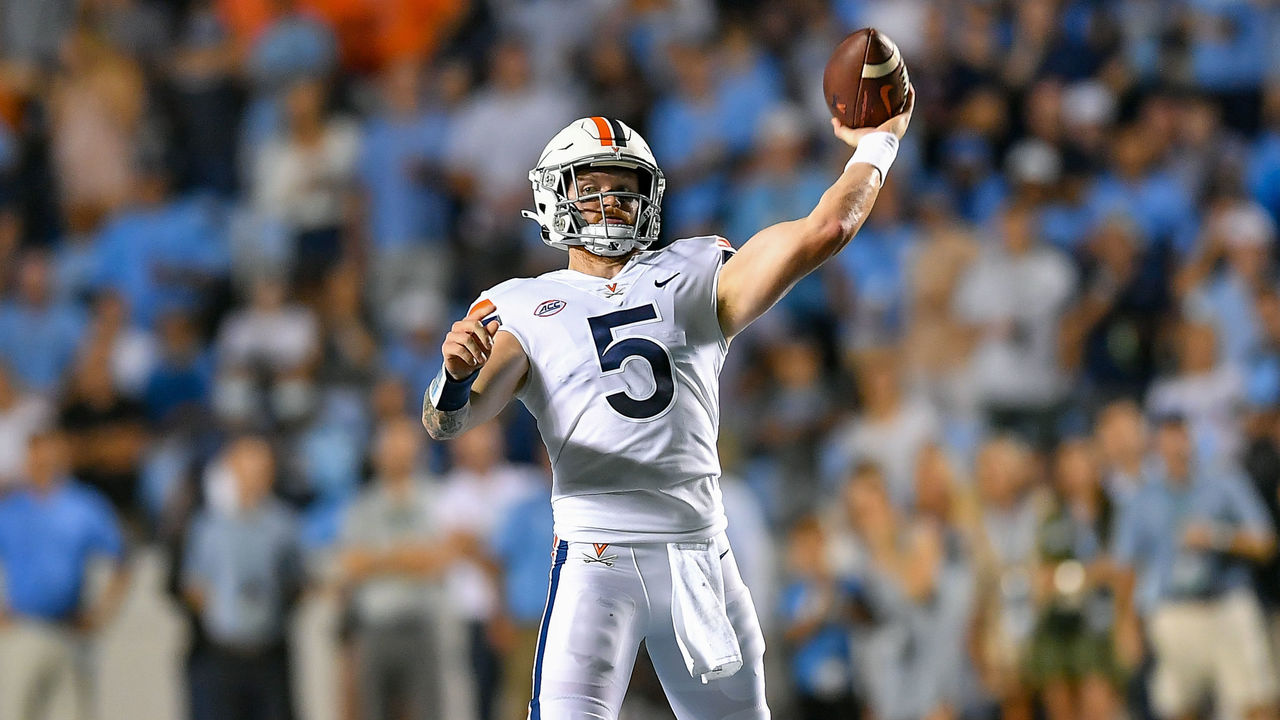 NC State's offensive performance last year existed in two separate eras - with Devin Leary at quarterback and without him. The veteran passer helped the Wolfpack get off to a 5-1 start with the team averaging 30 points per contest. After injuries took Leary off the field for the season, NC State put up just 19 points per game and lost four of its last seven contests. With Leary gone to Kentucky, head coach Dave Doeren is leaning on a pair that experienced great success at Virginia to get things back on track.
The last time the coordinator-quarterback combo of Robert Anae and Brennan Armstrong teamed up at Virginia, it resulted in a 4,400-yard passing year and the nation's ninth-ranked offense. Anae spent last season with Syracuse while Armstrong struggled under Virginia's new regime. Both went to NC State hoping to dip back to the 2021 form and help Doeren fix his offensive woes.
Which Syracuse from 2022 will show up this season?
Syracuse's efforts last season present a very clear dividing line. The Orange exploded off the start and raced out to their first 6-0 mark since 1987. After that, the wheels completely fell off and the team lost five in a row before a victory over Boston College in the season finale secured a 7-5 overall record. Last year's volatility makes this season's outfit difficult to predict.
The offense loses star rusher Sean Tucker but quarterback Garrett Shrader and standout tight end Oronde Gadsden II both return. The attack will heavily rely on Shrader to supply yards both on the ground and in the air, and his health will likely dictate how the Orange can navigate the season.
The three-week stretch versus Clemson, at North Carolina and at Florida State is a murderer's row, but the Orange finish the campaign with five games against ACC opponents that went a combined 15-24 in conference play last year. That could make this season a reverse of last year's performance with a rough start but a strong close.
How does Wake Forest replace Hartman, Perry?
It seems Dave Clawson adds to the degree of difficulty at Wake Forest each year as more standout players graduate or leave the program. This year might be his toughest task yet, as star passer Sam Hartman is gone to Notre Dame and electric wideout A.T. Perry is in the NFL. That duo produced 10,153 passing yards, 90 touchdown passes, 2,600 receiving yards and 27 receiving touchdowns over the past three seasons - near-impossible numbers to recreate.
It's Mitch Griffis' show at quarterback now and, while Perry is gone, there's still quality talent at the skill positions. Donavon Greene, Jahmal Banks and Taylor Morin are all back after combining for 126 catches, 1,853 yards and 24 touchdowns last season. If Griffis can spread the ball around on Clawson's attack, the Demon Deacons could maintain a similar clip on offense that we've grown accustomed to in recent years.
Can transfers fix the Virginia Tech offense?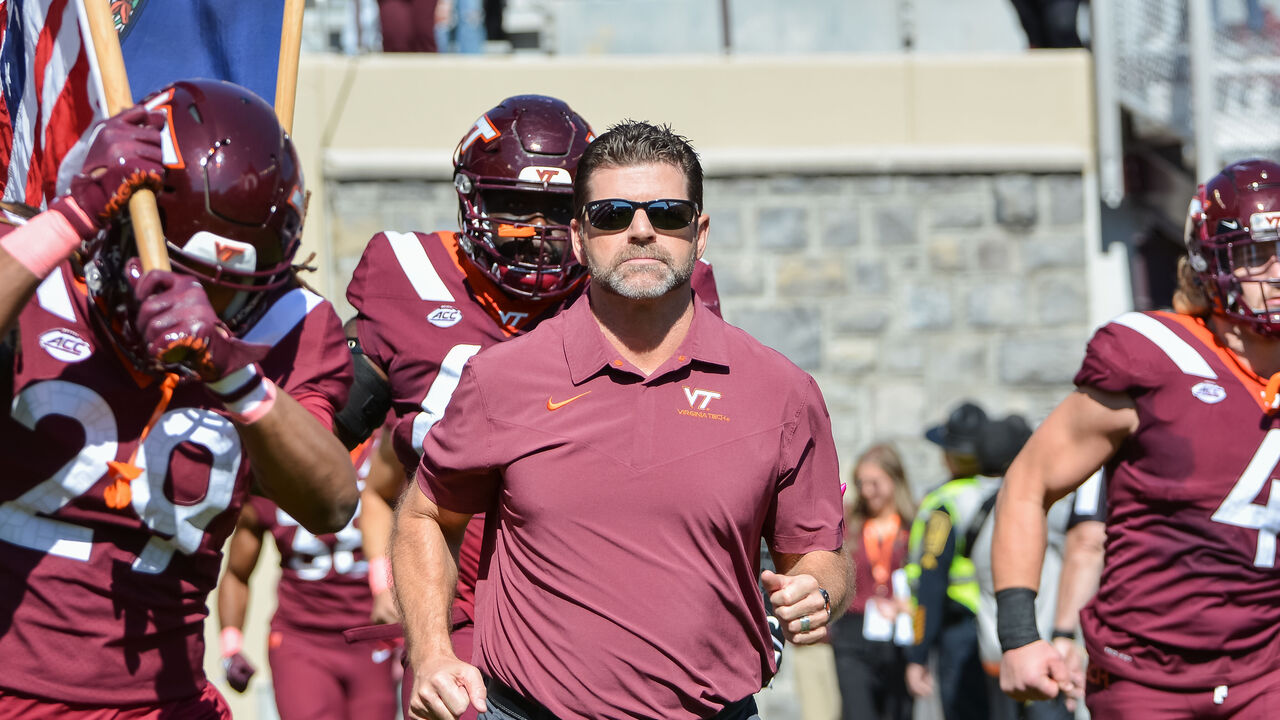 There weren't many teams in the Power 5 last year that were more difficult to watch than Virginia Tech. The Hokies failed to top the 30-point mark in any game and ranked 118th nationally in scoring, and 121st in yards per play. Brent Pry wasn't left with much talent on the roster following Justin Fuente's departure, but the second-year coach must do better if he hopes to see a third season.
The defense should continue its improvement from the end of last season, but Pry needs transfers to perform well if the offense is going to grow in 2023. Kyron Drones moves over from Baylor to challenge for the quarterback spot and a slew of new receivers will beef up the passing attack. Add in 1,300-yard rusher Bhayshul Tuten from North Carolina A&T and there's room for optimism on offense.
Will Georgia Tech build off last year's impressive finish?
Geoff Collins didn't make it past the first month of his fourth season with Georgia Tech, as the school parted ways with the head coach following a 1-3 start with the losses coming by a combined 110-20 scoreline. Brent Key took over and cobbled together a remarkable 4-4 finish to secure the permanent job heading into 2023.
If the Yellow Jackets are going to build off that strong finish, the offense needs strong showings from new faces. Former Texas A&M passer Haynes King enters the mix for the quarterback slot and Trey Cooley moves on from Louisville to beef up the run game. Six new receivers and tight ends mean virtually a full makeover at the skill positions.
Keion White headlined three starters heading to the NFL, signalling a defensive revamp. Key utilized the portal to add Texas A&M's Andre White Jr. and Minnesota's Braelen Oliver.
Can Virginia's offense do anything to help stout defense?
Virginia's season was rocked by tragedy last year with the death of three players due to gun violence in November. It seems trivial to discuss the team's performance on the field in Tony Elliott's first season, but there will need to be a drastic improvement on the offensive side of the football to right the ship for the Cavaliers.
Elliott came over after he spent a number of seasons running the Clemson offense, but Virginia struggled mightily on that side of the ball in Year 1. The team averaged only 17 points per game, ranking a dismal 126th in the country. It might not be easier in 2023 as the team lost their starting quarterback, top three receivers and four starters from the offensive line.
Tony Muskett transferred from the FCS level at Monmouth to compete for the starting quarterback job. He will likely have to replicate his huge numbers from that league to give the Cavaliers any shot of making a jump this season.