When he reminisces about CeeDee Lamb, the Hail Mary game is always the first story Shaun McDowell tells. It makes sense to start with it, because it's the night McDowell learned Lamb was different.
At the time - Oct. 23, 2014 - Lamb was a sophomore at Foster High School in Richmond, Texas. He was the third receiver in a good offense, one that averaged 36 points per game. And Foster needed something special out of that offense to avoid defeat against district foe Calhoun.
Foster trailed 22-21 in the waning seconds when, in an attempt to confuse the defense, it attempted a reverse Hail Mary. A Foster receiver heaved the football toward the end zone, where Lamb came down with it between three defenders and a teammate. The only problem: It didn't count. Officials flagged Foster for an illegal man downfield.
Moments later, on a more traditional Hail Mary throw from the quarterback, Lamb leapt and pulled down another prayer to win the game.
A legend was born that night, 30 minutes southwest of downtown Houston.
"I'll be talking about that for the rest of my life," said McDowell, Foster's head coach.
Six years later, few who've watched Lamb play are surprised when he makes the difficult look natural. He developed into an unstoppable force at Foster, catching 98 passes for 2,032 yards and 33 touchdowns as a senior. In coach Lincoln Riley's unrelenting offense at Oklahoma, Lamb produced back-to-back 1,000-yard seasons in 2018 and 2019, setting a school record with 24 catches of 40-plus yards. His 19 yards per reception average is also a Sooner record.
Next, he'll be one of the first receivers off the board Thursday in the NFL draft. He could go as high as the top 10, if a team falls in love with his ability to make highlight-reel catches and elude defenders like a Pamplona bullfighter. He has every chance of being the best receiver in one of the deepest classes at the position in years - one that includes the Alabama super duo of Jerry Jeudy and Henry Ruggs, as well as LSU's 100-catch receiver Justin Jefferson.
"He's being compared to DeAndre Hopkins," Peter Schrager, Fox Sports NFL analyst, said about Lamb on "Good Morning Football" this week. "I think he might end up being even better than (Hopkins)."
At 6-foot-2, 198 pounds, there's little Lamb can't do as a receiver. He's a downfield threat who can make contested catches. He also destroys defenses after the catch, combining a strong lower body with an ability to anticipate contact from defenders. His Oklahoma highlight reel can only be described as absurd. A sampling:
Oct. 12 vs. Texas: Lamb catches a flea-flicker pass in space, but soon finds himself surrounded by five Longhorn defenders. No matter - he makes a cut, breaks a tackle, and surges toward the end zone. (He later shook off two defenders for a second touchdown.)
Dec. 7 vs. Baylor: Lamb catches a 5-yard out, anticipates the defender coming up behind him and uses a slight deke to break free before accelerating for a 71-yard gain.
And there's the one that didn't count: Sept. 8, 2018 against UCLA.
Lamb has a skill set and resume that a number of teams drafting in the top half of the first round should salivate over. The New York Jets, picking 11th, haven't had a 1,000-yard receiver since 2015. The two teams behind them, the Las Vegas Raiders and San Francisco 49ers, both need No. 1 receivers.
McDowell watched Lamb develop firsthand at Foster for four years. When he first encountered Lamb as an underclassman, his gifts weren't immediately apparent. But McDowell recognized his work ethic and the effort he put into improving.
And he also noticed the innate mental gifts that he said separate Lamb as a receiver.
"He plays like he's in 'The Matrix,'" McDowell said. "He sees all the 1s and 0s and stuff before you do, and he just knows where the ball's going to be and can contort his body and do things with his hands that the normal, average receiver can't do."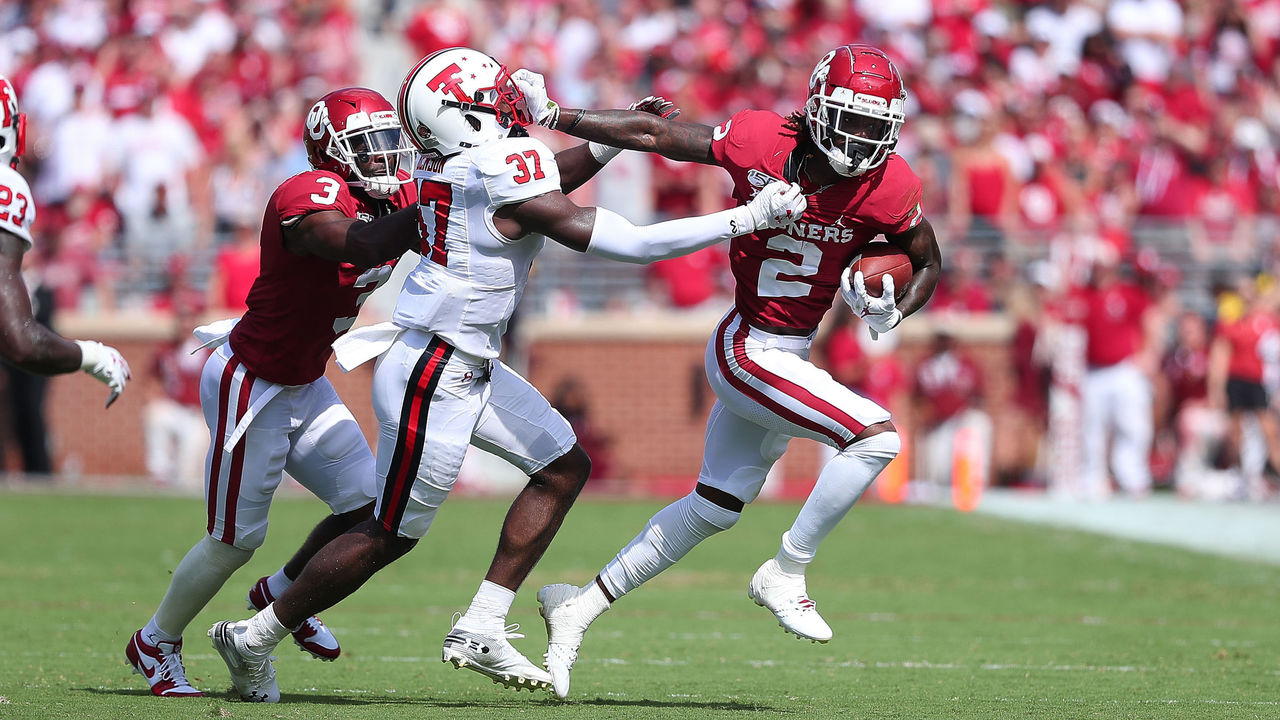 He blossomed as a junior in high school, catching 57 passes for 1,082 yards and 11 touchdowns. As a senior, he caught at least one touchdown in all 15 games played. McDowell remembers his ability to recognize when his team needed him most.
Take the seventh game of the season, against Rosenberg (Texas) Terry. Foster lost its starting quarterback on the first play of the game, McDowell said. He told his backup: "Take a breath, throw it to CeeDee."
"He just takes over a game," McDowell said. "I've never seen one guy, one receiver, take over a game, whether it was a quick hitch, a quick screen pass out wide, to basically a jet sweep, he was unstoppable that night."
Lamb caught five touchdown passes in a 67-41 win. Two months later, in a playoff game against Dripping Springs, Lamb again scored five touchdowns, catching nine passes for 225 yards. He caught four touchdown passes in the first half alone.
"He knows, 'Hey, if I catch the ball here, I'm probably going to spin out,' and it's almost like he sees it before it happens," McDowell said. "It's hard to explain. But his bottom half if so strong. He's not a very huge guy, but he's not small either. … There's not any fat on that body, so when you hit him you're going to hit rocks. You've got to be a perfect tackler to be able to take him down - or have help."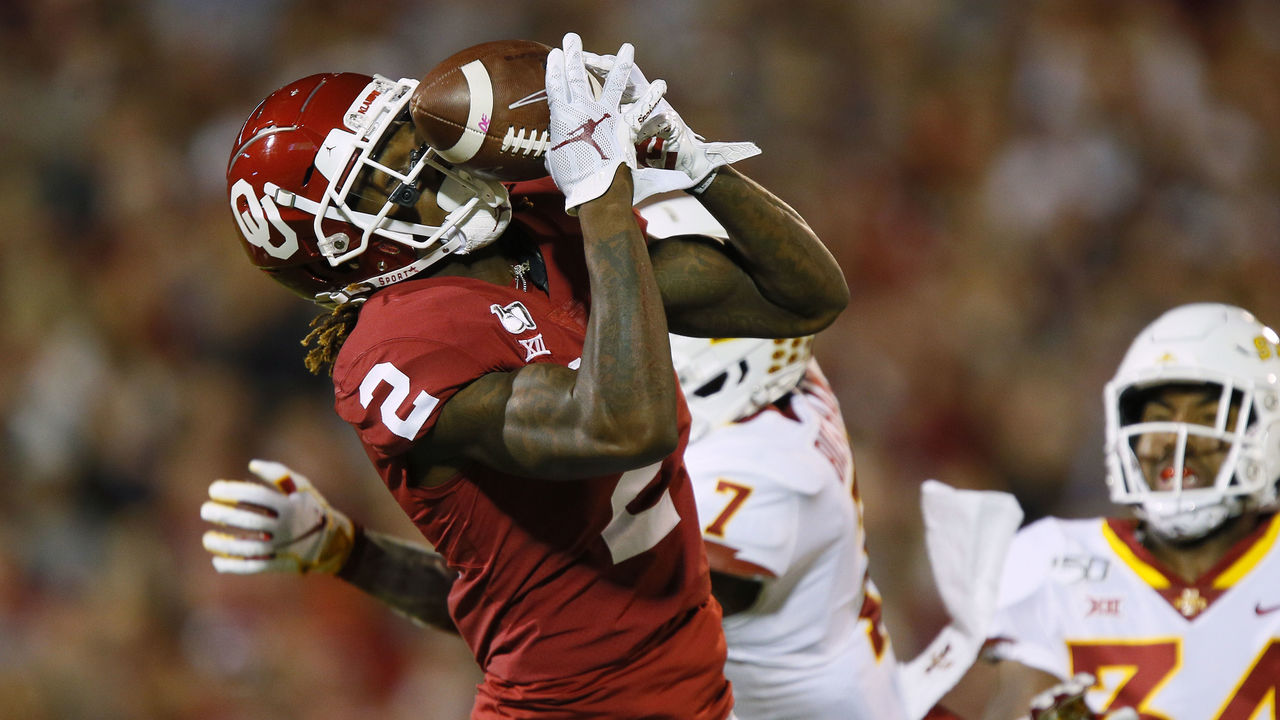 McDowell, who also coached Pro Bowl offensive lineman Russell Okung in high school, is looking forward to celebrating on Thursday, no matter Lamb's destination. His dream scenario, he said, would be for Lamb to go to the Arizona Cardinals - where he would be reunited with former OU quarterback Kyler Murray in Kliff Kingsbury's offense.
That seems unlikely, though: The Cardinals traded for Hopkins - the player Lamb gets compared to - last month.
Lamb will be someone else's Hopkins instead.
Mark Cooper is theScore's NCAA writer.