Takeaways from Sunday's NCAA Tournament games
theScore runs down the top storylines and developments from Sunday's NCAA Tournament games and what it all could mean moving forward.
Izzo rules March yet again
There have been 25 NCAA Tournaments since 1998 and Tom Izzo has led Michigan State into each as its head coach. The latest appearance in the veteran coach's unprecedented run will see the Spartans advance to Izzo's 15th career Sweet 16 after an impressive upset victory over No. 2 Marquette on Sunday. It also saw him pass Jim Boeheim of Syracuse for the most tournament wins ever by a lower-seeded team.
Izzo's 55th career victory in 78 NCAA Tournament games was vintage Michigan State, with the Spartans locking down Big East player of the year, Tyler Kolek. The swarming defense held Kolek to just seven points on 2-of-8 shooting, and forced him into a season-high six turnovers.
That dominant defense will be needed once again in the Sweet 16 as a date with Kansas State and star guard Markquis Nowell looms for Izzo and the Spartans. A victory will see the Big Ten program qualify for its 11th Elite Eight under the 68-year-old bench boss.
Nowell takes over to send Kentucky home
Nowell casts the biggest shadow possible for a man standing only 5-foot-8. The Kansas State point guard was unstoppable against Kentucky on Sunday, taking complete control of the game to send the Big 12 program to the Sweet 16. Nowell flashed his elite playmaking ability in the opening half with a number of electric no-look feeds before taking over with his scoring in the second. The fifth-year senior canned multiple deep triples down the stretch to finish with 27 points and push Kansas State to the finish line.
Faced with a four-point deficit with four minutes to play, Nowell's seven points and assists on two triples as part of a 13-2 run flipped the game on its head, giving Kansas State a seven-point lead with 30 seconds to play. That execution in the clutch by the experienced guard is the main reason the Wildcats should put fear into anybody in their path to the Final Four.
Timme shows out to grab chunk of history
There's not much of a debate that Drew Timme is the best player to ever play in the storied Gonzaga program, but the star senior is in the conversation for the top forward in college basketball in recent memory. The Bulldogs' all-time leading scorer once again turned in a dominant March performance in the win over TCU on Sunday, pouring in 28 points and adding eight rebounds. With that stat line, Timme now shares the all-time NCAA Tournament record for most games scoring at least 20 points with nine. He gets a chance to break the record in the Sweet 16 in a highly anticipated matchup with No. 2 UCLA.
Cinderella bows out to Florida Atlantic
Fairleigh Dickinson's NCAA Tournament run may be gone, but it'll never be forgotten. The second No. 16 seed ever to beat a No. 1 came close to pulling off another shocking upset, but No. 9 Florida Atlantic pulled away late to secure the victory and advance to the next round. Johnell Davis was virtually the sole reason the Owls are still dancing, as the 6-foot-4 sophomore made history in the win. He's the first player in NCAA Tournament history to produce a stat line of 29 points, 12 rebounds, five blocks, and five steals in a single game. While one Cinderella is gone, it's pretty easy to transition that title over to Florida Atlantic. The Conference USA program had never won an NCAA Tournament game prior to this season and is now off to its first Sweet 16 in school history.
Creighton lives up to potential vs. Baylor
Creighton began this season ranked No. 9 in the AP Poll but lost its spot altogether by Week 6 and only made a couple of cameos in the rankings late in the season. However, after playing arguably its best game of the year against Baylor to vault it to the Sweet 16, Creighton is playing up to its preseason potential.
The Bluejays shot a perfect 22-of-22 from the charity stripe, led by point guard Ryan Nembhard's 10-of-10 mark. Nembhard dropped a career-high 30 points in the win and was one of four Creighton players to reach double figures. In theory, the Bluejays catch a break by drawing 15-seed Princeton in the next round. But after the Tigers recorded an emphatic win against SEC school Missouri, anything is possible. For a program that hasn't made an Elite Eight since 1941, though, Creighton will certainly take that matchup.
Miami keeps tourney magic rolling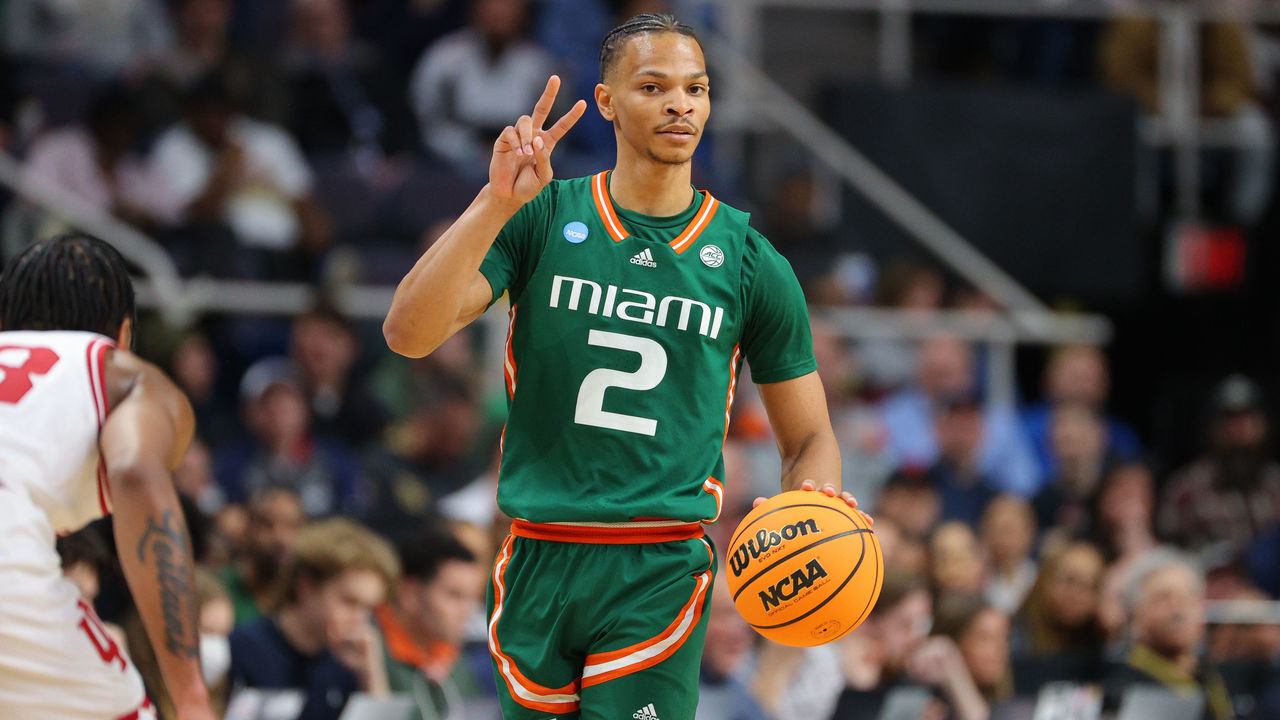 It wasn't a good season for the usually powerful ACC, but No. 5 Miami is flying the banner for the conference as the lone school inside the Sweet 16. The Hurricanes followed up their first-ever trip to the Elite Eight last year by knocking off No. 4 Indiana on Sunday. Miami now sits just one victory from repeating last year's feat.
The Round of 32 contest looked drastically different than the ugly opening-round win over Drake, as Miami's high-flying offense fired on all cylinders. ACC player of the year Isaiah Wong rebounded from a dismal 1-for-10 performance Friday to torch the Hoosiers for 27 points in the win. Wong's resurgence certainly helped, but Norchad Omier's post performance was arguably more important. The 6-foot-7 sophomore ripped down 17 rebounds and limited Indiana star Trayce Jackson-Davis down the stretch as Miami pulled away.
UConn's talent overwhelms again
Despite playing two feisty underdogs in Iona and Saint Mary's that gave it intense fights in the first half, UConn proved to roster the clearly superior talent both times. In Sunday's matchup against the Gaels, the Huskies trailed by as much as eight points to start, before a dominant 39-25 second half blew things open. UConn went a crisp 15-of-23 from the field in the frame.
As many as 49 of UConn's 70 points, and seven of its 10 threes, were split amongst its three leading scorers on the year - Adama Sanogo, Jordan Hawkins, and Tristen Newton. The shooting numbers are extremely notable, as when the team shoots over 40% from deep, like they have in both tournament games, they're 12-0 on the year. When the Huskies' stars and shooters are clicking like they were against Saint Mary's, they're an extremely hard team to beat.
Xavier flexes offensive muscles in Sean Miller bowl
Xavier's scorching offensive display in the first half proved too much for Pittsburgh to overcome as the Musketeers prevailed 84-73 to reach their first Sweet 16 since 2017. Through 20 minutes of play, the Panthers had no answers for Sean Miller's squad. Xavier dropped 48 points on 52.8% shooting with 17 assists on 19 made field goals. It was the most first-half points the Panthers have surrendered all season and more than what it gave up in their entire Round of 64 win against Iowa State. Jack Nunge's early dominance in the post allowed Adam Kunkel and Colby Jones to tee off from downtown. Six different Musketeers finished with double digits in scoring, including 18 from Nunge. They tallied 42 points in the paint and 14 in transition. Xavier surpassed the 20-assist mark for an NCAA-leading 16th time this season and managed to exceed its average offensive output despite a scoreless first half from All-Big East first-team selection Souley Boum. That's a scary thought for all those remaining in the Midwest Region.
Comments
✕
Takeaways from Sunday's NCAA Tournament games
  Got something to say? Leave a comment below!