Best bets of 2021: League winners to long shots, and everything in between
There were plenty of avenues to throw money around in 2021 as we returned to a normal sports schedule.
The past 12 months offered some incredible moments, from league champions and award winners to remarkable individual performances. We look back at 2021 to uncover the best bets from the past year in sports.
Canada: Women's soccer gold (+1200)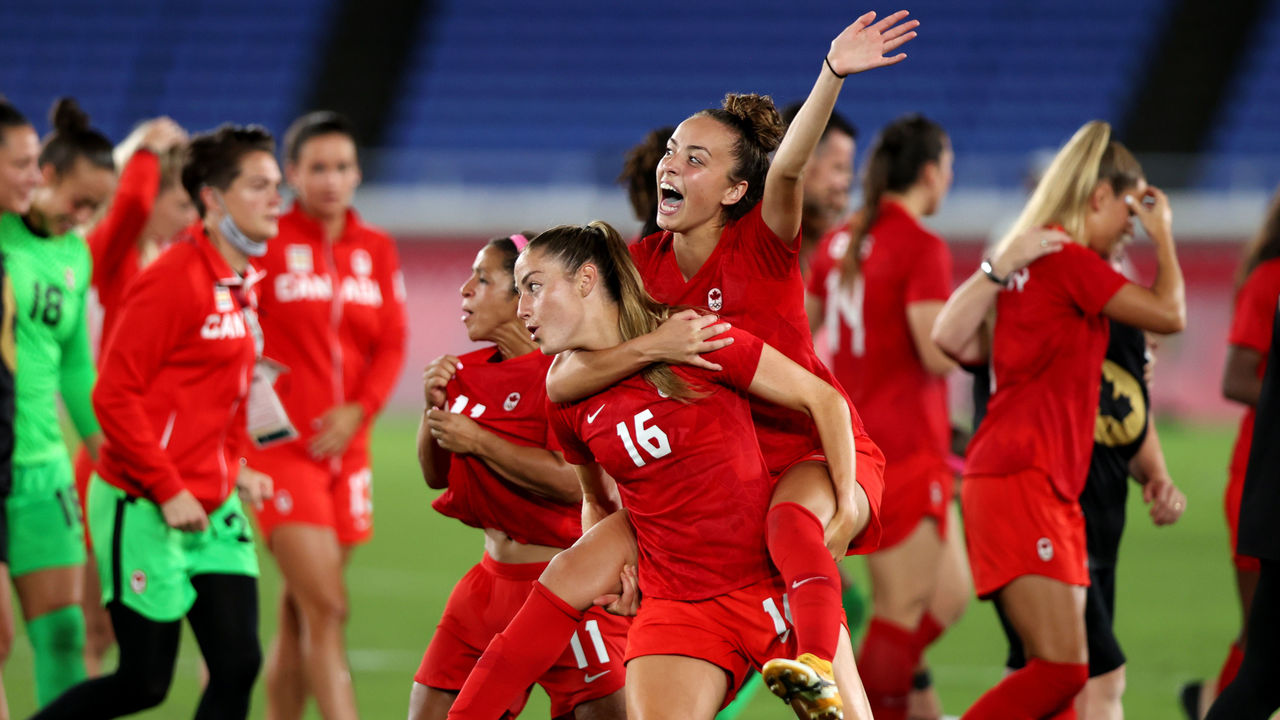 "With illusions of someday
Cast in a golden light,
No dress rehearsal
This is our life"
With the Tragically Hip's discography serving as Canada's soundtrack, "Ahead By A Century" fittingly encapsulates the success of the Canadian women's soccer team at Tokyo 2020. "Illusions of someday" are what propelled this team following successive heartbreaks resulting in back-to-back bronze medals in 2012 and 2016.
Canada had never appeared in an Olympic final, and it looked as though the wait would continue in Tokyo as it entered the tournament as considerable underdogs to the likes of the U.S., Netherlands, and Great Britain. "Illusions of someday" cast a golden light on Canada, though, beating Brazil on penalties in the quarterfinals and exercising its demons by upsetting the Americans in the semifinals before capping things off with a dramatic penalty shootout win over Sweden in the finals.
Goalkeeper Stephanie Labbe earned an honorary title as Canada's National Minister of Defense for her shootout heroics, while images of Julia Grosso's winning penalty will live forever in Canadian folklore. Celebrations ensued across the country, and it was that much sweeter for those who scooped up +1200 on Canada to win gold.
Connor McDavid: Hart Trophy (+460)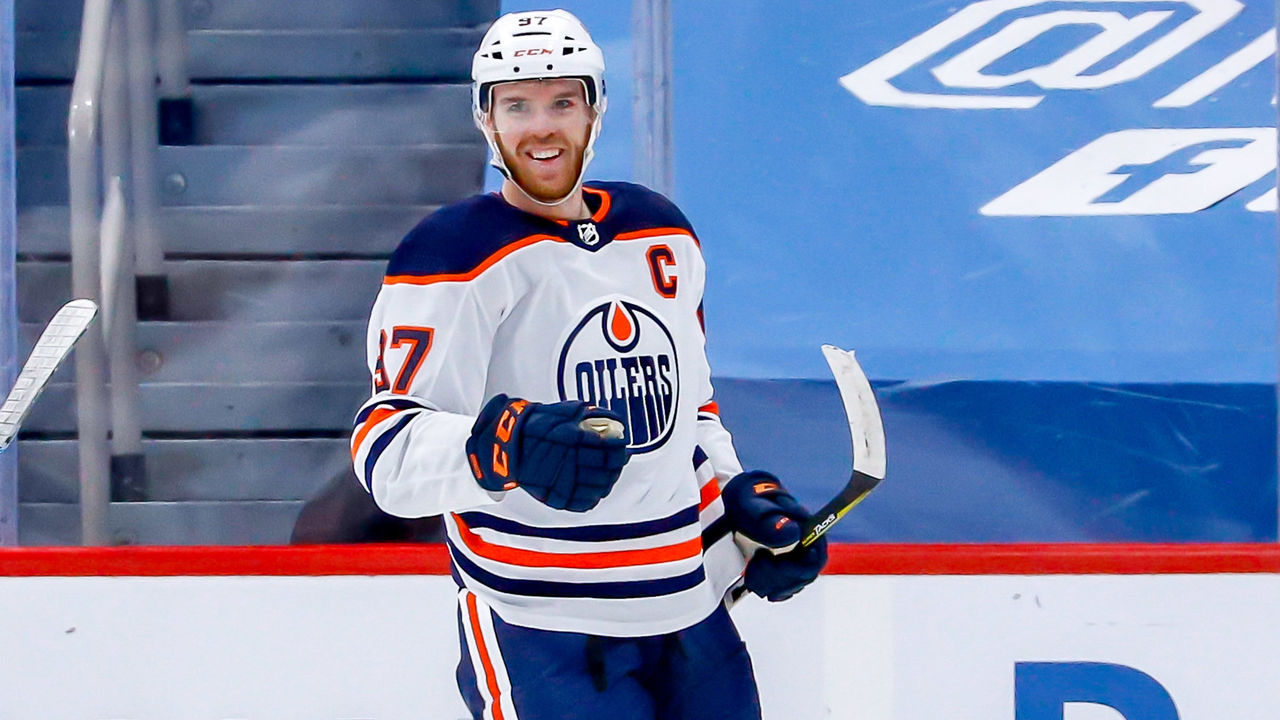 Connor McDavid is almost undisputedly the best - and most productive - player in the NHL, but he wasn't priced as such last season despite playing in a weak North Division. In hindsight, it might have been the easiest bet of the entire campaign as only an injury could have stopped McDavid from torching a group of defensively inept teams. The results were predictable.
McDavid put up a whopping 106 points in 56 games. He rewarded those who believed in him as he became the league's first unanimous Hart Trophy winner in 39 years. We won't see him priced anywhere near +460 for a long time. He opened as a +250 favorite for the 2021-22 season, and many would argue that price was still too generous.
Cy Young: Corbin Burnes (+4000), Robbie Ray (+5000)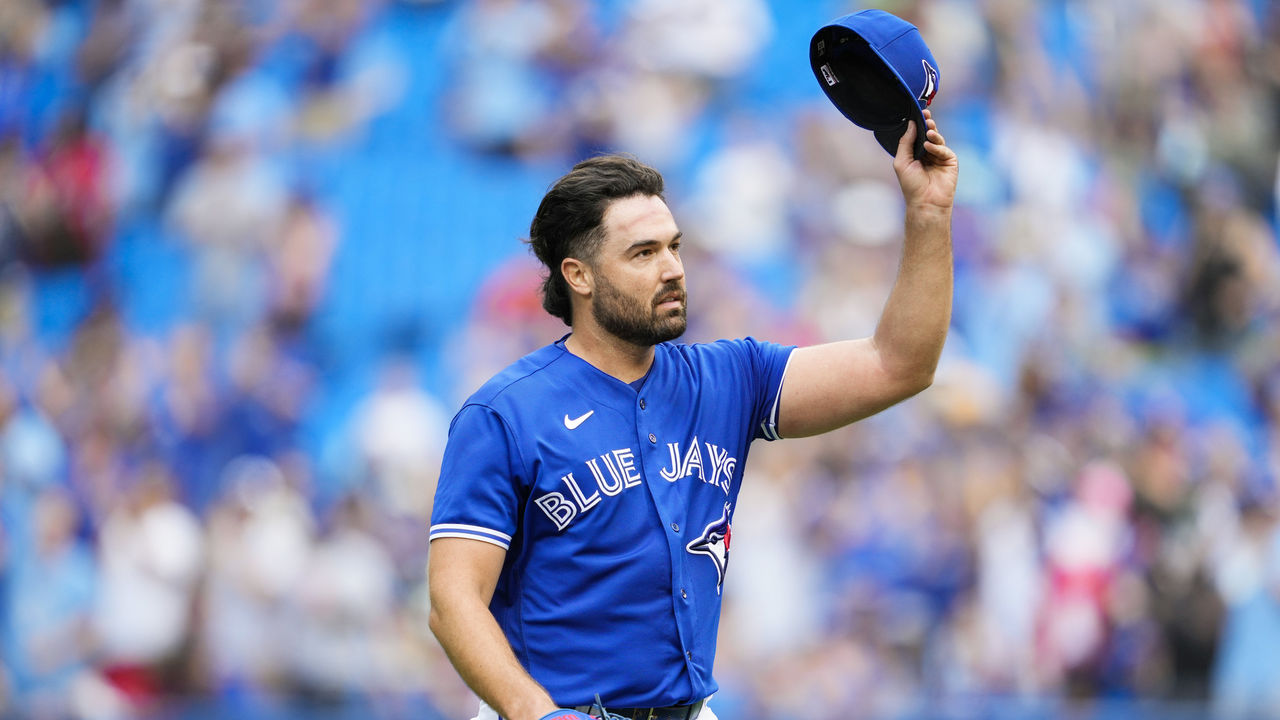 It was the season of the long-shot Cy Young winner this year, as Corbin Burnes and Robbie Ray cashed as unlikely dark horses amid one of MLB's craziest seasons in recent memory.
Both survived MLB's crackdown on foreign substances, which partially helped swing the AL's race toward Ray after runner-up Gerrit Cole's midseason swoon that immediately followed the new rules. Burnes needed a Jacob deGrom injury and an epic collapse from Max Scherzer to win one of the closest races in NL Cy Young history.
Emma Raducanu: US Open (+8000)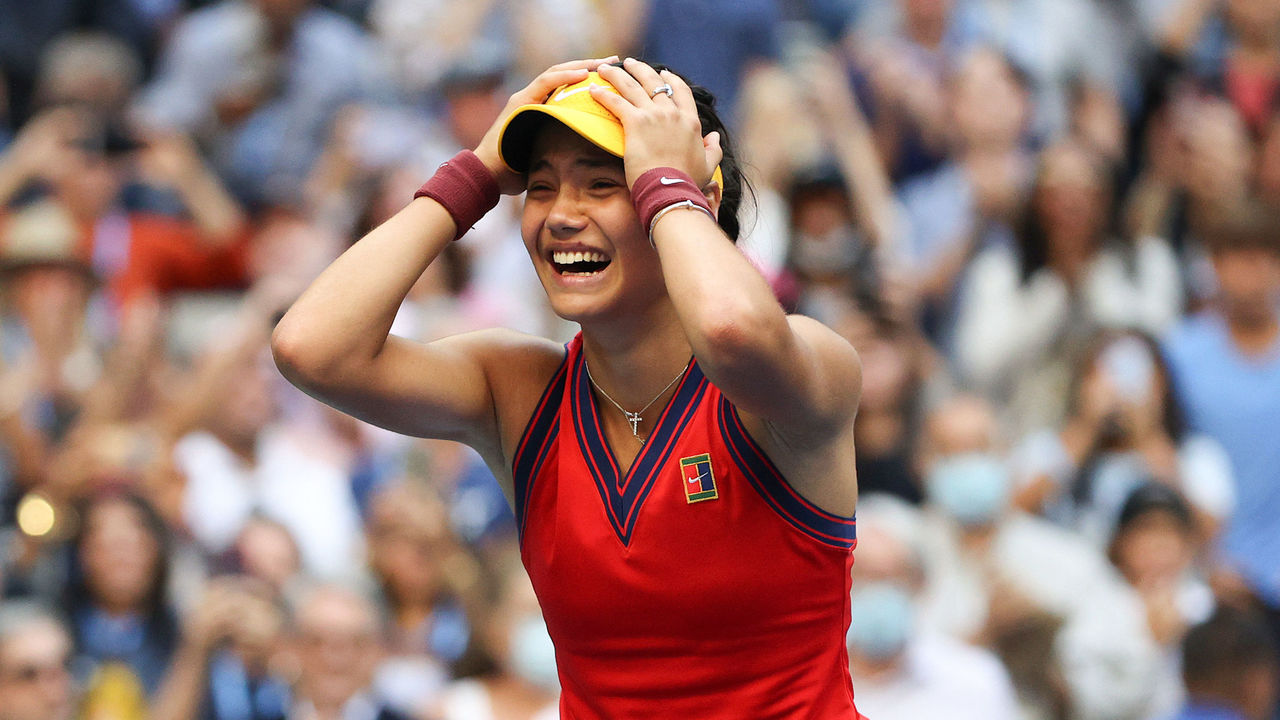 Emma Raducanu had captured the tennis world's attention with her fourth-round Wimbledon run as a wild card, but what happened at the US Open defied logic.
The 18-year-old retired from that fourth-round Wimbledon match on Centre Court after having breathing difficulties due to the intensity of the moment. It was a jarring scene, so seeing Raducanu return for the season's final slam in New York was a welcome sight.
The Toronto-born Raducanu - a British passport holder and citizen of the world in most respects - wasn't just there for a tour of the Statue of Liberty. The teen made it all the way to the final, where she dispatched a fellow surprise finalist, Canada's Leylah Fernandez, in straight sets. Raducanu became the first qualifier to claim a Grand Slam tournament victory in the Open era and also the first woman to win 10 matches en route to slam immortality, needing to go through qualifiers just to make the main draw. Oh, and she won the title without dropping a set, too - something last done by Serena Williams.
We say this cautiously: We're unlikely to see something like this again in tennis anytime soon.
Hideki Matsuyama: Masters (+4000)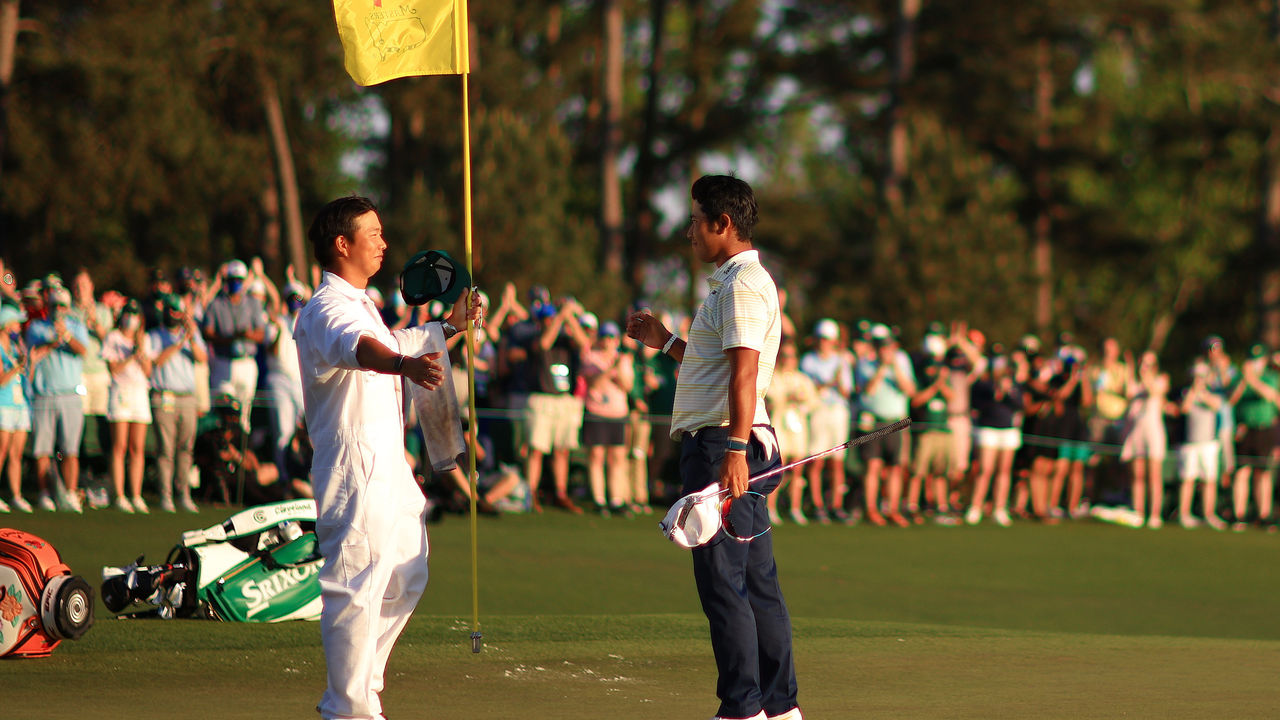 Hideki Matsuyama had been a popular bet ahead of the Masters for years. As an amazing ball-striker, his game always seemed suited for Augusta, but his popularity faded before the 2021 edition thanks to his struggles on the green. It was starting to feel as though it would never happen for the hero of the Land of the Rising Sun.
Ironically, it wasn't until the sun tucked behind the rain clouds on Saturday afternoon at Augusta when fortune smiled on Matsuyama. Trailing a series of big names heading into Round 3, the Japanese golfer was still in the mix when an hour-long rain delay created a change in the famously fast Augusta greens. And when the leaders couldn't adjust, it was Matsuyama who did.
Whether Matsuyama's sketchy putting suddenly fit the greens' new speeds, or his stellar striking put him close enough to the pin for it not to matter, he shot a stellar back-nine 30 that gave him a lead he never surrendered.
Caddie Shota Hayafuji bowing to the course, and Matsuyama donning the famous green jacket, provided long-lasting and heartfelt memories for those who stuck with him through his early failures.
Marc-Andre Fleury: Vezina Trophy (+1800)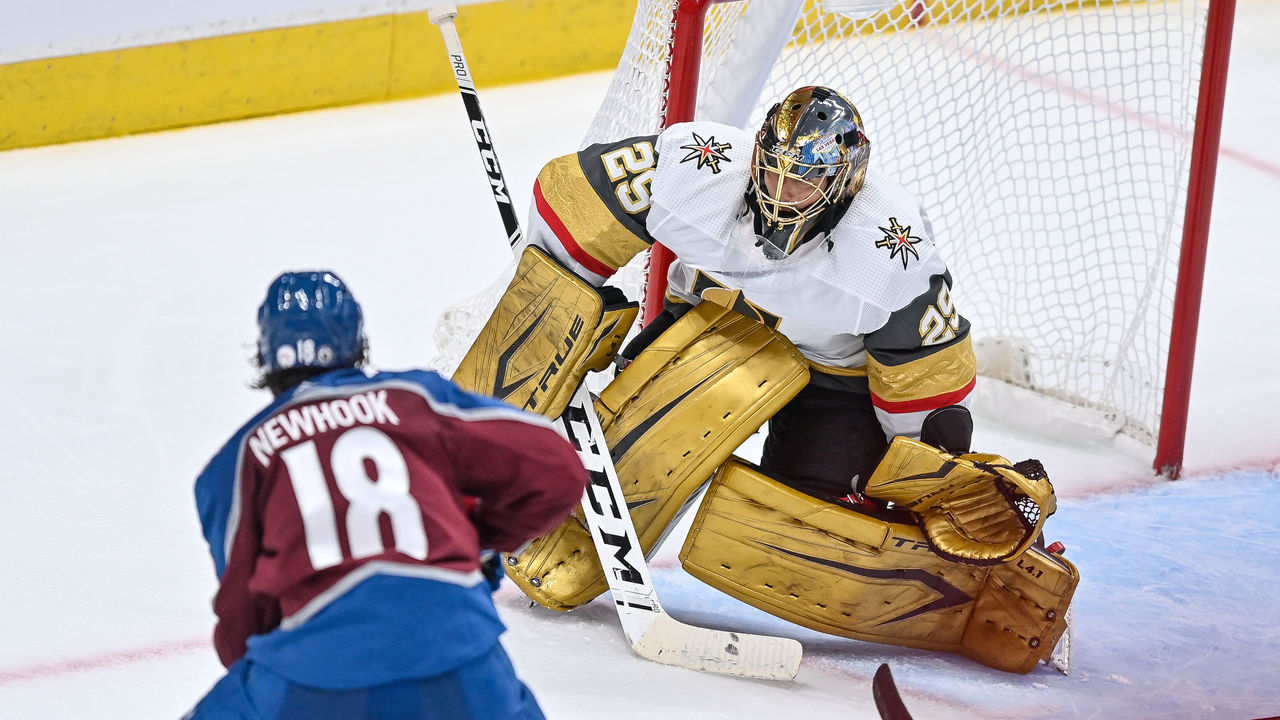 Marc-Andre Fleury entered last season looking to prove himself following a down 2019-20 campaign. Sharing Vegas' net with Robin Lehner, Fluery seemed like a long shot to play enough to warrant a Vezina nomination in a crowded field, let alone perform well enough. Things certainly didn't play out that way.
Fleury posted a career-high .928 save percentage while winning 26 of 36 appearances for the Golden Knights. He also ranked first in goals saved above expectation per start, as the long-time star provided all those who believed in him with a healthy payday.
Nikola Jokic: MVP (+3600)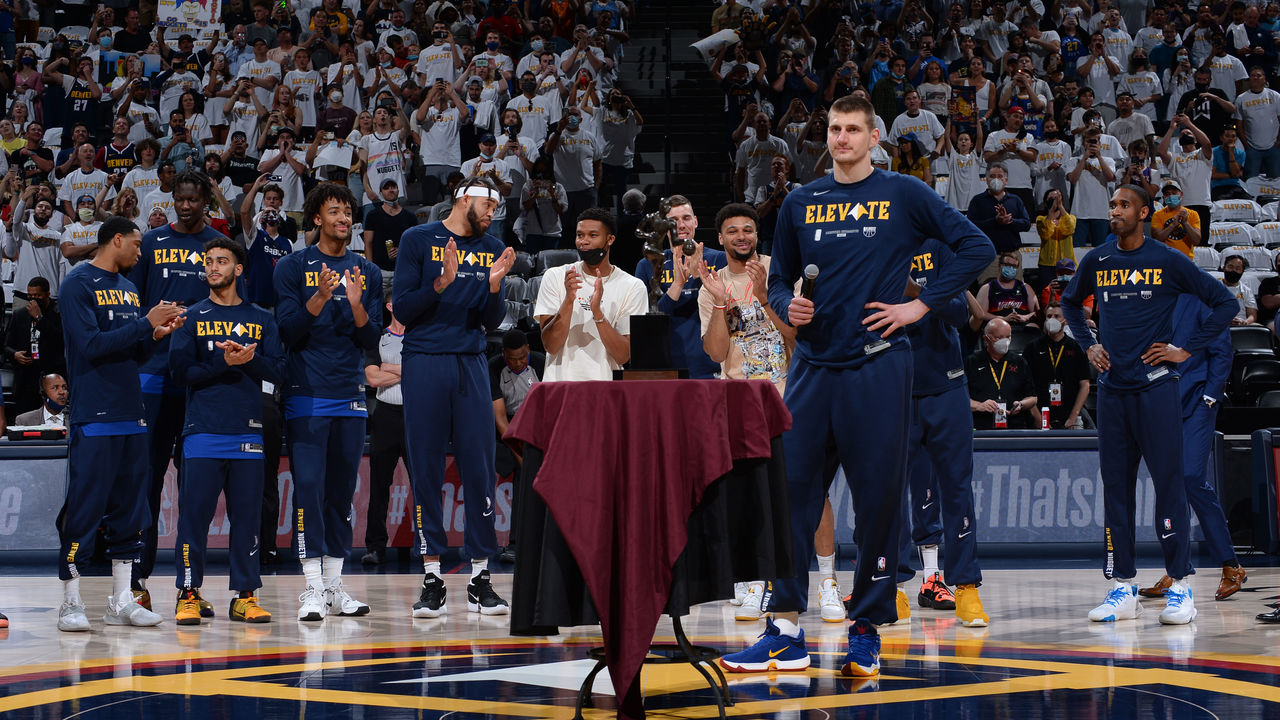 The NBA MVP market is notoriously tough for long shots to breakthrough in. Entering the 2020-21 season, 13 of the previous 14 MVP winners had gone off at 16-1 or shorter, and none were priced longer than 25-1 entering the year.
Nikola Jokic shattered both trends with one of the most impressive seasons we've seen in NBA history, becoming the lowest-drafted player (41st overall) ever to win MVP and the first center to win since 2000. He led the league in nearly every advanced metric and guided the Denver Nuggets to the West's No. 3 seed, rewarding those who believed in the Serbian star at long odds.
Northern Illinois Huskies: MAC (+25000)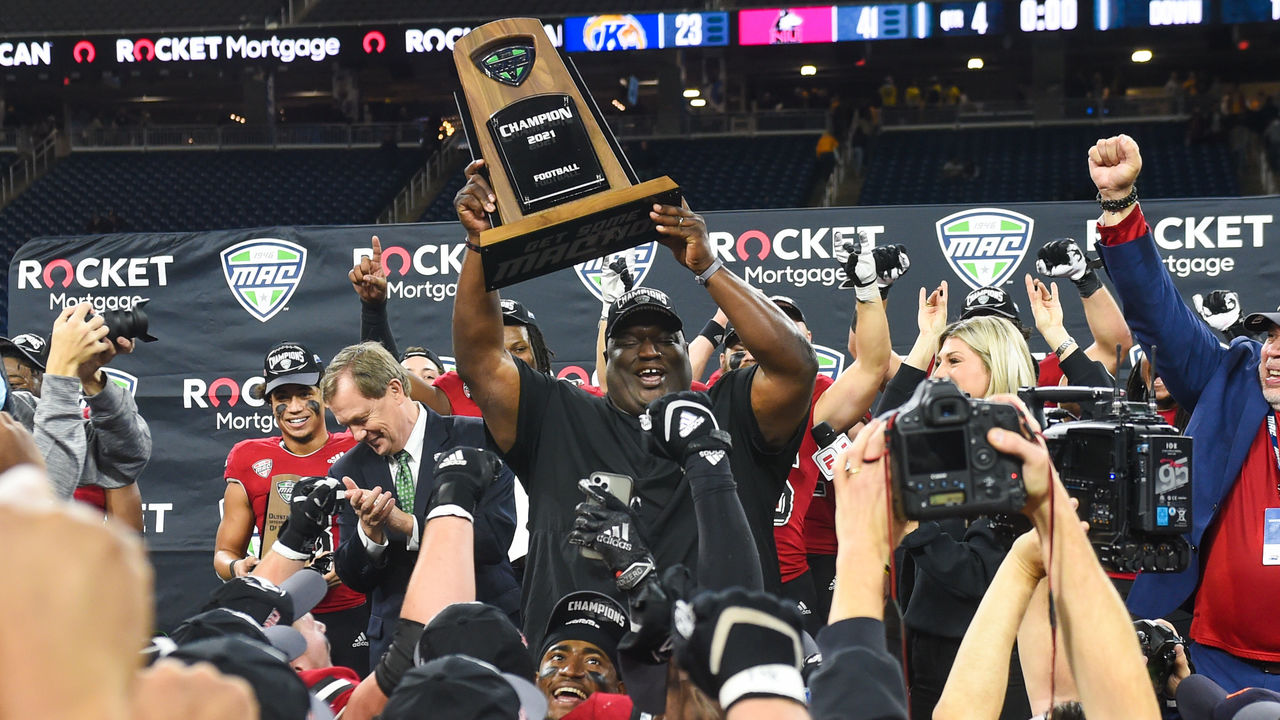 Even in the MAC - known for its mind-bending unpredictability - few saw this result coming. Northern Illinois finished 2020 with an 0-6 record (2-4 ATS) and lost by an average of 13.8 points.
Michigan State transfer Rocky Lombardi wasn't expected to shift the needle much, as the Huskies entered the 2021 season with a projected win total of 3.5 and 250-1 odds to win the MAC. Anyone who bought into the conference's volatility was greatly rewarded.
It wasn't always convincing as Northern Illinois' six regular-season conference wins came in one-possession games. Still, the MAC championship wasn't a problem as the Huskies avenged an earlier loss to Kent State with a convincing 41-23 win.
Oral Roberts ML (+1000) vs. Ohio State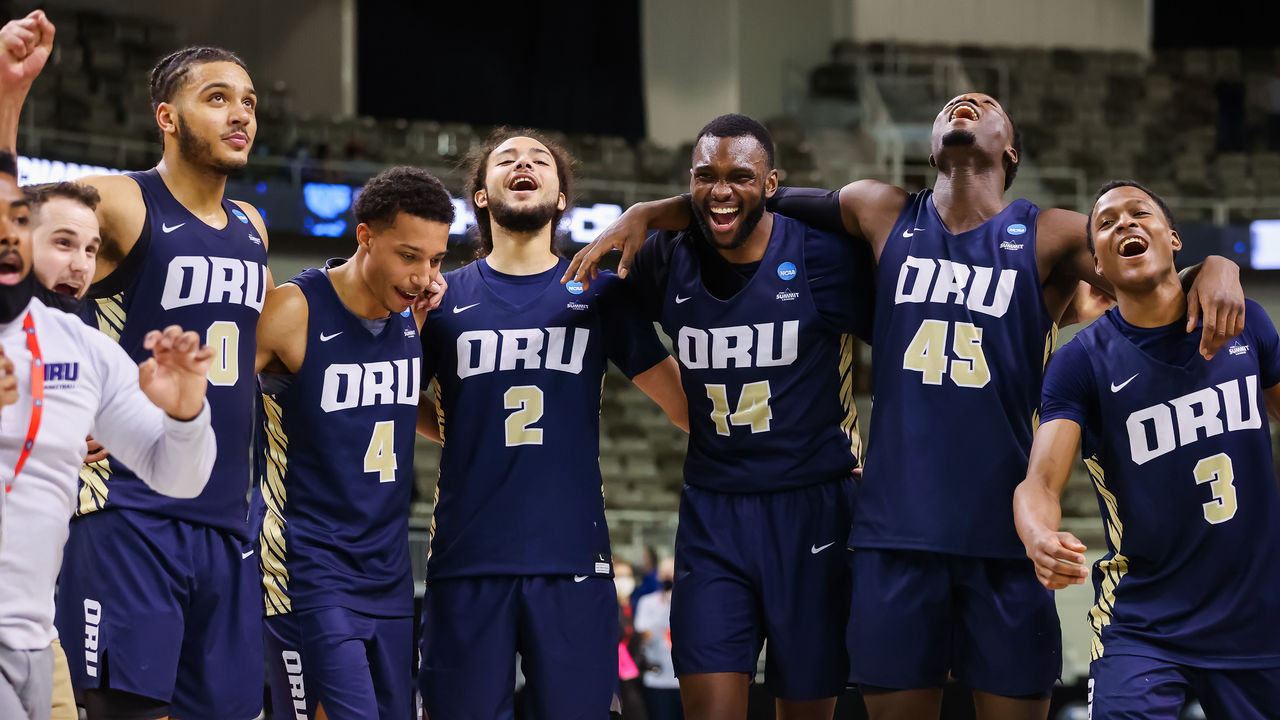 When you increase your wager tenfold on one game, you know that's a good bet. That was the case for anyone who backed Oral Roberts against Ohio State in the first round of this year's NCAA Tournament, with the Golden Eagles becoming just the ninth No. 15 seed in tourney history - and first since 2016 - to defeat a No. 2 seed.
In hindsight, it shouldn't have been such a shock. The Buckeyes had lost five of their previous eight games entering the Big Dance, while Max Abmas - the nation's leading scorer - led Oral Roberts. Abmas finished with 29 points against Ohio State to help spark the tournament's biggest upset.
Phil Mickelson: PGA Championship (+20000)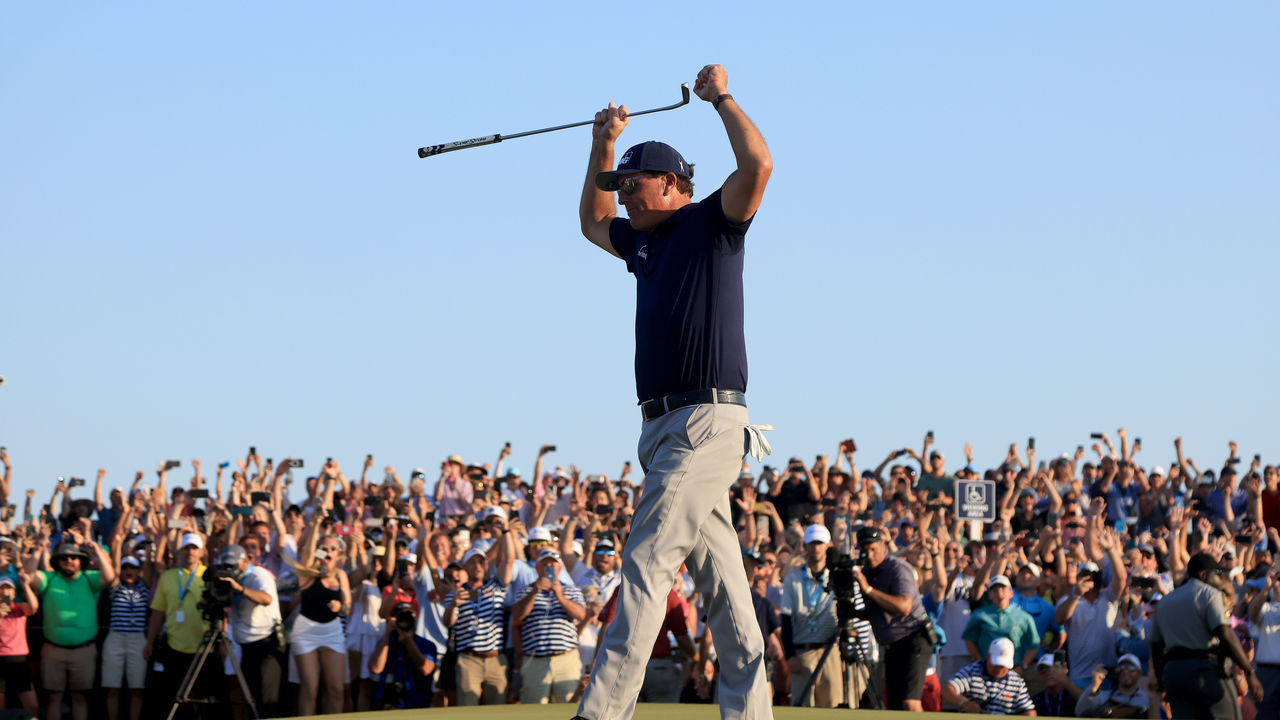 Phil Mickelson's best days were figured to be behind him at age 50. He hadn't posted a top-10 finish at a major in over five years, so you could be forgiven for not jumping on a 200-1 price tag for Mickelson to win the PGA Championship.
The five-time major winner trailed by three strokes after Round 1 and was tied for first at the halfway point before taking the lead ahead of the final day. Brooks Koepka threatened early in Round 4, but he crumbled while Mickelson persevered to become the oldest major champion ever. Just as we all expected, right?
Phoenix Suns: Western Conference (+2000)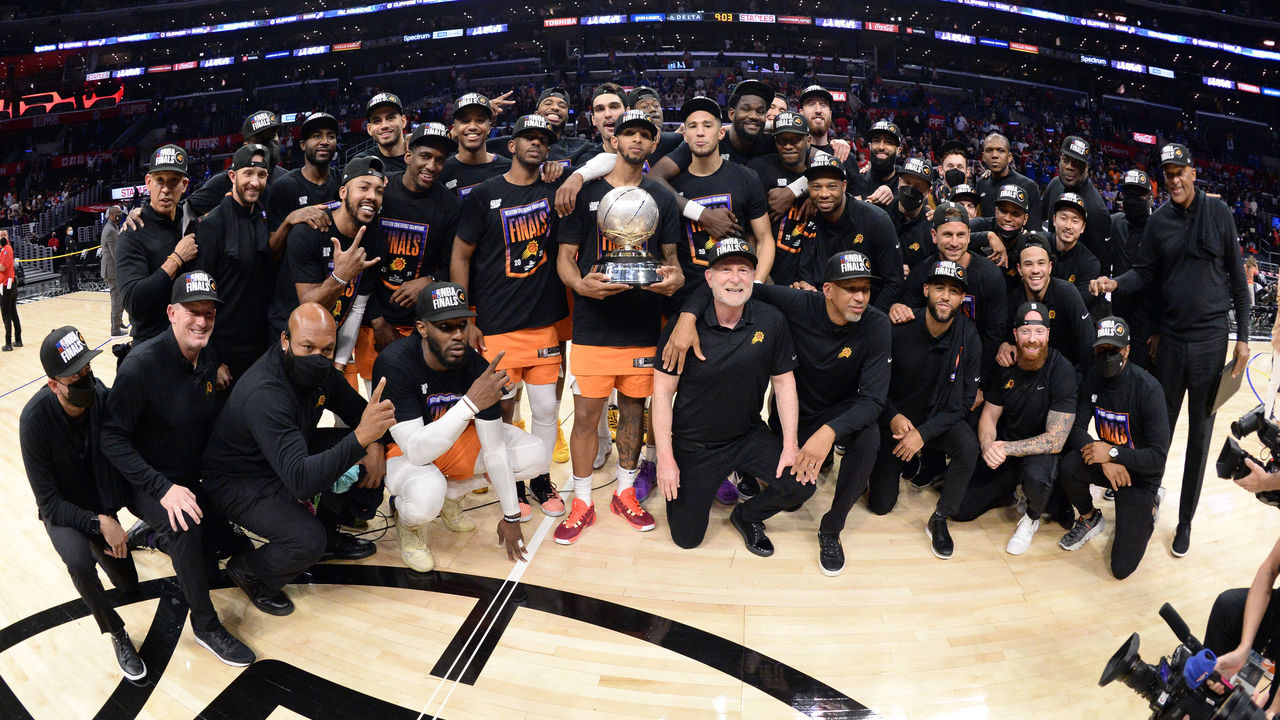 The making of an elite team was already there for Phoenix as early as the 2019-20 season when the "Bubble Suns" went 8-0 and barely missed out on the postseason. Then the team added Chris Paul in the offseason and blitzed its way to a No. 2 seed in the West. However, the Suns entered the 2020-21 postseason as an 18-1 title long shot and a +180 underdog to beat the Lakers in the first round - the first time a No. 2 seed had ever gone off at plus-money to win its opening series.
Phoenix won that series in six games and waltzed its way to The Finals, where it promptly coughed up a 2-0 lead in historic fashion. Still, those who bet this team to win the West - before or after the regular season - were already well compensated for the Suns' efforts.
Pittsburgh Panthers: ACC (+3300)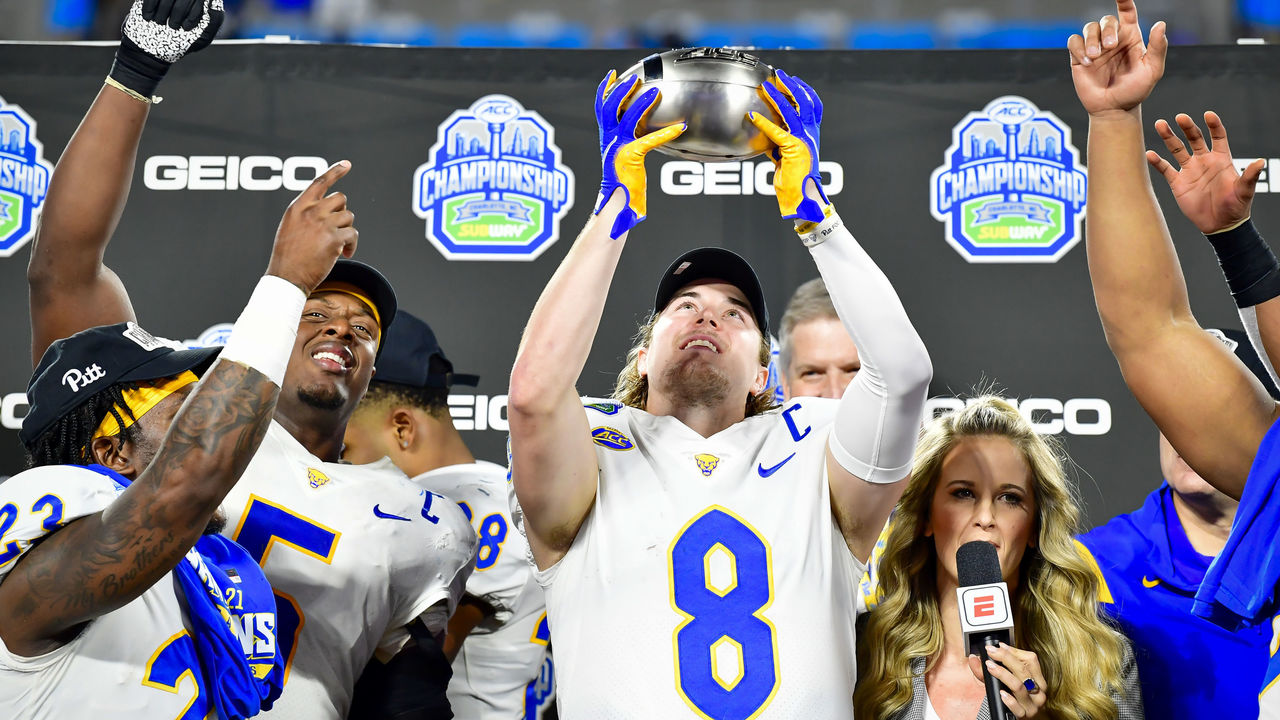 On the back of six consecutive ACC titles, few were foolish enough to pick against Clemson to win a seventh straight. The Tigers were overwhelming -900 favorites in the ACC, expected to win the conference and another national title. However, without Trevor Lawrence or Deshaun Watson before him, Clemson struggled on offense, opening the door for a new champion for the first time since 2014.
Still, few expected Pittsburgh as the team to take advantage, with six programs sporting shorter odds, including three ACC Coastal foes. There was some muffled preseason buzz surrounding quarterback Kenny Pickett, but it wasn't until November that his Heisman candidacy truly reached the forefront.
The NFL-bound senior finished top five in yards, touchdowns, and QB rating (minimum 300 passes) and led the Panthers to the ACC title game victory - the first in program history - against Wake Forest. It was a joyous moment for anyone who faded Clemson's preseason hype and found their way to Steel City for a viable alternative.
San Francisco Giants: NL West (+3500)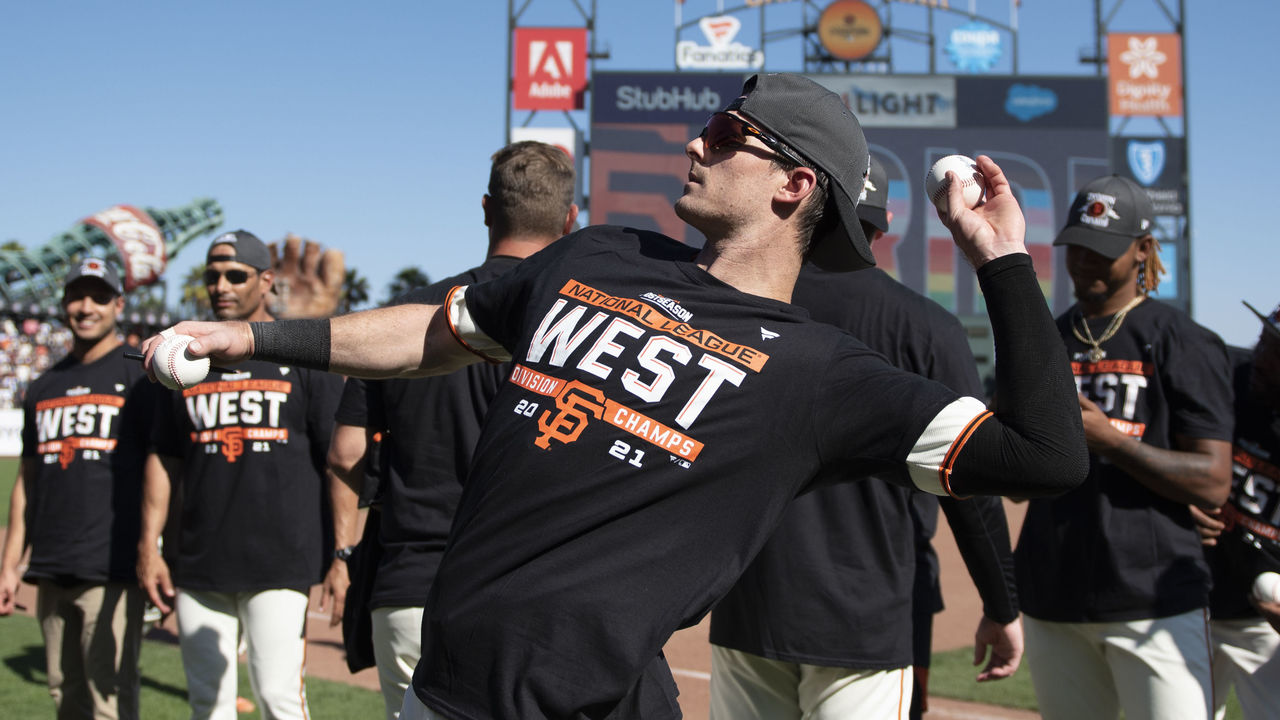 Behind the defending champion Los Angeles Dodgers and Slam Diego Padres, the remainder of the NL West was an afterthought heading into the 2021 season. Not only were the Dodgers and Padres runaway favorites to win the division, but they were also priced as the two best teams in the National League and top three in all of MLB. The thought of another club pushing for a top-two finish in the NL West, let alone winning it, seemed unfathomable.
Well, a lot of what the Giants did last season was rather unfathomable. Gabe Kapler's team moved into first place in the NL West on April 26 and led the division for all but 10 days the rest of the season before clinching the title on the final day. They were the first team to 50, 60, 70, 80, 90, and 100 wins, owning the league's best record for 125 consecutive days to end the season. They needed every bit of that remarkable consistency to fend off a Dodgers team that finished with the league's second-best record, one win shy of the Giants in a remarkable race that saw those who believed in San Francisco rewarded with a handsome payout.
Shohei Ohtani: AL MVP (+5000)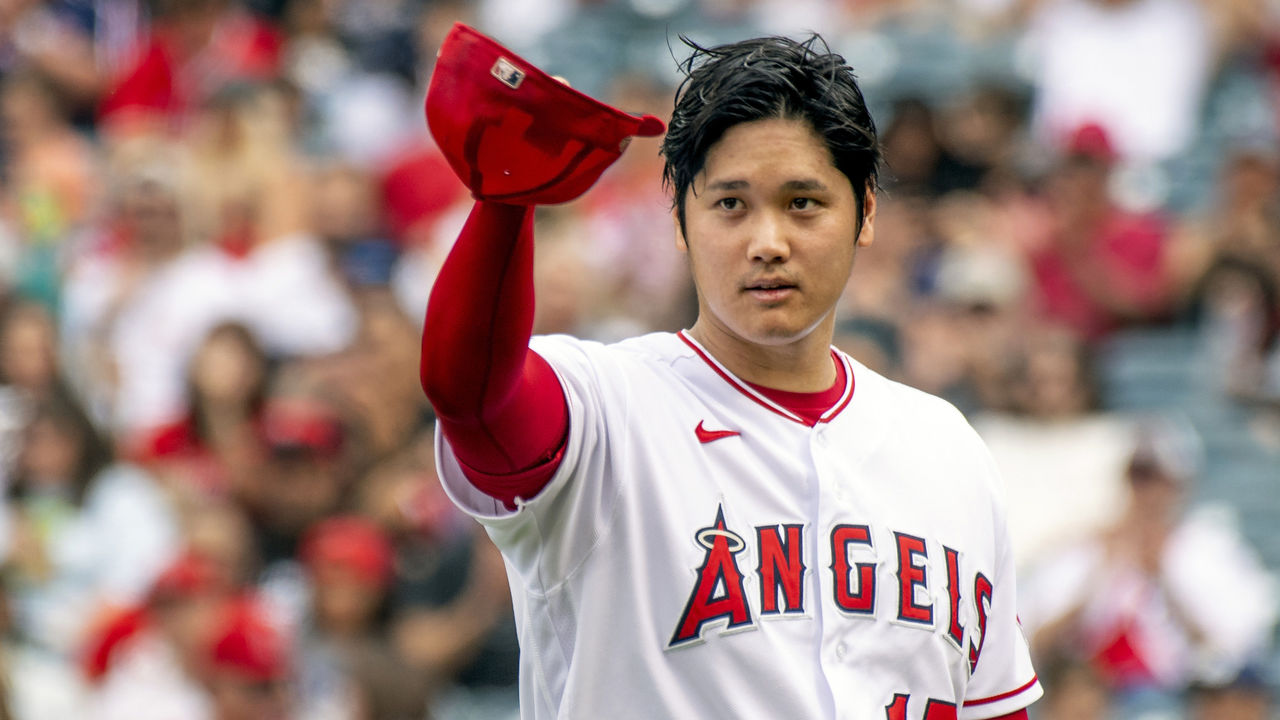 Despite dealing as high as 50-1 during the offseason, Shohei Ohtani went into the campaign as a hot bet to win MVP after hitting .548 in spring training alongside 17 strikeouts in 10 1/3 innings pitched. It turns out his 25-1 price entering the season was a steal, too.
When he touched 100 mph on the mound and blasted a 450-foot home run in the same inning on Sunday Night Baseball, his path to the MVP trophy felt inevitable - even as a historic season from Vladimir Guerrero Jr. kept things interesting late in the year.
Tampa Bay Buccaneers: Super Bowl (+1000)
There was plenty of doubt surrounding the Buccaneers' title chances entering the postseason, with four teams sporting shorter odds after Tampa Bay stumbled through many of its bigger tests during the regular season. The Bucs ended up settling for a wild-card berth and a difficult path to the Super Bowl.
Perhaps there shouldn't have been as much doubt with Tom Brady under center and looking to win his seventh Super Bowl championship. The Buccaneers made sure to leave little doubt surrounding their title credentials along the way in the playoffs, scoring 30-plus points and leading by double digits in every game en route to the franchise's second championship.
UCLA Bruins: East Region (+2200)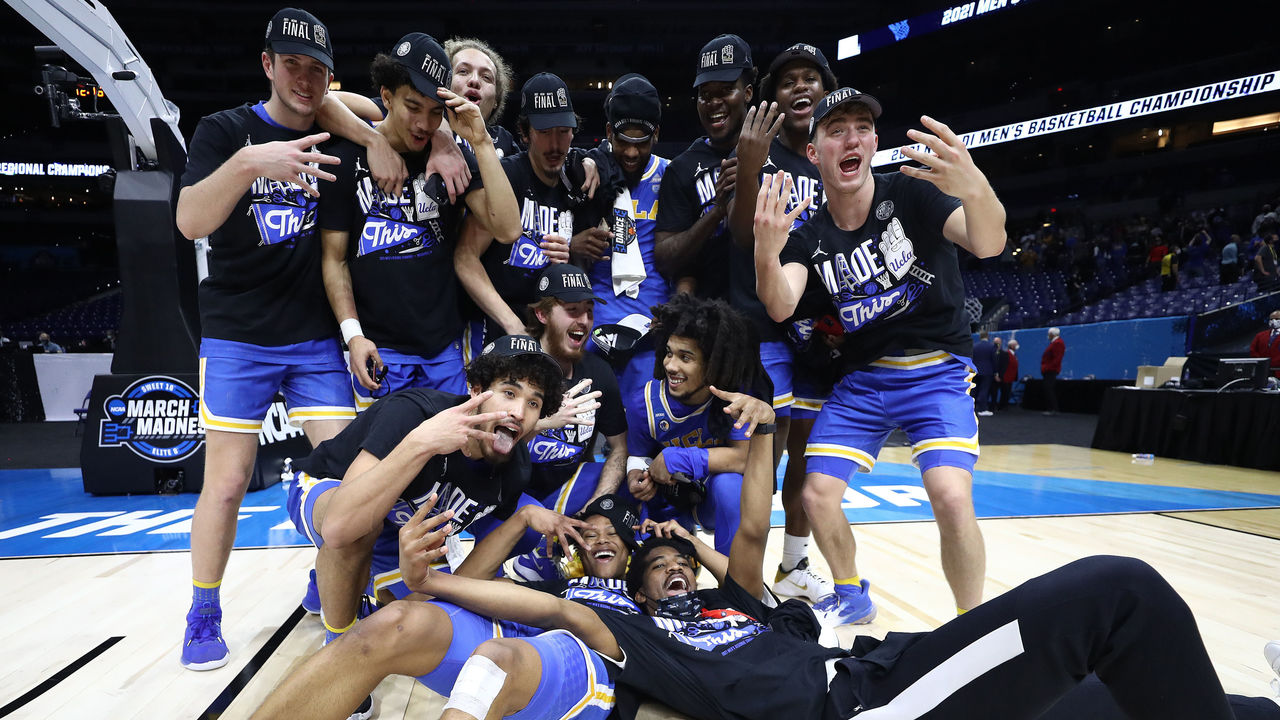 When No. 11 seed UCLA trailed 77-72 with under two minutes to play in the First Four round of the NCAA Tournament, anyone with a Bruins-winning-the-East-Region-ticket likely thought they were cooked.
Instead, UCLA came back to win that game in overtime before ripping off four straight victories to advance to the Final Four. As a lucky few were counting their earnings, the Bruins almost took it one step further, falling a Jalen Suggs buzzer-beater short of knocking off undefeated Gonzaga for a berth in the national championship game.
While the dramatic loss was a "what could have been" moment for UCLA, Bruins backers certainly basked in what was.
Honorable mentions:
Atlanta Braves: World Series (+5000 post-Acuna injury)
Baylor NCAAF: Big 12 (+4000)
Jonathan India: NL Rookie of the Year (+5000)
Tampa Bay Lightning: Stanley Cup (+800)
Tom Thibodeau: Coach of the Year (+3000)
Utah State NCAAF: MWC (+5000)
Comments
✕
Best bets of 2021: League winners to long shots, and everything in between
  Got something to say? Leave a comment below!