For the first time since 1938, there will not be an NCAA Tournament. Without a postseason, we're asking some of the biggest questions that will forever go unanswered.
Markus Howard attempted 344 3-pointers from the top of the key in a Marquette uniform. He took 544 from the wings - 316 on the left, 228 on the right. He only tried 133 3s from the corners, but that's where he was deadliest, making 54.9% of his attempts.
As a senior, Howard averaged 33.2 minutes per game. When he was on the court, he attempted 40.3% of the Golden Eagles' shots, according to KenPom.com.
No major-conference player in the last 15 seasons has taken a greater share of his team's shot attempts.
The numbers tell us one of the most indispensable players in college basketball is off to the pros. But fans who wait until this time of year to tune in hardly knew him.
Though Howard scored 2,761 career points, knocked down 434 career 3-pointers, and scored 30-plus points 32 times, he rarely got the chance to shine in March. Marquette went 0-2 in the NCAA Tournament in Howard's four seasons, losing by 20 to a Final Four-bound South Carolina team in 2017 and by 19 to Murray State a year ago.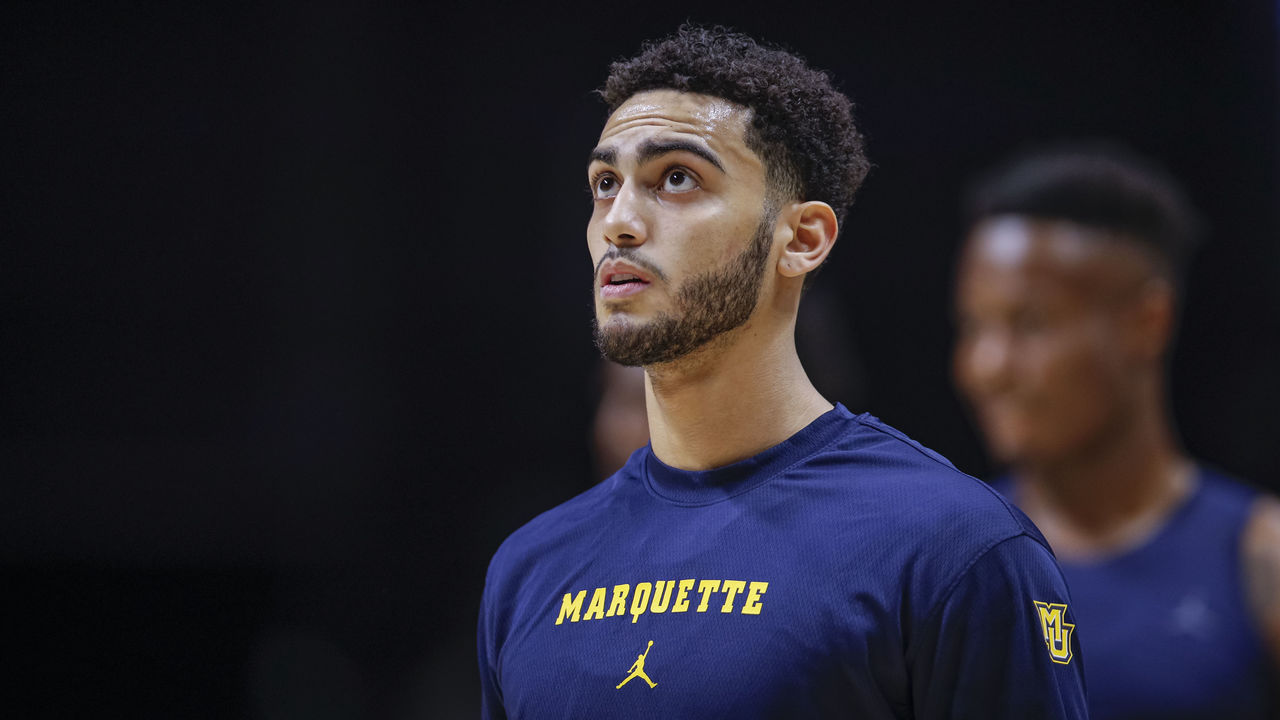 This year might not have been different. Marquette ended the regular season by losing six of its final seven games. But whether or not the Golden Eagles were destined to go on a run, Howard was gearing up for March.
His scoring totals in the final five games of his college career: 38, 30, 37, 31, 30. He knocked down 50% of his 3-pointers in those games (24-of-48) and averaged 10.4 free-throw attempts per game.
So with no NCAA Tournament swan song for Howard's superlative college career, here's an ode to a player who was never afraid to take his shot.
The 5-foot-11 guard from Gilbert, Arizona, was a four-star recruit when he signed with Marquette in 2016, joining the program as head coach Steve Wojciechowski entered his third season.
As a freshman, Howard was an elite shooter for one of the best, most balanced offenses in the country. Despite playing only 22 minutes per game, Howard led the Golden Eagles with 13.2 points a contest. He also led the nation by making 54.7% of his 3-pointers. Former Duquesne guard Micah Mason is the only qualified player since 1992-93 to post a better single-season percentage, according to sports-reference.com.
Howard's percentages went down as his usage rate increased. But that didn't stop him from creating highlights. Some of his finest moments included:
Jan. 3, 2018: Howard burst for 52 points in a 95-90 overtime win at Providence. He knocked down 11-of-19 3-pointers.
Jan. 9, 2019: One year and six days later, Howard one-upped himself, pouring in 53 in a 106-104 overtime win at Creighton. He buried 10-of-14 3s and 13-of-15 free throws while dishing out six assists (and turning the ball over nine times).
Nov. 29, 2019: Howard's third and final 50-point collegiate masterpiece came at the Orlando Invitational against USC. He didn't need overtime for this one, scoring 51 on 14-of-24 shooting in a 101-79 win. Pete Maravich and Wayman Tisdale are the only other major-conference players to score 50 points in a game in three consecutive seasons.
As a junior, Howard led major-conference players with 25 points per game. This year, he led all of Division-I by averaging 27.8 per contest. He scored in every way - 12.5 points per game from 3s, eight per night from 2s, and 7.3 from the free-throw line.
His 2,761 career points rank 21st all-time. In the last 30 years, only North Carolina's Tyler Hansbrough, Tennessee's Allan Houston, and Duke's JJ Redick have scored more points while spending their entire careers at the high-major level. Howard finished 40 points behind Houston and eight back of Redick. With at least two games remaining in his 2019-20 season (the Big East and NCAA tournaments), he almost assuredly would have passed both.
Players to score 2,700 career points since 2000
| Player | School | Years | Points |
| --- | --- | --- | --- |
| Chris Clemons | Campbell | 2015-19 | 3225 |
| Doug McDermott | Creighton | 2010-14 | 3150 |
| Mike Daum | South Dakota State | 2015-19 | 3067 |
| Keydren Clark | Saint Peter's | 2002-06 | 3058 |
| Tyler Hansbrough | North Carolina | 2005-09 | 2872 |
| JJ Redick | Duke | 2002-06 | 2769 |
| Markus Howard | Marquette | 2016-20 | 2761 |
| Tyler Haws | BYU | 2009-15 | 2720 |
(Note: Creighton transitioned to the Big East before Doug McDermott's senior season, but the program played in the Missouri Valley Conference during his first three years.)
Unfortunately for Howard, Marquette's teams had a tendency to run out of gas around this time of year.
The Golden Eagles went 7-11 in the month of March over the last four seasons. Four of those wins came in Howard's sophomore year when Marquette reached the quarterfinals of the National Invitation Tournament. The program went a combined 1-7 in March during Howard's junior and senior campaigns.
Perhaps most frustratingly, his past two NCAA Tournament performances could've helped fuel the fire within him this time around.
Howard, then a freshman, scored 13 points but had six turnovers in the loss to South Carolina. Last year, it took him 27 shots to score 26 points against Murray State. His counterpart, Ja Morant, finished with a triple-double.
All is not lost for Howard. He has a chance to be picked in the second round of the NBA draft. CBS Sports ranks him as the No. 58 overall player in the upcoming selection while ESPN has him at No. 67. Though his 5-foot-11 frame might be a concern for teams, his body of work is rock solid.
The only thing missing is an NCAA Tournament win.
More from The Unanswered
Mark Cooper is theScore's NCAA writer.