The progression of events that led to the cancelation of this year's NCAA Tournament rang like a series of alarm bells to the coaches who had hoped to participate.
The cancelation of the Ivy League tournament March 10 was the first alarm. The announcement that the NCAA Tournament would be played without fans was the second.
When Utah Jazz forward Rudy Gobert tested positive for the coronavirus March 11, sparking the NBA's decision to suspend play, it became devastatingly apparent that the NCAA Tournament was on thin ice.
"Somewhere in there, you're like, 'Wait a minute. Man, this might not happen,'" Hofstra head coach Joe Mihalich said.
When the tournament was officially canceled March 12, 13 teams had already received automatic bids to the NCAA Tournament. Most were from one-bid conferences.
In less than a week - and for one school, less than 24 hours - things shifted from championship celebrations to hard conversations. Here's how a few of those program's head coaches handled the news, and are handling what should be the first weekend of the NCAA Tournament.
Hofstra, Colonial Athletic Association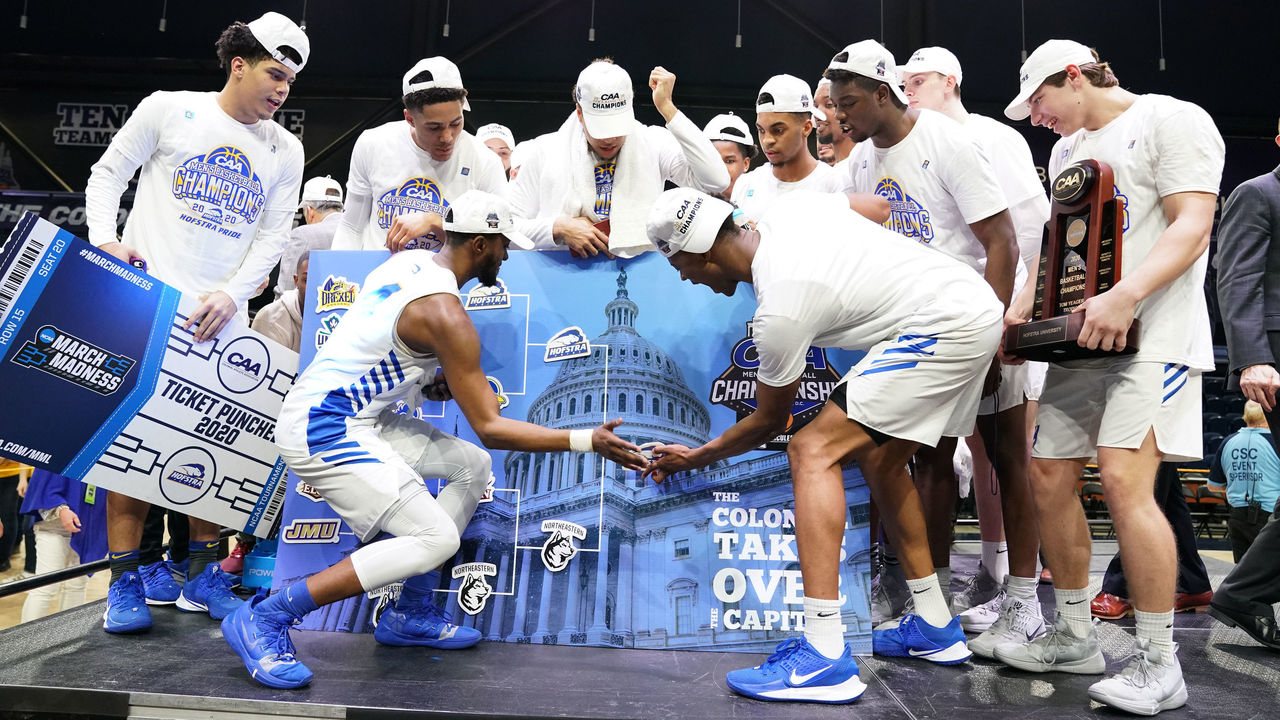 To be a Hofstra senior meant to play more than 120 games to reach one moment. That pinnacle came March 10, when the Pride cut down the nets in the Entertainment and Sports Arena in Washington, D.C., after winning a CAA championship over Northeastern.
It wasn't a moment Mihalich or anyone associated with the Hofstra program took for granted.
This was Hofstra's third CAA championship game appearance in five years. The previous two ended in defeat. The Pride's leading scorer, Desure Buie, was in his fifth year in the program. He appeared in both of the championship game losses, including an overtime defeat in 2016 and an eight-point loss to Northeastern last year.
This was to be Hofstra's first NCAA Tournament appearance since 2001.
"The really good thing is our guys got to win the tournament," Mihalich said, who last went to the NCAA Tournament with Niagara in 2007. "Their last game was climbing up the ladder with a pair of scissors and walking off the floor with the net hanging around their necks."
Normally, winning the conference championship would mean a couple of days off and a chance to bask in the fact that you are one of the 68 teams that could win a national championship. It means thinking about every possible matchup the selection committee could give you. It means walking around campus and soaking in the school spirit.
Instead, when Hofstra's players returned to campus March 11, the university had already canceled classes. Players who lived nearby, like Buie and fellow senior Eli Pemberton, went home.
They never had the chance to reconvene as a team. The NCAA canceled the tournament March 12. All Mihalich could do was gather the players who remained on campus. He said at least five players were already home.
"Those guys, we had to call them and tell them," Mihalich said, "which was horrible."
In less than 48 hours, Mihalich's team dealt with a roller coaster of emotions.
"We all have a social responsibility for people to stay healthy," Mihalich said. "At the same time, my gosh, we're gutted."
With no games to prepare for, Mihalich spent time this week watching potential recruits on Synergy, a tool for basketball video and analytics. In a phone conversation with theScore, he fantasized about the potential matchups Hofstra could have had this week. There was a strong chance the Pride could have played just three hours north in Albany, New York. The likely opponent: Villanova and bench boss Jay Wright, the last coach to lead Hofstra to the NCAA Tournament.
Schools to clinch 2020 NCAA Tournament automatic bids
| Team | Conference |
| --- | --- |
| Belmont | Ohio Valley |
| Boston University | Patriot |
| Bradley | Missouri Valley |
| East Tennessee State | Southern |
| Gonzaga | West Coast |
| Hofstra | Colonial Athletic |
| Liberty | Atlantic Sun |
| North Dakota State | Summit |
| Northern Kentucky | Horizon |
| Robert Morris | Northeast |
| Utah State | Mountain West |
| Winthrop | Big South |
| Yale | Ivy |
Instead, Mihalich could only discuss the what-ifs. And in a month where everything has been turned upside down, he still discussed this year's team in the present tense - even though its season ended a week ago.
"Everybody thinks they can win, and we do, too," Mihalich said. "We've got great senior guards. Not good, great senior guards. We have a niche. We play a zone defense that seems to have been pretty effective most of the year. We all shoot the ball really well. I think we'd be a team that could present some challenges for people.
"We have our weaknesses as well," he continued, "but our guys knew they could win a game and we won't have a chance to do it."
East Tennessee State, Southern Conference
Steve Forbes should have spent this week devising a play to contain an opponent's best player. He should be debating the right time to reinsert a player in foul trouble, or whether to foul ahead three at the end of a tight, classic March Madness game.
Instead, Forbes has already cleaned his house from top to bottom. And his internal debate focuses on TV characters: Frank Gallagher of "Shameless" versus Jim Brockmire of "Brockmire."
"I'm really trying to figure out who has the more demented life," Forbes said.
For Forbes, the fifth-year head coach at East Tennessee State, this is new territory. It's the first time he has been home at this point in March in his coaching career. If his teams haven't been in the postseason, he would normally be on the road, recruiting.
This year, he envisioned a long March for his Buccaneers squad. East Tennessee State set a school record with 30 wins in the regular season. It put power-conference teams on notice by winning at LSU in December. It won the Southern Conference regular-season championship, then defeated Wofford to win the conference title March 9. One of the most experienced teams in the country, every player in ETSU's rotation was about to experience the NCAA Tournament for the first time. And these Buccaneers were good enough to win multiple games in the tourney.
After winning the SoCon tournament in Asheville, North Carolina - just a one-hour drive from ETSU's campus in Johnson City, Tennessee - Forbes gave his players last Tuesday and Wednesday off. Though the NBA suspended its season on that Wednesday night, the Buccaneers still met as a team last Thursday.
Forbes had the team doctor talk to the players about the coronavirus and the risks. Forbes told the team he saw three scenarios: The NCAA Tournament will be played on time, it will be postponed, or it will be canceled.
This was less than an hour before the NCAA's announcement.
"Got in my truck, drove home, and on the drive home they canceled it," Forbes said. "I had to call back another team meeting on Friday at noon and met with the team, president, (athletic director). It was sad."
Since the announcement, Forbes said he has "just got to let the basketball go for a while and be a family man." He's still recruiting by phone, but his current players are home, as ETSU suspended in-person classes.
Forbes has also thought about this: ESPN's final projected bracket had East Tennessee State in Greensboro, North Carolina, about a three-hour drive from campus, against Iowa. Forbes grew up in the Iowa City area. His mom still lives there. And the game would have been played March 20, one year to the day his dad died.
"I told my wife, this can't be possible," Forbes said. "Some divine intervention. My whole family grew up watching Iowa play basketball. That's important.
"It would have been very interesting to do that."
Robert Morris, Northeast Conference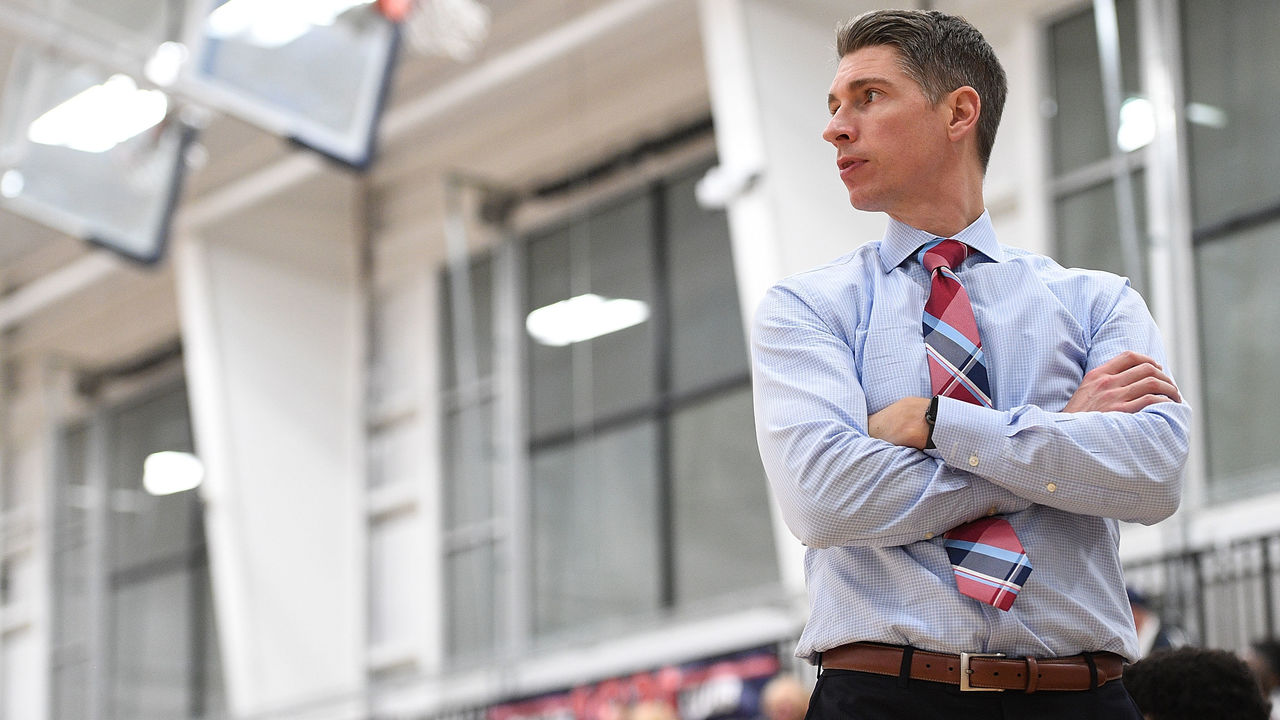 One thing Robert Morris coaches and players talked about all season: If they won a regular-season championship or the conference tournament, they would celebrate the accomplishment with a steak dinner.
When the season ended as abruptly as it did - and with the urgency to social distance because of the COVID-19 outbreak - those plans became complicated.
The script flipped quickly for the Colonials. On March 10, they won the NEC title on their home court against rival St. Francis (Pa.) 77-67. In front of a raucous crowd, in the first season of RMU's new arena, Robert Morris played one of its most complete games of the season.
"The way that our guys played is one of the biggest memories I'll take as a coach," Andrew Toole said. "I thought for 40 minutes we were about as locked in as a team (can be) on both sides of the ball."
But by the time the game ended, the NCAA Tournament's viability was already coming into question. That was the same day that Ohio Gov. Mike DeWine requested that sporting events in his state be closed to spectators. There was a chance Robert Morris would have been sent to Dayton, Ohio, for the First Four. (This week, the NEC announced that an official who worked the Robert Morris-St. Francis game tested positive for COVID-19.)
The next day, the NCAA announced it would play the entire tournament sans fans. The day after that, it canceled the event completely.
"That was the hardest part," Toole said. "On Thursday, when we got the news of the cancelation, we kind of met Friday morning as a team and tried the best we could to just kind of share the disappointment and as a staff, try to remind our players how proud of them we were and how they were kind of the last moment of championship week."
Toole has spent this week making sure his players were able to get home. His three seniors face uncertainty about beginning their pro basketball careers, either stateside or overseas.
Like Mihalich and Forbes, Toole has also had to learn how to recruit from home. His kitchen has become a co-working space with his wife, Brooke, who is a lead recruiter for Dick's Sporting Goods. The couple is also trying to keep their two sons, ages 7 and 5, occupied with educational activities, too.
"Really, doing it from your kitchen is certainly different," he said. "Right now we'd be going to state tournaments or (junior college) tournaments or going to watch workouts and running crazy from spot to spot to finalize your roster."
Boston University, Patriot League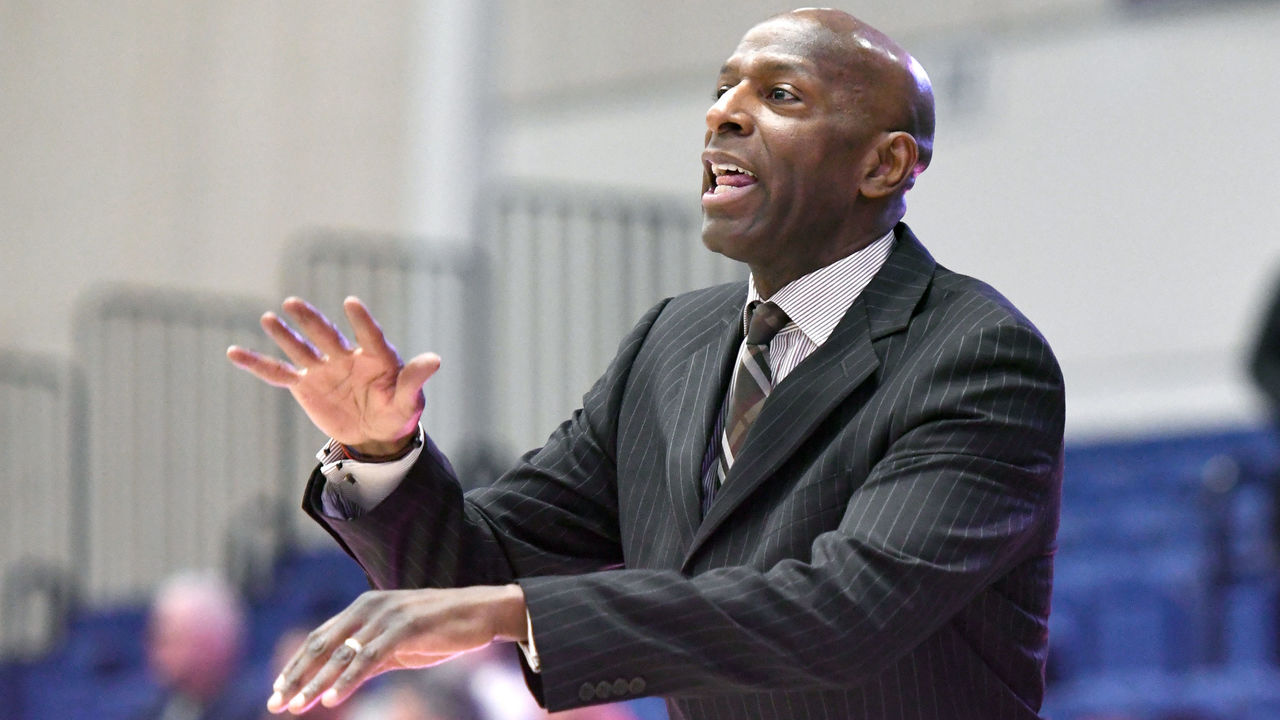 As soon as Joe Jones boarded the bus for the five-hour ride back to Boston, he knew the NCAA Tournament was in jeopardy. He didn't know, necessarily, that his Terriers would be the last team to celebrate a championship in the 2019-20 college basketball season. But he did know that the NBA's decision to suspend its league - one that came as Boston University pulled out a road upset at Colgate to win the Patriot League title - likely foreshadowed a decision the NCAA would have to make.
For the sake of embracing the moment, he put that thought in the back of his mind for five hours.
"I wanted to enjoy that moment with my players, the staff, and the people that have had my back and have been there for me," Jones said. "I wanted to share that moment with them."
The moment was a long time coming. BU had not been to the NCAA Tournament since 2011, when it won the America East under now-Penn State head coach Pat Chambers. Jones took over the next season, and BU moved to the Patriot League in 2014. He took the Terriers to the conference championship game once before, but they laid an egg, losing 55-36 to American in the 2014 title game.
This time around, Jones wanted to make sure his team was prepared. His staff pumped music and crowd noise into the gym during two days of practice leading up to the title game. The Terriers were underdogs, playing at a Colgate team that had not only won the conference in 2019 but had swept BU in the regular season.
"I wanted to make sure they understood it was going to be a very intense atmosphere, a very intense game, more than any other game that we played all year," Jones said.
The preparation worked. Jones said his team was very relaxed in a difficult atmosphere. Though they struggled from the free-throw line (4-of-14), the Terriers pulled out a 64-61 win, handing Colgate just its third home loss in the last two seasons.
"If you could do it, this is the group you want to do it with because they're really funny and they're so respectful," Jones said. "They did everything you asked them to do."
The five-hour ride from Hamilton, New York, to Boston, was the celebration.
By the time the team met the next day, everyone pretty much knew there wouldn't be another game.
Jones told them: "Listen, there are much more important things going on in the world right now, that I know this is really hard to grasp when you have taken all this time and you've worked so hard, it's been your dream to get to the tournament. That's why we do what we do to get that moment.
"We were fortunate to have the moment that we had," he continued. "There aren't many teams that can say that."
From the time of the announcement, the conversation shifted fast. Jones and his staff had to help make sure players could leave campus safely - BU moved classes online for the remainder of the semester. His assistants called players directly as well as their parents. They're also making sure the players are practicing social distancing at home.
They text and share photos from the championship game, too - but for Jones, it's all done with the big picture in mind.
"The way I've looked at it more, I've kind of tried to take the basketball part of this out of it," Jones said, "because there's so many more important issues going on that I've just tried not to think about, 'What if?'"
Mark Cooper is theScore's NCAA writer.