NBA Defensive Player of the Year rankings: Gobert facing stiff competition
Rudy Gobert's stronghold on the NBA's Defensive Player of the Year award could come to an end this season, with multiple competitors producing similarly strong defensive campaigns.
Here's a look at five players in the running for the award over halfway through the 2021-22 season.
5. Evan Mobley, Cleveland Cavaliers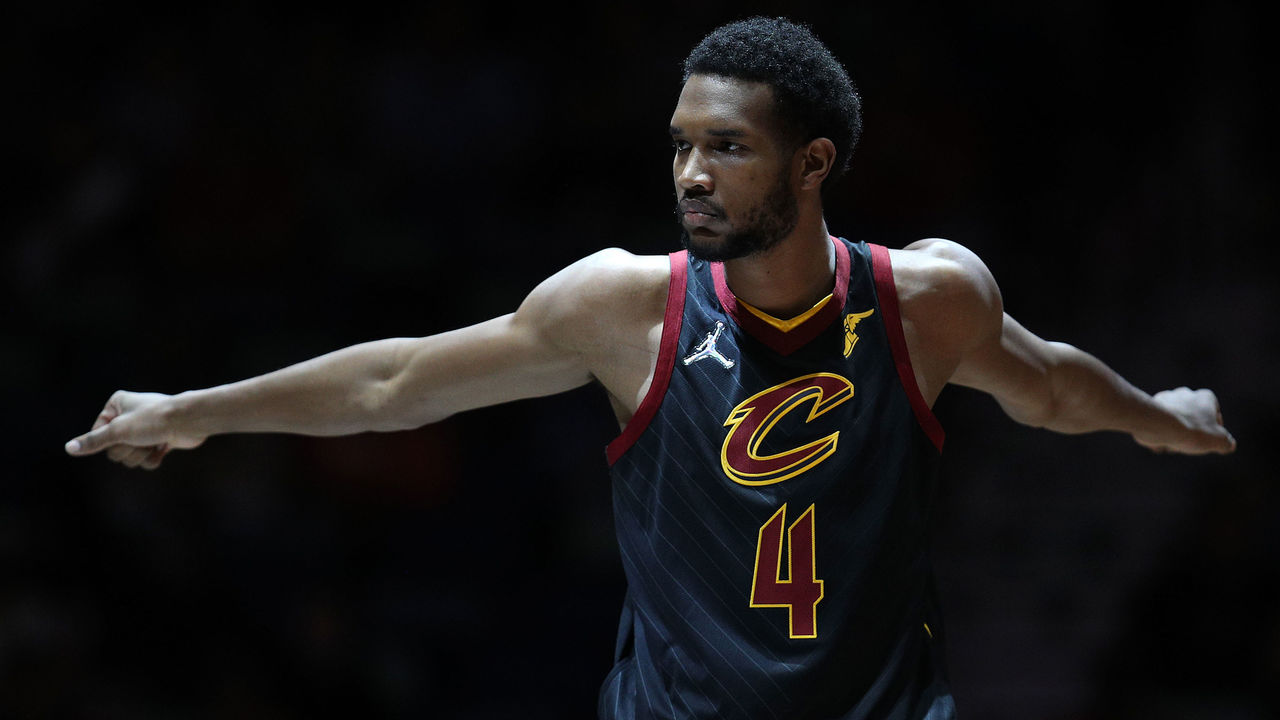 Previous rank: N/A
Not many rookies are in the Defensive Player of the Year conversation, but Mobley isn't your typical first-year player. The USC product is already an outstanding rim-protector and seamlessly switches between guards and big men.
Mobley is seventh in the Association this season in both blocks per game (1.7) and total swats (63). His 2.5 block percentage places him in the 73rd percentile among big men, per Cleaning the Glass. Mobley is also the only NBA player ranked in the top 10 in both contested twos and threes per contest.
In just months, Mobley helped transform a porous Cavs defense into one of the league's stingiest squads.
4. Mikal Bridges, Phoenix Suns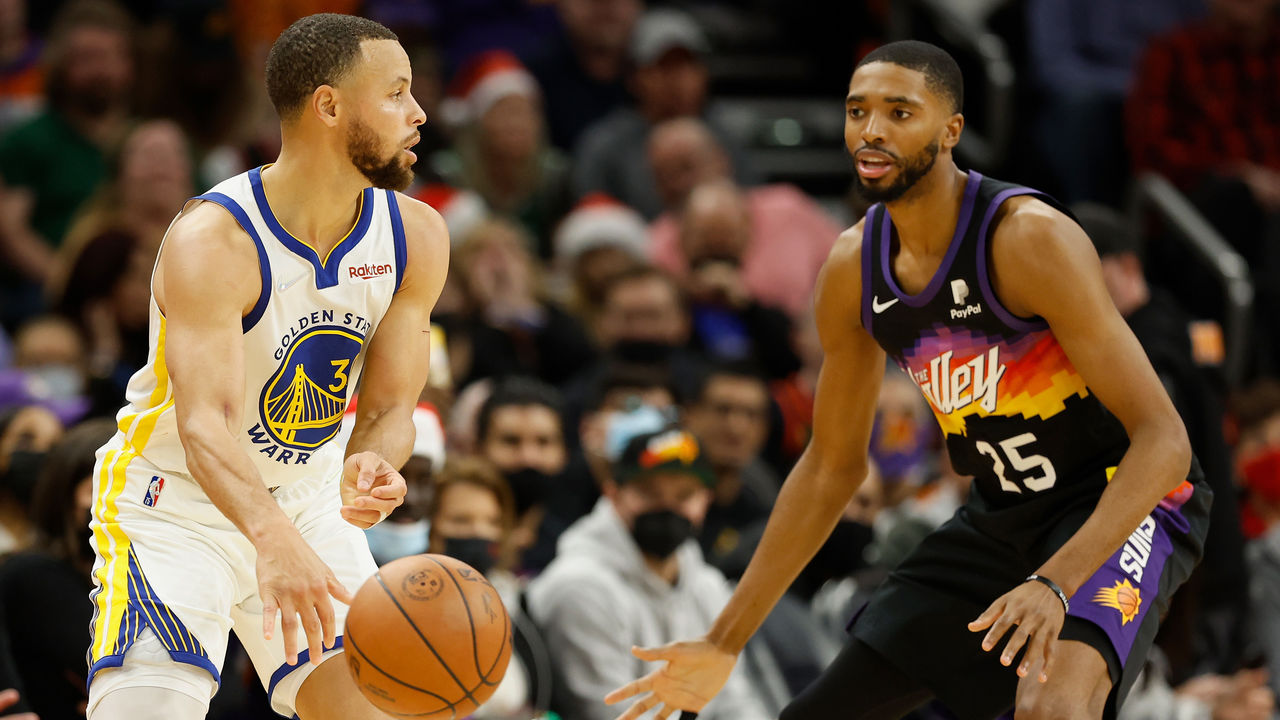 Previous rank: N/A
Bridges sets the tone for the Suns' second-ranked defense. He's tasked with guarding the opposition's top perimeter players on a nightly basis, and there aren't many better than him at the job. The Villanova product's seven-foot wingspan, superb instincts, and quick feet give even the best players fits.
Over three matchups this season, Stephen Curry managed just four points on 2-of-12 shooting with Bridges as his primary defender. James Harden didn't sink a single basket when guarded by the pesky Suns forward during their lone encounter last November.
Opponents are shooting only 33.5% from deep against Bridges, the 14th-best mark among players who have contested at least 180 triples.
3. Giannis Antetokounmpo, Milwaukee Bucks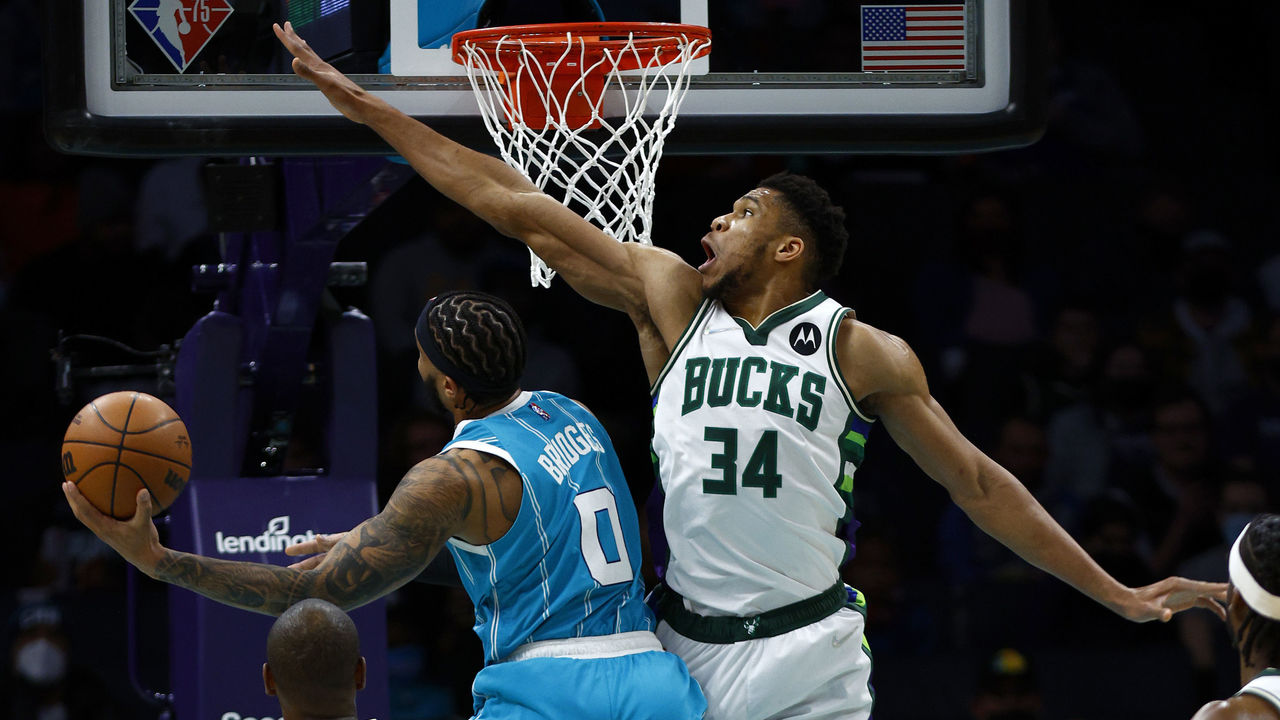 Previous rank: 5
With Brook Lopez sidelined indefinitely, Antetokounmpo is playing substantially more minutes at the five. However, Milwaukee's defense has held up with the reigning Finals MVP functioning as the club's primary rim-protector. The Bucks rank fifth in opponent points in the paint primarily due to Antetokounmpo's efforts.
The Greek Freak is averaging 9.4 defensive rebounds, 1.5 blocks, and a team-high 6.3 contested two-point shots per game. He's holding opposing players to a 46% clip on shooting attempts within six feet of the basket. Only Immanuel Quickley has posted a better mark among players who have defended at least 100 field goals.
Two years ago, Antetokounmpo joined Michael Jordan and Hakeem Olajuwon as the only players to capture both MVP and Defensive Player of the Year honors in the same season. He's got a chance to repeat the feat in 2022.
2. Rudy Gobert, Utah Jazz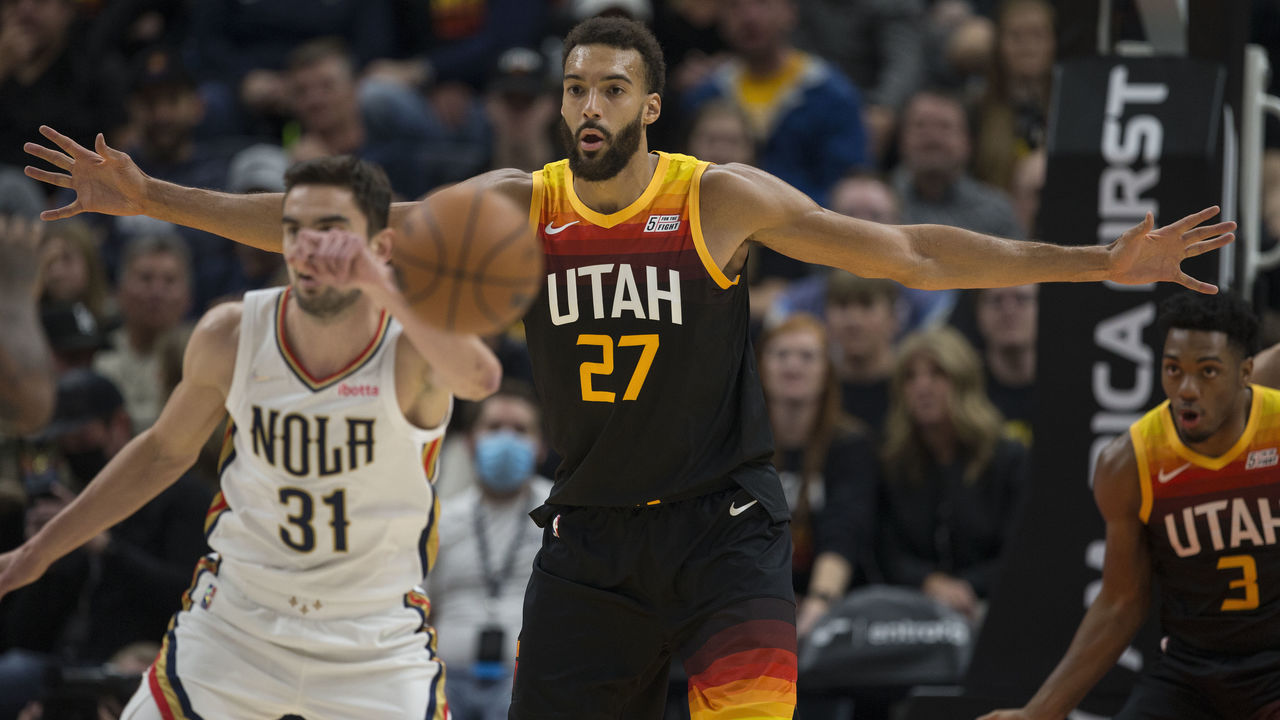 Previous rank: 3
Gobert's performance midway through the campaign is more than worthy of an NBA record-tying fourth Defensive Player of the Year award. The Frenchman is on pace for his sixth top-three finish in blocks and has covered for the Jazz's leaky perimeter defense.
Gobert sits atop the Association's leaderboard in defensive rebounds per game (11.6), defensive win shares (2.7), and total contested shots (520). He's limiting his counterparts to 52% shooting on attempts within six feet of the rim. While the mark is inferior to Antetokounmpo, the four-time All-NBA selection has contested 102 more field goals from the same range.
Utah's defense collapses without Gobert manning the middle. The Jazz are allowing 8.3 more points per 100 possessions when Gobert isn't on the floor. Additionally, the club went 1-4 and gave up an average of 118.6 points during the center's recent five-game absence.
1. Draymond Green, Golden State Warriors
Previous rank: 1
Green's averaging 1.4 steals and 1.2 blocks, but those numbers don't illustrate his full defensive impact. The three-time All-Star is the ultimate Swiss Army knife. He could be holding his ground in the paint on one possession and blowing up a pick-and-roll at the top of the key on the next.
Green acts like a middle linebacker, calling out the opposing team's plays and ensuring his teammates are in the best possible position to combat those actions. His vocal leadership is a major reason Golden State owns the NBA's top-ranked defense.
"Defense is all communication. ... So it's extremely important, especially for your big man," Green told NBA.com's Steve Aschburner. "Because more often than not, you're the backline of the defense. You're everyone's eyes.
"You can see everything that's taking place. Sometimes you have a guard on the ball who can't see anything behind him, doesn't have a clue. So if you aren't talking, being the eyes for that entire defense, it doesn't work."
Like Utah, the Warriors looked like a different team without their top defender. Golden State registered a defensive rating of 105.5 in the five games Green recently missed, a full three-point increase from its overall mark this season.
Honorable mentions: Myles Turner (Indiana Pacers), Matisse Thybulle (Philadelphia 76ers), Jarrett Allen (Cleveland Cavaliers)
Comments
✕
NBA Defensive Player of the Year rankings: Gobert facing stiff competition
  Got something to say? Leave a comment below!