How the Suns keep dominating with a revolving door of centers
Brock Williams-Smith / NBA / Getty Images
The Phoenix Suns were locked in a tight contest against the New Orleans Pelicans on Tuesday night, leading by two points midway through the fourth quarter, when fill-in center Bismack Biyombo came up to set a high ball screen for Chris Paul. Biyombo was playing in his second game with the Suns after signing a 10-day contract as part of the league's COVID-induced wave of hardship exceptions. In a matter of days, he'd gone from being out of the NBA to playing crunch-time minutes for the team with the league's best record.
Biyombo screened and then re-screened to give Paul a path to the middle of the floor, but on-ball defender Josh Hart managed to stay in contact with Paul and Pelicans center Jonas Valanciunas stuck with Biyombo on the roll. When Paul picked up his dribble at the left elbow, Biyombo curled behind Valanciunas and popped out to the left dunker spot, where Paul found him with five seconds on the shot clock. Biyombo immediately flicked up a desperate jump hook that barely missed the side of the backboard and plunked down on the fat part of the rim. It hit the rim twice more before dropping through the hoop as an exasperated Valanciunas let out an audible "Oh my God!"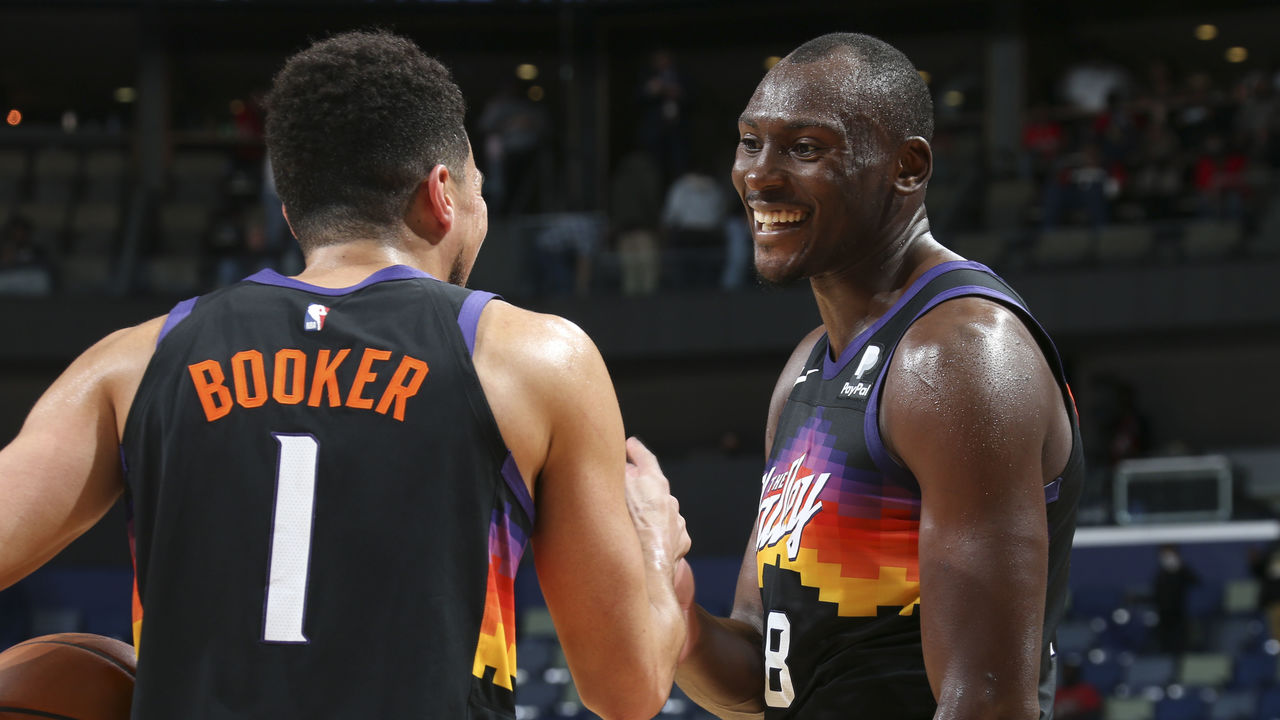 If he'd paid close attention to Phoenix this season, perhaps Valanciunas wouldn't have expressed such surprise at his former teammate's fortuitous bounce, because everyone the Suns have plugged into their center spot - and they've had to plug in plenty, due to a consistent churn of injury and illness - has seemingly been kissed by the basketball gods.
As if to hammer that point home, the next 90 seconds of game time saw Biyombo dive out of a Spain pick-and-roll and dunk home another feed from Paul, recover a missed Paul floater and draw a foul on the putback attempt, help on a Brandon Ingram drive and swat the layup attempt right into Paul's hands to spark a transition bucket the other way, and help create a Devin Booker three. All told, he amassed eight points, three rebounds, two assists, and two blocks over the game's final six minutes to help the Suns pull away for a 13-point win. Two days later, the team signed him for the remainder of the season - just the latest in a revolving door of big men who have flourished in Phoenix's ecosystem.
With last year's backup center Dario Saric suffering a torn ACL in the playoffs, the Suns signed JaVale McGee to fill his role and retained Frank Kaminsky on a minimum deal to play third string. When starter Deandre Ayton missed time with a leg contusion early in the season, those two held down the fort with arguably the most productive ball of their careers before Kaminsky was sidelined indefinitely by a stress reaction in his knee.
Ayton returned and played tremendously, but he eventually contracted COVID-19. McGee soon followed him into health and safety protocols, which meant that Jalen Smith - who'd just had his third-year option declined less than a year after the Suns drafted him 10th overall - was pressed into duty. He, too, has made the most of his opportunity, averaging 17.3 points and 9.5 rebounds on 65.3% true shooting as a starter.
From Biyombo's wacky hook, to Smith literally fumbling his way to a basket, to McGee hitting rainbow fadeaways, to Kaminsky popping off for 31 points on an array of push shots and post scores, the depth chart behind Ayton can seemingly do no wrong:
All of them have posted outstanding per-minute numbers, featuring good to elite marks as roll men on offense and as rim-protectors on defense:
As such, the Suns are 19-5 when Ayton plays, and 11-3 when he doesn't, a virtually identical winning percentage. And their net rating is actually worse with Ayton on the floor than it is with any of their other centers in his place:
Is that a reflection of the fungibility of centers in today's league, or of the way the Suns' roster and system in particular simplify their centers' jobs? Has Phoenix done a very good job of stocking the position? Or is it merely the product of small-sample-size theater?
It's probably a little of columns A, B, C, and D. McGee and Kaminsky were great value signings, and Biyombo has been a home run so far as an emergency stopgap. But the Smith pick (which was controversial at the time, especially with Tyrese Haliburton sitting right there) still feels like a head-scratcher, and considering they declined his third-year option, the Suns don't seem to feel like he's some irreplaceable commodity. Realistically, Ayton will get 36-plus minutes in the playoffs and only one of his backups will see the floor when it matters. That backup will almost certainly be McGee, though the others have made reasonably compelling cases in their limited minutes.
McGee is an also an elite pick-and-roll finisher and an extremely effective rim-protector who's now held opponents to sub-52% shooting at the basket for four straight seasons. Not only do Phoenix's opponents shoot nine percentage points worse at the rim with him on the floor, they also shoot far less frequently at the rim when he's out there, per Cleaning the Glass. Kaminsky doesn't have rim-protecting chops due to his short arms and lack of vertical athleticism, but he's a sound positional defender who rarely blows rotations. He's also a viable floor spacer who might be the best Suns center at making plays in space.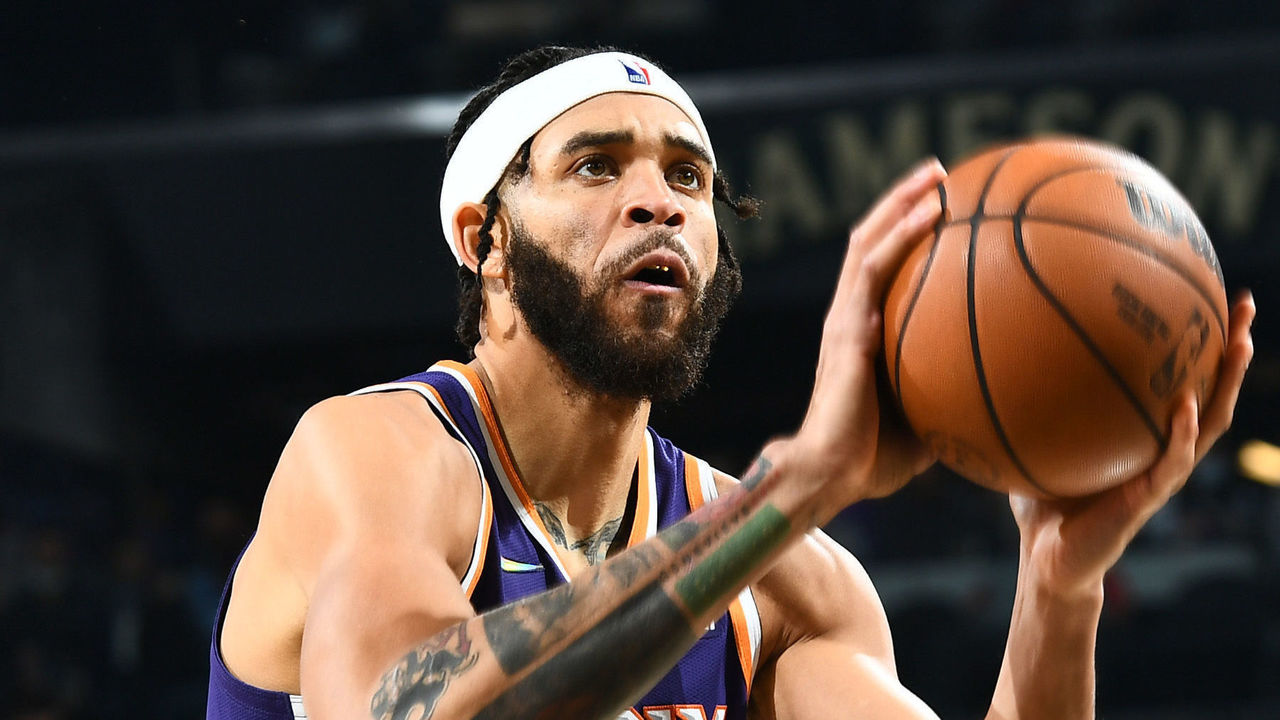 Smith runs the floor super hard, makes intuitive reads on the offensive glass, has a functional floater, and has flashed hints of a reliable set shot, which is made more credible by his 85% mark from the free-throw line. Biyombo has always been a high-level, high-energy defender, and while his offensive game has remained frustratingly unrefined, simply being able to catch the ball on the move more consistently can go a long way for him. So far, so good in Phoenix. He's also demonstrated a newfound relish for sealing his man under the basket, which is creating scoring opportunities not only for him, but for his teammates.
While these all represent individual success stories, it's hard to dispute the fact that Phoenix, as much as any team in the league, puts its centers in position to succeed at both ends of the floor.
On offense, perfect floor balance and spacing gives them ample rolling runways, while the Suns' varied attack and perpetual off-ball activity keeps weak-side defenders engaged and out of those lanes. Paul's and Booker's gravity as pull-up shooters also consistently draws opposing big men away from the basket and exposes the defense's soft underbelly. Phoenix's oft-used Spain action, in which a dangerous shooter back-screens for the roller before rocketing out to the 3-point arc, gets its centers plenty of easy buckets:
With deadly spot-up threats all around, dig-downs and overloads are risky propositions for the defense. Even tagging the roller is dicey given how good Paul and Booker are at slinging skip passes. Paul is also maybe the single best pocket passer in the league.
It's no surprise, then, that the Suns lead the league in roll-man efficiency. Elite guard play makes things possible for everyone. Phoenix's centers will always find opportunities, provided they're willing to set solid screens, roll hard to the rim, and flash into open space.
The Suns' defensive scheme is built around drop coverage of varying depth and a lot of late switching. They've executed that scheme to great effect, with the league's second-best defensive efficiency. Rim suppression has been the chief driver of that success; the Suns rank fifth in the league in opponent field-goal percentage at the rim when there's a defender nearby, and fourth in limiting opponents' at-rim attempts.
Their centers have obviously been a huge part of that, but the rest of the roster provides multiple supplemental layers of protection, with guys like Paul and Jae Crowder and especially Mikal Bridges capable of either stopping the ball at the point of attack or executing pristine back-side rotations and scram switches when their center gets drawn out on a hard show or a switch. They also gang rebound like crazy in those scenarios.
The way the Suns have been able to protect Smith, who's easily their weakest big-man defender, is telling. Phoenix switches with him a lot, not because he's a particularly good switch defender but because he doesn't yet seem to have the footwork or spatial court sense to play drop effectively. He's frequently a beat slow in read-and-react help situations. And in spite of all that, the Suns have a sterling 100.4 defensive rating with him on the floor.
Highlighting the systemic support those centers have received shouldn't diminish what they've accomplished on their own merits. Their performances in the first half of the season may prove to be a big reason Phoenix hangs onto a top-two seed in the West. The've helped the Suns as much as the Suns have helped them.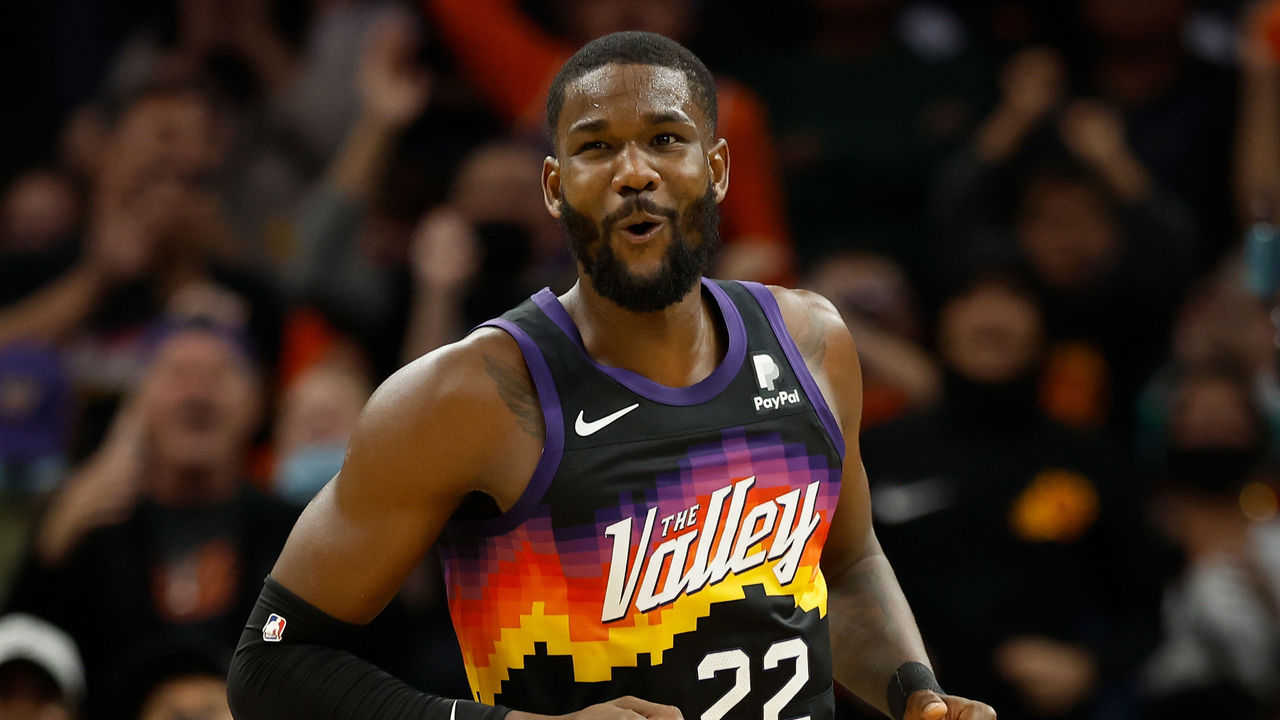 Whether any of this really matters in the big picture is another issue, and one that feels particularly pertinent given that Phoenix's title hopes slipped away last year partly due to a lack of options behind Ayton following Saric's injury. The Suns got drilled by 16.5 points per 100 possessions with Ayton on the bench in The Finals, and he wore down under his immense workload as that series progressed. Milwaukee demolished Phoenix in the paint and on the glass.
Surviving an Ayton-less stretch during a portion of the regular season when virtually every team is compromised is a lot different than doing so in a playoff series with razor-thin margins. The relative success of the Suns' depth centers feels less important than the fact that Ayton has gotten even better, building on last year's postseason breakout with a more assertive offensive approach and increasingly refined defensive footwork.
There's certainly more injury insurance at the position this year, but Phoenix remains a middling rebounding team and one of the most rim-averse offenses in the league. It's as likely as not that in pressure-packed moments, the Suns will turn to center-less lineups when Ayton needs a breather, as they did against the Bucks and have notably done at various points in their matchups against the Warriors this season. They've been quite effective with Cam Johnson or Crowder at the 5 (though the 85-minute sample size makes it tough to adequately judge).
Still, even if this just turns out to be a fun, brief, regular-season subplot, the Suns and their many centers deserve a lot of credit for keeping the machine humming under adverse circumstances.
Comments
✕
How the Suns keep dominating with a revolving door of centers
  Got something to say? Leave a comment below!