How the Mavs' giant lineup stumped the Clippers in Game 5
Adam Pantozzi / NBA / Getty Images
Everyone knows the old saying, "go big or go home." Well, the Dallas Mavericks went big to avoid going home.
No, Dallas wasn't facing elimination in Wednesday's Game 5 against the Clippers in Los Angeles. But given the way momentum has swung wildly in this Western Conference quarterfinal, it certainly felt like the heavily favored Clippers weren't going to drop a potential close-out game on Friday if they won a third straight on Wednesday.
Instead, it's the Mavs heading back to Dallas with a chance to finish the Clippers, all thanks to head coach Rick Carlisle's subtle stroke of genius.
Make no mistake, Luka Doncic remains the indestructible engine that pushes Dallas forward. The Mavericks superstar poured in 42 points, 14 assists, and eight rebounds on Wednesday, finishing with a team-high plus/minus of plus-15 in 42:31 of action. The Mavs were outscored by 10 points in the 5:29 when Doncic was sitting, which isn't surprising because between his own scoring and the 33 points created off his assists, Doncic accounted for more than 71% of Dallas' total offense, and more than 80% of its field goals.
Though a lingering neck issue slowed him in Games 3 and 4, Doncic has been the best player in this series when healthy. That's no easy feat when facing Kawhi Leonard and Paul George.
Still, the Mavs reclaiming control of the series can be tied to that call to go big.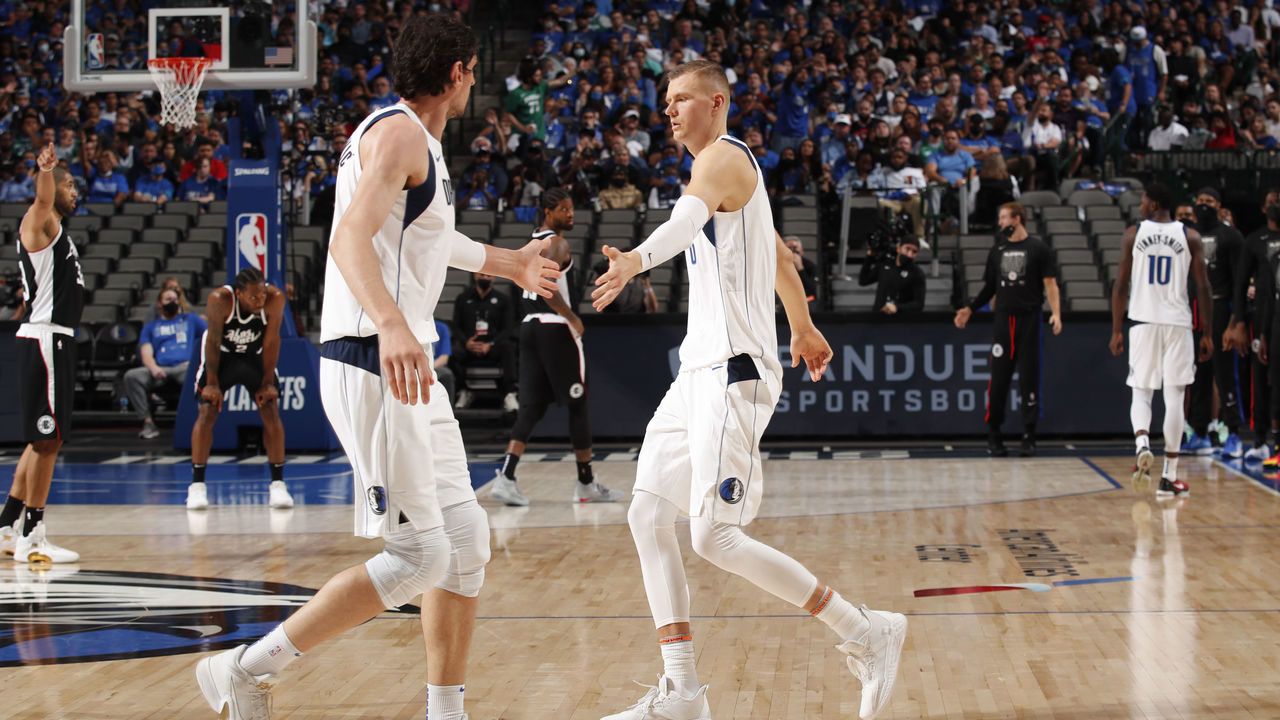 Most size-related, series-swinging decisions these days occur when teams go smaller to expose their outdated opponents' lack of defensive mobility. That makes Dallas' move to start two giant, natural centers - Kristaps Porzingis and Boban Marjanovic - all the more interesting.
But the Mavs didn't do that to feast on the smaller Clippers offensively. They went big to deter Los Angeles from getting to the rim, which is what had turned the series.
Though they're a bona fide contender boasting two game-changing stars - and one of them, Leonard, is unstoppable inside - the Clippers were a rim-averse team this season. Their third-ranked offense subsisted on Leonard, George, and some ridiculous jump shooting.
L.A. ranked in the top five in the percentage of its field-goal attempts that came from the mid-range and long-two zones, but it shot the ball extraordinarily well anyway, and canned 41.1% of its 3-point attempts. That was the fourth-best mark ever, and the greatest shooting season any team has produced in five years (2015-16 Warriors). However, the Clippers ranked in the bottom five in rim frequency, and they were 23rd in drives per game.
They stormed back from an 0-2 hole against the Mavericks largely because Dallas' anemic defense allowed the Clippers to uncharacteristically run free to the rim, as George said after Game 3. Through the first four games of the series, the Clippers ranked sixth out of 16 playoff teams in rim frequency and third in drives per game. Combine that with the Mavs not employing the type of big wing personnel capable of slowing Leonard and George, and Dallas couldn't respond to the Clippers' attack.
A brief experiment with the 7-foot-4, 290-pound Marjanovic in Game 4 did lead to some fleeting moments of interior offensive dominance, but it didn't do much for Dallas' defense. However, starting Boban beside the 7-foot-3 Porzingis in a gargantuan Game 5 lineup worked wonders.
None of Dallas' big men are even great rim-protectors, but their very presence in the paint on Wednesday - combined with the Mavs' disciplined team approach to pack the paint, and an early zone defense - played to the Clippers' worst tendencies. Los Angeles' first instinct is to shoot, not attack, and Carlisle gambled on the Clippers reverting back to that tendency when seeing the giants down low.
The gamble paid off, as the Clippers' offense appeared out of sorts early. Although they did find success getting downhill at various points, the team settled for jumpers during long stretches. It also helped that the Clips shot 14-of-38 outside the paint.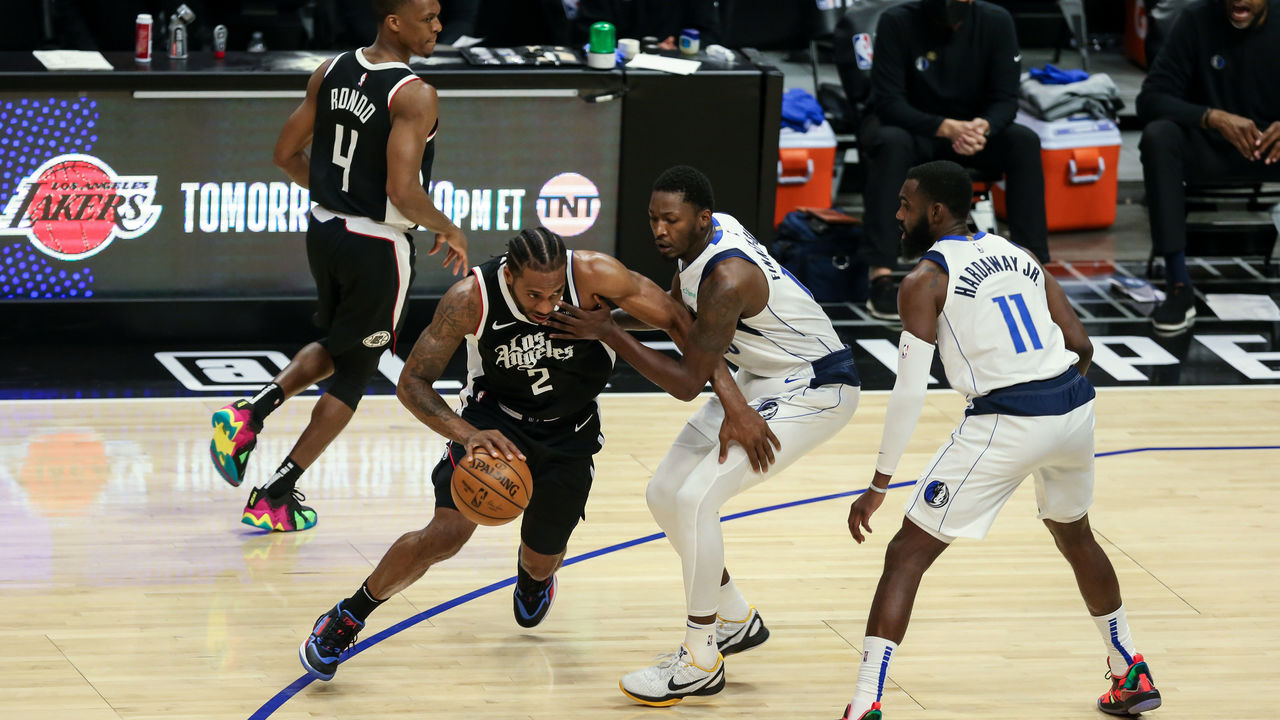 Preventing Leonard from parading to the paint also impacted the two-time NBA Finals MVP's playmaking, which he still doesn't do naturally. Kawhi was looking more indecisive than usual when faced with the packed paint and zone defense. He finished with five turnovers and five assists while scoring just 20 points on 26 possessions (7-of-19 shooting). Dorian Finney-Smith deserves praise for his defensive work on Leonard, too.
George also committed a couple of key late turnovers while trying to force his way through a crowd of white Mavs jerseys.
Another surprising development for Dallas was that starting both Marjanovic and Porzingis provided a greater opportunity for Dwight Powell off the bench, as the big man played more minutes in Game 5 (22) than in the previous four contests combined (18). Powell rewarded Carlisle with an effective and energetic performance that boosted the team, particularly on the glass.
Of course, there are always risks associated with gambles. Had the Clippers successfully bombed away from the outside and shot the Mavericks out of the gym, no one would be praising Carlisle's tactics of forcing a great-shooting team to, well, shoot. But the Mavs were out of answers and seemingly out of options. Defensively, there was nothing for them to lose. Now the series heads back to Dallas, and the Clippers have everything to lose.
Will the Mavs stay big and gamble again, this time on the Clippers being unable to adjust? Or is there another trick up Carlisle's sleeve? Can Ty Lue counter?
The Clippers are already playing pretty small and don't possess much depth. Other than dusting off Luke Kennard and trying to manufacture more small lineup combinations that can punish Dallas' oversized frontcourt, what is there to do?
Even if they use shooters to screen for Leonard and George, what does that accomplish? The point of Dallas' Game 5 defense was to encourage those shots, and the Mavs will likely concede deep looks again if it means deterring a rim-running onslaught from the Clippers' two stars. Perhaps getting the injured Serge Ibaka back could help Los Angeles, as Ivica Zubac has been a massive disappointment thus far.
Carlise, Doncic, and the Mavs have thrown a tactical haymaker in this back-and-forth series. Lue, Leonard, and the Clippers need to find one to throw back by Friday night.
Comments
✕
How the Mavs' giant lineup stumped the Clippers in Game 5
  Got something to say? Leave a comment below!