6 takeaways from the NBA playoffs' opening weekend
Christian Petersen / NBA / Getty Images
After a 72-game season and the inaugural play-in tournament, the NBA playoffs are finally here. Here's what we observed from the postseason's opening weekend.
Lakers need to figure out their bigs rotation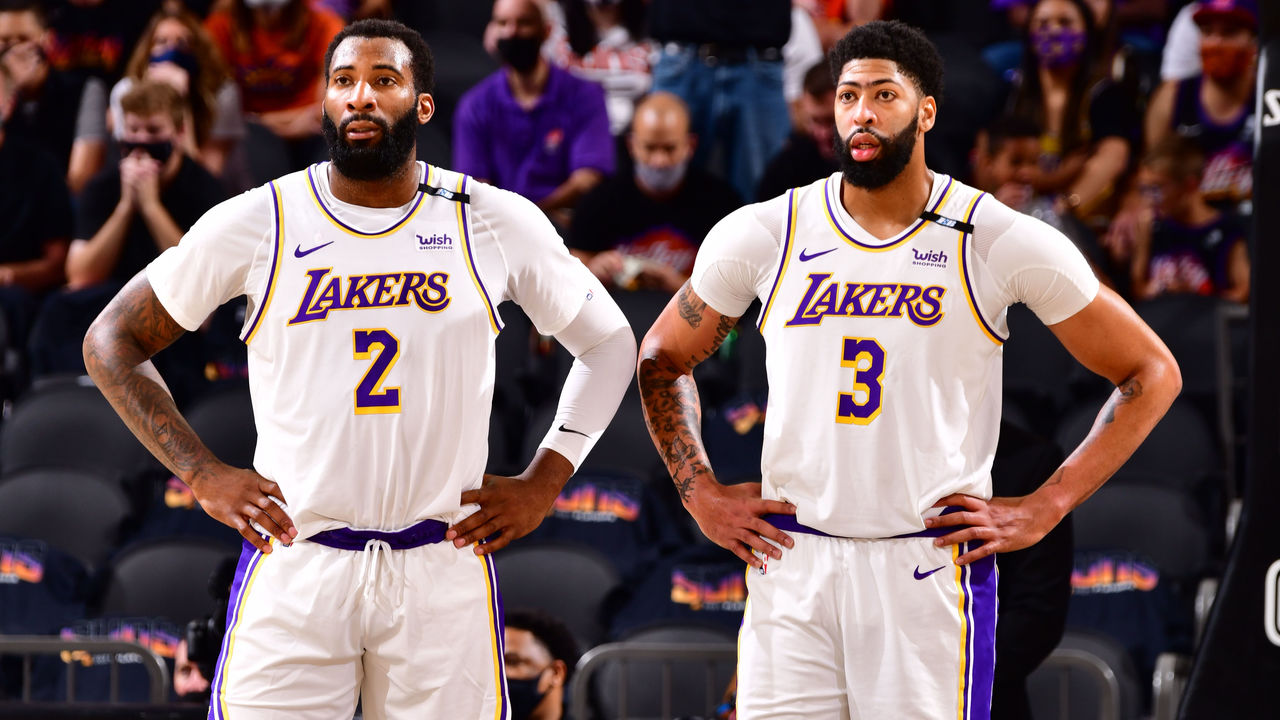 A lot happened in the series opener of the playoffs' most anticipated matchup. Chris Paul looked done for, then returned to a hero's welcome before nearly injuring close friend LeBron James on a dangerous play. Devin Booker and the Suns' youngsters looked more than ready to grab the playoff spotlight. And Phoenix put the defending champs in an early 1-0 hole.
But the Game 1 storyline that might have the greatest effect on the remainder of this series is whether the Lakers figure out what the hell's going on with their bigs rotation.
Things would've been a lot easier if Anthony Davis played like Anthony Davis, but Frank Vogel also could've made things easier for his team by playing its optimal lineups. Instead, Los Angeles continues to insist on starting Andre Drummond alongside Davis in the frontcourt. The only thing more laughable than that decision was its predictable result Sunday.
Drummond had some moments in the paint and on the glass in Game 1. But for the most part, all he did was cramp the floor offensively for Davis and the Lakers while getting torched by Deandre Ayton and Co. on the defensive end. Specifically, Drummond was frequently caught in no man's land guarding Phoenix's pick-and-rolls; he was neither close enough to the ball-handler to put pressure at the point of attack, nor was he attached enough to Ayton to prevent the big man's thunderous dives to the basket.
The Lakers have better options. If they insist on starting big, they should start Marc Gasol, who remains a more formidable defensive presence than Drummond, and who can pull Ayton away from the basket on the other end. They could also start some variation of their deadliest lineups, which have Davis at center. Doing either of these things would relegate Drummond to the bench, where his physical advantage over Dario Saric and Phoenix's small reserve unit could benefit both him and L.A.
Drummond only played 19 minutes in Game 1. Get this over with and bring him off the bench already.
There's also the issue of Montrezl Harrell, whose offensive efficiency and all-around energy can be boons on his best days, but whose defensive vulnerabilities make him a liability in postseason play. The Lakers hid Harrell on Torrey Craig for a few minutes late in the first quarter so the Suns wouldn't involve him in any pick-and-roll actions, and then Phoenix just didn't play Craig for the rest of the game. L.A. didn't get burned by Harrell's minutes Sunday, but between Booker, Paul, and the Suns' pick-and-roll abilities, it's only a matter of time.
Clippers don't know what to do with Luka
On paper, L.A. appears to be as well-equipped as any team in the league to defend Luka Doncic. In practice, it hasn't worked out that way. Doncic shredded the Clippers in his postseason debut last year, and they didn't have any better answers in Game 1 of their rematch Saturday when he torched every coverage he saw en route to a 31-point triple-double.
He hunted center Ivica Zubac from the jump, and L.A. started out by willingly conceding the switch. Zubac didn't do anything wrong in those situations; he played Doncic with a small gap to protect against the drive and moved his feet well enough to stay in front. Unfortunately, Doncic hit a ton of step-back jumpers over his 9-foot reach. Sometimes you just have to tip your cap.
That said, the Clippers arguably waited too long to adjust their coverage, given how comfortable Doncic looked attacking that switch and how easily he was able to get it. Predictability with soft switches was an issue for L.A. in this matchup last year, too, so it was disappointing to see the Clippers start out by doing the same thing. It was also a bit baffling that they opted to use Patrick Beverley as Doncic's primary defender, rather than any one of their defensively capable wings (Kawhi Leonard, Paul George, Marcus Morris, Nic Batum) who match up far better from a size perspective.
There was some sense in having Leonard guard Kristaps Porzingis so the Clippers could switch Doncic-Porzingis pick-and-rolls, but the Mavs were fine with letting Porzingis hang out on the perimeter to take Leonard away from the central action while Doncic used alternate screeners to get the matchups he wanted. He was unbothered by Beverley's ball pressure and was able to take him into the post and score over him without issue.
The Clippers' adjustments as the game went along were hit-or-miss. There were times they had success running a second defender at Doncic up top. The possession below was particularly well-executed. They started out by hiding Zubac on Dorian Finney-Smith, and when the Mavs ran a dribble-handoff that got him switched onto Doncic anyway, Beverley immediately blitzed. L.A. then got into scramble mode and snuffed everything with its rotations:
One benefit to doubling Doncic up top is that he doesn't move a ton off the ball, so forcing him to get rid of it often means he doesn't get it back for the rest of the possession. But again, the Clippers became a bit too predictable with those doubles, and the Mavs picked them apart down the stretch.
Because the Clippers mainly opted to trap while they downsized with Morris at center, they didn't have the requisite rim protection to defend effectively on the back side. Porzingis was the biggest beneficiary. He finally started rolling to the basket after looking to pop all game, and he got a cutting dunk to ice the win for Dallas when George curiously doubled Doncic after he'd already picked up his dribble 30 feet from the basket:
L.A. should still be strong favorites to win the series. The Clippers will clean some stuff up, and the 3-point shooting variance will tilt back in their direction. But it has to be a bit concerning that for all their defensive weapons, Doncic is the one dictating the terms of the matchup.
Trae silences the doubters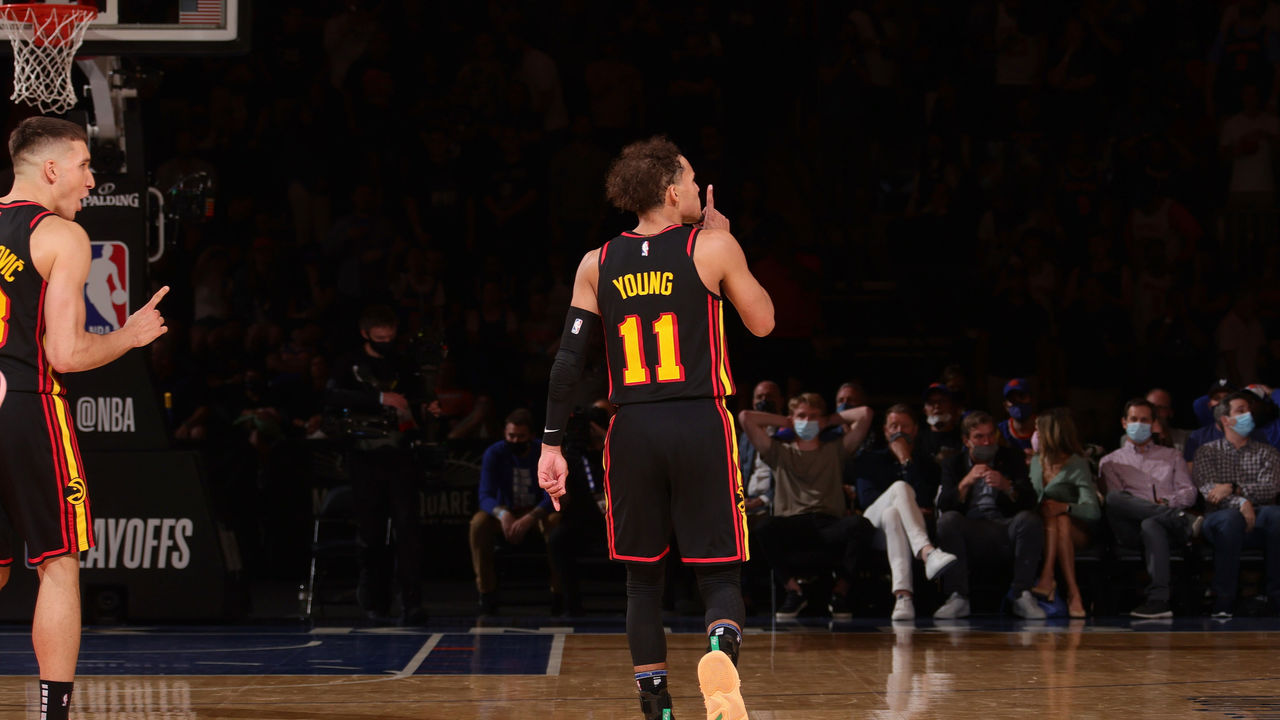 Given that Trae Young's an undersized, defensively liable, foul-baiting star, he appeared tailor-made to be the type of player who'd struggle in his first taste of postseason action, especially against a stout defense as grimy as New York's.
So much for that.
Young had the ball, the Knicks, and the game on a string all day. He overcame "F--- Trae Young" chants from a raucous Madison Square Garden crowd - and the fact he didn't get a single free throw in the first half - to finish with 32 points on 29 individual possessions, including the game-winner in the final second. Young also dished out 10 assists, grabbed seven rebounds, and only turned the ball over twice in 35 minutes of action.
He was particularly masterful in the pick-and-roll, creating 40 points in such actions Sunday. Given that he's a pick-and-roll maestro, that shouldn't be surprising, but again, there were reasons to doubt. Young silenced those doubters - and The Garden - in Game 1.
You can complain about the way he draws fouls after all nine of Young's free-throw attempts came in the final seven minutes, but until the league adjusts the rules or cracks down on such foul-baiting jump-shooters, he's simply displaying that he's better at gaming the system than most of his peers. And that is a skill.
In any event, given Atlanta's talent and depth advantages in this matchup, Young establishing himself as the series' best player would mean an early end to a surprising Knicks season.
Bucks survived by sticking with their principles
How do you win a playoff game, in the year 2021, in which you shoot 5-of-31 from 3-point range and miss 13 free throws? By putting forth a smothering defensive performance in which you lock down the paint. That's how the Bucks managed to collect a much-needed Game 1 overtime win over the Heat, who bounced them from last year's second round.
Selling out to protect the rim has been the Bucks' M.O. for the last three seasons, but their playoff stumbles have led to widespread calls for them to ditch the drop, switch more, and play Brook Lopez less (nevermind that their offense has been a far bigger cause of their postseason failures than their defense). They spent this season tinkering with different lineups and coverages, and they even added switchable small-ball big man P.J. Tucker to give them a back-pocket option, all in preparation for this playoff moment.
When Duncan Robinson started Saturday's game by hitting three quick 3-pointers off of Bam Adebayo screens while Lopez stayed parked in the paint, it seemed like those counters would be necessary. Instead, Milwaukee leaned into its base scheme, executed it to perfection, and won the game as a result.
Part of the worry in bringing Lopez up to the level of the screen in Adebayo-Robinson actions is that doing so would give Adebayo space to catch the ball on the short roll with a four-on-three advantage. The Bucks decided they were willing to live with what Robinson would do as a shooter (in this case, a 7-of-13 3-point outing) if it meant keeping Lopez home on Adebayo.
Miami hit 20 threes (outscoring Milwaukee by an insane 60-15 margin from beyond the arc) but still managed just a 97.3 offensive rating. That's because the Heat shot 32% from 2-point range, including 6-of-16 at the rim - a number as notable for the lack of volume as for the lack of accuracy. The Bucks coaxed them into 38 pull-up jumpers. That's nearly double the number the Heat averaged in the regular season, when they ranked 22nd in effective field-goal percentage on such shots.
Most importantly, neither Adebayo nor Jimmy Butler could get anything going offensively. They shot a combined 8-for-37 from the field, and Lopez - who contested a game-high 19 shots - was the biggest reason why. Actually, it might be more accurate to say their inability and reluctance to shoot open mid-range jumpers were the biggest reasons. But because of that reluctance, Lopez consistently stymied their drives, either forcing them to pick up their dribble, contesting their floaters, or meeting them at the rim. They couldn't score over him.
That coverage makes it incumbent on Milwaukee's on-ball defenders (primarily Khris Middleton and Donte DiVincenzo) to stay attached to Robinson around screens and deny him dribble-handoff opportunities. After that early flurry, they did an excellent job of it. Robinson's second-half threes were very well-contested, and there were a ton of possessions that looked like this, with a clearly hesitant Adebayo forced to drive or shoot as a last resort after exhausting every other handoff option:
And not for nothing, on a late overtime possession with the Bucks clinging to a one-point lead, Lopez jumped out to contest a Robinson 3-ball, forcing a potentially game-saving miss.
The fact the Bucks were able to keep Lopez on the floor for the entirety of extended crunch time meant they got the benefit of his offense in a game they desperately needed it. With Adebayo basically switching every ball screen, Lopez took advantage of smaller defenders on the back end by ducking in to get post scores, draw free throws, and snare offensive rebounds. In overtime, the Heat stuck Trevor Ariza on him while using Adebayo to guard Giannis Antetokounmpo, and Lopez made them pay with a timely putback.
That's not to say there won't be hiccups in this series. There may well come a point (if not multiple points) in which benching Lopez in crunch time and going to a smaller, more switch-happy approach with Tucker or Pat Connaughton in his place becomes necessary. But Milwaukee has to feel encouraged that it got the series-opening win, despite a disastrous offensive performance, by playing its preferred defensive style.
Gobert needs to own the paint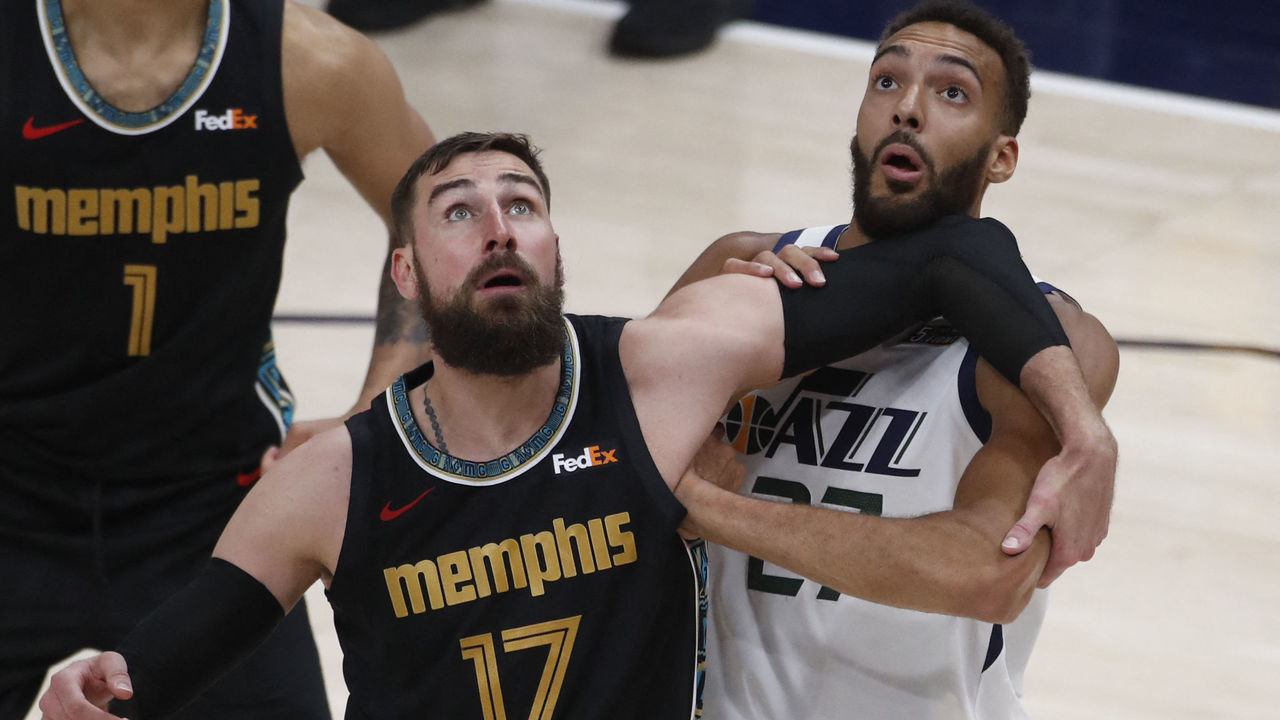 Memphis' Game 1 win Sunday was helped by the fact that its youngsters are all ultra-confident gamers unafraid of any moment. It also helped that Donovan Mitchell missed the contest due to an ankle injury. But if the Jazz want to ensure they take care of business as the No. 1 overall seed, they'll need Rudy Gobert to own his interior matchup against Jonas Valanciunas. Gobert failed to do so in the opener.
Even when Mitchell returns to the lineup and gives Utah an even greater offensive advantage, the Grizzlies will still possess the perimeter defensive disruptors capable of making life difficult for Mitchell, Mike Conley, and Jordan Clarkson. What Memphis hadn't proven capable of this season was slowing Gobert, who reduced Valanciunas to a low-efficiency afterthought in three matchups a couple of months ago.
The Lithuanian dominated the Frenchman on Sunday, however. Valanciunas shot 4-of-7 with Gobert on the court, and his plus-15 was the highest plus/minus of any starter on either team. Meanwhile, Gobert fouled out in only 25 minutes (before executing one of the most embarrassing flops in playoff history). The Grizzlies got whatever they wanted when both starting centers were on the court (thanks in part to Valanciunas' screens), whereas Memphis struggled to score on Gobert's Jazz with JV off.
The Grizzlies are a scrappy team that defends well, boasts a budding superstar capable of taking over games in Ja Morant, and has the type of unconscious gunners who can steal a game or two. Memphis is already built to put a scare into a more playoff-tested contender. If Valanciunas wins his matchup with Gobert, the Grizzlies are capable of pulling the upset.
Kings of New York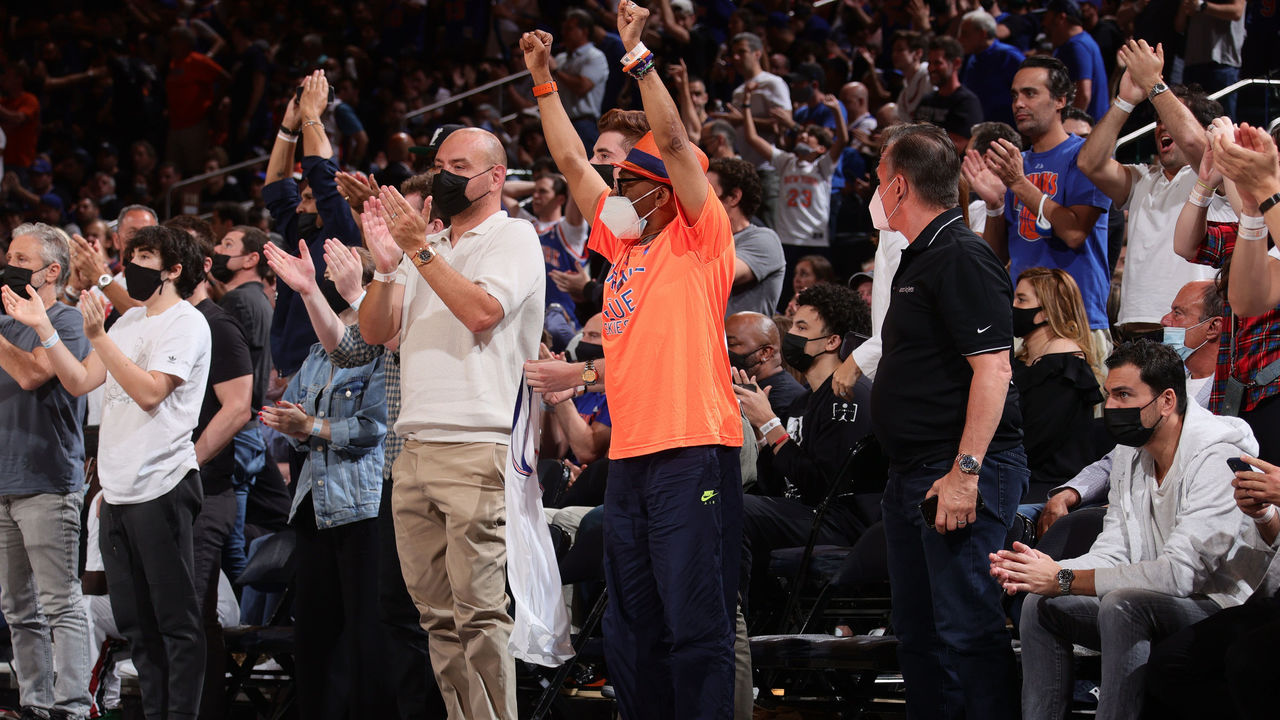 The title-contending Nets beat the Celtics on Saturday, and they're unquestionably one of the most talented sports teams the city of New York has seen in generations. The Knicks dropped their postseason opener, and they aren't expected to make much noise beyond the first or second round. Yet this weekend was the latest reminder that there's no intra-city rivalry when it comes to where The Big Apple's heart lies.
Brooklyn had James Harden shilling half-price tickets as recently as Thursday. The Knicks sold 15,000 Game 1 tickets in minutes, and the scene at MSG on Sunday night was the most electrifying atmosphere the NBA has seen in the 14 months since the pandemic upended everything about our lives.
No matter which borough you call home, New York remains the Knicks' city. As it always will be.
Comments
✕
6 takeaways from the NBA playoffs' opening weekend
  Got something to say? Leave a comment below!