Who ya got? Previewing Nuggets vs. Trail Blazers
For the second time in three years, the Denver Nuggets and Portland Trail Blazers will tangle in the playoffs. The complexion of the series will be different thanks to some new faces and the glaring absence (ugh) of one of the principals, but it's shaping up to be another high-scoring nail-biter between the Northwest Division rivals.
NBA feature writers Joseph Casciaro and Joe Wolfond are here to break it down.
Prediction
Wolfond: Blazers in 7
The one thing I feel confident in predicting for this series is that neither team is going to have much luck slowing the other down. These are two of the top six offenses in the NBA. Conversely, the Blazers finished 29th in defensive efficiency; the Nuggets climbed to 11th with a late-season push, but this is among the worst possible matchups for their defense.
Between Damian Lillard, CJ McCollum, and Norman Powell, Portland has arguably the league's most potent offensive guard rotation. That trio is built to exploit a Denver team that's light on point-of-attack defenders and walks a tightrope with its hard-hedging pick-and-roll scheme. Lillard is going to put the Nuggets in constant rotation, and Powell, in particular, is going to have a ton of opportunities to attack them from the weak side.
In the past, the Nuggets have been able to corral Lillard with on-ball menaces such as Gary Harris and Torrey Craig. This time, the assignment will fall to the likes of Facundo Campazzo (pesky but undersized), Monte Morris, and Austin Rivers. It's unclear if Will Barton and PJ Dozier are even healthy enough to be available. And with Nikola Jokic playing up to the level in pick-and-roll, a lot will rest on the back-end rotations of Aaron Gordon, Paul Millsap, and Michael Porter Jr.
Millsap's off-ball roving has been Denver's key to defending Portland in the past, and he's still useful in a bench role, but age has slowed him down. Gordon is more athletic than Millsap ever was, but I'm not sure he reads the floor fast enough to have the same impact as a help defender. Porter, while vastly improved, can still get lost and blow rotations.
On the other end, without the injured Jamal Murray, the Nuggets don't have the backcourt firepower to attack the Blazers' biggest defensive weak spots. In fact, Portland's two best defenders - Jusuf Nurkic and Robert Covington - match up positionally with Denver's two best (by far) offensive players.
I'm still picking the Nuggets to push this the distance because I have faith in Jokic's ability to dismantle a Blazers defense that can't handle him in single coverage and has struggled all year with its help principles. But I think the matchup tilts slightly in Portland's favor.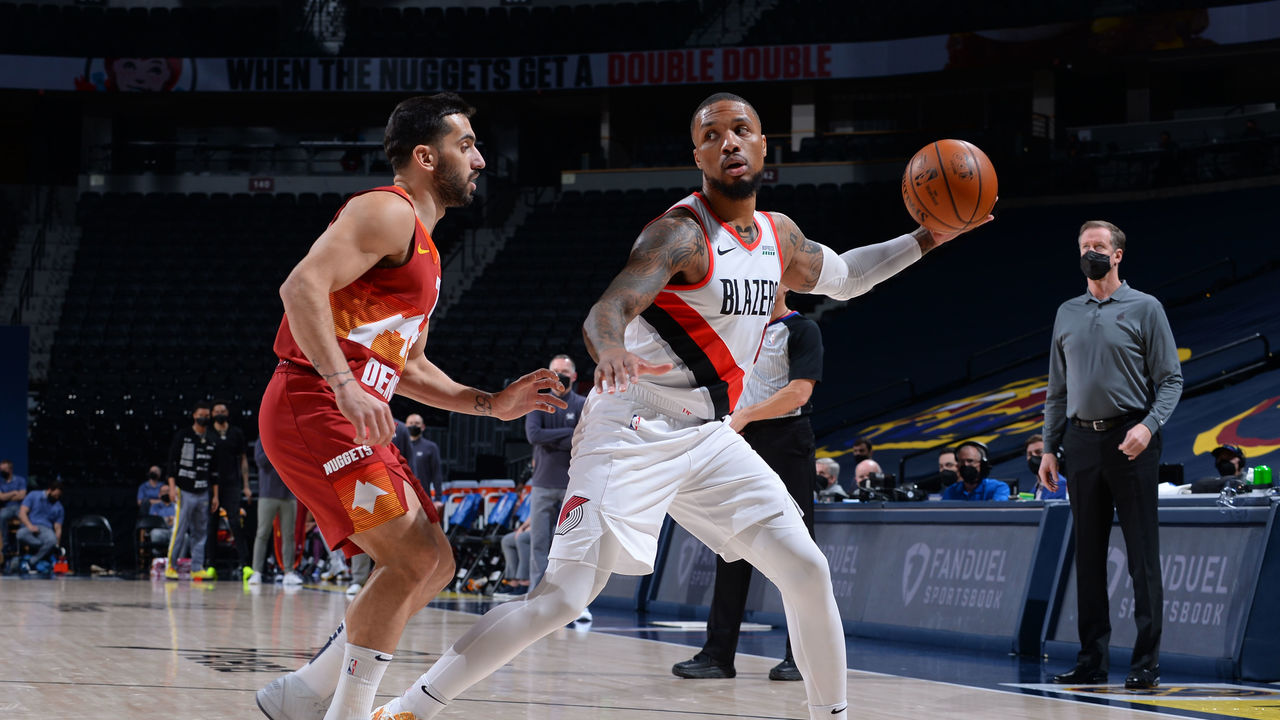 Casciaro: Nuggets in 7
Murray's absence keeps Denver from true title contention, but I don't think it will keep the Nuggets from beating Portland and advancing to the second round.
It's true that Denver's backcourt is ill-prepared to deal with the Blazers' bevy of backcourt scorers and that Nurkic and Covington are solid options to stick on Jokic and Porter, but Jokic is still capable of picking apart a terrible help defense with his scoring and playmaking. I think he'll do just that and establish himself as by far the best player in this series (with all due respect to Dame, who now has another chip to stack atop his shoulders).
In addition, while Denver's backcourt is undersized, I still have a ton more faith in the Nuggets' defensive potential than in Portland's. Between Jokic, Millsap, Gordon, Campazzo, Rivers, JaVale McGee, and JaMychal Green, the Nuggets can actually cobble together a surprisingly competent defensive identity.
Denver was 13-5 following Murray's devastating injury, and it boasted the league's ninth-ranked defense over the final quarter of the regular season.
Finally, if there's a first-round series where home-court advantage will actually matter during these still-unprecedented times, it's this one, where I like the Nuggets in a Game 7 in the altitude.
Series X-factor
Wolfond: Robert Covington
I mentioned the importance of the Nuggets' help rotations. In most cases, the guy they're going to help off most aggressively is Covington, Portland's least threatening starter and the guy Denver's big wings/forwards (i.e. its most important helpers) will be guarding. It is absolutely vital that he knocks down his spot-up threes, makes productive plays off the catch, and cuts opportunistically in order to either punish the Nuggets or dissuade them from ignoring him.
Shaky-shooting wings were one of the biggest issues for Portland in postseasons past. Opponents would roam liberally off of Al-Farouq Aminu and Moe Harkless to clog Lillard's and McCollum's driving lanes or stymie Nurkic on the short roll. Covington is a better shooter than those bygone wings (he hit 37.9% on 5.1 attempts per game this season), but he runs hot and cold. An ill-timed slump could be disastrous.
That's because Covington is by far the Blazers' best team defender and best individual matchup for Porter, so they can't afford for him not to be on the floor. If they resort to playing Carmelo Anthony in crunch time, you'll know they're in deep, deep trouble.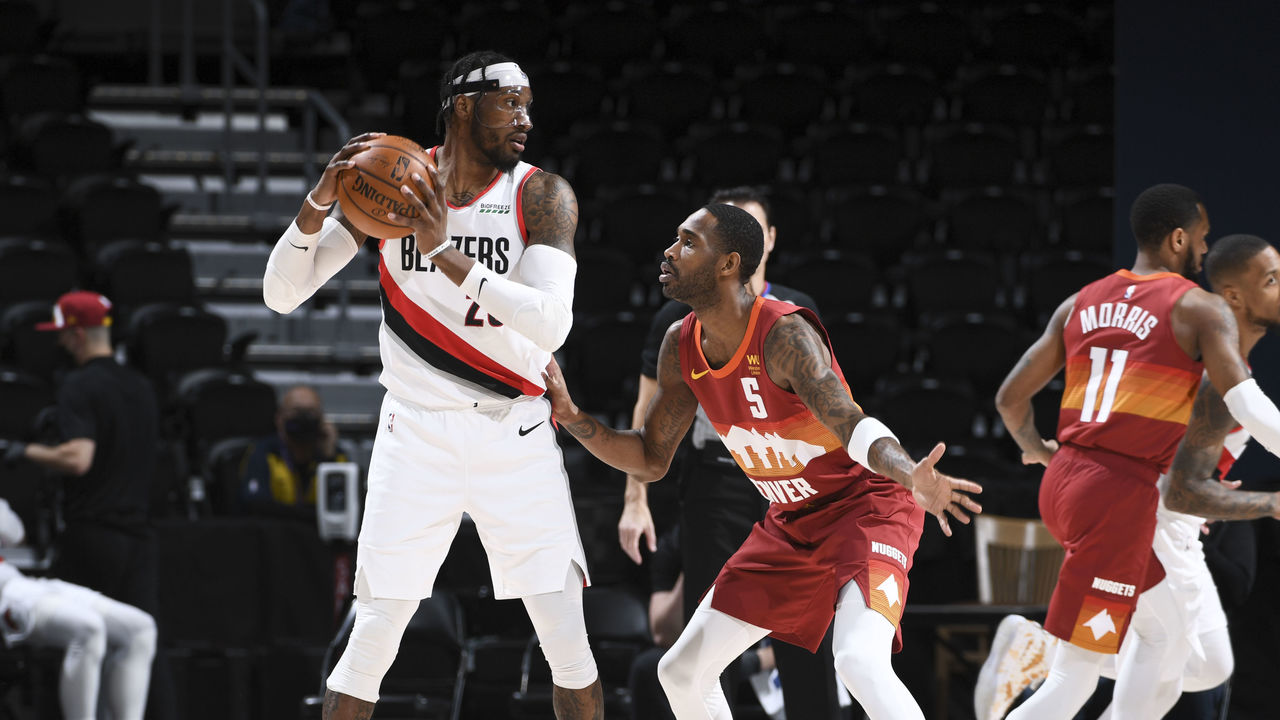 Casciaro: Michael Porter Jr. and Aaron Gordon
I'm cheating by picking two X-factors, but there are no rules here. Gordon made so much sense as a midseason acquisition for the Nuggets, in part because of his ability to be a non-traditional rim-protector and help defender, but also because he's better suited to a more complementary offensive role within Denver's high-powered infrastructure. Porter's continued star turn on offense, meanwhile, has been a mammoth component of Denver's ability to not only survive, but thrive in Murray's absence.
Gordon's an integral piece of the aforementioned improved Nuggets defense, and his help will be paramount in slowing the Blazers' attack given the question marks in Denver's own backcourt. He's also capable of playing down (size-wise) defensively and taking on the primary assignment against one of Portland's star guards in a crunch-time pinch.
If Gordon does his job defensively, and Porter shoots the ball to his standards while simply being close to adequate at the other end, Jokic is good enough to handle the rest and bring the Nuggets home.
Comments
✕
Who ya got? Previewing Nuggets vs. Trail Blazers
  Got something to say? Leave a comment below!