Well, that was disappointing.
The New Orleans Pelicans were one of the most interesting teams heading into the NBA restart. They had a rookie phenom in Zion Williamson who turned them into an overnight winner when he debuted in January, leading them to an 11-8 record in the 19 games he played, including a plus-10.4 net rating in his minutes on the floor. They had a budding star and Most Improved Player of the Year finalist in Brandon Ingram, a gifted young playmaker in Lonzo Ball who'd been playing the best ball of his life before the hiatus, a consummate two-way pro in Jrue Holiday, and the easiest schedule of the 22 bubble invitees.
All of which made them a popular and logical pick to - at the very least - reach the play-in stage for the No. 8 seed in the Western Conference. There were even rumblings that the league's desire to promote Williamson and the Pelicans was the driving force behind its decision to expand the Disney field and create the play-in in the first place. It's no accident New Orleans was slotted into the opening game of the restart's opening night.
But Sunday, after another flat performance dropped them to 2-4 in the bubble against their slate of mostly sub-.500 teams, the Pelicans were eliminated from playoff contention, left in the dust by the Trail Blazers and surpassed in the standings by the Spurs and Suns.
So, what happened? How did it all fall apart so fast? And should this change our perception of this team in the big picture?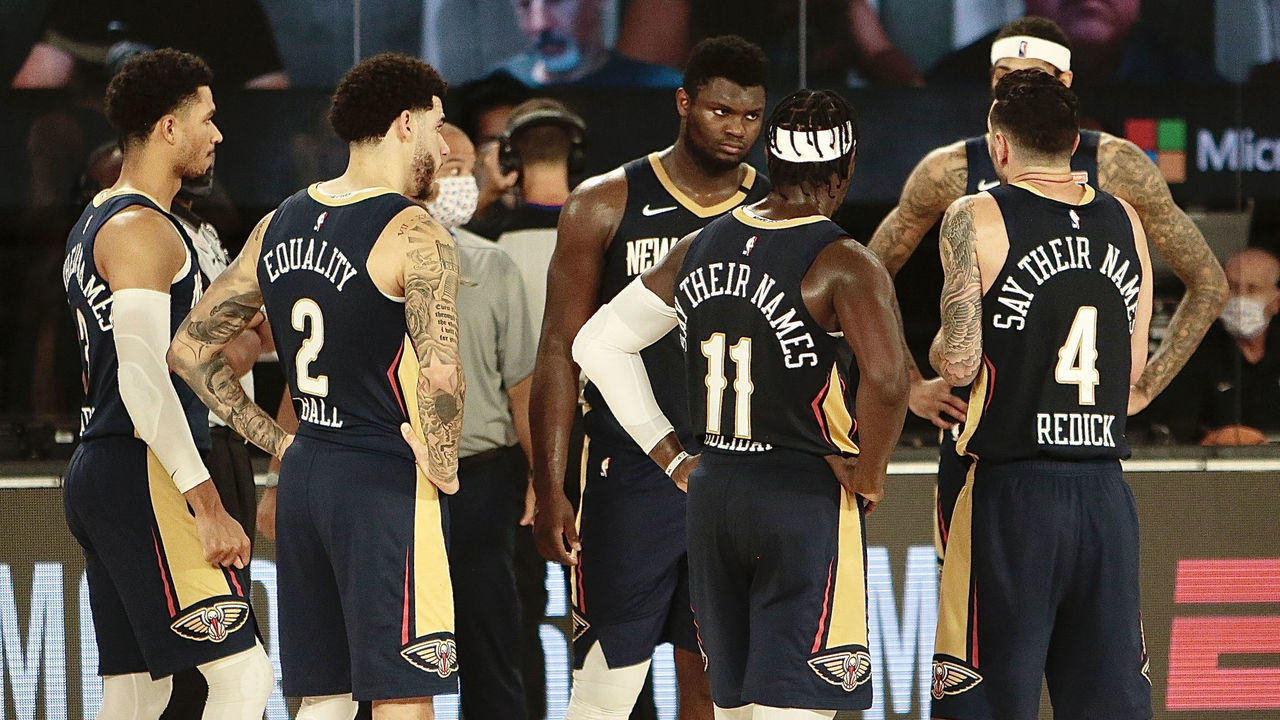 In the most general possible terms, the Pelicans simply didn't seem wholly ready to compete in Orlando. Compared to the other teams fighting for that last playoff spot, they displayed little night-to-night urgency or cohesion. They were sloppy with the ball and compounded that problem by dogging it in transition. They got beat up on their own glass, ranking 19th of the 22 teams in defensive rebound rate. They got burned at the point of attack and failed to mitigate the damage with rotations on the back end.
Though Sunday's deflating loss to the Spurs was the nail in the coffin, the nadir came Thursday against the Kings, who've been equally anemic in the bubble but still managed to hang 140 points on the Pelicans in their lone restart win. That scoring barrage owed something to Sacramento's ridiculous shotmaking, but it had just as much to do with the Pelicans' lack of resistance on the perimeter, their nonexistent communication on back screens and cuts, and their complete inability to reorganize themselves when the Kings got them scrambled in transition. Plays like this were common:
Perhaps this outcome was written the moment Williamson departed the bubble for a family emergency during the preparation period, costing him nearly two weeks of conditioning work and synergy-building practice. He hasn't recovered from that missed time, never fully getting his legs under him even as the Pelicans limited his playing time to "short bursts." The Pelicans were a bad team before Williamson joined them, so it shouldn't be a surprise that they've been a bad team while playing with a compromised version of him.
While he's had some moments at the offensive end, including a crunch-time flurry against the Grizzlies in the Pelicans' lone impressive win, Williamson's been a significant negative on the whole. New Orleans has posted a catastrophic 128.4 defensive rating with him on the floor in the bubble and performed 33.9 points per 100 possessions better with him on the bench. The concerns about his limited minutes quickly gave way to concerns about his limited production in those minutes.
The eye-popping per-minute scoring has still been there (averages of 18.4 points in 20.7 minutes on 55.9% shooting), but his rebounding has fallen off a cliff because of his apparent lack of interest in boxing out. He's been the opposite of a defensive playmaker - not only failing to register a single block or steal since the restart but often neglecting to make basic help rotations or doing anything remotely disruptive. His inattentiveness regularly hangs his teammates out to dry:
The crux of the problem is that Williamson in his current state doesn't have the lateral quickness to defend in space, so it makes sense to keep him near the rim rather than have him hedge or switch on the perimeter. But he also lacks both the standing reach to be an effective back-line deterrent and the spatial awareness to manage two assignments at once as a drop defender. Perhaps his leaping ability can ultimately mitigate the former and more experience can smooth out the latter, but Williamson currently is a man without a viable defensive position.
A full-ish offseason of work should have him better prepared to attack the 2020-21 season, but his laundry list of lower-body injuries is already troubling for someone his age, and his health is going to be a lingering concern until he demonstrates otherwise.
The Pelicans' issues in the bubble have gone well beyond Williamson, though. Nobody outside of Holiday has defended particularly well. Derrick Favors, a back-line anchor all year, emerged from the hiatus looking two steps slow, allowing opponents to jet around him on their way to shooting 65% in the restricted area.
New Orleans hasn't really been able to replace what they banked on him to provide (though springy rookie Jaxson Hayes has given them solid minutes off the bench), and Favors' struggles have been laid bare in part because the Pelicans have continued to be one of the league's most negligent teams when it comes to rotating from the weak side.
Ball, who looked so promising in the weeks leading up to the shutdown, has been awful at both ends. He's shot the ball disastrously, contributed to the team's rampant turnover issues, and, for all his supposed defensive acumen, has had as many head-scratching lapses as anyone. There have been far too many plays like this one from Sunday where he was caught ball-watching; neither helping at the rim, nor paying any attention to his man in the corner, nor in position to deny or deflect the kick-out pass to the shooter he left wide open:
It was New Orleans' most important game of the season, and they did stuff like this all day:
Ingram, meanwhile, had flashes of real brilliance as a self-creator but still isn't a good enough facilitator to be a primary ball-handler. He contributed to the team's defensive struggles with his penchant for reaching and taking shortcuts. There's a reason the team has performed better with him on the bench than on the floor this season, despite his impressive individual offensive output. In order to have a consistently positive impact, he needs to find more ways to contribute when he isn't scoring.
It's fair to suggest a lot of people (including me) got ahead of themselves in crowning the Pelicans bubble darlings, skating past the team's underlying issues in their perpetual haste to crown a new Team On The Rise. It was convenient to ignore the fact that much of the team's Zion-powered pre-hiatus success had been the product of its defensive performance in his minutes, which was far more attributable to random opponent shooting luck than to anything Williamson was providing at that end of the floor.
The question now turns to where they go from here. They're almost certainly going to max out Ingram in restricted free agency this offseason, and whether or not you think Ingram is (or will become) a max player is somewhat irrelevant. That max offer is going to come from somewhere, and from an asset-management perspective, it would be malpractice for the Pelicans to do anything but match it. Besides, there are worse ways to spend your money than on a 22-year-old wing scorer who just made one of the most dramatic year-to-year shooting improvements in recent history.
When it comes to theoretical extension talks with Ball, it's possible his play in the bubble has already made that decision for the front office. Favors' contract is about to expire, and as strongly as his presence correlated with the team's success before the shutdown, his own disappointing bubble performance may preclude a return. You can argue coach Alvin Gentry didn't get a fair shake, given the number of injuries New Orleans dealt with this year and the fact Williamson played just 24 games, but it's entirely possible the Disney letdown will cost him his job.
One thing seems evident: the Pelicans need to shore up their defense. Adding a capable wing defender with size would be a good start. (Josh Hart is their only player who's come close to fitting that description this year, and the size part is iffy.) If they are indeed done with Favors, finding a big man who can protect the rim on defense while also spacing the floor on offense should be a top priority. Those player types aren't exactly a dime a dozen, and it's unclear if New Orleans can acquire one without dealing from its current personnel pool.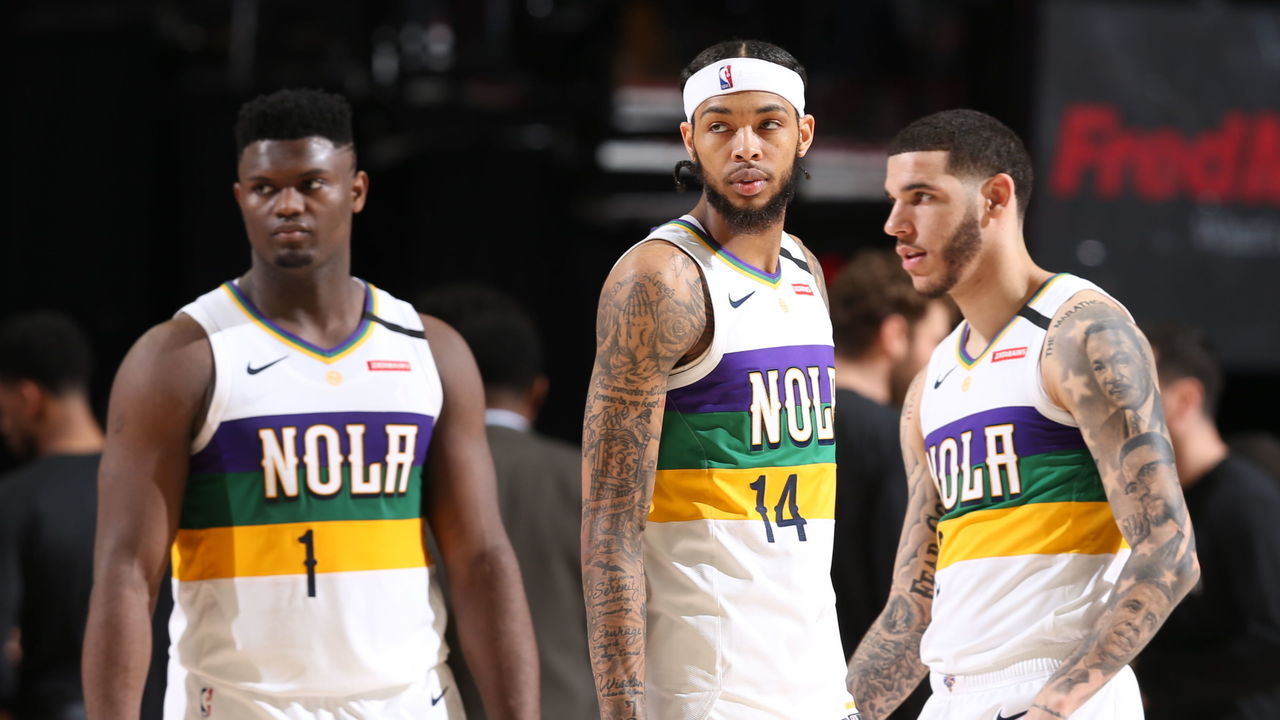 In any event, the positive indicators that had so many of us drinking the Pelicans Kool-Aid heading into the bubble still matter. Zion still has a chance to be a generational superstar, so long as his body cooperates. Ingram has a chance to be an ideal co-star, one who can both soak up possessions as an efficient on-ball creator and thrive playing off of Williamson as a gravitational spot-up threat.
Holiday should continue to be a stabilizing force at both ends of the floor, provided New Orleans doesn't put him back on the trade block. JJ Redick, who may have been the Pelicans' bubble MVP, will be around for at least another year to serve as a dribble-handoff release valve and keep the offense humming. Guys like Ball, Hayes, Hart, and Nickeil Alexander-Walker are candidates for internal improvement.
Whether or not that will translate to immediate team success is another matter. The West is going to be an absolute gauntlet next year, with no obvious candidate to fall out of the playoff picture. All 15 teams will go into the season feeling pretty good about their chances, and none of the teams ahead of the Pelicans are any more likely than they are to crater. And at least one of the teams behind them, the convalescing Warriors, seems primed to leapfrog them.
But it's obviously far too early to sell stock in New Orleans' young core, and the Disney flop - disappointing as it's been - shouldn't invalidate what was in many ways a promising season, or overshadow what remains a sunny long-term outlook. It's simply a good reminder to temper expectations and give inexperienced teams time to gestate and figure themselves out.
The Pelicans have a ton of things to work on, and a bunch of different directions they can go from here. For now, this is a speed bump. It may ultimately prove to be more, but that's something we'll only be able to confirm with the benefit of hindsight.
Joe Wolfond is a features writer for theScore.