In the aftermath of Utah Jazz center Rudy Gobert testing positive for COVID-19 on Wednesday night, the NBA took the unprecedented step of suspending its season until further notice.
Here are some of the potential ripple effects of this monumental decision:
Which teams are most affected?
Every team is obviously impacted by the league shutting down, but some organizations are dealing with bigger issues.
The Toronto Raptors, Detroit Pistons, Boston Celtics, New York Knicks, and Cleveland Cavaliers all played against the Jazz in the 10 days prior to Gobert's (and now Donovan Mitchell's) diagnosis; the Washington Wizards - who played Utah on Feb. 28 and the Knicks on March 10 - are also telling players, coaches, and basketball operations staff to self-quarantine for at least a few days.
It's also worth considering how the exposure of those teams affects their general communities. Before realizing they were exposed to players who have the virus, various Raptors made appearances at two public events Wednesday, meaning a number of Torontonians who were present at those events have been placed in an uncomfortable position.
For now, the Raptors are simply advising anyone who attended those events to "continue to monitor their health, practice social distancing and hand washing, and contact a health professional should they develop symptoms."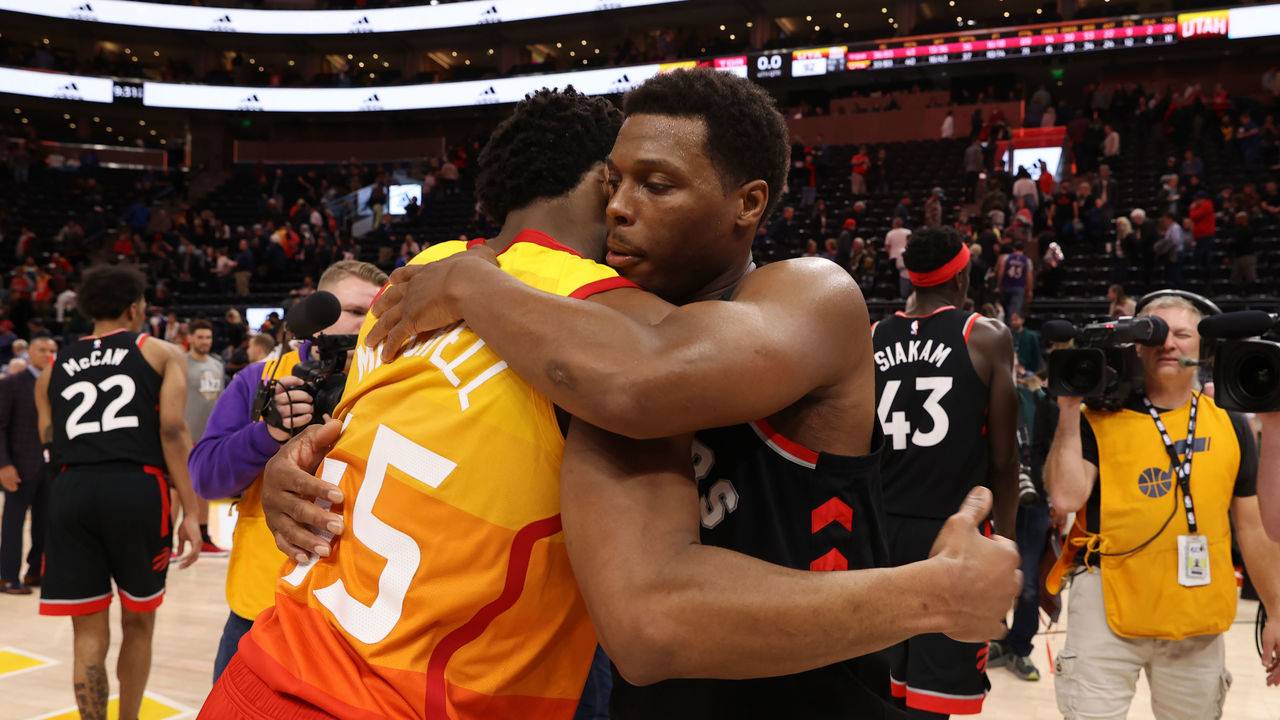 Meanwhile, Wednesday night's game between the New Orleans Pelicans and Sacramento Kings - which was supposed to be the final contest played before the suspension of the season - was canceled because referee Courtney Kirkland worked Monday's game between the Jazz and Raptors.
When you try to envision the number of people - family, friends, team staff, referees, media members, security personnel, airport staff, etc. - who come into contact with players, and then the number of others those people come into contact with over the course of their daily lives, it becomes quite clear why the league had no other option but to shut things down.
The logistical boondoggle of scheduling the rest of the season
We still have no idea how long the NBA season will be on hold or whether it will resume at all. We know the stoppage will run a minimum of two weeks since that's the mandated length of quarantine for people who are suspected to have been exposed to the coronavirus. But, realistically, the league won't be able to return to normal operations that quickly.
The Chinese Basketball Association is preparing to resume play in early April, more than two months after it suspended operations.
Everyone involved - team owners, players, and even those who work in the buildings - will be keen to salvage as many games as possible, but it seems highly unlikely the league will be able to play the remainder of its regular-season schedule if things get pushed back too far. There are too many ripple effects to fully account for here: rescheduling the games in prebooked arenas, completely reorienting TV broadcast schedules, rewriting the language of contracts that are set to expire at the end of the league year on June 30, and pushing back the draft, free agency, summer league, training camp, and, ultimately, next season.
If the league decides to just call off the rest of the regular season and commence the playoffs once it's deemed safe to do so, would teams have adequate time to prepare after several weeks off? Would they be able to squeeze in a condensed final stretch of the regular season? Would the playoff field and/or format be compressed?
Dallas Mavericks owner Mark Cuban said he believes the season will eventually resume and that games could run into August, but the reality is it's impossible to answer these questions right now. Given how quickly this crisis has escalated, there's no telling where we'll be in a week, let alone two months. It's entirely possible we've already witnessed the last game of the 2019-20 season.
Potential salary cap implications
Each season, the salary cap and luxury-tax threshold are set based on an internal audit of the league's Basketball Related Income (BRI) from the previous NBA campaign. There's still a ton we don't know about how the coronavirus crisis is going to play out for the league, but it seems likely it will result in a significant loss of gate revenue, which could mean a decrease in salary cap projections for the 2020-21 season.
The extent of the lost revenue will depend, of course, on a number of factors, namely:
Whether the season resumes at all
If it resumes, how much of the remaining regular-season schedule gets played
Whether any changes are made to the playoff format
Whether fans will be permitted to attend any games if the season does resume
Canceling the remainder of the regular season (or playing the remaining games without fans) would cost the league more than $500 million in BRI, based on per-game gate-revenue estimates, sources told The Athletic's John Hollinger and Danny Leroux. That number on its own would drop next year's cap projection - which was already tamped down by China's reaction to Daryl Morey's preseason tweet - an additional $8 million. And that's without accounting for potential lost playoff revenue.
That would affect free agency (which was already going to be tough for players given the lack of cap space around the league), as well as the salaries of rookies entering the league and potential max-extension signees, since those types of deals are directly tied to the salary cap.
The players and owners can negotiate the 2020-21 cap and potentially come to an agreement on a figure that better reflects what the league's BRI would have been in a season that wasn't interrupted by a global pandemic. But, as Hollinger and Leroux point out, if the two sides can't come to an agreement, the CBA dictates that next season's cap be set based on this season's BRI.
Potential lost wages for league employees
When a corporation deals with lost revenue, it typically isn't those at the top who suffer the worst consequences. NBA owners may lose income as a result of this hiatus, but they can (and, in many cases, likely will) try to mitigate those losses by tightening their belts. There's already a clause in the league's collective bargaining agreement that would allow them to do so.
ESPN's Bobby Marks unearthed Article XXXIX, Section 5 in the CBA, which states that "players lose 1/92.6 of their salary for every game missed as a result of a Force Majeure Event," which refers to "events or conditions that make it impossible for the NBA to perform its obligation under the CBA," including epidemics.
In other words, players' salaries could be affected both this season and next as a result of the work stoppage.
But players, by and large, will remain financially stable. There are more vulnerable NBA employees - including security, custodial, and concession workers at arenas - whose wages depend on games being played. To this point, Cuban is the only owner who has publicly addressed the issue, saying the Mavericks will implement a "program" with which arena staff who are paid hourly wages will be compensated "as if they worked" for the next four now-canceled games at American Airlines Arena.
We'll have to wait and see if other owners, who certainly have the resources to cover those lost wages, follow Cuban's lead. If not, well, Charlotte Hornets center Cody Zeller offered to pay out of his own pocket to help out.
The end of Vinsanity?
If any part of the regular season remains intact, Vince Carter will get a proper send-off. If the season is over or the NBA decides to skip straight to the playoffs, however, then the longest career in league history came to an abrupt end Wednesday night in Atlanta.
Carter, who amassed 25,728 career points while becoming the first player to appear in 22 seasons, scored the last three of those points shortly after checking into a game for what might've been the final time.
Carter - a legendary dunker, an exemplary sportsman, and a teammate in the latter stages of his career, and one of the most popular players of his generation - deserved a more celebrated exit. He was supposed to play in Toronto - his first, and most famous home as an NBA superstar - one last time on April 10. He was supposed to go out to a raucous chorus of cheers and tears in Atlanta on April 15 when the Hawks closed the season against the Cavs. Alas, a global pandemic stops for no one, and the sports world is but a blip on the radar in the wake of a worldwide health crisis.
Carter may be the most famous 2020 retiree, but how many other players played their last NBA game over the last few days without anyone realizing it.
What might've been for LeBron, Lakers
In a doomsday scenario which no 2020 champion is crowned, it's fair to wonder whether LeBron James may miss out on his last, best chance to win another ring. And if the Los Angeles Lakers do get the chance to play in a delayed postseason but the regular season is a wash, then it's unfortunate that James won't get the chance to continue his quest of catching Giannis Antetokounmpo in the MVP race.
It's easy to take James' continued greatness for granted. He's looked as good as ever recently and is playing the best regular-season defense he's exhibited in years. The Lakers have the inside track on locking up Anthony Davis long term, which would theoretically extend the King's championship window.
But nothing can be taken for granted. It's worth repeating: James is 35 years old, in the 17th season of his illustrious career, and has more than 58,000 minutes under his belt, many of which were high-leverage minutes on the game's biggest stages.
At some point, Father Time will come for one of the greatest athletes we've ever had the privilege of watching. If he's stripped of even a portion of one of those final seasons of greatness, it's a loss for everyone associated with the game.
Uncertainty over the Giannis super-max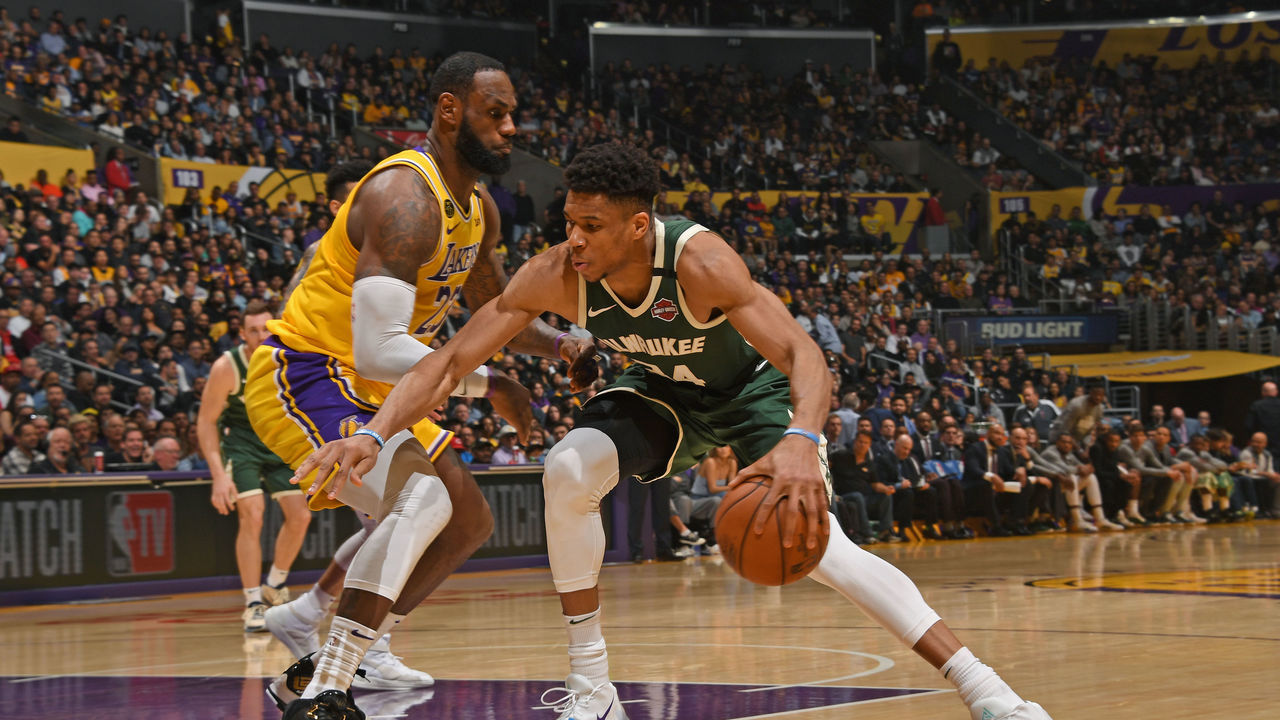 If the season really is well and truly over, what does that mean for the Milwaukee Bucks and Antetokounmpo?
Antetokounmpo, the front-runner to win a second straight MVP award, is eligible to sign a super-max contract extension this offseason. ESPN's Malika Andrews reported last year after the Bucks were eliminated from the Eastern Conference finals that reaching the 2020 Finals would incentivize Antetokounmpo to lock in an additional five years. But what if they don't get the chance?
Before the season was suspended, the Bucks compiled the league's best record at 53-12, with an average margin of victory that would rank fifth in NBA history. They were the clear favorites to emerge from the Eastern Conference, if not win the title. Their pitch to their transcendent franchise player was supposed to come in the playoffs. Did those 65 regular-season games alone provide enough certainty to convince Antetokounmpo to commit his prime years to Milwaukee?
If not, the Bucks have more riding on the continuation of the season than any other team.
Could injured players return in a delayed season?
One of the more fascinating and potentially positive outcomes of a postponed NBA calendar would be if stars who were feared to be out for the season are able to return.
It's a long shot, but if the playoffs begin in June instead of April, could Kevin Durant make his Brooklyn Nets debut this season, after all, turning the balance of Eastern Conference power on its head? Imagine a scenario in which the No. 7 or 8-seeded Nets welcome Durant and Kyrie Irving back to the lineup for a matchup against the defending champion Raptors or top-seeded Bucks.
Would an extended layoff ensure Ben Simmons is fully healthy for a Philadelphia 76ers playoff run? Might Jonathan Isaac have a chance to return for the Orlando Magic? Is it possible Klay Thompson could get some games under his belt with Stephen Curry and Andrew Wiggins?
Maybe the answer is a resounding no, but a postponed season has to increase the chances that at least one injured star could get back on the court this season.
What happens to Olympic basketball?
NBA players were once again expected to be among the main attractions at this summer's Olympics, but everything related to Tokyo 2020 now appears to be up in the air.
If the COVID-19 crisis isn't under control in time and the NBA is forced to cancel the season, it's unlikely players would then get on planes and head to Japan for a mid-summer tournament, if the Olympic games proceed at all.
And if the season is salvaged but delayed by a month or two, the playoffs would run into the period when the Olympics are supposed to take place (July 25 to Aug. 9). The final Olympic qualifying tournaments are currently scheduled for June 23 to 28 and will include teams from Canada, Serbia, Greece, and Germany.
If the Olympics are delayed into September or October, then players and teams run the risk of having international basketball run too close to the start of the next NBA season.
For now, FIBA has followed the NBA's lead in temporarily suspending all competitions. Though no official decisions have been made with respect to the Summer Games, logic would seem to indicate it's unlikely NBA players will be playing Olympic basketball in July or August.