On June 30, two hours before the start of NBA free agency, the mayor of Oklahoma City opened Twitter to express what he and the rest of the internet would soon know to be famous last words. Much of the league was preparing to jostle for pitch meetings with the headliners of an unusually star-studded class - chief among them Kawhi Leonard, the recently minted Finals MVP. To David Holt, his hometown Thunder were well-positioned to adopt a contrary approach.
"If you ask me, a quiet free agency is a blessing when you've still got an MVP and an MVP finalist on your roster," Holt wrote, affixing to his tweet a photo of Russell Westbrook high-fiving Paul George.
In his fandom, Holt's no mere political pragmatist, an official paying lip service to a safe, popular cause to endear himself to voters. He lives for Thunder wins on Wednesday nights in January. In 2012, he published a book about the franchise's arrival from Seattle four years earlier, the development - to summarize his thesis and parrot his title - that turned his town into a big-league city. The man knows of and cares about what he speaks.
But life, as they say, comes at you fast, especially at times when even keen observers could never guess what upheaval lies ahead. Within a week, word emerged Leonard made acquiring George a condition of his signing with the Los Angeles Clippers, coercing Thunder general manager Sam Presti to trade his team's first marquee free-agent acquisition. Westbrook, the last remaining homegrown star of a thrilling but squandered era, was soon swapped away, too. So started an unwitting rebuild that cast Holt as one of its public faces: the personification of a community's collective blindsiding.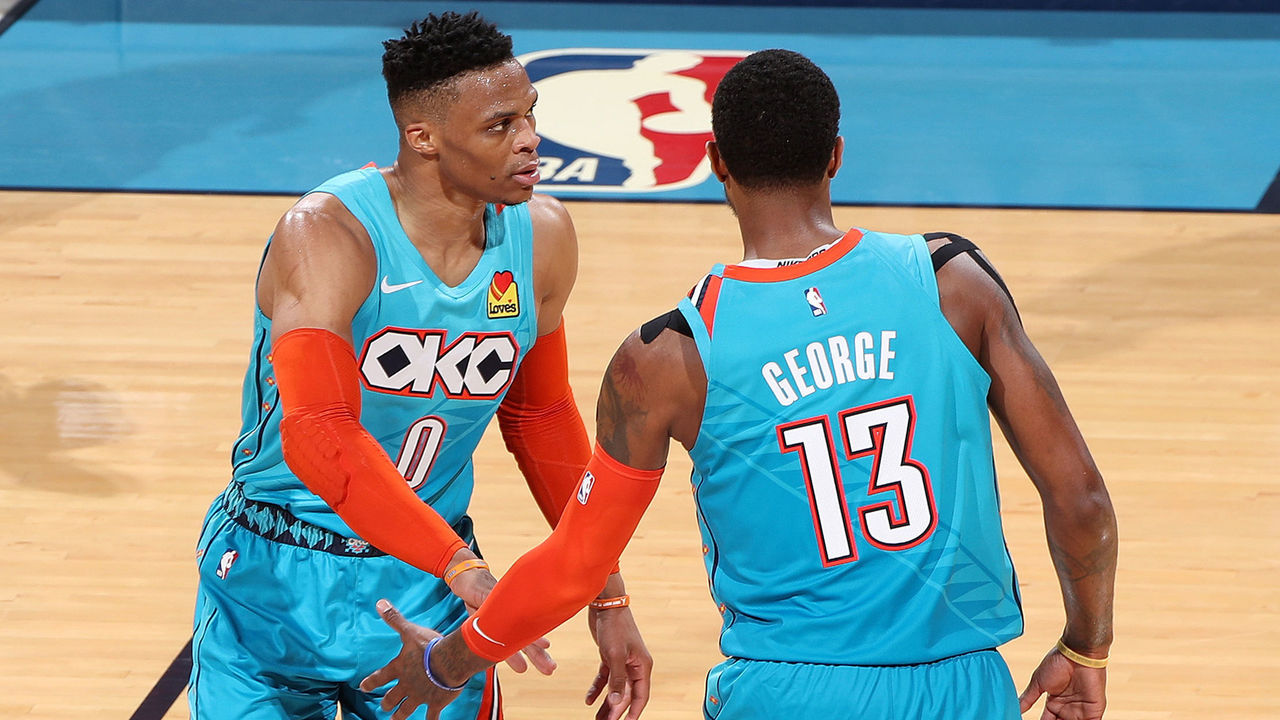 The teardown of the old Thunder hurt to watch, Holt said in a recent interview, leading people as it did to the sensible conclusion that the team, in the short term if not longer, wouldn't be very good anymore. Yet even before OKC's remade roster disproved that over the last couple of months, optimistically inclined Oklahomans found reason to nurture their stubborn stance. Draft picks convey boundless promise; Presti got those from the Clippers in bunches. And that wasn't all he had to show for his hurried dealings.
"For the casual, casual fan, there was a lot of sadness, and maybe a thought that they wouldn't pay as much attention (this season) as they had been," Holt said. "But for the slightly more focused and savvier fan, there was a lot of curiosity about watching the twilight years of Chris Paul - and the beginner years for a potential superstar like Shai."
In asserting themselves as a genuine Western Conference playoff team - and as one of the surprise stories of the NBA season - the Thunder have been buoyed by standout play from the entire top end of their lineup. Paul remains one of the game's best point guards at age 34. Few sixth men have shone brighter than Dennis Schroder. As ever, Danilo Gallinari and Steven Adams know how to contribute to winning.
Then there's Shai Gilgeous-Alexander, 21, the superlative sophomore spearhead of Oklahoma City's attempt to move forward from its lost would-be dynasty. As the jewel of the George trade, expectations for how he'd impact the franchise were high but deferred: He'd be the player on whom hopes of future contention hinge.
That happy prospect still awaits. But in the meantime, Gilgeous-Alexander has ascended all the way to nascent stardom. He's the scoring and minutes leader on a team whose best-case fate has shifted from certain seller at next Thursday's trade deadline. The Thunder's 24-9 record since U.S. Thanksgiving is the best in the Western Conference, and grounds to aspire to no lesser result than a first-round playoff series victory.
Paul, Schroder, and Gilgeous-Alexander are the league's most lethal three-man unit by net rating, but the 6-foot-5 Canadian is the one on the rise. He's the silky driver whose extraordinary patience helped him rinse Dwight Howard with a merciless fake. He became the second guard in the past 30 years to ring up a 20-20-10 triple-double. He dropped 32 points three times in 10 days in late December, the last of those showings coming in a homecoming game of sorts in Toronto.
"I plan on making a leap like this every year," Gilgeous-Alexander told reporters ahead of that Raptors game.
Gilgeous-Alexander wasn't made available to be interviewed for this story, but conversations with former teammates, coaches, and other onlookers who knew him before his star turn illustrate how he reached this point. They describe a player who has unexpectedly elevated his stock at each new level of the sport. He rose from backup to starter in a handful of games on an older AAU team, as an unheralded freshman at Kentucky, and again as a rookie with the Clippers. Now he's transitioned from capable complementary piece to OKC's franchise face-in-waiting.
| Shai | GP | GS | MIN | USG% | PTS | FGM | FGA | FG% | 3P% | FT% | REB | AST |
| --- | --- | --- | --- | --- | --- | --- | --- | --- | --- | --- | --- | --- |
| OKC 2019-20 | 50 | 50 | 35.5 | 24.0 | 19.4 | 7.0 | 15.3 | 45.9 | 33.5 | 81.9 | 6.2 | 3.2 |
| LAC 2018-19 | 82 | 73 | 26.5 | 18.2 | 10.8 | 4.2 | 8.7 | 47.6 | 36.7 | 80.0 | 2.8 | 3.3 |
Fundamentally, Gilgeous-Alexander's approach to the game mirrors the ethos of this Thunder season. To rise in the standings, OKC's roster had to show itself to be surprisingly competitive. Gilgeous-Alexander has a competitive streak that manifests in surprising ways. A past youth coach, Kenold Knight, remembers having to punish Gilgeous-Alexander and his teammates for kicking basketballs around the gym at feisty practices. His L.A.-based offseason trainer, Olin Simplis, recalls Gilgeous-Alexander mimicking a stripper routine to distract and throw off his opponent, Wizards forward Isaac Bonga, in an end-of-workout free-throw contest.
"He'll do whatever it takes to win. It doesn't matter what it is," Simplis said. "They're millionaires and he wants to win $20. But even more so, he just wants to win at this damn drill."
Rowan Barrett, the GM of Canada's men's national team and the father of Knicks rookie RJ Barrett, thinks back to a similarly enlightening episode from a 2016 exhibition tournament in Italy, the first exposure to the senior international game for his son and a 17-year-old Gilgeous-Alexander. On the team's first afternoon overseas, the players gathered in the lobby of their hotel to bus to practice - all except the two teenagers, who were nowhere to be found.
Thinking a valuable lesson about punctuality was in the offing, Barrett rode with his squad to the arena. They arrived 45 minutes before practice was to start to the sound of balls bouncing and, subsequently, the sight of the missing players soaked in sweat on the court. At Gilgeous-Alexander's direction, he and RJ Barrett had left the hotel early and started pantomiming a shooting motion to a group of locals, who understood to guide them with hand signals toward the basketball facility.
"They walked their way to the gym from the hotel so they could get the work in, spurred on by Shai," Rowan Barrett said. "It points to (his mentality): 'Anywhere I'm in the world, it doesn't matter. I need to be on the court. I need to be training. I need to be working.'"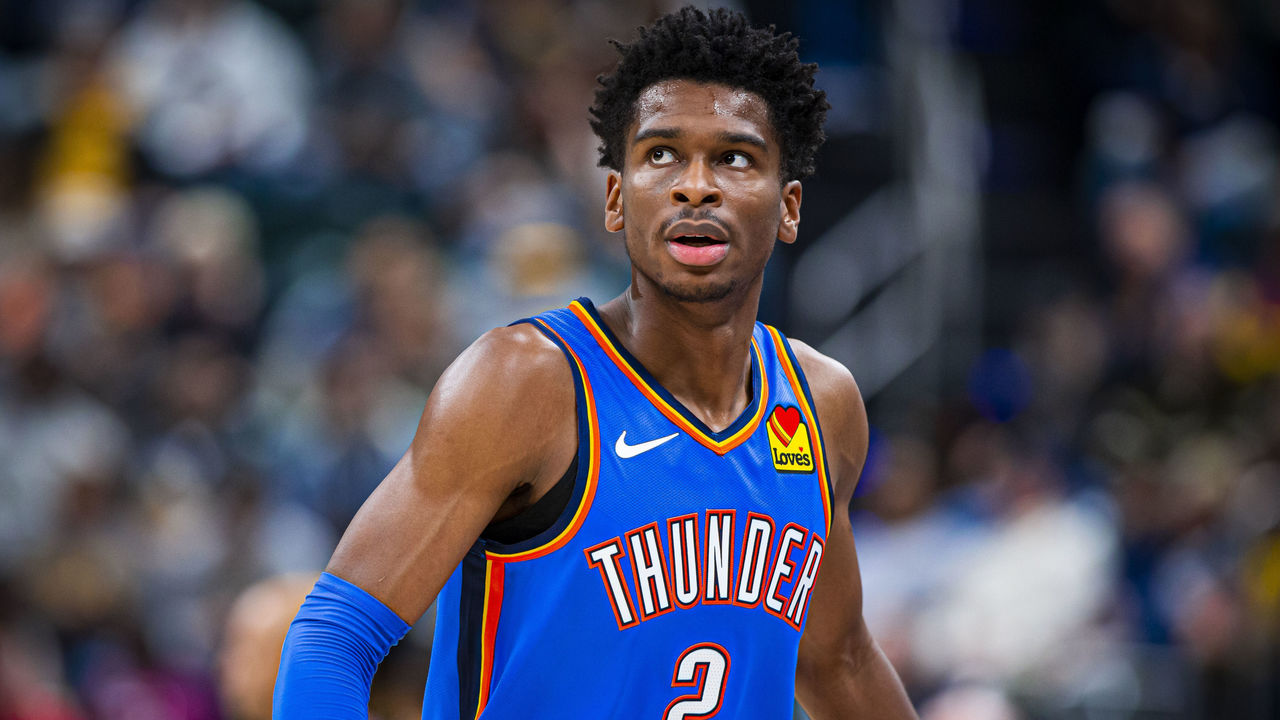 Including Gilgeous-Alexander, who grew up an hour away from Toronto in Hamilton, Ontario, 17 Canadians have seen NBA action this season, a record among non-U.S. countries. This summer he'll play a focal backcourt role next to Nuggets guard Jamal Murray on a national team striving not only to appear at its first Olympics since 2000 - prior to Steve Nash's MVP heyday - but to vie for podium position in Tokyo. Victory at a last-chance qualifying tournament in late June could finally kick-start their generation's chance to deliver on its immense potential.
If that order sounds tall, it'd be tougher to tackle without a tentpole young star. Basically, Team Canada's calculus is not unlike that of the Thunder, whose former center Kendrick Perkins, now an ESPN analyst, recently said on Twitter that he'd select Gilgeous-Alexander third overall if the 2018 NBA Draft was redone. (He went 11th overall in the real thing.)
Simplis, too, thinks his client resides in select company. He said he believes Gilgeous-Alexander is in the same class as Luka Doncic and Trae Young, two breakout lead playmakers whose teams, he argues, currently ask them to take more individual initiative offensively. Predicting that Gilgeous-Alexander could develop into a top-five NBA guard is about the only boundary Simplis will set on his growth.
"I don't think he has a ceiling, honestly," Simplis said.
Here's a telling nugget about Gilgeous-Alexander's background, the path he followed to the conceivably limitless clearing ahead: Even if he leads Team Canada to Tokyo, neither he nor his cousin Nickeil Alexander-Walker, a rookie Pelicans guard born two months after him in 1998, would be their family's first Olympian. Credit for that feat falls to Charmaine Gilgeous, a 400-meter sprinter who competed for Antigua and Barbuda at Barcelona 1992, six years before she had Shai.
Gilgeous-Alexander's brother Thomasi, 19, said Charmaine and his father, Vaughn Alexander, made a point of instilling in him and Shai a few signature family characteristics. One was humbleness, which explains Shai's admission to reporters earlier this season that Charmaine "tells me I suck every day." ("My mom doesn't let his head get big at all," Thomasi said.) The Gilgeous-Alexander kids were also expected to invest their all into any passion they wanted to pursue. They settled on basketball, a natural outlet for their inborn competitiveness.
"Competing is just what we've known from a young age," said Thomasi, a freshman guard at the University of Evansville. "We don't know how to live without it."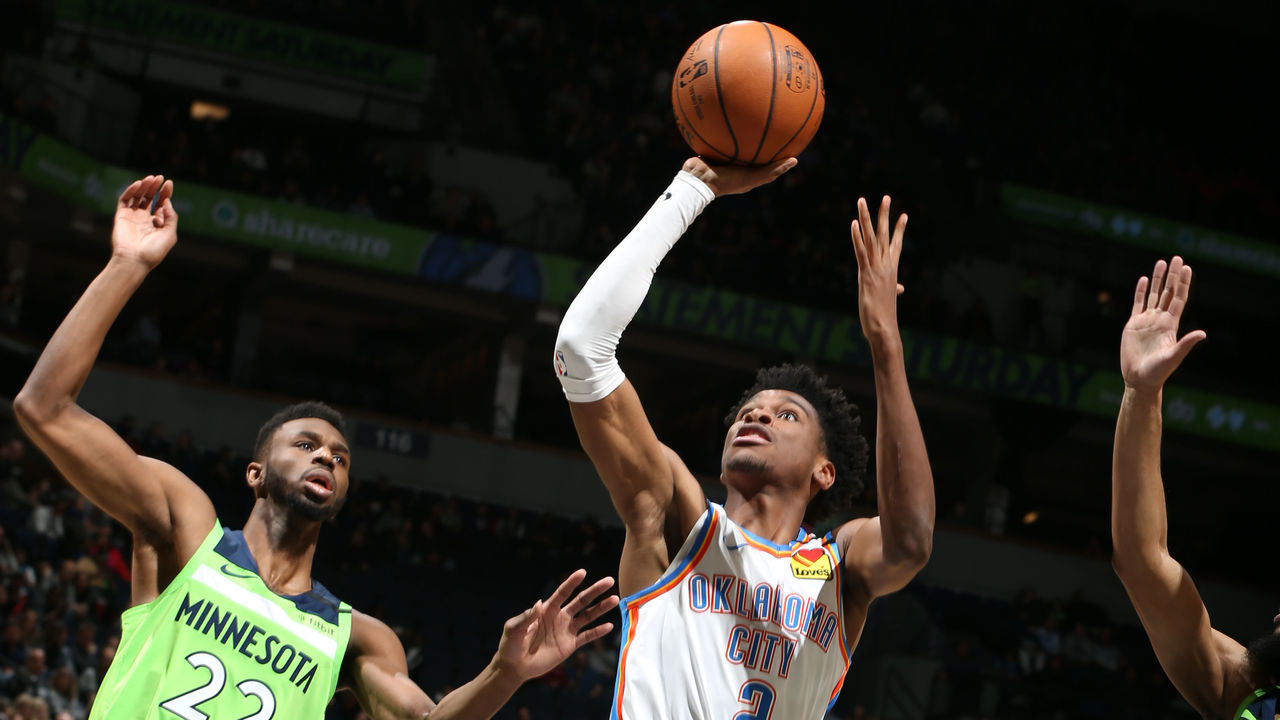 Early evidence of Shai's knack for surpassing outside expectations surfaced during his years playing for Knight and fellow coach Dwayne Washington's Hamilton-based UPLAY Canada club teams. At age 12 Gilgeous-Alexander stood a foot shorter than he does now, but showed himself to be uncommonly coachable - "He's the ultimate sponge," Knight said - and willing to linger long after practices ended to refine any insights he'd absorbed. A few years later Gilgeous-Alexander played up an age level at an elite Under-17 tournament in Las Vegas, where two quick defeats prompted his UPLAY coaches to belatedly plug him into the starting lineup.
"He just ran the show," Knight said. Not coincidentally, UPLAY didn't lose another game.
Gilgeous-Alexander moved from Ontario to Tennessee for his last two years of high school, then committed to Kentucky's loaded recruiting class for the 2017-18 college season - a four-star prospect upstaged by six five-star contemporaries, among them the future NBAers Kevin Knox, PJ Washington, and Thunder teammate Hamidou Diallo. Two months into his tenure as the Wildcats' sixth man, he capitalized on an opening to assume a starring role in an all-freshman crop of starters. That March, his 29 points powered Kentucky to an upset win over Tennessee in the SEC championship game.
Asked about his year on campus, members of that Kentucky team return to a familiar refrain: fleeting were the moments when Gilgeous-Alexander couldn't be found working. Freshman teammate and Nuggets forward Jarred Vanderbilt said he treated the practice facility as a second home: "He was there at six in the morning literally every day." Assistant coach Joel Justus recalls a recurring scene playing out on flights from road games back to Lexington: rather than doze or eat, Gilgeous-Alexander preferred to sit with Justus and review film on an iPad. His usual instinct that night: text Justus and ask to meet at the gym first thing in the morning.
"What are you going to say?" Justus said. "You can't say no to the kid who's your best player, your most valuable player, and then he wants to work out at 7 a.m."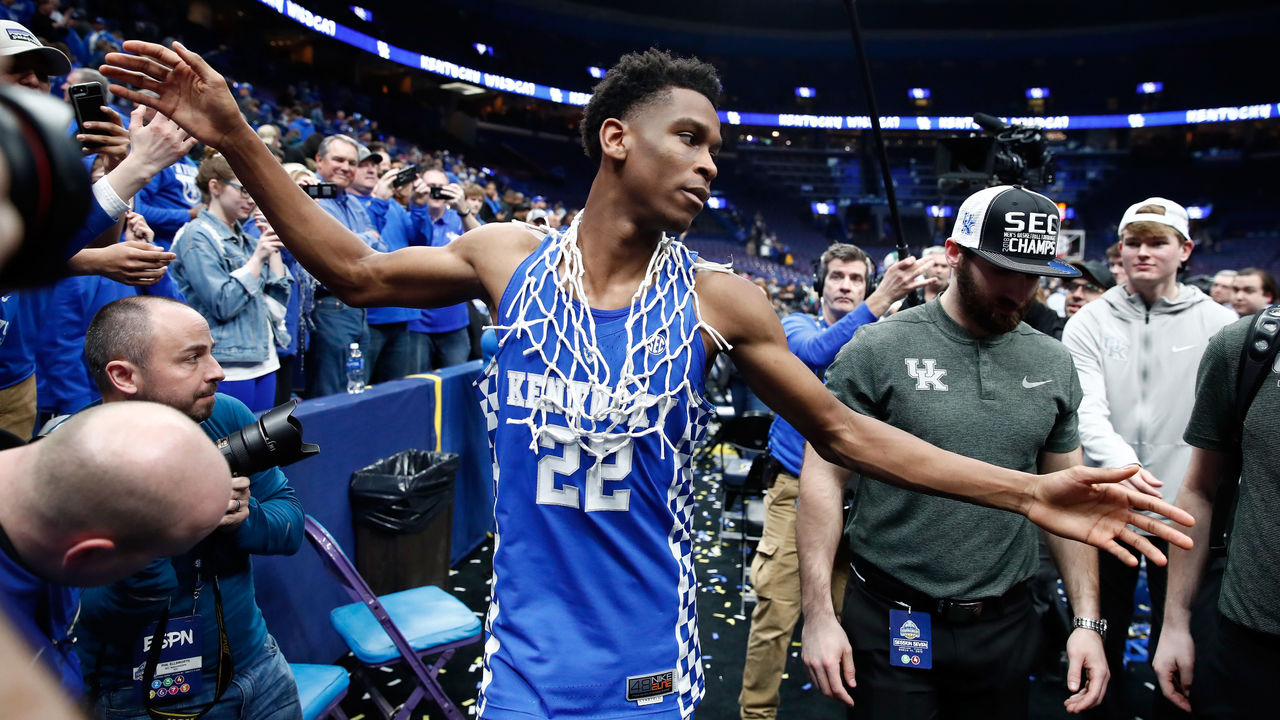 That singular focus has endured since Gilgeous-Alexander left school for the NBA, where he replicated his Kentucky trajectory by coming off the bench nine times for last season's Clippers and then starting the remaining 73 games. Bonga watched him adhere to a stern daily routine last summer in L.A.: shoot and work out in the morning; run on the beach and stairs in the afternoon; hoist more shots at night. "His work ethic is just crazy," Bonga concluded. Supplementing these sessions with Simplis were frequent sightings of Gilgeous-Alexander at Canada Basketball's suburban Toronto training center.
"He was there all the time, asking me when I was going to be there," said rookie Raptors forward Oshae Brissett, a Toronto native who played club basketball against Gilgeous-Alexander as a preteen. "I got that energy off of him: that he's got to stay in the gym. It's paying off for him."
Just as his labor away from the spotlight has impressed his peers, so too has Gilgeous-Alexander distinguished himself in competition with his offensive calling card: his control, rare among young guards, over the pace at which he operates, no matter the intensity of the defensive pressure he confronts. Opponents can't speed him up, a consensus borne out empirically by his turnover rate - 8.7 per 100 possessions, a solid number for a higher-usage guard - and anecdotally by Simplis, who in drills has pitted Gilgeous-Alexander against two defenders with the goal to dribble within a confined width from the baseline to half-court.
"He's working against the toughest pressure you'll see, and (he's) patient," Simplis said. "A lot of guys, when I put them through that drill, they're trying to throw the ball between guys' legs, or get frustrated, because they're moving at a snail's pace up the floor."
Washington, his former youth coach and the current athletic director at Royal Crown Academic School in Toronto, has an idea of what makes Gilgeous-Alexander different. He considers him to be family, and he can attest that keeping his own tempo is just who Shai is - a personality trait for all situations. In baseball, Washington said, he'd be a reliable relief pitcher; in football, a quarterback whose confidence calms the huddle. Sticking to his rhythm in his chosen game has made him one of the NBA's most prolific scorers off drives.
"He's a product of the tortoise going up the mountain in a storm," Washington said. "When the storm gets too rough, he slows down. He covers himself with his shell. When it gets better, he walks up. He doesn't rush. He doesn't go left, right. He knows his route."
On game days in Oklahoma City, Gilgeous-Alexander's route to the Thunder locker room first takes him through the back hallways of Chesapeake Energy Arena, where clicking cameras capture the invariably striking outfit he picked for the occasion. The floral suit he wore to shake Adam Silver's hand on his draft night was swift proof that his manner of dress would stand out among the NBA's pregame arrivals. Last summer, Sports Illustrated named him (along with Paul and Schroder) to its annual Fashionable 50 list.
Is that immaterial to how he performs between the lines? Not entirely, at least per this parallel that Washington draws: "He's an artist with a basketball and he's an artist off the court."
Without knowing how the Thunder's accelerated rebuild will take shape around him, people in Gilgeous-Alexander's circle are certain his game only stands to grow from here. Should Presti keep OKC's roster intact beyond the trade deadline, he may soon get to log important minutes in a winnable playoff series. With five future first-round picks already in hand via the George deal, will that possibility entice the GM to stay the course?
As for the leap Gilgeous-Alexander has said he plans to make next season, anything short of such progress would represent a deviation from his norm. When Thomasi Gilgeous-Alexander tunes in to Thunder games from Evansville, he's struck by how Shai can dominate defenses for a few minutes at a time. Given more reps, he figures those periods of irrepressibility will get longer and longer.
Expanding his offensive arsenal could help Gilgeous-Alexander climb to another plane. He isn't a knockdown 3-point shooter, particularly off the dribble. The presence of Paul and Schroder has kept him from having to initiate all but a fraction of Thunder possessions at point guard.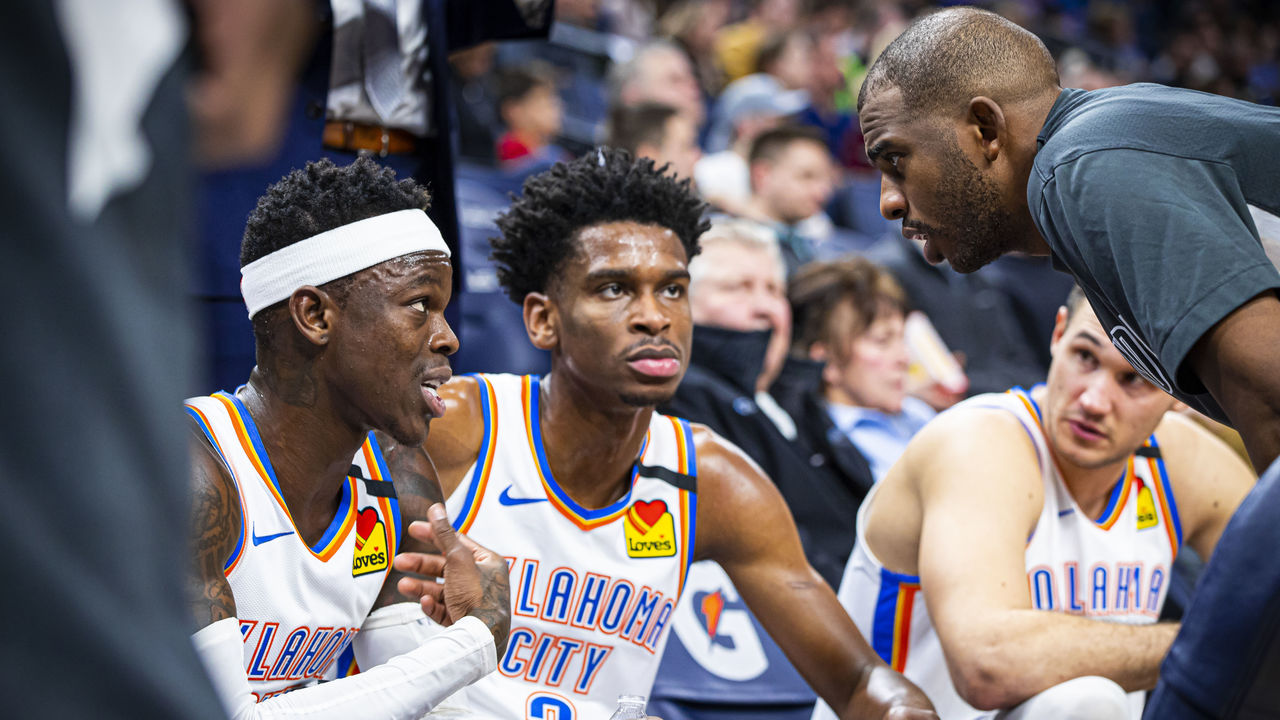 Seen in rosy light, these are opportunities rather than liabilities. Count this chorus of supporters among those who think he has the makeup to meet the challenge.
"He wants to master everything we put in front of him," Simplis said.
"With his work ethic, there's no reason to doubt him continuing to ascend," Barrett said.
"I project that directly after this year, we will see immediately that he'll be a superstar," Washington said.
"He's built for this lifestyle," Vanderbilt said. "Built for that position of being a franchise player."
They know the type in the Oklahoma capital, where harsh lessons abounded at the end of the Thunder's last era. Despite the stars who have lifted the franchise, there remains that championship hole. Kevin Durant's departure without a title indicated that no outcome is ever guaranteed. George and Westbrook's exits showed just how quickly a team's fortunes and circumstances can change.
That maxim holds for the better as it does for the worse, which is how David Holt, a mayor and a fan burned in public by his optimism, can circle back to a hopeful place. The arrival of the Thunder 12 years ago was transformatively important to Oklahoma City, he said: "It was really the difference between being a city that mattered and a city that didn't." Early last July, it appeared the Thunder might not matter for a while. Now, in Gilgeous-Alexander's game they have the makings of a new foundation - a canvas onto which a populace can project its vision of a return to rarefied air.
"He's the future," Holt said. "Here we have somebody who may play here for a decade, and may be just like Kevin Durant and Russell Westbrook in their prime. He may one day be a leader of this franchise, and hopefully lead them to deep playoff runs down the line, and be one of the top players in the league.
"I think everybody paying attention believes that's certainly on the table right now."
Nick Faris is a features writer at theScore.