For their last dance, the Cardinals are playing their greatest hits
Getty Images / Photo illustration by theScore
PITTSBURGH - Hanging in the last two locker stalls nearest field access in the visiting clubhouse at PNC Park on Monday were two gray jerseys embroidered with No. 5 and No. 4. They are numbers no other St. Louis Cardinals players will wear in the future.
Both Albert Pujols and Yadier Molina have announced their plans to retire after the season. Pujols ought to be a lock as a first-ballot Hall of Famer; Molina has his own Cooperstown case.
The clubhouse was subdued before the first game of the last series of the regular season - the last regular-season series for Pujols and Molina, and perhaps even Adam Wainwright, who hasn't revealed his plans for next year.
An hour before on-field batting practice began, Pujols grabbed one of his Marucci bats, its barrel painted black and a coating of pine tar on its handle. He held it perpendicular to the floor, flicked the barrel forward with his wrists once, and made his way to the indoor batting cage. He said he's prepared with the same routine as the previous 3,078 games of his career, covering 22 years in the majors. The Cardinals' 13th-round draft pick in 1999 hit the 702nd home run of his career a day earlier in St. Louis.
Molina soon arrived at the neighboring locker space and began his preparation. Cardinals rookie Brendan Donovan walked by and ruffled Molina's hair, though Molina didn't seem to notice. He was transfixed on a screen in his hands. His attention to detail and preparation is legendary.
He's the sixth person to play 2,000 games at catcher, and the first to do it with only one team. He's long been regarded as an elite defender, winner of nine Gold Gloves, beloved by advanced metrics and the eye test alike. But we can't measure everything Molina contributes to his club's ability to prevent runs. Molina adds value in reading opponents' swings, in brief pep talks with pitchers.
Molina is a master of pattern recognition. St. Louis Post-Dispatch writer Derrick Goold reported that Molina will watch three or four TVs with baseball games on at once, and he'll search YouTube for broadcasts of games played 20 or 30 years ago, looking for things. He'll criticize poor pitch sequences in those games and predict action before it happens.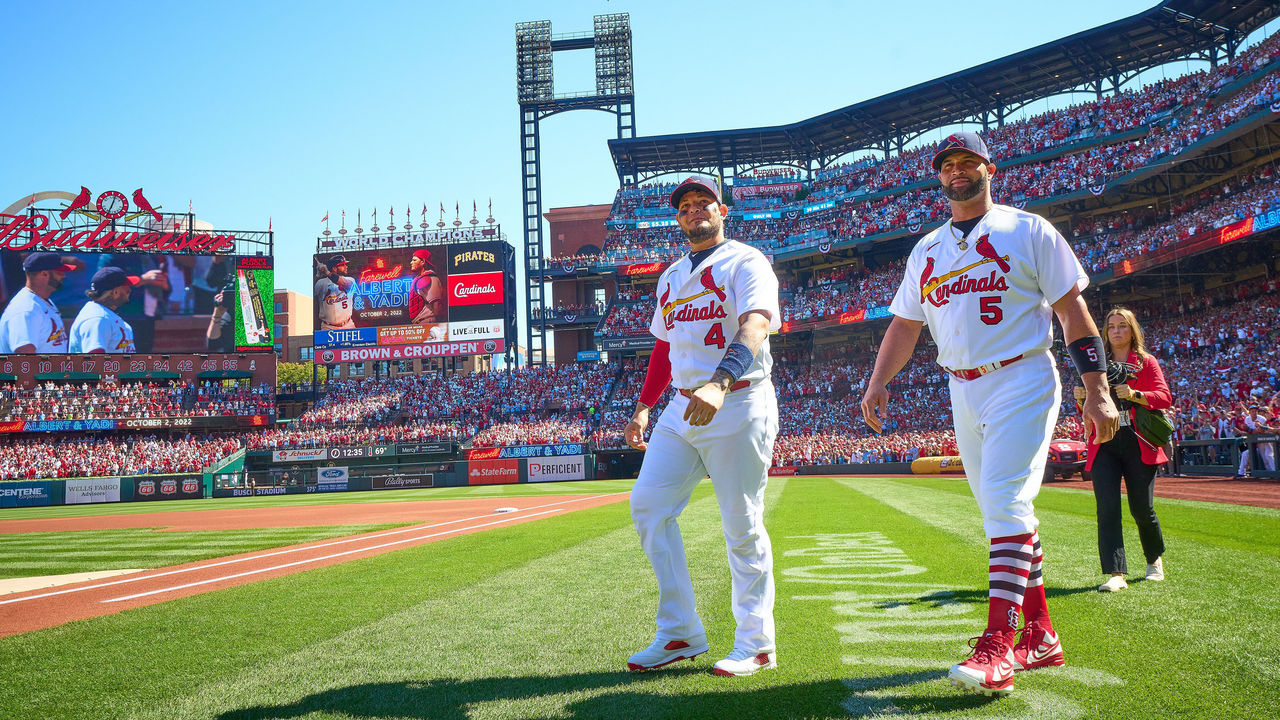 They are as prolific a pair of teammates one can find in the game's history. Perhaps Wainwright will hang 'em up, too. But their farewell tour is not just a feel-good exercise. A number of Cardinals, including the 42-year-old Pujols, are playing well. They'll host the Phillies in the wild-card round beginning Friday, looking for only their second playoff win since 2014. They haven't won the World Series since 2011, Pujols' final year in St. Louis before departing for the Angels on rather acrimonious terms.
This season has had a different taste, with Pujols signing late in March to finish where he started. It didn't seem like his presence would be anything more than ceremonial after he was released by the Angels in May 2021 and finished the season with the Dodgers.
Projection systems didn't think much of the 2022 Cardinals, expecting them to regress from last season's 90 wins, which was good for the second wild-card spot. PECOTA forecast them to miss the playoffs and finish 80-82. FanGraphs projected them to win 83 games and also miss the playoffs.
Instead, the Cardinals produced 93 wins and won the National League Central. The seven players with the most plate appearances last year are also contributors on this team. These Cardinals rank fifth in wRC+ (114) after ranking 15th last year (97). They rank second in the majors (123) in the second half of 2022. The pitching staff lowered its ERA to 3.78 this season from 3.98, just about league average both years.
The Cardinals improved while having the weight of Pujols and Molina's retirements looming, combined with Pujols' chase for 700 home runs, and the celebration of Molina and Wainwright's milestone for the most games played as batterymates. Did all of that help the club reach a higher level of performance? Are the Cardinals riding some collective wave of emotion and focus that is allowing their sum to outperform their parts?
What type of alchemy is happening in St. Louis?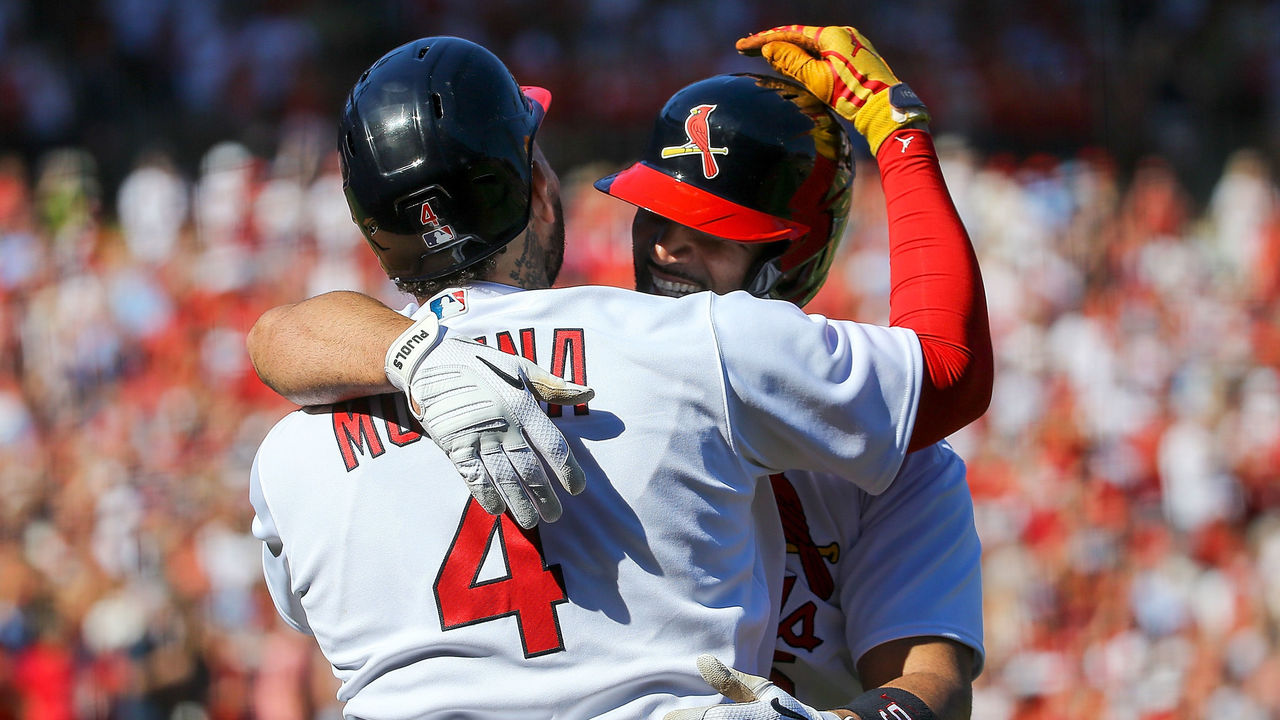 "When we show up at the ballpark, we want to do well for them," Donovan said of Molina and Pujols. "It gives you a little extra motivation."
Nolan Gorman, another rookie, said, "The guys in here want to win for those guys."
The elite performances of Paul Goldschmidt and Nolan Arenado are no doubt powering the achievement. They're in the top four in the majors in WAR (FanGraphs and Baseball Reference). By many measures, they're both having the best years of their careers at age 35 and 31. Tommy Edman is at or near a six-WAR season, depending on the measure. Wainwright reached 190 innings for the ninth time in his career.
"You just don't want to let them down, in a sense," Arenado said of Pujols and Molina. "The goal is to send them off the right way."
Wainwright thinks this history-laden season is giving players a different level of awareness.
"I think in our job, you can take a lot of stuff for granted. As I've gotten older, I've recognized that and tried to soak in those big moments," he said. "I think our team is seeing some things they may never see again, ever, in the history of baseball. I think guys understand that. A lot of people have been telling them that, including some of us old guys.
"Everybody has been focused on the task at hand with the end goal being winning a World Series, obviously. We are trying to stay in the moment."
I recalled something that Jason Kuhn, a former Navy SEAL who is now a performance coach, told me about one of the drills he employed to help free Braves pitcher Tyler Matzek from the yips. He tasked Matzek with throwing a medicine ball up a 150-foot hill in rural Tennessee, gaining only a few feet with each throw. At the base of the hill, a former teammate, Michael McKenry, who was working with them, was in a squatted position holding a medicine ball above his head. He was to remain in that position until Matzek reached the top.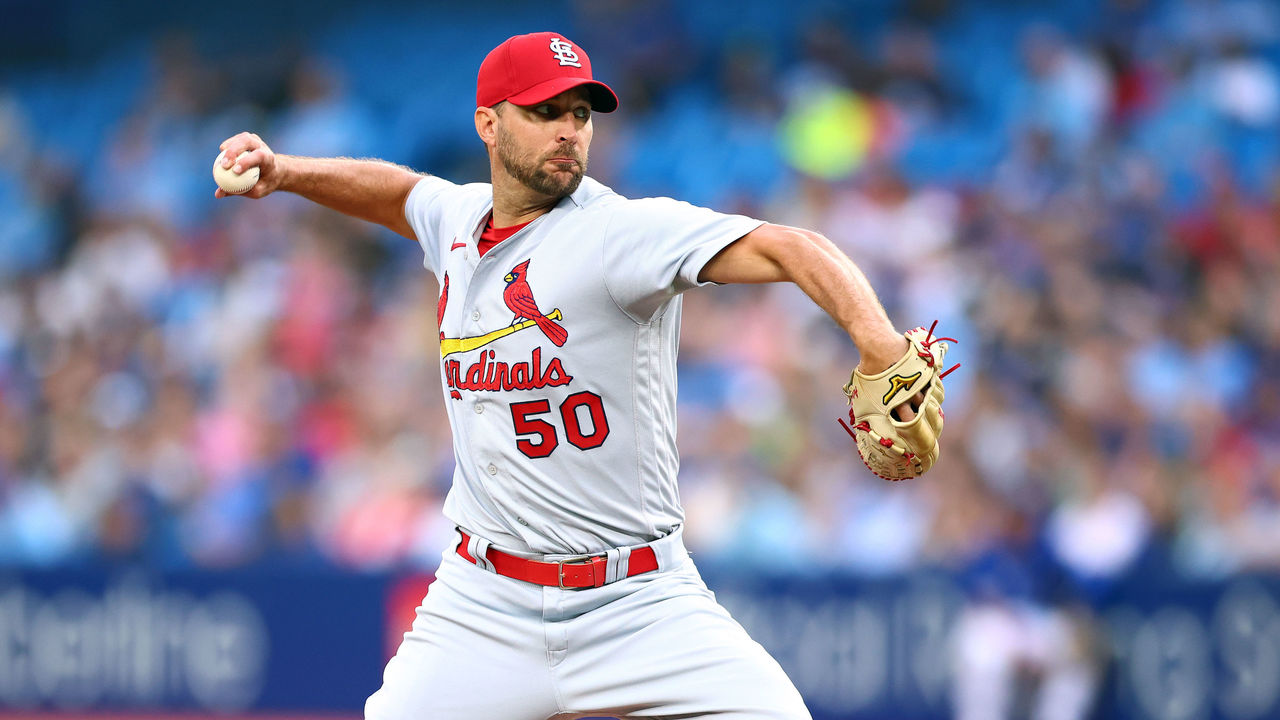 "The focus to motivate him going up that hill is kind of unique: You will reach a higher level of performance not just as a team, but also as an individual, by focusing more on your teammates than yourself or your own outcomes," Kuhn said.
I asked Cardinals president of baseball operations John Mozeliak if he felt there was something to the Cardinals exceeding expectations because they were playing for their teammates.
"I think part of seeing people being able to do things that are not expected is something where they are feeding off of each other," Mozeliak said. "You have these narratives: obviously one of them being Yadi, another being Albert, another being Waino. Two of the three have stated they're retiring. Yet, all three are still playing at a very high level. You also have narratives of Goldy and Nolan performing at MVP levels.
"I'm not sure which group pushed which group, but all the groups are pushing. … Think about where a lot of people might have predicted us to finish before the season, like PECOTA had us well below what we performed at."
Goldschmidt isn't sure if they're pushing each other in an unusual way, but he does believe they benefited from their collection of rare veteran talent, especially their prolific right-handed hitters.
"I think we help each other," Goldschmidt said. "We have some differences, but we are also very similar. We talk about hitting: 'How is this guy going to pitch you? What are you seeing in my swing? Hey, you are getting a little jumpy.' That's where we can help each other."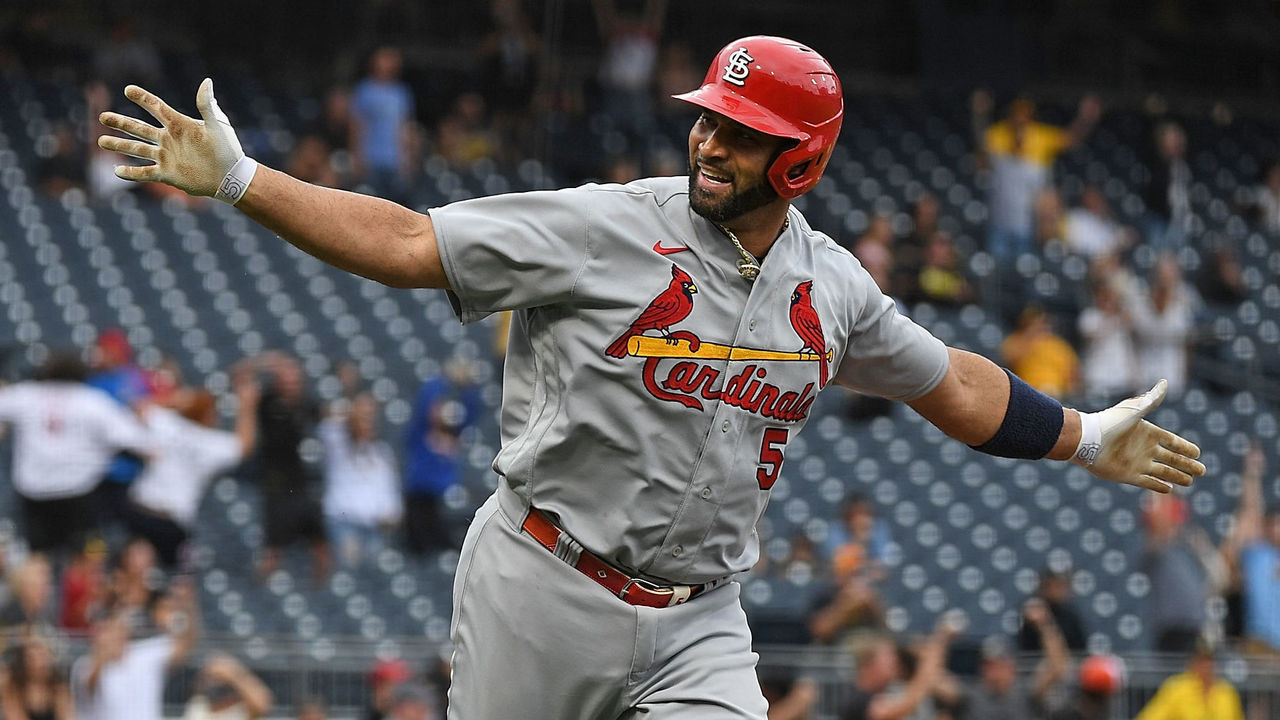 Even Pujols is playing at a level he hasn't enjoyed in years.
From 2017-21, his performance was below replacement level. He wasn't even signed by the Cardinals until late March, when collecting 21 home runs to reach 700 seemed like a long shot. But he leads the NL in home runs (18) in the second half. He's recorded 2.2 WAR, his best year since 2015.
As the close of his final chapter draws nearer, is Pujols' focus heightened?
"There is no higher level you need to reach," Pujols said. "This is the major leagues. If you are expecting a higher level you are putting pressure on yourself."
But Pujols said there is something about the Cardinals' culture and the expectations here that are different.
"Expectations were always higher," Pujols said. "Bob Gibson. Stan the Man. Tony LaRussa. It was built before I was even here. Something that's attached to this organization."
Reaching 700 anywhere would have been historically significant, of course, but he said it's different to do it this way, in a return.
"It's extra special in St. Louis, of course," Pujols said. "The fan base. The energy. Being back where everything started for me, I think that's something special."
He's one of six players - including Ichiro Suzuki - to debut on April 2, 2001. Molina arrived three years later.
No player this century has more RBIs, more runs scored, more WAR, or more home runs than Pujols. The next closest home-run hitter this century, David Ortiz, hit 182 fewer.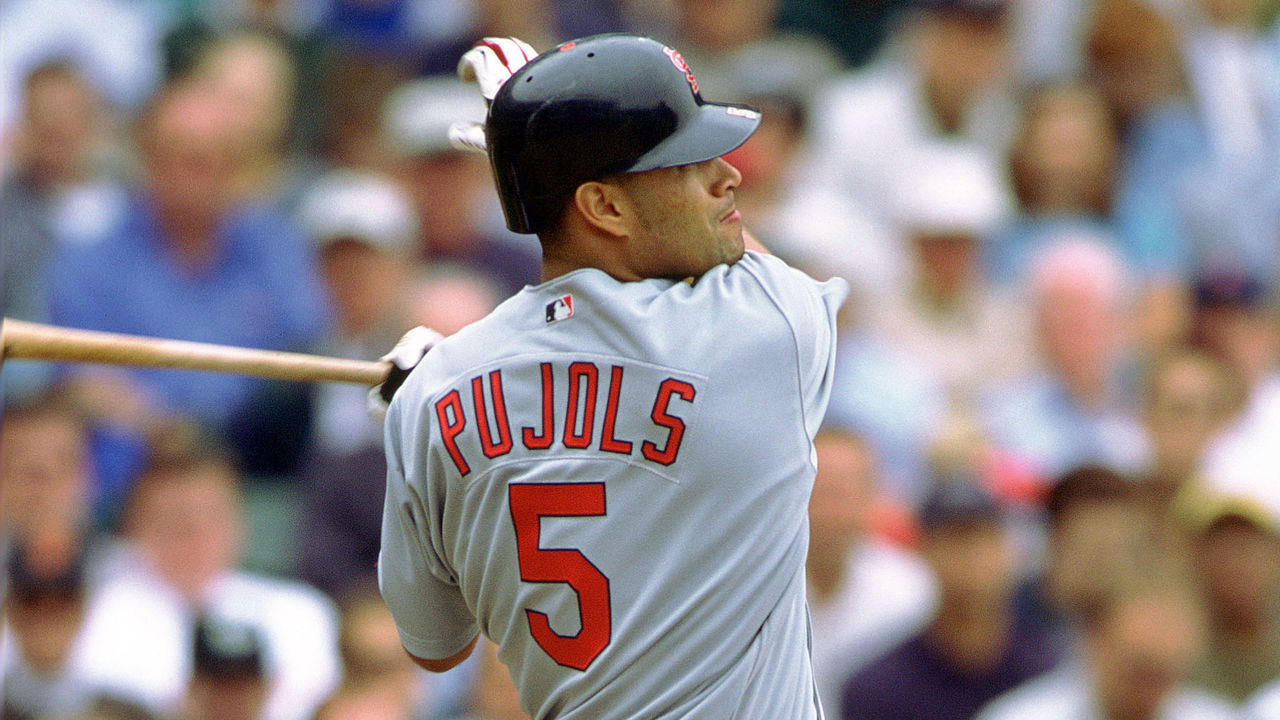 The announced attendance Monday was 12,702, although maybe half made it inside the stadium. A majority of them were clad in red. People were concentrated in the left-field bleachers and hundreds more rushed into the standing room area every time Pujols hit, hoping for a piece of history.
In the top of the sixth inning, he pulled a 2-2 pitch down the left-field line and into the hands of a Cardinals fan for the last regular-season home run of his career.
Donovan said the culture that Pujols referenced was apparent to him at the beginning of spring training. He thought he was arriving early to the major-league clubhouse around 6:45 a.m. on the first day of full workouts, only to find a number of veteran players already at it.
"Who are the first people there? Goldy. Arenado. Waino," Donovan said. "So you walk into spring training and you're like, 'OK, I need to get there when the clubhouse opens.'"
He studied their routines as the season went along, and when younger players make mistakes, he says the veterans "don't jump down your neck" but instead offer constructive criticism. Cardinals rookie position players rank third in WAR this season.
Molina was succinct about what he tries to impart to young players: "Compete your ass off and fight to win for the team, not for you."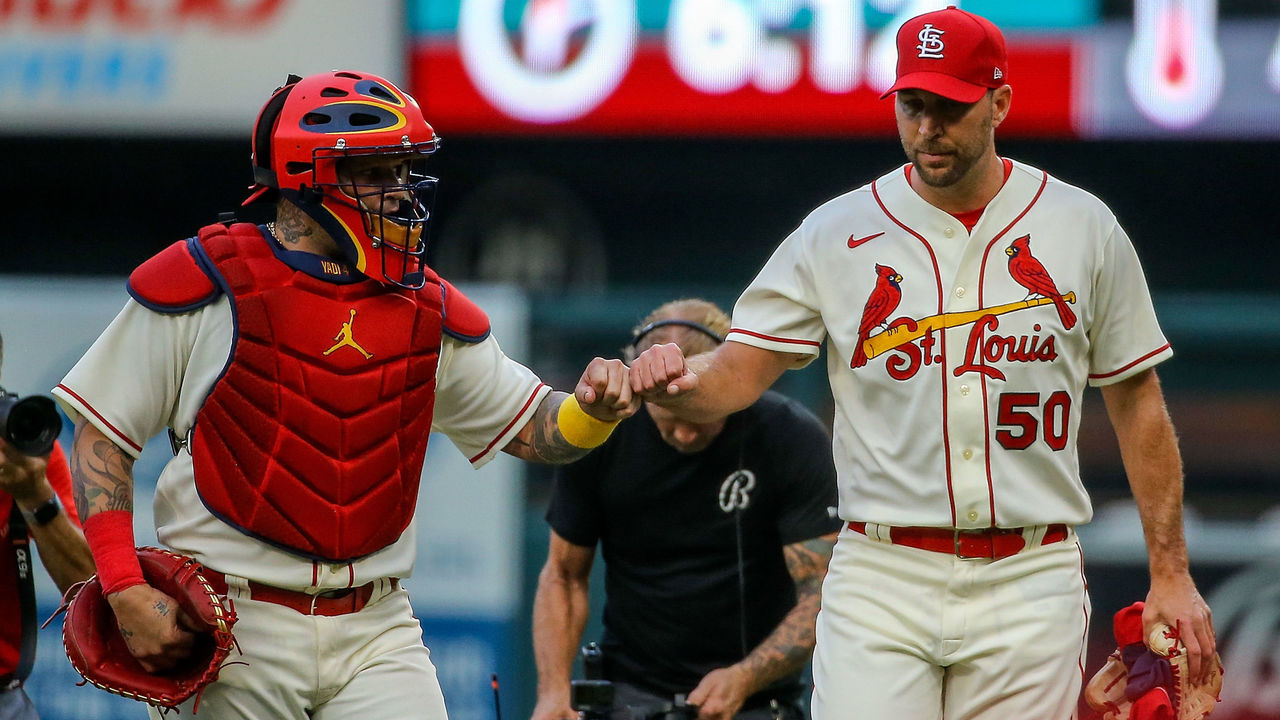 Wainwright said one measurable benefit from this last dance is the decibel levels at Busch Stadium.
The final season for Pujols and Molina energized the fan base. The Cardinals went 40-41 on the road but 53-28 at home, the fifth-best home record in the majors, and their most home wins since 2015 (55), when they won 100 games.
"They've been as good or better than I've ever seen them," Wainwright said of the fans.
That could be a problem for the Phillies.
But could the emotions of this last chapter, knowing how near the end is, become a distraction?
"We are doing a really good job of putting the distractions behind us," Molina said. "This group is so focused on our goal. I don't think, even with everything going on, it's going to be a problem."
Even if he returns next season, will Wainwright feel different on the mound throwing to Molina this postseason? Any such occasion could be their last. Wainwright said "they have so much hay in the barn" it won't detract from performance.
Still, they understand the history they're making and witnessing every day.
The young players understand they've witnessed an uncommon final chapter, and they want to stretch it out as long as they can.
"I've seen stuff I'm never going to see again, and this being my first year ..." Donovan said. "Who was it that said, 'How can you not be romantic about baseball?' Sitting in the dugout watching these things happen … it gives you a little extra motivation. We want to give them the right send-off.
"All great teams want to win for each other."
Travis Sawchik is theScore's senior baseball writer.
Comments
✕
For their last dance, the Cardinals are playing their greatest hits
  Got something to say? Leave a comment below!