Why Devers belongs alongside baseball's other young guns
Billie Weiss / Boston Red Sox / Getty Images
There's a rare collection of elite, young bats in the game today. Fans know the names: Tatis, Guerrero, and Acuna.
They're among the five batters age 24 or younger with OPS+ marks of 145 or better this season. OPS+, a metric that adjusts for a season's ballpark and run-scoring environments, allows us to better compare eras. Right now, 2021 features the second-largest group of batters with a 145 OPS+ in a single season since baseball integrated.
Even if this year's class loses a member when the injured Ronald Acuna Jr. falls off the list of hitters with enough at-bats to qualify for the batting title, this campaign could still tie for third-best in a collection of seasons that includes 1955, which featured 24-and-under talents Al Kaline, Mickey Mantle, Willie Mays, and Eddie Mathews.
But there's one member of the 2021 group who isn't receiving the same attention as the others: 24-year-old Boston third baseman Rafael Devers. Devers is eighth in the majors in on-base plus slugging, and he's eighth in FanGraphs' version of wins above replacement (4.0). He owns a career-best 148 OPS+ mark through play Monday.
To quantify the lack of attention, we can use Google Trends to see that Devers' name isn't being searched as often as Tatis Jr., Guerrero Jr., Acuna Jr., and Juan Soto. And it's not as if he plays in a small market.
"I'm never focused on whether people are talking about me or whether they have me in that same breath," Devers told theScore through a team interpreter. "That's the job of MLB and the media to be able to do that. That's not my job. If they want to say I'm in the group, great. If not, that's fine, too."
Maybe the lack of attention stems from Devers struggling last season. Maybe it's from not being a legacy player like Tatis or Guerrero, whose dads played in the majors. Maybe it's tied to some of his well-documented defensive slumps. Whatever the case, Devers is lost in the shadow behind some of the game's other uber-talented young hitters.
But Devers is opening some eyes after homering five times over his last seven games through Monday and adding to his All-Star-caliber season. Not only might he belong in that elite young group right now, but perhaps Devers will be linked with those players for some time due to the adjustments the infielder has made this campaign.
Devers typically crushes breaking balls and off-speed offerings. However, after hitting just .229 against fastballs last season, Devers hit .216 in April and .172 in May. His struggles were so pronounced that when the Red Sox traveled to Houston in early June, Astros pitchers threw him 56 consecutive fastballs.
On June 1, Astros pitcher Luis Garcia threw a two-strike, 93-mph fastball down the middle and Devers whiffed. He slammed his batting helmet into the ground with such force that it rebounded in the air above his head.
Devers hates to disappoint his teammates and himself. He's worked on not letting slumps trigger his emotions and credits Red Sox teammates and coaches for helping with his confidence and "staying levelheaded" this year.
But there are still times when his frustrations boil over. And in Houston, it was apparent to Red Sox hitting coach Tim Hyers that things were getting out of control.
"They were pumping heaters in there, and he was late on his timing," Hyers said.
It wasn't so much a plate-discipline issue, Hyers added. Yes, Boston wants him to be swinging at strikes, but the club also wants Devers to remain aggressive.
While he's reduced his chase rate by 3.7 percentage points year over year, Devers is still 10th in MLB among qualified hitters in out-of-zone swing rate this season (35.2%), and eighth in overall swing percentage (55.5%). He makes his approach work because Devers possesses elite eye-hand coordination and power from the left side. His Statcast quality-of-contact metrics are littered with top-five percentile rankings.
"He's always going to be aggressive. That's who he is," Hyers said. "We don't want to change (his) DNA. … I think we want him to get swings off because he can impact the game."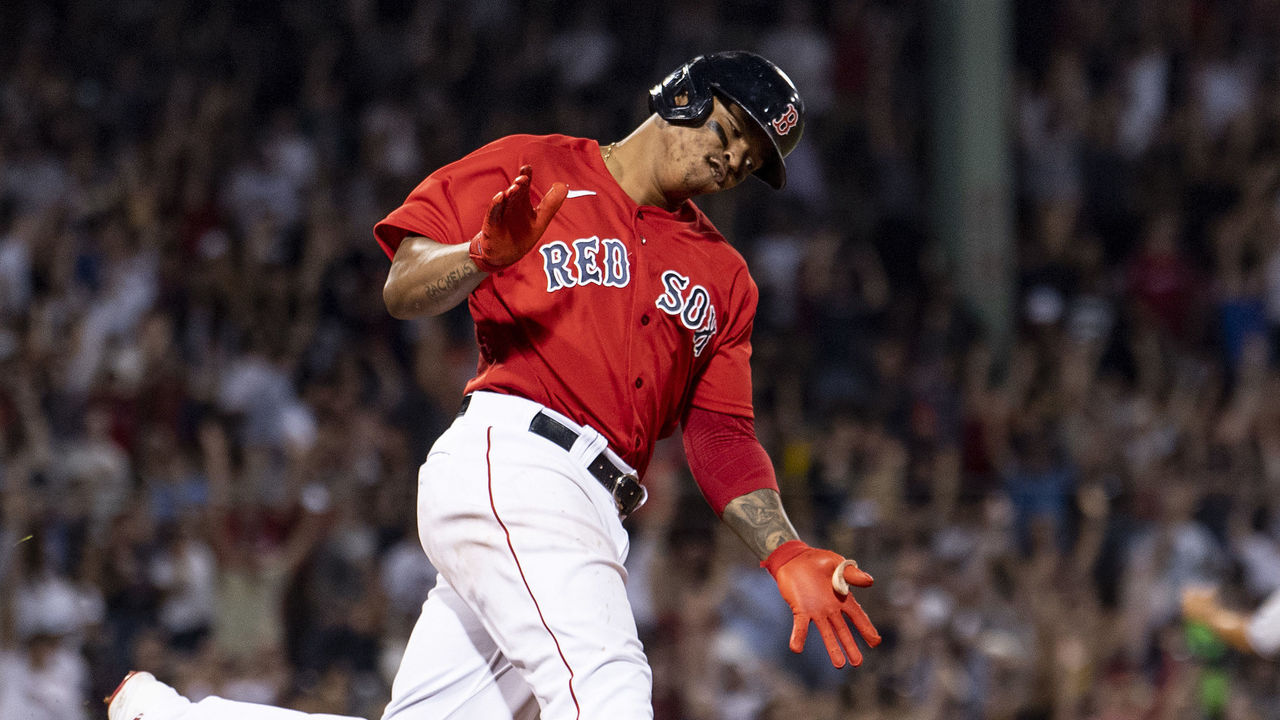 Hyers saw that Devers was getting jumpier at the plate. He was floating toward the ball instead of sticking his right foot in the ground and rotating around it, Hyers said.
"Some of that is effort: 'I know they are throwing me a heater. I want to go get it,'" Hyers noted. "But the more you do, the slower you are."
Hyers treats all his players differently. For example, Red Sox designated hitter J.D. Martinez is a "technician." With Devers, Hyers likes to be less technical while making practice more competitive.
"If he's struggling with the ball on the top of the zone, we do more high-tee work," Hyers said. "More of the challenge instead of the technical part."
They played mini games in Houston's indoor batting cages and elsewhere with Hyers hollering, "I bet you can't hit five back to the L-screen."
After starting with two hitless games to begin the Houston series, Devers rapped two fastballs for hits during the third contest, and another in the series finale. His hip began to stay back.
And then on June 4 in New York, Devers slashed an elevated 96-mph fastball from Michael King into the second deck. He looked into the visitor's dugout while hopping out of the box and tossing his bat.
"It was an adjustment I had to make," Devers said. "I knew it was something I was struggling with at the time when they were trying to throw fastballs the whole time. That's just part of the game. … I just try and make the adjustment. I need to make it as quickly as possible."
He hit .393 against fastballs in June. On June 27, he clubbed a 100-mph Gerrit Cole pitch for a home run at Fenway Park against the Yankees.
"Just like 'Wow,'" Hyers said of his reaction. "To turn it around and now he's turning around 100 mph? It is a credit to him and his skill level. He's a special talent."
If Devers starts crushing fastballs regularly, he'll have no pitch-type weaknesses. How special can he be? Is he driven by wanting to be considered among the game's best young talents?
"I'm sure he does, but he never talks about it," Hyers said. "I've never seen him back down from a challenge."
Travis Sawchik is theScore's senior baseball writer.
Comments
✕
Why Devers belongs alongside baseball's other young guns
  Got something to say? Leave a comment below!