Who has the edge? Rays-Dodgers position-by-position comparison
Photo illustration by Nick Roy / theScore
The 116th edition of the World Series gets underway Tuesday at Globe Life Field, where the Los Angeles Dodgers will "host" the Tampa Bay Rays in Game 1 of a Fall Classic unlike any other. So, how do these teams stack up against each other? Jonah Birenbaum, the Score's senior MLB writer, breaks it down by position.
Catcher
Will Smith, who impressed over 54 games as a rookie in 2019, cemented himself as one of the game's premier offensive catchers this year, leading the position with a 163 wRC+ (minimum 130 plate appearances) and finishing second with a .980 OPS amid eye-popping rankings in batted-ball metrics.
He's not exactly a standout behind the plate, but he's hardly a complete liability, either: his pitch-framing stats were lousy in 2020, albeit over a tiny sample, and he's always been about league-average in terms of throwing out potential base-stealers. If the Dodgers want to prioritize catcher defense on a given night, they can roll with Austin Barnes - one of the game's elite pitch-framers - and use Smith at designated hitter, as they did in Game 6 of the NLCS. In any event, the Dodgers are sitting pretty.
The Rays will have veteran Mike Zunino behind the plate for the majority of the series, though backup Michael Perez figures to start at least once. Both are defense-oriented catchers, to put it charitably, and any offense the Rays get from either should be considered a bonus.
Though he can run into one occasionally (it should be noted, he went deep in each of the first three rounds of the playoffs), Zunino has hit .182 with a .615 OPS since the start of 2018, while Perez owns a .221/.286/.314 line over three partial seasons in the majors. However, they're both average or better in every facet of catcher defense: blocking pitches, throwing, and framing (though Zunino, like Smith, did take a step backward in 2020). For a run-prevention-oriented team, it's no surprise that defense takes precedence.
Advantage: Dodgers
First base
After two monster seasons in a row, Max Muncy took a significant step back in 2020, hitting just .197 with a 100 wRC+ amid a dropoff in exit velocity and hard-hit rate. However, the one-time All-Star has looked far more like himself this postseason, posting an .881 OPS and driving the ball with much more authority - while also flexing his remarkable plate discipline en route to a whopping 28.3% walk rate - over a dozen games. Obviously, that's a small sample, but Muncy has actually been swinging the bat well (.396 xwOBA) since the middle of August, even though the results haven't consistently been there.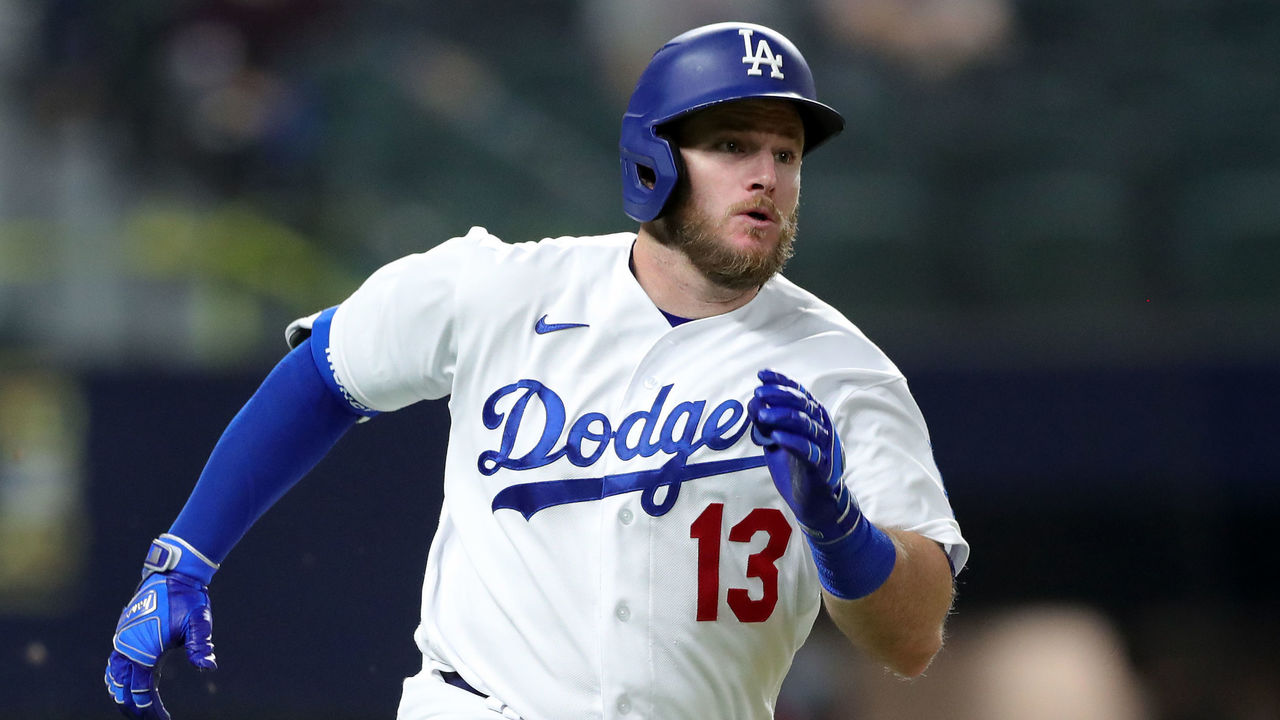 For their part, the Rays don't have a potential star-level everyday first baseman - they don't really believe in everyday players - but their timeshare of Ji-Man Choi, Yandy Diaz, and Mike Brosseau is highly productive in its own right. Only a half-dozen teams received more WAR from their first baseman during the regular season than the Rays, whose coalition of first basemen have combined for a 1.000 OPS this postseason.
Advantage: Even
Second base
Believe it or not, the Dodgers received sub-replacement-level production out of the keystone this year, with Enrique Hernandez struggling so mightily (.270 OBP; 83 wRC+) that he got relegated to a weak-side platoon role for the postseason: Chris Taylor, a superior hitter, has started at second in eight of 12 playoff games thus far after making just 11 starts at the position during the regular season. It hasn't really had the desired effect, though, as Dodgers second basemen have combined to hit .209/.261/.349 this postseason. Expect them to continue platooning through the World Series, and their performance to pick up a bit.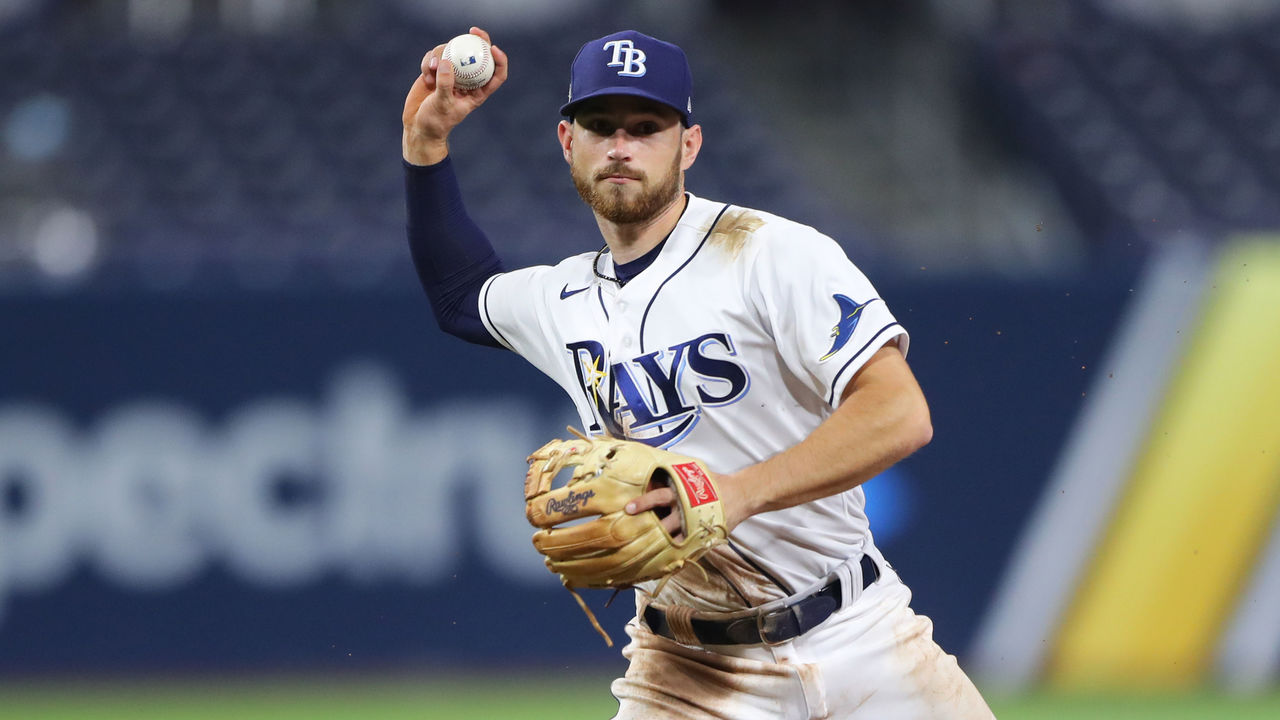 As it happens, Brandon Lowe, one of the fixtures of the Rays' fluid lineup, also finds himself wheezing into the World Series, having gone just 6-for-52 (.115) this postseason after tearing the cover off the ball during the regular season. Lowe, an All-Star last year, put up a .916 OPS in 2020 and outhit every other second baseman except DJ LeMahieu. It wasn't an anomaly, either. Since breaking into the league in 2018, Lowe has been among baseball's top 30 hitters. Which version of him shows up in the World Series remains to be seen, but Lowe is extremely dangerous when he's on, not to mention a menace on the basepaths.
Advantage: Rays
Third base
Justin Turner, the Dodgers' longtime third baseman, remains one of the best hitters in the game at age 35. Despite being slowed by a midseason hamstring strain, Turner still slashed .307/.400/.460 (140 wRC+) in 2020 while finishing in the top 10% of the league in expected batting average and expected slugging percentage. Even amid diminishing returns in the field and on the basepaths, Turner is still a star. Don't read into his ho-hum postseason.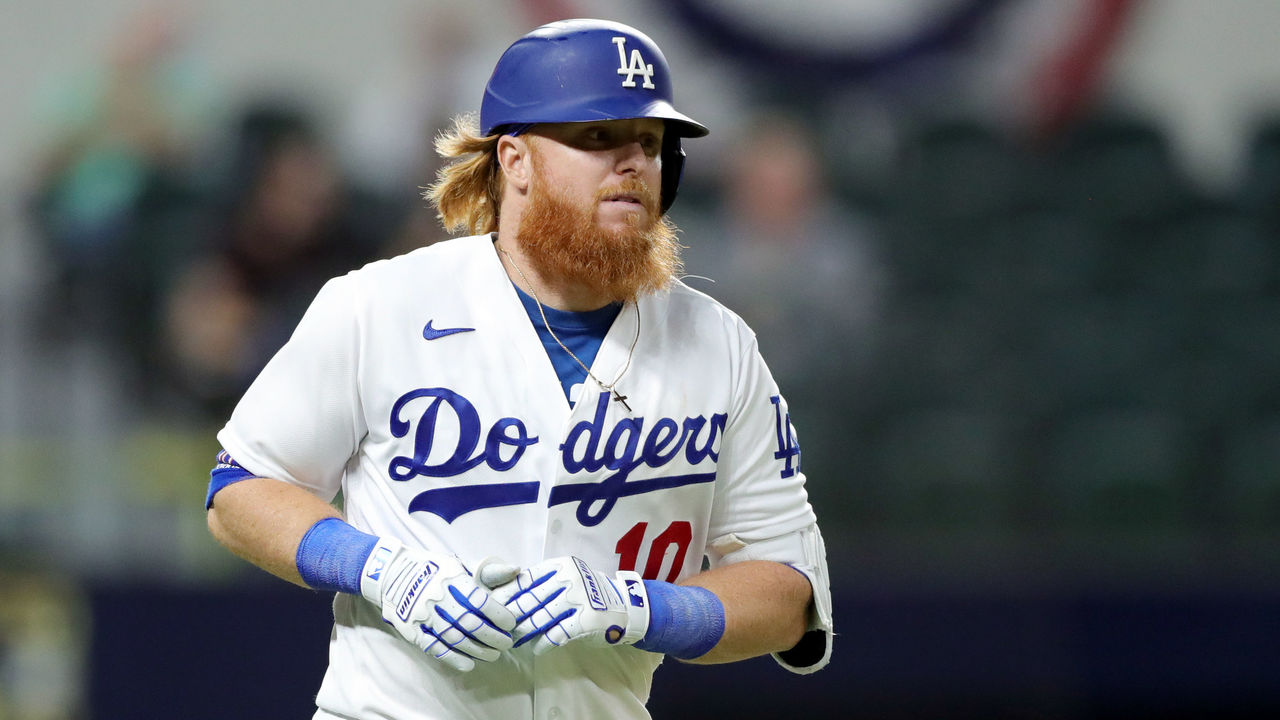 Meanwhile, the Rays have anointed Joey Wendle their primary third baseman for the postseason, even though he started there just 18 times during the season, and it's not hard to see why: his defense is utterly superb and played an outsized role in his club's ALCS victory over the Houston Astros. He hasn't done much offensively this postseason, but his bat is roughly league-average (career 101 wRC+). Wendle struggles against left-handers, so the Rays also have Brosseau and Diaz at the ready.
Advantage: Dodgers
Shortstop
Corey Seager, whose ascent to superstardom stalled over the last couple of seasons, got himself back on track in 2020 and should receive down-ballot MVP votes after posting his highest OPS (.943) and wRC+ (151) since his 27-game debut in 2015. He's one of the game's best hitters - not merely one of the best hitters for his position - and made that abundantly clear this postseason, blasting six homers with a 1.124 OPS en route to NLCS MVP honors.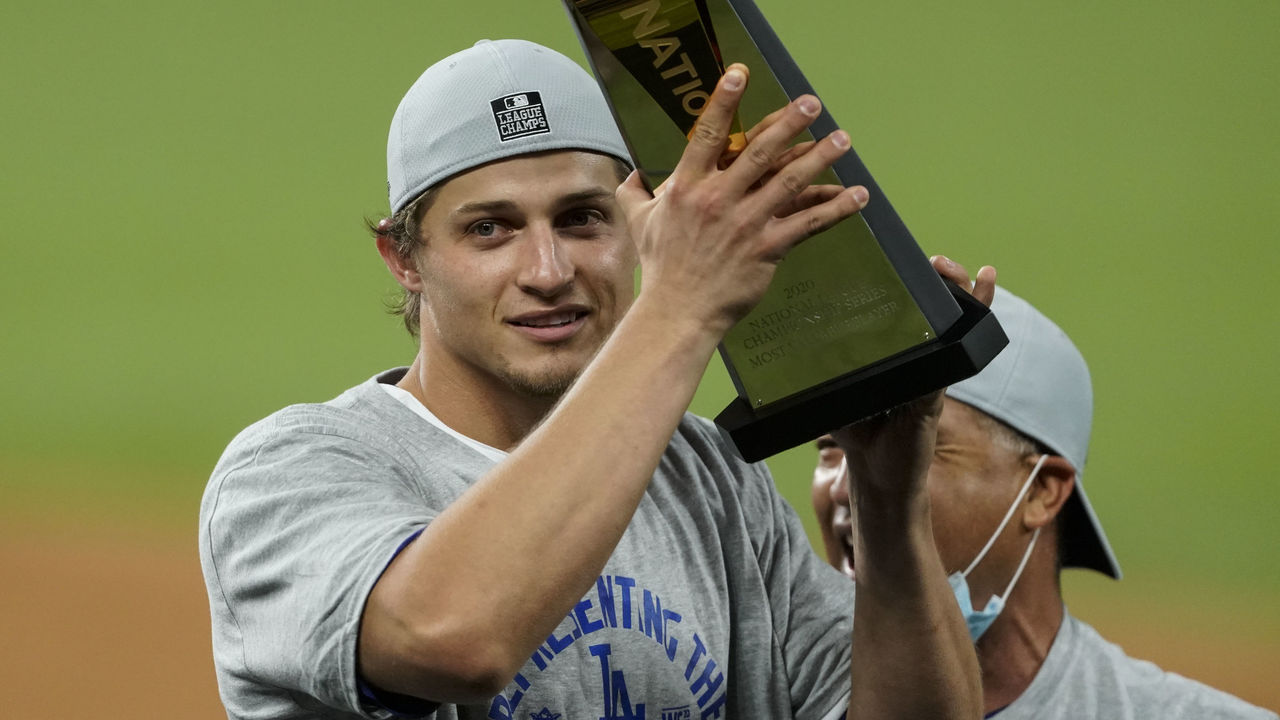 Willy Adames, meanwhile, also enjoyed an impressive 2020 campaign, outhitting some of the game's putative top shortstops, including Trevor Story and Francisco Lindor, albeit with an inflated .388 batting average on balls in play and a whopping 36.1% strikeout rate. Metrics remain torn on his defense - by Defensive Runs Saved, he was a plus-defender in 2020, while Statcast's Outs Above Average pegged him as the worst at his position - but he's nevertheless one of the only Rays position players who starts every day, regardless of matchup.
Advantage: Dodgers
Outfield
I'm not going to bury the lede here. The Dodgers have a better outfield than the Rays. They have Mookie Betts and Cody Bellinger, two of the game's top players. The Dodgers could start a pylon in left field and probably still have a better outfield than Tampa Bay, or any other team for that matter. (As it happens, their actual left fielder, A.J. Pollock, put up a career-best .881 OPS in 2020.)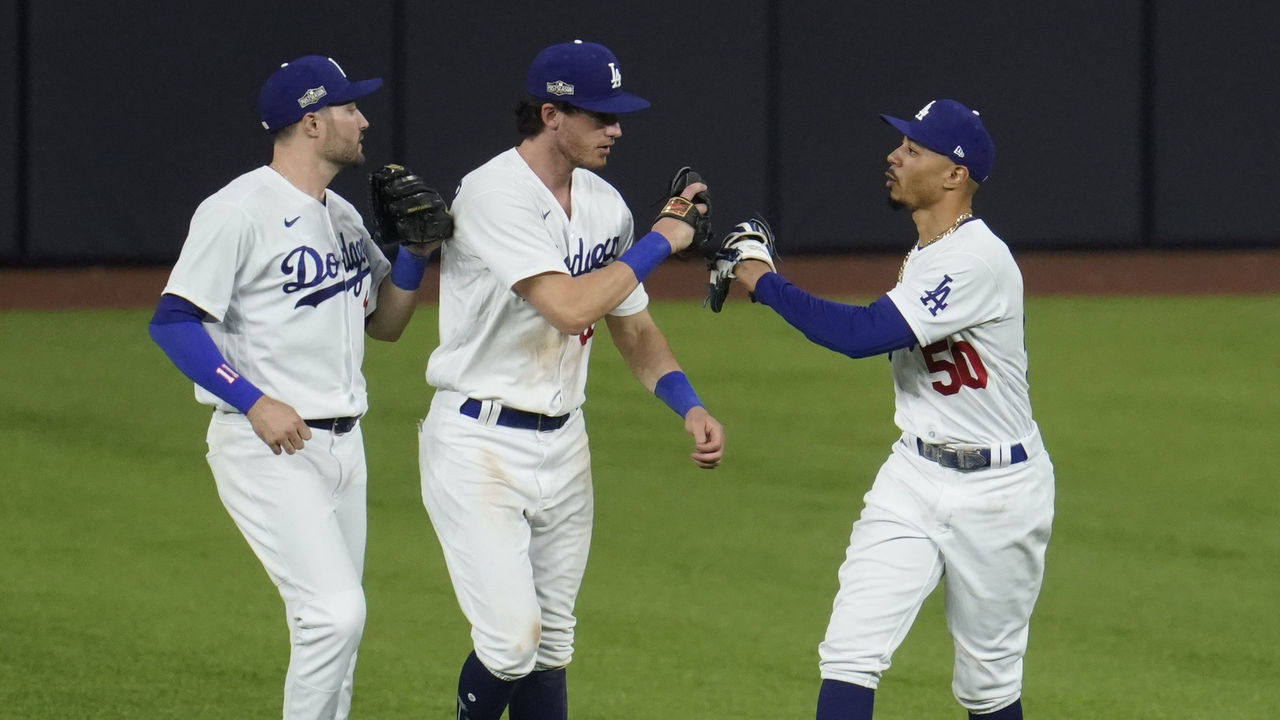 Having said that, the timely emergence of Randy Arozarena, who's hitting .356/.415/.797 with seven home runs this postseason, has dramatically improved Tampa Bay's outfield, which was previously an ensemble of non-impact players - deployed based on matchups - that overwhelmingly disappointed at the plate this season: none of Kevin Kiermaier, Austin Meadows, Manuel Margot, or Hunter Renfroe were even league-average hitters in 2020. To their credit, however, the Rays' outfielders do play exceptional defense, almost to a man, and with Arozarena suddenly hitting like Ted Williams, Tampa Bay's outfield looks much stronger than it did six weeks ago.
Advantage: Dodgers
Designated hitter
The Dodgers don't have an everyday designated hitter. In one game, it may be Joc Pederson, who owns a career .849 OPS against right-handed pitchers. In another, it could be Edwin Rios, the 26-year-old who boasts a .260/.338/.634 line over 60 big-league games and went deep in Games 3 and 4 of the NLCS. It could be Smith, or even Turner if he needs a day off his feet. Regardless, on any given day, the Dodgers have a good hitter in their DH spot.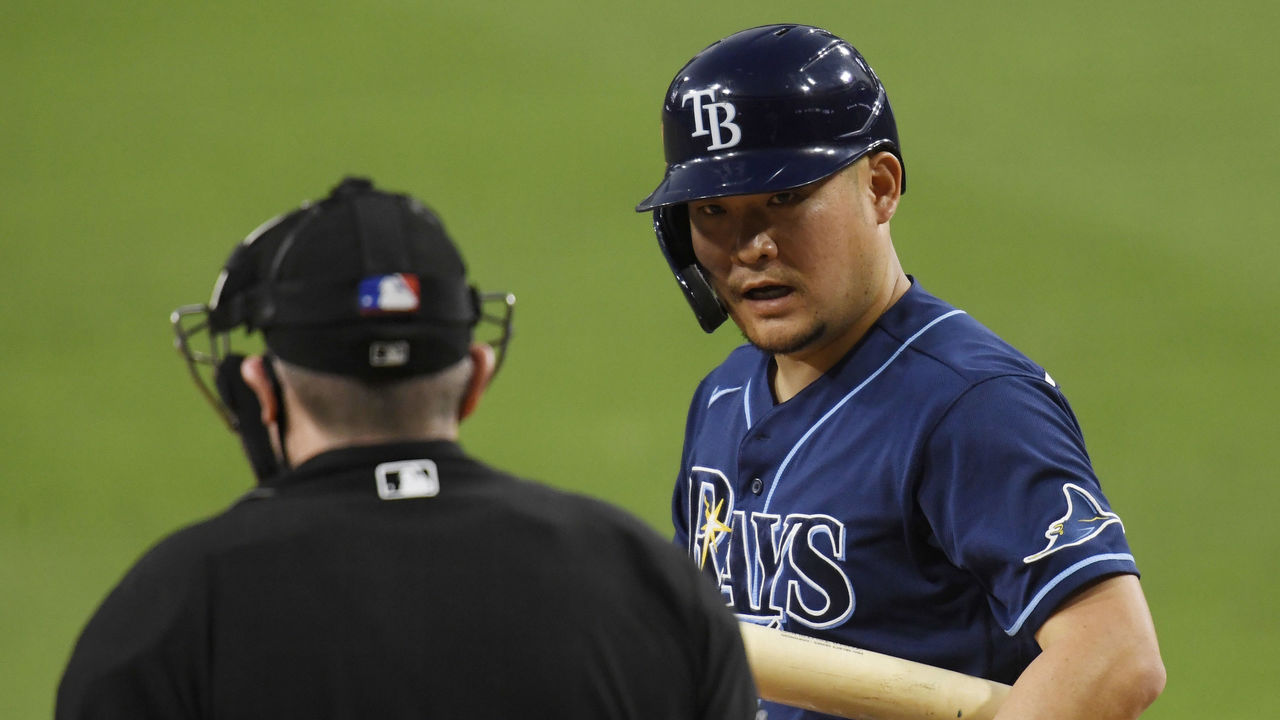 Naturally, the Rays also eschew a full-time DH and instead go with whichever one of their myriad platoon players - primarily Yoshi Tsutsugo, Meadows, and Diaz - has the most favorable matchup on a given day. Interestingly, however, though those three players enjoyed varying levels of success at the plate in 2020, each of them hit considerably worse while DH'ing than they did while playing the field. It may just be small-sample noise, but the Rays nevertheless received underwhelming production out of their DH spot during the regular season, with their collective combining for a .751 OPS. Their fortune hasn't improved in the postseason: through 14 games, Tampa Bay's designated hitters have gone just 7-for-52 (.135) with a .526 OPS.
Advantage: Dodgers
Rotation
This one is a really close call. Both teams have three top-end starters and an uber-effective bulk guy. Is Blake Snell appreciably better or worse than Walker Buehler? Is Clayton Kershaw appreciably better or worse than Tyler Glasnow? I could be swayed either way. And though Tampa Bay's No. 3 starter, Charlie Morton - who's allowed just one earned run in three postseason starts - is probably more trustworthy than Dodgers rookie Tony Gonsolin, who posted a 1.94 ERA across eight regular-season starts but has struggled in the playoffs, Los Angeles would seem to have the superior bulk guy (and de facto fourth starter): Julio Urias owns a 2.66 ERA over 71 innings in 2020, with much better peripheral numbers than Ryan Yarbrough. It all seems like a wash.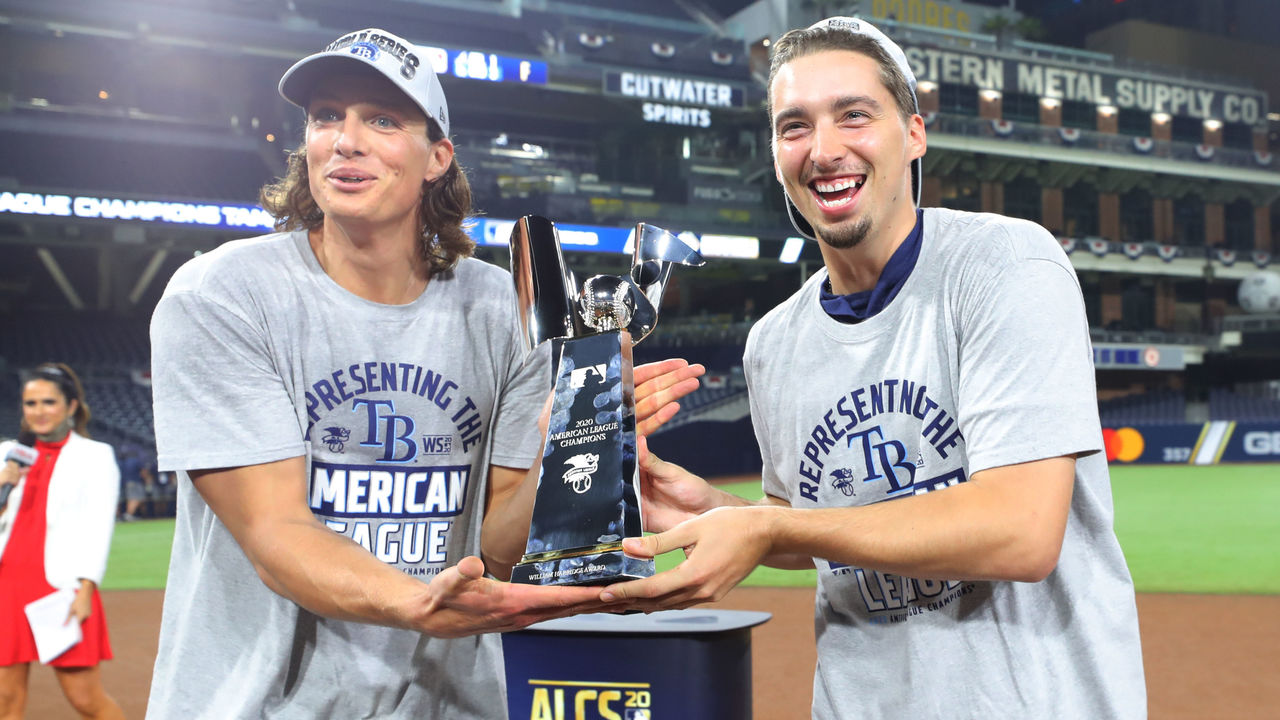 Advantage: Even
Bullpen
No team asks more of its bullpen than the Rays, who, as Kevin Cash famously put it earlier this year, boast a "stable full of guys who throw 98 mph." Beyond the top-notch stuff, though, the Rays' relievers, who led the majors by a mile in win probability added in 2020, also have an incredible variety of release points and arm actions that make them just a nightmare to hit against. The Rays' bullpen managed the fifth-lowest expected weighted on-base average in the majors this year (2.85), along with the fourth-lowest FIP (3.65). And their late-inning triumvirate of Pete Fairbanks, Diego Castillo, and Nick Anderson is as nasty as it gets.
Ultimately, the Rays' relief corps will play an outsized role in this series, just as it has in their previous three, and don't be surprised by ... well, anything. It's highly probable the Rays use an opener in this series, and it's possible they opt for a full-on bullpen game, too, especially with off days scheduled after Games 2 and 5. In any event, it wouldn't be the least bit shocking if their relievers logged more innings in the World Series than their starters do.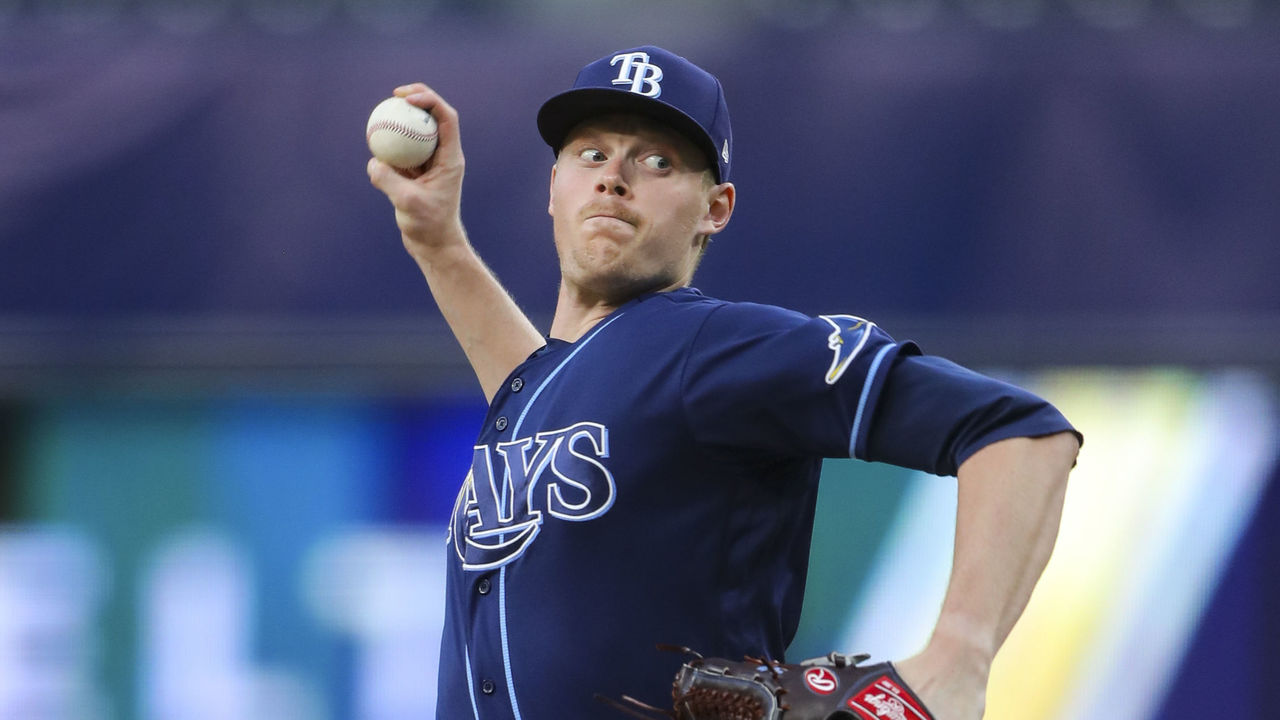 Despite dominating throughout the regular season by posting the second-lowest ERA in the majors, the Dodgers' bullpen has looked vulnerable throughout the playoffs, and it's increasingly unclear who their top late-inning options even are.
Amid waning velocity, longtime closer Kenley Jansen's role is now undefined. As hard as he throws, Brusdar Graterol doesn't miss many bats, neither does Pedro Baez, Dylan Floro, nor Blake Treinen. As impressive as his rookie season was, Victor Gonzalez has minimal high-leverage experience. And Joe Kelly is Joe Kelly. Upon closer inspection, it's not the most impressive collection of relievers ever assembled. That's not to say the Dodgers' bullpen is bad, but it's definitely not the strength it appeared to be during the season.
Advantage: Rays
Jonah Birenbaum is theScore's senior MLB writer. He steams a good ham. You can find him on Twitter @birenball.
Comments
✕
Who has the edge? Rays-Dodgers position-by-position comparison
  Got something to say? Leave a comment below!