After up-and-down season, Buehler shows he's an ace at most opportune time
Kelly Gavin / MLB / Getty Images
No team did more damage against fastballs this year than the Atlanta Braves. Admittedly, their lineup hammered every pitch type en route to a team-wide .832 OPS and 5.73 runs per game - the best and second-best marks in the majors, respectively - but the Braves feasted, in particular, against heaters.
Walker Buehler, whose team's season depended on him shutting down Atlanta's potent offense in Game 6 of the National League Championship Series on Saturday, was undoubtedly aware of that as he took the mound at Globe Life Field. He just didn't care.
Instead, the Los Angeles Dodgers right-hander leaned even more heavily than usual on his electric four-seamer, somehow adding more oomph to an already-elite fastball and effectively daring the Braves to hit it. For the most part, they couldn't. And with six gutsy, scoreless innings, during which he navigated his way out of multiple jams, Buehler not only helped the Dodgers - who looked like they were toast two days ago - force a seventh and final game in their NLCS matchup with a 3-1 victory, but he also reaffirmed his ace status at the most opportune moment.
Despite turning 26 only a couple of months ago, Buehler, a first-round pick who became a consensus top-25 prospect within two years of his professional debut, has been flirting with the label for a while now. As a rookie in 2018, he fashioned a 2.62 ERA with an 0.96 WHIP across 23 starts and one relief appearance for the Dodgers, ranking 11th in the majors in park-adjusted ERA and 14th in park-adjusted FIP among pitchers with at least 130 innings, and he ultimately finished third in National League Rookie of the Year voting.
In 2019, Buehler racked up more WAR (5.0, according to FanGraphs) than all but 10 other starters, crafting a 3.26 ERA and 3.01 FIP en route to his first career All-Star nomination and down-ballot Cy Young votes. Meanwhile, he also supplanted Clayton Kershaw as the Dodgers' best starter, outperforming the fading legend and displacing him on the depth chart: it was Buehler, not Kershaw, who landed the starting assignment for Games 1 and 5 of the Dodgers' ill-fated National League Division Series matchup against the Washington Nationals.
In 2020, however, after forcing his way into the "Who's the best starter in baseball not named Jacob deGrom or Gerrit Cole?" conversation with two brilliant seasons in a row, Buehler looked rather human, albeit over a small sample. The Dodgers were decidedly cautious with him in summer camp, and Buehler wasn't fully stretched out by his season debut. He wasn't sharp, either.
In his first start of 2020, Buehler allowed two earned runs over just 3 2/3 innings against the Houston Astros. His next time out, he allowed three home runs in five innings against the San Diego Padres. By the time he landed on the injured list due to a blister problem on his right hand in late-August, Buehler owned a 4.32 ERA across five starts, totaling 25 innings.
Buehler rejoined the rotation by early September, but the blister issue wasn't resolved: he made just three starts over the season's final month - two of them were quite good - and took more than two weeks between his penultimate and final outing of the campaign. He finished the year with a career-worst 3.44 ERA, a respectable figure that nevertheless belied his 4.36 FIP - the byproduct of bloated home run and walk rates - which was worse than those of Nick Margevicius, Matt Andriese, and Chris Mazza.
His inconsistency - and consequent inability to pitch deep into games - persisted into the postseason. In his Game 1 start against the Milwaukee Brewers in the wild-card round, Buehler lasted only four innings, allowing two runs - via a homer by the light-hitting Orlando Arcia - on three hits and two walks. In his next start, against the Padres in the NLDS, Buehler failed to make it through five, issuing four walks and allowing two hits over four innings of one-run ball. And in the NLCS opener, Buehler again struggled with his command, making it through five innings despite allowing a season-high five walks.
On Saturday, though, with the Dodgers' season on the line, Buehler turned in one of his strongest outings of 2020, a restorative gem in which he struck out six and allowed six hits - all singles - without walking a batter. He not only regained the command that eluded him over his previous couple of outings (and that has defined his stellar career thus far), throwing a season-high 73% of his 89 pitches for strikes, but he did so with extra giddy-up, adding more than half an mph to his fastball.
| | Regular season | Game 6 vs. ATL |
| --- | --- | --- |
| Strike % | 64% | 73% |
| Average four-seam velocity (MPH) | 96.8 | 97.3 |
With that extra velocity at his disposal, Buehler leaned on his fastball more than usual, deploying it nearly 60% of the time, or roughly 6% more frequently than he did during the regular season. Of his 13 whiffs, 10 came on fastballs. And when he found himself in a jam early, it was his fastball that got him out of it, the Braves' success against heaters be damned.
With the bases loaded in the top of the second and nobody out, Buehler - staked an early 3-0 lead - decided to dispense with mixing pitches and relied almost exclusively on his four-seamer, which batters mustered just a .165 weighted on-base average (and .199 xwOBA) off of this season. The strategy worked. Buehler proceeded to retire the next three batters in order, notching successive strikeouts and an inning-ending grounder via a torrent of four-seamers - 11 in a 13-pitch span, none of them clocked below 97.7 mph - to keep Atlanta off the board.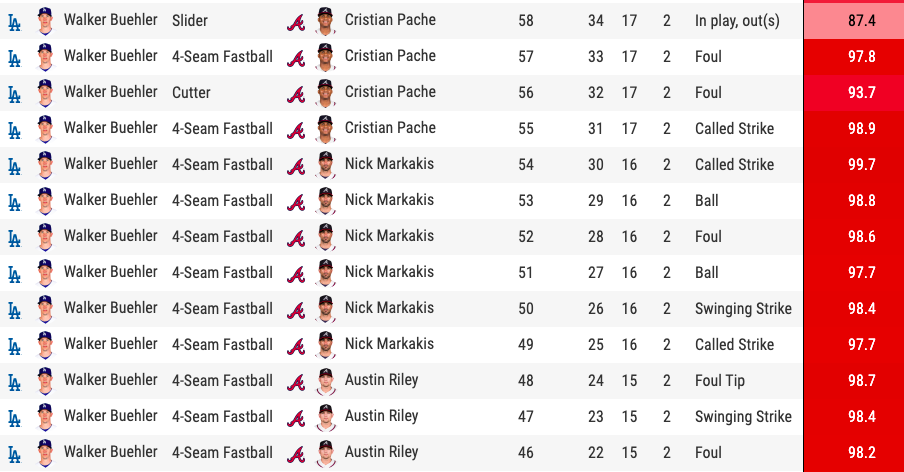 From that point onward, Buehler "allowed" only one more runner to reach third base: after singling with two outs in the sixth, Dansby Swanson stole second and advanced to third on catcher Austin Barnes' errant throw. Buehler promptly quashed the threat by striking out Austin Riley.
All told, despite surrendering a fair number of hard-hit balls, and he did need his defense to bail him out on a couple of occasions, Buehler nevertheless turned in a brilliant start when the Dodgers needed it most - like an ace does - while whittling his cumulative postseason ERA down to 1.89. And if this is indeed a sign of things to come, an indication Buehler is past the blister problems and once again capable of dominating as he did over the last two seasons, the Dodgers are in great shape moving forward.
Assuming, that is, they can win Game 7.
Jonah Birenbaum is theScore's senior MLB writer. He steams a good ham. You can find him on Twitter @birenball.
Comments
✕
After up-and-down season, Buehler shows he's an ace at most opportune time
  Got something to say? Leave a comment below!