Key thoughts and analysis from Matchday 1 in the Champions League
The Champions League is back! Below, we dissect the biggest talking points from Matchday 1 in Europe's premier club competition.
No rhyme or reason to Man United's play
It has been over a year since Erik ten Hag took the reins at Manchester United. When things went pear-shaped last season, the response was the same: Give him time. But how much more does he need to get this team to play responsibly? He spent nearly £350 million to sign players he's coached before, yet United are no better than they've been at any point over the last few years. They've slipped to 13th in the Premier League and conceded 10 goals in their last three matches, including Wednesday's 4-3 defeat to Bayern Munich. They're a ship floating nowhere fast.
It's easy to blame United's poor start on Andre Onana. The Cameroonian shot-stopper has made a hash of a number of shots and crosses since replacing David de Gea. After giving Harry Maguire the hairdryer treatment for playing similarly sloppy football in a preseason friendly, the goalie isn't looking to excuse himself. But United's problems have more to do with their defensive shape than Onana's shoddy goalkeeping. He'll eventually come good. United's backline has been leaking goals for years.
Opponents have the easiest time rolling off of United's defenders and into the space behind them, and once the Red Devils begin to backpedal, there's little stopping their adversaries from scoring. Diogo Dalot feels the burn quite often on the right side, and Victor Lindelof struggles to pick up the right man in the area. Lisandro Martinez can try his best to weave his way out of trouble, and often does, but he can't always release the pressure.
The result is the kind of goal Serge Gnabry scored to give Bayern a rapid-fire 2-0 lead.
The are also problems in midfield. Like Brighton & Hove Albion before them, Bayern passed circles around United, threading the ball through vast openings that Christian Eriksen and Casemiro couldn't close in time. United's midfielders end up doing so much unnecessary running, and it blunts their edge when they try to press.
United can mitigate their woes by holding on to the ball for longer stretches. Consider it possession as a form of defense. So far, they've failed to record more than 50% possession in four of the six matches they've played. It's no coincidence they lost each one. - Anthony Lopopolo
Newcastle still have a lot to learn
There's a temptation to praise teams when they steal a point away from home. Newcastle United did it Tuesday against AC Milan, drawing a round of applause from various pundits for their "battling" performance at San Siro.
The truth is far less appealing. Milan outshot Newcastle 25-6 and outplayed the visitors in virtually every area of the pitch. Tuesday's goalless draw was less a demonstration of Newcastle's defensive brilliance and more an indictment of Milan's careless finishing.
What we really learned is that Newcastle are well off the pace in the Champions League. They offered next to nothing offensively against Milan, who were beaten 5-1 by Inter Milan on the weekend. Newcastle's first shot on target came in the 95th minute, and with just 11 touches in the penalty area, they rarely threatened to make any breakthrough. On the opposite end, Milan routinely broke Newcastle's lines, wreaking all sorts of havoc in the 18-yard box. Sixteen of their 25 attempts came from inside the area, and if Rafael Leao and Olivier Giroud hadn't had such an off night, Milan would've run up the score. It could've been embarrassing.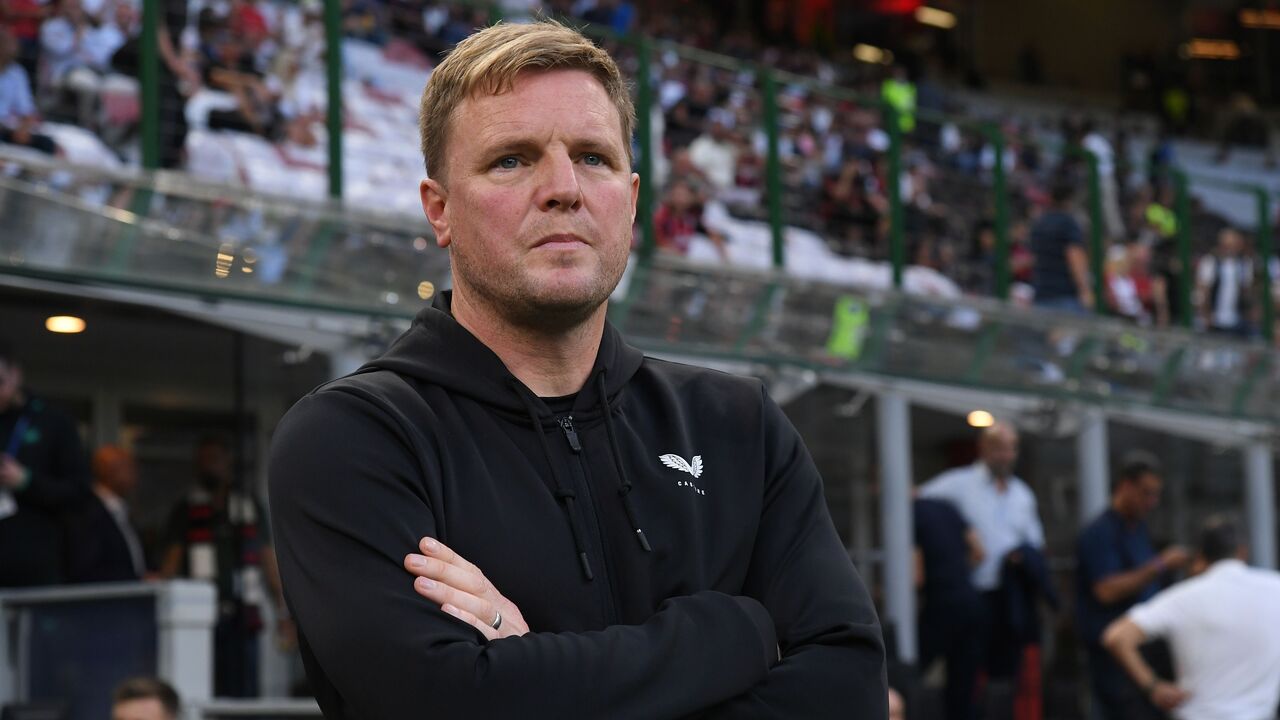 Newcastle manager Eddie Howe said afterward his team would improve, and it must if the club has any hope of qualifying out of this year's group of death. Timid in the final third and too loose in midfield to control games, Howe's side often relies on Dan Burn's exceptional blocking and clearing and Kieran Trippier's clean tackling to get results. But as a unit, Newcastle are conceding too many high-quality chances for a team with as much ambition as they have.
What's most concerning about Newcastle is their tactical imbalance. Howe's team doesn't press very well, and neither Sandro Tonali nor Bruno Guimaraes look like they can carry the load in the centre of the pitch. They almost seem to step on each other's toes, with neither knowing what their assignment is.
So there's much more to learn from the club's first Champions League match in two decades than there's to praise. And that's OK. A lot of people at Newcastle - Howe included - hadn't experienced a night like this one before. But there was a bit too much luck about this draw for Howe or any one of his players to fall for the usual cliches about such desperate performances. - Lopopolo
Rodri's influence keeps on growing
It took some time for Rodri to settle at Manchester City. This isn't surprising under a manager like Pep Guardiola, whose insistence on patterns and precision can be hard for some players to immediately understand and execute.
But it's easy to forget that one of the main reasons the Spaniard was omitted from City's lineup for their 2021 Champions League final defeat was because he was out of form - just two years before Rodri won it for his club against Inter to conclude an influential 2022-23 campaign.
Wind back a couple of years, and Rodri was guilty of dwelling in possession and could surrender the ball in dangerous areas. Sometimes he lacked the vision to consistently turn defense into attack. He didn't always use his size effectively when shielding the ball. Simply put, he was struggling to be Fernandinho.
Tuesday's 3-1 comeback victory over Crvena Zvezda was yet more evidence of how much he's grown as a player. It's difficult to name a better No. 6 on the planet, with his ability to progress play now reminiscent of Fernandinho while his brawn and assurance on the ball harks back to peak Yaya Toure.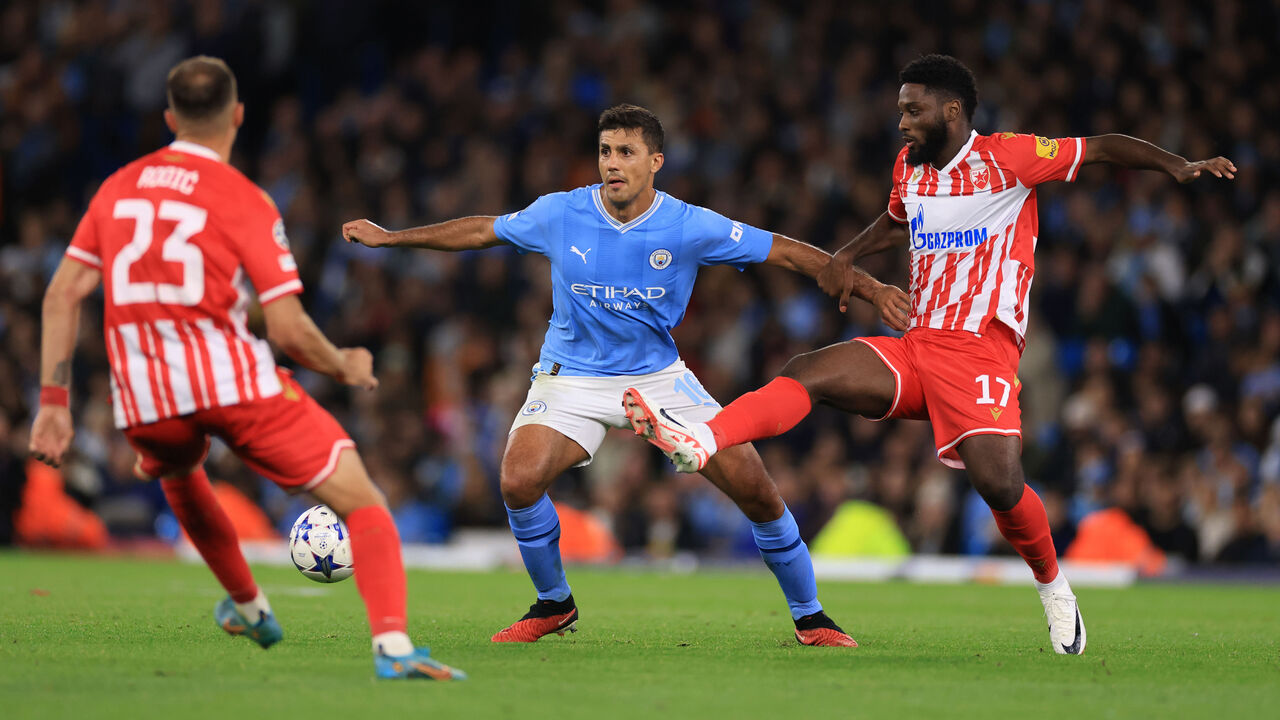 His increased attacking threat was on display when he coolly bypassed his marker and sidefooted the ball into the bottom corner from the edge of the box. He also ranked joint-third for shots in the match (five), completed three dribbles, was on the mark with all three of his attempted long balls, and, of course, touched the ball more times (117) than any other player.
And that's perhaps the strongest indicator of how valuable Rodri is to Guardiola's team - they're getting him on the ball as much as possible. Last season, he averaged 101.2 touches per 90 minutes in the Premier League. That number has risen to 128.5 touches per 90 minutes over the opening five matches of City's latest English title defense.
"He is a top class player," Guardiola reflected on Rodri's latest performance. "The goal is top class but defensively (and) offensively he reads the play and spaces and knows exactly where men are free. Close to the box he is so dangerous." - Daniel Rouse
Felix enjoying his football again
It's nice to see Joao Felix smiling.
After enduring a miserable spell at Atletico Madrid, and an even more disastrous loan stint at Chelsea, the Portuguese forward seems genuinely happy at Barcelona. Felix said it was his "dream" to play for the Catalan club prior to sealing his temporary switch from the Spanish capital, and, at least thus far, it's going as well as he could possibly hope.
He was the standout performer in Barca's 5-0 shellacking of Royal Antwerp on Tuesday, scoring twice, including a slick opener in which he cut inside and fired a textbook low shot back to the near post. The brace gives him three goals in his last two matches - both 5-0 Barcelona triumphs - and he's establishing himself as a dangerous weapon on the left side of Xavi's attacking trio.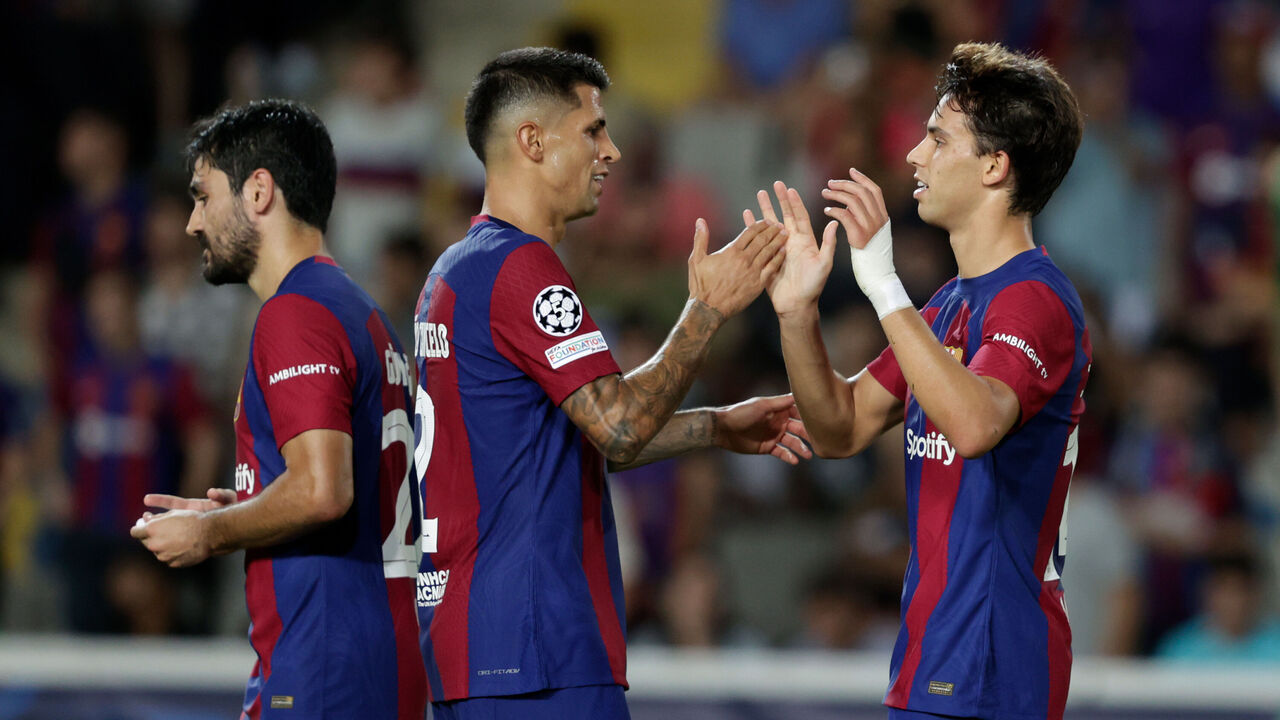 Felix, still only 23, is objectively talented. Whatever you think of Atletico Madrid's decision to spend €126 million to sign him in 2019, there's no denying his quality. Can he consistently show it off is the question that will determine whether he can reestablish himself as one of the game's most exciting forwards. It wasn't that long ago he was viewed as a future superstar, after all.
Under Xavi's tutelage, and free of the more rigorous defensive demands of Diego Simeone at Atletico, Felix is in the ideal environment. This is his best opportunity to thrive since his Benfica days, and he knows it.
"Getting to this level, it's not the most difficult thing, it's maintaining it," Felix said after Tuesday's stroll in Montjuic. "We all have to work hard to do that."
Barcelona, looking to recover from two consecutive - and humbling - group-stage exits in Europe's premier competition, need Felix to keep delivering just as much as he needs them right now. It's a dream match. - Gianluca Nesci
Quick free-kicks
Kane made the right choice
Harry Kane could've gone to Manchester United this past summer. Had he stayed in England, he almost certainly would've broken the Premier League's all-time scoring record and garnered immense acclaim. He opted for Bayern Munich instead, thanks largely to the Bavarian club's ability to offer the one thing missing from his CV: silverware. It's hard to argue with his decision considering the trajectory of the two clubs at the moment. Manchester United are a mess, while Kane's goal Wednesday helped Bayern stretch their unbeaten run in the Champions League group stage to 35 matches. "Over the summer, there were some talks between a few clubs in the background," Kane admitted ahead of the match. "There weren't too many other discussions when Bayern came in." - Nesci
Underwhelming start for Inter
Inter Milan have been here before. Their unexpected and impressive run to the Champions League final last season actually started with a 2-0 defeat to Bayern Munich. Simone Inzaghi's team, despite also having to face Barcelona in a devastating quartet, regrouped to reach the knockout stages and, eventually, the final, where they pushed Manchester City right to the final whistle. They'll need to gain steam in a similar way this season. Inter opened their campaign with a feeble 1-1 draw against Real Sociedad and were badly outplayed, benefitting from some good fortune - and good goalkeeping - before snatching a draw in the waning minutes through Lautaro Martinez. The Nerazzurri have the benefit of a less ominous group this season and, considering their dominance in Serie A thus far, should rebound. - Nesci
Dream UCL return for Arsenal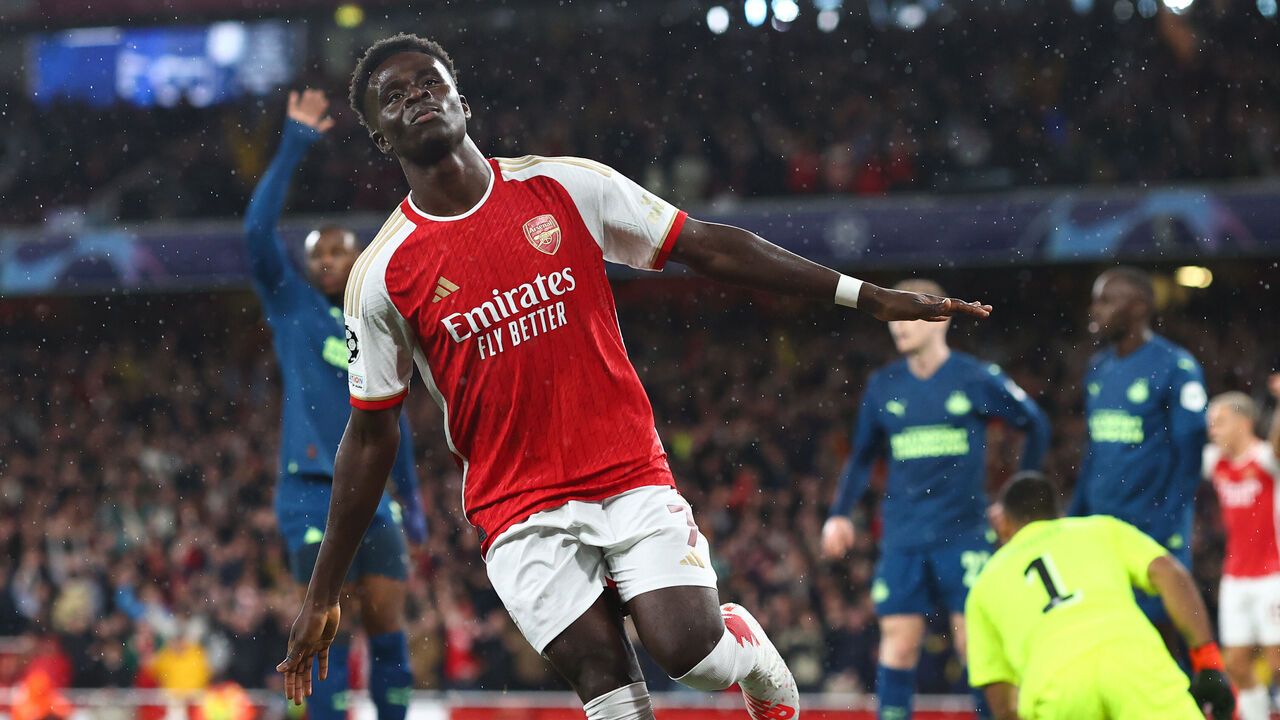 Arsenal saved their best performance of the season for the Champions League. In their first match in the competition in seven years, they didn't show any signs of nervousness en route to a lopsided 4-0 victory over PSV Eindhoven, with goals from Bukayo Saka, Leandro Trossard, Gabriel Jesus, and Martin Odegaard. Despite their impressive Premier League record, Arsenal haven't been as fluent as last season. But the Gunners finally benefitted from a potent attack Wednesday, while the defense did well to subdue PSV. Meanwhile, David Raya was solid the odd time he was called into action during his second game for the north London club. - Gordon Brunt
Bellingham has Benzema effect
Jude Bellingham promised to be a lot of things for Real Madrid. A leading scorer wasn't one of them. He was in the right spot at the right time once again Wednesday, scoring in the 94th minute against Union Berlin to preserve Madrid's perfect start to the season. Four of the six goals Bellingham has scored since joining the club in a €103-million deal have either broken a tie or given Madrid the lead. Karim Benzema used to toss out those kinds of lifesavers in the Champions League, emerging just as Los Blancos' invincibility had threatened to wear off. Now, Bellingham is coming up with the heroics. - Lopopolo
Galatasaray's gamble off to unconvincing start
Don't let the influx of big names fool you: Turkish football isn't in good shape. The country's top four teams - Galatasaray, Fenerbahce, Besiktas, and Trabzonspor - had €2 billion of debt between them at the end of August, and some cut-price players who arrived in the summer are on salaries the clubs simply can't afford, according to Agence France-Presse. Galatasaray, Turkey's only Champions League team, needed FC Copenhagen to be reduced to 10 men to score two late goals and claim a point in a 2-2 home draw Wednesday. Considering the lavishly paid players at their disposal - including Mauro Icardi, Hakim Ziyech, Dries Mertens, and Wilfried Zaha - this isn't good enough. Galatasaray should be aiming for the lucrative knockout rounds to help address their concerning financial position. - Rouse
Provedel's memorable moment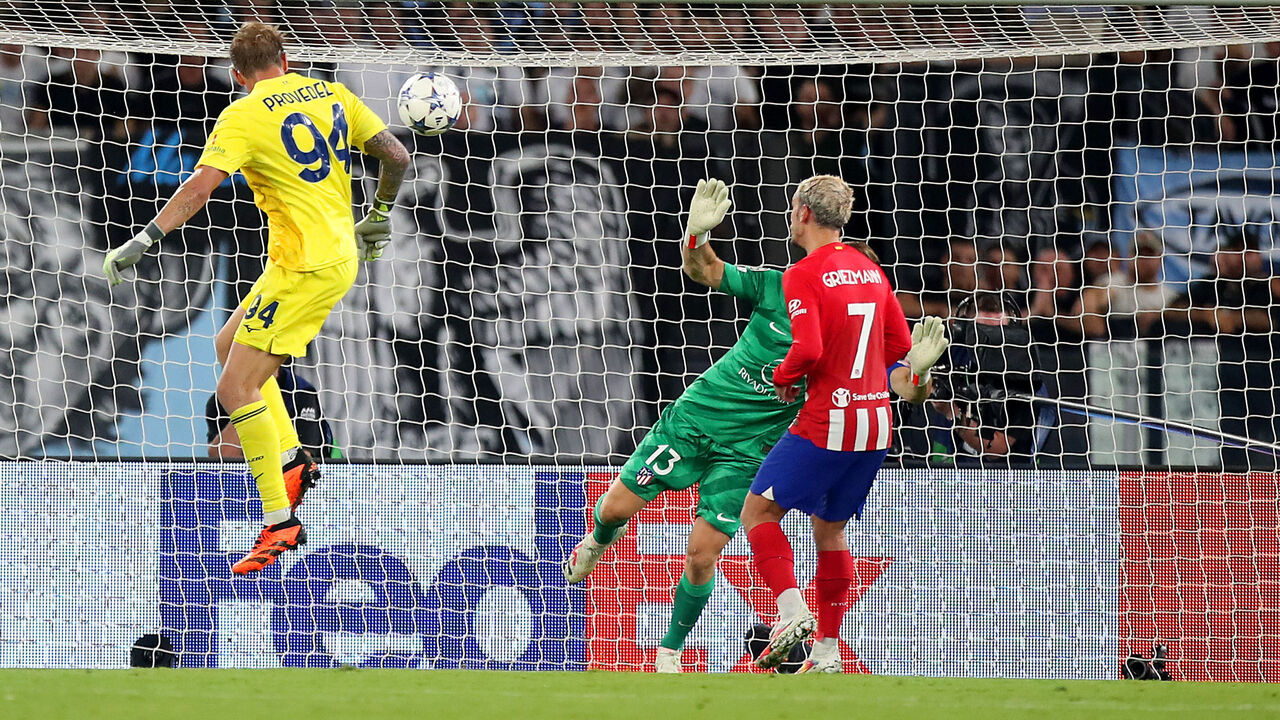 Is this the moment that jolts Lazio's season to life? Goalkeeper Ivan Provedel's 95th-minute equalizer against Atletico Madrid was a bolt from the blue. The netminder, almost as if in a daze, didn't know how to celebrate after glancing a header beyond counterpart Jan Oblak to secure a 1-1 draw. Lazio supporters haven't had much to get excited about in the early stages of the campaign. They lost their first two league matches in upset fashion, and their away win over Scudetto holders Napoli was immediately followed by a timid defeat to Juventus, halting any momentum Maurizio Sarri had hoped to gain. Provedel's tally, the first by a goalkeeper in the Champions League in over a decade, should provide a much-needed spark. How could it not? - Nesci
Signs of progress for PSG
Paris Saint-Germain have gotten off to a rocky start under Luis Enrique, as the new-look squad - particularly up front - takes time to gel; going into their Champions League opener against Borussia Dortmund, they had won just two of their first five league games. But there were finally signs on Tuesday that the expensively assembled attack is starting to figure things out in the wake of losing Lionel Messi and Neymar. Kylian Mbappe, Randal Kolo Muani, and Ousmane Dembele should be one of the most electric trios in world football. With Goncalo Ramos also in the mix, it's only a matter of time until PSG morphs into a devastating unit. - Nesci
Tomori deserves more respect
Are you watching, Gareth Southgate? Perennially overlooked by England's manager, Fikayo Tomori showed against English opposition just how brave of a defender he can be. The 25-year-old stuck to Alexander Isak like taffy on Tuesday, rendering Newcastle's pacey striker powerless in an incredible man-marking display. Tomori also stepped out of defense whenever he could, ensuring none of Newcastle's attackers could turn easily into Milan's half of the field. He certainly took risks - every one of his challenges had to be perfect - but reaped the rewards. Whether Southgate sees Tomori as a solution at the back is another thing. The defender has made just three appearances for England in the last four years. He's paid his dues. - Lopopolo
All aboard the Simons hype train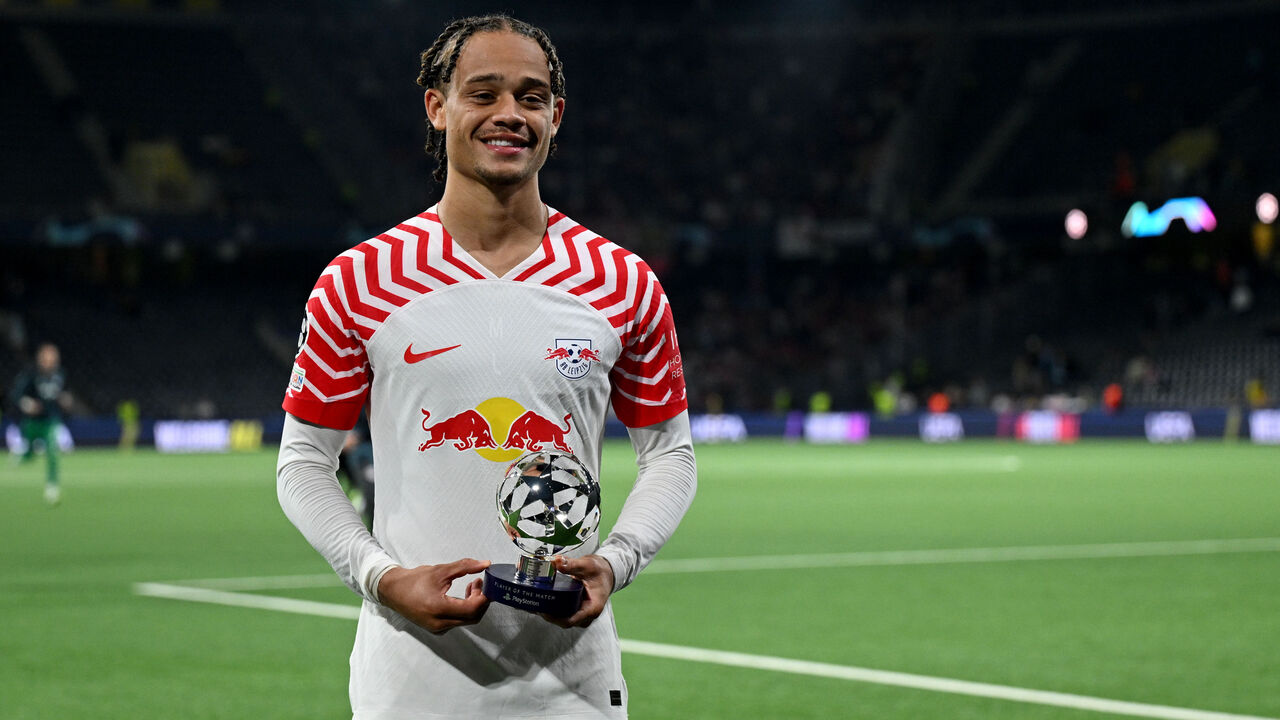 The hype over Xavi Simons continues to grow. The 20-year-old didn't have a goal or an assist in Tuesday's 3-1 win over Young Boys, but the promising RB Leipzig star played well enough in his Champions League debut to pick up the Man of the Match award. He was a constant threat in possession, fearlessly driving at defenders and helping to create opportunities against the Swiss side courtesy of his great vision and passing. It was a continuation of the versatile Dutchman's red-hot start to his first Bundesliga season after joining Leipzig on loan from Paris Saint-Germain. - Brunt
Glazer's Jekyll and Hyde night
The hasty manner in which Crvena Zvezda boss Barak Bakhar jettisoned goalkeeper Milan Borjan over the summer seemed distasteful given the veteran donned the gloves for six consecutive Serbian SuperLiga titles. But Omri Glazer's first-half performance at Manchester City helped explain Bakhar's thinking. The Israeli shot-stopper pulled off seven saves - keeping Haaland off the score-sheet and producing one remarkable piece of athleticism to deny Nathan Ake - to help his team take a surprise 1-0 lead into halftime. However, it was a mixed evening for the 27-year-old, who duly punched Julian Alvarez's free-kick into his own net for City's second goal. - Rouse
Stat of the week
Bellingham is absolutely loving life in Madrid so far.
Tweet of the week
Casemiro may have scored twice on Wednesday, but his defensive work, typically his calling card, has been badly lacking this season, and it's leaving Manchester United exposed all too often.