Every week, theScore will handpick the best stories from the top five leagues and beyond, giving bite-sized accounts of the things you need to know from around European football.
Give it up for Chelsea's B team
Frank Lampard has stretched Chelsea to the fullest extent. As of Sunday, 25 players have made at least one appearance in the Premier League this season. And he dug even deeper than usual against Everton. His usual bench players not only played, but shined. Pedro, Willian, and Olivier Giroud have all spent varying intervals on the sidelines, and all of them scored in the 4-0 win. Even Ross Barkley, who missed nearly two months due to injury, joined the fun with two assists at Stamford Bridge.
Lampard gave minutes to Faustino Anjorin and Armando Borja as well, making them the seventh and eight academy graduates to earn their Premier League debuts this season.
It's true Lampard has rotated his squad largely out of necessity. The transfer embargo forced Chelsea to give the kids a chance, and injuries created even more opportunities for players on the fringe. But the sophomore manager has done a good enough job keeping his players on board. Lampard praised Giroud's professionalism while he was out of the team, and now the Frenchman is leading the line on a regular basis and getting the minutes he needs to justify a call-up to France's Euro 2020 squad.
For Chelsea, there's strength in numbers. They've beaten Tottenham, Liverpool, and a resurgent Everton in recent weeks without several starters. Christian Pulisic is still out. And the Blues are still fourth in the table.
No choice but to suspend Serie A
A week after postponing matches, Serie A allowed games to be played behind closed doors this weekend. But the situation is getting worse. Nearly 400 people have died from COVID-19 in Italy and more than 6,000 have been infected. The entire province of Lombardy, which accounts for a quarter of the Italian population, is under lockdown until April. Eleven other provinces are also quarantined. Around 16 million people are being affected.
It's hard to care about football when so many lives are at risk, and it's unfair to ask players to travel between regions every week just to play games in empty stadiums. The government is ordering people to limit travel and keep a safe distance from others. Why should the players risk their own health under such circumstances?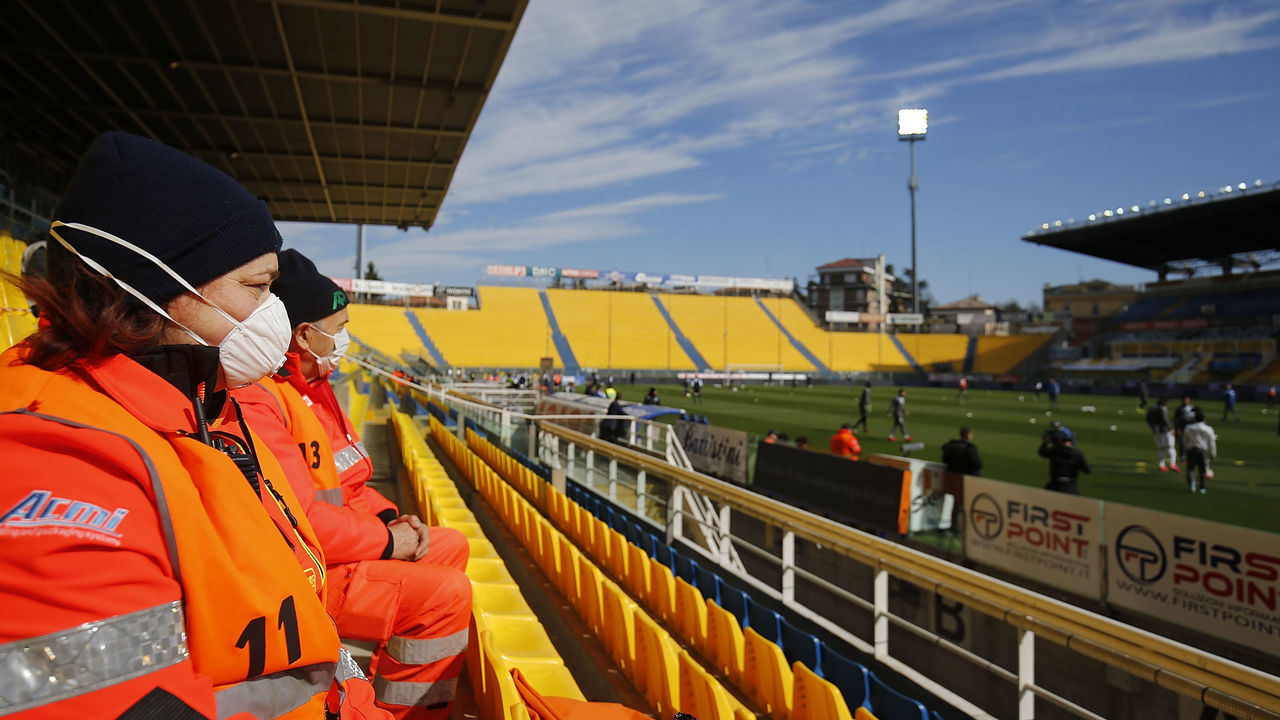 Serie A already ignored a request from the government to suspend games. It went ahead despite a last-minute appeal from the country's sports minister, Vincenzo Spadafora. Now an extraordinary meeting will take place on Tuesday to determine whether Serie A will continue. For the sake of everyone, a final, definitive decision must be made. Serie A can't go on just for the sake of it.
The country needs strong leadership right now. If that means suspending the season, then so be it. This isn't a time to calculate lost revenue or ticket sales. People are dying at an alarming rate. Those are the numbers that truly matter.
La Liga's chasing pack stumbles
None of La Liga's Champions League hopefuls won on the weekend. Valencia struggled in a 1-1 draw with Alaves. Getafe finished with 10 men in a scoreless stalemate against relegation-threatened Celta Vigo. In Madrid, Atletico and Sevilla went blow for blow to finish 2-2. Real Sociedad, arguably the biggest surprise of the season, lost 1-0 to Barcelona, but only after VAR awarded the Blaugrana a controversial penalty in the 81st minute.
It's difficult to predict which clubs will join Barcelona and Real Madrid in the Champions League next season. Sevilla and Getafe currently hold the final two berths, but neither is a picture of consistency at the moment. Atletico have trouble actually winning games, and Valencia are seventh with one win in five La Liga games.
Real Sociedad look the most convincing of the stumbling pack. They have a game in hand on their immediate rivals and one of the league's most creative players in Martin Odegaard. The on-loan midfielder has averaged 2.3 key passes per game, second only to Lionel Messi, and 2.4 dribbles, good for fourth in La Liga. As long as he's humming, La Real have a real chance of reaching the Champions League for the first time since 2013-14.
But there are no guarantees. Only five points separate third place from seventh.
Hazard steps into the spotlight
Thorgan Hazard hardly gets the chance to shine. Someone's always in the way. That's what happens when you're the younger brother of Eden, the spectacular (when fit) Real Madrid winger. It's also the price Thorgan pays for playing on the same team as Jadon Sancho and Erling Haaland.
Saturday was different. Perhaps sensing the opportunity to upstage his teammates, Hazard laid former side Borussia Monchengladbach to waste, scoring a Cruyff-like goal in the 2-1 victory.
Hazard started ahead of Sancho and wasted no time on the ball. He won a whopping 29 duels at Borussia-Park - 12 more than the next-best player - and galloped up and down the left flank. During one scrappy sequence, Hazard regained possession while sitting on the ground. He was a whirlwind of determination.
It's difficult for Hazard to stand out when players like Sancho and Haaland garner so much of the media's attention, but he's quietly having a productive season. With five goals and 10 assists in 24 Bundesliga appearances, the 26-year-old could well reach double digits in both categories. Sancho is the only player who's done that so far.
Marseille lose their heads … again
Up until Friday, Andre Villas-Boas managed to keep the crazy at arm's length. But it's not easy to do that at a club like Marseille.
Somehow, OM fell apart against lowly Amiens, conceding two goals in the final 10 minutes - including a heartbreaking equalizer in the 95th - before slumping to a 2-2 draw. Villas-Boas was sent off after quarreling with the referee. He had to be restrained. It was all very messy.
For a while, Marseille had refrained from self-immolating like they had in previous seasons. The Stade Velodrome had become a happier place. Once full of vitriol, fans filled the stadium with increasing regularity. But Friday's result harkened back to meaner times. It was deflating.
It could also be a wake-up call. Marseille are in limbo at the moment. They're 12 points behind Paris Saint-Germain - too far to challenge for the title - but also six points ahead of third-place Rennes. It's easy to get comfortable in that position. Maybe that's why Marseille dropped their guard after storming to a 2-0 lead against a team they should've easily beaten at home.