Why is a company tied to Russia's war effort getting Champions League exposure?
MIKHAIL METZEL / AFP / Getty
Gazprom, a company with strong ties to Russia's war effort in Ukraine, is enjoying significant exposure during this season's Champions League despite UEFA ending its sponsorship agreement with the energy corporation shortly after Russia's invasion began in February 2022.
Reigning European champions Manchester City hosted Crvena Zvezda - commonly known as Red Star Belgrade in the English-speaking world - on Tuesday. The Serbian club has worn Gazprom's logo on its jerseys since 2010 and proudly maintains a close relationship with the state-owned Russian company.
"(It's) an arm of the Russian state," Polina Ivanova, a correspondent covering Russia, Ukraine, and Central Asia for the Financial Times, told theScore about Gazprom. "It's fully Kremlin controlled."
When I asked UEFA for comment on Gazprom's presence at its flagship club competition, the governing body replied: "UEFA decided to terminate its own partnership with Gazprom. Clubs remain responsible for their private contractual agreements with their sponsors."
Its position appears to be at odds with UEFA's official Champions League regulations. The first entry of Article 57 states: "From the playoffs, only the approved and used shirt sponsors may appear on playing attire."
UEFA didn't respond to my request for clarification on whether European football's administrators approved Gazprom's appearance on Crvena Zvezda's jerseys.
Gazprom soldiers and 'gas blackmail'
It's not in Gazprom's best interests to openly support the invasion of Ukraine. Gazprom's relationships with countries to the west were extremely lucrative when Russia supplied the European Union with about 40% of its gas before Vladimir Putin's troops stormed across borders.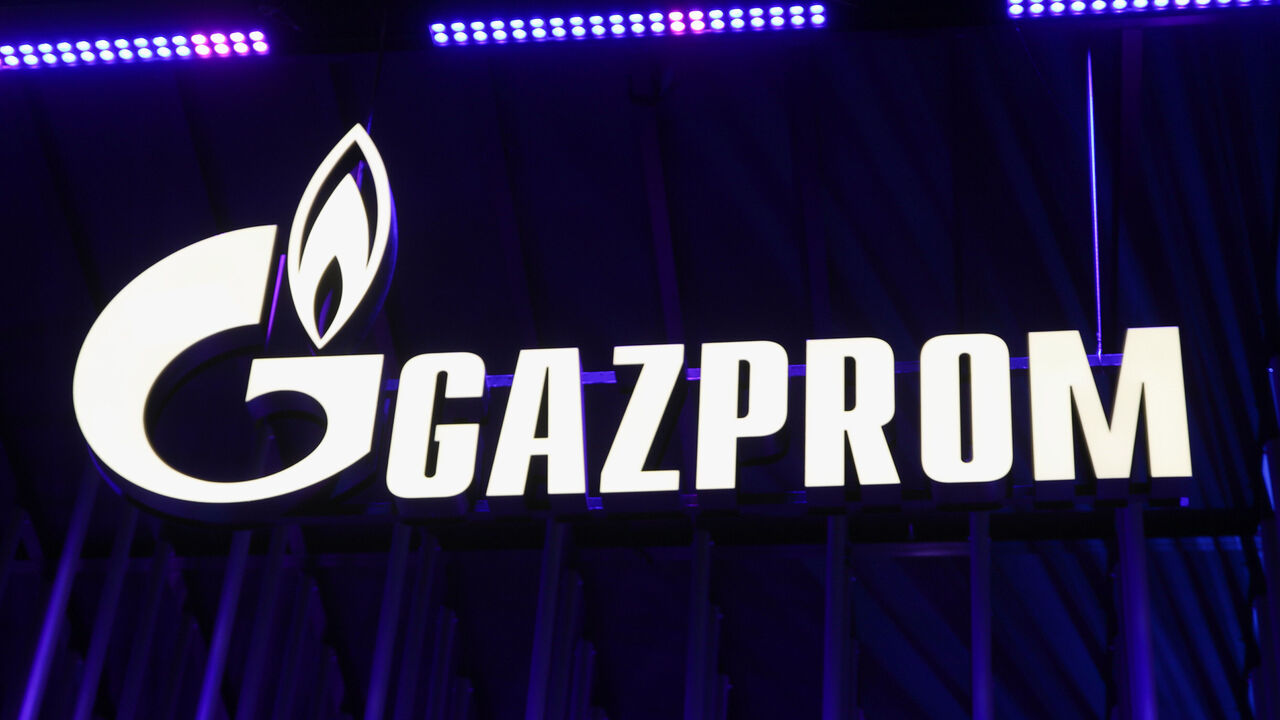 But with her Financial Times colleagues Christopher Miller and Max Seddon, Ivanova uncovered substantial evidence to indicate Gazprom is supporting Russia on the front line. Gazprom started to form volunteer battalions in August 2022 during mandatory meetings of some of its security teams across Russia, according to the June report. Workers who signed up were promised substantial financial perks and equipment supplied by the company, along with assurances they could return to their jobs after armed service.
"I saw images of Gazprom security guards affiliated with an armed militia," Ivanova explained of one aspect of their exhaustive investigation. "Or of armed men on the front line, fully armed, kitted out with all the weapons, in camouflage, standing either on a training ground or already in Ukraine, and holding a banner that affiliated them to Gazprom via this private military company."
Before Yevgeny Prigozhin died in a plane crash in August - around nine weeks after he led and then aborted mercenary group Wagner's mutiny against Russia's armed forces - he name-checked Gazprom's Potok militia in a rant about ill-equipped smaller battalions and their sponsors' motivations for putting them on the front line.
"People with money think creating a (battalion) is so hot right now," he complained in April, according to the FT report. "They need to report to the Kremlin about how f-----g amazing they are for creating their own (units)."
Gazprom is also directly linked to what Ukraine president Volodymyr Zelensky described in July as Russia's "gas blackmail" of Europe, as pipeline supplies dropped to 20% of their usual level or were sometimes cut off altogether. When Gazprom closed the Nord Stream 1 gas pipeline, which carries gas from Russian province Siberia into northern Germany, due to an apparent oil leak in September 2022, The Guardian's Patrick Wintour said Putin was "testing Europe's real willingness to see the lights go out in defense of Ukraine's sovereignty."
Gazprom appears more than loosely linked to the war; the militias and weaponization of gas suggest an unyielding commitment to force Ukraine under Russian rule.
"It's hard to imagine a company that's done a bigger one-eighty: from sponsoring UEFA to sponsoring a militia and the Ukraine war," Ivanova said.
Russia and Serbia 'together'
Gazprom's presence remains highly visible in European soccer, despite UEFA ending its almost decade-long partnership with the company shortly after the war began. The sponsorship agreement, which covered the Champions League and national team competitions, was worth €40 million or more to European football's governing body each season.
Gazprom lost other business deals, too. FC Schalke, a club hailing from Germany's traditional industrial hub of Gelsenkirchen, removed Gazprom as a sponsor after a 15-year partnership.
But Crvena Zvezda's relationship with Gazprom seemed to strengthen while Ukrainian and Russian death tolls climbed. Three months into the conflict, the club published a letter sent from Gazprom to congratulate Crvena Zvezda for winning the Serbian SuperLiga. The post on the website described Gazprom as "friends and long-standing sponsors."
A week later, Crvena Zvezda chief operating officer Zvezdan Terzic confirmed the club signed a new and improved two-year sponsorship deal with Gazprom worth €10 million. The team then played a friendly match against the company's hometown club Zenit St. Petersburg in the southern Russian city of Sochi in July 2022.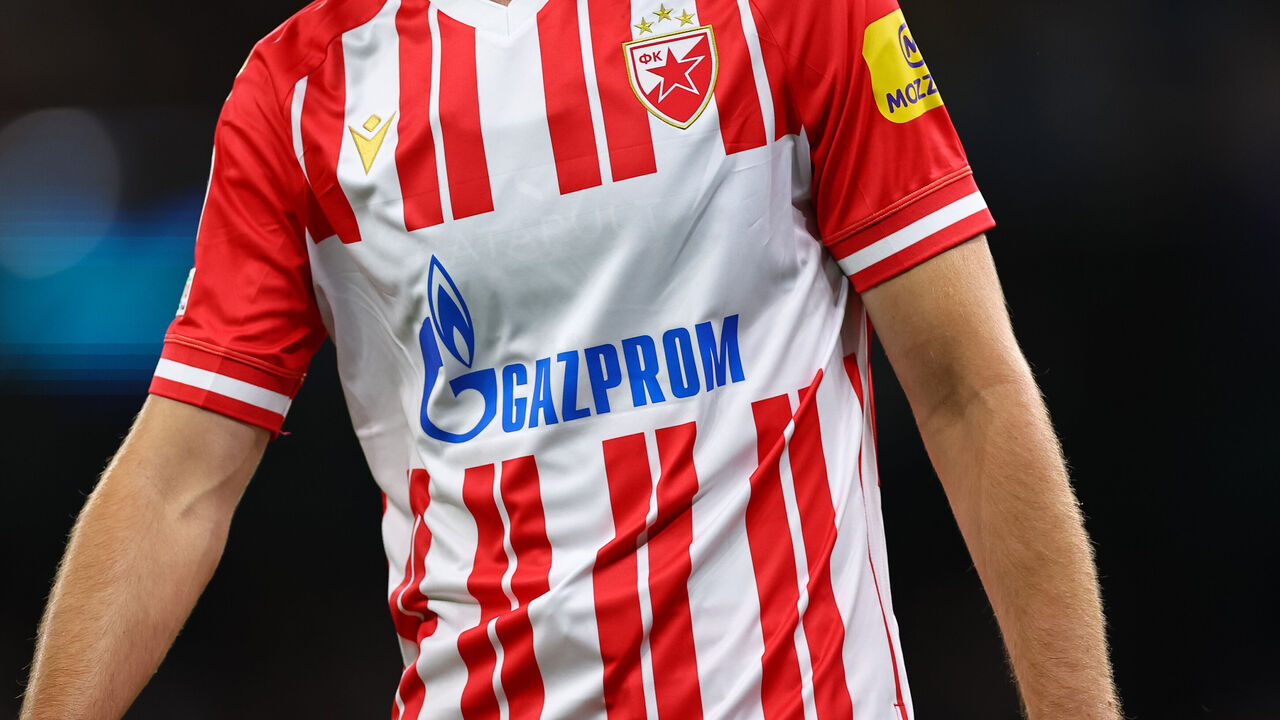 Gazprom was on Crvena Zvezda's shirts during the 2022-23 edition of UEFA's secondary continental competition, the Europa League. The Serbian champions then followed their Europa League endeavors with two more games against Zenit in November 2022 and again two months ago. Both fixtures were held in St. Petersburg. The ceremony ahead of the first friendly match featured the players holding a banner with the two countries' flags entwined and the message "Together!" in Russian and Serbian Cyrillic.
This season, despite UEFA canceling Gazprom's Champions League sponsorship, the state-owned company will be publicized in Crvena Zvezda's matches against Pep Guardiola's serial trophy winners Manchester City, back-to-back German Cup champions RB Leipzig, and Young Boys, winners of five of the last six Swiss league titles.
Together, Crvena Zvezda and Gazprom are promoting a message of unity between Serbia and Russia while Ukraine fights for its existence. And together, Crvena Zvezda and Gazprom are emphasizing that any money - no matter where it comes from - has access to the top of European football.