The WWE is making a major wager on Ronda Rousey, and her transition from UFC fighter to WWE superstar could have major ramifications for the future of the worldwide leader in sports entertainment.
Rousey arrives as a sort of unicorn - a superstar who made their fame outside of the wrestling world coming to the WWE universe for a full-time career. That's never really been seen before, despite the likes of Olympic gold medalist Kurt Angle, "World's Strongest Man" Mark Henry, and NCAA Division I heavyweight champion Brock Lesnar entering the ring. All three men had some cachet when they made the switch, but they were not yet household names.
The closest comparison to Rousey's arrival may be that of Ken Shamrock and Dan Severn in 1997. Like Rousey, both Shamrock and Severn joined the WWE with a legitimate background in combat sports and UFC titles on their resumes.
However, the UFC of Shamrock and Severn's day is no match for the media behemoth the promotion became during the rise and reign of Ronda. Shamrock and Severn may have been famous in some circles, especially given the overlap between wrestling and MMA fans, but they lacked the mainstream appeal that Rousey still retains two-and-a-half years since she last won in the Octagon.
This experiment could lead the WWE to bring in similar talent, allowing people who have created a name elsewhere - be it in sports, entertainment, or some other avenue - to join the company full time as a kind of second career. If Rousey's a rousing success, the WWE may attract other stars with similar status who are looking to reinvent their image.
Conversely, if Rousey stumbles, that could spell doom for the WWE's hopes of expanding in that direction. There has been lots of speculation that the company wants to bring New England Patriots tight end Rob Gronkowski into the fold when he decides to hang up his cleats. Gronk has already participated in WrestleMania, is good friends with Mojo Rawley, and seems to be interested.
If the WWE can't properly utilize Rousey and her tenure ends up a punchline instead of a success story, someone like Gronkowski could be less likely to take a chance on the transition, concerned he could do real harm to his image.
This isn't just a pivotal moment for the WWE, but for Rousey herself. After gaining a massive following as the baddest woman on the planet, Rousey lost much of her luster with a pair of knockout losses - including her last fight, an embarrassing 49-second defeat by Amanda Nunes.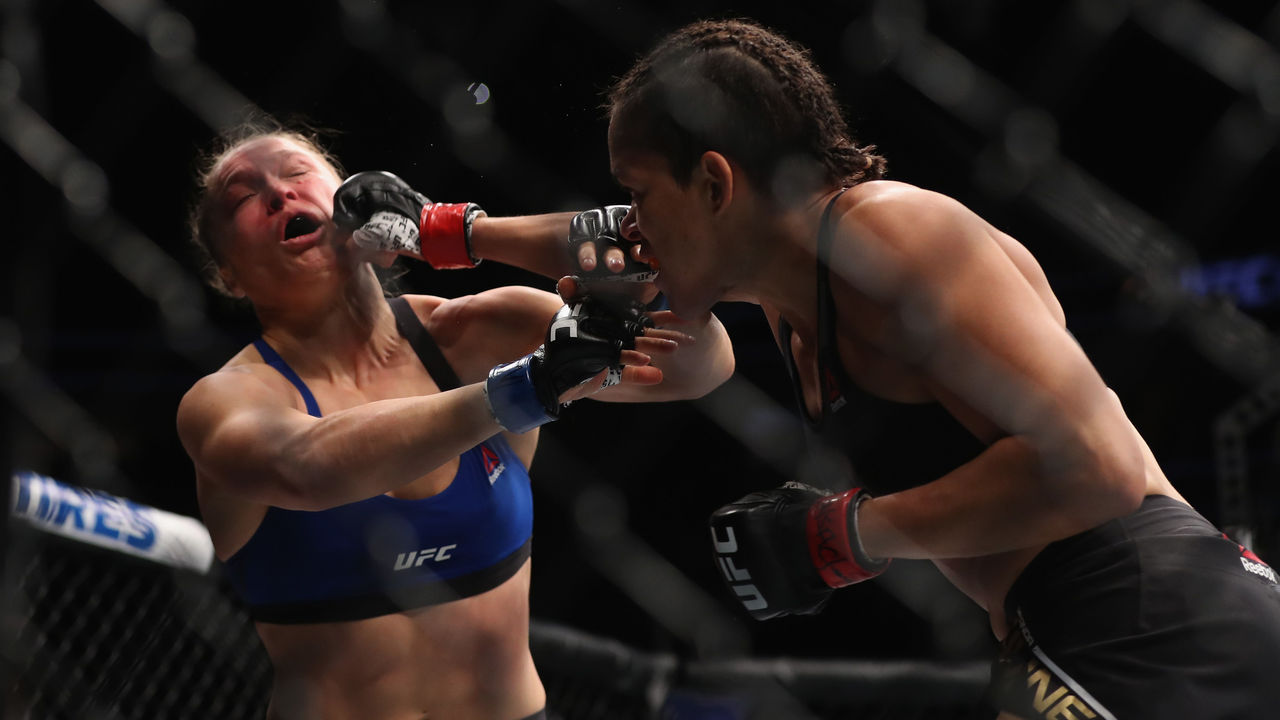 (Photo courtesy: Getty Images)
Prior to the losses, Rousey looked ready to transition from MMA to movies, but as her success in the Octagon waned, so too did Hollywood's apparent enthusiasm for making her the next big star. A strong performance in the WWE could provide another bridge to the silver screen, as has proven to be the case for Dwayne "The Rock" Johnson, John Cena, and Dave Bautista.
Rousey will debut at potentially the most-watched WrestleMania in history. Given the way her UFC career ended, if she also falls flat on her face in her match with Angle against Stephanie McMahon and Triple H, wrestling fans may not be willing to give her a chance. A successful debut won't guarantee anything, but it would go a long way toward establishing Rousey as serious about the WWE, as opposed to an outside star who's just there to cash in quickly.
Both Rousey and the WWE have a lot on the line when she enters the ring in New Orleans. Each has made a significant investment in the other in hopes of sharing a brighter future. Sunday will offer the first indication of whether that mutual risk was worth it.