Rainbows, hypocrisy and curling pants: The wardrobe medalists at the Winter Olympics
As we enter the final week of the 2014 Winter Olympics in Sochi, we've gotten a good look at some rather interesting uniforms throughout these games thus far.
Here we'll show you the wild, the wonderful, the winners, and the losers at the wardrobe event of the 2014 Winter Olympics.
Starting right off at the opening ceremonies, the German National Team got involved in the "anti-gay" atmosphere of these games by wearing rainbow colored jackets as they entered the stadium.
The team claims their uniforms had absolutely nothing to do with any pro-homosexual statement but it certainly came across that way to the public and media, whether intended or not that was the statement made. Plus it sure beats what the Germans wore that one time they marched into Russia back in the '40s. 
Moving on...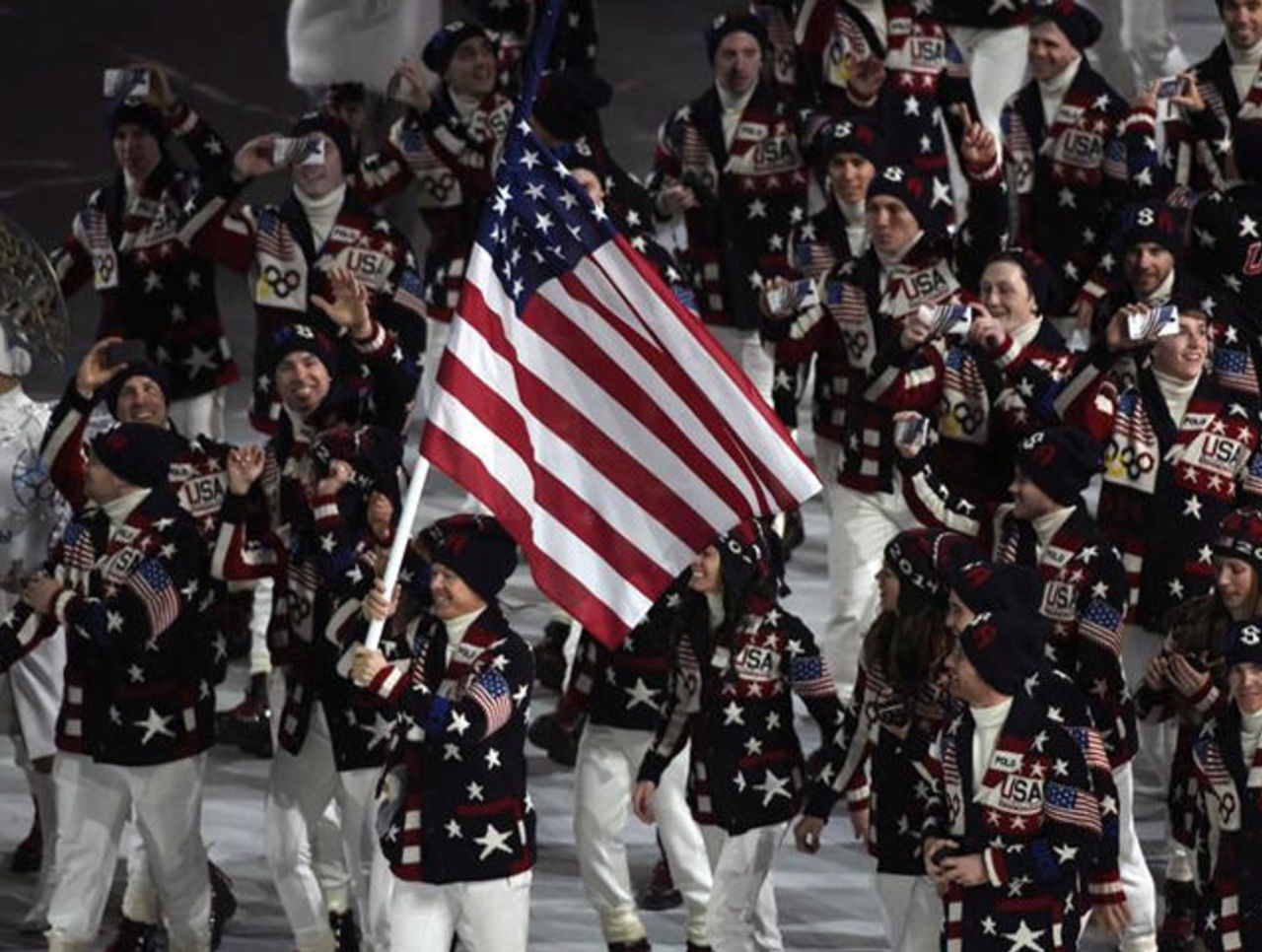 On the other end of the spectrum at the opening ceremonies was the American team and their potentially-so-bad-that-they're-good-but-not-quite Independence Day inspired Christmas sweater look courtesy of Ralph Lauren.
Like that USA sweater? They were selling for $600 each not too long ago before they remarkably sold out, if you *really* want one you can find them on eBay for no less than $1500. No really, you should go for it.
Once the games were underway it didn't take long for controversy to stir up in the wardrobe department.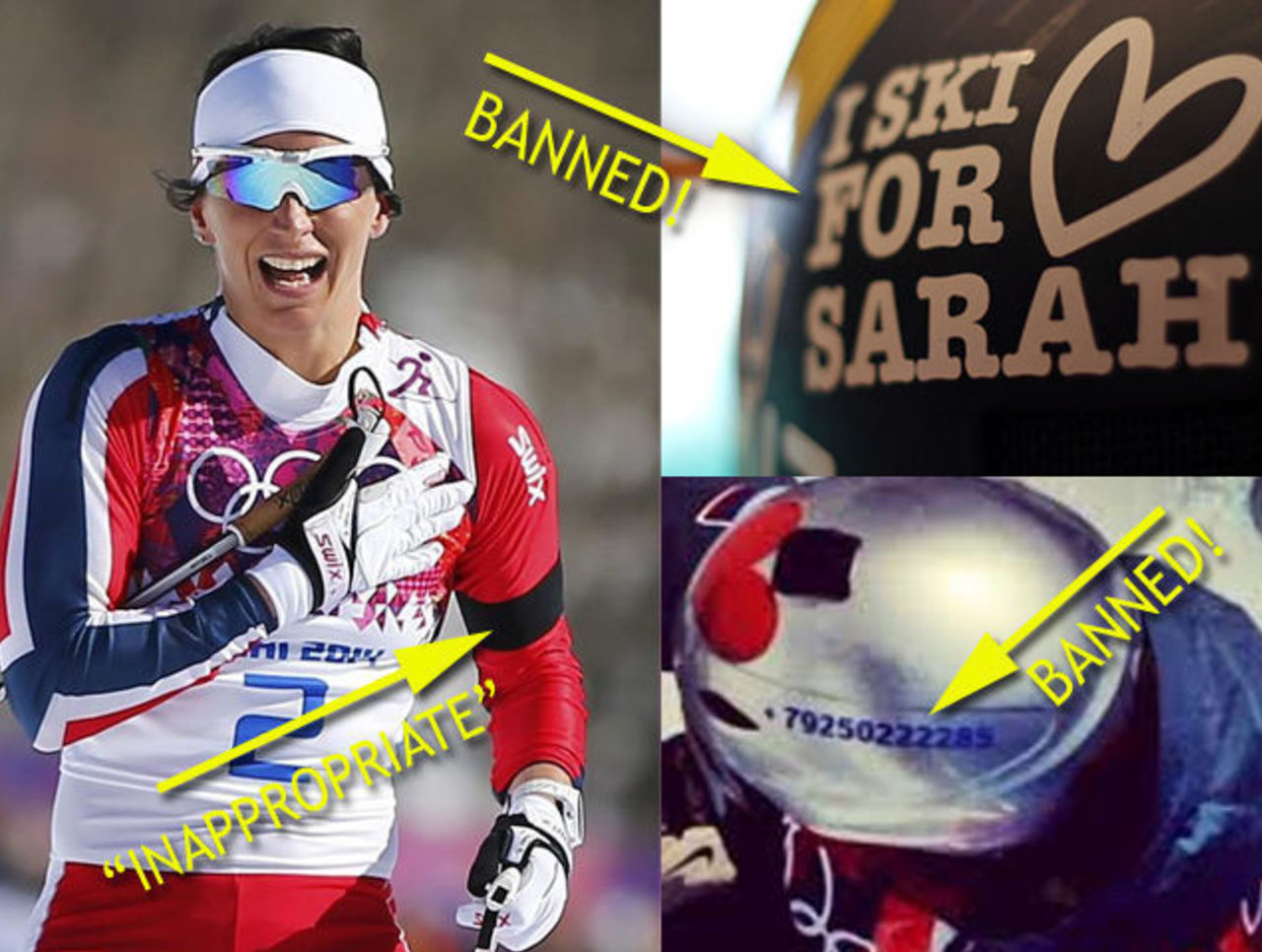 It all started when Russian snowboarder Alexey Sobolev stuck his cell phone number on his helmet, leading to thousands of text messages, phone calls, and selfies of nude women. It got so bad at one point his phone simply crashed from the amount of messages he was receiving. The International Olympic Committee wasn't too amused by this and banned the number from appearing later on in the Games.
Not too long after, the Norwegian skiathlon team raced wearing black armbands on their uniforms in memory of a brother of one of their a teammates who had died on the eve of the Olympics. The athletes received a letter telling them that their actions were inappropriate and they should not do it again. The armband was gone the next day.
Also banned was a lovely tribute planned for Canadian snowboarder Sarah Burke who died in a snowboarding accident in 2012, Australian Torah Bright and Canadian Roz Groenewoud both regularly wore the sticker in Sarah's memory on their helmets and skis leading up to the games but when the time came the IOC put an end to their touching gesture.
"We don't think that in a competition, in the excitement and the celebration of a competition, is necessarily the right place", said IOC spokesman Mark Adams. "We think that it's a celebration place, and we don't think that that's the right place."
On the other hand...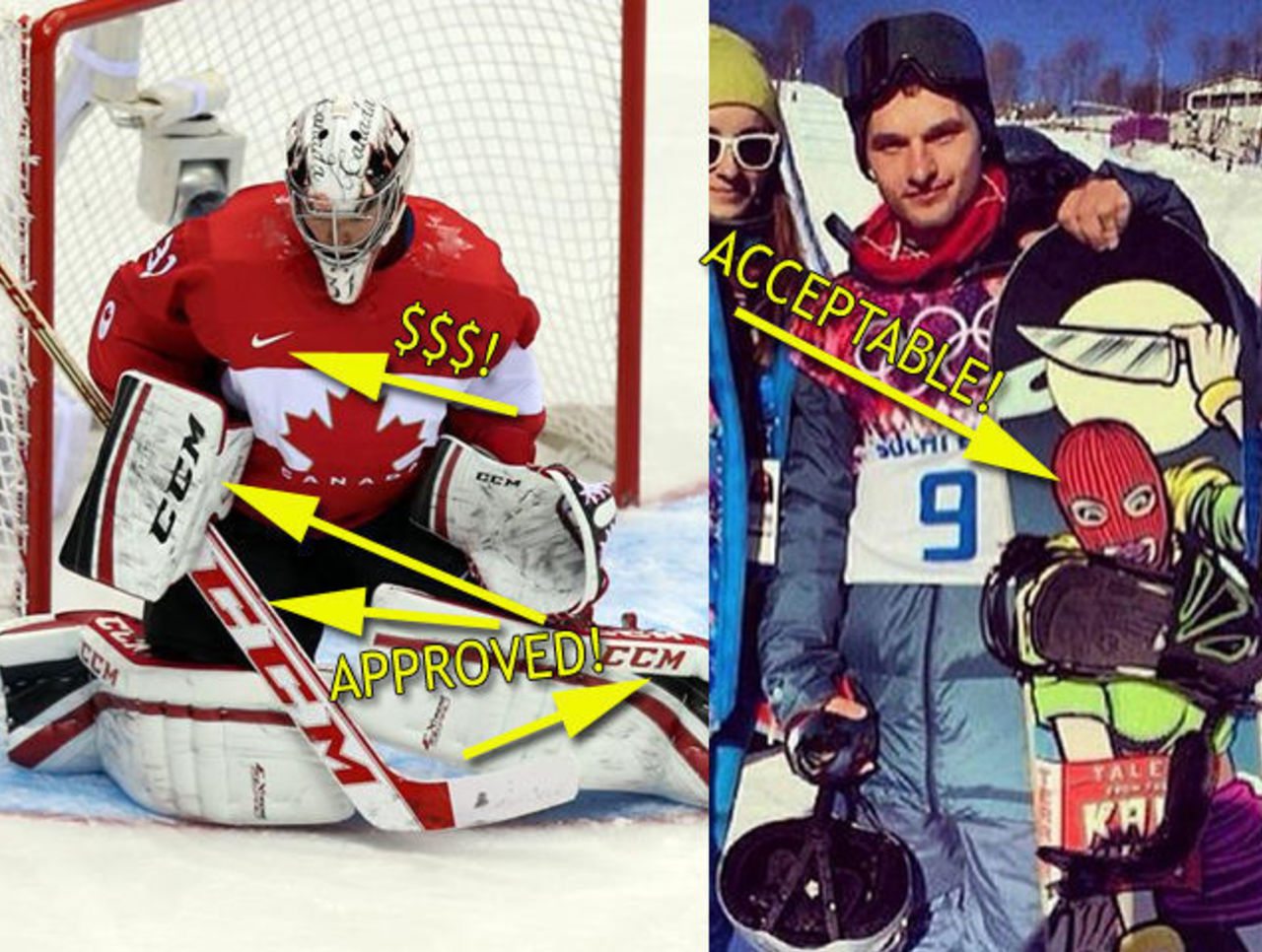 Knife wielding masked attackers and corporate logos galore are more than welcome.
Makes you wonder, if "Sarah Burke" was a corporate brand would the sticker tribute mentioned above been perfectly acceptable? Certainly seems that way... something's wrong with that.
Worth nothing, that controversial snowboard shown above belongs to Alexey Sobolev, the same guy who got a finger wagging for putting his phone number on his helmet. This guy likes to stir up trouble.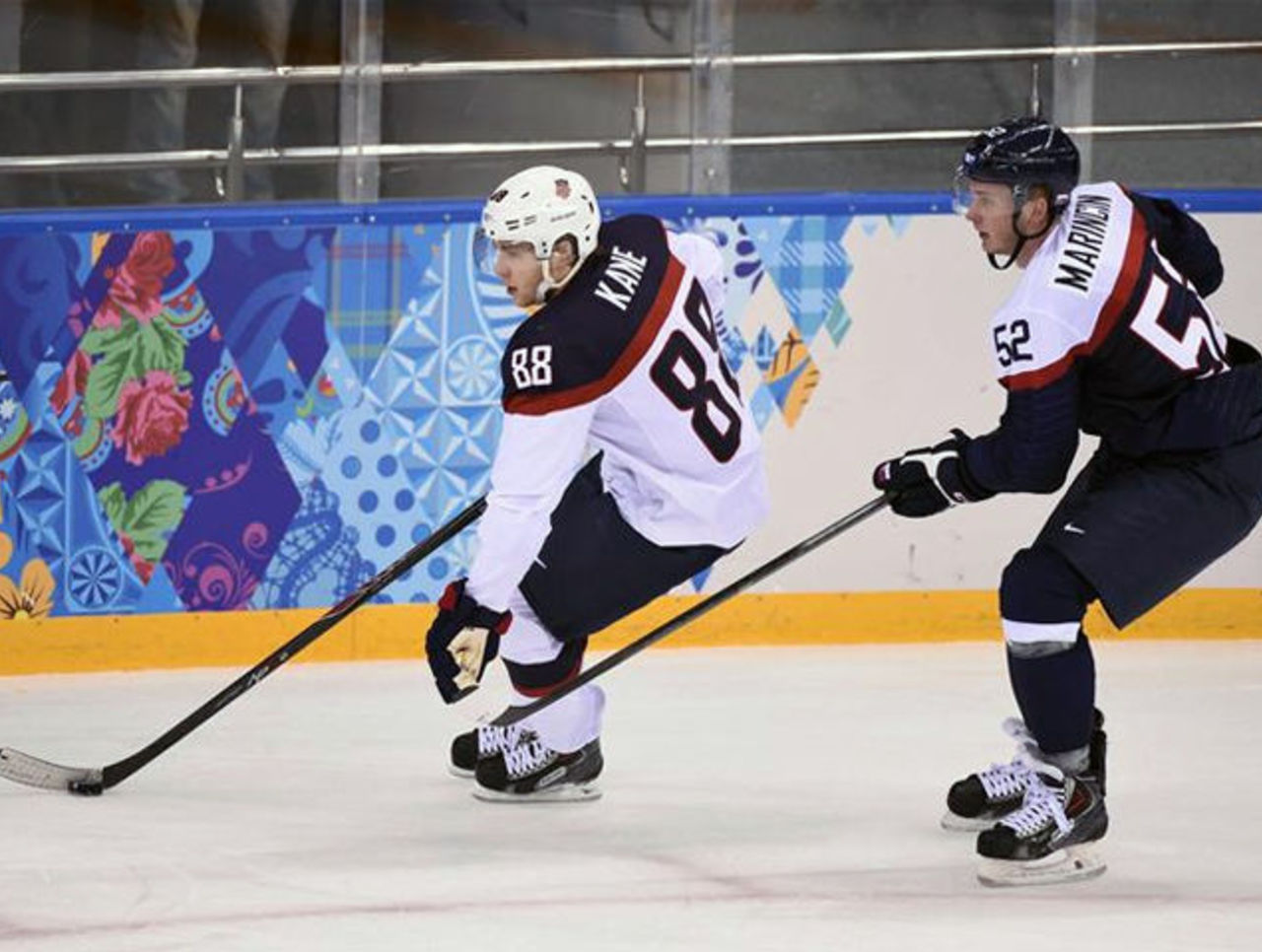 We warned you last week about how leaving tournament-wide designs in the hands of one designer could lead to trouble... The photo above is THE perfect example of why this should never be done again (but it totally will anyways)
That's the United States taking on Slovakia in men's hockey late last week (USA in white, Slovakia in blue). The two uniforms use the exact same template, use the exact same colour scheme, the front of both uniforms both use a small, thin shield where a country identifier is located.
This game was a headache to watch, it felt more like an intra-squad scrimmage than an Olympic hockey game. Despite being someone who obsesses over the finest details in sports uniforms I couldn't tell the teams apart. I could never remember that USA was white, Slovakia was blue, basically I'd just wait for someone to score and look at the logo on their jersey on the closeup. Nike fail.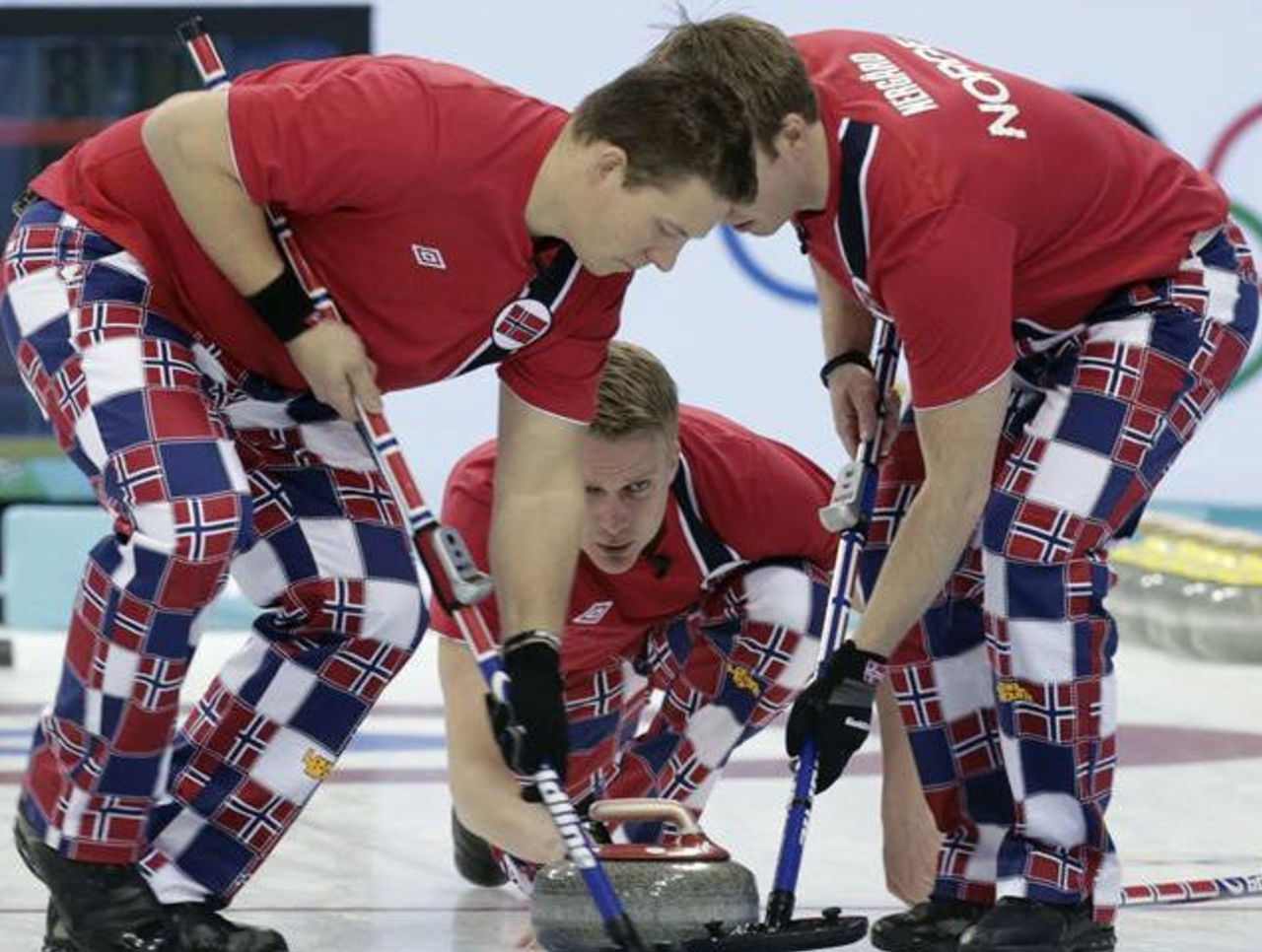 Back for an encore in 2014 after stealing the show at the 2010 games in Vancouver, the Norwegian men's curling team and their so-bad-it's-actually-good (take note, America) pants.
Each game the team wears a new pattern, one week it was a red, white, and blue dizzying zig-zag look while in the photo above there's a similarly colored checkerboard pattern with little Norwegian flags thrown into the mix.
There was some talk that wearing the different pants could be illegal under IOC rules (because, of course they'd be) but apparently while in the arena they're subject to the policies of the World Curling Federation, the WCF say they're fine to continue wearing them. Outside the arena, however, they apparently run afoul of the IOC police, which led to this classic pantsless photo. I hardly recognize them without 'em.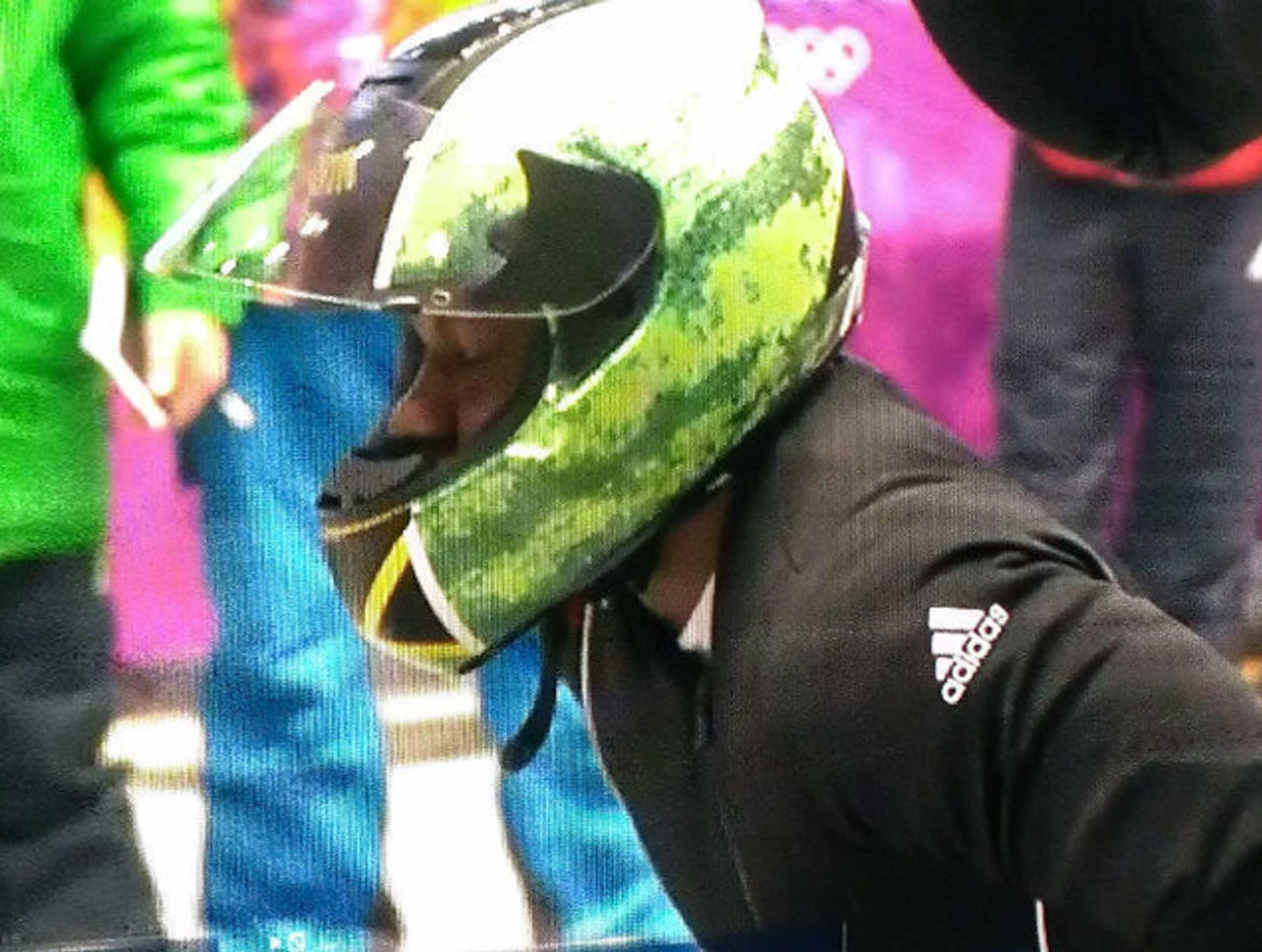 After a twelve year absence everyone's favorite bobsled team is back in 2014, Team Jamaica qualified for the 2014 Sochi games after narrowly missing out in both 2010 and 2006.
Their return is marked by quite possibly the most unusual (and best) bobsled helmets we've ever seen... watermelons. Yes, Team Jamaica is wearing a watermelon design on their helmets. You can't make this stuff up kids.
Finally, no global sporting spectacle would be complete without the wardrobe malfunctions, and we've seen two classics so far in Sochi.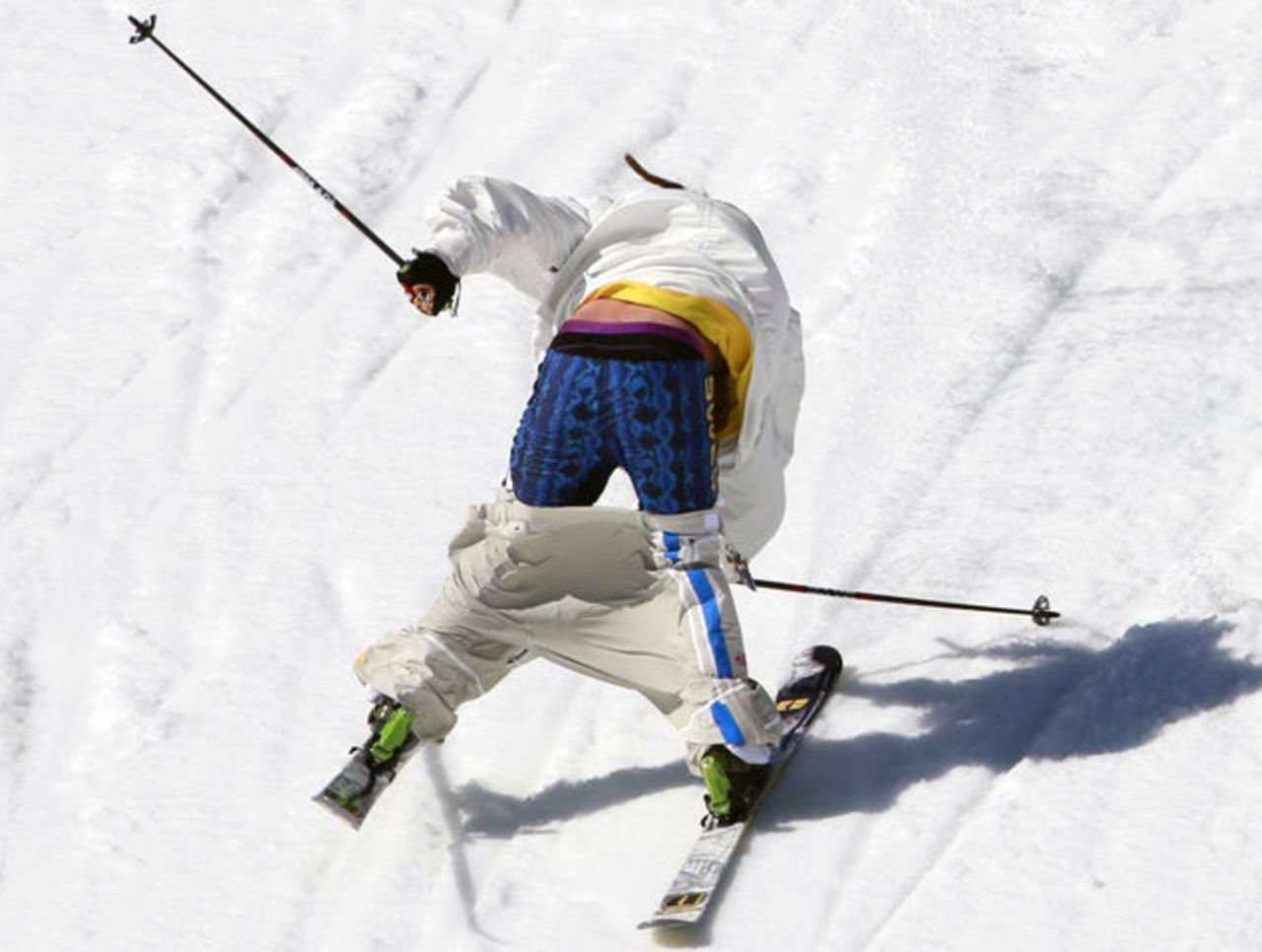 I don't understand skiing, or skiing strategy, but I can't imagine that those incredibly loose-fitting pants some of the skiers wear are at all helpful to their performance. Especially in the case of Swede Henrik Harlaut who actually dropped his pants during a qualifying run.
Despite this Harlaut still managed to qualify and ended up finishing 6th later on in the final round.
Russian speed skater Olga Graf had just completed her bronze medal winning skate in the women's 3000 meters, the first medal for the host Russians in these Olympics.
It was while she was enjoying the moment that Graf forgot she was going completely commando underneath her uniform and promptly zipped it all the way open. Whoops.
"I totally forgot, we have very good suits and they are very tight. You just want to breathe and you want to take off your suit," recalled Graf, "Only afterward did I realize that maybe this video will appear on YouTube."
Hey, she was right!
Chris Creamer is the creator and editor of SportsLogos.net. You can follow him on twitter at @sportslogosnet.
Comments
✕
Rainbows, hypocrisy and curling pants: The wardrobe medalists at the Winter Olympics
  Got something to say? Leave a comment below!