Many people would call Tiger Woods' historic win at the Masters in April the most impressive feat of his storied career. But when looking for his most dominant performance, there's no doubt it happened 19 years ago at iconic Pebble Beach.
As the PGA Tour invades the course's picturesque layout this week for the 119th U.S. Open, it's impossible not to reflect on Woods' romp to a 15-shot victory in 2000, a display that's arguably the best in golf history.
The then 24-year-old would end the championship at 12-under par, marking the first time in the event's history that a player finished better than 10-under. Nobody else in the field would get into red numbers, which shows the level of Woods' dominance.
Let's look back on his historic week nearly two decades ago.
Build up
To say Woods was on fire heading into Pebble Beach in 2000 would be putting it mildly. He didn't win the Masters, but he had already recorded three victories on the season, including the AT&T Pebble Beach Pro-Am just a few months prior.
Woods, whose coach at the time was Butch Harmon, played a practice round in Las Vegas before heading to Pebble Beach. His opponent that day was Adam Scott, a 19-year-old Australian who had just turned professional. Woods fired a course-record 63 in 30 mph winds, which was eye-opening for his playing partner.
"I left the round reconsidering if I should actually worry about a career in golf," Scott said, according to Steve DiMeglio of Golf Week. "It was far better than anything I had ever seen."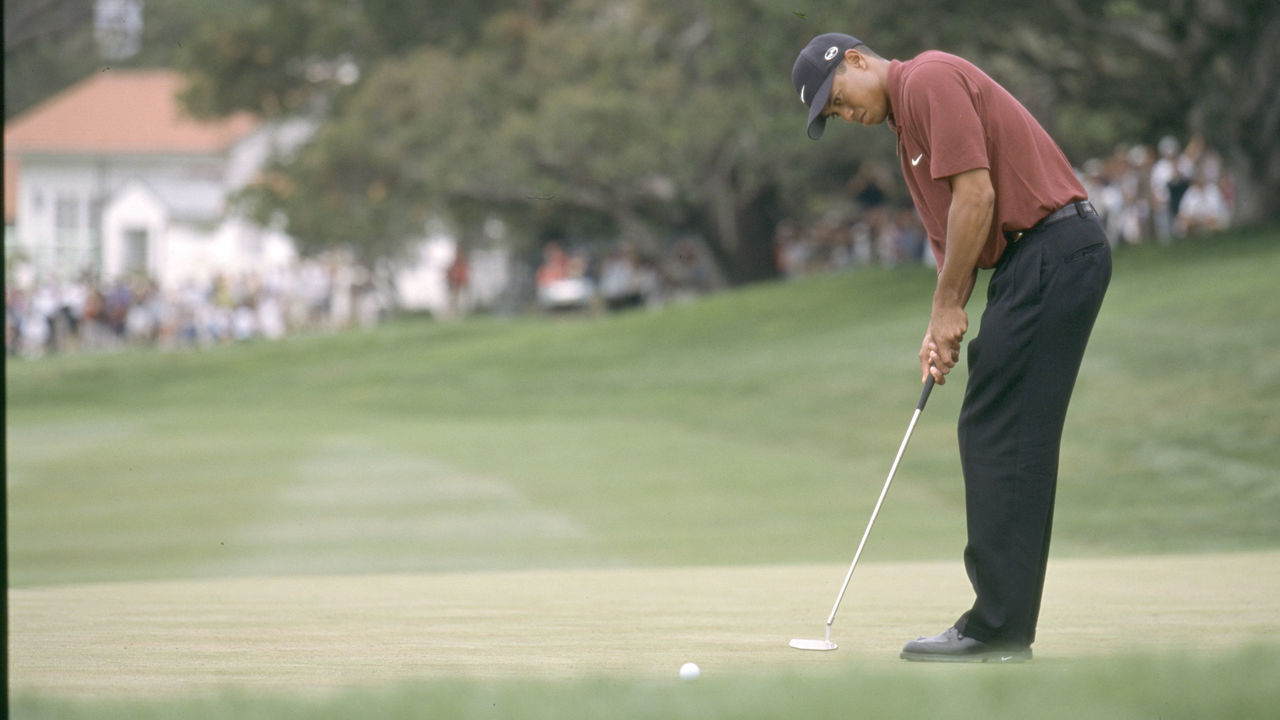 The hype train continued to steam along during practice that week at Pebble Beach. Woods played with close friend Mark O'Meara to prepare for the event, and the two-time major champion told his wife the U.S. Open was done before it started.
"She said, 'How are you playing?'" O'Meara told Doug Ferguson of Golf Channel. "I said, 'I'm playing all right, but it doesn't really matter. The tournament is already over.' She said, 'How can you say that?' I said. 'Tiger is going to win. And not only is he going to win, but he's going to blow away the field.'"
Round 1
Woods took advantage of favorable conditions during the morning wave at Pebble Beach to fire a bogey-free round of 65, giving him a one-stroke lead over Miguel Angel-Jimenez. But that narrow margin still felt like a massive gap.
His 6-under par total was one stroke off the record for the lowest opening round in U.S. Open history, and that incredible day was only the beginning.
Round 2
The weather played a pivotal part in Day 2 at Pebble Beach, with scores ballooning in adverse conditions and many players unable to finish their rounds due to darkness.
After playing early on Thursday, Woods was in the afternoon groupings, and the weather didn't seem to affect him over his first 11 holes. He dropped two more shots to sit at 8-under.
When play was suspended due to darkness, Woods opted to finish off the 12th hole before calling it a day, and finish it off he did.
Nailing a 30-foot putt for birdie pushed Woods to 9-under, leading to one question with the U.S. Open winner already obvious: How many shots would Tiger put between him and the field?
Woods finished the final six holes on Saturday morning for a second-round 69, joining Dave Eichelberger as the only players to break 70 on a difficult day. He entered the final 36 holes with a record six-stroke lead, although for those chasing, it must have felt double that.
Ridiculously, there were only 17 players within 10 shots of the lead following the second round, and the cut at the U.S. Open that year was the top-60 players plus anyone trailing by 10 strokes.
Round 3
The conditions worsened further on Saturday. Even Woods was affected early, leading to a triple-bogey on the third hole. But that was a mere hiccup for the now 15-time major champ, as he quickly got those strokes back to finish the round with an even-par 71.
Woods still recorded the second-lowest round of the day while pushing his lead to 10 shots, a tournament record after three rounds. His 54-hole total of 205 was the second lowest in U.S. Open history at the time.
Round 4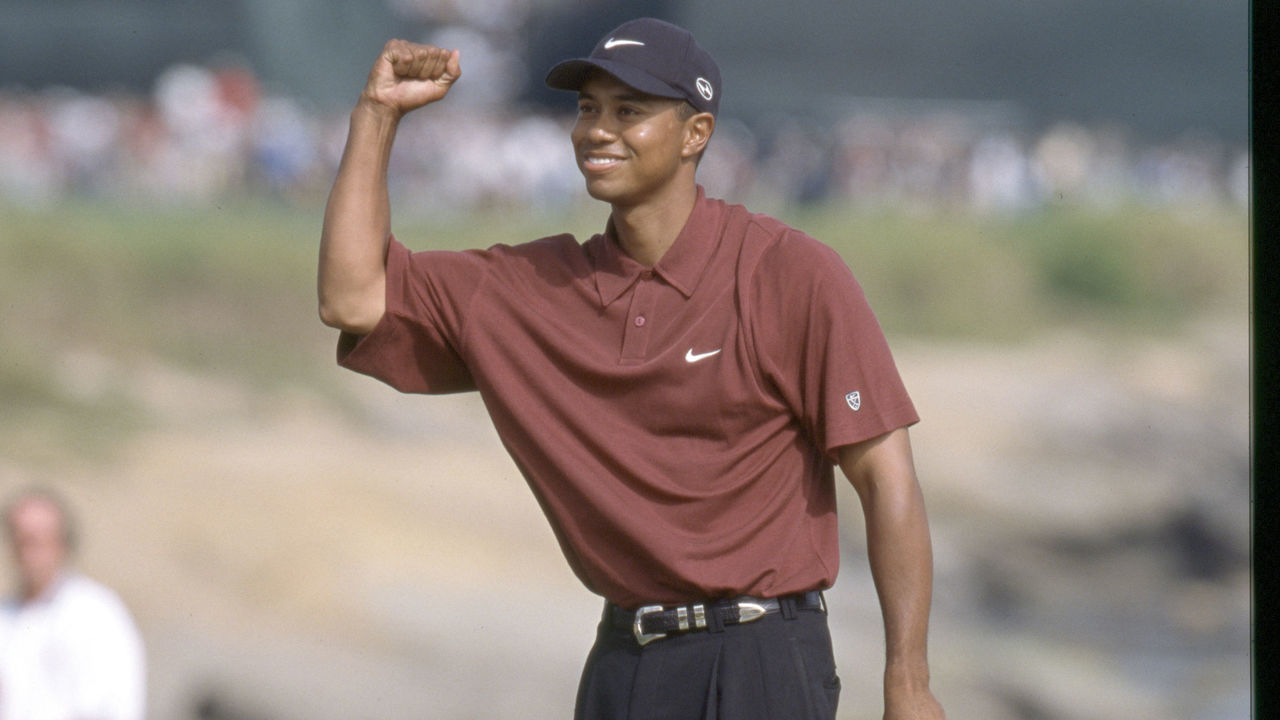 With the tournament decided heading into Sunday, Woods' goal was to play bogey-free golf and finish off his epic showing. Given how the rest of the week went, it wasn't shocking when he did exactly that during the home stretch.
After opening Round 4 with par on nine straight holes, Woods birdied four of the first five holes on the back nine to extend his lead to an absurd 15 shots. Then he drilled a 15-footer for par on the 16th and could coast through the final two holes, closing with a 4-under 67 to finish at 12-under, a new record U.S. Open low score.
Woods' accomplishments that week are almost endless, but here are a few others:
Started with 22 straight bogey-free holes
Finished with 26 straight bogey-free holes
First man to finish a U.S. Open double digits under par
His 15-shot win was the best ever in a major
Made every putt inside 10 feet for 72 holes
Woods went on to win the next three major championships to hold the four biggest titles in golf at the same time, completing the Tiger Slam.
Perhaps Phil Mickelson said it best when asked to put Tiger's showing into perspective.
"What he did at Pebble Beach is still the greatest performance of all time."