Ranking the NHL's top 5 goalie tandems for 2023-24
Richard T Gagnon / Getty Images Sport / Getty
The dynamics of goaltending have changed drastically in the era of the stagnant salary cap. Gone are the days of 70-game workhorses, and a lack of financial flexibility has caused many general managers to pay two decent goalies rather than investing heavily in one.
In fact, only three goalies slot within the league's top 50 highest earners on an annual basis. One of them is Carey Price ($10.5 million), who is effectively retired, and another is Sergei Bobrovsky, whose contract was unanimously considered one of the worst in the league before a dominant 2023 playoffs silenced some critics.
There are countless cautionary tales of overpaying goalies, so rather than sinking their books at the vital position, teams are deploying tandems between the pipes more than ever. With most starters taking on smaller workloads, reliable backup goaltending is a premium asset.
Below, we highlight what we believe are the top five duos across the NHL.
It's worth noting that goalie analysis is a volatile task, so much so that only one duo from last year's exercise made the list this time around.
Stats from all situations
GSAx: Goals saved above expected
GSAA: Goals saved above average
5. Juuse Saros and Kevin Lankinen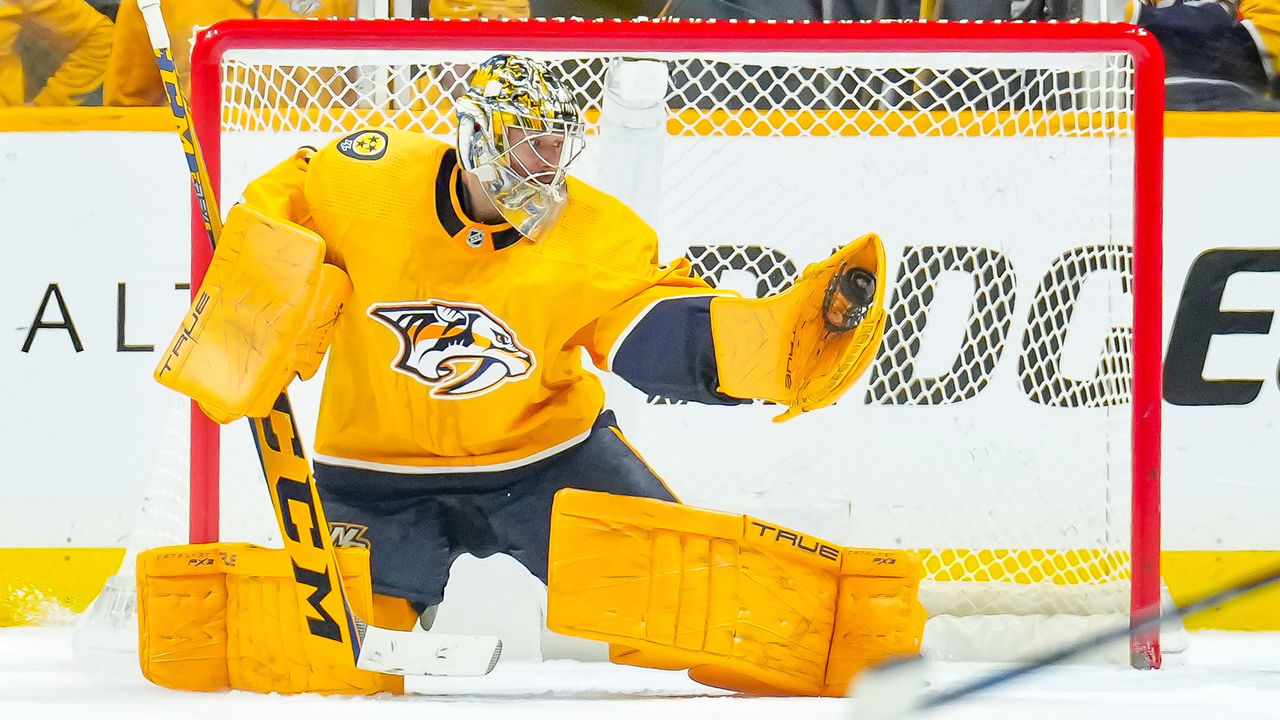 | Goalie | GP | SV% | GSAX | GSAA |
| --- | --- | --- | --- | --- |
| Saros | 64 | .919 | 45.49 | 29.4 |
| Lankinen | 19 | .916 | 8.32 | 6.11 |
Given the current state of the Nashville Predators, including their netminders may come as a bit of a surprise to some. However, Saros is simply that good. The 28-year-old led the league in appearances last season, was top five in both GSAx as well as GSAA, and was the primary reason Nashville was even close to a wild-card spot. Star power in the starter's role didn't fully influence our rankings - hence the omissions of perennial Vezina threats Andrei Vasilevskiy and Igor Shesterkin, among others - but Saros' status as one of the league's top puck stoppers is reinforced by a highly dependable backup when he isn't called to duty.
Lankinen's career has been strange to date, but he redeemed his status as a quality backup in 2022-23 with strong numbers across the board. Nashville's rock-solid duo stood tall behind a porous Predators defensive corps that allowed the sixth-most shots per game, and that was a big factor in them making our list. Whether Lankinen can string together consecutive respectable seasons is a big question mark for the Predators in 2023-24, but his performance in his first year with the club, tied in with Saros' cemented reputation among the game's elite, was enough for our first entry.
4. Connor Hellebuyck and Laurent Brossoit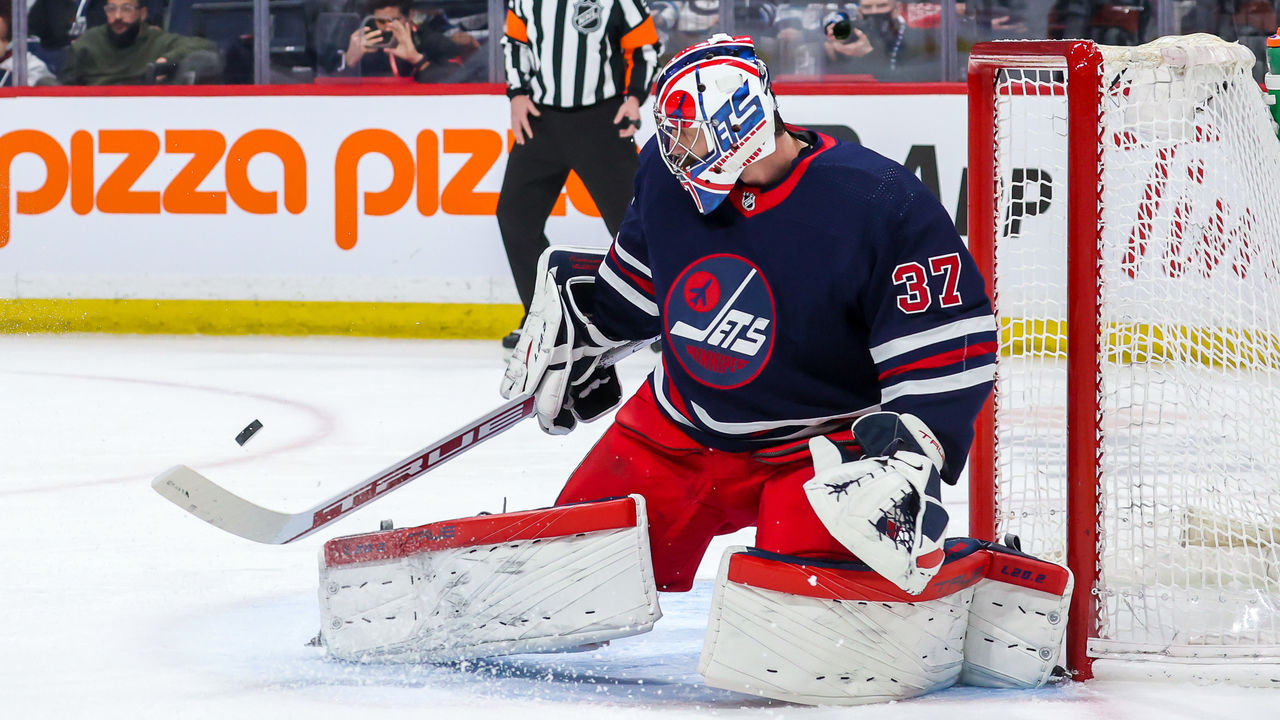 | Goalie | GP | SV% | GSAX | GSAA |
| --- | --- | --- | --- | --- |
| Hellebuyck | 64 | .920 | 33.62 | 30.11 |
| Brossoit | 11 | .927 | 6.52 | 7.07 |
Winnipeg's situation in the crease is much like Nashville's - a world-class starter leading the charge followed by a surprisingly effective No. 2. Hellebuyck put together another sterling season for the Jets in 2022-23, ranking no worse than fifth league-wide in starts, wins, save percentage, and the advanced stats included in his chart above. The Michigan native was a Vezina Trophy finalist for the third time in the past six seasons, and he even received a small smattering of MVP votes. Hellebuyck is indisputably the Jets' most important player, and with him in the fold, Winnipeg will always have a chance at the playoffs.
Brossoit was brought back to Winnipeg this past offseason for his second stint with the club. He was a quality signing in a weak summer goalie market and should be able to provide stability on nights Hellebuyck needs a rest. Brossoit owns a lifetime .908 clip, and his most successful stop has been in Manitoba, where he's posted a .913 in 54 appearances. The 30-year-old does have four sub-.900 years to his name, but Brossoit's overall body of work across nine seasons earned him the benefit of the doubt for the upcoming campaign.
3. Filip Gustavsson and Marc-Andre Fleury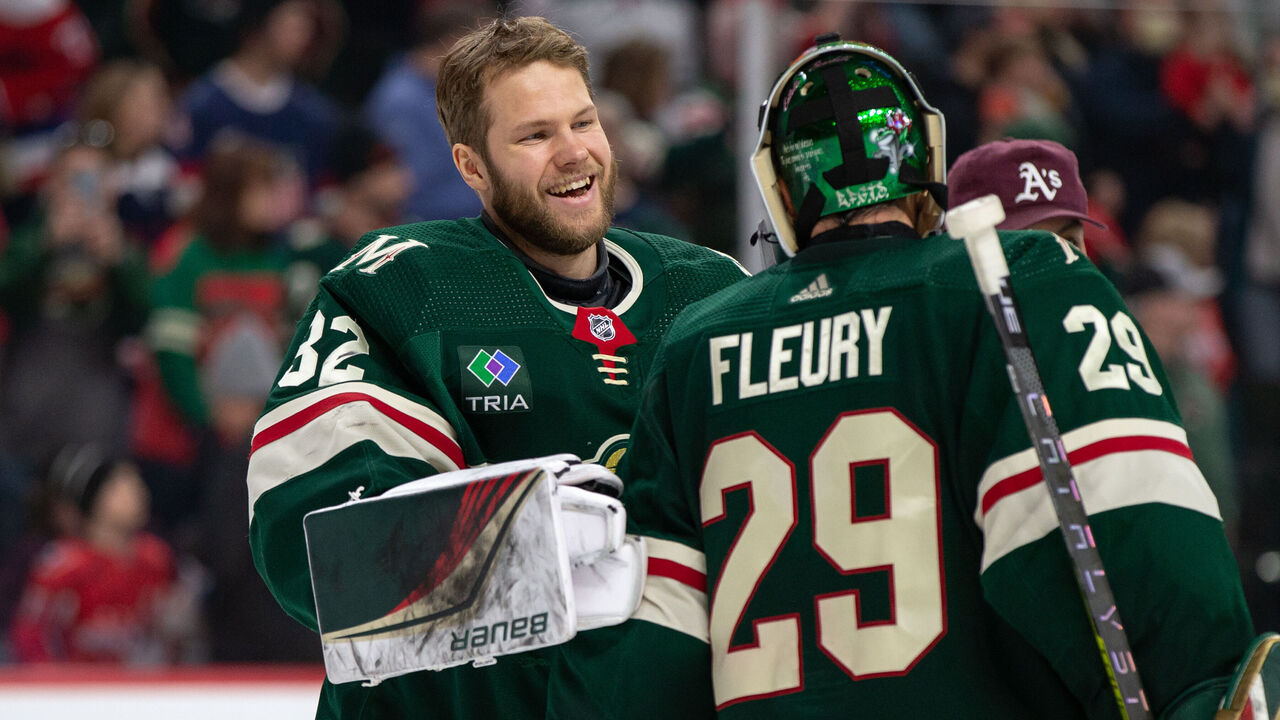 | Goalie | GP | SV% | GSAX | GSAA |
| --- | --- | --- | --- | --- |
| Gustavsson | 39 | .931 | 24.54 | 30.4 |
| Fleury | 46 | .908 | 0.86 | 4.88 |
The dynamic in Minnesota's crease shifted last season to reflect Gustavsson's surprise breakout, but the emergence of the Wild's new No. 1 provided the club with one of the NHL's most enviable tandems. Gustavsson wrangled the starting gig from Fleury mid-season and won 22 of 39 appearances to help guide Minnesota into the playoffs. Despite a small body of work, Gustavsson's GSAx (seventh) and GSAA (third) were strong enough to rank among the NHL's best, indicating he was Minnesota's primary difference maker a season ago. He faces plenty of pressure to repeat now that he's been handed the reins, but Gustavsson's debut season in the State of Hockey gave us plenty of faith that he's capable of being a true No. 1.
Fleury is no longer the Vezina-caliber goalie he was in Vegas, but it's difficult to identify a better backup across the league. Even at 38, his save percentage and goals against were better than league average, and a 24-16-4 record was enough to keep the Wild afloat in the playoff race. His workload is likely to go down this season, perhaps considerably, but Fleury has 19 years of experience to rely on when it's time to shine. The three-time Stanley Cup champion owns a lifetime .913 save percentage and is sure to be a positive mentor for Gustavsson as he navigates the trials and tribulations of being a starter.
Minnesota knows it doesn't have the offensive firepower to outscore teams night in and night out, but this duo sure makes it easier to find a way into the win column.
2. Ilya Sorokin and Semyon Varlamov
| Goalie | GP | SV% | GSAX | GSAA |
| --- | --- | --- | --- | --- |
| Sorokin | 62 | .924 | 51.36 | 36.23 |
| Varlamov | 23 | .913 | 7.3 | 6.8 |
Sorokin is charging hard for the title of the NHL's top goalie. He was a wall for the Islanders last season, leading his peers in GSAx by a significant margin while registering six shutouts and the third-best goals against average (2.34). Sorokin's only made 136 NHL starts, but he's the odds-on favorite to win the Vezina this coming season after putting forth Herculean numbers since becoming the guy on Long Island in 2021-22. His presence alone would make any goaltending tandem one of the league's best, but New York has the luxury of two trustworthy netminders.
Varlamov's 23 appearances last season were the fewest he's made since breaking into the NHL in 2008-09, but he did his job adequately, winning half his starts with respectable statistics along the way. He's been able to do so his entire career, owning a lifetime .916 clip across 583 games. The Islanders could be in a major bind if injuries force Varlamov into a larger role at 35 years old, but as it stands, Lou Lamoriello's crew is perfectly positioned to be a well-oiled goal-prevention machine once again next season.
1. Linus Ullmark and Jeremy Swayman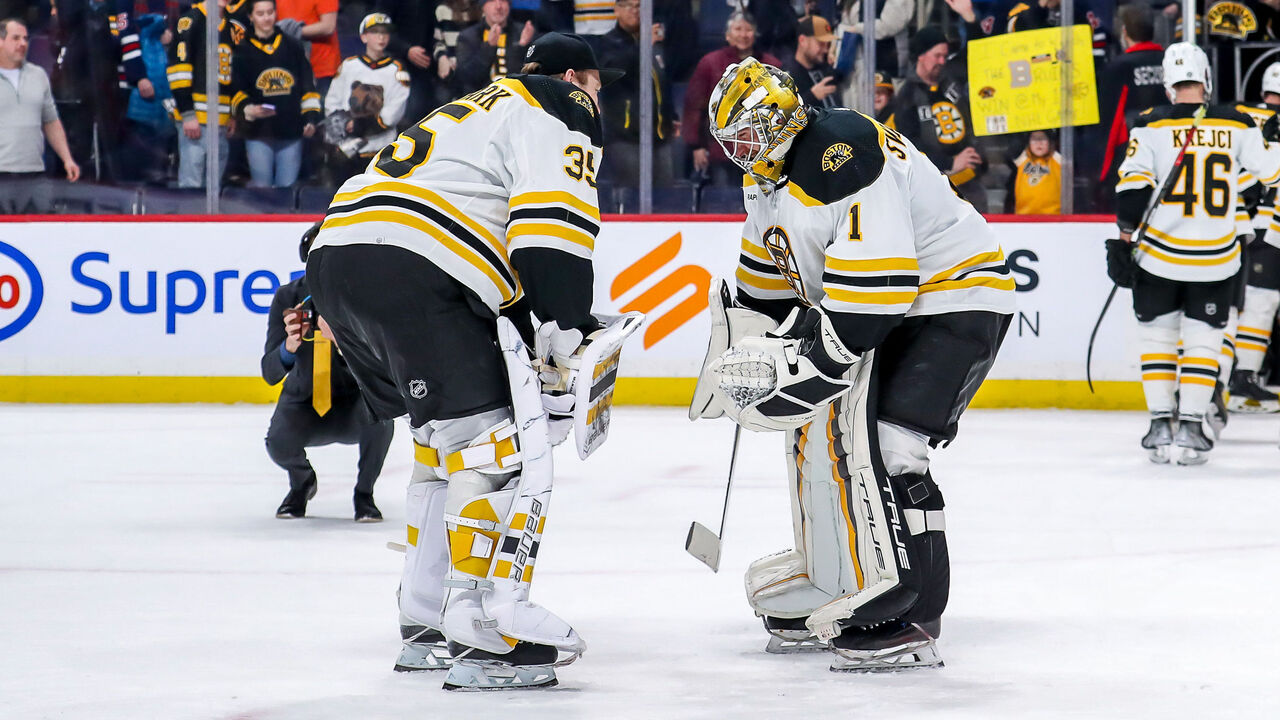 | Goalie | GP | SV% | GSAX | GSAA |
| --- | --- | --- | --- | --- |
| Ullmark | 49 | .938 | 38.21 | 46.69 |
| Swayman | 37 | .920 | 20.99 | 14.06 |
We expect regression from the record-setting Bruins and their goalies this season, but Boston still comfortably boasts the top netminding duo in the NHL. While Ullmark's Vezina-winning season will be difficult to replicate, he's a lifetime .919 goalie, and a fall to his career average wouldn't be all that devastating to a Bruins squad with a stout defensive structure. Boston led the NHL in expected goals against per 60 last season (2.39), and Ullmark did his part when tested, ranking top five in GSAx and GSAA.
Even though Ullmark might not be a Vezina candidate again, Boston leads the way on our list thanks in large part to having Swayman as backup. Many teams across the league - and even within these rankings - don't have a goalie they could comfortably rely upon if their starter went down for an extended period. Swayman, on the other hand, has made an impressive 72 starts in the past two campaigns with a .917 save percentage and strong analytics to boot. Ullmark is still the No. 1 guy in Beantown, but if he goes cold or gets injured, Swayman has proven more than capable of taking the reins. It's a luxury few teams can afford, but the reigning Presidents' Trophy winners are the standard bearers in the NHL right now when it comes to goaltending depth.
(Analytics source: Evolving-Hockey)