McDavid, then who? NHLers weigh in on league's 2nd-best player
Getty Images / Photo illustration by theScore
Nathan MacKinnon had just settled into his chair on the concourse at Lifeguard Arena in Henderson, Nevada, when someone asked if he, as per tradition, spent the offseason training alongside Sidney Crosby.
"Yeah, he worked out with me a little bit," MacKinnon said, fresh off celebrating his first Stanley Cup and a few days before signing a massive extension with the Colorado Avalanche.
MacKinnon adores Crosby, his childhood hero and a fellow native of Cole Harbour, Nova Scotia. So he quickly made sure the reporters interviewing him last week at the NHL/NHLPA Player Media Tour didn't misinterpret his cheeky response as a jab at the 35-year-old Crosby.
"I'm joking, I'm joking," MacKinnon said with a smile. "Nah, nah, nothing's changed. He's still the best."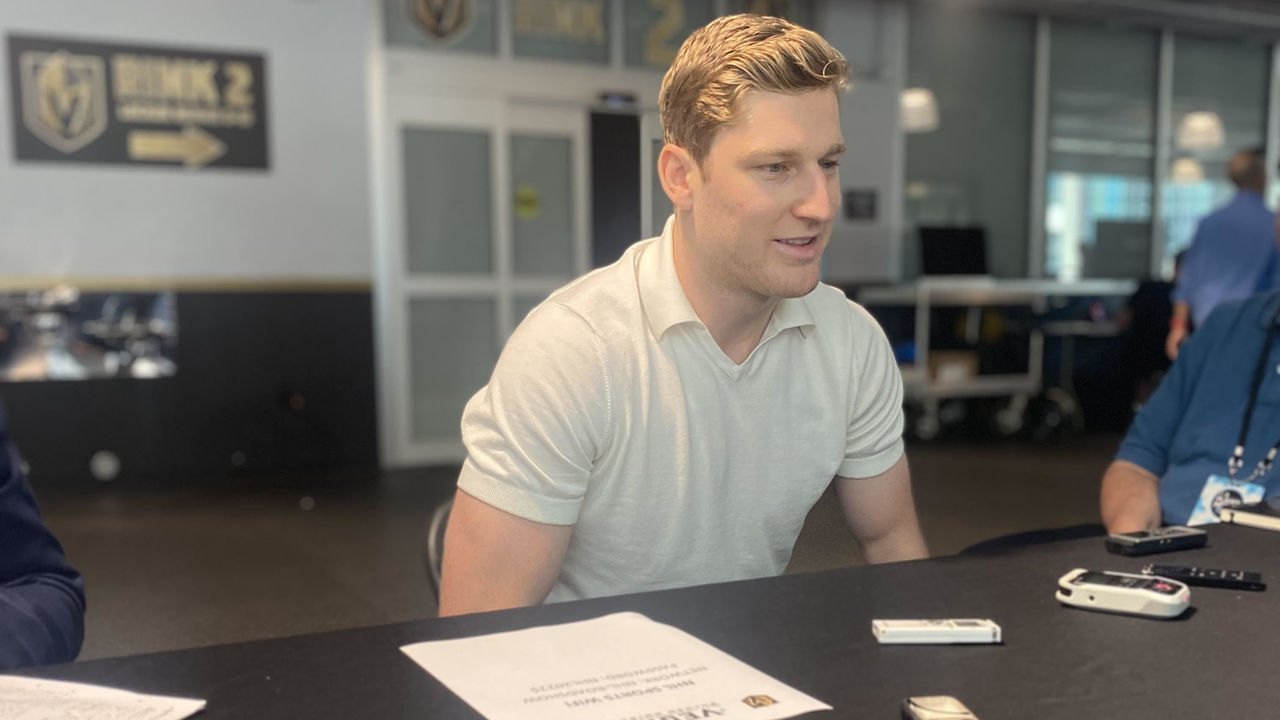 Benign as it was, MacKinnon's joke was a reminder of the changing of the guard that's taken place in the NHL over the past few years. Crosby, hailed as the best player in the world for more than a decade, has, in the eyes of the vast majority of observers, ceded that title to Connor McDavid.
McDavid, a transcendent talent who at 25 already has four Art Ross and two Hart trophies, is this generation's gold standard. McDavid may not be the unanimous best player in the world - talk to enough people, and you'll hear dissenting opinions - but there's no doubt he's the consensus pick.
The real debate heading into the 2022-23 season revolves around the slot behind McDavid. Is Crosby the world No. 2? Or is it MacKinnon? Auston Matthews? Cale Makar? Leon Draisaitl? Nikita Kucherov? Somebody else?
We asked 11 players at the Player Media Tour for their thoughts to get a sense of how NHLers see the debate. Here's who they voted for and why:
Auston Matthews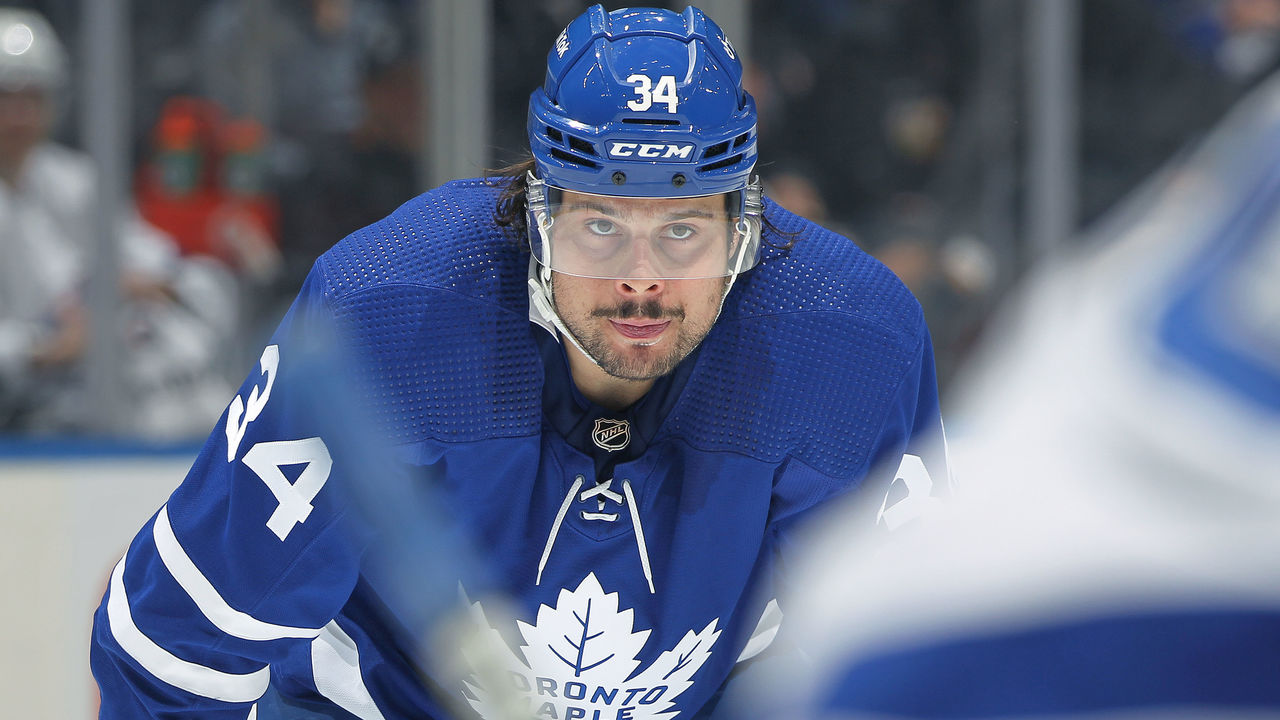 Full votes: Zach Werenski, Roman Josi, Morgan Rielly, Clayton Keller
Partial votes: Jordan Staal, Jeremy Swayman
Matthews, 25, is the NHL's goal-scoring king. Nobody has scored more goals (259) or built a higher per-game rate (0.64) since the 6-foot-3 center made his debut for the Toronto Maple Leafs in October 2016.
The main argument from those who picked Matthews goes like this: Scoring goals is the most difficult thing to do in the NHL. "And he does it at a pace that's unheard of - consistently since he joined the league," Werenski, the Columbus Blue Jackets defenseman, said. "He's great defensively, a two-way center, and he still finds a way to score 60 goals. It's pretty impressive."
Keller, who knows Matthews from the U.S. National Team Development Program, has seen tremendous growth in all areas of Matthews' game.
"His shot got better. His skating got better. Defensive play got better," said the Arizona Coyotes forward. "It seems he's always been good at everything, and he's just elevated that and continued to grow. His shot is one of the best I've ever seen."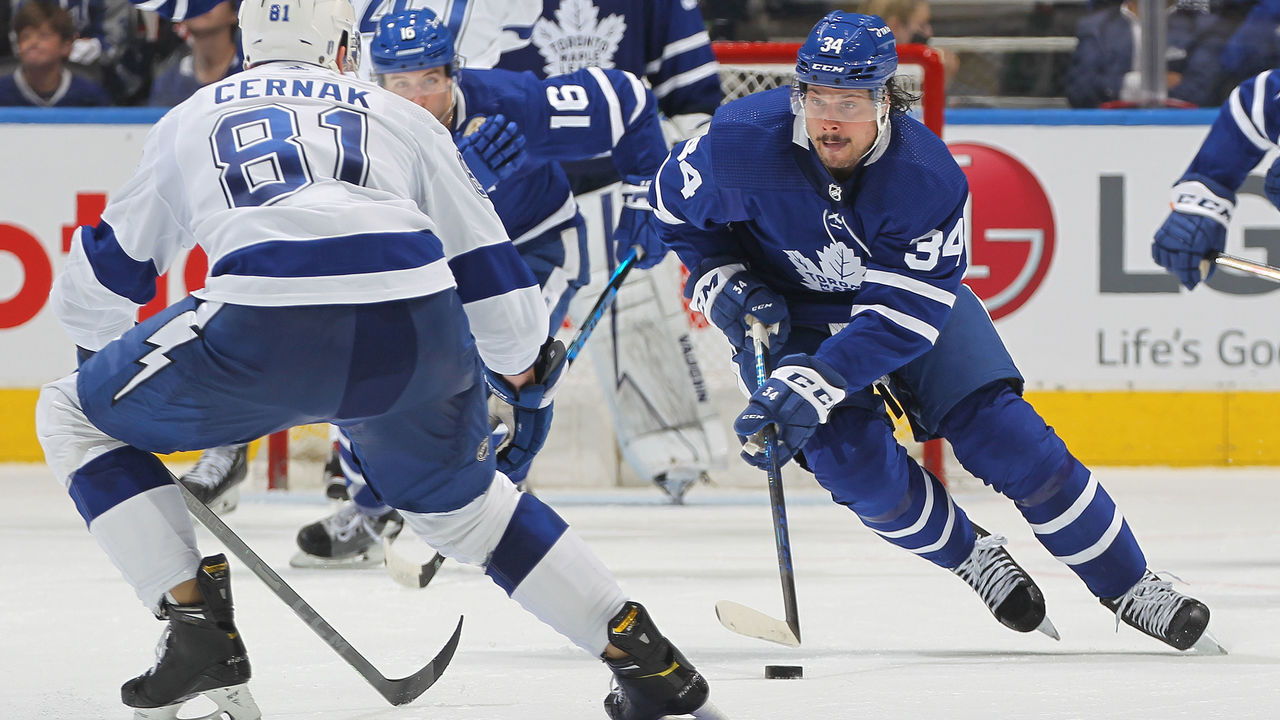 Matthews makes onlookers shake their heads in amazement because he beats the world's top goaltenders cleanly on a regular basis. It often looks like he's operating a cut above the defense's capabilities, not unlike another elite goal-scorer.
"You can't give them a second because they get their shots off so quick," Josi, the Nashville Predators blue-liner, said of defending Matthews and the ageless Alex Ovechkin. "You always have to be aware of where they are on the ice. I think sometimes you have to cover them even though they're at a bad angle."
Matthews, the reigning Hart Trophy winner, is a unicorn. As longtime Maple Leafs teammate Rielly put it, good luck finding somebody with his skill set and size.
Swayman, the Boston Bruins goalie, split his vote between Matthews and MacKinnon for second-best in the world. Staal, after a long pause to process the question, went with Matthews, MacKinnon, and Makar.
"He's looking unstoppable at times," the Carolina Hurricanes captain said of Matthews.
Sidney Crosby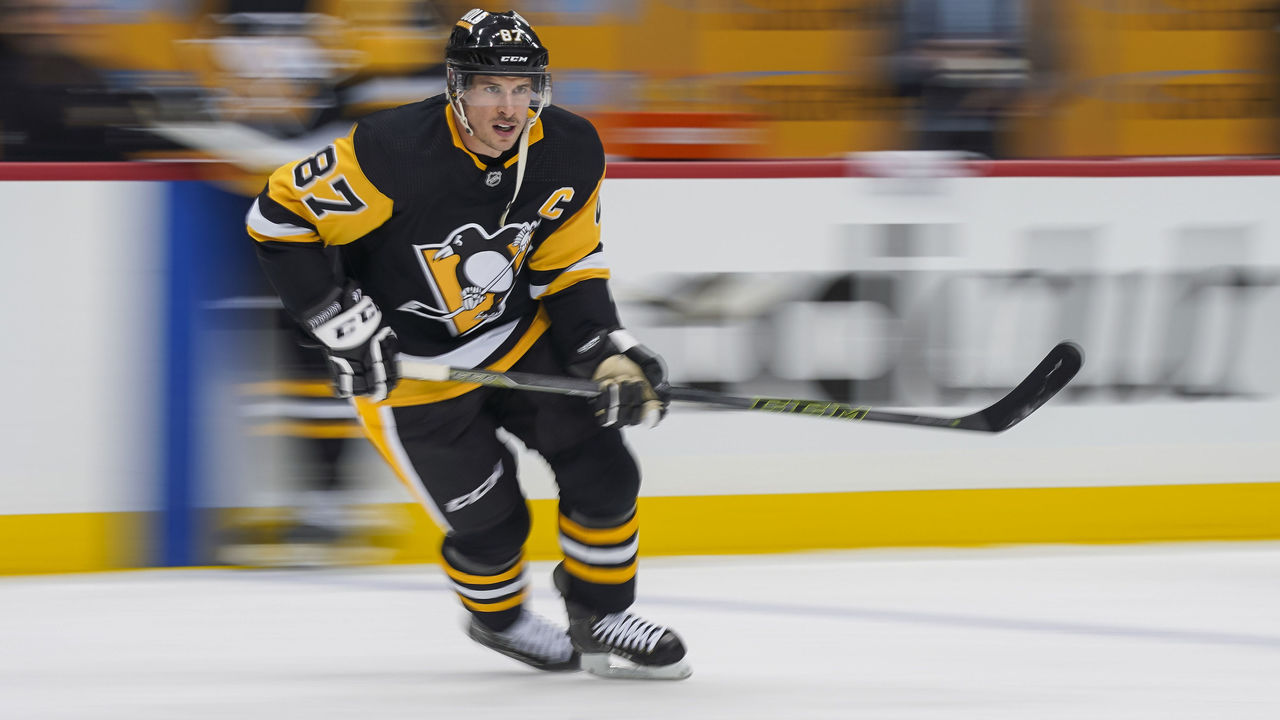 Full votes: Phillip Danault, Max Domi, Cam Atkinson
Crosby, 35, is entering the 18th season of a brilliant career. With three Stanley Cup rings and a shelf overflowing with individual hardware - including two Hart and two Conn Smythe trophies - the longtime face of the NHL probably deserves a spot on hockey's Mount Rushmore.
As for the present, Crosby is both past his prime and far from being considered "washed up." In fact, his game has evolved in such a way that he remains invaluable to the Pittsburgh Penguins in the back half of his career.
"Full package," Danault said.
"He just, all around, does it perfectly," Atkinson said.
Atkinson and Domi acknowledged McDavid's credentials as the world's best but also lobbied for Crosby to be in the No. 1 slot.
"To be honest," Domi said, "as much as I think everyone agrees Connor's the best now, Sidney Crosby's always been the guy. Until he's done playing, he's always going to be."
Added MacKinnon: "He's as intense as ever lately. He's in a new chapter in his career. He wants to play as long as he can at an elite level, and that's the new challenge for him."
Crosby is the quintessential hockey player's hockey player. His natural gifts and dedication to the craft have never been challenged. He's equal parts power and grace, mixing a superstar's toolbox with a fourth-liner's grind-it-out, never-quit mindset. The titles and intangibles add layers of respect.
"It's the leadership he brings too," Danault said. "Not just on the ice."
Nathan MacKinnon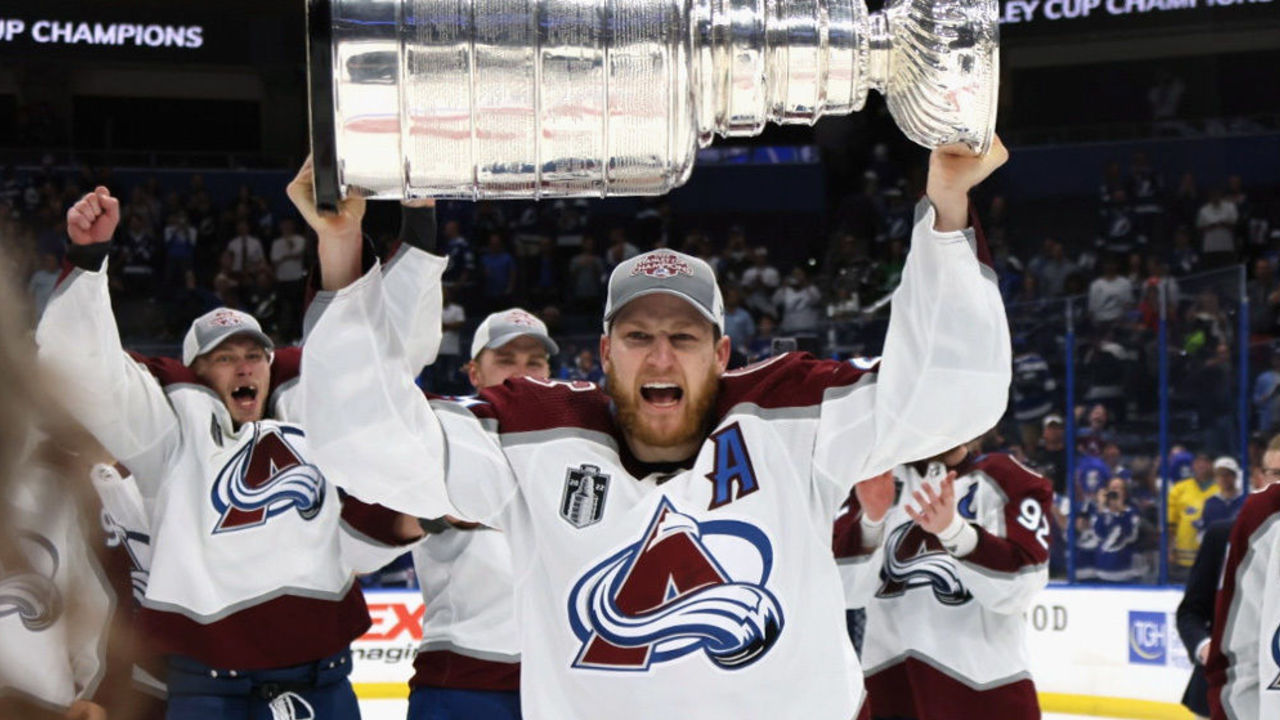 Full votes: Jonathan Huberdeau
Partial votes: Staal, Swayman
The quickest response to the "who's No. 2?" question came from Huberdeau.
"MacKinnon," the Calgary Flames winger said without hesitation. "I mean, MacKinnon's close to McDavid, I feel. I've always liked MacKinnon."
It's hard to quibble with Huberdeau's take. MacKinnon, who's set to surpass McDavid for the highest cap hit in the league come 2023-24, is one of a kind. He's a dual threat as a premier playmaker and a shooter; he boasts next-level vision; he's ultracompetitive; he's physical; and he's a world-class skater.
"You can tell he practices with Crosby a lot," Huberdeau said.
MacKinnon, 27, has proven over his nine-year NHL career that he'll always show up when it counts. He can single-handedly take over a playoff game, and if not for injuries, he'd already have multiple 100-point regular seasons to his name.
Almost everybody who talks about MacKinnon describes him as an explosive skater who bullies his way through each zone to the most dangerous areas of the ice. He may be the NHL's most fearless superstar.
"He's always attacking the net," Matthews said. "He always puts the D back on their heels, and he opens up a lot of space for himself."
Cale Makar
Full votes: Tomas Hertl
Partial votes: Staal
In conversations with 32 NHLers at the Player Media Tour, it became clear that Makar is trending toward best-in-the-world status. If you believe some of his peers, he may be challenging McDavid for No. 1 by the end of the season.
"Honestly, if I want anybody on the team right now, I'd love to play with Cale Makar," Hertl said, echoing countless others who are enamored with the Avalanche defenseman's ability to skate like McDavid and dominate at both ends like Matthews.
"He's good in the D zone, too, because he can skate backwards almost (the) same speed as forwards," Hertl said. "It's almost impossible to get through him."
Makar just won the Stanley Cup, the Conn Smythe, and the Norris. Colorado's offense runs through him. His edgework is second to none, he walks the offensive blue line with ease, and he's armed with an exceptional wrist shot.
"He's like a quarterback, pretty much," Dallas Stars goalie Jake Oettinger said. "He does a little bit of everything."
The kicker: Makar, who turns 24 on Oct. 30, is entering only his fourth NHL season.
"It's hard to imagine him getting better," MacKinnon said. "But if someone can, it's him."
John Matisz is theScore's senior NHL writer. Follow John on Twitter (@MatiszJohn) or contact him via email (john.matisz@thescore.com).
Comments
✕
McDavid, then who? NHLers weigh in on league's 2nd-best player
  Got something to say? Leave a comment below!