3 things to watch as Leafs-Habs series shifts to Montreal for Game 3
Richard Lautens / Getty Images
Two games into an all-Canadian playoff matchup 42 years in the making, neither Original Six franchise can be too upset over the results thus far.
After losing a somber Game 1, the top-seeded Toronto Maple Leafs rebounded to take Game 2 of the North Division series. The fourth-seeded Montreal Canadiens, meanwhile, return home having won one of two on the road.
This dynamic sets the table for an intriguing third contest - which is set for a 7 p.m. ET puck drop on Monday. Here are three things to watch in Game 3:
Montreal's deployment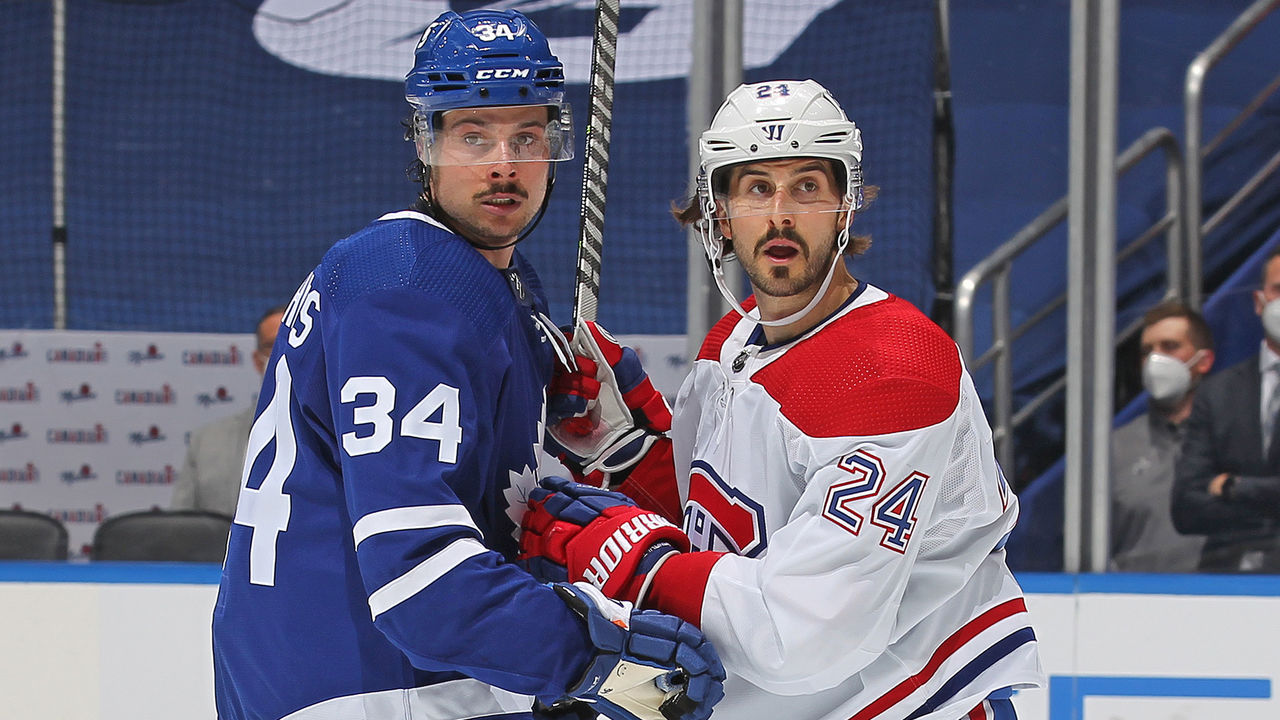 Over to you, Dominique Ducharme.
The Canadiens' head coach owns last change in each of the next two games, meaning all eyes will be on Montreal's bench whenever Auston Matthews takes the ice.
Matthews, who scored a ridiculous 41 goals in 52 regular-season games, has looked terrific to begin the playoffs. He has just a single goal to show for his efforts (the eventual game-winner in Game 2), but he's been highly effective in all three zones through 46-plus minutes of action.
The Maple Leafs' agile superstar has leveraged his 6-foot-3, 220-pound frame to outmuscle opponents for the puck - and deliver the odd body check - while recording an average of 11.5 shot attempts and six shots on goal per game, according to Natural Stat Trick. He's also contributed a pair of assists, won 59% of his faceoffs, and drawn a minor penalty while taking none himself.
"To see (Matthews) physically engaged, he's a big dude, so when he plays that intensely, it kind of bleeds into the group ... it's a trickle-down effect," Leafs blue-liner Zach Bogosian told reporters Sunday. "It's awesome to see."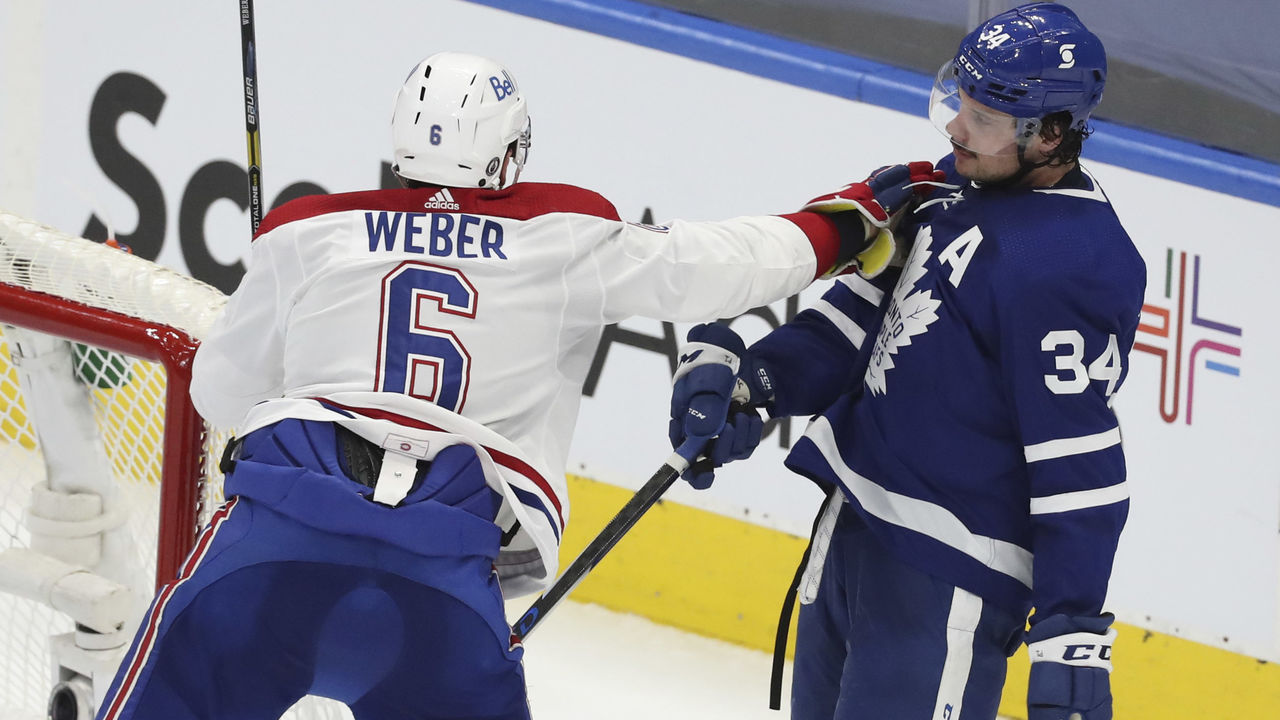 Ducharme's best hard-match option is Phillip Danault, quietly one of the NHL's elite shutdown men. Danault was on the ice for a little over half of Matthews' five-on-five minutes in Game 1 (8:40 of 16:03). In Game 2, the 28-year-old center was on for just under half of Matthews' five-on-five minutes (6:49 of 14:22). For Montreal, those aren't concerning ratios with respect to chasing the matchup on the road. But it certainly wasn't an ideal setup, either.
On the blue line, the Habs have used a by-committee approach to cover Matthews, though the pairing of Jeff Petry and Joel Edmundson has found itself staring down Toronto's No. 34 slightly more often than Montreal's other two duos.
Something to keep in mind: Not only do the Canadiens have the hammer over the next couple of games, but they can also justify shadowing Matthews with greater precision since Toronto's No. 2 center, John Tavares, is out indefinitely. When Tavares is in the lineup, hard-matching can be a delicate task; on any given night, Tavares and William Nylander might be as or more difficult to contain than Matthews and Mitch Marner. When Tavares is sidelined, there's no question which line is worthy of extra attention.
That said, Matthews will likely generate a handful of quality looks for both himself and his linemates regardless of who's attempting to shut him down. Canadiens goalie Carey Price, then, is the true X-factor. As unfair as it may seem, the pressure is on Price every game to make a few saves he wouldn't normally be expected to make.
Toronto's power play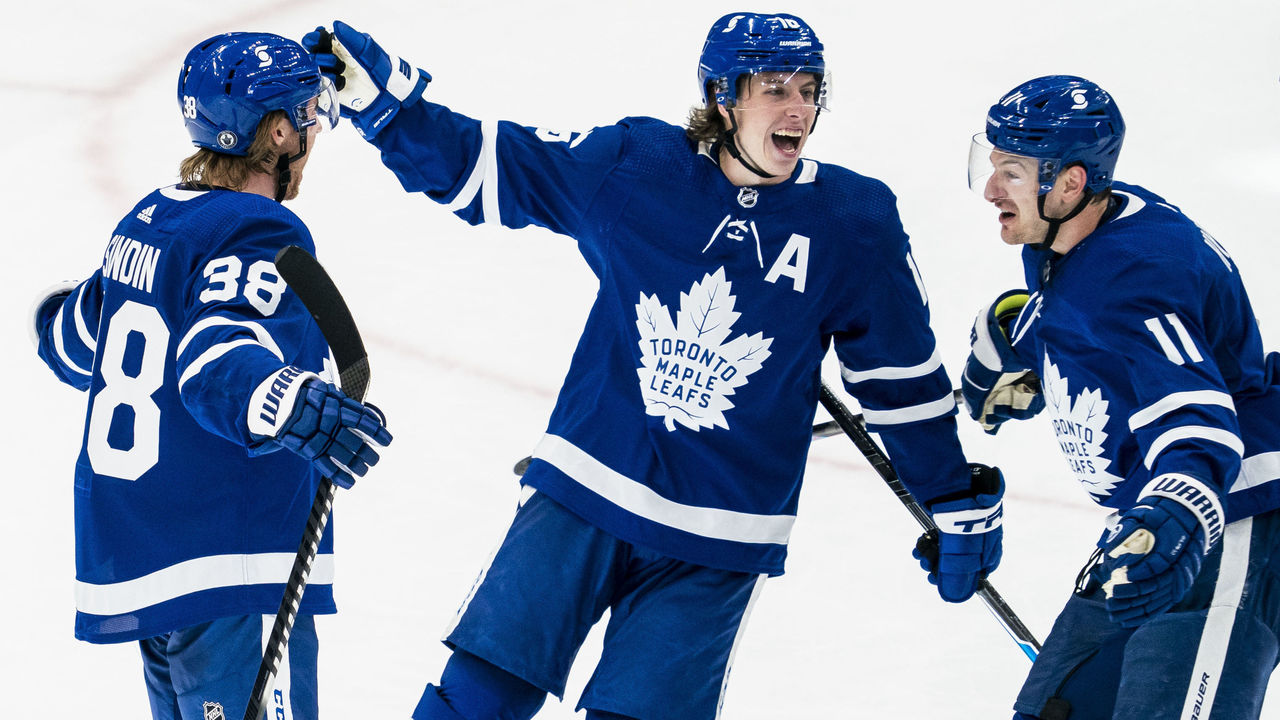 Before Saturday's power-play breakthrough, which saw the Maple Leafs score two goals on six opportunities, Toronto hadn't scored more than a single power-play goal in a game since March 3. Over that 34-game stretch, the club converted on eight of 87 opportunities for a brutal 9.2% success rate. It was an embarrassing spell.
What should give Toronto fans optimism is who scored those goals in Game 2: Rasmus Sandin and Nylander, not Matthews. As the Washington Capitals have shown over the course of Alex Ovechkin's career, boasting a generational shooter is merely the starting point for a dominant power play.
Yes, Matthews is a fantastic central threat and catalyst (he played a starring role in Sandin and Nylander's snipes), but he can't be the sole shooting option - especially for a Maple Leafs roster littered with proven finishers. The in-zone puck movement Toronto's power play displayed before Sandin's marker is essential to outduelling the modern penalty kill.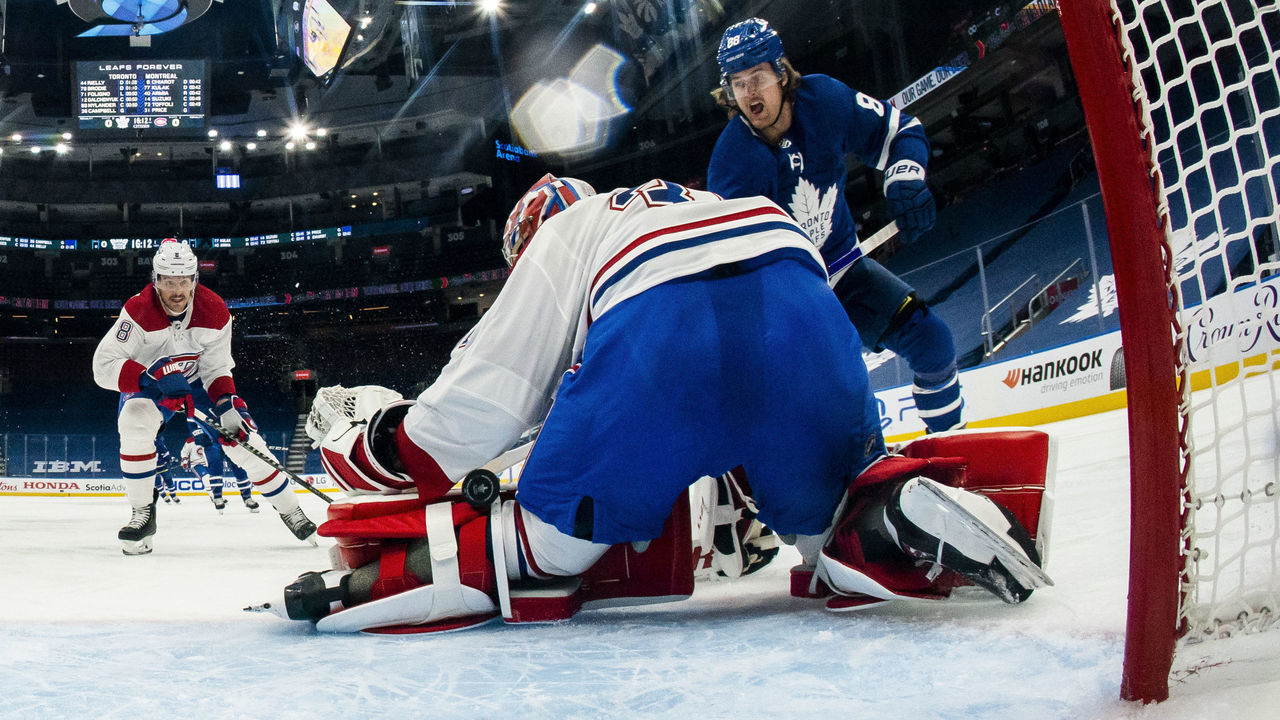 Mind you, the Leafs had plenty of practice in Game 2's second frame, with the Habs taking all four of the period's penalties. Those middle 20 minutes were disastrous for Montreal, sinking any and all hope of a 2-0 series lead.
"I think it got to us a little bit, with the calls. We lost our main focus there for a little bit," Habs defenseman Brett Kulak told reporters Sunday, alluding to the fine line between leaning on the Leafs physically and avoiding infractions.
On the flip side, the Canadiens' power play has failed to convert on any of its six opportunities and hasn't looked dangerous in the process. Natural Stat Trick has Montreal down for just eight scoring chances in 13 five-on-four minutes.
Expectations are lower for the Habs in this area of the game. But as the old cliche goes, special teams performance can determine the outcome of a playoff series, and the Canadiens haven't done themselves any favors on the PP or PK.
Montreal's stud of the game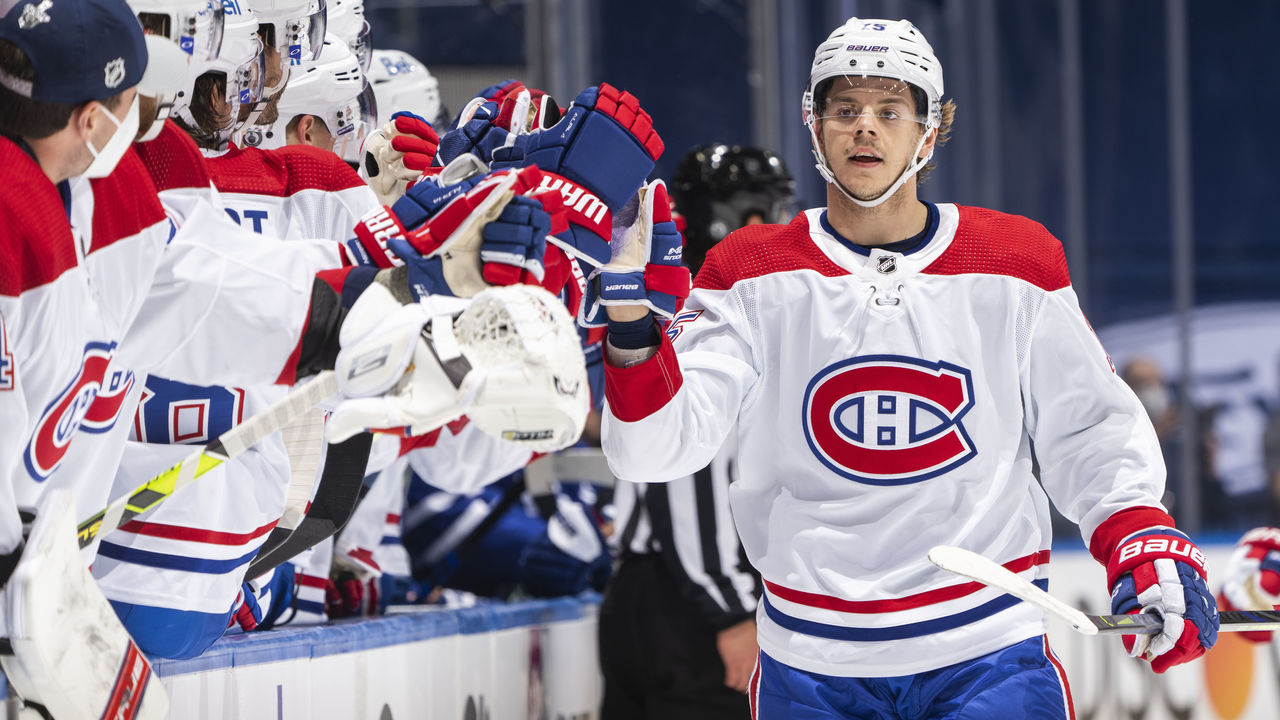 In each of the first two games, one Habs forward has put on a show.
In Game 1, it was Josh Anderson, who was a menace in transition throughout Montreal's 2-1 win. He scored the opening goal and probably deserved another two. In Game 2, it was Jesperi Kotkaniemi, who was a menace in his own right after subbing in for Jake Evans. He notched Montreal's lone tally in a 5-1 loss.
Who's next for the Habs? Which forward will rise to the occasion in Game 3 against an opponent who, on paper, has more firepower and game-breakers?
Brendan Gallagher is a prime suspect. The 29-year-old winger has mustered a paltry two shots on goal in nearly 20 minutes of five-on-five action, but with seven shot attempts, he's tied with Petry for the team lead. Gallagher is the type of goal-scoring agitator who's built for postseason hockey - someone who, as Habs general manager Marc Bergevin once put it, "drags his team to the fight." (On brand, Gallagher drew blood in his first shift of the series.) If he continues to battle deep in the Leafs' zone, the goals will eventually come.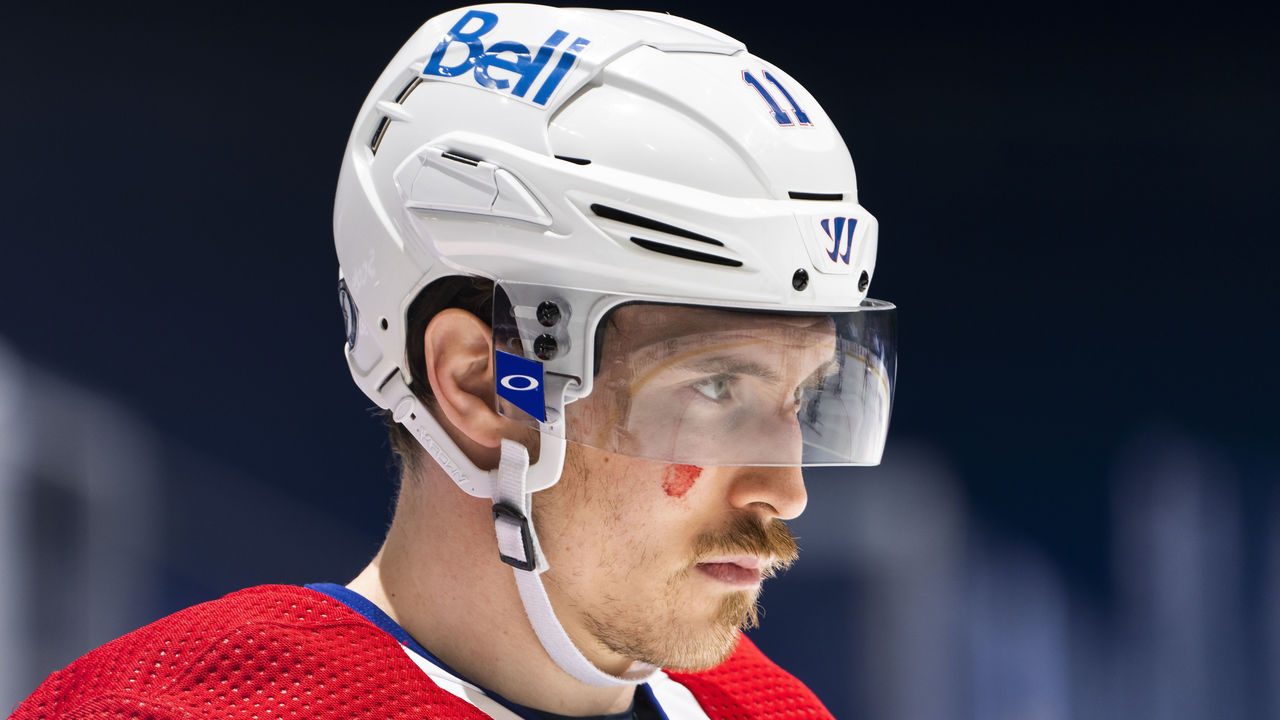 Tyler Toffoli is another possibility. While he picked up secondary assists on two of Montreal's three goals in Toronto, the sniper hasn't scored in his past six games; in the playoffs, he's generated one lonely five-on-five scoring chance, according to Natural Stat Trick. Toffoli led the Habs in goals by a wide margin in the regular season (28 versus second-place Anderson's 17), and they need his best ASAP.
Then there's rookie Cole Caufield, a reliable goal-scorer at every level of hockey he's played - including the NHL, albeit in a small sample size - who watched the first two contests of this series from the press box. For a team that generally struggles to score, and particularly one that has struggled to score through two playoff games, Caufield absolutely deserves the opportunity he's getting in Game 3.
The reigning Hobey Baker Award winner will make his playoff debut Monday night, and rightfully so, after racking up four goals in his first 10 NHL games.
Ducharme's decision to hold Caufield out of the previous two contests was a subject of much debate, but now that it's been reversed, it will be compelling to see how much of an impact the 20-year-old will have - both in Game 3 and potentially beyond.
Note: The original version of this piece speculated about whether Caufield would be in the Canadiens' lineup. This piece has been edited to reflect Ducharme's confirmation Monday that the rookie would play.
John Matisz is theScore's senior hockey writer. You can follow John on Twitter (@MatiszJohn) and contact him via email (john.matisz@thescore.com)
Comments
✕
3 things to watch as Leafs-Habs series shifts to Montreal for Game 3
  Got something to say? Leave a comment below!