'Pain in the ass': Eriksson Ek is the Wild's invaluable 2-way force
Photo illustration by Nick Roy / theScore / Getty Images
To understand who Joel Eriksson Ek is, one must first understand who he isn't.
The agitating Minnesota Wild center isn't a trash talker like Brad Marchand; he isn't a menace like Tom Wilson; he isn't a bull in a china shop like Matthew Tkachuk.
No, Eriksson Ek is a special breed of agitator: he's a 6-foot-3, 208-pound Swede who leaves little to no room between him and the other team's best players every shift - all while keeping his mouth shut and penalty tally low.
"If you ask top players, you'll hear a lot of the same things," Wild assistant coach Darby Hendrickson said of Eriksson Ek's burgeoning reputation. "He has his own way, his own style of agitating without running around or running his mouth. He just plays an in-your-face, hard, gritty game."
"There's guys that make a conscious effort to go out and be annoying and be that rat, that in-your-face guy," added Dean Evason, Minnesota's head coach. "He doesn't make an effort to do that, it's just who he is."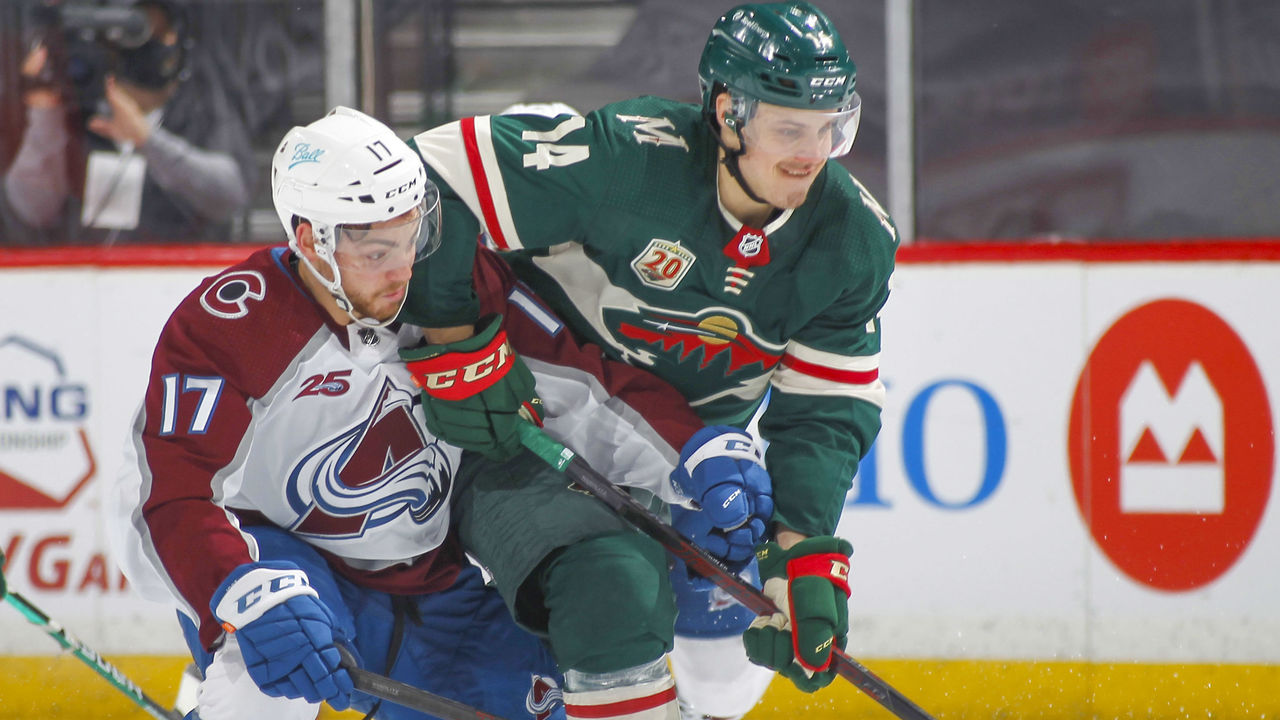 In a year where the Wild have been reshaped by the transcendent play of rookie Kirill Kaprizov, Eriksson Ek is enjoying a statement season, too. There's a decent chance he finishes in the top five in voting for the Selke Trophy, which is awarded to the NHL's best defensive forward. He's also officially arrived as a goal-scorer, sitting tied for seventh in the league in even-strength goals with 19.
Kaprizov and Eriksson Ek have helped Minnesota accumulate a 35-14-5 record that translates to the third-highest points percentage in the West Division. In the first round of the playoffs, the Wild will likely meet the second-seeded Colorado Avalanche, a popular preseason Stanley Cup pick and offensive powerhouse. (There's still a chance for the Avalanche to win the division and push Vegas into the first-round matchup with Minnesota.)
However, if any Wild center has been primed for the shutdown assignment, it's Eriksson Ek.
His line - with Jordan Greenway and Marcus Foligno on the wings - has flourished this year against stiff competition. In the 296 five-on-five minutes they've been on the ice together, the Wild own 70% of the goals (19-8) and 67% of the expected goals (12-6), according to data at Evolving Hockey. Meanwhile, five-on-five shot attempts are close to even at 49% (222-210).
Those numbers suggest the trio - which has gone head-to-head with lines powered by Nathan MacKinnon, Ryan O'Reilly, Mark Stone, and Anze Kopitar - helps Minnesota suppress shots at the defensive end while converting a high rate of scoring chances in the offensive third.
"They're a line that we use defensively, they're a line that we use offensively, (and for) momentum shifting," Evason said. "Once we score, we like to put them on so that we have a shift in their end. They've just done everything for us; they've led our hockey club, no question."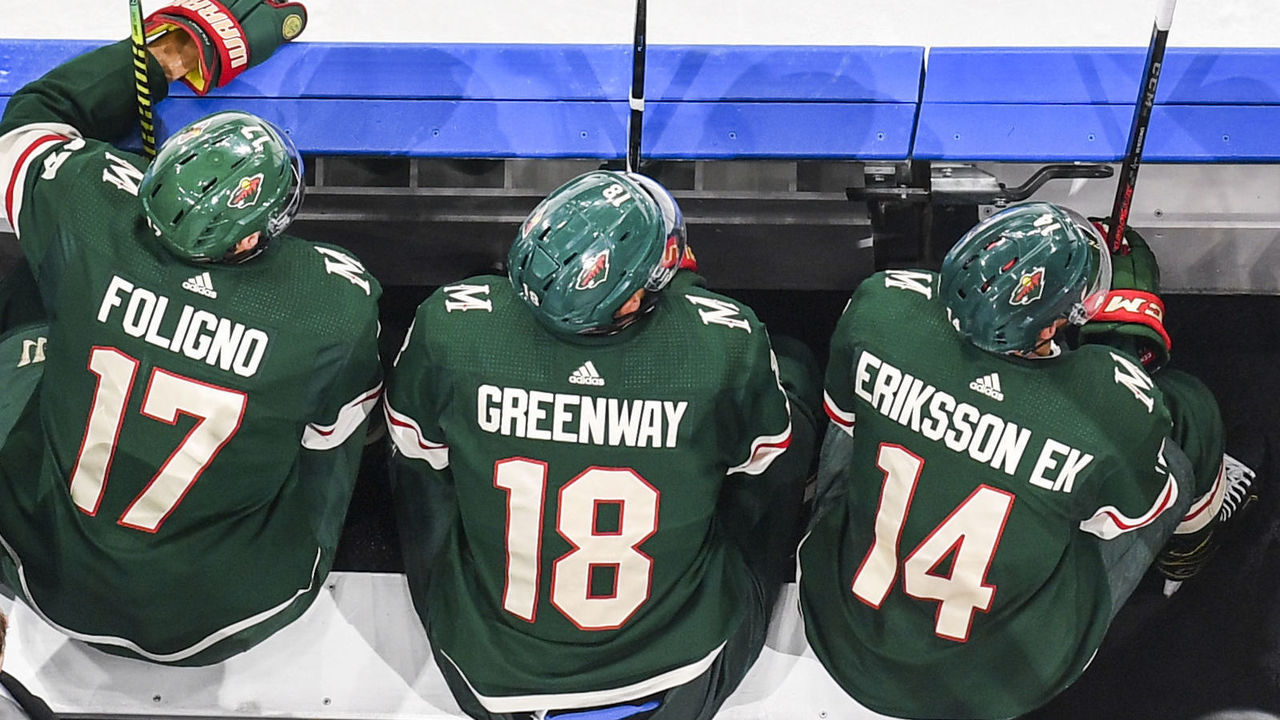 Eriksson Ek, who's in the thick of the action seemingly every shift, is the line's fulcrum. The cerebral 24-year-old is positionally sound in all three zones, and his combination of above-average skating ability and strength gives him the inside track during puck battles. He's rarely, if ever, outworked.
The tension between him and his opponents tends to boil over between whistles. It's not uncommon to watch Eriksson Ek emerge from a scrum with a blank stare while the guy who just face-washed him emerges animated and fuming.
"He's a pain in the ass to play against," former Wild coach Bruce Boudreau said. "He'll play you tough but he's not a fighter. Europeans, they don't fight over there. I think it frustrates an awful lot of guys who want to beat him up."
Eriksson Ek hasn't been assessed a single fighting major in 264 career NHL games - though there have been a few close calls over the years, including this memorable 2019 mugging courtesy of Buffalo Sabres captain Jack Eichel:
Eriksson Ek doesn't let his emotions get the better of him, a temperament that gives him the rare ability to walk the line between legal and illegal defending. He boasts a career penalty differential of plus-19. In 2020-21 alone, he's impressively drawn 17 minors and taken only nine.
Eriksson Ek claims all of this - the irritating nature of his game, the complete disinterest in fighting, the night-to-night discipline - "comes natural."
"I try to play the right way and do the small things right. I try to play close to guys," he said in a recent interview with theScore. "It's not always about hitting someone as hard as you can. It's about making people stop and about getting in front of them to take away speed. I think it's very important."
Eriksson Ek is known for being unfailingly humble and, in Hendrickson's words, is "low maintenance." He redirects praise for his effective playing style to a Swedish hockey system that strongly encourages all skaters, even skilled forwards, to master the minutia of the game. "You learn how to play defense early, how to use your stick properly, how to be in lanes to take away passes and just be on top of guys defensively," Eriksson Ek said.
Like many Swedish kids born in the 1990s, Eriksson Ek grew up cheering for the Detroit Red Wings because of Henrik Zetterberg and Nicklas Lidstrom. He and his younger brother Olle - who's now a goalie for the Anaheim Ducks' AHL affiliate in San Diego - were raised less than a mile from a hockey rink in Karlstad, a mid-sized city a few hours west of Stockholm. Their father Clas played professionally for the local SHL team and coached for a few years after that, while mother Anna often worked at the arena, too.
When not in school or at the rink, the brothers shot pucks in the driveway or, when it was too cold outside, engaged in ball hockey battles in the garage. "Almost every night ended up with a fight," Olle, 21, laughed. "When you're a kid, you hate your brother and at the same time, you love him.
"Even now, in the summers, it can get heated," OIle added. "I think that's getting both of us better. We know each other so (well) that we can cross the line sometimes. But we'll always be fine afterward."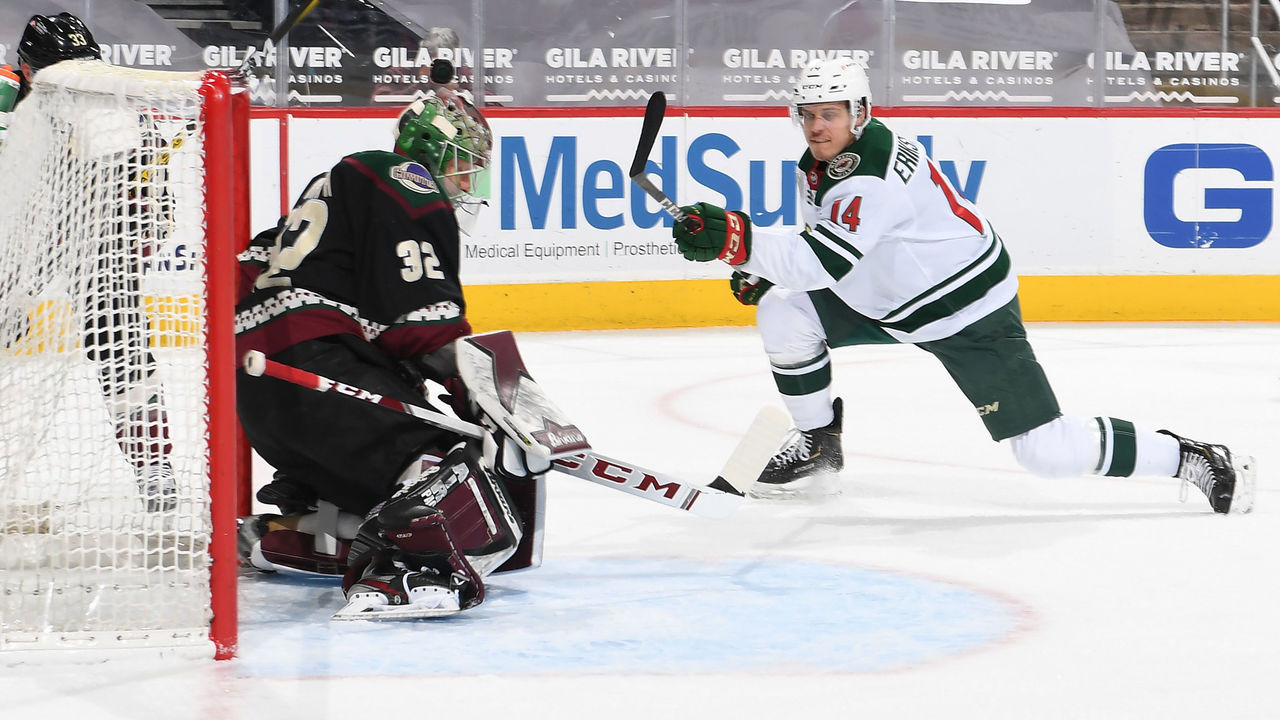 Olle is in no way surprised by his brother's offensive explosion, which is underlined by the fact Eriksson Ek scored only five more goals than the 19 he's bagged in 54 games this year in the previous four seasons combined.
"Every goal he has right now is at even strength, right?" Olle said. "Yeah, I've seen him put up a lot of goals in power play in juniors. I am 100% sure he can be doing that in the NHL, too."
For now, check out the list of players with more even-strength goals than Eriksson Ek: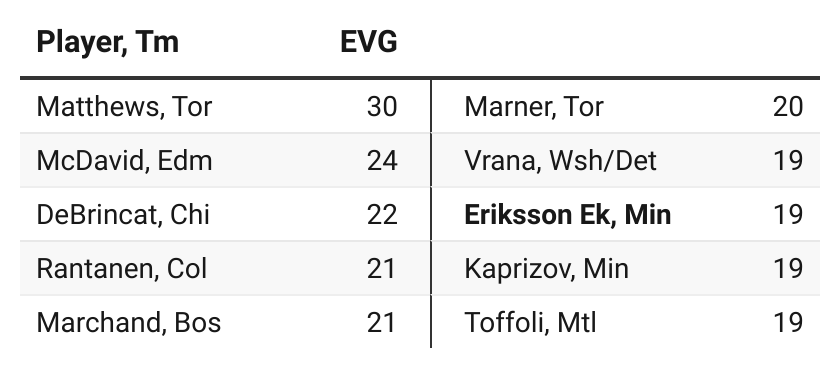 Eriksson Ek isn't on the ice nearly as often as the top scorers listed above, though he does rank second among Wild forwards in ice time (17:04). Up until this season, Boudreau and Evason had veterans Mikko Koivu and Eric Staal ahead of Eriksson Ek on the depth chart, which limited his impact on the scoresheet.
"I always thought he could score. We just didn't see him getting it off or getting it away (fast or often enough)," Boudreau said. "And so this year he's obviously got the confidence because he started off so well. He's the No. 1 center on that team and it's really showing well for him."
Former Wild goalie Alex Stalock used the words "unbelievable" and "underrated" to describe Eriksson Ek's shot. "I wouldn't say it's the first thing that comes to mind when people think about him, but his shot is a weapon," said Stalock, who's now with the Edmonton Oilers. "Finally he's getting the opportunity where he can use it and be effective, and he's getting chances. You look at his point total (30) and his goal total this year and it shows that."
Eriksson Ek's 17th goal of the season, scored in late April against the St. Louis Blues, showcased his size, skating, and shot particularly well:
Even when Koivu and Staal were in St. Paul, the Wild seemed to be on a perpetual search for center depth and goal scoring. That's partially why ex-general manager Chuck Fletcher selected Eriksson Ek 20th overall in 2015 despite there being a strong case for drafting sniping winger Brock Boeser, a Minnesota native.
"There were always questions, people saying, 'Well, Brock Boeser's from here,' but in the back of your mind, when you're up close and seeing what he does every single day, you're happy to have him on your side," Stalock said of Eriksson Ek. "If you're building a team, you want a guy who plays his style on your roster."
Part of the appeal of Eriksson Ek is his outsized dedication to staying in peak shape. After "absolutely crushing" fitness tests in the Wild's 2019 training camp, Stalock and his old teammates honored the worker bee by wearing "Mr. September" T-shirts featuring a stoic Eriksson Ek riding a stationary bike.
"We can get off the ice and everyone is absolutely dead," Olle said of summer workouts in Karlstad. "And this guy is just out of his gear in five minutes and on his way out to the gym. He always needs to do something."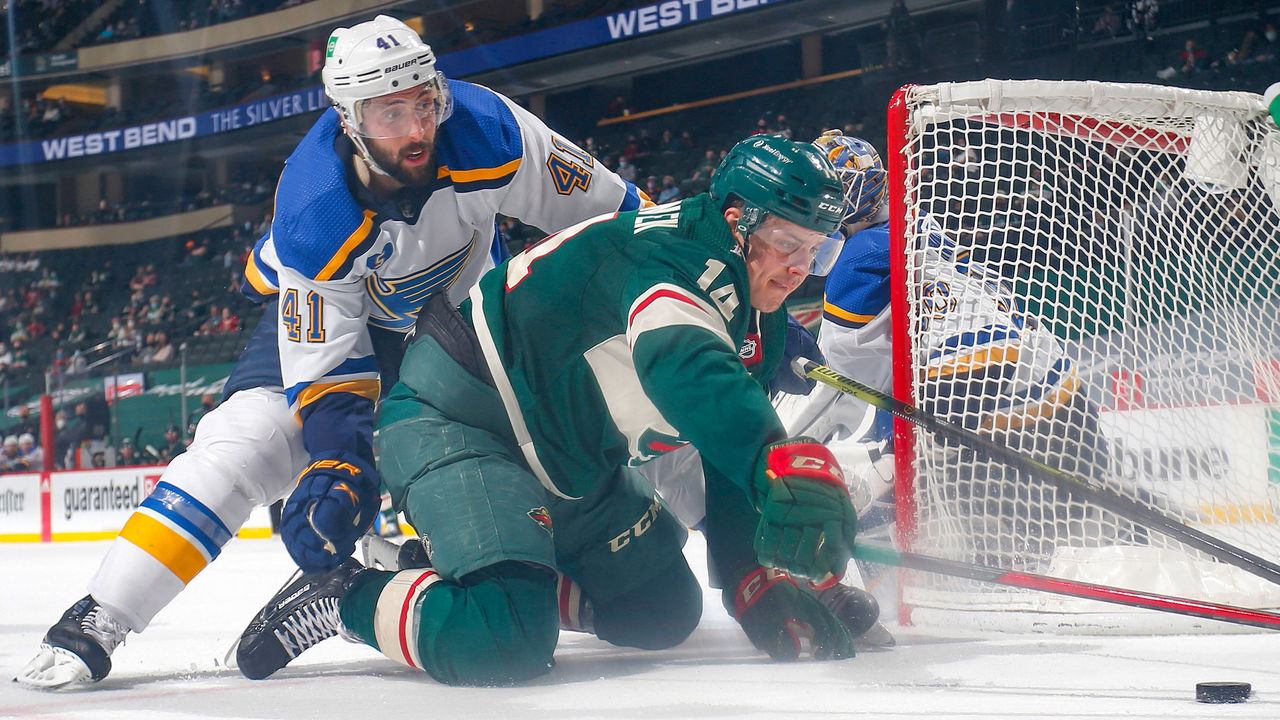 Eriksson Ek is set to become a restricted free agent at the end of the season. He's due for a sizeable raise after earning roughly $1.5 million annually over the past two years. Reached by text message, Eriksson Ek's agent Claude Lemieux told theScore extension talks are being saved for the offseason.
"I'm sure (Wild GM Bill Guerin) and I will talk when the season is over and look at different options," Lemieux said. "We are always open for long term … of course the terms need to work for both the team and the player."
(For what it's worth, Evolving Hockey's contract projection tool predicts Eriksson Ek's price will be about $4.4 million annually on a four-year deal.)
Of course, there are more pressing short-term matters for both player and team. The Avs defeated the Wild 5-3 in the season series, and MacKinnon racked up three goals and 11 assists in seven games. If the two teams meet, there will be no easy shifts against a Colorado squad that scores 3.44 goals a game.
That said, the playoffs are a different beast. Coaches switch to line-matching and the level of physicality ramps up. This, in theory, opens the door for Eriksson Ek and his linemates to frustrate the hell out of the MacKinnon trio … right?
"MacKinnon, of course, is a horse. But Ek is the type of guy you want in your lineup to go against him every night," Hendrickson said. "I think everyone on our team, including our staff, feels 100% confident in that. He understands how, with the defensive part of the game, to be on the right side of it."
After Eriksson Ek's breakout, it's no longer a farfetched ambition the Wild could be a problem in the postseason.
John Matisz is theScore's senior hockey writer. You can follow John on Twitter (@MatiszJohn) and contact him via email (john.matisz@thescore.com)
Comments
✕
'Pain in the ass': Eriksson Ek is the Wild's invaluable 2-way force
  Got something to say? Leave a comment below!