Calgary beat Winnipeg 4-0 in NHL play-in action Thursday to eliminate the Jets in four games. Below's a breakdown of where these franchises go from here, plus thoughts on the state of the Western round robin after Vegas' 6-4 win over St. Louis.
Why Calgary's moving on
Five seconds remained in the first period, and Noah Hanifin had the puck on his blade in the neutral-zone circle.
Even endowed with a head of steam, there was little reason for this particular Flames breakout to pose the Jets much trouble. Two defensemen stood between Hanifin and Connor Hellebuyck's crease; three backchecking forwards weren't all that far behind. Congesting Hanifin's passing and driving lanes for a mere tick or two would have exhausted the clock, keeping Winnipeg within a goal at the first intermission of a must-win game.
Turns out a lot can happen in five seconds. Calgary threaded a few passes to get the puck deep, Hanifin - who ended up below the goal line - backhanded a spinning dish toward the crease, and Sam Bennett beat the buzzer with a backbreaking tap-in.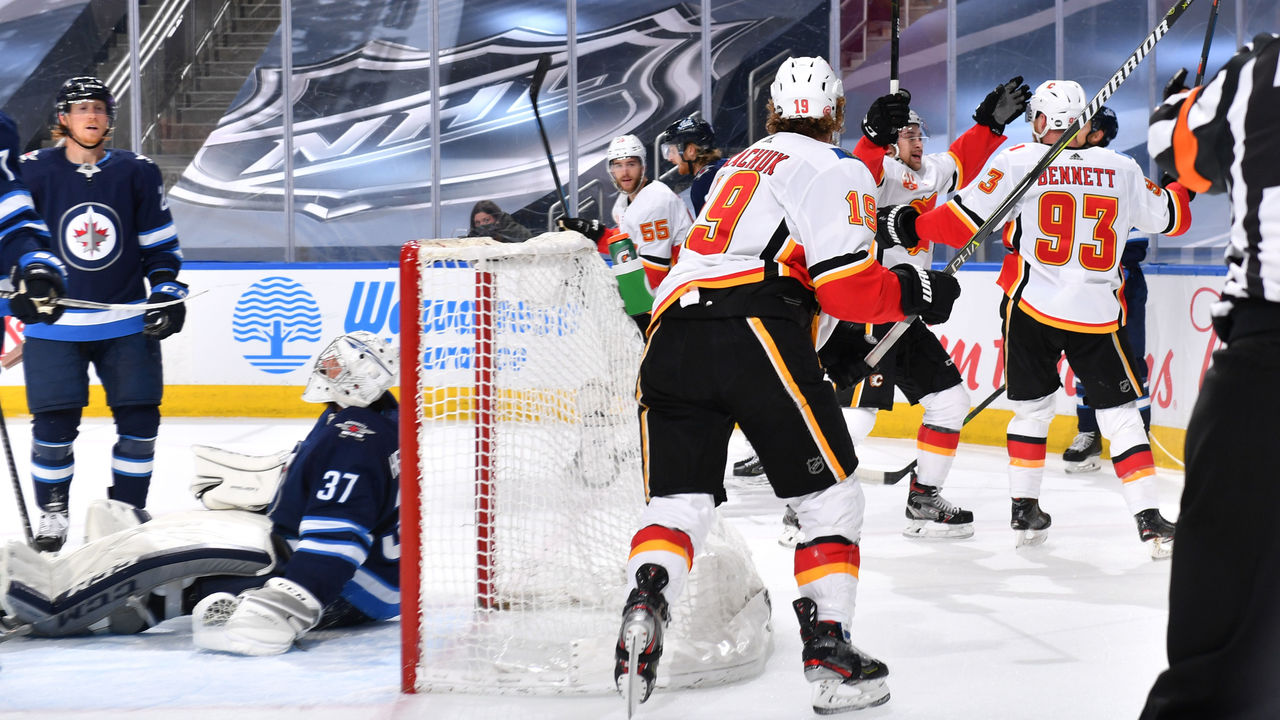 Beyond doubling Calgary's early lead, Bennett's goal embodied a lot of what the Flames did right in this series. Their forwards were first to rebounds or stronger on the puck in the corners. Trailing players drove hard to the net and passers picked apart gaps in Winnipeg's defensive coverage. Crucially, the shooters they found were clinical in converting those opportunities. Eleven players scored for the Flames across four games. The pressure came in waves, and Winnipeg had no semblance of an answer.
Yes, it preceded the postseason's traditional opening round of 16, but Calgary's conquest still constitutes the franchise's first series victory since 2015 - and an impressive bounce back from last year's five-game loss in the first round to the underdog Avalanche. After Game 2, it wasn't especially close. The Flames racked up 16 goals in this series to Winnipeg's six. (The margin was 12-6 if you discount empty netters - still a resounding differential.) The teams' amount of even-strength chances were comparable, but only Calgary executed on the power play, clicking at 29.4%.
Characteristic of a balanced effort, new influencers rose to the fore for the Flames in Game 4. It was Cam Talbot's best night in the bubble, and his 31 saves included several gem denials of Kyle Connor, Nikolaj Ehlers, Adam Lowry, and Jack Roslovic at point-blank range. Up front, there was a reversal of course from Game 3, when five top-six Calgary forwards bagged a goal apiece. Those lines were ineffectual Thursday, but the Bennett-centered third trio buzzed, with him, Dillon Dube, and Milan Lucic controlling 71.43% of shot attempts at five-on-five.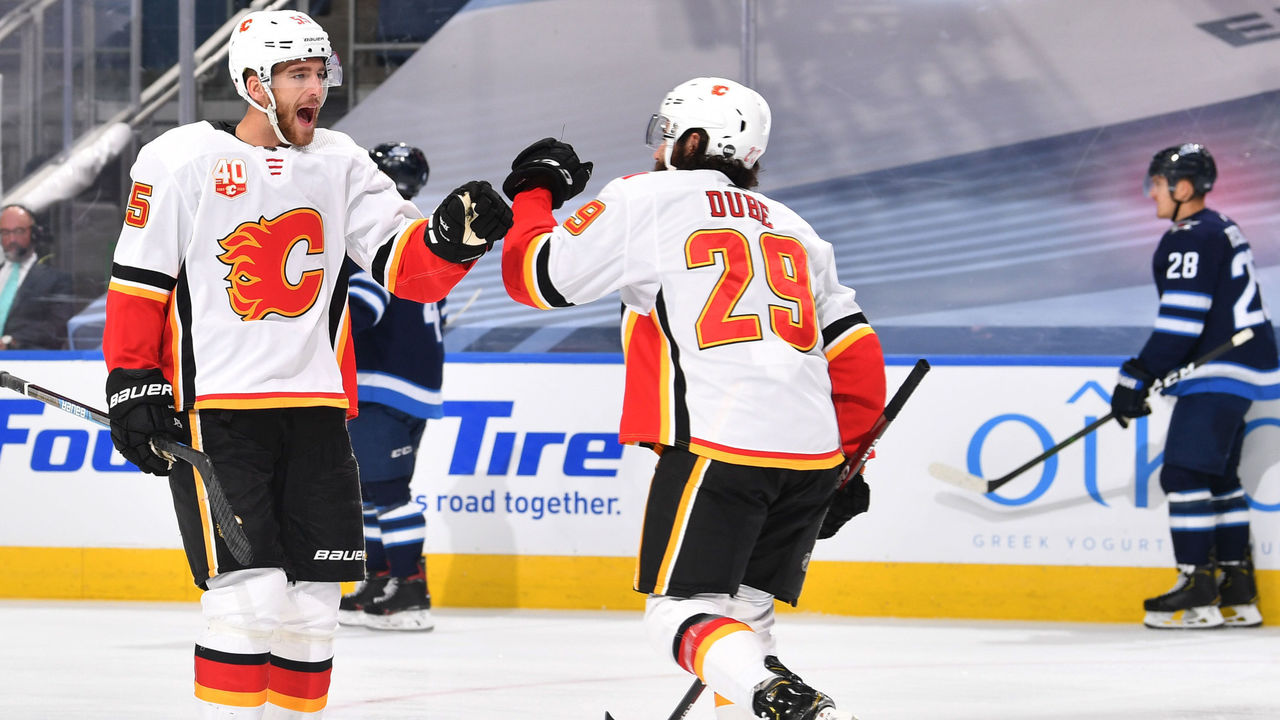 If leads in the Western Conference's other play-in series hold - if Vancouver, Arizona, and Chicago all advance in the next few days - the Flames would be the second-highest seed to emerge from the qualifiers, setting up a rendezvous with the No. 3 team from the round robin: the winner of Sunday's St. Louis-Dallas game. Either Edmonton or Nashville would need to rally back to win their series to make possible a Calgary-Colorado rematch.
Run it back, Winnipeg
An overdue admission about the Jets: it's hard to get an accurate read on a squad that had to forge ahead without its No. 1 center, Mark Scheifele, for all but the first six minutes of the playoffs. That Patrik Laine also missed Games 2 through 4 with a hurt wrist undeniably and irrevocably changed the complexion of the series. Winnipeg was among the NHL's most injured teams this season. Hockey's like that sometimes, and if it's not an excuse for losing, it at least ensured the Jets weren't their truest selves.
As has been the case for a few years now, the Jets' five best forwards - Scheifele, Laine, Connor, Ehlers, and Blake Wheeler - bore the offensive load for an otherwise punchless roster in 2019-20: the 142 goals they united to score were precisely two-thirds of the Jets' 213 for the campaign. Ehlers scored twice this series and easily could have potted three or four more across Games 3 and 4. Less favorably, Connor, Roslovic, and Neal Pionk took a combined 34 shots on Talbot without any finding twine. Down two stars, hard of luck and of finishing ability, this lineup didn't have the juice to hang with Calgary's attack.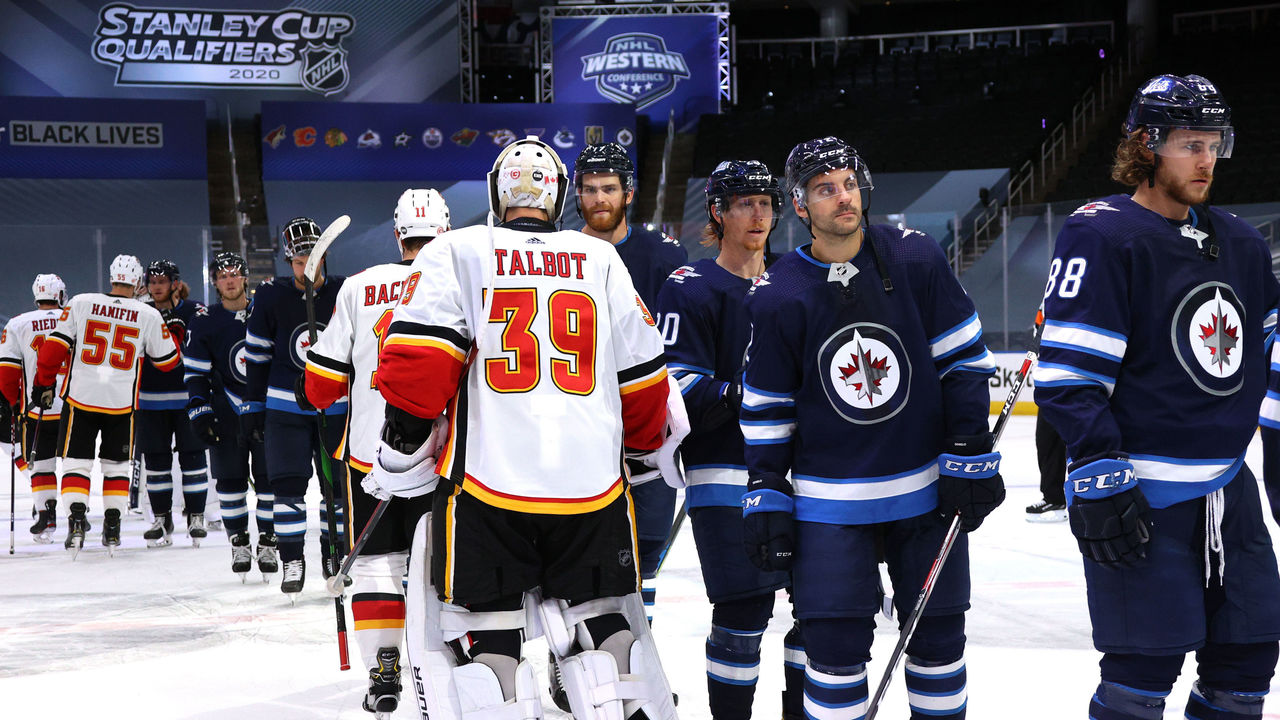 Little should change next season - except, ideally, veteran forward Bryan Little returning healed from the perforated eardrum that sidelined him way back in November. To state the matter harshly, Winnipeg just wasted a Vezina Trophy-caliber season from Hellebuyck, but he, top-pairing defenseman Josh Morrissey, and most of those ace scorers above are signed through 2023-24 or longer for $6 million annually or more. The lone exception is Laine, an RFA next summer.
Basically, this core isn't going anywhere, and absent the impetus to make radical changes for change's sake, health and internal growth will determine the Jets' ceiling. Everywhere but on the blue line, Winnipeg has the star power to front a second run to the Western Conference Final under Paul Maurice. That a split-second brush with Matthew Tkachuk could help delay those ambitions a year is one of this sport's crushing truths.
Of course, losing now might deliver Alexis Lafreniere to Winnipeg. That wouldn't be so bad.
Taking stock of the round robin
St. Louis-Vegas was an endearingly strange game. The Golden Knights outshot the Blues 38-17 and lapped them 71-28 in shot attempts. They were vastly superior for, oh, the last 50 minutes, but committed four egregious gaffes - from brutal defensive-zone turnovers to Marc-Andre Fleury losing his footing on a wraparound - that led directly to as many Blues goals. St. Louis blew a third-period lead and lost in regulation for the second time in the bubble - after never once stumbling to that outcome in the regular season.
Also, the Fox Sports Midwest telecast referred to Vegas as the "Gloden Knights" in one graphic. Everyone has a lot to clean up, basically.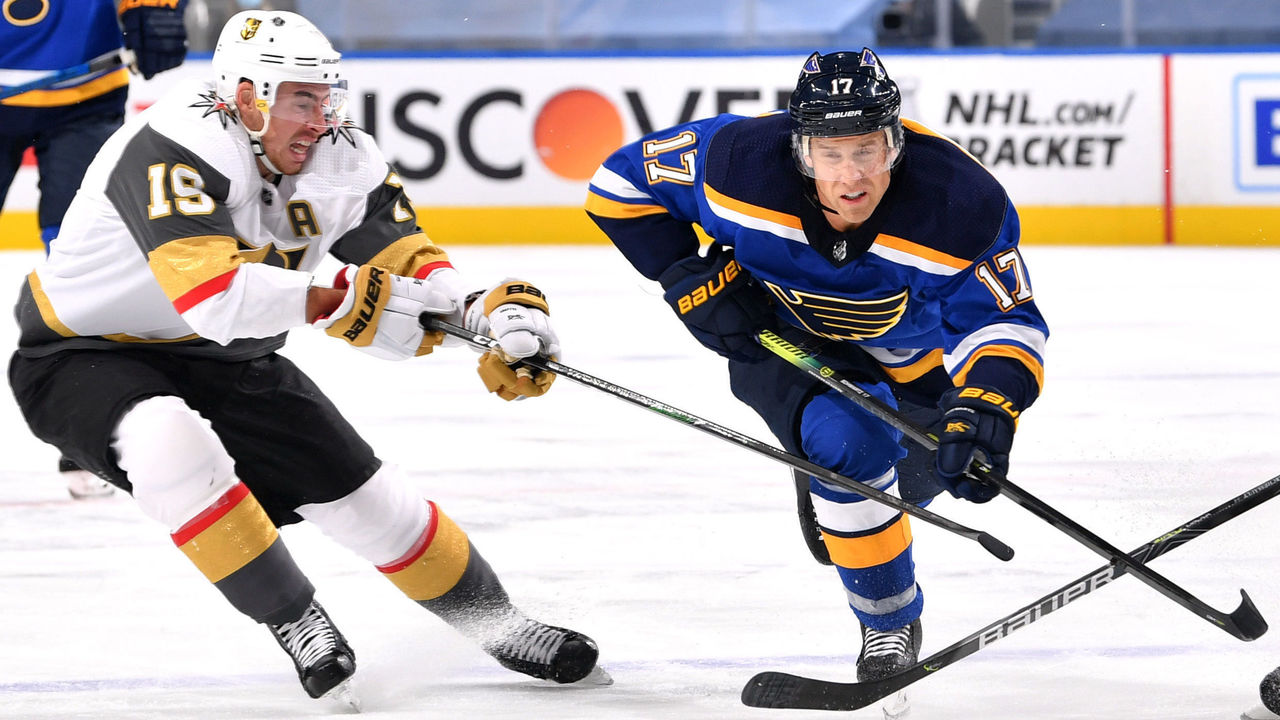 Maybe chaos was to be expected from some round-robin clashes, as top teams take time to rediscover their sea legs without the imminent threat of elimination necessitating urgency. Maybe it's sound to invoke the shrug emoji and move on. These games do mean something, though, and as upsets brew in the Western Conference's 5-12 and 6-11 play-in matchups - with Chicago and Arizona each a win away from advancing - the top couple of seeds in the bracket are starting to look all the more desirable.
In any event, a few early conclusions can be drawn about the teams that'll occupy those seeds. The Golden Knights are generating heaps of chances, as they did all year. Robin Lehner, demonstrably a better goalie than Fleury this season, is coach Peter DeBoer's best bet in net; surely he'll be the choice to start moving forward. We already knew Mark Stone's hands and eyes operate in perfect sync. Justin Faulk (peep the deflection off his skate below) can be assured nothing changed during the layoff.
Elsewhere, it's clear the Avalanche are in fine form after blitzing Dallas 4-0 on Wednesday. Among other good omens, Colorado amassed 9:31 of offensive-zone possession time to the Stars' 3:55, according to data provided by SPORTLOGIQ. Colorado's six bubble goals have come via six players, including four key offseason or deadline acquisitions in Andre Burakovsky, Joonas Donskoi, Nazem Kadri, and Vladislav Namestnikov. The Avs are deep, no longer wracked by injuries, and face Vegas on Saturday to decide No. 1 positioning.
Nick Faris is a features writer at theScore.