With the 2019-20 NHL regular season currently suspended - and potentially finished - we pick the most valuable player for each Eastern Conference team.
Boston Bruins
Pick: David Pastrnak
Brad Marchand and Patrice Bergeron may be the club's most complete players, but David Pastrnak's brilliance throughout 2019-20 can't be denied.
Pastrnak's goal-scoring bona fides were on full display before the hiatus, as he became the first Bruins player in 17 years to reach the 40-goal plateau and is tied for first in the NHL with 48 tallies - including four hat tricks - through 71 games. He also leads Boston with 95 points.
Buffalo Sabres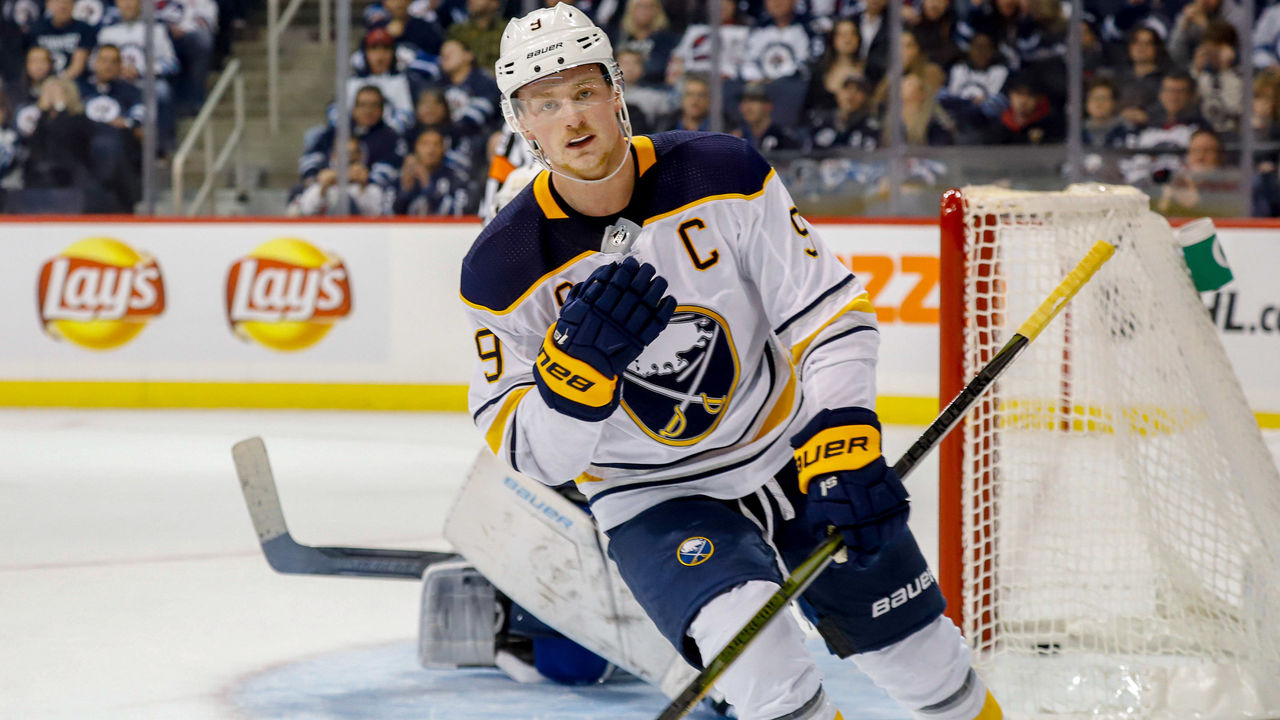 Pick: Jack Eichel
Even as the Sabres' fortunes dwindled this season, Jack Eichel's play never wavered.
The 22-year-old captain tallied a career-best 36 goals in 68 games, and his 78 points are 28 more than Buffalo's second-ranked scorer. If there's a silver lining for the Sabres in another underwhelming campaign, it's that Eichel emerged as a true Hart Trophy candidate.
Carolina Hurricanes
Pick: Sebastian Aho
Dougie Hamilton was enjoying a Norris Trophy-caliber season before suffering a broken fibula on Jan. 16. Following that injury, Finnish sniper Sebastian Aho totaled 15 goals and 26 points in 21 games to keep the Hurricanes afloat in an extremely competitive Metropolitan Division.
Overall, the 22-year-old Aho was on pace for 46 goals before the season was put on pause, which would have marked the highest single-season total by any Hurricanes player since the franchise relocated from Hartford ahead of the 1997-98 campaign.
Columbus Blue Jackets
Pick: Elvis Merzlikins
A team that scores just under three goals per contest during a 14-game stretch likely won't post an .850 winning percentage - unless stud rookie Elvis Merzlikins is tending the twine. The Latvian puck-stopper caught fire in January, leading the Blue Jackets on an unlikely journey from well into the lottery to postseason contention.
Detroit Red Wings
Pick: Dylan Larkin
The Red Wings haven't had much to celebrate recently, but Dylan Larkin has given fans something to look forward to.
Before the hiatus, the 23-year-old racked up 53 points in 71 games with goal-scorer Anthony Mantha out of the lineup for nearly half of the campaign. Larkin does his best to make something out of nothing, and his leadership will be paramount to the club's rebuild.
Florida Panthers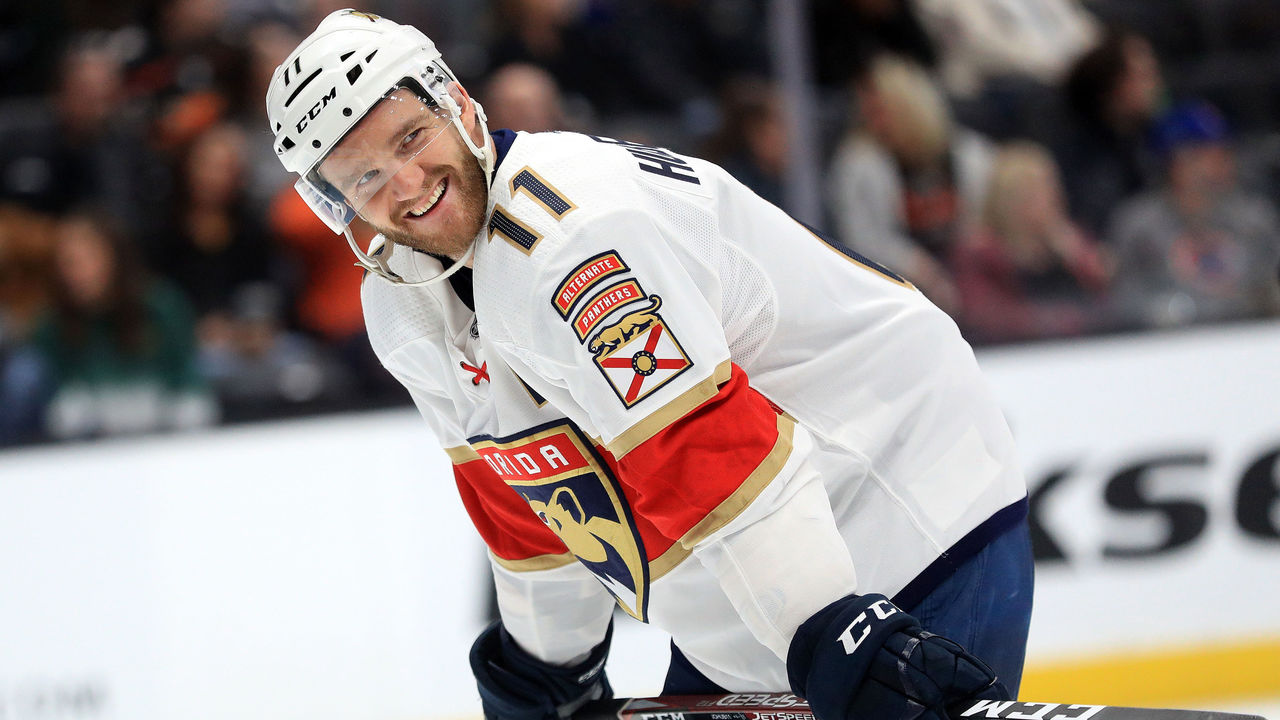 Pick: Jonathan Huberdeau
Jonathan Huberdeau's been the spark plug for a Panthers team that's been forced to rely on its offense thanks to a shoddy debut season from $70-million netminder Sergei Bobrovsky. Huberdeau helped rescue the Panthers during what was nearly a disastrous start to the campaign, tallying five goals and 13 points over the opening 12 games while co-star Aleksander Barkov was held goalless.
Montreal Canadiens
Pick: Tomas Tatar
Shea Weber provided the 2019-20 Habs with a steady presence on the blue line, but Tomas Tatar's career campaign can't be overlooked.
The 29-year-old winger put up a personal- and team-best 61 points in 68 games while sharing the club lead with 22 goals. Tatar also posted gaudy possession numbers, as the Canadiens owned 60.27% of expected goals and 61.84% of high-danger chances at five-on-five when the Slovak was on the ice.
New Jersey Devils
Pick: MacKenzie Blackwood
The emergence of goaltender MacKenzie Blackwood was a significant development amid another trying season in New Jersey. After Dec. 29, Blackwood boasted an 11-4-3 record and a .926 save percentage that rivaled some of the league's top puck-stoppers.
With veteran goalie Cory Schneider all but finished as an NHL starter, Blackwood's stellar season should give the Devils some hope for the near future.
New York Islanders
Pick: Mat Barzal
Mat Barzal is the straw that stirs the drink for the offensively thin Islanders. In only his third NHL campaign, the 22-year-old center has already established himself as one of the league's premier playmakers, and few skaters are more exciting to watch with the puck on their stick. Barzal also leads New York in scoring for the third consecutive season.
New York Rangers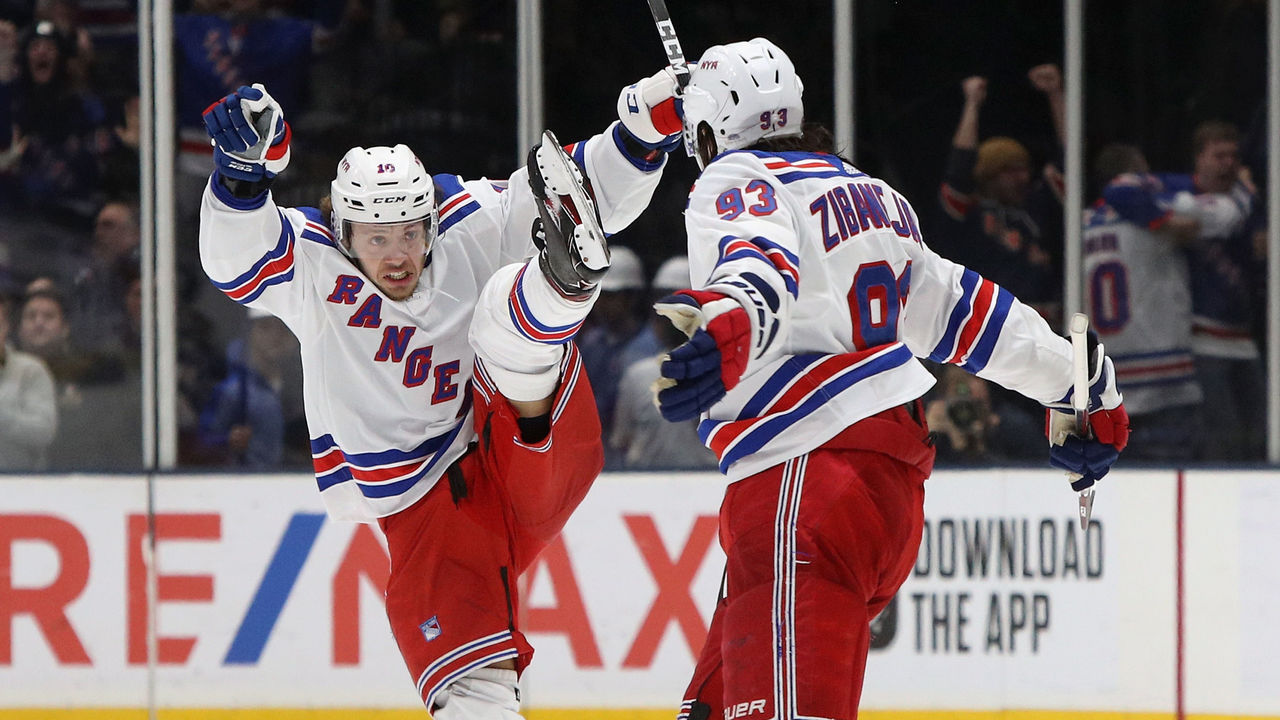 Pick: Artemi Panarin
Tallying 41 goals in 57 games is absurd, and Mika Zibanejad deserves to be recognized, but the Rangers' top player in 2019-20 was superstar offseason signing Artemi Panarin.
Before the campaign was suspended, the electric winger was on pace to become just the seventh player in franchise history - and the first since Jaromir Jagr in 2005-06 - to register a 100-point campaign. Panarin was held pointless in consecutive games just three times all season, and he sat tied for third in league scoring when play was put on hold.
Ottawa Senators
Pick: Thomas Chabot
Erik Karl-who? The Senators have themselves an extremely special player in 23-year-old defenseman Thomas Chabot, making it much easier to put a certain former franchise blue-liner in the rear-view mirror.
Through 71 contests in just his third NHL campaign, the 6-foot-2 Chabot was leading the league in average ice time (26 minutes per game) and had contributed 39 points.
Philadelphia Flyers
Pick: Sean Couturier
In a season that saw Claude Giroux and Jakub Voracek stumble out of the gates, Sean Couturier kept the Flyers afloat early and cemented himself as one of the league's most dominant two-way forwards.
The Selke Trophy candidate ranked third on the Flyers in goals (22) and second in points (59) while being tasked with shutting down the opposition's top talents on a nightly basis. He's relied on in all situations, playing a vital role on both the power play and penalty kill.
Pittsburgh Penguins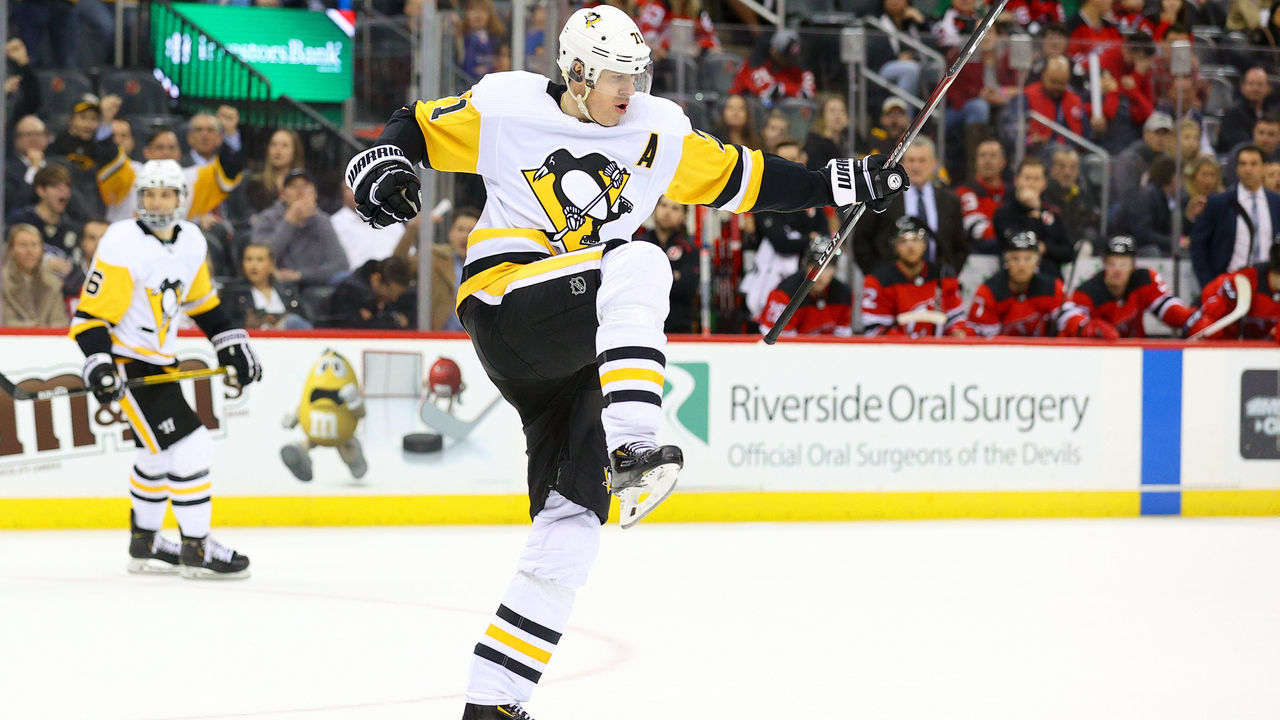 Pick: Evgeni Malkin
When the going gets tough, Evgeni Malkin always answers the bell. The Russian phenom put the injury-riddled Penguins on his back this season, recording 74 points in 55 games and dominating when they needed him most. While Sidney Crosby was out of the lineup for more than two months, Malkin led the Penguins to a 16-6-4 record and racked up 38 points in those contests.
Tampa Bay Lightning
Pick: Nikita Kucherov
Before the season was suspended, Nikita Kucherov was on his way to a third consecutive 100-point campaign while leading the Lightning in both goals and assists.
Tampa Bay owned a team-high 57.15% share of expected goals for when Kucherov patrolled the ice at five-on-five. The club also posted a 22-6-0 record when Kucherov scored a goal. Despite being surrounded by an embarrassment of riches on Tampa Bay's roster, the Russian still reigns supreme.
Toronto Maple Leafs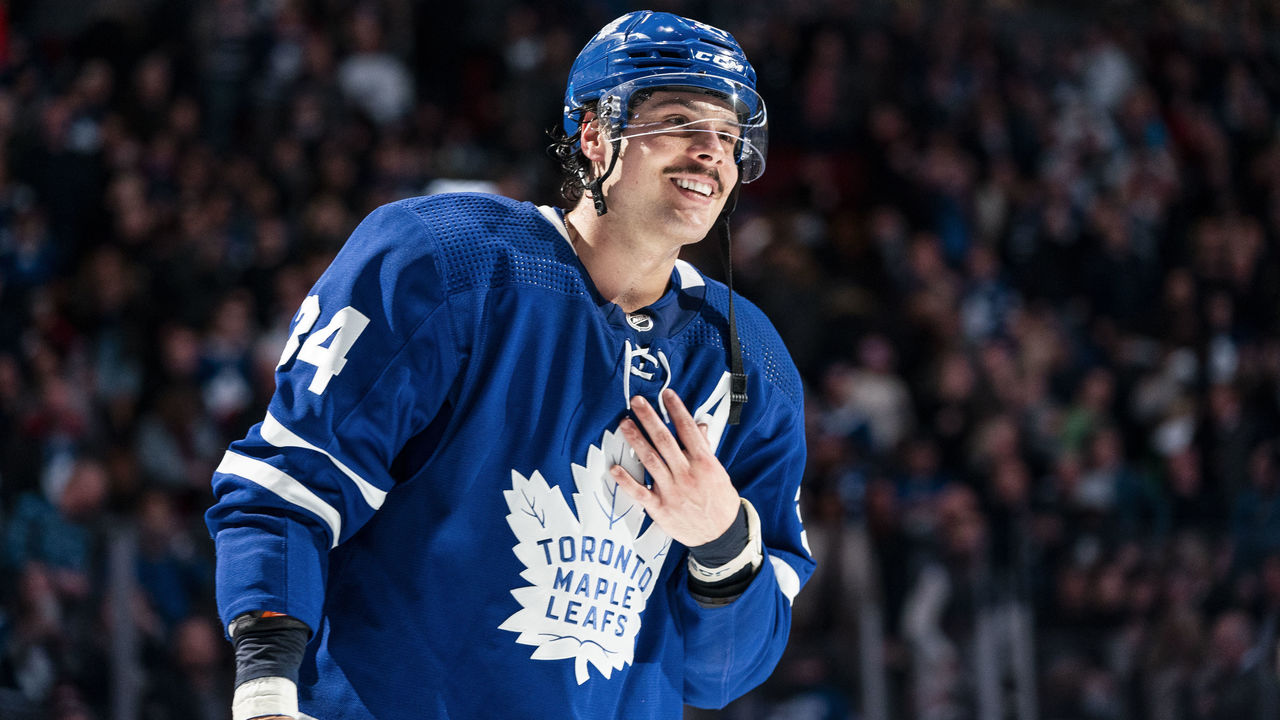 Pick: Auston Matthews
The notion that netminder Frederik Andersen is the Maple Leafs' most valuable player was put to rest during his pedestrian stretch of play from December through February. Instead, Auston Matthews was Toronto's most consistent force throughout the campaign.
Matthews took another step in 2019-20, turning into a dominant two-way center who was poised to break the single-season goal-scoring record for a franchise that's existed for more than 100 years. Plus, the 22-year-old didn't need special teams to make an impact, as he shared the league lead with 35 even-strength tallies. Without No. 34, the Leafs simply wouldn't be the same.
Washington Capitals
Pick: John Carlson
Alex Ovechkin is the club's perennial superstar, but it's important to give John Carlson some shine for his career campaign.
Offensive seasons like the one Carlson produced in 2019-20 are few and far between for defensemen. He posted 75 points before the hiatus and was on pace for a whopping 89, which would have marked the best single-season total from a rearguard since 1993-94.
Advanced stats source: Natural Stat Trick