10 takeaways from NFL Week 2
L to R (Getty Images): Icon Sportswire/Icon Sportswire/Elsa
Sunday Rundown recaps the most important developments from the day's action and examines the significance of them moving forward.
What a win for the Ravens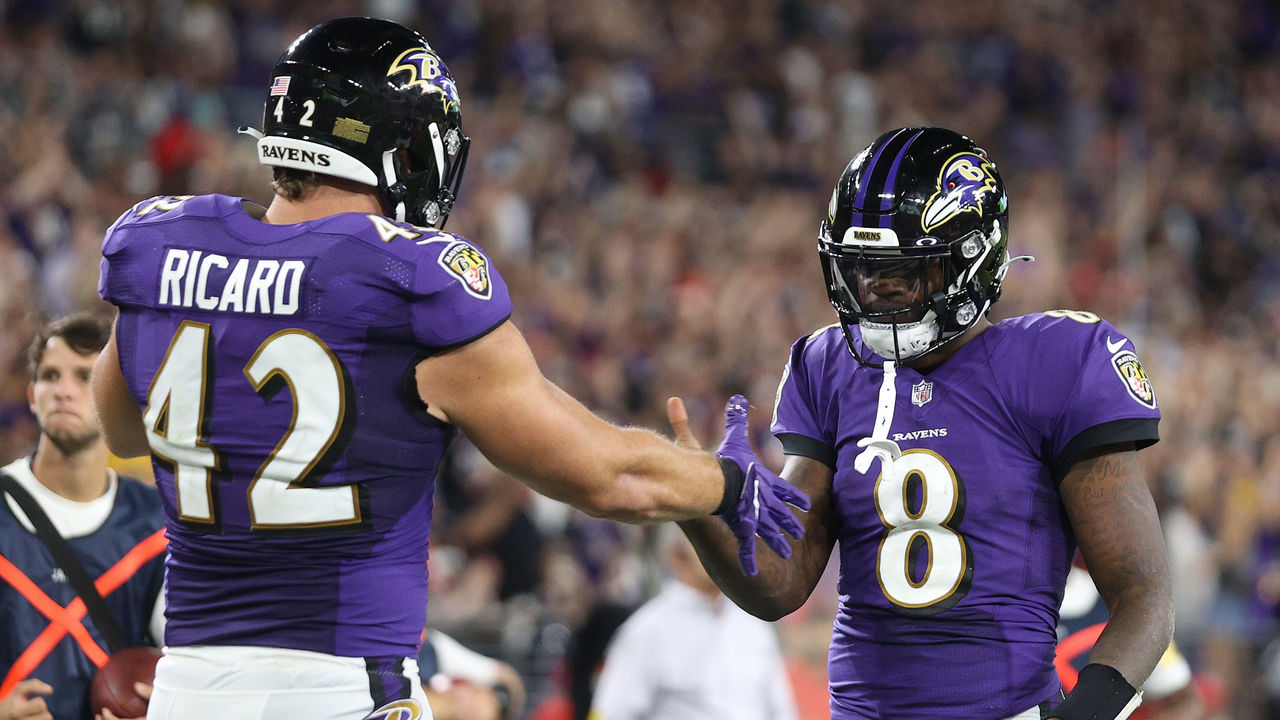 The Baltimore Ravens entered Sunday night's home showdown with the Kansas City Chiefs on a short week and coming off a heartbreaking loss to the Las Vegas Raiders. They also have a staggering 15 players on injured reserve. And then they lost safety DeShon Elliott (concussion) and nose tackle Brandon Williams (neck strain) during the game, too.
They won anyway.
Thanks to an interception by cornerback Tavon Young, a huge pass breakup on third down by cornerback Anthony Averett, and a forced fumble by rookie linebacker Odafe Oweh, the depleted Ravens overcame a 35-24 deficit in the final 17 minutes to keep the Chiefs off the scoreboard and pull off the upset.
The Ravens also leaned hard into quarterback Lamar Jackson's run-pass option game down the stretch. Jackson rushed 10 times for 32 yards and completed three passes for 25 yards in the fourth quarter, which doesn't seem like much. But four of those keepers went for two touchdowns and two first downs, including on a fourth-and-1 near midfield in the waning seconds to end the game.

The call might have seemed crazy to traditionalists, but Jackson and head coach John Harbaugh understand that the best way to beat Patrick Mahomes is to keep him off the field. The math also backed them up:
Jackson's EPA/play when running the ball in this one was an outstanding 0.53. (For a primer on EPA/play, go here.) Any qualms about him as a passer can wait for another time. This was a win that the Ravens needed to avoid falling into an 0-2 hole, and they earned it by getting some huge plays on defense and going all-in on all the things Jackson does best.
Another Kyler Murray fireworks show
One week after Murray completely dismantled the Tennessee Titans, he tore up the Minnesota Vikings to the tune of 400 passing yards, 31 rushing yards, and four touchdowns (three passing, one rushing).
Murray continues to thrive while making plays out of structure. He pirouetted away from pressure on two scoring throws, first on a 15-yarder to DeAndre Hopkins and then on a 77-yarder to Rondale Moore. He later tossed a perfect teardrop for a 35-yard gain off his back foot on fourth-and-5 to set up what became the game-winning field goal.
Murray had the benefit of playing with a big lead and having great field position for much of last week's win over the Titans, as Arizona's average drive began at its 42-yard line. This time, he brought the Cardinals back from a 13-point deficit when their average drive began at their own 27. Yes, the Cardinals lucked out when Vikings kicker Greg Joseph missed a 37-yard field goal at the end, but good teams often need luck, too. The Cardinals might just be a good team.
Raiders might have a defense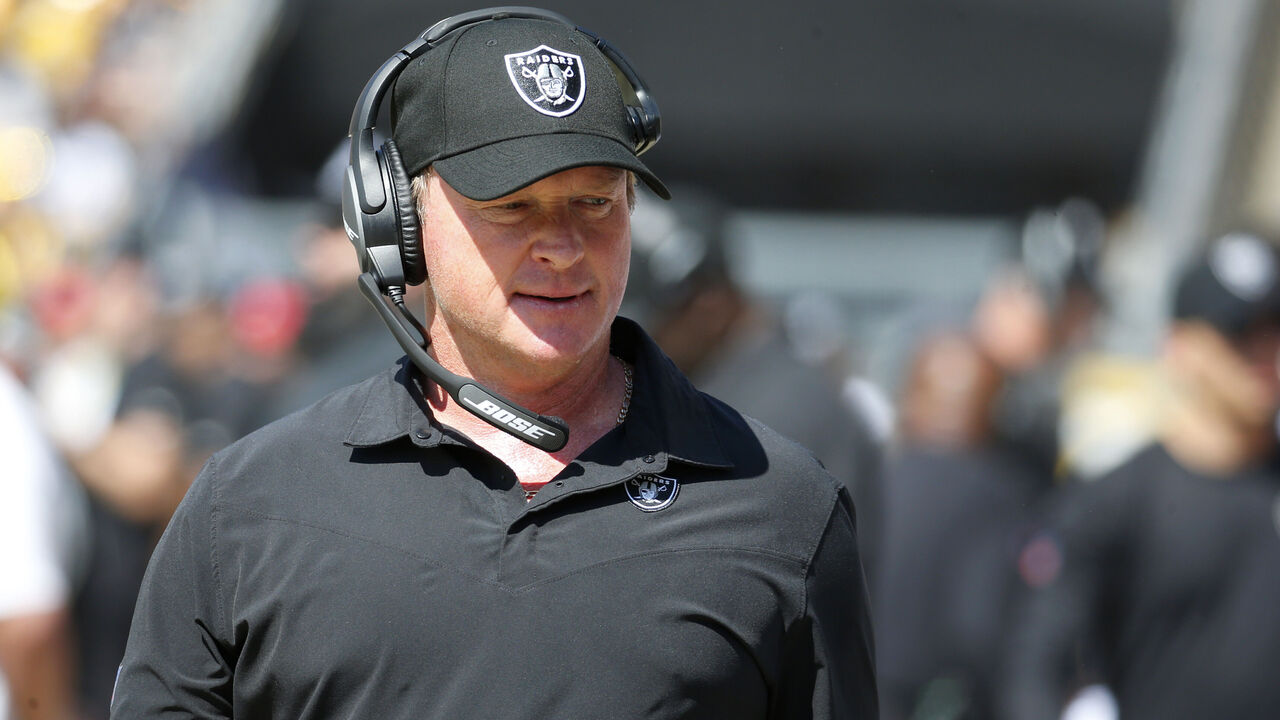 Derek Carr has now thrown for 817 yards in two games, and he's done it while beating the Ravens and Pittsburgh Steelers, which isn't easy. Granted, by halftime, the Steelers were down four defensive starters due to injury - including all-world pass-rusher T.J. Watt - but Carr just might be better than you think.
The bigger development here is the effectiveness of the Raiders' defense. The unit has been one of the league's worst throughout Carr's eight-year career, but it got a huge takeaway to set up Monday night's win against Baltimore, and on Sunday, it brought the heat against Ben Roethlisberger. It pressured the quick-triggered Roethlisberger on 31% of his dropbacks - the second-highest pressure rate against him since the start of 2020, according to Next Gen Stats.
Yeah, yeah: Roethlisberger is much more statuesque and inconsistent in the twilight of his long career, but Maxx Crosby and Yannick Ngakoue both have had at least five pressures in both of Vegas' wins. Sustaining that kind of pass rush can go a long way, especially with the Raiders not having to face Mahomes and the Chiefs' high-wire act until Week 10. The weeks ahead provide Vegas with a chance to keep up in what's looking like a strong AFC West.
Teddy gets aggressive
Teddy Bridgewater had another solid start for the Denver Broncos. He completed 75% of his passes with multiple touchdowns and no interceptions for a second time in as many contests - something he had only done twice in the first 59 games of his itinerant career, per Pro Football Talk's Michael David Smith.
But Bridgewater is taking more chances, too. According to PFF, just 11.2% of his throws in 2020 were deep balls covering 20-plus air yards. In two games this year, Bridgewater has taken deep shots 18% of the time. His average intended air yards is 9.2, a rather significant jump from last year's 7.3. His accuracy is up, too: After posting a completion percentage over expected of just 2.3 last season, Bridgewater's CPOE is 11.5 so far in 2021.
Bridgewater has also done all this without Jerry Jeudy, his injured top target. But Courtland Sutton has more than picked up the slack, particularly in the deep and intermediate range, as he did on Sunday:
A caveat - and there's always a caveat just two games into a 17-game season - is that Bridgewater has only faced the New York Giants and Jacksonville Jaguars. But his job is to win no matter who the opponent is. Denver figured to have a top-shelf defense with the potential to make a playoff push if it got some decent quarterback play. There's obviously still a long way to go, but Bridgewater has provided that so far.
Brady's just going to do this forever, huh?
There are no more superlatives to describe what Tom Brady continues to do at the young age of 44. He tossed five more touchdowns - and zero interceptions - in the Tampa Bay Buccaneers' win over the Atlanta Falcons, but he also established another record.
Brady's Bucs have now won 10 straight dating back to when they were 7-5 last season before running the table and winning the Super Bowl. But as Red Zone's Scott Hanson noted, they're the first team in NFL history to win nine in a row while scoring at least 30 each game.
The record of eight straight wins and 30-plus points scored had been set twice - once by the New England Patriots at the start of 2007, then again by the Pats in the latter weeks of 2010. New England's QB for both streaks: Tom Brady.
There's no telling what the next 20 years of Brady's career will bring.
Niners turn back the clock
The NFL is very much a passing league, but the San Francisco 49ers seem determined to zag when everyone else zigs - even as they keep weathering injuries to their running backs.
The Niners ran the ball on 38 of 68 scrimmage plays (55.8%) in their win over the Philadelphia Eagles, highlighted by a 16-play drive that chewed up 8:59 of a second half that featured 10 runs - at a time when they only led 7-3. They did this even though Raheem Mostert is already out with a season-ending knee injury, and JaMycal Hasty (ankle), Trey Sermon (concussion protocol), and Elijah Mitchell (shoulder) all got hurt during Sunday's game.
Kyle Shanahan is renowned as an offensive innovator, and one of his greatest strengths is scheming up running plays out of a variety of formations and personnel groupings. So far, that seems to be a big part of the plan for this season. Last year, only the Ravens and Patriots ran the ball more than they passed it. Through two games, the Niners have run the ball 54% of the time.
Week 1 lessons learned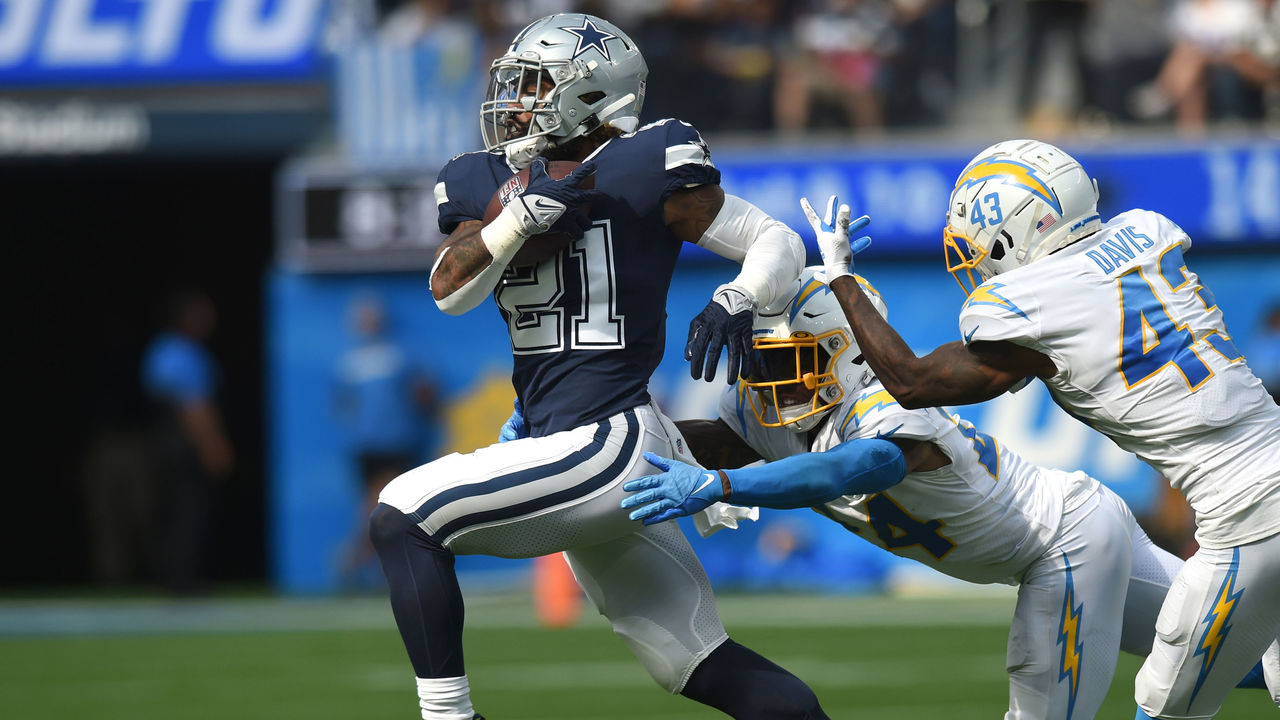 Remember when Ezekiel Elliott looked like he was done? When Jameis Winston and Jalen Hurts were setting the world on fire? When the Titans' vaunted offense could barely get a pass off or run the ball?
Yeah, well, Week 2 so far has served as a harsh reminder that it's a long season and that it's best not to get too carried away by a single game's performance.
Elliott finished with 71 yards and a TD on 16 carries, including a crucial third-down conversion on the game-winning drive, though Tony Pollard (13 carries, 109 yards, three catches, 31 receiving yards) also did a bang-up job of spelling him. Winston tossed a couple of arm-punt interceptions that were reminiscent of his bad old days in Tampa. Hurts came back to earth. And the Titans rolled up 532 yards of offense - including 182 on the ground from Derrick Henry, 147 of which came after halftime - to come back to stun the Seahawks in overtime.
It's best not to overreact to anything just yet. This will be true even if Aaron Rodgers and the Green Bay Packers step on another rake Monday night at home against the Detroit Lions. However, if that does indeed happen, the time to panic won't be too far off.
Just about the only thing we can all count on at this point is that the New York Jets still stink.
Darnold, Panthers get it done again
Sam Darnold, free from that gravitational pull straight into hell that best describes playing for the Jets, has now had two solid outings in as many games from his career amnesty outpost with the Carolina Panthers.
Having running back Christian McCaffrey (137 scrimmage yards) back is certainly a boost for the Panthers' offense, but Darnold also completed eight of his 11 targets to D.J. Moore and connected with seven different receivers. He even posted a terrific EPA/play of 0.62 on third-down passes. Yes, the New Orleans Saints were without cornerbacks Marshon Lattimore and C.J. Gardner-Johnson, along with a handful of coaches on the COVID list, but Darnold did his job against the opposition in front of him. That's the best that can be expected of him at this point.
The Panthers' defense was also excellent again, with defensive ends Haason Reddick, Brian Burns, and Morgan Fox pressuring Winston into four sacks, 11 QB hits, and a pair of interceptions, including the first career pick for first-rounder Jaycee Horn.
It's still early, but Darnold appears to be in a far better environment now, especially after his replacement with the Jets - No. 2 pick Zach Wilson - tossed four interceptions in another dreadful loss to the Patriots, who probably last lost to the Jets before Wilson was born. Just kidding. But it has been six years and 11 straight games, so almost that long.
QB injuries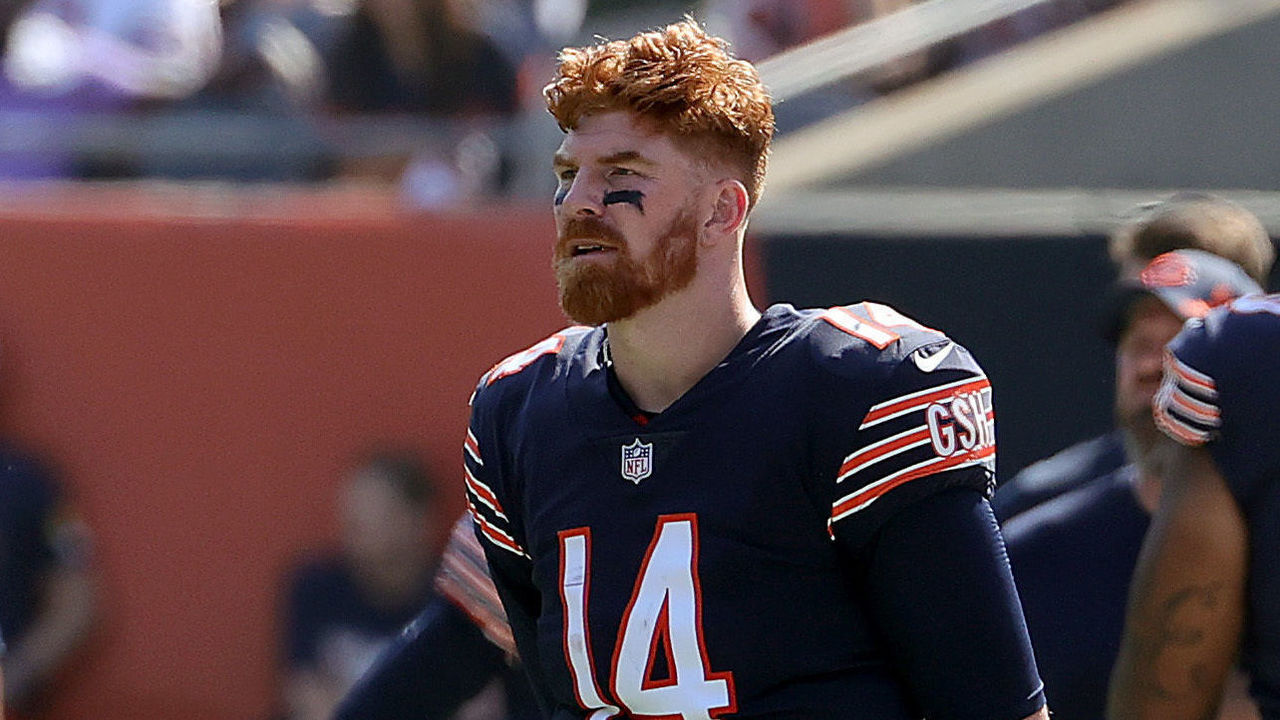 Four quarterbacks - Andy Dalton (knee), Tua Tagovailoa (ribs), Tyrod Taylor (hamstring), Carson Wentz (ankle) - left their starts with injuries and didn't return.
There's no clear timetable on when any of the four might be back. But while the Miami Dolphins (Jacoby Brissett), Houston Texans (Davis Mills), and Indianapolis Colts (Jacob Eason) now face a lot of uncertainty at the game's most important position, the Bears may simply have to accelerate the timetable for first-round pick Justin Fields, who figured to get the wheel before long anyway.
How long will Urban Meyer put up with this?
That's the million-dollar question every time the Jaguars go out and look like the sort of listless FCS team that Meyer's college programs used to toy with as a tuneup for conference play, as Jacksonville did again Sunday against the Broncos.
There's no Northern Illinois or Western Michigan on Meyer's schedule anymore, and he can't just count on adding every player he can persuade to join the program. This is going to be a long, painful rebuild, and Meyer not only has no history with long, painful rebuilds, he barely has any familiarity with losing.
Meyer's worst season (by winning percentage) as a college coach came with Florida in 2010 when he went 8-5 and walked away because of the stress. He then lost nine games total in seven seasons at Ohio State. As things now stand, he might have that many defeats with the Jags soon after Halloween. Will he really be in it for the long haul?
Dom Cosentino is a senior features writer at theScore.
Comments
✕
10 takeaways from NFL Week 2
  Got something to say? Leave a comment below!