What the Carson Wentz trade means for the Colts and Eagles
Christian Petersen / Getty Images
The Philadelphia Eagles finally pulled the trigger Thursday by trading franchise quarterback Carson Wentz, sending him to the Indianapolis Colts for a 2021 third-round pick and a conditional second-round selection in 2022. Let's break it down.
1. After weeks of trying to gin up a market for Wentz through the media with reports like this ...
... the Eagles were forced to settle for a rather paltry return. The Detroit Lions managed to snag a pair of first-rounders for Matthew Stafford; the Eagles are getting far less than that for Wentz, who signed a massive contract extension with Philadelphia just 20 months ago. In the end, though the Chicago Bears were reportedly in the mix as potential suitors, the Eagles seemed to be bargaining with Indianapolis and Indianapolis alone, and they took whatever they could to cut their losses.
2. Those losses are massive. Philadelphia will have to eat a league-record $33.8 million in dead money. That amounts to nearly 19% of the projected $180-million floor for the 2021 salary cap. It's money the Eagles already spent on Wentz, but the accounting for it will stay on their books even as he plays somewhere else. Philadelphia is still projected to be about $47 million over the cap in 2021, so more roster pruning has to happen between now and the start of the new league year on March 17 for the team to be cap compliant. Long story short, 2021 will be a rebuilding year for the Eagles. Jettisoning Wentz allows them to get started on that.
3. Yes, drafting another quarterback with the No. 6 overall pick is certainly a possibility for the Eagles, even with Jalen Hurts still in the fold. A lot will depend on their in-house evaluation of the QB class and what they think of any of the passers still available when it's their turn. The bottom line: They'll be starting from scratch, so everything must be considered.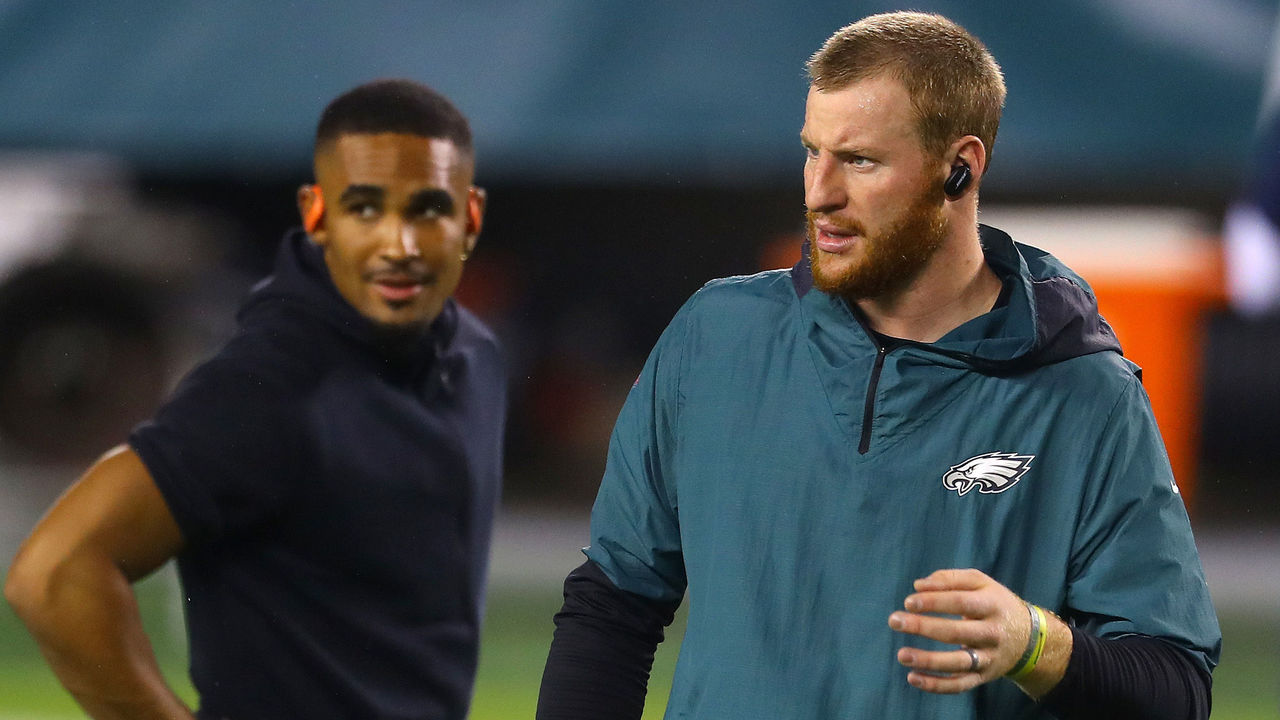 4. The Colts obviously think they can fix Wentz and believe they have the infrastructure around him to get it done. Wentz is familiar with head coach Frank Reich, who served as Philadelphia's offensive coordinator during Wentz's first two NFL seasons. While working with Reich in 2017 - the year the Eagles won the Super Bowl - Wentz played like an MVP candidate right up until he tore his ACL in Week 14. Indianapolis also has an exceptional offensive line; the 2020 Eagles undeniably did not, even if Wentz could be blamed for an inordinate number of the league-high 50 sacks he took in just 12 games in 2020.
5. Can Wentz be fixed? The answer to that question is tough to suss out, in large part because Wentz has had such a helter-skelter career. He's grown progressively worse since 2017, but he's also had subpar skill players around him and a poor offensive line. After Wentz hurt his back in 2018, the Eagles rallied to win four of their last five regular-season games without him and were a few plays from returning to the NFC Championship Game. In 2019, Wentz marshaled a postseason push by guiding Philadelphia to a season-ending four-game winning streak, only to suffer a concussion in the first quarter of an eventual playoff defeat. He completely bottomed out in 2020, finishing dead last in expected points added per play. There's really no precedent for this.
For all his bona fides as a high draft pick who received a pricey second contract, Wentz has played a total of nine playoff snaps across five NFL seasons. He's also 28 years old. Where does he go from here? Your guess is as good as anyone's.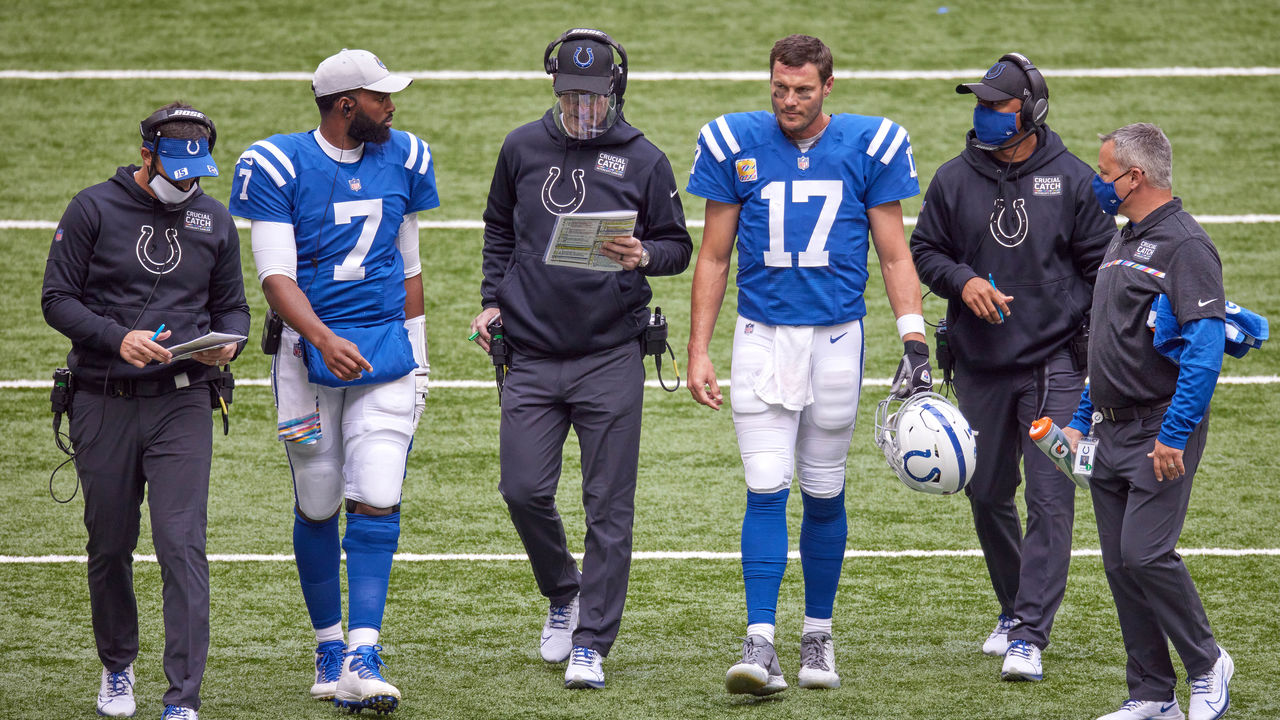 6. Wentz was only in play for Indianapolis because the Colts have failed to find a suitable long-term quarterback since Andrew Luck retired on the eve of the 2019 season. Granted, finding That Guy is easier said than done, but Indianapolis has a young, win-now roster, and in the year-and-a-half since Luck called it quits, the Colts have signed Jacoby Brissett to a pricey extension and added veteran Philip Rivers in free agency. Rivers led Indianapolis to the playoffs in 2020, but his recent retirement and the expiration of Brissett's deal put the team back at square one. The Colts are also set to pick 21st in the upcoming draft, so it likely wouldn't have been feasible to trade up to select one of the top QBs on the board. Indianapolis had plenty of cap space, and here we are.
7. The conditions surrounding the 2022 second-round pick Indianapolis is sending to Philadelphia are interesting: The pick becomes a first-rounder if Wentz plays 75% of the Colts' offensive snaps or takes 70% of the snaps and the Colts make the playoffs. If Indianapolis falls out of playoff contention as the 2021 season progresses, or if Wentz plays badly, it's possible the Colts bench him to avoid hitting that threshold and protect their pick.
8. The Eagles mishandled Wentz, and this trade and all its sunk costs are the proof. Philadelphia traded up twice to select him, and for a good while, it looked like it had That Guy. When it came time to choose between Wentz and Nick Foles - after Foles led the team to a Super Bowl victory and nearly won two road playoff games the following year - the Eagles chose Wentz and paid him a fortune. General manager Howie Roseman displayed a lot of hubris by investing so much in Wentz based on so little, but that's easy to point out in hindsight. Roseman had constructed a team that won a Super Bowl and returned to the playoffs the next two years, so he had earned the benefit of the doubt.
And let's be real - at this time last year, no one could have envisioned all that's since transpired: Philadelphia drafting Hurts in the second round to ensure it had a capable backup, Wentz's performance tumbling down a cliff, the firing of head coach Doug Pederson, and now Wentz getting traded. But, perhaps, as Jeff McLane of The Philadelphia Inquirer lays out in this deep dive, the Eagles should have seen all along that Wentz wasn't everything the front office thought he would be. It's worth noting that McLane's story echoes much of what Joe Santoliquito of PhillyVoice reported about Wentz in January 2019, some six months before the Eagles signed the QB to the huge extension that quickly proved to be an albatross.
9. Wentz is a distressed asset who will cost the Colts $25 million in cash and cap in 2021 and up to $22 million in 2022 - with $15 million of that becoming fully guaranteed on March 20 of this year, according to Over The Cap. If Wentz can't be salvaged, the Colts can dump him after this season while taking on $15 million in dead money in 2022. Beyond that, Wentz's deal calls for him to earn $25 million in cash and cap in 2023 and $26 million in 2024, but none of that is guaranteed. None of these figures are close to the top of the quarterback market, so this is a moderate-risk, high-reward move for Indianapolis, especially since the Colts can potentially avoid parting with a first-round pick. Adding Wentz at that price also probably won't preclude the Colts from adding another QB, either as a backup or as competition for the starting job. The wild offseason of quarterback movement is off and running.
Dom Cosentino is a senior features writer at theScore.
Comments
✕
What the Carson Wentz trade means for the Colts and Eagles
  Got something to say? Leave a comment below!