The New Orleans Saints' 38-3 obliteration of the Tampa Bay Buccaneers last Sunday served as something of a reminder: Don't forget the Saints are one of the NFL's best teams.
Before last week's win, it had been tricky to get a read on New Orleans for a few reasons.
Yes, the Saints were 5-2, but they had started 1-2 and were giving up an average of 28.1 points per game. Yes, they had won four straight, but all four of those victories came against sputtering teams, and twice they needed overtime to get it done. Yes, quarterback Drew Brees played multiple games without Michael Thomas and Emmanuel Sanders - two of his top receivers - but it seemed he'd padded his stats with a lot of short throws.
Then came last week, when New Orleans played one of the best games authored by any team in recent memory. No, really. According to Football Outsiders' DVOA metric - a per-play measurement that factors in game situations and opponents - the Saints played the best game of any team this century and the fifth-best since 1985. That's a heckuva win.
The victory also secured a season sweep of the Buccaneers - no small matter for conference seeding, especially since the race for the NFC South title is shaping up to be a two-team affair. In fact, if the season were to end right now, the Saints would be the NFC's No. 1 seed. The Los Angeles Rams would be the No. 7 seed, which goes to the final playoff qualifier. The Rams are just one game worse than New Orleans in the standings.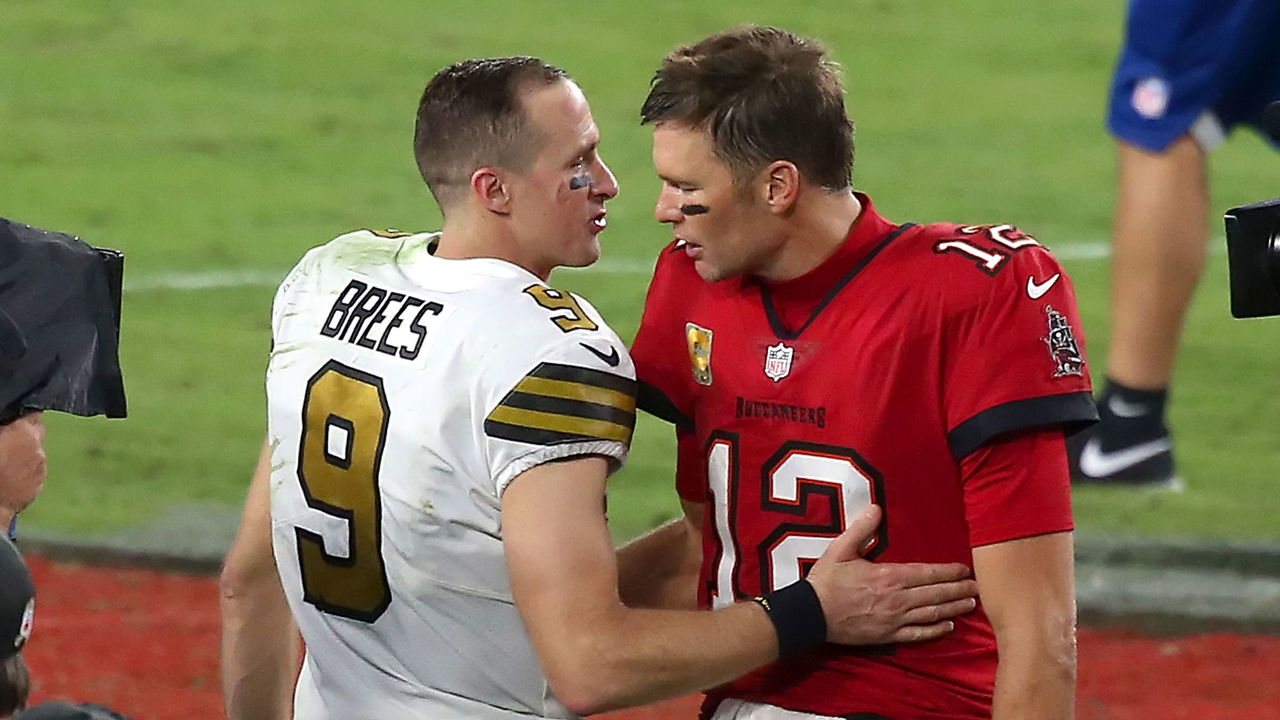 The Saints obviously won't play as well they did against the Buccaneers every week, but Sunday's beatdown did reveal how dangerous their offense can be when operating at something close to full strength. With Thomas and Sanders back in the lineup, Brees no longer had to rely so heavily on running back Alvin Kamara.
Kamara's 60 receptions are tied for third-most in the league, regardless of position. But 542 of his 565 receiving yards have come after the catch - far and away the most in the NFL, according to Sports Info Solutions. And, according to Next Gen Stats, Brees' average depth of throw (5.8 yards) is the lowest in the league. He's attempted just seven deep throws (20 air yards or more) all year.
A few weeks back, I openly mused whether it might be time to worry about Brees, given how reliant he'd become on short, quick throws. That thought might have been premature, if not completely misguided.
On intermediate-range throws (10-19 air yards), Brees has 42 completions on 67 attempts in 2020. He's ninth in the league in both of those categories, according to Sports Info Solutions - hardly indicative of the work of a Checkdown Charlie. What's becoming clear is that in the context of the Saints' offense - and particularly when he has a full complement of pass-catchers -Brees is making things work. Take a look at this passing grid from Sunday night: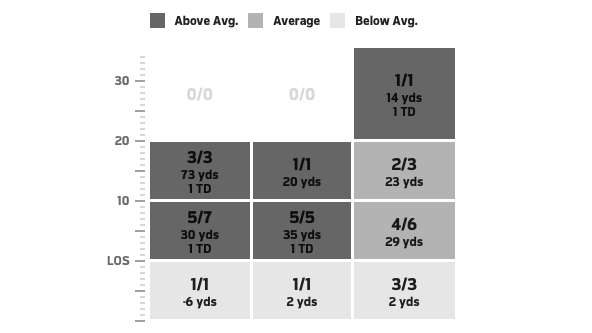 Brees completed throws to 12 different targets last week. He was sacked just once and hit only three times. And he did all this against a defense that entered the game as the league's most efficient unit - both overall and against the pass.
Defensively, the Saints exploited the absence of Buccaneers left guard Ali Marpet to get plenty of pressure on Tom Brady. Of course, Brady is renowned for getting rid of the ball faster than pass-rushers can get to him. But even that proved tough thanks to the work of New Orleans' linebackers and secondary; those players allowed others like defensive end Trey Hendrickson to get at Brady without help from additional blitzers.
New Orleans blitzed Brady on just 26.8% of his dropbacks, according to PFF, which is in line with Pro Football Reference's measurement for the team's blitz frequency on the year (28.9%).
The Saints rank seventh in defensive DVOA and ninth in DVOA against the pass. They've also played the eighth-most difficult schedule so far, according to Football Outsiders. Their remaining slate, which includes just one game against a team with a winning record - Week 15 at the Kansas City Chiefs - is the 20th-hardest in the league.
All told, a second win against Tampa Bay gave the Saints a 70-30 edge over the Buccanneers in their respective odds of winning the division, according to ESPN's football power index.
It might have been easy to overlook New Orleans after it lost to the Las Vegas Raiders and Green Bay Packers within the first three weeks of the season, not to mention all the holes around Brees due to injuries. But in a league with no clear favorite, the Saints are in the mix as one of the NFL's best teams. And everything is set up for them to keep it that way.
Dom Cosentino is a senior features writer at theScore.