Sunday Rundown recaps the most important developments from the day's action and examines the significance of those events moving forward.
There are no dominant teams
The 8-0 Pittsburgh Steelers? They had to overcome a 10-point fourth-quarter deficit and get the benefit of a handful of penalty calls just to beat the reeling Dallas Cowboys, who started a fourth-string quarterback.
The 8-1 Kansas City Chiefs? They spotted the Carolina Panthers a 14-3 lead and nearly lost after a 67-yard field goal at the end was long enough, but wide right.
The 6-3 Tampa Bay Buccaneers? The NFL's most efficient team added Antonio Brown to Tom Brady's vast array of gifted pass-catchers. The result? A 38-3 loss at home to the 6-2 Saints. New Orleans earned the season sweep after Brady tossed three interceptions.
The 6-2 Seattle Seahawks? Keep reading.
The point? Halfway through the 2020 season, there isn't a team that looks like an overwhelming Super Bowl favorite, though perhaps it could be the Saints - at least for this week.
Signature win for Allen, Bills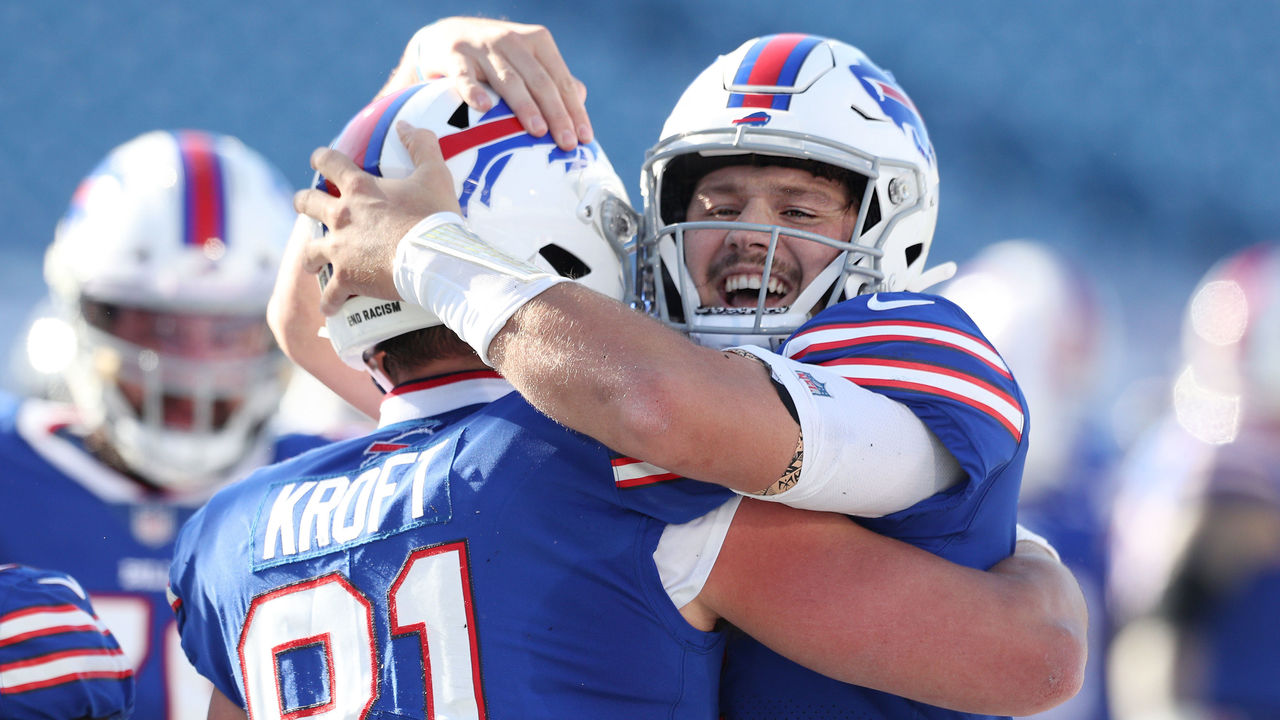 The Buffalo Bills entered Week 9 in first place in the AFC East at 6-2. However, those six wins had come against teams with a combined record of 15-24, and the Bills' overall point differential was minus-1. Buffalo needed a victory against the Seattle Seahawks, if for no other reason than to prove it is a legitimate top-tier threat in the AFC. Consider it done.
After a terrific start to the season, Josh Allen had been shaky in recent weeks. He was fantastic against Seattle, in part because Bills offensive coordinator Brian Daboll made a point of attacking the Seahawks' pass defense, which came in ranked 30th in DVOA.
Late in the first half, Buffalo was ahead 24-7, at which point Allen was 21 of 23 for 249 yards, three touchdowns, and zero interceptions. The Bills had run the ball just three times. They completely caught the Seahawks off guard.
Buffalo's defense forced Russell Wilson into four turnovers (two interceptions, two lost fumbles) in addition to sacking him five times and hitting him on 11 occasions. It was the kind of performance the Bills needed against a quality offense, especially with another tough matchup on tap next week at the Arizona Cardinals.
Signs of concern in Seattle?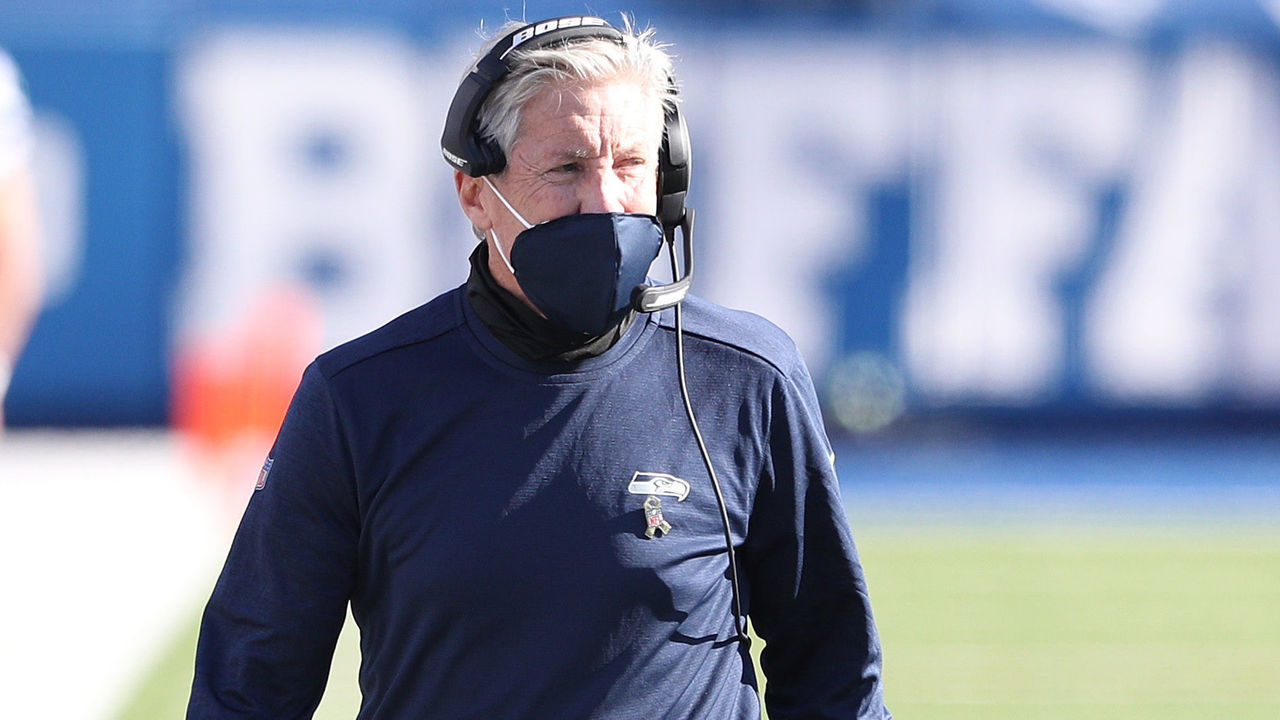 Let's not get carried away, but the Seahawks' pass defense has been a mess all year. There was some hope that the return of safety Jamal Adams and the addition of defensive end Carlos Dunlap might help. Instead, the Seahawks allowed Allen to throw for 415 yards. It was the sixth time Seattle has given up at least 310 passing yards.
Seattle is 6-2, and Wilson is still capable of playing MVP-caliber hero ball, even if he did turn it over a bunch in this one. But the Seahawks are going to have a hard time getting to the Super Bowl by winning shootouts every week.
What exactly is a catch, again?
After the NFL finally simplified the definition of what constituted a catch, the league avoided any controversies over the last two seasons. Until Sunday.
Early in the third quarter of Baltimore Ravens-Indianapolis Colts, Ravens cornerback Marcus Peters had an interception knocked from his hands by Colts wideout Marcus Johnson, only to have the call reversed after a replay review.
This was the explanation from NFL senior vice president of officiating Al Riveron, who determined this was a catch and fumble recovered by Baltimore:
The standard for overturning calls on the field is "clear and obvious visual evidence," which is what Riveron said he saw there, even though Peters appeared to be losing the ball as he came down. The Ravens were trailing 10-7 at the time. They used the short field they gained from the turnover to march 54 yards to pick up a go-ahead touchdown. They never trailed again.
Anyone else looking forward to the possibility of games being decided by calls like this later in the season? It would feel almost normal.
Tua, Kyler provide possible glimpse of the future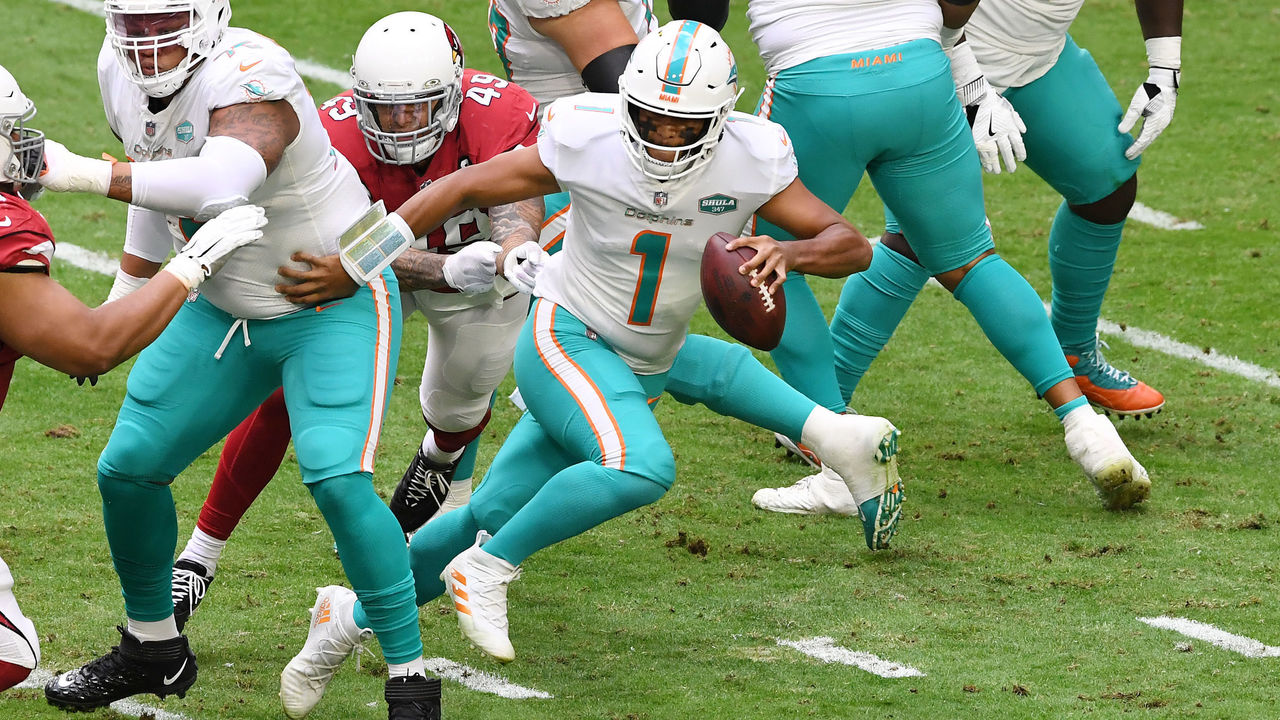 Tua Tagovailoa of the Miami Dolphins and Arizona Cardinals' Kyler Murray put on quite a show in the Dolphins' 34-31 win. It was a great display by two young, mobile QBs whose teams are giving them every opportunity to use their dual-threat ability. It was kind of a shame it had to end.
Tagovailoa, after a rough outing in his first career start last week against the Los Angeles Rams, had an expected points added per play (EPA/play) on dropbacks of 0.44 this time, according to Ben Baldwin's database. Murray had an EPA/play on dropbacks of 0.42, but also rushed for 106 yards and a touchdown, which pushed his total EPA/play to 0.58.
It was a bit of a bummer Cardinals head coach Kliff Kingsbury elected to take the ball out of Murray's hands on fourth-and-1 from the Dolphins' 31 with just less than two minutes to go. Zane Gonzalez came up short on a 49-yard field goal, effectively ending the game, but ESPN's win probability model did indicate that kicking was the right call.
Either way, both Miami and Arizona are 5-3 and firmly in the playoff hunt. Murray has more experience under his belt and certainly looks like Arizona's QB of the future. It's too soon to say the same about Tagovailoa after just two starts, but the potential is there.
Ravens bounce back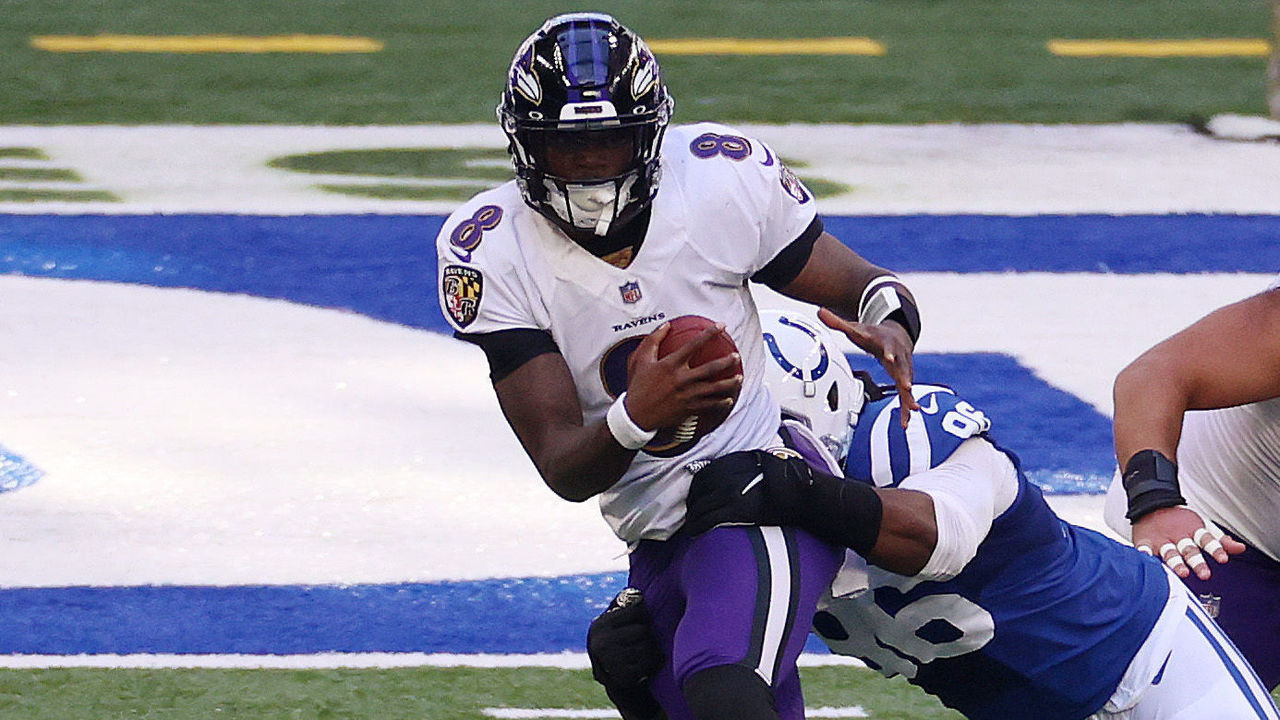 Fresh off a disappointing home loss to the Steelers and another rough outing from quarterback Lamar Jackson, Baltimore got off to a poor start against Indy. The second half was another matter.
After the Ravens totaled just 55 yards in the first half, Jackson completed all 10 of his passes after halftime. Running back Gus Edwards lost a fumble on Baltimore's first possession of the third quarter, but the Ravens went on to score a pair of touchdowns and kick a field goal on three of their final four offensive series. Their defense pitched a second half shutout and limited the Colts to 2 of 12 on third down.
Baltimore needed this one, too. Coupled with the Pittsburgh Steelers' surprisingly close, come-from-behind win at the Dallas Cowboys, the Ravens remain two games back in the AFC North.
Are the Vikings OK now?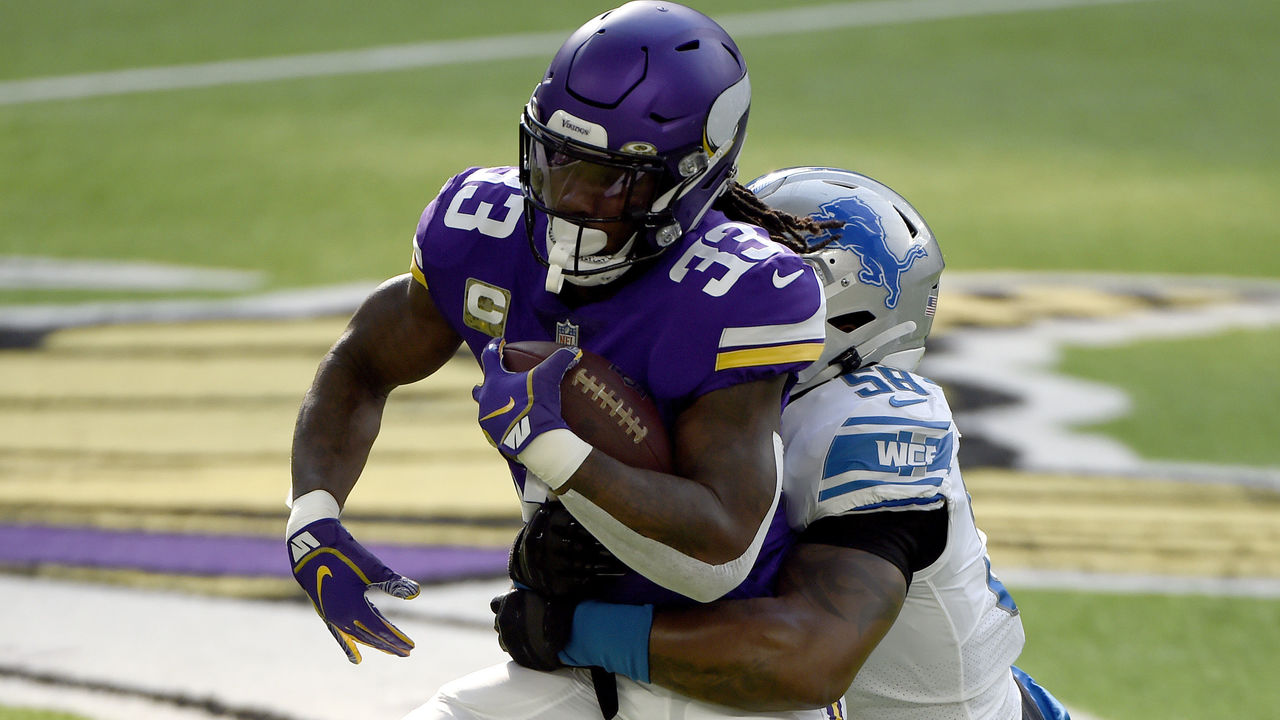 The Minnesota Vikings got 206 rushing yards from Dalvin Cook, the second straight week the running back accounted for more than 200 scrimmage yards. The Vikes also thumped the Detroit Lions to improve to 3-5.
Why that matters: after a road game next Monday night against the Chicago Bears, Minnesota plays the Cowboys, Panthers, and Jaguars at home. It's possible the Vikes - who were 1-5 three weeks ago - could be 7-5 by the time they travel to Tampa Bay in Week 13.
It's also possible the Vikings' record by then could be nowhere close to that. Which is the state of play in a parity-driven league like the NFL.
Is Matt Patricia doomed?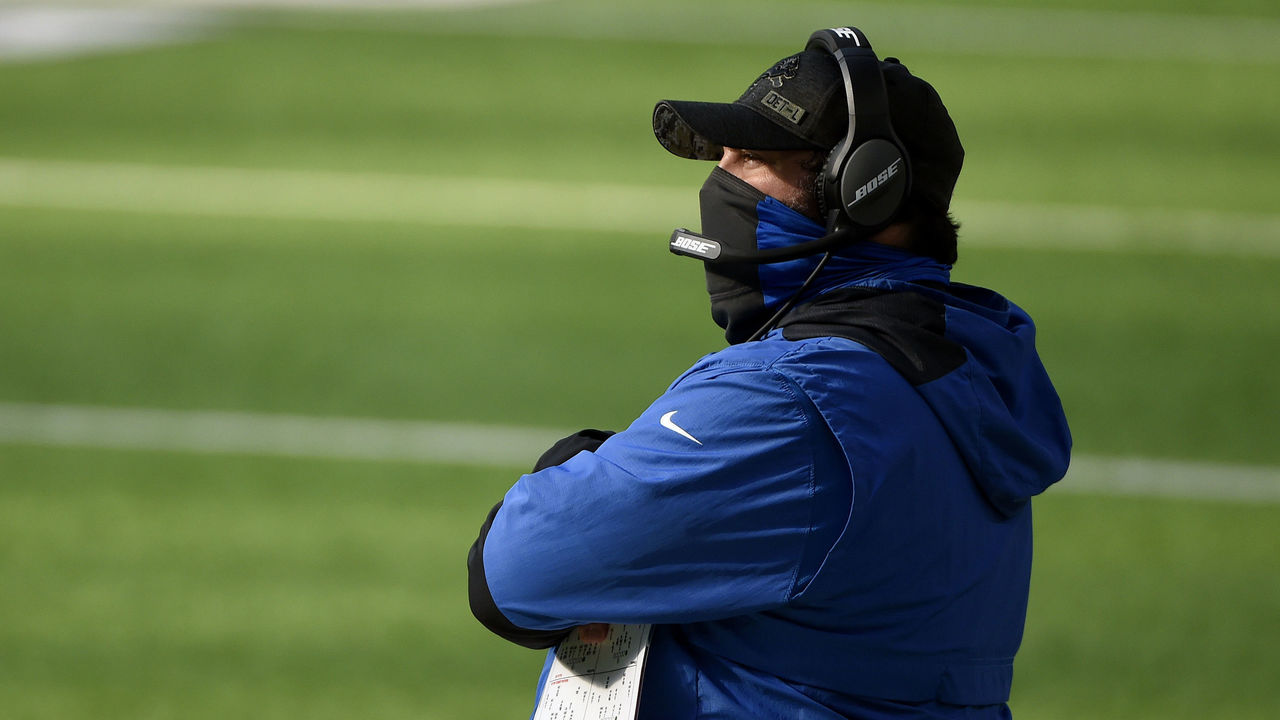 Was it really just two weeks ago the Lions came back to beat the Falcons for their third win in four games? Detroit was 3-3 and had a chance of making something of its season. Then, they ultimately remembered they're the Lions.
Detroit has back-to-back blowout losses to the Colts and Vikings, and now quarterback Matt Stafford has sustained a head injury. Depending on how quickly the quarterback heals, Chase Daniel could be starting next Sunday at home against the Washington Football Team.
The broader question for the Lions, though, is the fate of head coach Matt Patricia. Unless things go completely awry, it's hard to see the Lions firing Patricia before the season ends. But unless things improve, it's also hard to see Patricia staying on for a fourth season. The franchise that fired Jim Caldwell after back-to-back 9-7 seasons is now 12-27-1 in two-and-a-half years with Patricia.
This is so cool
The Kansas City Chiefs eked out a win against the Carolina Panthers, but quarterback Patrick Mahomes also threw a touchdown pass after putting himself in motion at the snap, which rules.
The Chiefs tend to have lulls each week, but they're 8-1 heading into their bye, and Mahomes has now thrown 25 touchdown passes on the season against just one interception. The combination of Andy Reid as a play-caller and Mahomes as a QB continues to find new ways to thrill, and it seems really unfair.
Those poor, poor Chargers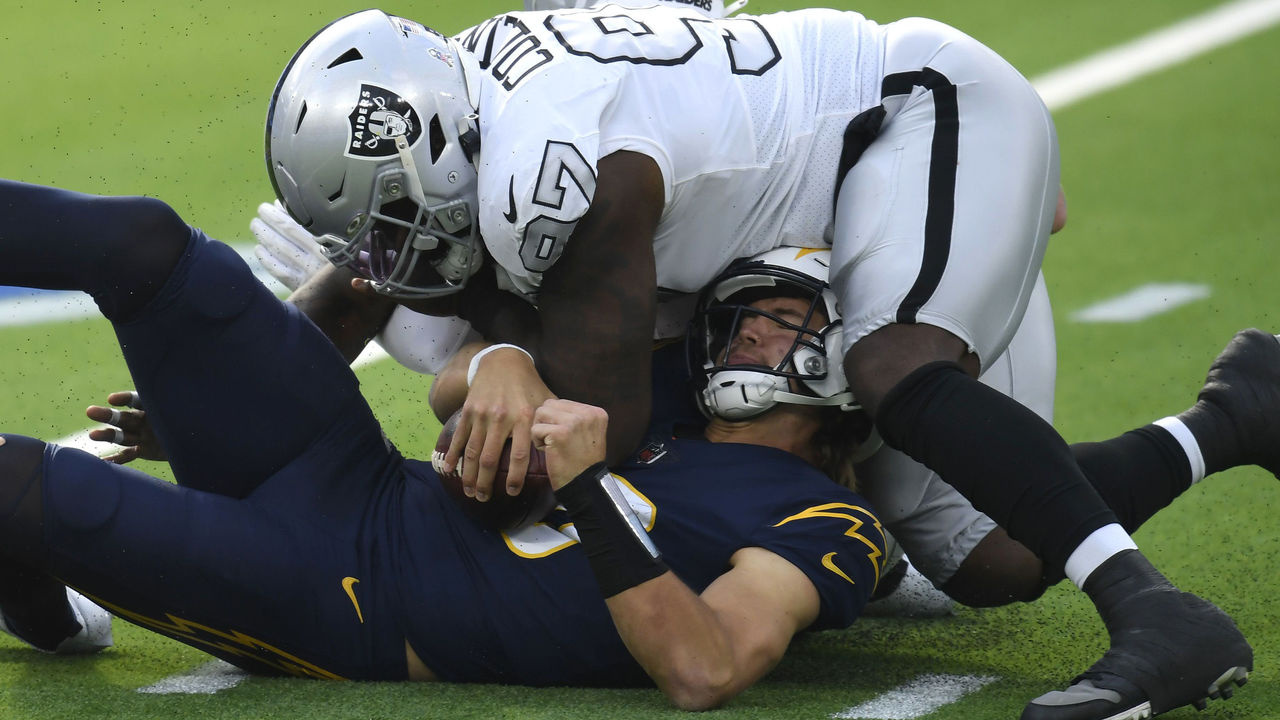 Los Angeles lost to the Las Vegas Raiders after a replay review revealed Donald Parham's touchdown catch on the game's final play was actually a drop. It was the second consecutive game and third time in four weeks the Chargers were beaten on the last play. They appear to be good at that - and at blowing leads.
All six of L.A.'s losses this season have been within one score, and the Chargers are now 3-15 in one-score games dating back to the start of last season, according to Pro Football Reference. The Chargers just keep finding ways to lose close games with a dash of extra misery.