Sunday Rundown recaps the most important developments from the day's action and examines the significance of those events moving forward.
Steelers stay unbeaten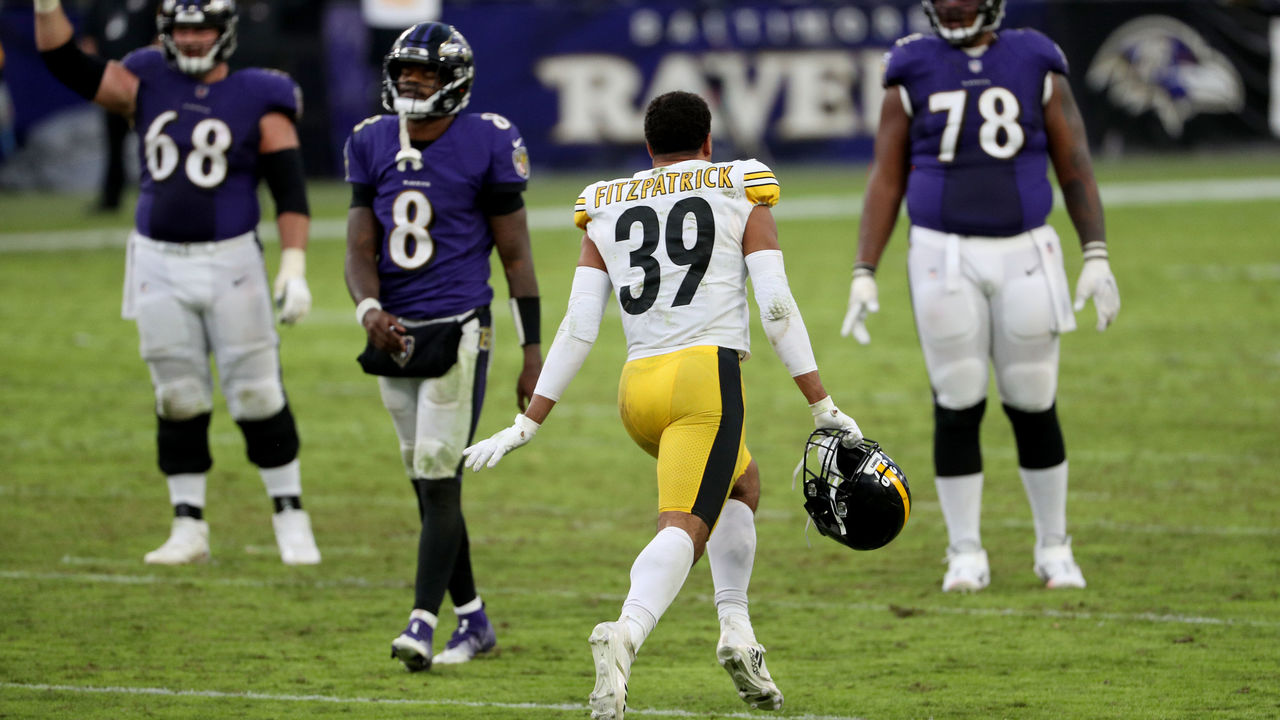 The Steelers spotted the Ravens a 10-point halftime lead and were outgained 457 yards to 221. Naturally, Pittsburgh won anyway.
This was a gut-check win for the Steelers on the road against a heated rival after playing like crap in the first half. But Pittsburgh forced Lamar Jackson into four turnovers, getting a touchdown from its defense and an interception that set the offense up in the red zone for another TD.
Backup inside linebacker Robert Spillane - the much-doubted fill-in for the injured Devin Bush - had a pick-6, a tackle for a loss, two passes defensed, a fumble recovery, and a team-high 11 tackles, just as everyone expected he would. And unlike so many other Steelers defenses in the years since their championship teams got old, Pittsburgh managed to get a game-ending stop on a final drive to secure the win.
Ben Roethlisberger struggled with his short- and intermediate-range accuracy in the first half, and he continues to be off target on deep throws (0-for-4 on passes of 20 or more air yards, per Next Gen Stats). But he led three second-half-touchdown drives, including two that covered at least 77 yards while also consuming more than 10 combined minutes.
On a day when the Ravens spread them out and hit them with 179 rushing yards in the first half, the Steelers found a way. They now have a two-game lead in the AFC North, with the tiebreaker advantage of a road win in Baltimore. With games coming up at Dallas, Cincinnati at home, and at Jacksonville, it's possible the Steelers could be 10-0 when they face the Ravens again at home on Thanksgiving night.
The caveat: Defensive linemen Tyson Alualu and Cameron Heyward both left the game with injuries, leaving the Steelers rather thin at an area of real strength.
Slow down on ripping Lamar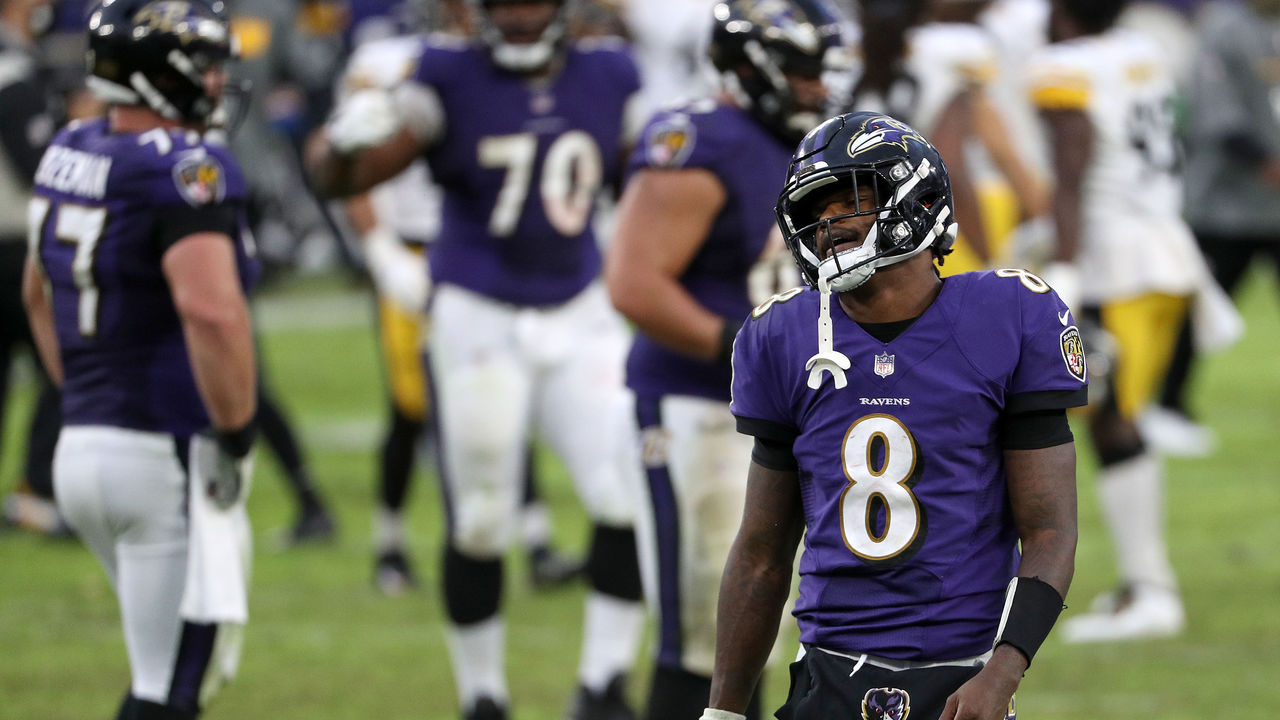 When the Ravens were rolling in the first half, it was because they were able to spread the Steelers out and run the ball. But in the second half, when Pittsburgh brought safety Terrell Edmunds into the box more frequently, Baltimore managed just 109 yards through the air, and one touchdown on a possession that started at the Ravens' own 47-yard line following a Steelers punt.
Quarterback Lamar Jackson, the league's reigning MVP, finished just 13-for-28 passing for 208 yards, two TDs, and two interceptions. Wideout Marquise "Hollywood" Brown was targeted just twice and caught only one pass. He tweeted and deleted his displeasure, which, fine. Football is a frustrating game, and Twitter can be a raw, emotional medium.
The Ravens are 5-2 and still one of the league's best teams. It's way, way too early to start doubting Jackson. But if Baltimore is going to compete for a Super Bowl, Jackson's production as a passer needs be better than what it was in this game. If nothing else, the Ravens advancing to the Steelers' 23-yard line at the end shows how fine the line so often is between winning and losing in the NFL.
Patriots might be done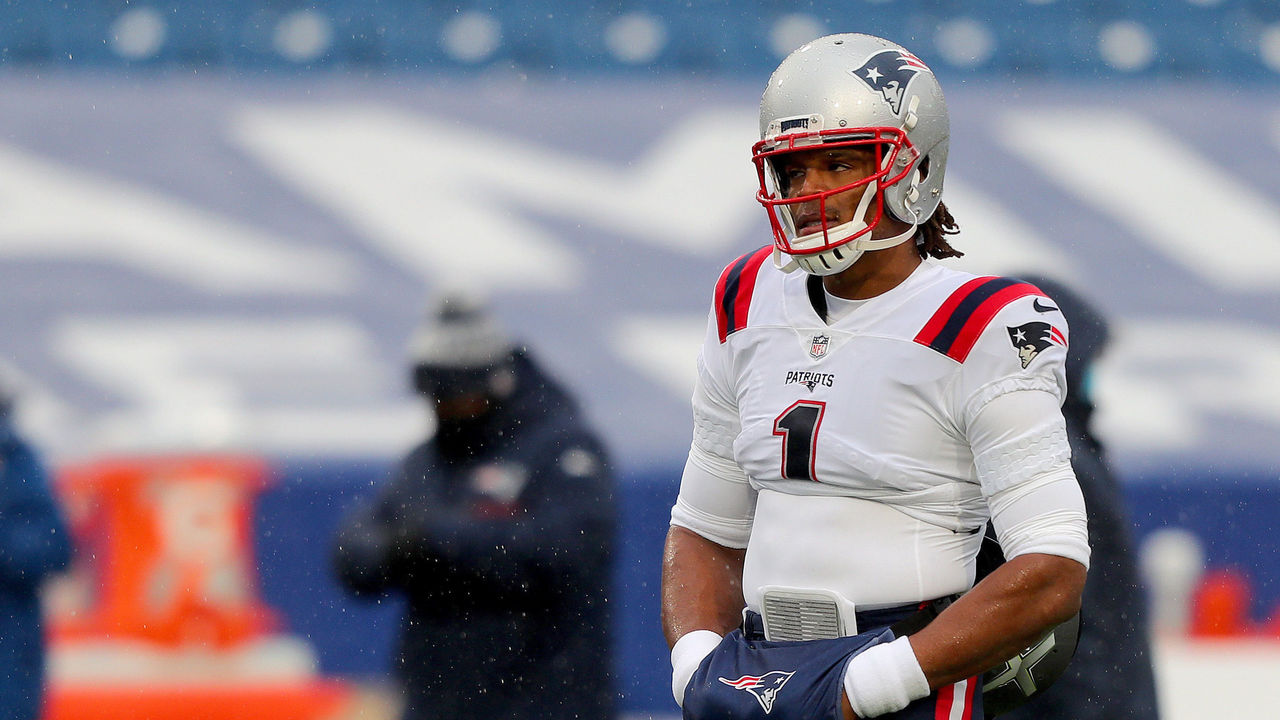 As New England slowly marched up the field in the closing minutes while trailing by three, it was difficult to resist thinking the Patriots were about to do it again. Their grip on the AFC East has been so tight for so long, it was easy to imagine they'd find a way to spook the Bills, to remind them they're still a threat to be reckoned with.
And then this Cam Newton fumble happened.
The Patriots have now lost four straight games for the first time in 18 seasons. All those years spent building a roster with spackle and chewing gum while Tom Brady served as foreman have finally caught up to Bill Belichick. Even he appears to have no answers at this point.
Meanwhile, Newton's chance to play his way back to another big-money contract appears to be slipping from his grasp (in his case, literally). If there's a reprieve in sight for the Pats and Newton, it's that an FCS game against the Jets is up next.
Dolphins win with D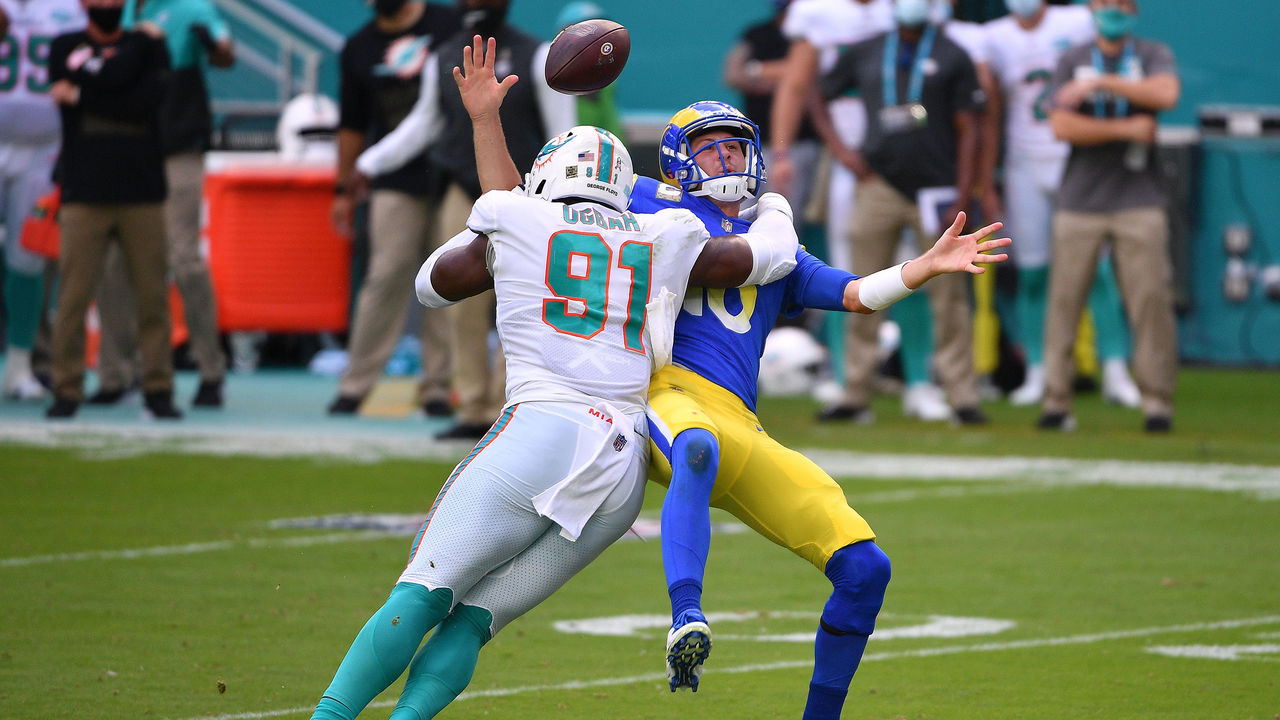 Brian Flores made his bones as Belichick's defensive coordinator in New England, and his crowning achievement was the way the Pats tied the high-octane Rams to the train tracks in Super Bowl LIII. In his first matchup against the Rams as the Dolphins' head coach, Flores' defense did it again.
Miami harassed Jared Goff into two interceptions and two lost fumbles within six first-half possessions. The Dolphins converted two of those turnovers into touchdowns and scored a TD directly from another. By halftime, Miami was ahead 28-10. All that was left was for Goff to pad his stats.
The Dolphins have now won four of five, with the lone defeat coming in an eight-point loss to the Seahawks. Miami visits the Cardinals next week, with winnable games against the Chargers, Broncos, Jets, and Bengals to follow.
The AFC East is shaping up to be a potential two-team race that doesn't involve the Patriots. True story.
Tua time begins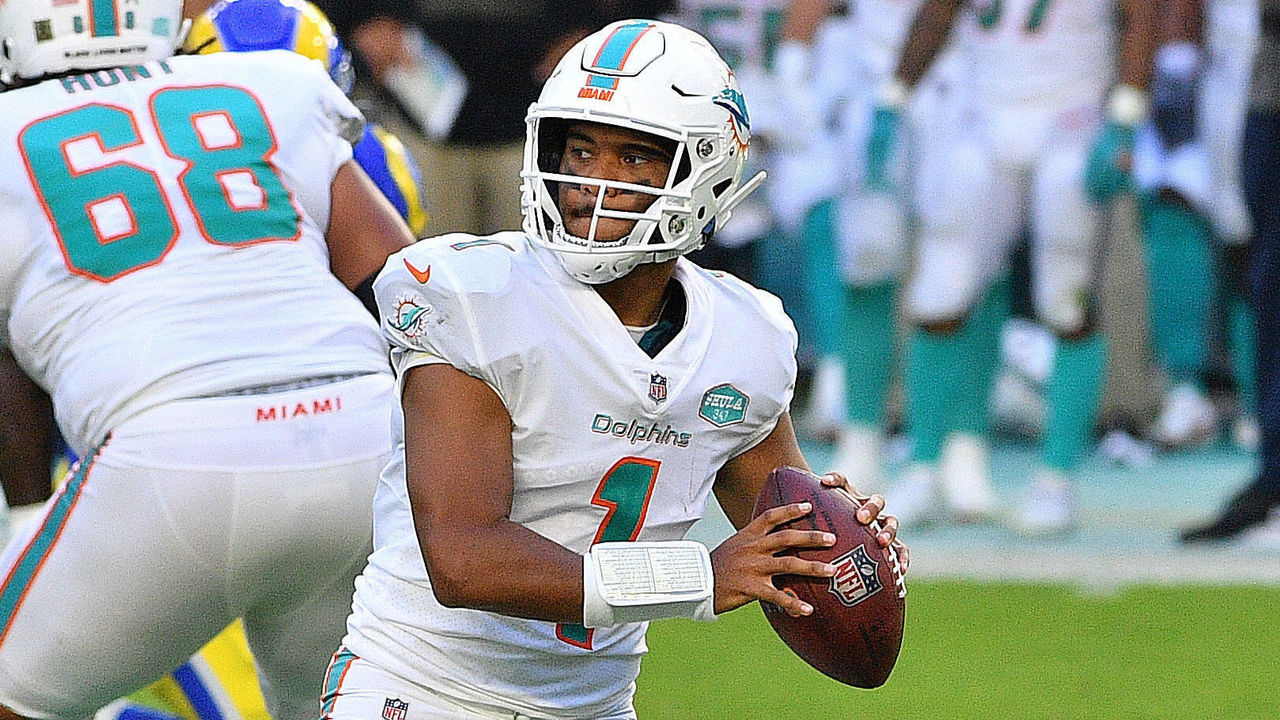 Tua Tagovailoa's debut as the Dolphins' starting quarterback wasn't exactly inspiring. He was strip-sacked on his first dropback, but that's the kind of thing that Aaron Donald can do, so no need to overreact.
After that? Tagovailoa benefited from a pair of short fields provided by the Dolphins' defense - one TD drive began at the Rams' 33-yard line, another at Los Angeles' 1. Miami's two other scores came directly from a fumble recovery and punt return.
According to analyst Ben Baldwin's database, Tagovailoa finished with an expected points added per play (EPA/play) of minus-0.45, which was lower than his counterpart Goff's minus-0.41. Not ideal, but it was one game, and Miami won.
Herbert deserves better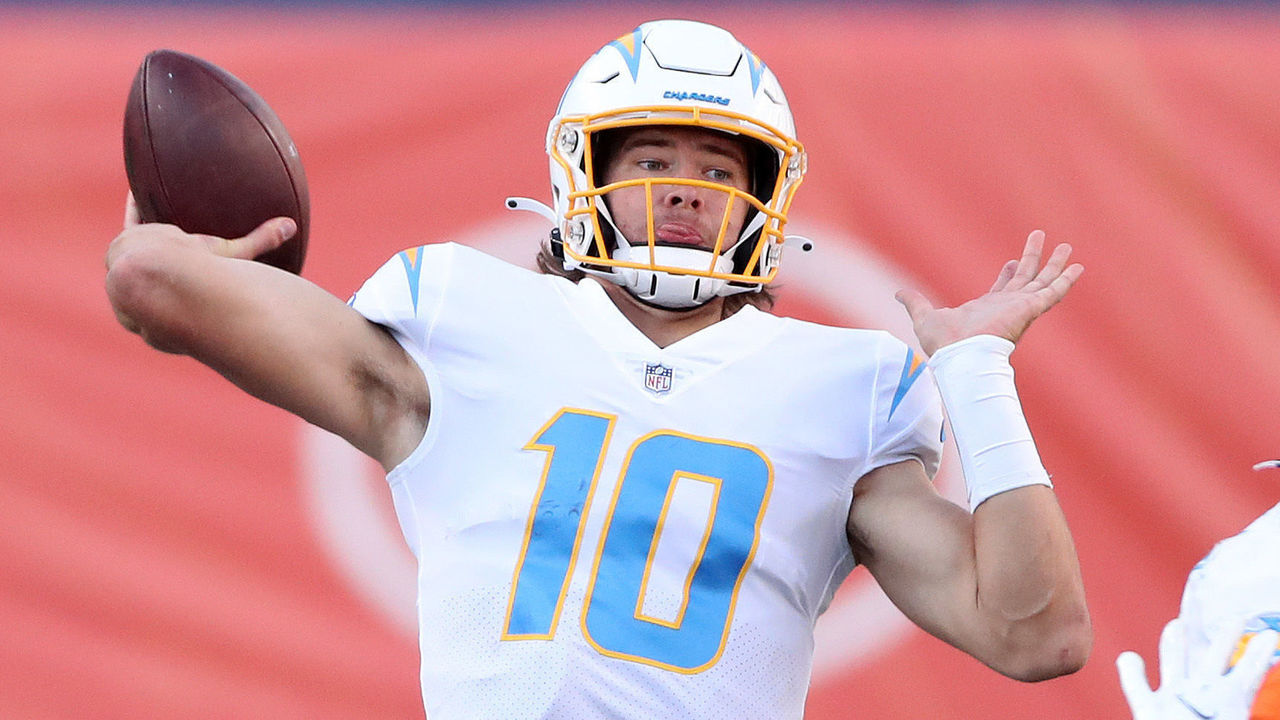 With 7:33 remaining in the third quarter, the Chargers kicked a field goal to extend their lead against the Broncos to 24-3. This next sentence is going to sound familiar: The Chargers did not win the game.
The Chargers have now coughed up a lead of at least 16 points in four straight games. They lost three of them. It seems like they've been doing this since their quarterback was Dan Fouts.
If there's any solace to take from any of this, it's that rookie quarterback Justin Herbert continues to impress. When Los Angeles was ahead by 21, Herbert was 22-for-33 for 216 yards, three TDs, one interception, and a passer rating of 116.5. The Chargers grew conservative after that, and their defense gave up four big plays of 35-plus yards - and that was before they allowed Drew Lock and the Broncos to march 81 yards in the final 2:30.
Herbert deserves better before the Chargers can ruin him.
The best team in the AFC South is ... ?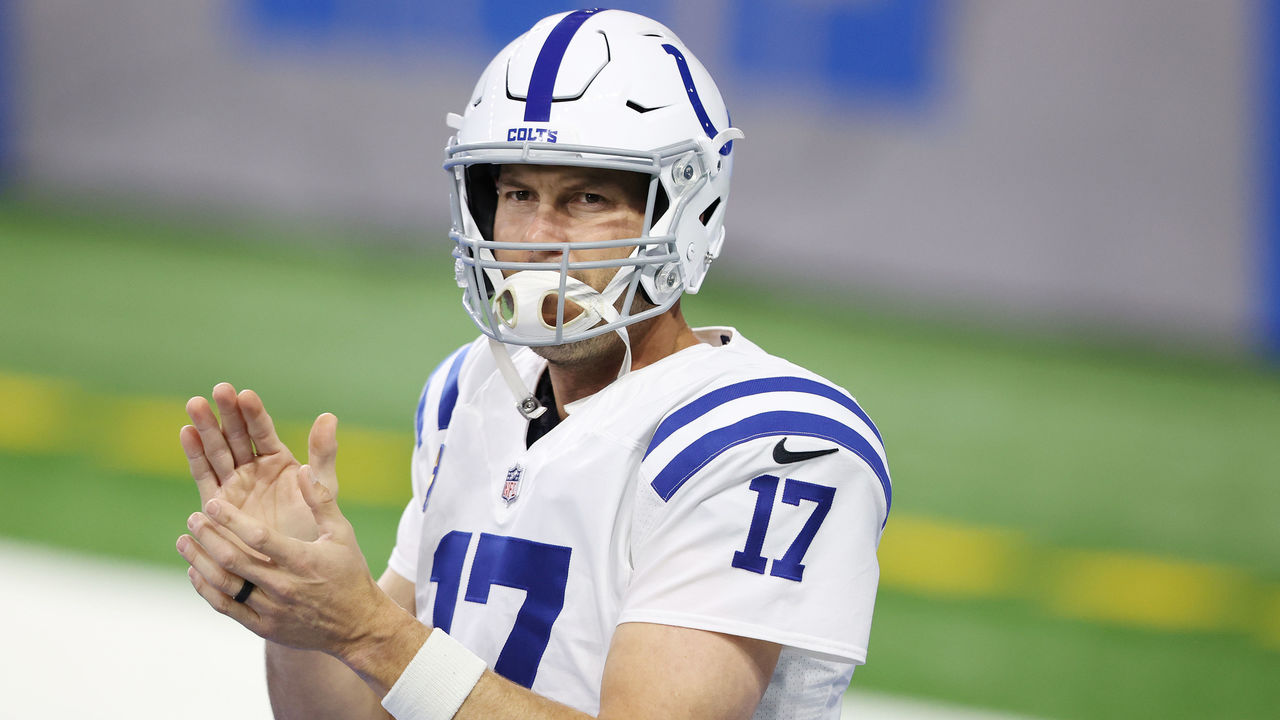 The Colts? Maybe. At least for now. That could change by next week. I think.
Three weeks ago, after Indianapolis lost at Cleveland and the Titans scored 42 points for the second straight week to improve to 5-0, the AFC South looked like Tennessee's division to lose. Now, however, the Colts have pulled even after the Titans lost their second in a row, this time to the Cincinnati Burrows.
Colts quarterback Philip Rivers remains streaky, but in Sunday's win against the Lions, he was Good Rivers: 23-for-33, 262 passing yards, three touchdowns, an EPA/play of 0.63. Indy came with the league's fourth-best defensive DVOA, and it sacked Detroit QB Matt Stafford five times.
The Titans host the Bears next week, while the Colts welcome the Ravens. Then Tennessee and Indy meet twice in the three games between Weeks 10 and 12. We ought to have a clearer idea as to who the best in the division is by then. Perhaps.
Cook is good, Packers' run D maybe not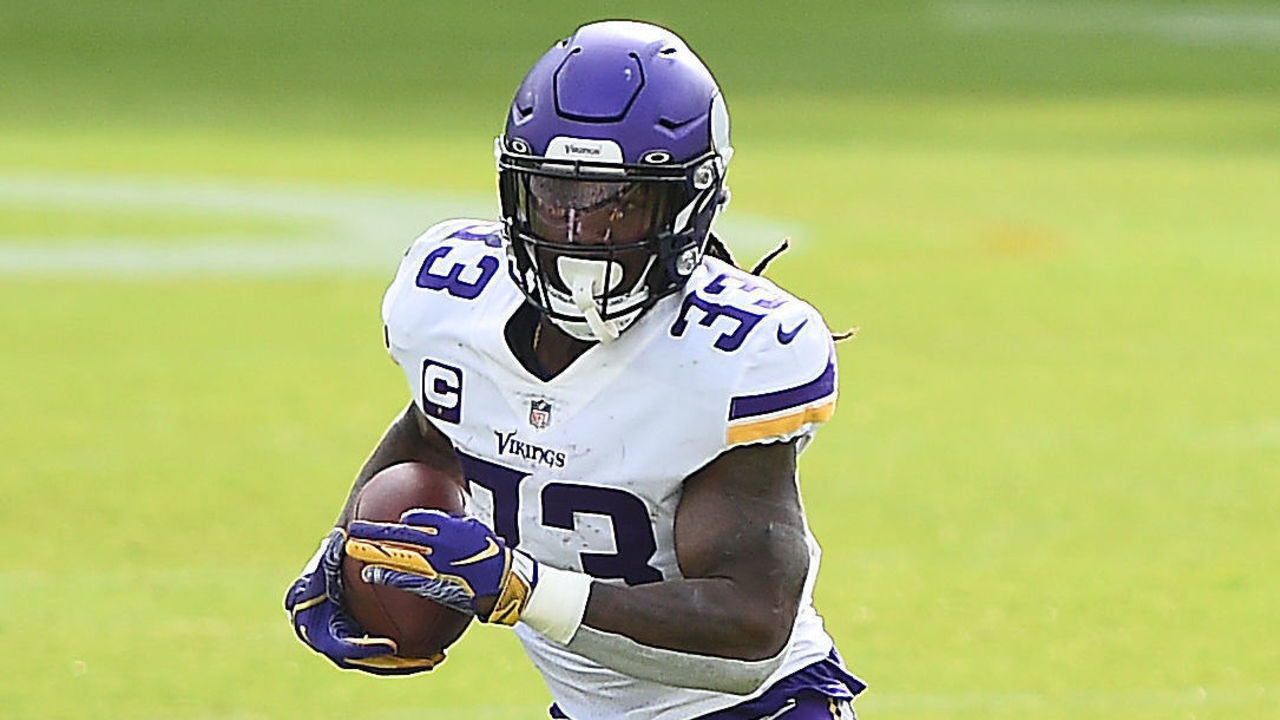 The box score of the Vikings' upset win at the Packers looks like something straight out of 1997.
Quarterback Kirk Cousins attempted just 14 passes and threw for 160 yards, while running back Dalvin Cook - back after missing the last game-and-a-half with a groin injury - rushed for 163 yards on 30 carries. Cook also scored four touchdowns, including one on a 50-yard screen pass from Cousins in which he did most of the work by accounting for 54 yards after the catch.
The Vikings might be adrift at sea this season, but Cook now has three games with at least 130 rushing yards. He also had 65 three weeks ago against the Seahawks before getting hurt on the first series of the second half.
The Packers came in ranked 22nd in rushing defense DVOA, per Football Outsiders. This game won't help their cause - and they're on the road Thursday night against a 49ers team that boat-raced their defense twice last season but keeps sustaining injuries.
Eagles sitting in the driver's seat, I guess
It's low-hanging fruit at this point to dunk on how brutal the NFC East is, but the Eagles were in a dogfight at home in primetime against the Cowboys' third-string quarterback until a fumble recovery that probably should have been ruled down was returned for a Philadelphia touchdown. That's it. That's your summary of Sunday Night Football.
Anyway, the Eagles are 3-4-1 and in first place by what feels like a dozen games. While it might seem impossible to imagine a scenario in which some other division foe can take them out, there's still half a season left for it to happen. So, maybe?
Two tweets to tell a team's story
Your 2020 New York Jets:
1.
2.
If you know a Jets fan, please be kind to them. Goodness knows they've been through enough.
Dom Cosentino is a senior features writer at theScore.