A rundown of the best games and most interesting trends to watch for in Week 7 of the NFL. All times Eastern.
It's intriguing, after all
Buccaneers (4-2) at Raiders (3-2), 4:05 p.m.
No, the headline above is not just a harebrained attempt to goose search-engine optimization results. But if you're here because you've been scouring the internet on a quest to read anything at all about either Tom Brady or Jon Gruden, welcome. This is the last you'll read about them here.
Forget the Tuck Rule, or Super Bowl XXXVII, or any of the other ancient ephemera surrounding this game. A contest pitting the current version of the Buccaneers against the current version of the Raiders is a great matchup on its own.
Tampa Bay is coming off the most masterful performance by any team this season: a dominant walloping of the previously undefeated Packers that vaulted the Buccaneers to the top of Football Outsiders' total DVOA ratings. The Raiders are coming off a bye, but they hung 40 points on the Chiefs in Kansas City in their last game.
There were doubts about Derek Carr heading into this season - his last with any guaranteed money on his contract - but he's so far been one of the league's most efficient quarterbacks. He's second in the NFL in on-target percentage, according to Sports Info Solutions, and Next Gen Stats ranks him second (6.1%) to Russell Wilson in completion percentage over expectation (CPOE).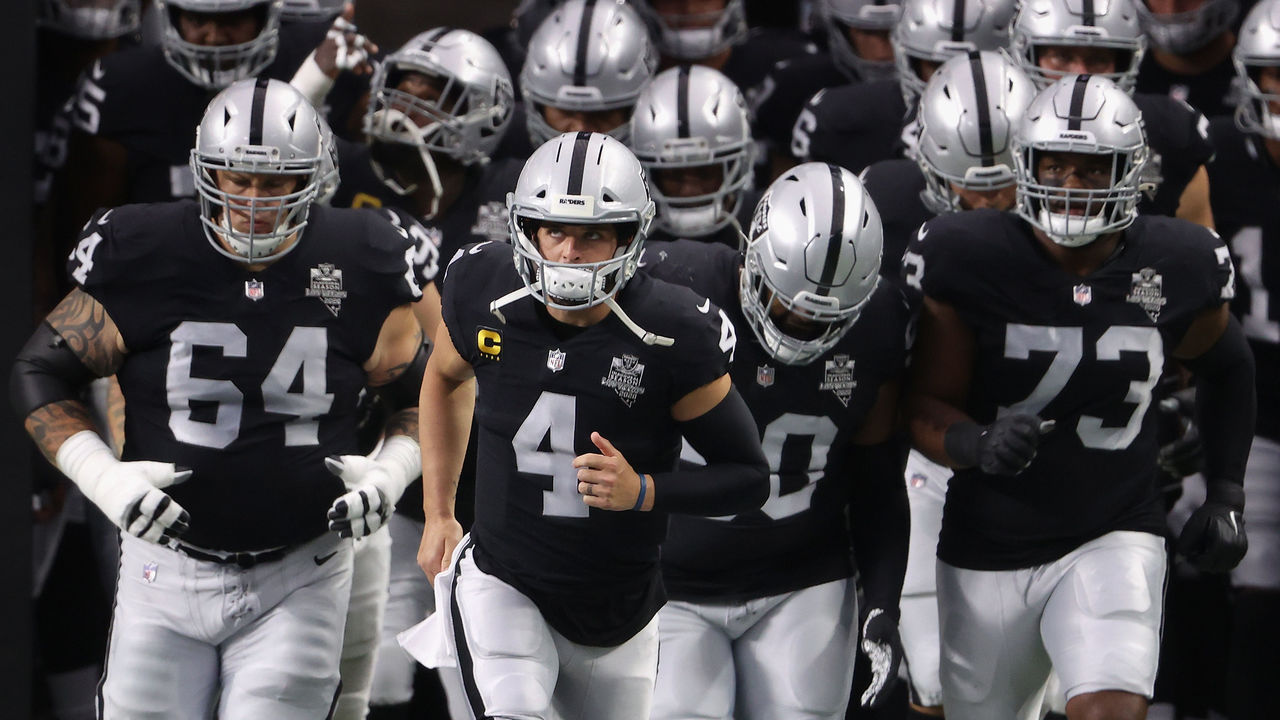 Carr isn't throwing deep very often - just 8.6% of his attempts, according to PFF - but he showed against the Chiefs he can do it if that's what the defense gives him; he went 4-for-6 for 219 yards and two TDs on throws of 20 air yards or more versus Kansas City.
Buccaneers defensive coordinator Todd Bowles earned a lot of credit for creating a game plan that so thoroughly smothered Aaron Rodgers last week. Tampa Bay is tied for second in the league with eight interceptions and 11 takeaways overall, and the Raiders are having COVID-19 issues along the offensive line after right tackle Trent Brown tested positive.
See? Lots more to think about than Brady and Gruden.
The two unbeatens
Steelers (5-0) at Titans (5-0), 1 p.m.
Lots of great potential matchups in this one. The Steelers' terrific pass rush against a Titans offensive line that just lost its big-money left tackle to injury. Derrick Henry against Pittsburgh's stout run defense. The Steelers' high-scoring offense against a Tennessee defense ranked just 24th in DVOA.
But here's one nugget that didn't make it into this week's deep dive into Titans QB Ryan Tannehill: He has a passer rating of 110.5 when pressured, according to data at PFF, which is the best such mark in the league. Tannehill has also thrown seven touchdowns and zero interceptions when under pressure.
The Steelers, meanwhile, lost inside linebacker Devin Bush to a season-ending ACL injury, and it's the one area of their defense where depth is a problem.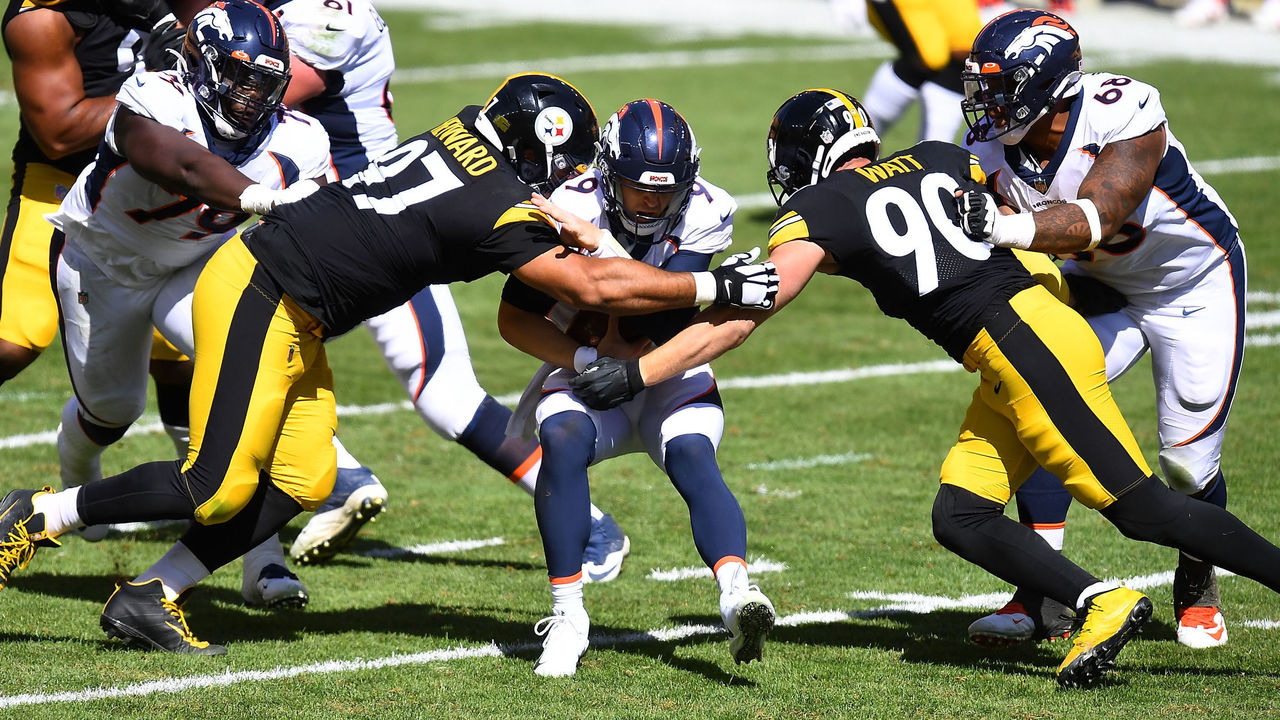 In 2017, Pittsburgh was a Super Bowl threat until Ryan Shazier - whose role was similar to Bush's - sustained a career-ending spinal injury. The Steelers were fourth in defensive DVOA when Shazier went down. They closed out that season with four of their five least efficient defensive performances of the campaign, according to Football Outsiders, with the lone exception coming in an easy win against the Texans and their third-string quarterback. Pittsburgh then proceeded to give up 45 points to Blake Bortles and Co. in a home playoff loss to the Jaguars.
Long story short: Don't be shocked if this one's a shootout.
A reason to watch
Jaguars (1-5) at Chargers (1-4), 4:25 p.m.
If you're in that small part of the U.S. where the local CBS affiliate is airing Jaguars-Chargers in the late-afternoon window instead of 49ers-Patriots or Chiefs-Broncos, you may be tempted to nap through it. You might even be looking forward to waking up, checking the score, and dozing off again to the ambient sounds of another Gardner Minshew fumble.
But Chargers rookie QB Justin Herbert deserves your attention. He's lost all four of his starts so far, but his counterparts in three of them were Patrick Mahomes, Tom Brady, and Drew Brees. In his most recent game two weeks ago, Herbert marched Los Angeles 48 yards in under 40 seconds to put the Chargers in position to beat the Saints in New Orleans. Michael Badgley's last-second, 50-yard field-goal attempt hit the upright. L.A. lost in overtime.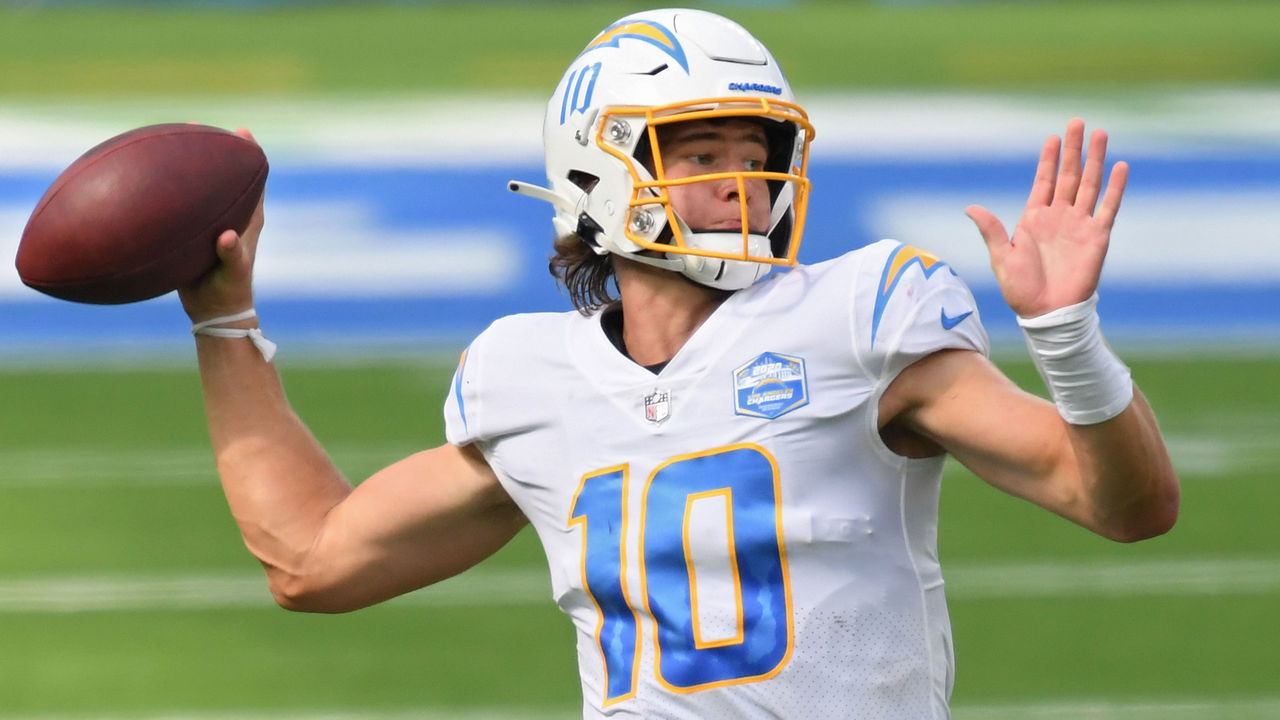 Herbert is doing a lot of the things franchise quarterbacks do; he just plays for a team that's not very good - not to mention riddled with injuries. Herbert is seventh in QB DVOA, 11th in DYAR, and 12th in total quarterback rating (73.1). He trails only Carr and Wilson with a 5.9% CPOE, and his 150.9 third-down passer rating is the best in the league.
Herbert is worth staying awake for.
Does anyone want to win this thing?
Cowboys (2-4) at Washington (1-5), 1 p.m.
Look at these teams' records. Then remember that if the Cowboys win, they'll be in first place in the NFC East. Then remember that if Washington wins, it will be just a half-game behind the 2-4-1 Eagles as the division's standard-bearer. Then try not to chuckle.
Thursday night leftover
Eagles 22, Giants 21
The Jets are well-known as a train wreck of a franchise, but let's not overlook the Giants' recent contributions to the cause of sustained ineptitude.
The Giants are now 13-42 since the beginning of the 2017 season, the league's worst such record by 3.5 games. As noted by Chase Stuart of Football Perspective, they're also just 5-16 in that time against the rest of the sad-sack NFC East. They're on their third head coach since then, too.
The Giants can always point to their four Super Bowl titles and to the stewardship of the Mara family, whose projection of polished, blue-blooded elegance makes for an easy contrast against those people steering the other garbage barge in town. But the Giants have made the playoffs just once in nine years since Super Bowl XLVI, and they're now 1-6 in 2020. It's getting harder not to notice the clown shoes poking out from beneath those crisp Brooks Brothers suits.
Alas, the Giants now have their own version of the Butt Fumble.
Dom Cosentino is a senior features writer at theScore.