The Tennessee Titans are undefeated. They've picked right up where they left off last season, when they reached the AFC Championship Game after a 2-4 start. Ryan Tannehill, who took over as the starter one year ago this week, is the common denominator to the Titans' turnaround. It's getting harder to ignore the reality that he might be one of the NFL's best quarterbacks.
Tannehill is now 32, and while he showed occasional flashes in his seven seasons with the Miami Dolphins, his performance was often marred by injuries and the stink of head coach Adam Gase. A regression was expected after his stellar 2019, but it hasn't happened - at least not yet. Rather, it's becoming increasingly clear that Tennessee's offense is not just running back Derrick Henry powering the way for a competent game manager. Far from it.
Henry is like a lab creation, and he leads the league in rushing and rushing attempts, even though the Titans have played one fewer game than most other teams. But today's NFL is a passing league, and the Titans have scored at least 30 points in their last four contests - and 42 in their last two - because Tannehill has also been one of the league's most efficient, most accurate passers - no matter the circumstance.
Tannehill is 12-3 in regular-season starts for the Titans. He's also won road playoff games at the New England Patriots and Baltimore Ravens, and he even had the Kansas City Chiefs in a 10-0 hole before Patrick Mahomes started doing Patrick Mahomes things.
Tannehill is proving to be a perfect fit for Arthur Smith's innovative offense, which relies on a multitude of formations and personnel groupings in addition to heavy doses of play-action and quick throws all over the field in the short and intermediate range.
Consider the red zone. As Sheil Kapadia of The Athletic noted, the Titans have scored touchdowns on 44 of their 53 red-zone trips (83%) in Tannehill's 15 regular-season starts. No team has performed that well inside opponents' 20-yard line in at least 20 years.
Now consider Tannehill's performance in the red zone as a starter since Week 7 of last year. He's 45-for-57 (78.9%) for 314 yards, 26 TDs, and two interceptions, which computes to a 114.6 passer rating, using data from Pro Football Reference.
But it's how he's doing it that sets Tannehill apart. He's used play-action on 37.8% of his dropbacks this season, which is fourth-most in the league, and he's posted a 112.0 passer rating on those throws, according to PFF. However, he's just as good without play-faking, boasting a 73.4% completion rate (which ranks first) with eight touchdowns, zero interceptions, and a 114.4 passer rating. In Sunday's shootout victory against the Houston Texans, Tannehill was 22-for-25 for 222 yards, three touchdowns, and no interceptions on non-play-fakes.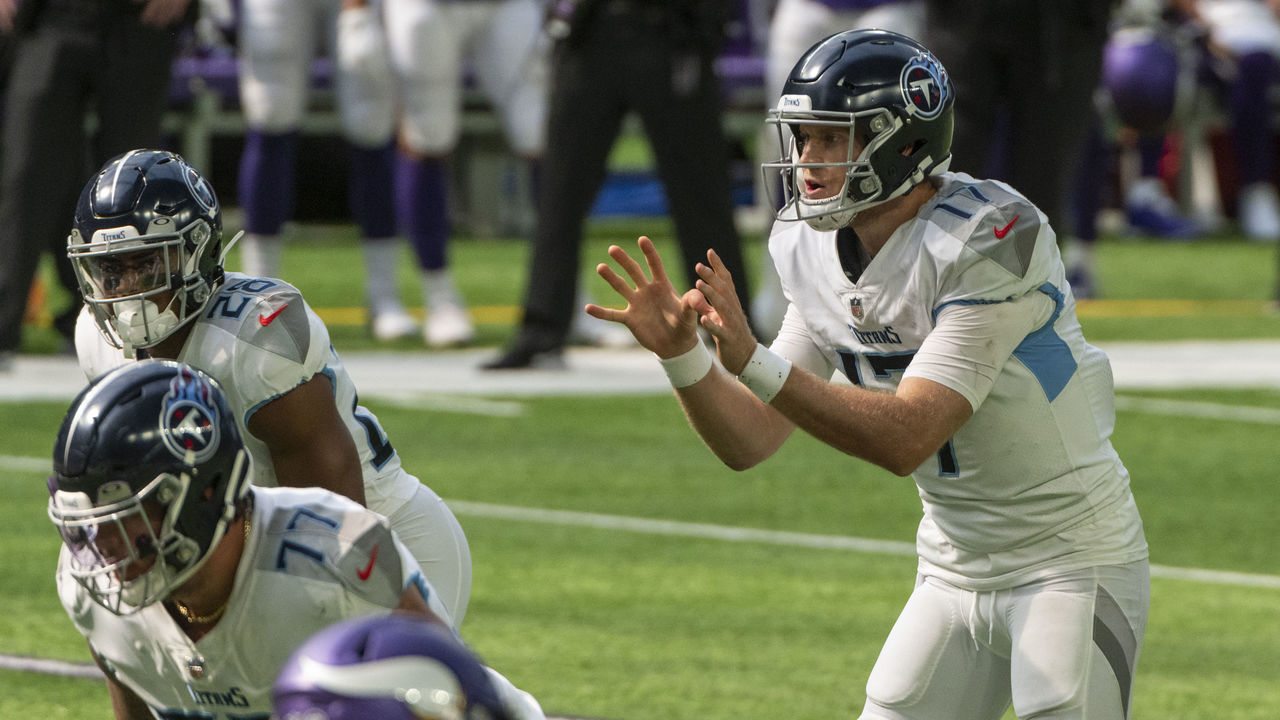 In Smith's scheme, the Titans attack in a multitude of ways. Most teams deploy the 11 personnel package - one running back, one tight end, three wide receivers - much of the time; the league-wide average through Week 6 is 61%, according to analyst Warren Sharp's database. But the Titans only use the package 45% of the time, as they're much more varied: They go with 12 personnel - one back, two tight ends, and two wideouts - on 24% of snaps, as opposed to the league-wide average of 19%. They also run the 21 package - two backs, one tight end, two wideouts - at a 13% rate (league average is 8%) and use three tights ends 10% of the time, more than the league average of 4%.
Teams are becoming increasingly pass-heavy on early (first and second) downs, and while the Titans are not one of them, Tannehill is extremely efficient when he does throw in those situations. According to Ben Baldwin's database, the Titans rank 31st in early-down pass rate (45.6%), but Tannehill's expected points added (EPA) per play on first- and second-down dropbacks is 0.434, which is the best in the league, as this chart demonstrates: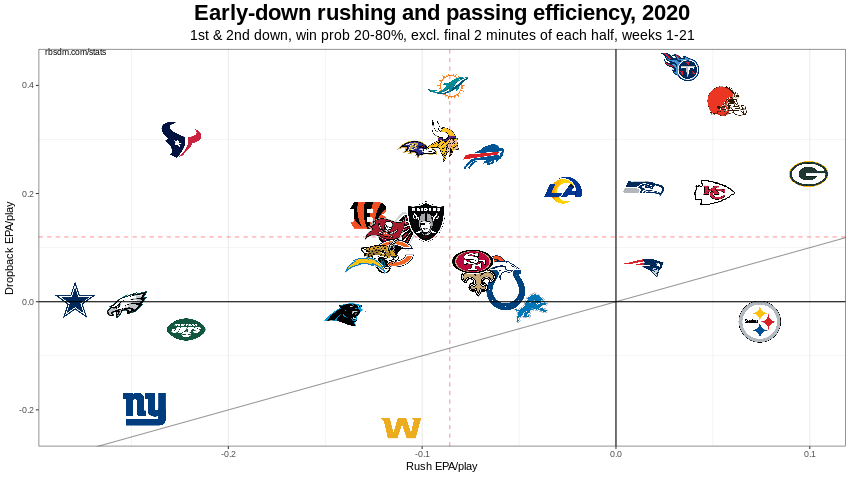 Similarly, Tannehill is frequently under center but excellent when working out of the shotgun. Tennessee's 43.8% shotgun usage is the fourth lowest in the league, but on plays out of the shotgun, Tennessee's DVOA ranks first, according to Football Outsiders. Tannehill ranks third among all QBs in defense-adjusted yards above replacement (DYAR) and first in QB defense-adjusted value over average (DVOA).
Tannehill is also extremely accurate. According to Sports Info Solutions, his on-target rate of 83.0% ranks third. And on 43 throws covering 10-to-19 air yards, his 81.4% on-target rate is the second best in the NFL. His completion percentage over expectation (CPOE) of 5.7% is the fourth best in the league this year. He also has a league-best three fourth-quarter comebacks and four game-winning drives.
Going back to Week 7 of 2019, Tannehill's CPOE and EPA/play is right there at the top of the league.
I mean, look at this throw on second-and-20 with the pressure bearing down on him:
If there's a caveat to Tannehill's performance, it's that the Titans have played against some weak defenses. Per Football Outsiders, the defensive DVOA of their five opponents thus far ranks 31st. That changes in the weeks ahead, starting with Sunday's home showdown against the also-undefeated Pittsburgh Steelers, whose defensive DVOA ranks second.
Then, from Weeks 9 through 11, Tennessee squares off against the Chicago Bears (fifth in defensive DVOA), Indianapolis Colts (third), and Baltimore Ravens (fourth). The Titans will also be without injured left tackle Taylor Lewan, who tore his ACL last week and is out for the rest of the season. If Tannehill is indeed here to stay as a top-tier NFL quarterback, we ought to have a better idea by Thanksgiving.
Dom Cosentino is senior features writer at theScore.